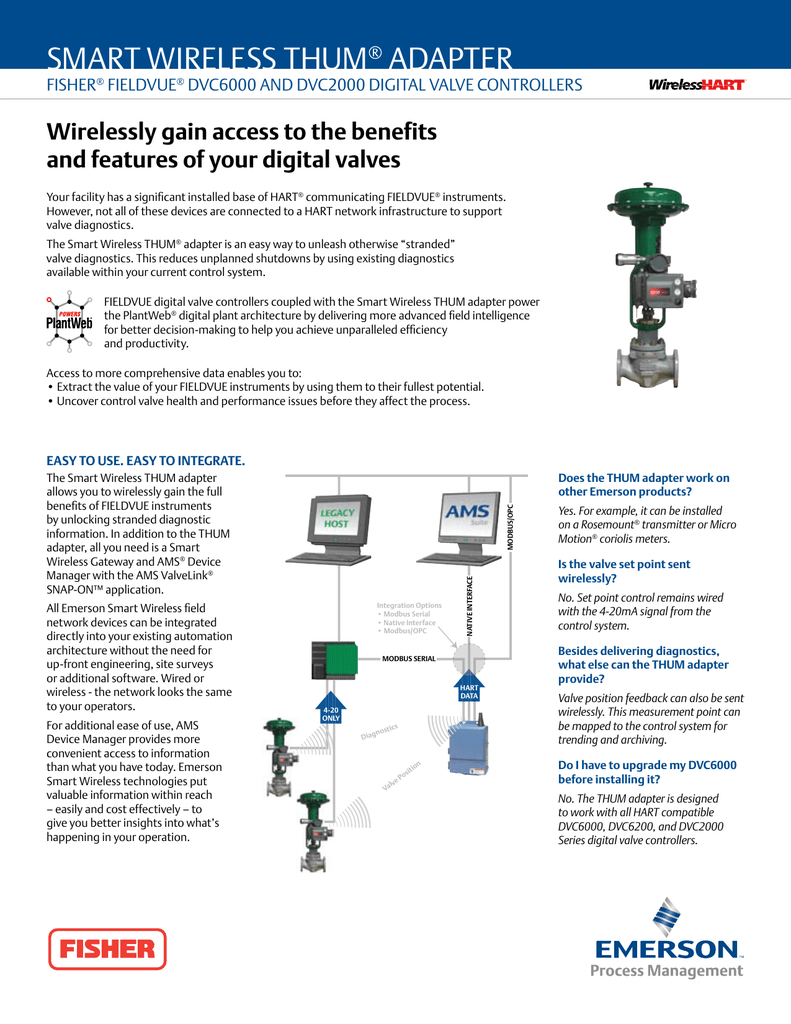 SMART WIRELESS THUM® ADAPTER
FISHER® FIELDVUE® DVC6000 AND DVC2000 DIGITAL VALVE CONTROLLERS
Wirelessly gain access to the benefits
and features of your digital valves
Your facility has a significant installed base of HART® communicating FIELDVUE® instruments.
However, not all of these devices are connected to a HART network infrastructure to support
valve diagnostics.
The Smart Wireless THUM® adapter is an easy way to unleash otherwise "stranded"
valve d
­ iagnostics. This reduces unplanned shutdowns by using existing diagnostics
available within your current control system.
FIELDVUE digital valve controllers coupled with the Smart Wireless THUM adapter power
the PlantWeb® ­digital plant architecture by delivering more advanced field intelligence
for better decision-making to help you achieve unparalleled efficiency
and productivity.
Access to more comprehensive data enables you to:
• Extract the value of your FIELDVUE instruments by using them to their fullest potential.
• Uncover control valve health and performance issues before they affect the process.
EASY TO USE. EASY TO INTEGRATE.
The Smart Wireless THUM adapter
allows you to wirelessly gain the full
benefits of FIELDVUE instruments
by unlocking stranded diagnostic
information. In addition to the THUM
adapter, all you need is a Smart
Wireless Gateway and AMS® Device
Manager with the AMS ValveLink®
SNAP-ON™ application.
For additional ease of use, AMS
Device Manager provides more
convenient access to information
than what you have today. Emerson
Smart Wireless technologies put
valuable information within reach
– easily and cost effectively – to
give you better insights into what's
happening in your operation.
MODBUS/OPC
Integration Options
• Modbus Serial
• Native Interface
• Modbus/OPC
NATIVE INTERFACE
All Emerson Smart Wireless field
network devices can be integrated
directly into your existing automation
architecture without the need for
up-front engineering, site surveys
or additional software. Wired or
wireless - the network looks the same
to your operators.
Does the THUM adapter work on
other Emerson products?
MODBUS SERIAL
HART
DATA
4-20
ONLY
tics
nos
Diag
sit
Po
lve
a
V
io
n
Yes. For example, it can be installed
on a Rosemount® transmitter or Micro
Motion® coriolis meters.
Is the valve set point sent
wirelessly?
No. Set point control remains wired
with the 4-20mA signal from the
control system.
Besides delivering diagnostics,
what else can the THUM adapter
provide?
Valve position feedback can also be sent
wirelessly. This measurement point can
be mapped to the control system for
trending and archiving.
Do I have to upgrade my DVC6000
before installing it?
No. The THUM adapter is designed
to work with all HART compatible
DVC6000, DVC6200, and DVC2000
Series digital valve controllers.
SMART WIRELESS THUM ADAPTER
FISHER FIELDVUE DIGITAL VALVE CONTROLLERS
UNLEASH THE FULL POTENTIAL OF YOUR FIELDVUE INSTRUMENTS
The Smart Wireless THUM adapter can transmit the four HART variables and
­additional HART status information at the user configurable update rate.
Access to this new information enables you to fully optimize your ­ope­rations
for improved performance.
Available Variables
Valve Travel Feedback
Actuator Pressure
Input Current
Target Travel
Important Status Information
Travel Deviation Alert
Travel Sensor Failure
Pressure Sensor Failure
Supply Pressure Alert
Drive Signal Alert
The THUM adapter can also be used to pass along diagnostic tests and large
data files. This important valve performance and maintenance information
can be viewed and analyzed through AMS Device Manager, AMS ValveLink
Software, and the DeltaV™ control system.
In AMS® ValveLink® Software, the status of all FIELDVUE®
instruments within the wireless network is displayed along
with indicators of potential problems.
INFORMATION AND DIAGNOSTICS WHILE THE VALVE IS OPERATING
The THUM adapter can also be used to give device specific information, such as
valve friction, pneumatic leaks (air mass flow test), and instrument problems
(I/P and relay integrity test).
TECHNICAL REQUIREMENTS
Voltage drop across THUM: Power requirement: Update rate: Wireless range: Compatibility: 2.25V @ 4mA; 1V @ 20mA
Loop powered, no batteries
8 seconds - 60 minutes, configurable
100 meters, typical
DVC6000, DVC2000
FIELDVUE® DVC2000 with GX valve
©Fisher Controls International LLC 2009 All Rights Reserved.
Fisher, FIELDVUE, THUM, PlantWeb, AMS, ValveLink, SNAP-ON, and DeltaV are marks owned by one of the companies
in the Emerson Process Management business division of Emerson Electric Co. Emerson Process Management, Emerson,
and the Emerson logo are trademarks and service marks of Emerson Electric Co. All other marks are the property of
their respective owners.
Emerson Process Management
301 South 1st Avenue
Marshalltown, Iowa 50158 USA
T (641) 754-3011
www.EmersonProcess.com
D351737X012 / MV26-CD209 / Mar09
The contents of this publication are presented for informational purposes only, and while every effort has been made
to ensure their accuracy they are not to be construed as warranties or guarantees, express or implied, regarding the
products or services described herein or their use or applicability. All sales are governed by our terms and conditions,
which are available upon request. We reserve the right to modify or improve the designs or specifications of such
products at any time without notice. Neither Emerson, Emerson Process Management, nor any of their affiliated entities
assumes responsibility for the selection, use or maintenance of any product. Responsibility for proper selection, use,
and maintenance of any product remains solely with the purchaser and end-user.

* Your assessment is very important for improving the work of artificial intelligence, which forms the content of this project