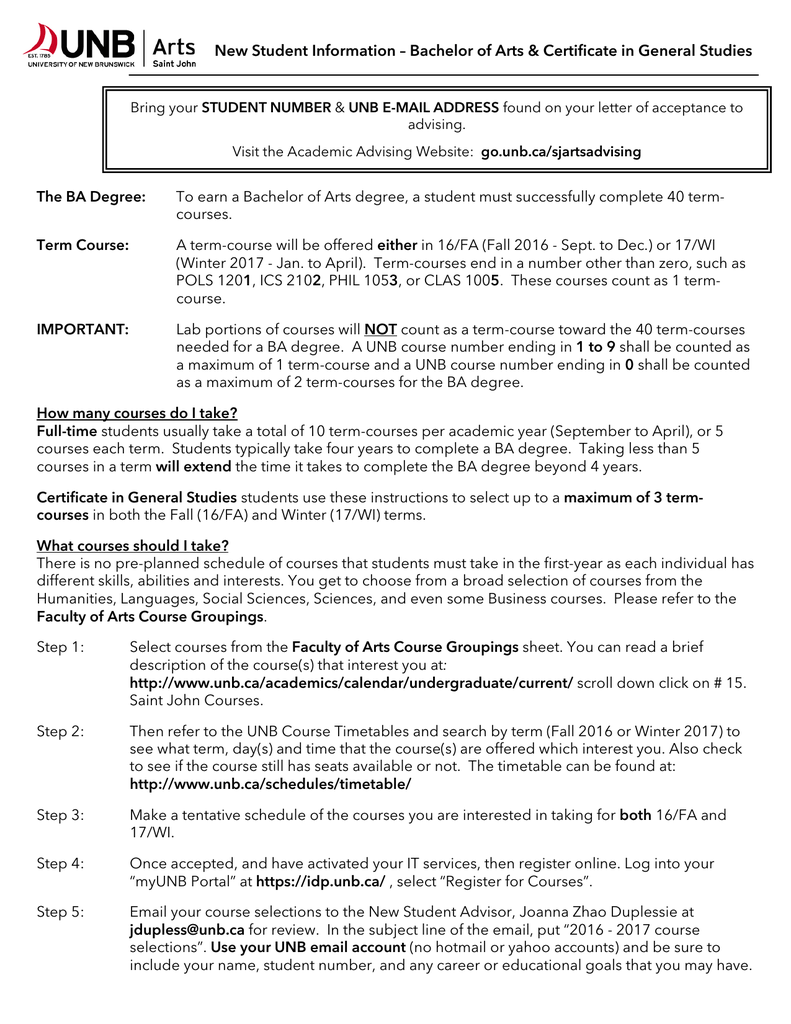 New Student Information – Bachelor of Arts & Certificate in General Studies
Bring your STUDENT NUMBER & UNB E-MAIL ADDRESS found on your letter of acceptance to
advising.
Visit the Academic Advising Website: go.unb.ca/sjartsadvising
The BA Degree:
To earn a Bachelor of Arts degree, a student must successfully complete 40 termcourses.
Term Course:
A term-course will be offered either in 16/FA (Fall 2016 - Sept. to Dec.) or 17/WI
(Winter 2017 - Jan. to April). Term-courses end in a number other than zero, such as
POLS 1201, ICS 2102, PHIL 1053, or CLAS 1005. These courses count as 1 termcourse.
IMPORTANT:
Lab portions of courses will NOT count as a term-course toward the 40 term-courses
needed for a BA degree. A UNB course number ending in 1 to 9 shall be counted as
a maximum of 1 term-course and a UNB course number ending in 0 shall be counted
as a maximum of 2 term-courses for the BA degree.
How many courses do I take?
Full-time students usually take a total of 10 term-courses per academic year (September to April), or 5
courses each term. Students typically take four years to complete a BA degree. Taking less than 5
courses in a term will extend the time it takes to complete the BA degree beyond 4 years.
Certificate in General Studies students use these instructions to select up to a maximum of 3 termcourses in both the Fall (16/FA) and Winter (17/WI) terms.
What courses should I take?
There is no pre-planned schedule of courses that students must take in the first-year as each individual has
different skills, abilities and interests. You get to choose from a broad selection of courses from the
Humanities, Languages, Social Sciences, Sciences, and even some Business courses. Please refer to the
Faculty of Arts Course Groupings.
Step 1:
Select courses from the Faculty of Arts Course Groupings sheet. You can read a brief
description of the course(s) that interest you at:
http://www.unb.ca/academics/calendar/undergraduate/current/ scroll down click on # 15.
Saint John Courses.
Step 2:
Then refer to the UNB Course Timetables and search by term (Fall 2016 or Winter 2017) to
see what term, day(s) and time that the course(s) are offered which interest you. Also check
to see if the course still has seats available or not. The timetable can be found at:
http://www.unb.ca/schedules/timetable/
Step 3:
Make a tentative schedule of the courses you are interested in taking for both 16/FA and
17/WI.
Step 4:
Once accepted, and have activated your IT services, then register online. Log into your
"myUNB Portal" at https://idp.unb.ca/ , select "Register for Courses".
Step 5:
Email your course selections to the New Student Advisor, Joanna Zhao Duplessie at
jdupless@unb.ca for review. In the subject line of the email, put "2016 - 2017 course
selections". Use your UNB email account (no hotmail or yahoo accounts) and be sure to
include your name, student number, and any career or educational goals that you may have.

* Your assessment is very important for improving the work of artificial intelligence, which forms the content of this project