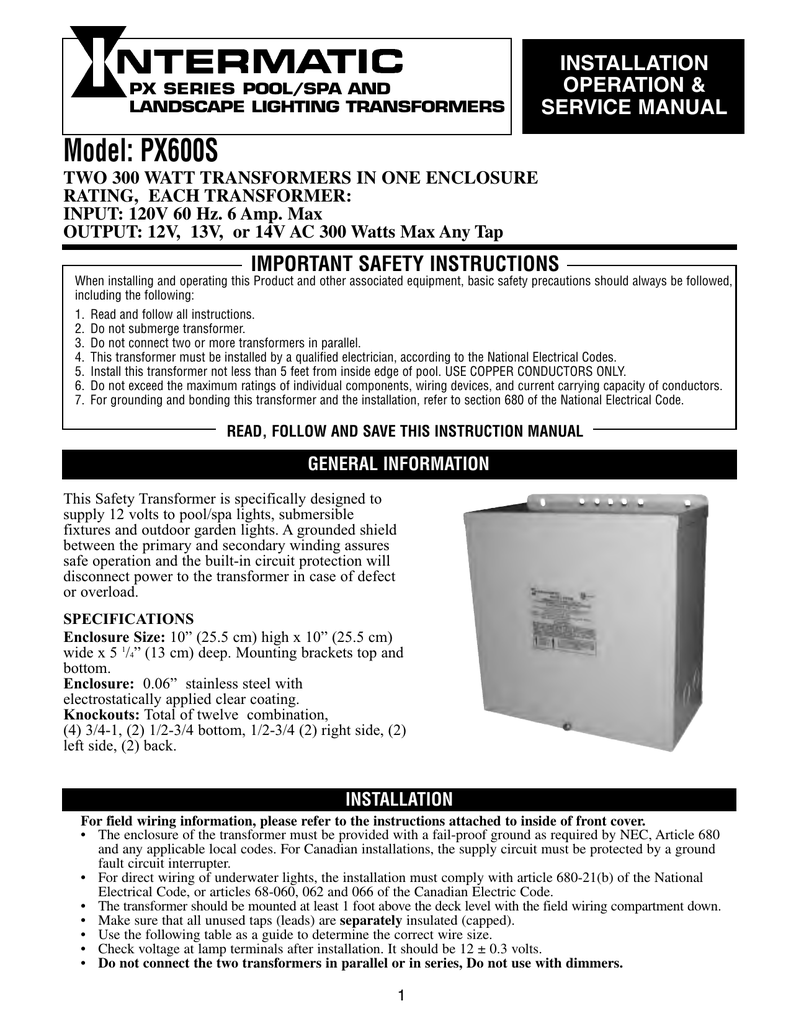 PX SERIES POOL/SPA AND
LANDSCAPE LIGHTING TRANSFORMERS
INSTALLATION
OPERATION &
SERVICE MANUAL
Model: PX600S
TWO 300 WATT TRANSFORMERS IN ONE ENCLOSURE
RATING, EACH TRANSFORMER:
INPUT: 120V 60 Hz. 6 Amp. Max
OUTPUT: 12V, 13V, or 14V AC 300 Watts Max Any Tap
IMPORTANT SAFETY INSTRUCTIONS
When installing and operating this Product and other associated equipment, basic safety precautions should always be followed,
including the following:
1. Read and follow all instructions.
2. Do not submerge transformer.
3. Do not connect two or more transformers in parallel.
4. This transformer must be installed by a qualified electrician, according to the National Electrical Codes.
5. Install this transformer not less than 5 feet from inside edge of pool. USE COPPER CONDUCTORS ONLY.
6. Do not exceed the maximum ratings of individual components, wiring devices, and current carrying capacity of conductors.
7. For grounding and bonding this transformer and the installation, refer to section 680 of the National Electrical Code.
READ, FOLLOW AND SAVE THIS INSTRUCTION MANUAL
GENERAL INFORMATION
This Safety Transformer is specifically designed to
supply 12 volts to pool/spa lights, submersible
fixtures and outdoor garden lights. A grounded shield
between the primary and secondary winding assures
safe operation and the built-in circuit protection will
disconnect power to the transformer in case of defect
or overload.
SPECIFICATIONS
Enclosure Size: 10" (25.5 cm) high x 10" (25.5 cm)
wide x 5 1/4" (13 cm) deep. Mounting brackets top and
bottom.
Enclosure: 0.06" stainless steel with
electrostatically applied clear coating.
Knockouts: Total of twelve combination,
(4) 3/4-1, (2) 1/2-3/4 bottom, 1/2-3/4 (2) right side, (2)
left side, (2) back.
INSTALLATION
For field wiring information, please refer to the instructions attached to inside of front cover.
• The enclosure of the transformer must be provided with a fail-proof ground as required by NEC, Article 680
and any applicable local codes. For Canadian installations, the supply circuit must be protected by a ground
fault circuit interrupter.
• For direct wiring of underwater lights, the installation must comply with article 680-21(b) of the National
Electrical Code, or articles 68-060, 062 and 066 of the Canadian Electric Code.
• The transformer should be mounted at least 1 foot above the deck level with the field wiring compartment down.
• Make sure that all unused taps (leads) are separately insulated (capped).
• Use the following table as a guide to determine the correct wire size.
• Check voltage at lamp terminals after installation. It should be 12 ± 0.3 volts.
• Do not connect the two transformers in parallel or in series, Do not use with dimmers.
1
TYPICAL WIRING
WIRING INSTRUCTIONS
1. Use copper conductors only. Connect grounding
conductor to equipment ground. High and low
voltage compartments may be interchanged, but
must be separated from each other.
2. Connect WHITE lead from Transformer, to
NEUTRAL (white) of Power Supply.
3. Connect BLACK (12 V) or YELLOW (13 V) or
BLUE (14V) lead from Transformer to 120 VAC,
60 Hz. supply (Line).
Secondary Output
Connections
12 VOLT
Black To Supply
13 VOLT
Yellow To Supply
14 VOLT
Blue To Supply
T
R
A
N
S
F
O
R
M
E
R
T
R
A
N
S
F
O
R
M
E
R
Make sure unused leads are insulated (CAPPED).
4. Connect conductors from light to Transformer
leads in Low Voltage compartment.
120 Volt Primary Input - 300 Watt Output
YEL
BLU
Distance* 2#6AWG 2#8AWG 2#10AWG 2#12AWG
Feet
HT
W
5 Ft.
10 Ft.
20 Ft.
30 Ft.
40 Ft.
50 Ft.
60 Ft.
70 Ft.
80 Ft.
90 Ft.
100 Ft.
110 Ft.
BLK
T
WH U
BL
BLK
YEL
N
GR
LOW
VOLTAGE
COMPARTMENT
EQUIPMENT
GROUND
TO
LIGHT
TO
LIGHT
HIGH VOLTAGE
COMPARTMENT
12V
12V
12V
12V
13V
13V
13V
13V
13V
14V
14V
14V
12V
12V
12V
13V
13V
13V
14V
14V
14V
12V
12V
13V
13V
14V
14V
12V
13V
13V
14V
* Length of run to light from transformer.
LANDSCAPEINSTALLATION
LIGHTING APPLICATIONS
For field wiring information, please refer to the instructions attached to inside of front cover.
Using the correct gauge cable and wattage is essential to obtaining proper lighting performance. The low
voltage cable for each run must not exceed 100 Ft.and must have a current carrying capacity of at least 20
amp (12 gauge).Determine the total lamp wattage by adding together all the individual lamp wattage's
being used. Do not exceed the maximum wattage rating for the transformer
WARRANTY
If, within the warranty period specified, this product fails due to a defect in material or workmanship, Intermatic Incorporated will repair or replace it, at its sole
option, free of charge. This warranty is extended to the original household purchaser only and is not transferable. This warranty does not apply to: (a) damage
to units caused by accident, dropping or abuse in handling, acts of God or any negligent use; (b) units which have been subject to unauthorized repair, opened,
taken apart or otherwise modified; (c) units not used in accordance with instructions; (d) damages exceeding the cost of the product; (e) sealed lamps and/or
lamp bulbs, LED's and batteries; (f) the finish on any portion of the product, such as surface and/or weathering, as this is considered normal wear and tear, (g)
transit damage, initial installation costs, removal costs, or reinstallation costs.
INTERMATIC INCORPORATED WILL NOT BE LIABLE FOR INCIDENTAL OR CONSEQUENTIAL DAMAGES. SOME STATES DO NOT ALLOW THE EXCLUSION OR
LIMITATION OF INCIDENTAL OR CONSEQUENTIAL DAMAGES, SO THE ABOVE LIMITATION OR EXCLUSION MAY NOT APPLY TO YOU. THIS WARRANTY IS IN
LIEU OF ALL OTHER EXPRESS OR IMPLIED WARRANTIES. ALL IMPLIED WARRANTIES, INCLUDING THE WARRANTY OF MERCHANTABILITY AND THE WARRANTY OF FITNESS FOR A PARTICULAR PURPOSE, ARE HEREBY MODIFIED TO EXIST ONLY AS CONTAINED IN THIS LIMITED WARRANTY, AND SHALL BE
OF THE SAME DURATION AS THE WARRANTY PERIOD STATED ABOVE. SOME STATES DO NOT ALLOW LIMITATIONS ON THE DURATION OF AN IMPLIED
WARRANTY, SO THE ABOVE LIMITATION MAY NOT APPLY TO YOU.
This warranty gives you specific legal rights and you may also have other rights which vary from state to state. Warranty service is available by mailing postage
prepaid to: Intermatic Incorporated/After Sales Service, 7777 Winn Rd., Spring Grove, IL 60081-9698/815-675-7000 http://www.intermatic.com. Please be sure
to wrap the product securely to avoid shipping damage.
Because of our commitment to continuing research and improvements, Intermatic Incorporated reserves the right to make changes, without notice, in the specifications and material
contained herein and shall not be responsible for any damages, direct or consequential, caused by reliance on the material presented.
INTERMATIC INCORPORATED,
158PX11104
SPRING GROVE, IL 60081-9698
http://www.intermatic.com
2
.