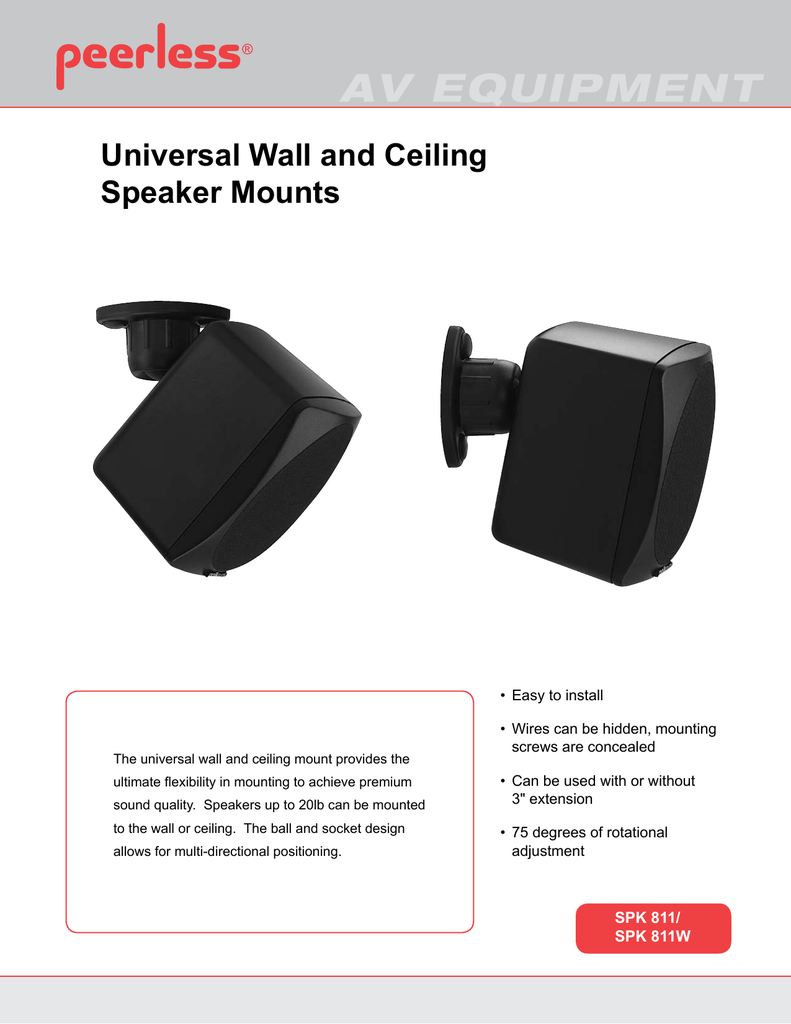 AV Equipment
Universal Wall and Ceiling
Speaker Mounts
• Easy to install
The universal wall and ceiling mount provides the
ultimate flexibility in mounting to achieve premium
sound quality. Speakers up to 20lb can be mounted
to the wall or ceiling. the ball and socket design
allows for multi-directional positioning.
• Wires can be hidden, mounting
screws are concealed
• Can be used with or without
3" extension
• 75 degrees of rotational
adjustment
SPK 811/
SPK 811W
Universal Wall and Ceiling Speaker Mounts
Model Numbers
SPK 811
SPK 811W
............................... Product Specifications
Features
•
•
•
•
•
•
•
20lb (9.1kg)
Load Capacity
Ball and socket design for multi-directional positioning
75° range of adjustment in all directions
Speaker wires can be hidden for an aesthetically appealing installation
Concealed mounting screws
Can be assembled as a flush mount or used with a 3" extension
Hardware for wood studs, metal studs, concrete and drywall
Fastener pack contains hardware for mounting most commercially available speakers
dimensions (W x H x D)
2.02" x 3.27" x 2.43" (5.1 x 8.3 x 6.2cm)
With extension: 2.02" x 3.27" x 4.72" (5.1 x 8.3 x 11.99cm)
0.72lb (0.3kg)
PRODUCT WEIGHT
material
Engineered Polymer Materials
available color
Black: SPK 811
White: SPK 811W
...............................
package contents
Package Specifications
1
units in package
Mount, extension, hardware
(see technical data sheet
for hardware specifications)
package SIZE (W x H x L)
package SHIP WEIGHT
9.125" x 6.75" x 2.5" (23.8 x 17.4 x 6.4cm)
Package upc code
WARRANTY
SPK 811: 735029214823
SPK 811W: 735029214830
3.27"
3.27"
2.43"
4.72"
0.96lb (0.4kg)
Limited 5-year
Peerless Industries, Inc.
2300 White Oak Circle,
Aurora, IL 60502
(800) 865-2112
(630) 375-5100
Fax: (800) 359-6500
www.peerlessmounts.com
2.02"
2.02"
LIT-0026 rev.2
Visit www.peerlessmounts.com to see the complete line of AV solutions from Peerless, including flat panel
mounts, projector mounts, carts/stands, furniture, cables, screen cleaners and a full assortment of accessories.
© 2011 Peerless Industries, Inc. All rights reserved.

* Your assessment is very important for improving the work of artificial intelligence, which forms the content of this project