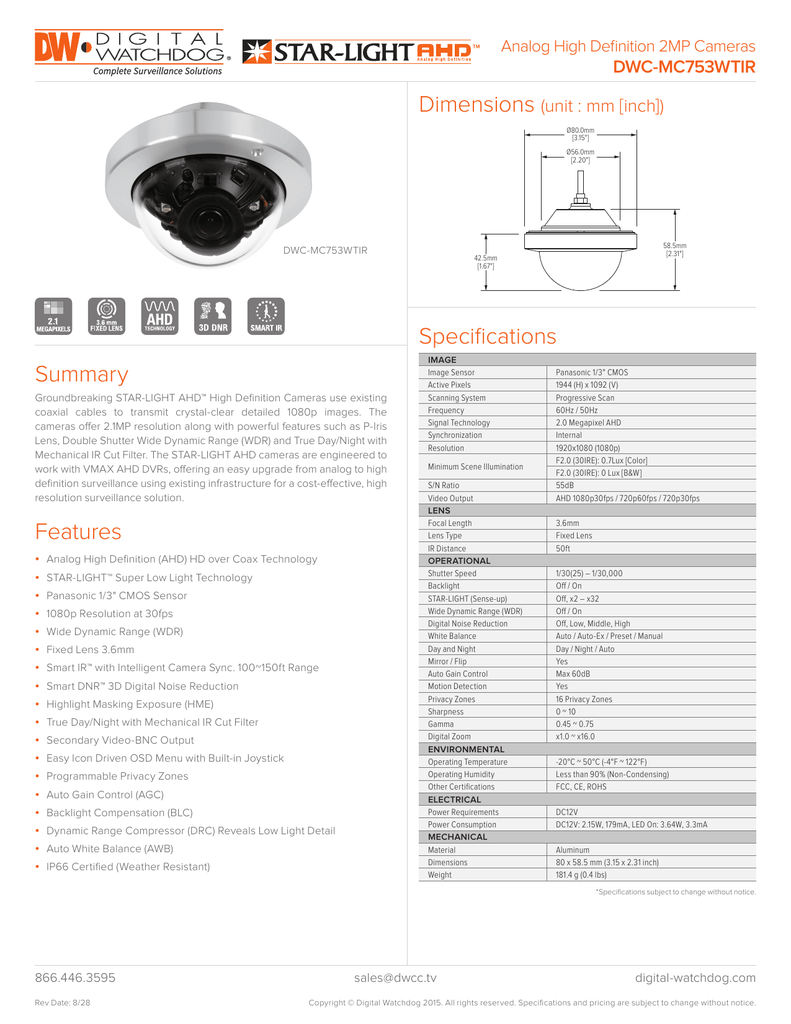 Analog High Definition 2MP Cameras
DWC-MC753WTIR
Dimensions (unit : mm [inch])
Ø80.0mm
[3.15"]
Ø56.0mm
[2.20"]
DWC-MC753WTIR
58.5mm
[2.31"]
42.5mm
[1.67"]
Specifications
Summary
Groundbreaking STAR-LIGHT AHD™ High Definition Cameras use existing
coaxial cables to transmit crystal-clear detailed 1080p images. The
cameras offer 2.1MP resolution along with powerful features such as P-Iris
Lens, Double Shutter Wide Dynamic Range (WDR) and True Day/Night with
Mechanical IR Cut Filter. The STAR-LIGHT AHD cameras are engineered to
work with VMAX AHD DVRs, offering an easy upgrade from analog to high
definition surveillance using existing infrastructure for a cost-effective, high
resolution surveillance solution.
Features
•
•
•
•
•
•
•
•
•
•
•
•
•
•
•
•
•
•
Analog High Definition (AHD) HD over Coax Technology
STAR-LIGHT™ Super Low Light Technology
Panasonic 1/3" CMOS Sensor
1080p Resolution at 30fps
Wide Dynamic Range (WDR)
Fixed Lens 3.6mm
Smart IR™ with Intelligent Camera Sync. 100 ~ 150ft Range
Smart DNR™ 3D Digital Noise Reduction
Highlight Masking Exposure (HME)
True Day/Night with Mechanical IR Cut Filter
Secondary Video-BNC Output
Easy Icon Driven OSD Menu with Built-in Joystick
Programmable Privacy Zones
Auto Gain Control (AGC)
Backlight Compensation (BLC)
Dynamic Range Compressor (DRC) Reveals Low Light Detail
Auto White Balance (AWB)
IP66 Certified (Weather Resistant)
IMAGE
Image Sensor
Active Pixels
Scanning System
Frequency
Signal Technology
Synchronization
Resolution
Minimum Scene Illumination
S/N Ratio
Video Output
LENS
Focal Length
Lens Type
IR Distance
OPERATIONAL
Shutter Speed
Backlight
STAR-LIGHT (Sense-up)
Wide Dynamic Range (WDR)
Digital Noise Reduction
White Balance
Day and Night
Mirror / Flip
Auto Gain Control
Motion Detection
Privacy Zones
Sharpness
Gamma
Digital Zoom
ENVIRONMENTAL
Operating Temperature
Operating Humidity
Other Certifications
ELECTRICAL
Power Requirements
Power Consumption
MECHANICAL
Material
Dimensions
Weight
Panasonic 1/3" CMOS
1944 (H) x 1092 (V)
Progressive Scan
60Hz / 50Hz
2.0 Megapixel AHD
Internal
1920x1080 (1080p)
F2.0 (30IRE): 0.7Lux [Color]
F2.0 (30IRE): 0 Lux [B&W]
55dB
AHD 1080p30fps / 720p60fps / 720p30fps
3.6mm
Fixed Lens
50ft
1/30(25) – 1/30,000
Off / On
Off, x2 – x32
Off / On
Off, Low, Middle, High
Auto / Auto-Ex / Preset / Manual
Day / Night / Auto
Yes
Max 60dB
Yes
16 Privacy Zones
0 ~ 10
0.45 ~ 0.75
x1.0 ~ x16.0
-20°C ~ 50°C (-4°F ~ 122°F)
Less than 90% (Non-Condensing)
FCC, CE, ROHS
DC12V
DC12V: 2.15W, 179mA, LED On: 3.64W, 3.3mA
Aluminum
80 x 58.5 mm (3.15 x 2.31 inch)
181.4 g (0.4 lbs)
*Specifications subject to change without notice.
866.446.3595
Rev Date: 8/28
sales@dwcc.tv
digital-watchdog.com
Copyright © Digital Watchdog 2015. All rights reserved. Specifications and pricing are subject to change without notice.

* Your assessment is very important for improving the work of artificial intelligence, which forms the content of this project