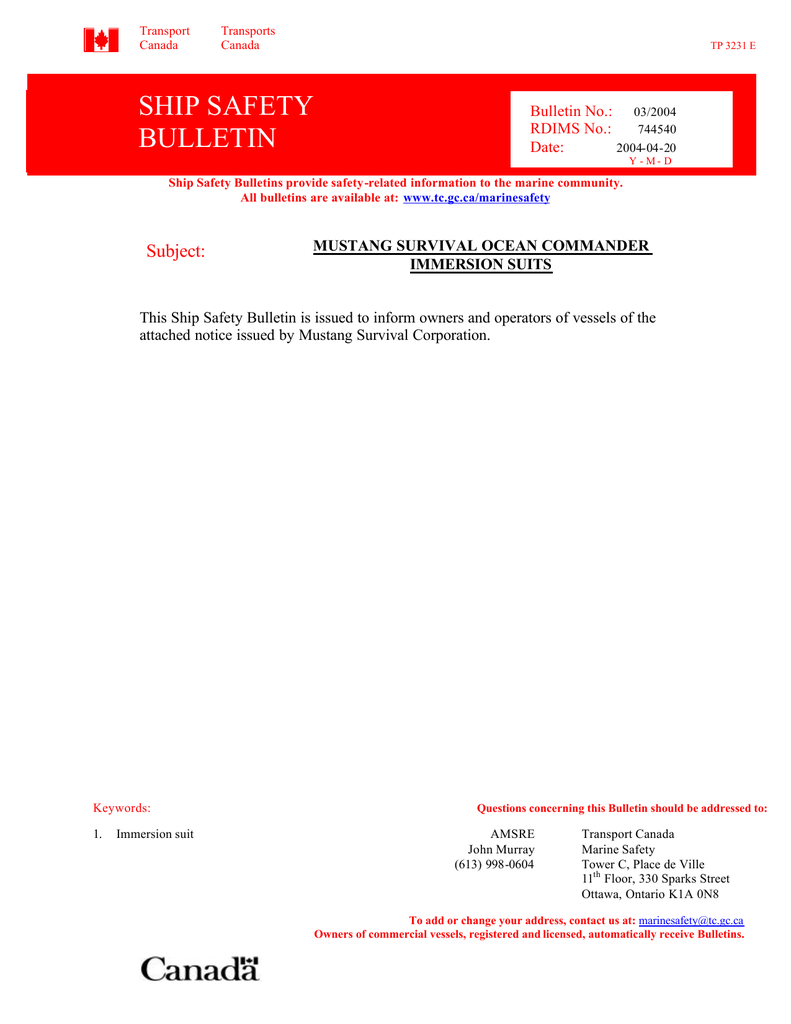 Transport
Canada
Transports
Canada
TP 3231 E
SHIP SAFETY
BULLETIN
Bulletin No.: 03/2004
RDIMS No.:
744540
Date:
2004-04-20
Y - M- D
Ship Safety Bulletins provide safety-related information to the marine community.
All bulletins are available at: www.tc.gc.ca/marinesafety
Subject:
MUSTANG SURVIVAL OCEAN COMMANDER
IMMERSION SUITS
This Ship Safety Bulletin is issued to inform owners and operators of vessels of the
attached notice issued by Mustang Survival Corporation.
Keywords:
1.
Immersion suit
Questions concerning this Bulletin should be addressed to:
AMSRE
John Murray
(613) 998-0604
Transport Canada
Marine Safety
Tower C, Place de Ville
11th Floor, 330 Sparks Street
Ottawa, Ontario K1A 0N8
To add or change your address, contact us at: [email protected]
Owners of commercial vessels, registered and licensed, automatically receive Bulletins.
3810 Jacombs Road, Richmond, B.C. Canada V6V 1Y6 • Tel 604 270 8631 Fax 604 270 0489
e-mail: [email protected]
THIS NOTICE PROVIDES IMPORTANT SAFETY INFORMATION ABOUT YOUR
MUSTANG SURVIVAL OCEAN COMMANDER IMMERSION SUIT. PLEASE READ THIS
DOCUMENT CAREFULLY AND FOLLOW THE RECOMMENDED INSTRUCTIONS.
The Mustang Survival Ocean Commander (model OC8001 and
OC8001HR) immersion suit is unconventional in comparison to
traditional neoprene immersion suits. It has been specifically
designed to be the most protective – and yet at the same time, the
most comfortable to wear – immersion suit available. One example
of this is the wrist cuff design on the Ocean Commander.
or modified to provide a larger wrist opening and the suit is then
provided with a means to ensure that the larger opening does not
compromise the important watertight qualities of the cuff. This is
accomplished by incorporating an over-strap into the cuff's design.
It is important to note that retrofitting of existing suits must be
performed by Mustang Survival authorized and trained personnel.
Wrist cuffs play a critical role in establishing the protection offered
by an immersion suit simply because they keep water out of the
suit. Traditional wrist seals are often the source of leaks. However, a
leak-free immersion suit goes a long way towards providing
immersion suit wearers with the necessary level of hypothermia
protection. Traditional wrist seals are also uncomfortable and less
durable. The Ocean Commander therefore was designed to have
wrist cuffs that are:
· watertight,
· durable,
· donnable and doffable, (i.e. the wearer is able to be put on and
take off the suit), and
· comfortable to wear.
Important steps to follow for all OC8001 and OC8001HR immersion
suit owners/users:
Note: owners/users of any immersion suit are encouraged to
train in the use of the suit and its features on a regular basis
as part of overall marine emergency preparedness program.
· remove the Ocean Commander from its carrying case
· put the suit on and fully close the main entry zipper
The Ocean Commander's neoprene wrist cuff was the resultant
design.
Mustang Survival is aware of a variety of instances in which Ocean
Commander owners have reported difficulty with, or been unable to
accomplish, putting their hands through the wrist cuffs. Typically
this is associated with individuals with large hands or wrists. Most
of these instances have already been addressed. Nevertheless, for
the safety of all concerned, it is important for all Ocean Commander
owners to read this notice completely and to complete the steps
outlined below.
If during this exercise the wrist cuff is too tight to permit donning
or too loose to provide a watertight seal, then this suit may require
modification by an authorized Mustang Survival repair facility.
Product owners should contact their Mustang Survival Ocean
Commander dealer and advise them that they have a suit that may
require retro-fitting. Alternatively, contact Mustang Survival Corp.
directly at 1 800-661-6181.
Mustang Survival dealers receiving notification or actual suits
requiring retro-fits should contact Mustang's customer service
department to arrange this work at the nearest authorized
repair facility.
Once a retro-fit has been authorized by Mustang Survival, there
will be no charge to product owners or to Mustang Survival dealers
to have the authorized retro-fit of existing products performed.
Mustang Survival has developed a product enhancement that is
Transport Canada approved. This enhancement is applicable
to newly manufactured Ocean Commander immersion suits or
as a retrofit to in-service OC8001 and OC8001HR suits. The
enhancement is simple in concept; the wrist cuff is manufactured
M U S TA N G S U RV I VA L C O R P.

* Your assessment is very important for improving the work of artificial intelligence, which forms the content of this project