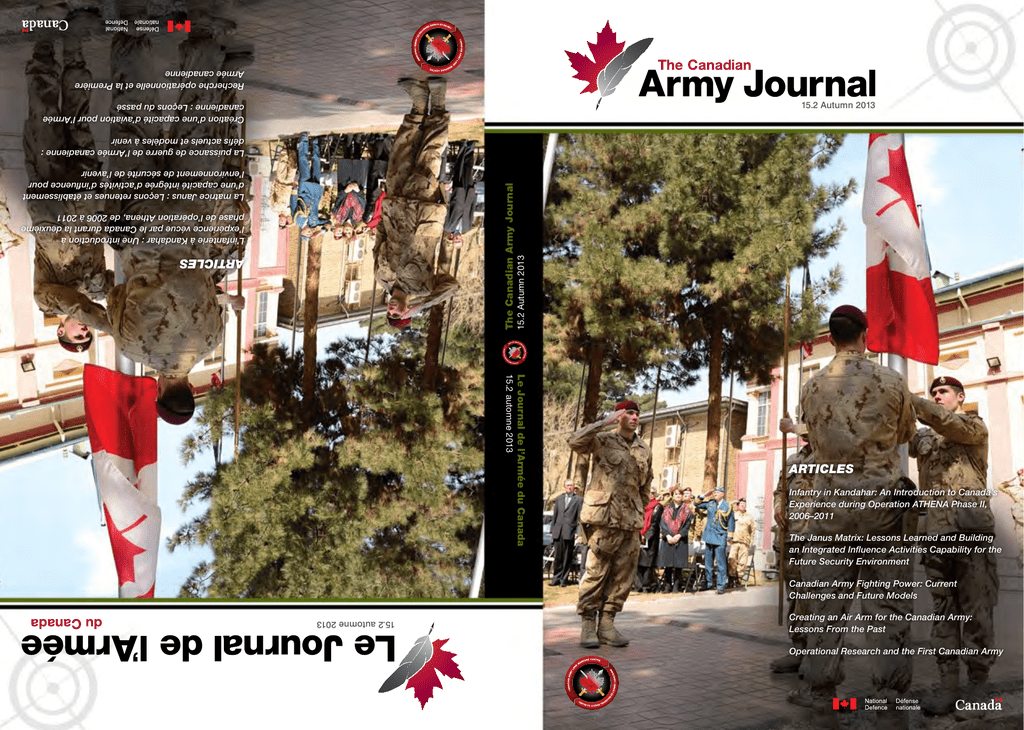 Le Journal de l'Armée du Canada
Operational Research and the First Canadian Army
Creating an Air Arm for the Canadian Army:
Lessons From the Past
Le Journal de l'Armée du Canada
15.2 automne 2013
15.2 automne 2013
Canadian Army Fighting Power: Current
Challenges and Future Models
The Janus Matrix: Lessons Learned and Building
an Integrated Influence Activities Capability for the
Future Security Environment
Infantry in Kandahar: An Introduction to Canada's
Experience during Operation ATHENA Phase II,
2006–2011
ARTICLES
15.2 Autumn 2013
The Canadian Army Journal
ARTICLES
L'infanterie à Kandahar : Une introduction à
l'expérience vécue par le Canada durant la deuxième
phase de l'opération Athena, de 2006 à 2011
La matrice Janus : Leçons retenues et établissement
d'une capacité intégrée d'activités d'influence pour
l'environnement de sécurité de l'avenir
La puissance de guerre de l'Armée canadienne :
défis actuels et modèles à venir
Création d'une capacité d'aviation pour l'Armée
canadienne : Leçons du passé
The Canadian Army Journal 15.2 Autumn 2013
Recherche opérationnelle et la Première
Armée canadienne
PRODUCED FOR
Canadian Army Detachment Kingston (Canadian Army Land Warfare Centre)
PO Box 17000 Stn Forces, Kingston, Ontario, K7K 7B4, Canada
DESIGN AND PRODUCTION
Army Publishing Office (APO), Kingston, Ontario, K7K 7B4, Canada
WEBSITE
CADTC Webmaster
COVER PHOTO CREDIT
Canadian Armed Forces Combat Camera
CORRESPONDENCE
All correspondence, contributions, and submissions should be sent to:
The Canadian Army Journal
c/o the Editor at Canadian Army Detachment Kingston (Canadian Army Land Warfare Centre)
PO Box 17000 Stn Forces, Kingston, Ontario, K7K 7B4, Canada
Telephone: 613 541 5010 ext. 8721
Fax: 613 540 8713
Email: [email protected]
ISSN—1713-773X
NDID—R-GL-007-000/JD-007
Print—Bilingual Tumble
© 2013 Her Majesty the Queen in Right of Canada, as represented by the Minister of National Defence
Printed in Canada
NOTICE
This documentation has been reviewed by the technical authority and
does not contain controlled goods. Disclosure notices and handling
instructions originally received with the document shall continue to apply.
Source: Combat Camera
Canada's Professional Journal
On Army Issues
PATRON
Commander Canadian Army:
Lieutenant-General Marquis Hainse,
CMM, MSC, CD
OVERSIGHT COMMITTEE
Chief of Staff Army Strategy:
Brigadier-General C.C. Thurrott,
OMM, MSM, CD
Director, Canadian Army Land Warfare
Centre:
The Canadian Army Journal, a refereed forum of ideas and issues, is the official
publication of the Canadian Army. This periodical is dedicated to the expression of
mature professional thought on the art and science of land warfare, the dissemination
and discussion of doctrinal and training concepts, as well as ideas, concepts, and
opinions by all army personnel and those civilians with an interest in such matters.
Articles on related subjects such as leadership, ethics, technology, and military history
are also invited and presented. The Canadian Army Journal is central to the intellectual
health of the Canadian Army and the production of valid future concepts, doctrine,
and training policies. It serves as a vehicle for the continuing education and professional
development of all ranks and personnel in the Canadian Army, as well as members from
other environments, government agencies, and academia concerned with the Canadian
Army, defence, and security affairs.
Colonel R.N.H. Dickson, CD
EDITORIAL STAFF
Editor-in-Chief:
Major A.B. Godefroy, CD, PhD, jrcsp
Production Manager:
Vacant
Book Review Editor:
Mr. R. Palimaka
EDITORIAL BOARD
CALWC – Centre for Operational
Research and Analysis:
Mr. P. Gizewski, MA
Canadian Forces College Toronto:
Dr. J.C. Stone, CD
Royal Military College of Canada:
Dr. M. Hennessy
Canadian Army Doctrine and
Training Centre:
Captain J. Rickard, CD, PhD
DISTRIBUTION AND SUBSCRIPTION
The Canadian Army Journal (ISSN 1713-773X) is distributed throughout
the Army and to select National Defence Headquarters, Royal Canadian Navy,
Royal Canadian Air Force and Directorate of Information Systems Operations addresses.
Copies are also provided to defence-related organizations, allied armies, and members
of the public and academia. Inquiries regarding distribution, subscription, and change
of address are to be made to [email protected] On the Internet, visit
The Canadian Army Journal at http://www.army-armee.forces.gc.ca/en.
SUBMISSION GUIDELINES
Unsolicited article manuscripts, research notes, book reviews, and points of interest
are welcome. Articles should be 5000–7000 words exclusive of endnotes, research notes
1500–2500 words exclusive of endnotes, book reviews 500 words, and points of interest
1000 words or less. Articles may be submitted in either official language. Authors must
include a brief biography. Authors must supply any supporting tables, charts, maps, and
images, and these should not be embedded in the article text. Articles may be submitted
via email or regular mail. All submissions are peer reviewed and the Editor will notify
contributors on the status of their submission. Further details regarding author
submission guidelines are available at www.army.forces.gc.ca/caj/.
DISCLAIMER
Opinions expressed in the articles remain those of the author and do not represent
Government of Canada, departmental or Canadian Armed Forces official policy. The
doctrine, training, and other updates do not represent authority for action on that
particular topic. All published material remains the copyright of The Department of
National Defence and may be used with written permission from the Editor.
TABLE OF CONTENTS
EDITORIAL
06
The Canadian Army of Today
and Tomorrow
Major A.B. Godefroy
ARTICLES
15
HONOURS AND AWARDS
08
Honours and Awards
Infantry in Kandahar: An Introduction
to Canada's Experience During
Operation ATHENA Phase II,
2006–2011
Dr. Lee Windsor
33
The Janus Matrix: Lessons Learned
and Building an Integrated Influence
Activities Capability for the Future
Security Environment
Mr. Matthew A. Lauder
49
Canadian Army Fighting Power:
Current Challenges and Future Models
Captain John N. Rickard
67
Creating an Air Arm for the Canadian
Army: Lessons From the Past
Dr. Randall Wakelam
91
Operational Research and the First
Canadian Army
Prof. Terry Copp
4
THE CANADIAN ARMY JOURNAL VOLUME 15.2 2013
TABLE OF CONTENTS
BOOK REVIEWS
100 China's Wars: Rousing the Dragon,
1894–1949
Reviewed by Major A.B. Godefroy
102 One Day in August: The Untold Story
106
Hitler's Final Fortress: Breslau 1945
108
All Hell Let Loose: The World at War,
1939–1945
Behind Canada's Tragedy at Dieppe
Reviewed by Major Thomas K. Fitzgerald
104 The Guns at Last Light: The War in Western
Europe, 1944–1945
Reviewed by Major Thomas K. Fitzgerald
Reviewed by Captain Chris Buckham
Reviewed by Major Thomas K. Fitzgerald
110
Us Civil–Military Relations After 9/11:
Renegotiating the Civil–Military Bargain
Reviewed by Major Thomas K. Fitzgerald
Source: Combat Camera
WWW.ARMY.FORCES.GC.CA/CAJ
5
THE CANADIAN ARMY OF TODAY AND TOMORROW
Major A.B. Godefroy, CD, PhD, jrcsp
Editor-in-Chief
This issue completes the fifteenth volume of the
Canadian Army Journal since its re-establishment back in
1997–1998 (then under the lengthier title of Army
Doctrine and Training Bulletin), and also my tenth year as
its editor. When I was brought on board back in 2004 to
help fill a temporary gap in the stewardship of the journal,
I was politely informed that the resource shortages were
temporary and that it would really only be a secondary
duty anyway. Ten years later I can confirm that neither
of these predictions was accurate. The army journal
has never enjoyed the luxury of the resources typically
provided to other professional service journals, nor has
its stewardship resembled anything like a secondary duty.
Nevertheless, my colleagues and I have made every effort
to persevere, and, looking back over the last decade, we
are generally pleased with the result.
Past accomplishments aside, however, as defence renewal gets underway
across the army it makes sense that the time has arrived to once again
review the existing concept and design of the army journal. Many readers have already noted, for example, that the old Canadian Army Journal
website and its contents have since been replaced with a "new look" as
directed by the army. Those seeking the online version of the army journal
(from Volume 14 onwards only) can now find the link to it at the very
bottom of the army's new main homepage (http://www.army-armee.
forces.gc.ca/en/). Similarly, some sections seen in previous issues of the
army journal have been retired, while new sections are appearing. For
example, in our last issue we introduced new guest editorials from the
Commander Canadian Army and other senior army officers, as well as
a new section focused on providing you with updates on equipment
developments currently taking place within the army's Directorate of
Land Requirements (DLR). We hope to continue providing current
and timely updates on similar army developments in future volumes.
Additionally, readers may be pleased to note that the latest edition of the
Canadian Army Journal Index (Volumes 1–14) is now available online
and via limited hardcopy to select users. This publication replaces the
first edition of the CAJ index, covering Volumes 1–11, released in 2009.
6
THE CANADIAN ARMY JOURNAL VOLUME 15.2 2013
EDITORIAL
Going forward, the CAJ will continue with its mandate of presenting thought-provoking articles examining all
aspects of the study of land warfare, and this latest issue offers a wide and varied selection of such items. Our
first article is an introduction to the Canadian infantry experience in Kandahar, authored by Dr. Lee Windsor
of the Gregg Centre at the University of New Brunswick. Dr. Windsor has done extensive field research on the
current Canadian Army and was one of the main contributing authors to the 2008 book Kandahar Tour: The
Turning Point in Canada's Afghan Mission. Captain John Rickard of the Canadian Army Doctrine and Training
Centre (CADTC) Professional Development (PD) cell has recently completed a comprehensive study on fighting power and resiliency for the army. His article in this issue offers an introduction to the subject and examines
several important issues affecting the future development of the army's fighting power. Other articles in this
issue focus on topics related to defence science, research and experimentation. Professor Terry Copp's historical essay traces the evolution of army operational research in the First Canadian Army. Dr. Randall Wakelam's
article examines a long-standing subject of interest: the development of land/air integration and capability
within the army and air force. Lastly, Matthew Lauder's piece on the JANUS Matrix continues our new focus on
publishing methodologies for developing Canadian Army capabilities. Accompanying these articles is another
round of book reviews that should catch your attention and provide interesting reading.
As always, we invite you to read, consider and debate the contents of this journal with your fellow soldiers,
taking special note of the new sections. And, once again, I invite you to consider submitting an article, a book
review or an informed opinion piece on any subject of interest to the army and/or land warfare studies in
general. In the meantime, enjoy!
Major A.B. Godefroy, CD, PhD, jrcsp
Editor-in-Chief
ON THE EDITOR'S DESK
A few items have arrived since the last issue, perhaps most notably two new publications on the
history and evolution of the Canadian Rangers by Dr. Whitney Lackenbauer. Dr. Lackenbauer is a scholar
with a long and deep interest in Canada's First Nations and the Canadian north, and his two recent works,
The Canadian Rangers: A Living History (UBC Press, 2013) and Canada's Rangers: Selected Stories 1942–2012
(CDA Press, 2013), fill a substantial gap in the literature. Both look to be very interesting reads and will be
reviewed in Volume 16.
WWW.ARMY.FORCES.GC.CA/CAJ
7
HONOURS AND AWARDS
MERITORIOUS SERVICE CROSS (MILITARY DIVISION)
Major-General Stuart A. Beare, CMM, MSC, MSM, CD
Shilo, Manitoba
As the deputy commander of the military police within the NATO Training Mission–Afghanistan from
June 2010 to July 2011, Major-General Beare led the largest build-up of police forces in the mission's history.
Working tirelessly with his Afghan counterparts and commanding a diverse, multinational organization,
he built a solid foundation for the Afghan National Police and positioned the organization for ongoing
success. Major-General Beare's leadership and strategic vision had a profound and lasting impact on the
success of the mission.
Major-General Donald Michael Day, OMM, MSC, CD
Ottawa, Ontario
From April 2011 to May 2012, Major-General Day excelled as commander of the Canadian contribution to
the NATO Training Mission–Afghanistan, while simultaneously occupying key leadership positions within
the NATO command structure. In addition to overseeing the successful stand-up of the Canadian contingent,
he was critical in shaping the mission's overall approach during a time of major strategic transformation.
Major-General Day's leadership and vision had a profound impact on the Afghan National Security Forces'
transition to self-sufficiency.
Major-General James Robert Ferron, OMM, MSC, CD
Kingston, Ontario
From May 2012 to May 2013, Major-General Ferron has provided his leadership to nearly 4 000 coalition
personnel and 13 000 contractors in Afghanistan. With vision and insight as deputy commanding general
of the NATO Training Mission–Afghanistan, he ensured the successful introduction of significant new
capabilities, and the effective training and equipping of over 350 000 Afghan National Security Forces.
Major-General Ferron's performance set the standard for Canadian, coalition and Afghan personnel, and was
critical to the success of the mission.
Lieutenant-General James Terry, MSC (United States Army)
Jasper, Georgia, United States of America
Lieutenant-General Terry, of the United States Army, provided exceptional leadership and vision as the
commanding general of Regional Command (South) in Afghanistan from November 2010 to October 2011.
His support for Canada's mission and Canadian soldiers on the ground was critical to the Canadian Armed
Forces' operational success. A steadfast ally, Lieutenant-General Terry widely promoted the significance of
the Canadian contribution, highlighting its role in bringing stability to Afghanistan and helping maintain the
Canadian Armed Forces' legacy there.
8
THE CANADIAN ARMY JOURNAL VOLUME 15.2 2013
HONOURS AND AWARDS
Lieutenant-General Guy Robert Thibault, CMM, MSC, CD
Comox, British Columbia
As chairman of the Inter-American Defense Board (IADB) since June 2010, Lieutenant-General Thibault has
demonstrated energy, enthusiasm and diplomatic skill in leading this complex and diverse multilateral group.
He is lauded for his interpersonal skills, his sensitivity to national differences of opinion, and his intellectual
ability to astutely frame and convincingly articulate a vision for the reform and evolution of the IADB. His
efforts have significantly added to Canada's esteem within the board and to the advancement of Canada's
engagement toward the Americas.
MERITORIOUS SERVICE MEDAL (MILITARY DIVISION)
Major Joseph Éric Stéphane Briand, MSM, CD
LaSalle, Quebec
Major Briand commanded a team of mentors deployed to Afghanistan from November 2010 to June 2011,
where he distinguished himself by his exceptional strategic acumen. With extraordinary initiative, he
professionalized the efforts of the Afghan National Army on several occasions, both while stationed in
garrison and in the field. Major Briand's keen planning sense, resilience and composure contributed greatly to
the operational success of the coalition forces.
Chief Warrant Officer Gorden Roy Cavanagh, MSM, CD
Edmonton, Alberta
As task force sergeant-major from March 2011 to February 2012, Chief Warrant Officer Cavanagh had a
profound impact on the Canadian contribution to the NATO Training Mission–Afghanistan. He developed
strong relationships with other nations; maintained a detailed understanding of the morale, welfare and
leadership climate; and created a common sense of purpose within the widely dispersed task force.
Chief Warrant Officer Cavanagh's performance and leadership were critical to the success of this
renascent mission.
Major Derek John Chenette, MSM, CD
St. Albert, Alberta
While deployed to Afghanistan from August 2011 to February 2012, Major Chenette excelled as commanding officer of the Regional Military Training Centre – North. He overcame the challenges of being stationed
400 kilometres from NATO headquarters, at the end of complex lines of communications, and delivered
an exceptional mentoring program focused on empowering non-commissioned officers and encouraging
individual accountability. Drawing praise from NATO leadership, Major Chenette's unit was considered one of
the most effective in the country, bringing great credit to the Canadian Armed Forces.
WWW.ARMY.FORCES.GC.CA/CAJ
9
Lieutenant-Colonel Guy Doiron, MSM, CD
Saint-Avold, France
As commander of the Materiel Disposal Unit from May to December 2011, Lieutenant-Colonel Doiron greatly
contributed to the success of the Mission Transition Task Force. Responsible for establishing disposal capacity,
he transformed a group of soldiers and civilians into an effective unit that maintained complete control over
all aspects of disposal. Lieutenant-Colonel Doiron's leadership and knowledge facilitated the end of Canada's
combat mission in Afghanistan.
Honorary Colonel Dennis Erker, MSM
Edmonton, Alberta
Since 2009, Honorary Colonel Erker has demonstrated leadership and unwavering support in caring for the
well-being of Canadian Armed Forces members as the honorary colonel of the Loyal Edmonton Regiment. His
efforts to promote relationships between the military and civilian communities are commendable. Honorary
Colonel Erker has also been the driving force behind the creation of Valour Place, Canada's second military
support home for injured serving Canadian Armed Forces members and veterans, as well as members of the
Royal Canadian Mounted Police.
Major Jay Lyman Indewey, MSM, CD
Georgetown, Prince Edward Island
Major Indewey demonstrated leadership and professionalism as operations officer of the Joint Task Force
National Support Element from October 2009 to May 2010. He ensured the provision of exceptional combat
service support to Canadian and coalition forces in Afghanistan. In addition, he enabled the mentoring of and
partnering with the combat service support kandak of the Afghan National Army. Major Indewey's remarkable
efforts improved the capabilities of the Afghan National Army and contributed directly to operational success
in Afghanistan.
Warrant Officer Allan Mark Kendall, MSM, CD
Collingwood, Ontario
On January 10, 2011, Warrant Officer Kendall rescued a suicidal woman who had wandered out onto thin ice on
the Severn River, in Sandy Lake, Ontario. Without regard for his own safety, he went out onto the ice to secure
the woman, which allowed his Ranger team to haul them both safely back to shore. Warrant Officer Kendall's
quick thinking brought great credit to the Canadian Rangers and to the Canadian Armed Forces.
Major Yannick Lemieux, MSM, CD
Joliette, Quebec
Major Lemieux was deployed to Afghanistan as part of the Mission Transition Task Force from
July to December 2011. As senior communications advisor and commander of Group Headquarters and
Signal Squadron, he coordinated the delivery of impeccable communications support and developed an
exemplary reduction plan. His leadership, determination and knowledge ensured that the closure of the
Canadian communications infrastructure went smoothly while maintaining operational effectiveness during
the process.
10
THE CANADIAN ARMY JOURNAL VOLUME 15.2 2013
HONOURS AND AWARDS
Major Dene Leonard, MSM (United States Army)
Lancaster, Pennsylvania, United States of America
Major Leonard, of the United States Army, demonstrated leadership, initiative and professionalism as the
Joint Task Force Afghanistan intelligence planner from August 2010 to August 2011. The driving force behind
the integration of several American capabilities, he constantly sought means to increase the operational
effectiveness of intelligence operations. Major Leonard's ability to synchronize the efforts of Canadian,
American and Afghan intelligence staffs enabled the targeted pursuit of insurgents and contributed directly
to operational success.
Major Jay Adam MacKeen, MSM, CD
Pointe-Claire, Quebec
As the chief of staff of the Consolidated Fielding Centre from May 2011 to February 2012, Major MacKeen
excelled while entrusted with increased responsibilities, and was central to the fielding of 41 new Afghan
National Army units. Providing superb leadership to Canadian, coalition and Afghanistan personnel, he
developed processes that touched on all aspects of operations while providing outstanding mentorship to
an Afghan colonel. Major MacKeen's efforts dramatically improved the centre's operational effectiveness and
enhanced Canada's reputation within NATO.
Captain Stephen Noel, MSM, CD
St. John's, Newfoundland and Labrador
As officer commanding India Company from May to December 2010, Captain Noel distinguished himself as
a flexible and effective combat leader. Initially deployed to Kandahar City, his company conducted ongoing
patrols, which improved stability and enabled American forces to seamlessly assume security responsibilities.
Following their reassignment to volatile Nakhonay, his soldiers excelled in their new role, and helped reduce
incidents of violence and intimidation towards villagers. Captain Noel's front line leadership was critical to the
Canadian Armed Forces' operational success in Afghanistan.
Master Corporal Montgomery Patrick Robson, MSM, CD
St. Albert, Alberta
Master Corporal Robson consistently demonstrated outstanding professionalism in his role as the
Princess Patricia's Canadian Light Infantry Regimental Veterans Care non-commissioned officer from 2006
to 2011. With great tact, he helped ease the suffering of injured soldiers and their families by providing them
with constant and compassionate support. Through his mentorship and encouragement, numerous soldiers
successfully returned to work. Despite the stress of this task, Master Corporal Robson remained unwavering
in his dedication to those he served, bringing great credit to the Canadian Armed Forces.
Lieutenant-Colonel David Donald Ross, MSM, CD
Russell, Ontario
From July to December 2011, Lieutenant-Colonel Ross was deployed to Afghanistan with the Mission
Transition Task Force. As assistant chief of staff operations, he orchestrated the Canadian Armed Forces'
largest mission closure in recent history. His leadership, knowledge and ability to synchronize multiple
lines of effort were instrumental in keeping operations running smoothly despite the hectic environment.
Lieutenant-Colonel Ross' performance contributed to the successful closure of Canada's combat mission
in Afghanistan.
WWW.ARMY.FORCES.GC.CA/CAJ
11
Chief Warrant Officer Christopher Paul Rusk, MMM, MSM, CD
Brampton, Ontario
From January 2010 to February 2011, Chief Warrant Officer Rusk excelled as regimental sergeant-major of
three organizations. Initially deployed with the Provincial Reconstruction Team, he quickly transitioned to a
mentoring role and prepared an infantry kandak for combat, before moving to the NATO Training Mission
to help lay the foundation for Afghan National Police development. Whether in the classroom, at headquarters, or on the battlefield, Chief Warrant Officer Rusk distinguished himself as an exceptional soldier and
dynamic leader.
Major Carol Diane Sawatzky, MSM, CD
Kemptville, Ontario
From April to November 2011, Major Sawatzky was deployed to Afghanistan as the engineer regiment
infrastructure officer within the Mission Transition Task Force. She developed and executed a plan that ensured
the smooth transfer of over 250 buildings and other infrastructure from Canada to its allies. Facing intense
pressure from other nations, Major Sawatzky demonstrated commendable leadership and diplomatic abilities,
which contributed to both the successful closure of Canada's combat mission in Afghanistan and to Canada's
reputation for professionalism and international co-operation.
Chief Warrant Officer Anthony James Slack, MMM, MSM, CD
Harrowsmith, Ontario
As regimental sergeant-major of the Consolidated Fielding Centre from July 2011 to July 2012,
Chief Warrant Officer Slack successfully trained and equipped over 21 000 Afghan soldiers. Most notably, he
created a mentoring program that was vital to the empowerment and educational growth of senior non-commissioned officers. Chief Warrant Officer Slack's efforts supported the fielding of 70 newly formed Afghan
National Army units, bringing great credit to the Canadian Armed Forces.
Warrant Officer Gregory Allan Smit, SC, MSM, CD
Pickering, Ontario
On August 20, 2011, Warrant Officer Smit was instrumental in the rescue of the survivors from First Air
Flight 6560, during Operation NANOOK 2011. He assumed control of the crash scene, provided medical
assistance, directed the evacuation of survivors, and preserved and secured the crash site. Warrant Officer Smit's
actions prevented further loss of life among the survivors, while demonstrating the highest standards of skill
and professionalism.
12
THE CANADIAN ARMY JOURNAL VOLUME 15.2 2013
Source: Combat Camera
Source: Combat Camera
14
THE CANADIAN ARMY JOURNAL VOLUME 15.2 2013
ARTICLES
INFANTRY IN KANDAHAR
An Introduction to Canada's Experience during Operation ATHENA
Phase II, 2006–2011
Dr. Lee Windsor
FOREWORD
Through ten rotations, over 9,000 members of the Royal Canadian Infantry Corps deployed to southern
Afghanistan. Almost 2,000 of those soldiers came from the Reserve Force. On average, the Royal
Canadian Infantry Corps represented 33 percent of each rotation. They served primarily, although not
exclusively, as formed units, sub-units or sub sub-units in the battle group, the Provincial Reconstruction
Team, the Operational Mentor and Liaison Team, and force protection elements. There is certainly
much to be gained from our collective Afghanistan effort. What follows is the result of collaboration
between the Infantry School and Dr. Lee Windsor from The Gregg Centre for the Study of War and
Society at the University of New Brunswick. It is not a complete history of the Corps in Kandahar, but
it does pose a preliminary set of historical questions about our operations there. The Royal Canadian
Infantry Corps cannot afford to rest on our hard-won success. As we look back on our recent experience
in Afghanistan, the Corps must also prepare itself for the challenges of the next battlefield.
Ducimus
I.R. Creighton
Colonel
Director Infantry
Ottawa, Ontario
July 2013
Phase II of Operation ATHENA in Kandahar ended in July 2011, bringing to a close the longest sustained
military campaign in Canadian history, more than six years after its controversial launch in July 2005. 1 At
the time of writing in 2013, the struggle for Kandahar and the rest of Afghanistan continues between the
NATO-backed Afghan government and the Taliban and other anti-government forces. So too does Canada's
South Asian commitment in the form of military training assistance, aid and development, which is tentatively
slated to conclude in 2014 when the international community plans to transfer responsibility "for security and
governance to Afghanistan."2 In the midst of ongoing low‑intensity war characterized by political turmoil and
highly classified special operations, it will take decades before the full story of Canada's six-year‑long military
campaign in southern Afghanistan comes to light. The Canadian Army cannot wait that long to openly consider
its southwest Asian experience, especially given that stability operations in failed states remain high on the
list of likely future assignments. Such missions will invariably include specialist units from every service and
branch in the Canadian Armed Forces but will probably rely primarily on infantry soldiers to exert influence
over landscape and people. What follows here is a preliminary study of the Royal Canadian Infantry Corps'
experience during what CBC journalist Brian Steward branded "the Kandahar campaign."3 It is meant to be a
short primer on ATHENA II from an infantry perspective—to introduce readers to key problems, lessons and
open questions that emerged during operations in Kandahar and southern Afghanistan during the most difficult and costly portion of Canada's commitment in that country. Between 2005 and 2011, Canadian infantry
soldiers served at once as fighting soldiers, nation builders and diplomats, all while bullets and rockets whistled
overhead and improvised explosive devices blew holes in their ranks. Canadian infantry soldiers met their
opponents in southern Afghanistan with every weapon in their inventory and directed supporting fires of every
type, including those using the latest technologies. Preparing for what lies ahead means understanding what the
Infantry Corps just endured. A study such as this raises more questions than it answers, but it might encourage
newly trained Canadian infantry soldiers and Afghan veterans to think critically about what Canada's longest
war means for their profession. The study does not include the Canadian Army's first foray into Kandahar in
2002 during Operation APOLLO or the quieter, if still deadly, Operation ATHENA Phase I in Kabul from
2003–2005, nor the ongoing training mission in northern Afghanistan. Those parts of the Canadian Army
story must also be captured and digested.
© DR. LEE WINDSOR, 'AN INTRODUCTION TO CANADA'S EXPERIENCE DURING OPERATION ATHENA PHASE II', CANADIAN ARMY JOURNAL VOL. 15.2
15
This study is concerned with questions of continuity and change in infantry
practice going into and coming out of Kandahar. Perhaps the most important
finding is that many 20th century infantry principles were found to still be
relevant in southern Afghanistan after being first proven and refined at Vimy,
Amiens, Ortona and Normandy. The Kandahar campaign demonstrated the
value of physically fit infantry soldiers, skilled in the use of personal and
light support weapons, who could navigate across country by day or night,
taught to carefully observe their surroundings, decentralized under junior
leaders trained to operate independently on small patrols or as part of a larger
all-arms team on deliberately planned operations. But ATHENA II was also
an extraordinary mission of firsts in Canadian military history. The idea of
the "strategic corporal" as warrior‑builder‑diplomat fighting the "three‑block
war" has existed at least since the 1990s, but this was Canada's first protracted
war that tested the theory.4 From 1941 to the 1990s, the Canadian infantry
evolved from motorization to full mechanization, but the Kandahar campaign
was the nation's first to employ infantry fighting with and from their own
armoured vehicles. In a similar vein, Afghanistan was Canada's first war making extensive use of helicopters to carry infantry to the fight, to sustain them
there, to evacuate casualties when necessary, and to provide close combat
attack support. ATHENA II was certainly Canada's first information age war
in which both sides employed cellular phones, laptops and the Internet as
tools and weapons.
Most importantly, the Kandahar campaign marked Canada's first full blown
counter-terrorism and counter-insurgency war fought against an enemy
employing simple guerrilla attrition tactics to maintain constant insecurity.
In short, the enemy sought to win the fight against Canadian troops "by not
losing it."5 The campaign occurred within the United Nations mission to
rebuild Afghanistan as a viable state and elevate the country's status as one
of the poorest nations in the world.6 One cannot be divorced from the other.
Canadian infantry actions from 2006 to 2011 supported Afghanistan's
recovery by thwarting Taliban and other anti-government groups' efforts to
destabilize and ultimately reconquer the strategic cornerstone of Kandahar
City and Province. In that assignment, Canada's Task Force Kandahar scored
some tactical and operational success but, in the end, Operation ATHENA
II stands as Canada's first overseas combat operation terminated before the
outcome was certain. At the time of writing, responsibility for security is being
transferred to Afghanistan's own military and police forces, assisted by Canada
and other NATO member nations and partners. It will take some time before
the final verdict on Afghanistan's future is clear and events in Kandahar truly
pass into history.
This article cannot be a comprehensive history of the Infantry Corps during
ATHENA II, but it does employ a historian's approach to gathering evidence.
The findings here are based on unclassified end-tour briefings, Army Lessons
Learned Centre Reports and interviews with veterans from every rotation
through Op ATHENA II. The interviewees were all senior NCOs and officers from lieutenant to lieutenant-colonel serving in and around the Infantry
School during the fall of 2012. Almost all served multiple tours in Kandahar,
most in different functions, giving them comparatively broad insight on the
mission and place.7 This Infantry School project is not meant to be an end in
itself but an exercise in encouraging veterans to come forward and be heard.
16
THE CANADIAN ARMY JOURNAL VOLUME 15.2 2013
ARTICLES
WWW.ARMY.FORCES.GC.CA/CAJ
17
Source: Combat Camera
The first overarching observation about the Kandahar campaign is that no two six-month tours of duty
there were alike. Operation ATHENA II changed tremendously between 2005 and 2011. Veterans from the
first years noticed dramatic changes to the place, ISAF's mission and enemy behaviour when they returned
for their second tours later in the campaign.8 Each rotation experience varied enormously as the enemy threat
adapted, as Canadian and NATO policy evolved in response and as the size of NATO and Afghan National
Security Forces increased. During the campaign, infantry soldiers served in one or more of four distinct types
of tasks. A majority served in infantry-based all-arms battle groups charged with maintaining security in
Kandahar Province. Others served in force protection companies with Canada's Provincial Reconstruction Team which evolved into stability companies in 2009. Still more served in Operational Mentoring and
Liaison Teams assigned to support Afghan National Army Kandaks (battalions). Beyond these four functions,
individual Canadian infantry soldiers could also be found in a myriad of command and staff or force protection
details throughout ISAF's Regional Command (South). Each tour and task included substantial numbers of
reservists. Nearly every reserve infantry regiment in Canada contributed soldiers to operations in Kandahar.
The percentage of reserve infantry soldiers present varied from tour to tour but averaged 7 percent of the
total Canadian force, not including reservists from other branches. The figure is substantial, given that the
infantry component on Operation ATHENA II averaged 33 percent of the total contingent.9 To put that figure in
perspective, 3rd Canadian Infantry Division landed in Normandy in June 1944 with 15 percent of its total
strength found in its infantry battalions.10
Not surprisingly, there was a wide variation in what each interviewee understood that they were supposed
to accomplish and whether they succeeded, depending on their tasking and when they deployed. In spite of
a constantly evolving Kandahar campaign, interview findings, the survey of Army Lessons Learned Centre
reports and other unclassified publications echo similar observations on a number of issues. Four particular
areas stand out as constant for the Canadian Infantry Corps through ATHENA II. Firstly, infantry fundamental skills and functions remained timeless and adapted well to the evolving mission, for the most part.
There is anecdotal evidence of exceptions but, as a rule, core infantry skills and drills worked well, especially
when applied by junior leaders who could think critically and apply them with imagination to the problem
of the day or hour. Secondly, since the very beginning of the campaign, the fighting infantry, and indeed all
combat arms soldiers, were taught that they alone could not repair a deeply troubled Afghanistan. They were
briefed in pre-deployment training that the application of military power alone would not bring lasting peace
and stability in a counter-insurgency campaign. Instead they were to hold the enemy at bay and buy time for
other government departments, aid agencies and international development organizations to assist Afghans
in rebuilding the political, social and economic fabric of their nation. Canadian infantry soldiers were aware
long before the issue became prominent in the international media that at a certain point Afghans themselves
would take responsibility for their own security. However, not long into the campaign, it was clear to most that
preventing enemy interference with the rebuilding of Kandahar Province was nearly impossible with a single
Canadian battle group, especially in an area so vital to the Taliban.11 Canada's Task Force Kandahar was too
small to "deliver Kandahar" as ordered. However, the reality was that Canadian infantry faces and behaviour
were seen by more Kandaharis more often than any other type of foreign aid worker or diplomat. As the most
visible and numerous ISAF presence "outside the wire," Canadian infantry soldiers were keenly aware of their
potential to influence perceptions among the local population, positively and negatively.
The third constant flows from the second. While the Canadian infantry had not the numbers or capacity to
deliver Kandahar, those agencies and Afghan forces that could win could only do so with Canadian infantry
soldiers. Civil–military cooperation (CIMIC) detachments, the Provincial Reconstruction Team, foreign service officers, aid and development workers, special forces targeting enemy leaders, police forces, the Afghan
government, army and police all depended on infantry, not just for security and mobility, but to gather and
transmit information in what amounted to an armed election campaign to determine who would form the
future government of Afghanistan. Lastly, this study reinforces the 20th century adage that infantry soldiers
alone have limited options. The infantry only delivers its full potential as part of an all-arms team, including
artillery, engineers and armour, air forces, intelligence staff, CIMIC teams, electronic warfare units, influence
operations teams, special operations forces, and medical services, and on stability building missions, with
civilian law enforcement officers, diplomats and development officials. This lesson re-learned or reinforced
18
THE CANADIAN ARMY JOURNAL VOLUME 15.2 2013
ARTICLES
applied to the gamut of infantry tasks performed during the long Kandahar campaign, from the first conventional battles of Pashmul in 2006, to stability-building tasks at model villages in Dand District in 2009, right
through to Canada's return to the longstanding Taliban eastern Panjwayi stronghold at Nakhoney in 2010. What
changed markedly during the six-year campaign was the level at which supporting arms were integrated into
infantry units. From 2006 to 2008, supporting assets were directed mainly by battle group and task force level
headquarters with tactical control residing at the company combat team level. From 2009 to 2011, supporting
capabilities were increasingly placed at the disposal of platoon and even section commanders. The reasons for
this shift are evident below.
Students of the Kandahar campaign should wield the tool of hindsight with caution, for the mission there looked
very different in 2010 than it did when the first Canadian Provincial Reconstruction Team set up shop in 2005.
In those early days, few anticipated just how violent, resilient and at times cohesive the Taliban adversary would
become. In early 2006, Canada's first battle group, based on 1 Battalion, Princess Patricia's Canadian Light Infantry, deployed to Kandahar expecting some trouble from small Taliban cells, but for the most part they understood that their main mission was to protect the stability‑building and assistance efforts in Kandahar City. The
violent and large‑scale Taliban response to Canada's new military presence and the intensity of combat actions
took most by surprise.12 By the time the next tour based on 1 Battalion of the Royal Canadian Regiment rotated
into Kandahar at the end of summer 2006, the stage was set for near conventional warfare. The Canadian-led
Operation MEDUSA offensive in eastern Panjwayi and Zharey Districts was characterized by deliberate attacks
against dug-in Taliban defensive positions in September. In 2007 many hoped that Operation MEDUSA had set
the Taliban back and the time had come to restart stability‑building and nation-building efforts. Indeed, during
the intervening winter, Canadian manoeuvre units moved freely through most of the province. Reconstruction
became the focus and veterans of battle groups based on 1 and 2 Battalions of the Royal Canadian Regiment took
some satisfaction in seeing Kandahar City begin to thrive economically. Those hopes faded when the summer
fighting season opened in 2007, setting a stark pattern. It quickly became apparent that the Canadian Task Force
had nowhere near enough soldiers to protect the population.13 The solution in those early years was to "clear"
the Taliban out of threatened areas with Canadian and Afghan National Army Troops and then deploy Afghan
National Police units in place to "hold" the ground and pave the way for CIMIC detachments and other agencies to "build." Only in eastern Panjwayi, under the watch of commanding Canadian-built forward operating
bases, was it possible to protect the population from Taliban intimidation and violence.14
In late 2007, the Canadian Task Force broke up one of the infantry companies belonging to 3 Battalion of the
Royal 22e Régiment to create more personnel to establish the Police Operational Mentoring and Liaison Unit.
These POMLTs garrisoned new police substations with their ANP charges in western Zharey and Panjwayi.
Their posts became battlefields, as the Taliban regenerated and operated as classic guerrillas and insurgents in
2007 and into 2008. Isolated outposts stood dispersed and unable to support one another, each too small to
dominate the area around it.15 A good portion of the manoeuvre force was either tied to the embattled outposts
or to fighting combat logistics patrols through to sustain them, thereby limiting the capacity to mass Canadian
power.16 The two Canadian rotations to Kandahar in 2008, in the same way as those before them. described
their efforts as counter-insurgency, but they operated at a time when Taliban strength in southern Afghanistan
grew. The 2008 Taliban summer offensive pressed in on Zharey and Panjwayi while new threats materialized in
Arghandab District and within Kandahar City itself. The fundamental problem was that Canada's Task Force
Kandahar had insufficient resources to hold on to what it cleared. It was the time when it became clear to all
that there were not enough NATO and Afghan "troops to task." It was also the year that the IED and counterIED fight reached new heights of intensity.17 Partly in response to mounting Canadian casualties that year, the
so-called Manley commission visited Kandahar and acknowledged that, while some progress had been made,
Canada's task force needed help.18 Their recommendations and the surrounding public debate in Canada started
a process that led to a dramatic influx of American and Afghan troops and police into Kandahar. Much Canadian blood was spilled and many dollars spent before the view took hold that four Canadian rifle companies
and an Afghan brigade were not enough to protect the population in Kandahar (numbering over one million)
from the growing Taliban insurgency. This is not to say that the first three years of the Kandahar campaign were
wasted. The consensus view among senior veterans of those years is that Canada's task force may have been too
small to completely isolate the population from Taliban influence, but it did disrupt and delay the Taliban's own
WWW.ARMY.FORCES.GC.CA/CAJ
19
campaign to take control of Kandahar City until help arrived in 2008–2009. Major-General Jonathan Vance
commented that in between 2006 and 2009 "all we could do was not lose."19 The period then was characterized
by high-intensity mechanized all-arms combat team disruption and clearing operations in Taliban strongholds
across the province as well as a kind of ongoing counter-insurgency defensive in eastern Zharey and Panjwayi.
By 2009, Canada's Kandahar campaign took a noticeable shift as US Army and more Afghan National Army
units arrived in the province. It was the same year ISAF Commanding General Stanley McChrystal released his
now famous report, which turned the Kandahar campaign into an ISAF and an American priority. The 2009
flow of US troops became the surge of 2010. In that context, Canada's Task Force Kandahar could concentrate
troops, equipment, new technologies, and development dollars to saturate key areas south of Kandahar City
and in eastern Panjwayi. Finally there were enough troops to task to mount a population-centric counterinsurgency campaign to undermine Taliban influence among Kandaharis. It marked a shift to platoon houses
established amid key villages.20 All around the small island of comparative Canadian stability, newly arrived
US units launched major offensive operations to dominate Taliban-controlled districts.21 Canadian troops felt
the effects. Many were involved in blocking operations while U.S. units cleared Arghandab and western Zharey
20
THE CANADIAN ARMY JOURNAL VOLUME 15.2 2013
ARTICLES
During the last Canadian tour of the campaign,
the battle group based on 1 Battalion of
the Royal 22e Régiment held to the motto
"Combattre, Convaincre, Construire"
(Fight, Convince, Build).
Source: Combat Camera
Districts. Canadian OMLT personnel with ANA units assigned to support the U.S. push‑back into western
Panjwayi also saw plenty of action in the last year of Canada's Kandahar campaign.22 But a majority of Canadian
infantry soldiers spent the last months of the campaign practising counter-insurgency in accordance with the
latest Canadian and American doctrine, isolating the population southwest of Kandahar City from Taliban
control and threats. During the last Canadian tour of the campaign, the battle group based on 1 Battalion of the
Royal 22e Régiment held to the motto "Combattre, Convaincre, Construire (Fight, Convince, Build). It means
fighting the lack of security, convincing the local people that they can take charge and have a better future, and
building lasting stability and local capabilities."23
INFANTRY FUNDAMENTAL SKILLS
Despite this wide variety of tour experiences between 2005 and 2011, veterans interviewed for this study shared
a number of common observations, some echoed in Army Lessons Learned Centre reports and others not. All
of their observations and experience in one way or another form part of the new Infantry Corps Intellectual
Framework signed off on by then Commander of the Canadian Army Lieutenant-General Peter Devlin in
WWW.ARMY.FORCES.GC.CA/CAJ
21
Source: Combat Camera
July 2012.24 First and foremost, all interviewees agreed that fundamental infantry skills were applicable at
every stage of the campaign. Those included terrain analysis, distance estimation, navigation and weapons
handling, but among the most important skills identified was mastery of the battle procedure process. This
simple infantry approach to planning worked well for carrying out any task from running meetings with village
elders about road paving to hunting down IED cells. The process worked when troops were tired and ensured
everyone understood their role in the task, especially if things went wrong. During the Kandahar campaign, a
"new" step was institutionalized. Ever since the First World War, honest post-operation conferences or reviews
have enabled the Canadian Infantry Corps to react to rapidly evolving battlefield circumstances. Early in the
Kandahar campaign, many units added a sixteenth step to their battle procedure process in the form of afteraction reviews at the lowest levels. The Army made this universal in early 2009.25
Of course Kandahar is a place where the unexpected came to be expected. In those cases, time‑honoured
infantry advance-to-contact and ambush drills applied. Infantry soldiers on every tour had needed to employ
those drills on a greater or lesser scale while in contact with insurgents attempting to defend ground or to
mount complex ambushes. The scale of insurgent combat action varied tremendously depending on the year
and the district, but the potential for a gunfight never left. Most infantry veterans commented that their units
were very well prepared to apply core offensive drills. What surprised most of them was how often they fell
back on fundamentals of the defence. Indeed, that was one area noted by veterans of every tour that should not
be forgotten during individual and collective training. Defensive skills were identified as applicable to all the
unique periods of the Kandahar campaign, whether for defending strong points on Route Summit in 2006 and
combat outposts in western Panjwayi in 2008 to sentry duty in observation posts in the 2009 model villages.26
Interviewees also had much to say about the infantry role in gathering information and acting as sensors for
the task force. Throughout history, the Canadian Infantry Corps has been central to army information gathering, but the Kandahar campaign saw the Infantry sense function elevated to a new level of complexity. During
ATHENA II, new tactics and procedures were developed to employ infantry soldiers to assist with identifying
suspects, establishing patterns of routine, and observing hostile network behaviours. As the campaign evolved,
22
THE CANADIAN ARMY JOURNAL VOLUME 15.2 2013
ARTICLES
Source: Combat Camera
a more systematic process was developed for maintaining situational awareness (SA) about the ground, the
enemy, friendly units from dozens of nations, Afghan partners and especially the local Kandaharis they were
assigned to protect, known respectively as brown, red, blue, green and white SA.27 Tracking the comings and
goings of people requires patient observation skills. The veteran junior leaders interviewed understood these
were vital to the mission. However, many of the older senior NCOs noted that patient observation duty had
to be "encouraged" and monitored in younger infantry soldiers used to constant stimulation from iPods and
handheld games.28
Hand in hand with defensive routine and information gathering went dismounted patrolling. Officers and
NCOs from units that emphasized patrolling skills during pre-deployment training reported positive results
when it came time to understand local patterns of activity in the patrol area. That information gathering paid
dividends, whether it was seeking out enemy forces gathering to strike at 2006 strong points or building trust
within a village cohabited with a 2010 platoon house. Veterans from both periods of the campaign noted that
the core patrolling skill was the same and could be adapted to suit the security situation of the day. Veterans
from platoons confident in patrolling skills seemed more comfortable with the warrior-builder-diplomat role
expected of them on counter-insurgency and stability operations.29 Of course, if defensive routine and patrolling tasks are to be successfully adapted to stability‑building missions, then they must be tied to diplomatic
and cultural awareness skills, especially among infantry junior leaders interacting with locals at the most basic
level. Here the interviewees offered unique insights. Even though veterans of the first half of the campaign were
seldom able to hold the ground they cleared, they still spent a great deal of time meeting with village and tribal
elders as well as with local powerbrokers and police commanders.
Some interviewees commented that the Canadian Army reflects the multicultural respect and values found
more broadly in Canadian society, which means that many if not all Canadian infantry junior leaders come
with a diplomatic skill-set learned not in the army but at home and in high school classrooms. During early
tours, it helped that many units included veterans from service in the former Yugoslavia where negotiation skills
were elevated to an art, however frustrating.30 At least two interviewees suggested that the best warrior-builderWWW.ARMY.FORCES.GC.CA/CAJ
23
diplomats came from stable homes and families and therefore seemed more emotionally confident, although
this sample is too small to be definitive. Veterans from later tours, who served with increasingly younger rifle
platoons and sections, still found natural diplomatic and cultural sensitivity talent in some soldiers, but some
believed that the new "Facebook" generation had a tougher time with interpersonal relationships. Of course,
those observations are not backed here by any systematic statistical sampling. Perhaps what is most important is
that all those who commented on diplomatic capability among the "strategic corporals" believe that such training
begins in Canadian homes and schools. Indeed, many felt that infantry soldiers reflected the values in general
Canadian society. Infantry veterans commented that social ability and sensitivity mattered during some or all
parts of every tour, but especially after the 2009 concentration on eastern Panjwayi and southwestern Kandahar
City. After that, there was no escaping the fact that every soldier in a platoon house must be a negotiator.31
In a counter-insurgency campaign, diplomatic skill goes hand in hand with fire discipline and the measured
application of violence. Ironically, veteran infantry leaders who served on the first two tours in 2006 commented on the need to promote a killer edge in infantry in that year of the so‑called "unexpected war." Every
tour after that struggled to dial it back. Heavy fighting in 2006 may have created a distorted public image of
high-intensity Operation MEDUSA—style warfare that stuck in the public's mind and in the minds of some,
if not all, soldiers.32 Interviewees from 2007 to 2011 all referred to the constant training struggle to ensure that
infantry soldiers applied violence with care. That leadership struggle seems to have usually been won, but not
without griping; that was especially true of later tours after the 2009 shift to concentrated stability operations
closer to Kandahar City. Veteran officers and NCOs suggested that that problem was especially challenging in
the last two years of the campaign when infantry platoons co‑located in villages, often partnered with Afghan
Army units. The challenge was amplified by the increased youth in typical rifle sections. However, interviewees
from the latter half of the campaign commented that, compared to American units, maintaining discipline over
the application of fire in a Canadian platoon seems to be far less difficult. Most also felt that the challenge of
leading young Canadian infantry soldiers eager to get into gunfights was addressed easily enough with plenty
of training on rules of engagement, and the rationale behind the rules, along with finding other meaningful and
rewarding work to keep soldiers occupied during long periods of inactive observation duty.33 The question of
youth and maturity in the Infantry Corps came up in almost every group of interviewees after Task Force 1-07.
Their reflections seem to be tied to a demographic shift that appeared in the Canadian Army as a whole. A large
cohort of experienced mid-grade officers and senior NCOs approached retirement age or retired earlier after
wartime service during the first decade of the new millennium. The army recruited heavily to fill the ranks,
resulting in a large influx of new infantry soldiers entering the training system. Veterans from Task Force 3-07
were among the first to notice the difference of operating with a younger force.34
While many interviewees reflected on the challenges of an increasingly youthful Infantry Corps, many also saw
value when it came to waging war in the modern age of information. Their overwhelming message, confirmed
in ALLC reports, is that every infanteer must be a signaller in this new age. In that sense, young recruits enter
the army with an information technology awareness that proved most valuable in a conflict where platoons
operate alone and the enemy employs cell phones and Motorola hand radios, and electronic warfare effects and
products demand rapid infantry responses. While young new infantry soldiers have a leg up, across the Corps
as a whole, many felt they must train harder to master and exploit new information technologies.35
Following on the theme of training and discipline, interviewees were unanimous that the current Road to High
Readiness training model worked in preparing their platoons, companies and battalions for the Kandahar
campaign. Of course there were specific complaints about certain elements of the program at specific times.
Nevertheless, most agreed on the model of focussing new recruits on infantry fundamental skills during individual and core leadership training before tackling the complexities of counter-insurgency, cultural sensitivity
and new technologies during mission‑specific workups. They felt collective training exercises at the Canadian
Manoeuvre Training Centre in Wainwright, Alberta, and at locations in the southwestern United States provided opportunities for sub-units to develop cohesion and hone small-task confidence and flexibility. Senior
veterans who recalled pre-deployment training for missions in the 1990s were especially positive about the
system, including the opportunity to work through the unique rules of engagement that evolved through the
campaign.36 It is worth remembering that almost all interviewees consulted for this study served as instructor staff at the Infantry School at CFB Gagetown. However, their views were also reflected in Army Lessons
24
THE CANADIAN ARMY JOURNAL VOLUME 15.2 2013
ARTICLES
Learned Centre reports. Among other things, the centralized CMTC collective training system served as a
vehicle for disseminating the latest lessons learned coming out of the theatre. Arguably it was always a tool for
transmitting the most recent experience but, by 2009, the process became more systematic. In particular, by
2009, CMTC collective training included the latest air-land tactics, the importance of gathering "White situational awareness" or information about the local population, and the latest methods of conducting influence
and information operations.37
That said, there was much for an infantry soldier to absorb and master during collective training, from the
basics of fighting alongside armoured, engineer and artillery units to the subtlety of influence activities and
information operations. The resounding message coming from interviewees was that the value of those last
two new concepts is well appreciated in the Infantry Corps. Here, all interviewees, lessons learned reviews and
end tour reports concur that infantry soldiers must be made part of the effort to communicate the important
messages to Afghans. Interviewees from all tours recognized how their platoons and OMLTs were in closer
contact with Kandaharis than most other forces in Kandahar and utilizing that connection was essential for
successful influence activities. Some veterans, especially from earlier tours, expressed frustration at their lack
of inclusion or awareness of influence activity planning and execution. However, as the Kandahar campaign
progressed, particularly from 2009 onward, influence activity resources expanded and the doctrine for employing them was refined and infantry sub-units became much more involved in the process.38
Discussions about influence activities raise the question of how best to balance time spent in collective training
on cutting-edge counter-insurgency methods against mastering critical infantry combined-arms team skills.
Interviewees identified this less as a problem and more as a conundrum they had no answers for. One critical
skill set identified by most that falls astride this problem is that associated with mechanized infantry operations now that Canada fields a fleet of LAV III infantry fighting vehicles. Ever since two members of the Royal
Canadian Regiment were killed in an unarmoured Iltis in 2003 during ATHENA I outside of Kabul, debate
has simmered over whether Canada's Light Armoured Vehicle was appropriate for infantry use on stability
operations. Some critics asked how it was possible to interact with and win the confidence of Kandaharis from
inside such a machine. The overwhelming consensus from interviewees in this study suggests that they could
not have connected with Afghans without it. During the 2005–2009 portion of the campaign, the LAV enabled
infantry companies to move with reasonable safety and confidence to the widely dispersed areas they were
ordered out to across Kandahar and neighbouring Helmand and Uruzgan. When assigned to operate in the
countryside, the LAV provided dispersed companies a firm base to operate from, including communications,
sensors, a point of resupply, a place and means of casualty evacuation and, most importantly, a base of fire when
in enemy contact. Interviewees felt all of these advantages were worth the trade‑off of platoons only being able
to dismount twenty-one soldiers as a maximum. What mattered, they said, was that the LAV was employed
as part of a system with the dismounted platoon. They cautioned how that did not always mean the LAV turret crew blazing away with the 25‑mm supporting cannon fire. The LAV crew could perform any number of
supporting tasks described above, all considered equally essential for non-kinetic actions.39 The trade-off that
many interviewees commented on was that this armoured vehicle capability within the infantry meant that
battalions must train, live and think more like armoured units. That required more people carrying out more
work attending to vehicles. More infantry soldiers in the battalion spent more time on vehicle‑related courses.
But the general consensus is that the value of the vehicles is worth the commitment of people and time.40
Interviewees were equally unanimous in their qualification that, while the LAV and mechanized infantry
have a place on counter-insurgency operations, they were not a substitute for dismounted action. Certainly
the Kandahar experience did not resolve the debate over the relative merits of mechanized and light infantry.
The vehicles provided a tool for supporting the main activity, which all agreed worked best when platoons
dismounted, whether to patrol, meet with local leaders or establish platoon houses after 2009. Even veterans
of the last two years of the Kandahar campaign who spent much of their time focused on a small area of
operations agreed that the LAV III was an essential tool. That said, they appreciated how vehicles often confined units to predictable routes making them easier to target, especially in later years when Taliban IED cells
concentrated on obvious choke points. In the end, the Kandahar campaign called upon infantry sub-units to
operate in mechanized, dismounted, light and airmobile tasks. The value of each was demonstrated. Infantry
units that employed all means of mobility, especially making use of multiple means in the same action, kept the
WWW.ARMY.FORCES.GC.CA/CAJ
25
enemy guessing and achieved surprise.41 Interviewees reported less satisfaction with a number of other tools
made available during the Kandahar campaign. Most agreed that there was room for improvement when it
came to enabling infantry units to reap the full benefits of unmanned aerial vehicles (UAVs) and other newly
acquired surveillance gear. Their frustration was reflected in ALLC reports, which identified the need for
more knowledge of intelligence, surveillance, target acquisition and reconnaissance (ISTAR) technological
capabilities and limits—know what to ask for and how to make the most efficient use of the information that
comes from it. There were certainly anecdotal examples of infantry units making ingenious use of technology
in specific operations and circumstances. But the message from all directions was that the Canadian Army has
yet to find the perfect recipe for getting the most from those assets. Interestingly, that was one area where the
army's youth was identified by many as part of the solution. Older NCOs see the new generation of soldiers
as the look-up generation, empowered and confident in technology. In them, some felt, lays the answer.42
Naturally, infantry veterans closely associated ISTAR capability with intelligence processing units and products.
Nearly all understood how infantry soldiers were key sensors for gathering information and that they ought to
be prime consumers of intelligence products. Despite the constant evolution and improvement in the ability
of the task force and ISAF to produce intelligence products, Canadian infantry operating at the company level,
either hunting the Taliban or interacting with Kandaharis at the coal face, always wanted more. Veterans from
earlier tours perceived that the information they gathered, often with great effort, was consumed entirely by
special operations forces. From 2006 to early 2009, infantry companies often established their own intelligence
cells to keep track of the people in their neighbourhood. Those cells were invariably ad hoc and delivered
mixed results. Ultimately, small infantry sub-units felt they were not well enough connected or equipped to
be sensitive to complex cultural and tribal dynamics in Kandahar from 2006 to 2009.43 This perception at the
sub-unit level may reflect unrealistic expectations about the nature of Intelligence. Intelligence specialists and
senior members of the Infantry Corps insist that all information and intelligence products are developed so that
commanders may make sound decisions and issue timely orders to sub-units.44 Nonetheless, a need for more
intelligence support at the sub-unit level was identified Army wide as the campaign went on. By 2009–2010,
U.S. and Canadian intelligence and ISTAR assets were available in sufficient quantity to push down to companies and platoons in the form of Intelligence Support Teams. Perhaps not surprisingly, interviewees from the
last Canadian rotations into Kandahar reported a higher level of satisfaction with the intelligence gathering.45
Ironically, a number of interviews representing every year of the campaign also commented on the problem of
sheer information overload on a mission where infantry soldiers had to master new cultures, technologies, and
doctrines.46 The balance between arming the infantry with what they need to know and overburdening their
capacity to manage information flow is still being worked out. "Network-enabled command" is the language
used to describe the optimum system wherein the infantry is "capable of exchanging information laterally and
vertically, between sensors, weapons, vehicles and command and control notes, and enabling information
accessibility by the right person at the right time."47
Veterans from each distinct period of the Kandahar campaign as well as the Army Lessons Learn Centre agreed
that dispersed infantry operations in which platoons frequently worked at great distances from neighbouring
friendly units put a premium on small unit leadership, command and control. In such circumstances, more
responsibility falls on sergeants and master-corporals at the section level than ever before in Canada's military
history. Throughout the Kandahar campaign, but especially after 2009, platoon and section commanders found
themselves controlling enablers from aircraft and artillery through to civil–military cooperation teams. Such
circumstances demanded excellence from the most junior leaders and even from privates and corporals who
found themselves acting in leadership roles as a result of casualties or leave.48
No study of infantry in action would be complete without a word on weapons. This section is presented later in
this article quite deliberately. A number of interviewees commented that there was never a shortage of weapons
systems and talent for employing them when it came to destroying the enemy. The greater challenge was always
locating the enemy and bringing them to battle in conditions that avoided damage to civilian lives and property.
Nevertheless, infantry close combat was part of the routine for at least some sub-units during every rotation.
Operations in Kandahar fuelled the still simmering debate over the relative merits of the Canadian C7A2 service
rifle and the C8 assault carbine. Some veterans, particularly on earlier tours, felt that the C7 was too long for
use with the LAV III and in tight quarters. Advocates of the C8 assault carbine understood it had shorter range
26
THE CANADIAN ARMY JOURNAL VOLUME 15.2 2013
ARTICLES
WWW.ARMY.FORCES.GC.CA/CAJ
27
Source: Combat Camera
hitting power, but argued that most engagements in 2006 took place within a 300-metre range anyway. However,
from 2006 onwards, terrain and enemy tactics made it clear that, as often as not, fire fights took place at ranges
beyond 300 metres. In such cases, the longer-range C7 was vindicated. The need for more 7.62‑mm rifles and
machine guns among dismounted platoons to engage the enemy accurately well beyond 300 metres was also
demonstrated. 49 In the earthen-walled network of Kandahar's greenbelt, the M-72 light anti‑armour rocket
was well respected. All praised the LAV III's 25‑mm gun as much for its long‑range, all‑weather precision as
for its penetrating power. The M203 underslung grenade launcher demonstrated its worth with its ability to lob
grenades behind adobe walls. The platoon 60-mm mortar was frequently employed in the same role. In most
cases, Canadian infantry soldiers bested their opponents when it came to infantry weapons. Interviewees agreed
that platoons that were trained and confident in their full suite of weaponry were more likely to employ them
both effectively and carefully in the context of the counter‑insurgency campaign. Weapons training, they agreed,
must never be pushed out of its first‑priority status. As in Canada's past wars, infantry weapons represented
only a portion of the Allied firepower employed to decide Canadian infantry actions in Kandahar. Fire from
Canadian tanks and NATO fixed-wing aircraft and helicopters were often called upon to settle engagements.
Equally important was the Royal Canadian Artillery. Rarely were infantry sub-units out of range of the battle
group's M-777 155‑mm howitzer battery, including its 81‑mm mortar detachments. Whether they fired high
explosive, smoke or illumination rounds, the guns could usually deliver fire on very short notice. Closely linked
to artillery was the capacity to observe and deliver fires from UAVs, which became ever more prevalent in the
campaign after 2008. Directing those supporting fires emphasized the importance of close liaison with the
tank troop and effective integration of the artillery forward observation officer/joint‑terminal attack controller
(FOO/JTAC) into the infantry team.50
While the Taliban often had difficulty matching Canadian infantry in firefights, their record in inflicting losses
using improvised explosive devices made them a dangerous enough opponent. IEDs were deemed not just a
threat to Canadian soldiers but to political will back at home to continue the mission as well. On these matters,
the veterans interviewed expressed a wider variety of experience and opinions. Certainly the battle against
Taliban IED cells and the effort to protect Canada's Task Force Kandahar consumed ever increasing resources
and effort as the campaign went on. Many felt that technological and tactical solutions delivered results in the
counter-IED effort by 2008 and 2009.51 However, a few interviewees and a key advisor to the commander of
ISAF during the 2010 US surge into Kandahar believe that the counter-IED struggle constituted a successful
Taliban diversion that drew Canadian units and resources away from their core mission of protecting the people
of Kandahar.52 Given how important freedom of movement on Kandahar's major arterial roads was considered
for all NATO units in Regional Command South, especially before the U.S. surge, it is not entirely clear what
alternatives the Canadians had. Answers to that controversial question will remain highly classified for some
time. However, given that improvised explosive weapons and counter-mobility warfare are time-honoured
tactics likely to be encountered on future operations, the Royal Canadian Infantry Corps cannot afford to wait
to consider the problem.
Extensive Taliban use of IEDs was the main reason the Canadian Infantry Corps saw a range of new technologies, weapons, vehicles and other equipment introduced on the fly during the Kandahar campaign. In some
cases, interviewees complained that new technologies came without doctrine and had to be figured out in
action. Overall, most saw these new technologies as positive. They helped infantry soldiers travel safer, see
further, communicate better, know more about the enemy and deliver fire to them with more precision. The
downside to receiving so many types of new equipment months or weeks before deployment made it tough to
balance training on fundamentals with learning to use new machines.53 Rapid technological innovation in the
midst of operations has been reality for all modern armies since the industrial revolution. Indeed, the Afghan
experience reminded the Infantry branch to expect new equipment to arrive mid-campaign. War invariably
breeds invention and encourages intelligent people to find technological solutions to tactical and operational
problems. For the most part, the transition to new equipment fixes seems to have been quick within Canadian
infantry units. Older veterans interviewed credit the corps' ability to transform to the old infantry principle of
equipping the man, rather than manning the equipment.54
A few final observations are worthy of quick note here, however obvious they may be to most. The first full
rotations into Kandahar in 2006 and 2007 recognized serious shortfalls in their ability to sustain infantry units
28
THE CANADIAN ARMY JOURNAL VOLUME 15.2 2013
ARTICLES
and maintain vehicles when widely dispersed across the vastness of Kandahar Province. The best efforts of the
centralized National Support Element at Kandahar Airfield could not meet the demand. The solution was a
twofold return to basic Second World War and Cold War forward logistics practices. Firstly, each battle group
from Task Force 1-08 onward deployed with its infantry battalion's administration company and all its capacity
for forward supply and maintenance. Secondly, in 2009, administration companies could draw on supplies,
parts and expertise from well-equipped forward support groups deployed in the major forward operating bases
nearby to dispersed companies. The system went a long way to restoring agility in infantry companies and
shortening response times to requests for vital stores.55
Another was the value of fitness. Regardless of the number of many vehicles and helicopters employed to
transport soldiers during the Kandahar campaign, successful infantry activity always involved dismounted
actions with heavy loads, in extreme temperatures. Winning surprise in a fight and physically withstanding the
mission demands depended on fit soldiers. Most interviewees commented on the need to maintain the primacy
of fitness training during pre-deployment preparations as the best prevention for unnecessary casualties due
to injury and strain.56 Their old warriors' message might seem obvious but is worth remembering in a busy
training cycle in which competing demands to train to new technologies and competencies must be balanced.
Discussions about fitness connected closely to the question of medical care. Interviewees were resoundingly
positive about the quality of medical services provided, even at the most forward and dispersed infantry subunits. The practice of deploying field ambulance detachments with rifle companies and maintaining physician assistants and medical technicians at forward operation bases paid dividends in keeping soldiers fit and
healthy during the physically demanding campaign. When it came to treating combat casualties and traumatic
injuries, the integration of medics with each platoon and patrol made a life and death difference. Medics formed
the expert core of a wider network of first responders trained through the Canadian Army's Tactical Combat
Casualty Care (TCCC) program. The two-week battlefield first aid course, introduced in 2002, empowered
many infantry soldiers to take immediate medical action and stabilize casualties that would not otherwise have
survived. Platoon medics helped the TCCC-qualified infantry soldiers maintain their life-saving skills during
their tours. In literally hundreds of cases, the combination of medics and TCCC-qualified soldiers stabilized
badly wounded casualties long enough for the sophisticated helicopter evacuation system to move the casualties
to the advanced Role 3 hospital at Kandahar Airfield.57
Casualties, injuries and illness were not the only personnel drains on infantry platoons. A surprising number of
interviewees expressed frustration at the system of granting two weeks leave to all members during a six-month
rotation. This system, known as HLTA in reference to the Home Leave Travel Assistance benefits program,
routinely saps infantry platoons of 10–20 percentof their strength, especially during the middle of the tour.
While interviewees recognized the value of a break from the mental strain of sustained operations, many did
not feel it was worth the reduction in platoon fighting power. The debate over the value of mid-tour leave is
beyond the scope of this study, but it is worth noting that later rotations addressed the overall problem of personnel shortages due to casualties and leave by increasing the size of rifle sections from ten soldiers to twelve.58
Perhaps no other type of small Canadian infantry unit deployed during the Kandahar campaign faced more unique
pressure to master abilities such as core infantry skills, directing supporting arms, and cultural awareness more
than Operational Mentoring and Liaison Teams. OMLT veterans interviewed for this study universally took great
pride in their service and felt it to be professionally and personally rewarding. They also understood it to be the
most mission‑critical element of the Kandahar campaign. However, they were equally unanimous that unique
pre-deployment training for OMLTs was lacking from the time the first ones were formed in 2006 right up to the
summer of 2010 as the last teams prepared to deploy. In the end, their knowledge of fundamental infantry skills
mattered most when teaching and operating with Afghan National Army soldiers and even police. Therefore, predeployment training that reinforced collective infantry and all-arms principles was not wasted.59 Their experiences
are worthy of far more focused study as many already realize. The Directorate of Army Training has recommended
that "the Army must understand that OMLT is not an Afghanistan‑specific capability." Obviously, mentoring and
training support remains central to Canada's South Asian policy through its commitment to NATO Training Mission–Afghanistan (NTM–A) Operation ATTENTION. Infantry soldiers and their skill set were and are central to
these types of missions. The Infantry Corps will likely draw similar assignments in the future.
WWW.ARMY.FORCES.GC.CA/CAJ
29
In conclusion, since the two World Wars, the Canadian Army developed a war fighting approach, blended first
with British and then U.S. doctrine emphasizing firepower to defeat the enemy. During the Kandahar campaign,
this doctrinal focus existed in a constant state of tension with the mission requirement to rebuild Afghanistan
and therefore minimize violence and damage to civilian property. Many, if not all, Canadian infantry leaders were well aware of this contradiction. Interviewees for this study described a constant search for the best
way to carry out a successful counter-insurgency campaign that would allow Afghanistan to rebuild without
Taliban interference. Sadly, most interviewees expressed deep frustration at what they perceived to be a lack
of international cooperation or a clear plan for making that happen. It remains to be seen whether their effort
and sacrifice will leave lasting results. In the end, the Royal Canadian Infantry Corps did what was asked of it
during the Kandahar campaign. It is up to we who are left to remember their service and try to understand their
accomplishment. This study is not meant to be the last word on infantry in Afghanistan. Veteran members are
encouraged to submit their observations and personal accounts to the Infantry School as part of an ongoing
effort to both capture best practices and record the Afghanistan experience for the purpose of preparing a more
fulsome history of Canada's effort in South Asia. Submissions and the original interviews captured in this article
will be shared with the Canadian Forces Directorate of History and Heritage.
ENDNOTES
1.
Combat operations ceased in July 2011 with the departure of the 1 Battalion, Royal 22e Régiment, Battle Group. The
Canadian Mission Transition Task Force continued handover and close-out activities in Kandahar until December 2011,
officially concluding Operation ATHENA II.
2.
"Canada's Role: 2011–2014, Building a Better Future for Afghans," Government of Canada Fact Sheet, viewed on 29 April 2013,
http://www.afghanistan.gc.ca.
3.
Brian Stewart. "Canada in Kandahar, some allies weren't impressed." CBC News, 10 July 2012, viewed on 30 April 2013,
http://www.cbc.ca/news/world/story/2012/07/10/f-vp-stewart-kandahar.html.
4.
See Gen Charles Krulak. "Strategic Corporal: Leadership in the Three Block War." Marines Magazine, Jan 1999.
5.
See Itai Brun. "While You're Busy Making Other Plans – 'The Other RMA'." Journal of Strategic Studies, (2010), Vol 33, 4, 535.
6.
Briefing to the Security Council by Jan Kubiš, Special Representative of the Secretary General for Afghanistan, 19 December 2012,
viewed 15 April 2013, http://unama.unmissions.org.
7.
Interview candidates included LCol K.A. Gallinger, WO R. Dolson, WO D.A. Thompson, Sgt G. White, and Maj S. Gallagher
from Kandahar PRT – 05-06 and TF 1-06: Capt B.M. Worrall, Sgt M.F.G. Turple, Capt J.A. Hiltz, Sgt Saunders, Capt D.C. Jenkins,
Capt N.Whitman, Sgt S.C. Du Mesnil, from TFs 3-06 and 1-07; Maj S.J.F.V. Caron, Sgt Y. Roy, Sgt A.L.L. Sicard, TF-3-07;
LCol S.D. Joudrey, WO D.A. Thompson, Maj D.W. Garvin, Capt Ross Bonnell, TF 3-08; LCol M. Patrick, Capt J.F Lamarche,
Capt J.Y.S. Guay, Capt J.D. Hagemeyer, CWO T.R.S.J. Garand, Maj J.S.R. Morin, TF 1-09; Maj S.S.G. Leblanc,
MWO R.C. Barker, WO J.H. Miller, Sgt J.A. Deas, TF 3-09; Capt G.L. Hallman, Sgt M.F.G. Turple, Capt B.M. Worrall, Capt J.A. Hiltz,
Maj N.M. Gallagher, Sgt. S.C. Du Mesnil, TF 1-10; Capt J.Y.S. Guay, Sgt. Y. Roy, TF 3-10, Capt J.M.G. Watson, Sgt A.L.L. Sicard,
Mission Transition Task Force.
8.
Interviews with members of TFs 3-09–3-10 who returned for a second tour.
9.
Average percentages estimated based on Infantry School survey of Army Lessons Learned Roll-ups and search of Canadian Forces
Taskings, Plans, and Operations software.
10. Terry Copp, Fields of Fire: The Canadians in Normandy (Toronto: University of Toronto Press: 2003), 15.
11. Carl Forsberg, The Taliban's Campaign for Kandahar, Afghanistan Report #3, (Washington, Institute for the Study of War, 2009), 9–22.
12. TF Orion/TF 3-06 interviews.
13. Interviews, 1-07; see also Lee Windsor, David Charters and Brent Wilson, Kandahar Tour: Turning Point in Canada's Afghan
Mission. (Toronto: Wiley, 2008).
14. Carl Forsberg, Counter-Insurgency in Kandahar: Evaluating the 2010 Hamkari Campaign, Afghanistan Report #7. (Washington,
Institute for the Study of War, 2010), 31–32.
15. Interviews, 3-07
16. Interview with LCol K.A. Gallinger, May 2013.
17. Interviews, 1-08, 3-08.
18. "Report of the Independent Panel on Canada's Future in Afghanistan" (Ottawa: 2008), 37–38.
19. J.L. Granatstein, Canada's Army: Waging War and Keeping the Peace, 2nd Edition. (Toronto: University of Toronto Press, 2011)
447; Forsberg, Rpt 3, 8–9.
30
THE CANADIAN ARMY JOURNAL VOLUME 15.2 2013
ARTICLES
20. Interviews, 1-09, 3-09, 1-10.
21. Forsberg, Rpt 3, 50–51.
22. Interviews, 1-10.
23. "1 R22eR BG begins its tour overseas." Army News, 30 Jan 2010. Viewed 16 April 2013, www.forces.gc.ca.
24. "Infantry Corps Intellectual Framework," Canadian Infantry Corps internal publication, 18 July 2012.
25. Nearly all interviewees praised the battle procedure as a process; ALLC Roll-up, Jan–Jul 09.
26. Interviews, 1-06–3-10 & MTTF.
27. Conference Summation and Key Lessons, "Ground Truths: Intelligence, Information and Situational Awareness on Stability
Operations." Annual Gregg Centre, Combat Training Centre Conference, Oct 2009; Interview with LCol Gallinger, May 2013.
28. Interviews, 1-09, 3-09.
29. Interviews, 1-06–3-10.
30. Interviews, 1-06–1-07.
31. Interviews, 3-09–3-10.
32. See Granatstein, 437–440.
33. Interviews, 3-09, 1-10, 3-10.
34. Interviews, 1-06–3-10; Granatstein, 444.
35. Interviews, 1-06–3-10.
36. Interviews, 1-06–3-10.
37. ALLC Rpt Jul–Dec 09.
38. Interviews, 1-06–3-10.
39. Interviews, 1-06–3-10.
40. Many of these issues were also raised by Major V. Sattler and Captain M. O'Leary in "Organizing Modern Infantry: An Analysis of
Section Fighting Power," Canadian Army Journal, Vol 13.3 (Autumn 2010), 23–53.
41. Interviews, 1-06–3-10.
42. ALLC Report Jul–Dec 09; Interviews, 1-09, 1-10, 3-10.
43. Interviews, 3-06–3-10.
44. Conference Summation, Annual Gregg Centre, Combat Training Centre Conference, Oct 2009; Comments from LCol Gallinger
and Col I.R. Creighton, Director of Infantry, May 2013.
45. Interviews, 3-09–3-10.
46. Interviews, 1-06–3-10.
47. Infantry Corps Intellectual Framework: (2012), 6.
48. Interviews, 1-09, 3-09,
49. Canadian Army Lessons Learned Centre (ALLC) Annual Roll-up for 2006, 16–17.
50. 1-06–3-10.
51. ALLC Roll-up – July–Dec 09.
52. Interviews, 1-06, 3-10; Forsberg, Rpt 3, 47–49.
53. Interviews, 1-06–1-10.
54. Interviews, 1-06–1-10.
55. ALLC Roll-up, Jul–Dec 09; Interviews 1-08–1-10.
56. Interviews, 1-06–3-10.
57. LCol Erin Savage et al, "Tactical Combat Casualty Care in the Canadian Forces: Lessons Learned from the Afghan War,"
Canadian Journal of Surgery, (Dec 2011) (54) 6, 122–3.
58. Interviews, 1-06–3-10.
59. Interviews, 1-08–1-10.
WWW.ARMY.FORCES.GC.CA/CAJ
31
Corporal Sebastien Gratton from Bulldog (Bravo) Company, 1 Battalion,
Royal 22e Régiment Battle Group (1 R22eR BG), provides local security
in Nakhonay during Operation HAMAGHE SHAY, in which clearance
patrols searched for caches of weapons and IED-making supplies.
Source: Combat Camera
32
THE CANADIAN ARMY JOURNAL VOLUME 15.2 2013
ARTICLES
THE JANUS MATRIX
Lessons Learned and Building an Integrated
Influence Activities Capability for the Future
Security Environment1
Mr. Matthew A. Lauder
At the 2012 Influence Activities (IA) Summit, titled "Developing
Influence Capabilities within a Greater Strategic Communication
Community – In a Time of Change" and held at CFB Kingston in
December 2012, one of the speakers2 addressed the issue of IA in the
Future Security Environment (FSE),3 arguing that the Canadian Armed
Forces (CAF) will face a range of irregular and asymmetric adversaries
operating in increasingly complex environments and that future
operations may be combat-enabler-led.4 That is, the combat enablers
will do much of the heavy lifting, with the traditional war-fighting
assets playing a secondary role by focusing effort on providing force
protection. The speaker also noted that IA will be essential for the
success of future operations, and that success will require IA to
work in close cooperation with other combat enablers, notably
Intelligence (INT), Electronic Warfare (EW) and Counter-Improvised
Explosive Device (C-IED) assets. The speaker was also vehement in his
assertion that, in future operations, the CAF "will not conduct operations
without IA."
However, although the speaker presented a vision of IA in future CAF
operations, two issues were openly pondered: long-term institutionalization of the IA capability in both the Army and the CAF to ensure operational effectiveness in the human environment (HuE),5 and determining
and defining the role of IA in FSE, particularly in Phase 0 operations.6
This paper uses that keynote address as a springboard for further
discussion and seeks to address the outstanding issues of institutionalization and the role of IA in future operations. It will do so by performing
the following three tasks: First, it will identify and examine IA lessons
learned, at the Brigade and Divisional levels, from exercises and operations conducted over the past decade (2002–2012). That is, this paper
will take stock of extant capability issues and deficiencies. Second, it will
briefly examine the FSE (Horizons 2 and 3),7 paying special attention
to the evolving socio-cultural and technological landscape, and outline
and discuss the implications for IA. Lastly, it will offer recommendations
for the development of a robust and holistic IA capability in support of
future CAF operations.
WHAT ARE INFLUENCE ACTIVITIES?
To set the context for an analysis of lessons learned and implications
for IA in the Future Security Environment (FSE), a brief overview of
Influence Activities (IA) in the Canadian Armed Forces (CAF) is
required. There are four key points:
1. IA is considered to be a subset of, and not synonymous with,
Information Operations (Info Ops),8 as are Counter Command
Activities (CCA) and Information Protection Activities (IPA)
© MR. MATTHEW A. LAUDER, 'THE JANUS MATRIX', CANADIAN ARMY JOURNAL VOL. 15.2
33
(see Figure 1). Info Ops are not operations per se; rather, they are a "doctrinal construct" that includes
"a collection of capabilities related to maximizing the use of information while at the same time
denying it to the adversary."9 In short, Info Ops are best understood as a range of activities designed,
synchronized and integrated to create specific physical and psychological effects in the battlespace.
Figure 110
Within this construct, CCA includes, but is not limited to, the physical destruction or exploitation
of command and control (C2), communications and information management networks.11 CCA
also includes offensive actions that span the electro-magnetic spectrum (i.e., Electronic and Cyber
Warfare). In contrast, IPA can be understood as defensive actions that include Operational Security
(OPSEC), Counter-Intelligence (CI), Information Security (INFOSEC), counter-Intelligence,
Surveillance, Targeting and Reconnaissance (C-ISTAR) activities, and computer network defence.12
The purpose of IPA is to prevent access to, or mitigate the impact of, an adversary's penetration
and exploitation of CAF command and control, communication, and information management
activities and networks.
In contrast, IA is defined as "any activity for which the primary purpose is to influence the
understanding, perception and will of the target audience, be it friendly or hostile" and designed
to have a first-order effect that is psychological and a second-order effect that is behavioural (i.e.,
a desired change in target audience behaviour through psychological engagement).13 IA includes
Psychological Operations (PsyOps), Civil–Military Cooperation (CIMIC), Presence, Posture,
and Profile (PPP), Military Deception (MILDEC), and Public Affairs (sometimes referred to as
Media Operations).14 15
34
THE CANADIAN ARMY JOURNAL VOLUME 15.2 2013
ARTICLES
2. IA is, for all intents and purposes, an Army Reserve capability. That means that the Canadian Army
Reserve is responsible for the force generation (FG) of IA personnel to support operations. However,
Regular Force personnel can, and do, complete IA courses16 and serve as IA personnel in a variety of
staff positions. For example, Regular Force IA allocations or positions are available in the Influence
Activities Task Force (IATF), as well as the Strategic Joint Staff (SJS). At present, each Canadian
Brigade Group (CBG) is responsible for the force generation (FG) and maintenance of a pool of
IA personnel to support CAF operations. However, at this time, there are no Army Reserve units
specifically tasked with the IA mission set.
3. In 2009, the Influence Activities Task Force (IATF) was established to manage and coordinate
institutionalization and professionalization of IA in the Canadian Army, and by extension the CAF,
and specifically functions as the IA force development (FD) authority.17 In that role, the IATF is
responsible for the selection of IA personnel and the development and delivery of IA collectivelevel and follow-on training and professional development. The IATF also serves as the Centre of
Excellence for CIMIC and PSYOPS, represents the CAF at NATO working groups and Five-Eyes
working groups, and acts as the chief proponent for IA in the CAF. The IATF also has a remit to
provide IA planning support to the Army staff, operational commands and various headquarters
(HQs), and when requested/required provides the core component of a deployable IA Unit in support
of operations. Although by definition a temporary organization, the IATF is currently the closest
thing the CAF has to an actual IA Unit.
4. As a unified and integrated capability residing in a single force structure, IA is both a relatively
new construct and, within NATO, somewhat unusual (most NATO partners do not co-locate and
integrate PSYOPS and CIMIC). As a result, some capabilities within IA are either nascent in terms
of development or are not well established (e.g., military deception, especially as it relates to IA, and
media operations), whereas other capabilities are extremely robust, such as PSYOPS and CIMIC. In
addition, the process for capability integration and synchronization to achieve or support a particular
influence effect has not necessarily been determined, formalized or ensconced in doctrine (there are
separate documents for PSYOPS and CIMIC, but there is no integrated doctrine or doctrinal note
on IA capability integration and synchronization).
LESSONS LEARNED: 2002–2012
Over the course of the last decade, hundreds of observations and lessons learned have been collected from across
several domestic and international missions and tactical and joint-level exercises. In general, those lessons
learned and observations can be divided into the following key categories: Targeting and Effects, Analysis and
Assessment, Organizational Structure and Command and Control (C2), Doctrine and Policy, and Training.18 19
Targeting and Effects
Targeting is generally defined as a process that involves the identification, selection and prioritization of targets
and/or target audiences20 and matching an action (i.e., a kinetic or non-kinetic input) directed towards the
target and/or target audience in order to achieve a designed output (i.e., the tactical outcome of the action on
the target) which generates a desired effect (i.e., the aggregation of outputs) across the battlespace.21 Targeting
takes into consideration the operational requirements and capabilities of the actor, as well as an assessment
of the effectiveness of the action to generate the desired effect, and it occurs at all levels of conflict (tactical,
operational and strategic).
The most pressing challenge in the area of targeting and effects is the lack of a clear definition of, or responsibilities for, non-kinetic (i.e., influence) targeting and of any doctrine, policy, or tactics, techniques and procedures
(TTPs) to guide activities in this domain. This has been noted across operations and exercises over the last
decade, in particular at the Divisional level. In addition, there is no non-kinetic equivalent of Collateral Damage
Estimate (CDE) methodology when developing a target folder, and the non-kinetic equivalent of Battle Damage
Assessment (BDA), which can be loosely interpreted as Measures of Effectiveness (MOE), remains (for the most
part) underdeveloped. For example, the calculus for conducting CDE for kinetic (i.e., fires) engagement (e.g.,
WWW.ARMY.FORCES.GC.CA/CAJ
35
dropping a bomb on a target) is well defined, structured and scientifically validated. Based upon the physical
characteristics of the target and the weapon, CDE can be performed with a high level of accuracy. The same can
be said for the methodological approach used to assess the damage to a target after a kinetic engagement; that
is, the percentage of damage, and whether the desired outcome was achieved, can be accurately determined, as
can the requirement for re-engagement. However, the same is not true for influence targeting, where success
is guided less often by mathematical formulas and structured techniques and more often by operator skill and
experience (i.e., based on intuition and heuristics).
Another issue is that of joint targeting integration and synchronization.22 In essence, targets are considered for
either kinetic or non-kinetic engagement, but not both. Once a decision has been made to kinetically engage a
target, complementary non-kinetic activities (or activities to mitigate negative or enhance positive consequences
of a kinetic engagement) are generally not factored into the targeting development process (and vice-versa).
For example, if it has been decided to destroy a C2 node using a kinetic strike, non-kinetic activities (such as
messaging) are typically not factored into the targeting process. This results in the development of "silos of
excellence," as well as missed opportunities for reinforcement or amplification of designed tactical outcomes
and the generation of effects.
Analysis and Assessment
One of the most significant challenges identified in operations in Afghanistan and in Road to High Readiness
(RTHR) 23 training and the JointEx series of exercises is that existing analytical techniques and frameworks
do not provide the necessary detail about potential targets of influence, or they lack the analytical steps to
support IA analysts in defeating cognitive bias and reliably generating new insights or drawing conclusions,
based on inductive or deductive reasoning, about a scenario or target. For example, the Basic PSYOPS Study
(BPS), SCAME (Source, Content, Audience, Media, and Effects) and Target Audience Analysis Worksheets
36
THE CANADIAN ARMY JOURNAL VOLUME 15.2 2013
ARTICLES
Source: Combat Camera
(TAAWs) are three frameworks commonly used by IA analysts.24 However, the BPS is a relatively simple list of
general high-level (macro) thematic categories, and SCAME (which is used for hostile propaganda analysis)
and TAAWs (which is used for planning and conducting PSYOPS) provide a list of relevant factors or conditions but do not support the analyst in identifying the "so what." A number of other structured frameworks are
used in support of IA analysis, including PMESSI+PT (Political, Military, Economic, Social, Infrastructure and
Information plus Physical Environment and Time), ASCOPE (Area, Structures, Capabilities, Organizations,
People and Events) and DIME (Diplomatic, Information, Military and Economic). However, although these
frameworks help analysts represent complex information in an easy-to-read matrix, they are thematic lists. In
other words, they do not support the analyst in actually working through the problem space and gaining new
and critical insights about a target or scenario. In fact, the value of these frameworks is realized only when
they are combined with advanced analytical training and supported by the full range of structured analytical
and red-teaming techniques.
Organizational Structure and Command and Control (C2)
Several challenges have been identified regarding organizational structure and C2. Throughout the mission in
Afghanistan, as well as Road to High Readiness (RTHR) training, issues regarding C2 for IA capabilities have
been noted, in particular the misemployment of IA personnel. Two reasons have been identified. First, there is
no standing IA Unit in the CAF. In essence, IA Units are generated to support RTHR and operational deployments. As a result, formation commanders and staff are generally unfamiliar with, and therefore unsure as to
when and how to employ, the IA capability. A second reason for misemployment of IA personnel has been that
there is no IA Unit Commander with sufficient rank to represent the IA capability at the formation command
level and no proper integration of IA planners throughout the formation staff, in particular G/J5, G/J35 and the
Effects Cell. A lack of IA support was particularly noted during Operation (Op) HESTIA;25 it occurred because
CIMIC assets were not attached to the Disaster Assistance Response Team (DART).
WWW.ARMY.FORCES.GC.CA/CAJ
37
Source: Combat Camera
38
THE CANADIAN ARMY JOURNAL VOLUME 15.2 2013
ARTICLES
Another notable issue is the employment of the IA Unit structure at the Divisional level. It was ascertained during the JointEx series that the IA Unit structure26 was not optimal for Divisional-level application. Specifically,
the tactical detachments were not required and there was an overall lack of IA analytical and planning support.
In essence, it was determined that the IA Unit at the Divisional level required additional planners and analysts.
Reach-back has also been identified as a critical deficiency in both operations and exercises, particularly for
advanced analytical and product development support. One of two things would happen: the IA Unit requested
support via a reach-back mechanism but did not receive sufficient support, or it identified a requirement for
reach-back support but either lacked the technical means to communicate with, or a reach-back capability did
not exist at, the IATF. For example, during the JointEx series, the technical means for conducting secure reachback to the IATF to leverage subject-matter expertise (in particular, issues that require in-depth human sciences
knowledge) or product development and testing/validation was not available. It was noted during the JointEx
series that reach-back would have facilitated the analytical and planning processes, in particular by providing
subject-matter expertise to support human terrain analysis, psychological profiling and non-kinetic targeting,
and validation of products to ensure cultural resonance and message uptake.
Doctrine and Policy
The most notable issue identified is the lack of current doctrine and policy guiding some of the core IA and
related capabilities. For example, the CF Joint Information Operations doctrine was last published in 1998,
and the policy guiding the application of Info Ops was last updated in 2004. Both are out of date and are currently under revision. Similarly, the CF Joint Psychological Operations doctrine was last published in 200427
WWW.ARMY.FORCES.GC.CA/CAJ
39
and CIMIC doctrine was published in 1999;28 neither of these documents reflect changes to the operating
environment, in particular the inclusion and pervasiveness of the Internet and social media as a means of
communicating to target audiences, establishing and maintaining human terrain situational awareness, or
facilitating cooperation with non-government and international organizations. In addition, while doctrinal
notes and tactics, techniques and procedures (TTPs) exist for CIMIC (2006) and PSYOPS (2010), the Canadian
Army does not have its own doctrine for these capabilities, nor does it have any documents guiding the application of Key Leader Engagement (KLE) or conducting Media Operations. Lastly, the Canadian Army Military
Deception (MILDEC) doctrine was last published in 1998,29 and like the Joint PSYOPS and CIMIC doctrine,
it has not kept up with changes in the operating environment, in particular with social media technologies.
In short, Canadian IA doctrine, at both the tactical and joint levels, is woefully out of date.30
Training
Info Ops training and experience has been identified as one of the key deficiencies of the CAF. Although the issue is
not exclusive to IA, the problem is that IA may not be appropriately or most effectively employed due to the fact that
those assigned the responsibility of integrating the full spectrum of Info Ops enablers lack the necessary training
and experience. It has been noted that Info Ops is a coordinating function that is not well understood by many in
the CAF, in particular at the tactical staff level. In addition, the Chief Info Ops position does not currently exist at the
Divisional level. As a result, the Info Ops enablers (IA, EW, Cyber, PA, etc.) are left to self-organize, or these capabilities
are corralled by either Chief Influence Activities (Chief IA) or Effects, depending upon what position is filled in the
HQ. The specific challenge at the Divisional level is that a higher HQ (corps/theatre) typically has an Info Operations
Coordination Centre (IOCC). The IOCC structure is the one-stop shop for the coordination of the Info Ops enablers.
Without a similar structure or cell at the Divisional level, as well as staff with both training and experience in Info
Ops, there may be challenges in synchronizing the full spectrum of enablers between the two levels of command.
THE FUTURE SECURITY ENVIRONMENT
For ease of readership, the FSE has been divided into two general periods: Horizon 2, which looks out between
10 and 20 years (approximately 2020–2030), and Horizon 3, which looks out beyond 20 years (approximately
2030 through 2040+).31
Horizon 2
An examination of the FSE in Horizon 2 reveals a number of intriguing and challenging trends, all with
implications for CAF operations. The following five trends have been identified as the most relevant to IA:
1. Future conflict will be characterized by technologically enabled state and armed non-state actors
(ANSAs), using a range of asymmetric capabilities and tactics to undermine the West.32 In particular,
there will be an increased threat from ANSAs operating in Asia, sub-Saharan Africa and Latin
America. ANSAs will continue to exploit ethno-cultural tensions as well as economic disparity and
social issues to justify violence against both states and civil populations. In addition, ANSAs will be
motivated by hybrid political–religious–criminal agendas, and will effectively move between and
conduct military and criminal endeavours to achieve effects in the battlespace.
2. Future operations will occur largely in heavily urbanized and geographically distributed environments
(within and across physical borders), with increased emphasis placed on operations in and across
the cyber-domain. A highly networked society and increased exploitation of technology by state and
non-state actors will require a re-think of traditional military capabilities, as well as tactics, techniques
and procedures (TTPs) to achieve effects. State-based actors will not only be technology-centric, but
will also become technology-dependent (technology as an enabler and a weakness).
3. Due to the prohibitive cost and the political and legal implications, peer and near-peer conflict
will be unlikely. However, some adversarial nations will continue to exploit proxy-agents (ANSAs,
including criminal networks) to directly and indirectly shape the geo-political context in order to
achieve and maintain strategic advantage. The application of soft power, versus hard power, to shape
the environment will be dominant.33
40
THE CANADIAN ARMY JOURNAL VOLUME 15.2 2013
ARTICLES
Source: Combat Camera
Sergeant Jeremy Meyer, a member of the psychological operations (PSYOPS) team, explains the Joint Task Force Haiti (JTFH)
mission during a talk show at Radio Amikal in Leogane, Haiti.
4. Economic constraints will require Canada to work within small coalitions, in particular NATO and
Five-Eyes coalition constructs.34 In addition, military forces will increase dependence upon other
government departments (OGDs) and non-government organizations (NGOs) to successfully
conduct operations in complex environments in which the local population plays a critical role.35
Increased use of Special Operations Forces (SOF) assets to achieve strategic outcomes becomes even
more important in a resource-constrained environment.
5. Increased emphasis will be placed on full-spectrum Info Ops (integrated influence–electromagnetic
capabilities), especially during Phase 0 operations in order to effectively shape the operating
environment (OE). The Information Environment (IE)36 becomes the key battleground and underpins
the other environments (land, sea, air, space and cyber). As a result, military forces and other
government departments will be required to simultaneously build trust with some target audiences,
while creating and exploiting uncertainty in other (adversary) targets. Offensive and defensive
capabilities, used simultaneously, will be required in order to effectively shape and control conflict.
Horizon 3
As in Horizon 2, several significant technological advances and environmental and socio-political events and
trends are forecasted to occur in Horizon 3. The following four trends are the most relevant to IA:
1. Advances in nanotechnology allow for full computer-brain (cyber-neural) integration.37 As a result,
humans are networked and cognitive ability is facilitated through advances in artificial intelligence
(AI). However, the information deluge is so great that humans are unable to process information and
WWW.ARMY.FORCES.GC.CA/CAJ
41
Source: Combat Camera
Operation BACKYARD Force Protection Company is made up of soldiers from 1 Battalion Royal 22e Régiment, based in
Valcartier, Quebec, and Army Reserve units from Land Force Quebec Area (LFQA), as well as a Civil–Military Cooperation
(CIMIC) platoon of mostly Army Reserve soldiers from LFQA. CIMIC officers talk to locals during a Stab Alpha foot patrol
through Kandahar City.
understand it without the assistance of computer-neural nets. At the same time that decision-making
is enhanced, people become dependent upon brain–computer interfaces. In addition, technology
facilitates a "true" merging of virtual and physical realities; in a sense, human consciousness
goes online.38
2. As a result of these technological advances, the way humans communicate with each other and
socialize undergoes fundamental changes.39 Face-to-face human interaction is largely replaced by
virtual interaction. Social and psychological processes of relationship-building (trust and rapport)
adapt to the new information-exchange environment. Expectations regarding information (quality,
type, detail, quantity, etc.) also change, as do human skill sets and capabilities, with an explicit focus
on virtual social networking.40
3. The future of the nation-state is in question; specifically, in the information/cyber domain (e.g.,
policy makers struggle with the notion that national sovereignty does not exist in this space). With
the transition to virtual reality, the world becomes increasingly borderless, and nation-states are no
longer able to exert control over their citizens in relation to the virtual world.
4. At the same time as technology advances, the world is thrown into chaos by severe weather and
climatic events, including massive flooding and droughts. Food production becomes strained, and
natural resources start to decline.41 Energy demands exceed supply, which leads to social discontent
and resources wars. The result is the massive movement of people from rural spaces to urban
environments, as well as a global refugee crisis, which strains existing infrastructure and water/food
resources.42 The gap between the haves and the have-nots widens, and criminal organizations and
dark networks43 continue to exploit ungoverned (uncontrollable) spaces, in particular in the cyber
domain. Massive social unrest leads to the emergence of extreme political and religious ideologies.44
42
THE CANADIAN ARMY JOURNAL VOLUME 15.2 2013
ARTICLES
Source: Combat Camera
Lieutenant Pierre-Vincent Daigle issues pay to the employees for various reconstruction projects in the village of Deh-e Bagh.
FSE IMPLICATIONS FOR IA
An examination of the various trends across Horizons 2 and 3 suggests the following implications:
1. Although the future economic situation will require further streamlining of defence budgets,
spending must focus on highly specialized capabilities that provide a significant asymmetric
advantage (versus general force capabilities). Military forces will move away from conducting
sustained major combat operations and focus on the other end of the spectrum of operations
(Operations Other Than War), as well as limited interventions.
2. Military forces will need to evolve in order to meet the demands of the new socio-technical world, and
they will be required to simultaneously operate and synchronize activities in both physical and virtual
realities. Military operations may be conducted virtually, with limited personnel actually carrying
out operations in the physical space; in other words, "boots on the virtual ground." Information
supremacy, or at least management, becomes the contentious ground, which leads to the emergence
of Influence Warfare. Kinetic activity becomes a secondary line of operation. The Influence Warfare
paradigm will require combatants to achieve domination of both perception and perspective; that
is, not only what people see, but how they see and cognitively process and understand it. A re-think
of the current human–cyber paradigm will be required. Forces operating in the FSE will require the
full integration of the information/influence and intelligence enablers in order to generate effects
in the IE.
3. Tactical assets will have increasing strategic effect; the operational level of war, in which massive
numbers of troops are required to take and hold ground, will be phased out. This effect is reinforced
WWW.ARMY.FORCES.GC.CA/CAJ
43
by operating in a resource-constrained environment, and by advances in technology that allow
military forces to accurately deliver lethality at great distances while minimizing or eliminating
exposure to attack (emergence of rail-guns and directed-energy weapons).
4. Unprecedented dynamic operating environment will require militaries to be able to simultaneously
defend, mitigate and attack (in non-contiguous spaces). Physical borders (as they are currently
conceived) will no longer exist, resulting in the blending of domestic and expeditionary contexts. As
a result, national information sovereignty will be elusive, if not impossible to achieve.
5. Military forces that operate in the IE will need to fully grasp and adapt to the social and psychological
processes of human interaction in the physical and virtual realities. New techniques and approaches
for influencing key decision makers will need to be developed, and the emergence of smart
technologies and information expectations will necessitate highly targeted influence messaging (in
order to compete in the public information environment). In other words, militaries will require a
fuller appreciation of the target. Moreover, it is one thing to profile, target and influence a human
enabled by technology, but it may be something different to profile, target and influence a human
integrated with technology. (Will social agents in the future be impervious to influence?) New ways
of thinking about influence and human interaction will be required. Tactical influence activities
targeting adversaries become antiquated when robots appear on the battlefield,45 at least in near-peer
and peer conflict. If advances in artificial intelligence create a generation of thinking/sentient robots,
military capabilities, specifically those that function in the IE, will need to adapt.46
6. Although language may no longer be a concern due to the emergence of micro-translators for
real-time conversation, culture remains a critical barrier to communication and interaction. New
forms and layers of sub-cultures and micro-cultural properties emerge, effectively complicating
the operating environment. Society becomes increasingly complex, with emergent interacting and
interdependent socio-cultural groups, many of which exist only in the virtual world.
7. Truth becomes questionable and malleable at the point when physical and cyber realities merge;
social reality is constructed through virtual interactions. Military forces will need to compete against
multiple sources of information and control perception of targets for extended periods of time.
Immersive virtual reality and the merging of human consciousness with computers (bio-technological
neural nets) may mean that the target audience's perception and perspective can be fully controlled. It
may be possible to create and maintain multiple target-specific realities. Attribution, deception and
truth need to be re-conceptualized. In addition, alternate sources of information (bloggers, online
activists, cyber advocates, etc.), rather than information conglomerates (mass media outlets), will
take over as purveyors of information reality.47 Military forces must be prepared to compete against,
and defeat, alternate sources of information, in particular non-state actors.
RECOMMENDATIONS FOR FUTURE IA
Considering the IA lessons learned from operations and exercises over the past decade, as well as the analysis
of the FSE, two broad recommendations are made regarding IA capability development. First, a more detailed
examination of the contemporary operating and future security environments should be conducted, together
with a rethink of the concepts, theories and technologies that underpin effective influence in the IE—in particular, the role and utilization of new media technologies to identify and influence specific targets (versus mass
audiences) in Phase 0 operations. The rethink should then be captured in revised or (ideally) new doctrine and
TTPs. Those concepts and theories should also underpin the development of new analytical frameworks and
approaches that support a deeper appreciation of the human environment, particularly from a systems-based
perspective. In addition, new approaches to influence must be amplified by significant investment in new
technologies and human skills that facilitate operations in the IE, as well as forward-looking and robust policy.
The second recommendation involves the professionalization and institutionalization of IA in the CAF through
integration with other Info Ops enablers and development of an Info Ops military occupation specialty (Info
44
THE CANADIAN ARMY JOURNAL VOLUME 15.2 2013
ARTICLES
Ops MOSID); for example, integrating IA, EW and Cyber into a single, overarching military trade.48 Soldiers
and officers would be recruited based on key skill and knowledge sets and would specialize in a particular
sub-area (such as EW or PSYOPS), but they would get broad exposure to and cross-discipline training in the
other Info Ops enablers. This integration would also be reinforced by Info Ops units trained for and operating
across the spectrum of Info Ops activities.
CONCLUSION
Like most militaries, the CAF finds itself in a "time of change." It is faced with making significant investments
in some areas, and reducing investments in others, in order to ensure operational effectiveness going forward.
At the 2012 IA Summit, a senior member of the Canadian Army noted that, in the future, Canada would face
a range of irregular and asymmetric adversaries operating in increasingly complex environments. The speaker
also predicted a paradigm shift in the way the CAF conducts operations, in essence arguing that future operations would likely be combat-enabler-led. However, the speaker openly pondered, and left unanswered, the
issues of IA institutionalization and the specific role of IA in future operations.
Using that speaker's comments as a springboard for further discussion, this paper sought to address the
outstanding issues of institutionalization and the role of IA in future operations, in particular at the front end
of the spectrum of conflict (Phase 0). This was achieved by examining IA lessons learned from exercises and
operations conducted over the past decade (2002–2012), conducting a brief examination of the FSE (Horizons 2
and 3) and outlining the implications of the FSE for IA.
From the analysis of lessons learned, several IA deficiencies were identified, in particular in the areas of Targeting and Effects, Analysis and Assessment, Command and Control, Doctrine and Policy, and Training. From the
analysis of the FSE, several trends were forecasted and implications identified for IA, specifically the requirement for military forces to move away from conducting sustained major combat operations and focus on the
other end of the spectrum of operations, and to be able to conduct operations in both the physical and virtual
worlds. Two key recommendations emerged from this analysis. First, there must be a rethink of the concepts
and theories and a significant investment in technologies and human skills for operating in the IE. Second,
the CAF must seriously examine and move towards the integration of Info Ops enablers into a single military trade. Only then will the CAF be able to effectively project power, and start to achieve supremacy, in the
Information Environment.
ABOUT THE AUTHOR
Matthew A. Lauder is a Defence Scientist in the Socio-Cognitive Systems (SCS) / Adversarial Intent Section
at Defence Research and Development Canada—Toronto Research Centre and is currently attached to the
Influence Activities Task Force (IATF). Mr. Lauder completed a Bachelor of Arts – Honours in Psychology and
Religious Studies at Queen's University, a Master of Arts in Religion and Culture at Wilfrid Laurier University, and a Master of Philosophy (specializing in religious and political extremism) at Lancaster University in
England. His area of research includes irregular warfare and counter-insurgency operations, influence activities, cyber-influence, non-kinetic targeting, systemic operational design and complex systems, human terrain
analysis, decision-support red-teaming, clandestine and dark networks, radicalization and extremism, and
asymmetric threats. Mr. Lauder also serves as an infantry officer in The Argyll and Sutherland Highlanders of
Canada (Princes Louise's).
ENDNOTES
1.
Janus is the Roman god of beginnings and transitions. He is depicted as having two faces, representing the ability to look backward
and forward.
2.
The speaker was a senior member of the Canadian Army. Since the summit was conducted under Chatham House rules, the comments cannot be attributed to a specific speaker.
3.
The Future Security Environment (FSE) is a critical estimate of the future operating environment, based upon the application of
different analytical techniques.
WWW.ARMY.FORCES.GC.CA/CAJ
45
4.
Combat enablers include, but are not limited to, Medical Assistance Teams, Intelligence, Surveillance and Reconnaissance (ISR)
assets, Provincial Reconstruction Teams (PRTs), Disaster Assistance Response Teams (DARTs), Operational Mentoring and
Liaison Teams (OMLTs), Counter Improvised Explosive Device (C-IED) and Route Clearance assets, and Influence Activities assets.
5.
The working definition of the Human Environment (HuE) is a complex socio-technical system (STS) in which people interact and
share their experiences. The HuE comprises three interacting, reciprocal and dynamic contexts: psychological, social and physical.
The contexts are linked by, and evolve through, information exchange. Conceptually, the contexts can be further broken down into
a number of variables. For example, the psychological context can be divided into cognitive, affective and motivational variables.
The social context can be divided into ideational and behavioural variables. Lastly, the physical context can be divided into natural
and built (i.e., human-made) variables.
6.
Phase 0 operations is defined as the phase in which the environment is shaped, largely through the joint interagency and multinational activities. The purpose of this phase of operations is to deter or mitigate the effectiveness of potential or real adversaries
without engaging in open conflict. Operations in this phase are considered to be ongoing and routine.
7.
Horizon 2 looks out approximately 10–20 years, and Horizon 3 looks out 20+ years.
8.
Information Operations are defined as "Coordinated actions to create desired effects on the will, understanding and capability
of adversaries, potential adversaries and other approved parties in support of overall objectives by affecting their information,
information based processes and systems while exploiting and protecting one's own." North Atlantic Treaty Organization, AJP-3.10
Allied Joint Doctrine for Information Operations (Brussels: NATO, November 2009).
9.
Department of National Defence, B-GL-300-001/FP-001, Land Operations (Ottawa: DND, 01 January 2008), 5-44.
10. DND, Land Operations, 5-46–5-50.
11. CCA is defined as activities performed to "physically alter an adversary's command and control (C2) capability. It affects the flow
of information to and from a decision-maker, thereby affecting understanding or influencing will. CCA seeks, within rules of
engagements (ROE), to disrupt, degrade, usurp, deny, deceive, or destroy an adversary's information, command, propaganda, and
associated systems, processes and networks through kinetic or non kinetic activities. In targeting such systems, commanders must
assess the secondary and long-term effects as well foresee and mitigate unintended negative effects." DND, Land Operations, 5-45.
12. IPA is defined as "any activity that prevents an adversary from gaining information relating to friendly operations…. In short,
these activities deny the adversary information and thus affect his understanding and capabilities." DND, Land Operations, 5-46.
13. DND, Land Operations, 5-45.
14. The terms "Public Affairs" and "Media Operations" are used interchangeably in Land Ops Doctrine. However, an argument can
be made that these are actually different capabilities. It should also be noted that Key Leader Engagement, or KLE, is not identified as a key IA capability in Land Ops Doctrine. However, in practice, the deployed IA Unit is responsible for coordinating and
managing KLEs.
15. IA capabilities are defined as Military Deception, which consists of activities directed towards or at adversary commanders and
forces in order to manipulate perception or disrupt decision-making; Psychological Operations (PSYOPS), which are activities used
to influence understanding, perceptions and/or the will of targeted groups and individuals; Civil–Military Cooperation (CIMIC),
which is made up of activities that support the development or reconstruction of public or social services, social infrastructure
or activities that help establish governance structures; Presence, Profile and Posture (PPP), which consists of activities or appearances that send a specific message to the local population or other target audience; and Public Affairs (PA), sometimes referred
to as Media Operations (Media Ops), which are activities that facilitate the flow of information to audiences through the media.
DND, Land Operations, 5-6.
16. Individual IA training provided by the Peace Support Training Centre (PSTC), located at Canadian Forces Base (CFB) Kingston.
17. Prior to the establishment of the IATF, the Canadian Army had two separate directorates that were responsible for CIMIC and
PSYOPS capability development.
18. Only the main issues in each category are discussed in this paper due to space limitations.
19. Although other categories exist, such as equipment and materiel, they are not included in this paper due to space limitations. Those
topics require analysis in a separate article.
20. A target is generally defined as an entity, object, structure, person or organization considered for engagement. Similarly, a target
audience is defined as an individual or group selected for influence or attack by means of psychological operations. In other words,
the use of the term "target audience" is specific to psychological operations and, more generally, influence activities. "Target audience" implies non-kinetic engagement, whereas "target" implies either kinetic or non-kinetic engagement. It is acceptable to use
"target" in place of "target audience."
21. The term "effect" is often applied inappropriately in the context of targeting. The tactical output of an action, such the destruction
of a tank, is not an effect in and of itself. The effect is achieved, or realized, through the aggregation of tactical outputs across the
battlespace. In other words, the destruction of a tank battalion, plus the command and control nodes, and the ability to refuel
other military vehicles as well as its air defence and attack capability, would have the effect of neutralizing enemy effectiveness to
engage in combat. The tactical output is the destruction of a tank, whereas the effect is achieved when all of the tactical outputs
are aggregated and calculated.
46
THE CANADIAN ARMY JOURNAL VOLUME 15.2 2013
ARTICLES
22. By "integration," the author means simultaneous action using both kinetic and non-kinetic activities on a single target or target
set, whereas "synchronization" implies the application of kinetic and non-kinetic activities on different targets, usually separated
in time and space.
23. RTHR is a training cycle managed by the Canadian Army to ensure that a Brigade HQ and Battle Group are ready for
operational deployment.
24. Department of National Defence, B-GL-353-002/FP-001, Psychological Operations Tactics, Techniques, and Procedures (Ottawa:
DND, 30 November 2010).
25. Op HESTIA was the name of the CAF mission in response to the 2010 earthquake in Haiti.
26. The IA Unit, which was designed to support operations at the Brigade level, includes an IA Company Headquarters, an IA Coordination Centre (IACC) and tactical CIMIC and PSYOPS detachments. In total, the IA Unit has approximately 80 people: 52 IA
specialists and 28 generalists. IATF, IA Unit Handbook – Version 4.0 (Kingston: DND, 12 September 2011).
27. Department of National Defence, B-GJ-005-313/FP-001, Psychological Operations (Ottawa: DND, 15 January 2004).
28. Department of National Defence, B-GG-005-004/AF-023, Civil-Military Cooperation in Peace, Emergencies, Crisis, and War
(Ottawa: DND, 15 January 1999).
29. Department of National Defence, B-GL-354-003/FP-001, Land Force Information Operation – Deception (Ottawa; DND,
01 July 1998).
30. It should be recognized that, in the absence of Canadian-specific doctrine, the CAF reverts to NATO doctrine.
31. The assumptions identified here are based on studies conducted by the Chief of Force Development (CFD), as well as futures
analysis conducted by DRDC Toronto. Department of National Defence, A-FD-005-001/AF-001 The Future Security Environment
2008-2030. Part 1: Current and Emerging Trends (Ottawa: DND, 27 January 2009).
32. DND, Future Security Environment, 93.
33. DND, Future Security Environment, 21.
34. DND, Future Security Environment, 52.
35. DND, Future Security Environment, 106.
36. Information Environment (IE) is an evolving construct which is generally defined as the aggregate of information as well as the
individuals, organizations and systems that collect, process and disseminate information. It is a sub-set or component of, and not
independent of, the operating environment.
37. DND, Future Security Environment, 82.
38. Darren Waters, "Virtuality and Reality 'to Merge,'" BBC (22 February 2008).
39. Brandon Kein, "Twitter Telepathy: Researchers Turn Thoughts into Tweets," Wired (20 April 2009).
40. Institute for the Future for the University of Phoenix Research Institute, Future Work Skills: 2020 (Palo Alto: University of Phoenix
Research Institute, 2011).
41. DND, Future Security Environment, 41.
42. DND, Future Security Environment, 24.
43. Dark networks are generally defined as networked entities that use formal and informal linkages to conduct legal and illegal activities. Dark networks typically operate in a semi-clandestine fashion.
44. DND, Future Security Environment, 30.
45. For example, messages designed to undermine enemy morale and encourage surrender.
46. John Pike, "Coming to the Battlefield: Stone-Cold Robot Killers," The Washington Post (04 January 2009).
47. One could quite easily argue that this trend has already emerged.
48. It is asserted that an integrated Info Ops MOSID will allow the broader capability, including the various enablers, to grow and
become institutionalized within the CAF. In addition, it is believed that the creation and management of an integrated Info Ops
MOSID will be more cost-effective while also making it easier to manage the key talent pool. This is particularly important in an
economically restrained environment, and in an OE in which tactical-level activities can have strategic implications. Lastly, it is
also believed that a single MOSID will facilitate the synchronization of non-kinetic effects in the battlespace; that is, rather than
silos of excellence operating in a relatively independent fashion.
WWW.ARMY.FORCES.GC.CA/CAJ
47
Private Greg Gaweda of The Royal Regiment of Canada covers his
arcs of fire during a fighting patrol in Fort Knox, Kentucky.
Source: Combat Camera
ARTICLES
CANADIAN ARMY
FIGHTING POWER:
Current Challenges and
Future Models
Captain John N. Rickard, CD, PhD
This paper is about the development of fighting
power concepts in the Canadian Army now and
in the near future. My intent is to generate discussion by making observations and asking questions.
Definitive statements based on more in-depth
research will come later. I believe this subject is
worthy of greater study for the simple reason that
we have a small army and will probably continue to
fight limited wars of long duration in the near future.
Furthermore, the unpalatable truth is that soldiers
are a national resource to be used in the service of
the state. The army's challenge is to protect and husband its human resources even while simultaneously
using them up to accomplish missions. I will start off
by assessing the army's current fighting power and
follow up with observations on current challenges
and what the future holds.
THE ARMY'S CURRENT FIGHTING
POWER MODEL
The army defines fighting power as "the ability to
fight," consisting of three essential, interrelated
components:1 physical, intellectual and moral.
The physical component comprises organization,
training, personnel, structures and equipment.
The intellectual component comprises doctrine,
mission command, education, understanding and
perceptions. The moral component comprises
morale, esprit de corps, culture, cohesion and
fighting spirit. The doctrinal and educational
aspects of the intellectual component consist of the
knowledge of "principle-based concepts for land
operations." The perceptual element of the intellectual component "is the understanding and
perception of the situation at hand, with respect
to all the elements of the environment." The moral
component "provides the ethical and cultural base
from which we derive morale, cohesion, esprit
de corps, and fighting spirit."2 Fighting power is
generated by integrating the three components,
and it is applied on the physical and moral planes
through an effects framework.
In my opinion, our fighting power model is built on
a good skeleton but it requires substantial fleshing
out of key concepts. Although morale is one of our
© CAPTAIN JOHN N. RICKARD, 'CANADIAN ARMY FIGHTING POWER, CURRENT
49
CHALLENGES AND FUTURE MODELS', CANADIAN ARMY JOURNAL VOL. 15.2
principles of war, the model is immature and the definition is perhaps too broad: "the sum of capability."
I prefer Martin van Creveld's definition: "the sum total of mental qualities that make armies fight." This
definition captures the intellectual component as well. Creveld added that fighting power multiplied by the
quality and quantity of an army's equipment produces that army's true worth. Fighting power is manifested "in
onecombination or another" as discipline and cohesion; morale and initiative; courage and toughness; and willingness to fight and readiness to die.3 In Creveld's model the mental/moral plane represents the primary building
block of fighting power. I believe the moral component is the motor of fighting power because it "involves the
psychological or mental processes whereby beliefs, motives, ideas and emotions coalesce to establish resolve."4
Resolve, in my opinion, is an indispensable by-product of resilience. Napoleon was correct: "The first
qualification of a soldier is fortitude under fatigue and privation."5 According to the 1933 German manual
Truppenfuhrung, "War subjects the individual to the most severe tests of his spiritual and physical endurance."6
Military resilience is "the capacity to recover quickly, resist and possibly even thrive in the face of direct/indirect
traumatic events and adverse situations in garrison and operational environments." The term was only approved
by the Army Terminology Panel in 2009. It could possibly be improved upon; as late as 2006, Defence Research
and Development Canada (DRDC) concluded that "future research will need to use more sophisticated
methodologies and measurement strategies" in order to fully comprehend psychological resilience.7
The army's fighting power model also has a minimalist quality. Perhaps that is good: keep it simple. Yet the
list of sub-components could be expanded significantly and the relationships between the sub-components
of the three components could be more fully developed. The generation, application and sustainment of
fighting power is explained only in the barest outline. The emphasis is on effects applied against an enemy,
to the exclusion of the effects on one's own fighting power. Perhaps the most intriguing questions for me
are these: how does the army compensate for fighting power degradation and how does the army increase
fighting power when required? These questions suggest that fighting power is measurable, an observation which
requires considerable testing.
QUANTIFYING FIGHTING POWER
Human behaviour in combat is complex. At this time it appears to be stochastic, meaning that it can be analyzed
statistically but not predicted precisely. However, that may change in the future as we continue to learn more
about the brain. I believe that fighting power is best studied through the scientific model of complexity theory.8
A complex system is a functional whole, consisting of interdependent and variable parts. The parts do not
necessarily have fixed relationships, fixed behaviours or fixed quantities. Historical data and clinical analysis
need to come together to achieve a common understanding of fighting power as it currently exists within the
army. In order to study the complex human behaviours that make up fighting power, it is necessary to first
employ reductionism, understanding the individual parts so that we can better understand how the whole
concept of fighting power works.9 Space does not permit a full discussion of the sub-components, but some
comment on the relationship between the moral and physical components is required.
THE FIGHTING POWER–COMBAT POWER RELATIONSHIP
Theoretically, fighting power does not need combat power, which is defined as "The total means of destructive
and/or disruptive force which a military unit/formation can apply against an opponent at a given time."10 At its
most elemental level, fighting power simply requires the will to fight. Capability to fight is not required. For a
long time, Napoleon's belief that "the moral is to the physical as three is to one" held sway in western armies. In
1910 Lieutenant-General Ian Hamilton declared that "Blindness to moral forces and worship of material forces
inevitably lead in war to destruction … War is essentially the triumph … not of a line of men entrenched behind
wire entanglements and fire-swept zones over men exposing themselves in the open, but of one will over another
weaker will."11 Even General Sir Archibald Wavell veered toward this either/or model when he declared that
"The final deciding factor of all engagements, battles and wars is the morale of the opposing forces. Better
weapons, better food, and superiority in numbers will influence morale, but it is a sheer determination to win
… that counts in the end."12 The idea that moral force by itself could overcome "a line of men entrenched behind
wire entanglements and fire-swept zones" was taken to the extreme during the First World War, with predict50
THE CANADIAN ARMY JOURNAL VOLUME 15.2 2013
ARTICLES
able results. French Marshal Ferdinand Foch preached that the "will to conquer is the first condition of victory."
His doctrine of l'offensive à l'outrance under all conditions terribly misjudged the superiority of the defence at
that period in time and almost ruined the French Army in 1914.13 I still believe that the moral component is
more important than the physical, but context is critically important.
Source: Combat Camera
Corporal Charles-Eric Deschene-Sigouin, a Canadian Forces engineer, uses a metal detector to sweep a grape hut during an
early morning operation in Panjwai District to clear several small villages and compounds.
THE FIGHTING POWER RANGE
Quantifying fighting power requires that certain bases of understanding and parameters be established.
Fighting power, like effectiveness, has real meaning only when it is assessed relative to the fighting power of an
opponent.14 Through complex mathematical calculations, Colonel Trevor N. Dupuy determined relative combat
effectiveness values (CEVs) for the Second World War and the Arab–Israeli Wars. He argued that the Germans
possessed a CEV of 1.2 over the Western Allies; 100 Germans were the equivalent of 120 American or British
(Canadian) soldiers in battle.15 His conclusions have generated fierce debate among historians, and his formula
for deriving the CEV was not adopted by the U.S. Army.16
An "effective" army should have high fighting power and resilience, which combine to increase the probability
of success in combat.17 Major-General Ira Hunt, Jr., has argued that the effectiveness of units is quantifiable
and predictable in combat but depends upon the "proficiency and spirit of soldiers."18 An army demonstrating
high fighting power must also exhibit the ability to take significant punishment. In the First World War, the
Canadian Expeditionary Force clearly demonstrated superior fighting power against a first-class opponent and
possessed resilience of the degree necessary to absorb the loss of 60,000 killed, the equivalent of 9.28% of total
personnel enlisted.19 It seems that there is a paradox here. Should not an effective army be able to accomplish
its missions without sustaining significant damage? The U.S. Army destroyed the Iraqi Army in 1991 for the
cost of 146 killed, a fact that powerfully reinforces the importance of relative effectiveness.
WWW.ARMY.FORCES.GC.CA/CAJ
51
I believe there is a range of fighting power which should theoretically correspond to the spectrum of conflict,
progressing from low-intensity war to total war. Afghanistan is a low-intensity conflict, whereas the war in the
Pacific between the United States Marine Corps and the Imperial Japanese Army reflected Clausewitz's "war
in the extreme." William Manchester recalled that the Marines had no choice but to adopt the enemy's code
of total resistance, defiance to the last man: "neither side took prisoners, except under freakish circumstances.
It was combat without quarter: none was asked, none was given."20 Bushido, itself a fighting power doctrine,
called for no surrender, no mercy. The Hitler Youth presented the Canadian Army with a similar doctrine in
Normandy. Many believe that the Canadian Army will never face this ultimate fighting power requirement
again. Our technological dominance is at the root of this belief.
THE FIGHTING POWER CONTINUUM
HERO
LEADERS
ACTIVE FOLLOWER
PASSIVE FOLLOWER
FREEZE DURING ADVANCE
FREEZE AT CONTACT
NON-PARTICIPANT
DESERTER/COWARD/AWOL
INTENSITY
The concept of a fighting power range may have limited utility, but a spectrum of behaviour offers greater
promise for quantification. In a recent study of Second World War combat, two scholars at the British Defence
Operational Analysis Centre developed a spectrum of behaviour with avoidance of combat at one extreme and
heroic performance at the other. The authors contend that the research is "remarkably consistent, especially as
regards the proportion [of soldiers] likely to prove completely ineffective."21 We can use the following figure for
demonstration purposes, subject to modification.
FIGHTING POWER CONTINUUM (COMBAT)
Figure 1: Fighting Power Continuum (Combat)
Source: Adapted from Rowland and Speight, "Surveying the Spectrum of Human Behaviour in Front Line
Combat," 55.
The concept of resilience permeates the entire continuum, and even heroes have limits. Field Marshal Montgomery, for all his concern for the human dimension, misjudged the resilience of the veteran divisions he
brought back from North Africa and Italy to fortify the raw divisions in Normandy.22 The question is, did
he miss quantifiable indicators that the Desert Rats' resilience had declined? The fighting power continuum
is useful because it facilitates discussion of the fundamental aspect of fighting power, the willingness to kill.
52
THE CANADIAN ARMY JOURNAL VOLUME 15.2 2013
ARTICLES
WILLINGNESS TO KILL
After the Second World War, American Brigadier-General Samuel Lyman Atwood Marshall attempted to
quantify the human dimension of combat by apparently using mass interview techniques with approximately
400 rifle companies in the Pacific and European theatres. In Men Against Fire: The Problem of Battle Command
in Future War, he developed a "ratio of fire" and concluded that "on an average not more than 15 percent of the
men had actually fired at the enemy positions or personnel with rifles, carbines, grenades, bazookas, BARs, or
machine guns during the course of an entire engagement … The best showing that could be made by the most
spirited and aggressive companies was that one man in four had made at least some use of his firepower."23
Marshall's claims exerted significant influence on later generations, and many historians and analysts have
accepted them without reservation. Lieutenant-Colonel John A. English, for example, cited Marshall's statistics
uncritically in his excellent 1981 study A Perspective on Infantry. I did so in a 2003 article, primarily because I
believed that there was a certain obvious logic to Marshall's thesis. Dave Grossman adopted Marshall's thesis
to establish the entire basis of his theory that it is extremely difficult to get men to fire, and therefore kill, in
modern Western armies.24 Marshall's thesis has not been accepted by all scholars; he has steadily amassed a
number of detractors who have challenged both his scholarship and his personal integrity.25
The experience of Commonwealth armies in the Second World War, with some exceptions, appears to contradict Marshall's ratio of fire thesis.26 Robert Engen's 2009 study, Canadians Under Fire: Infantry Effectiveness in
the Second World War, offers a powerful counterpoint to the Marshall dogma.27 If Marshall was indeed wrong,
we will need to rethink Grossman's idea of the psychological cost of killing, but the continuum of fighting power
does suggest that the active follower, leader and hero make up a minority of combatants.28 Every Canadian
Afghanistan combat veteran I have cornered and asked to comment on Marshall's thesis has rejected it entirely,
although I have heard stories of Canadian soldiers sometimes having to be pushed forward.
Marshall's thesis seems to have been validated during instrumented tactical trials, which now almost perfectly
reflect the precision of weapon systems. The U.S. Army employed laser simulators in the Test Activity Field
Instrumented System (TAFIS) at Fort Hood in the late 1970s. Colonel Thomas A. Horner, an armoured battalion
CO, recalled that he quickly identified a trend: 20% of his tank crews were consistently responsible for 80% of
enemy kills, while the other 80% of his own crews were almost always defeated. Based on these observations,
he developed his own metric, classifying his tank commanders as "killers," "fillers" or "fodder."29 Operational
researchers admit that there is "a world of difference between the physical and psychological environments
encountered in even the most realistic of trials and those that are normally faced by soldiers in genuine combat."30 Dupuy was correct when he declared that field trials "can never reproduce the essential ingredient of war,
which is fear in a lethal environment."31 I am not aware of any studies on the presence of fear in the Canadian
Manoeuvre Training Centre (CMTC) simulated environment.32
During the Korean War, the U.S. Army Leadership Human Research Unit produced a study titled Fighter I: An
Analysis of Combat Fighters and Non-Fighters. Its conclusions are worth considering. According to the study, a
"fighter" tended to be more intelligent, more masculine, a "doer," more socially mature, preferred socially and
in combat by his peers, and more emotionally stable, and to have more leadership potential, better health and
vitality, a more stable home life, a greater fund of military knowledge, and greater speed and accuracy in manual
and physical performance. The "most striking difference" between the fighter and the non-fighter, the study
claimed, was the level of intelligence.33 The implication of the Fighter I study is that men possessed of superior
intelligence and physical attributes fight better. The American official history of the Second World War made
that very argument.34 Fighter I concluded that "the qualities of fighters are potentially measurable and gives[sic]
promise of the possibility of identifying fighters by appropriately developed tests."35
Dupuy tackled the problem of quantifying moral factors in developing the Quantitative Judgement Model of
Analysis (QJMA) in the 1970s while at the Historical Evaluation Research Organization (HERO). He went to
great lengths to identify combat variables. Under "intangible factors" he listed combat effectiveness, leader-
WWW.ARMY.FORCES.GC.CA/CAJ
53
The eternal aspects of the moral plane, such as
leadership, morale, psychological effects, and
the difficulty and confusion which battle entails,
are identifiable by pattern, but adequately
describing those patterns has proven to be
a daunting challenge.
Source: Combat Camera
ship, training/experience, morale and initiative and coded them as follows: combat effectiveness (sometimes
calculable); leadership (probably calculable); training/experience (probably calculable); and morale (intangible,
probably individually incalculable). He argued that
the fundamental problem in any effort to generalize and formulate theories of combat is the
influence of presumably unpredictable human behaviour on outcomes of battle … the perverse
refusal of human beings to fit themselves into consistent patterns of behaviour on the battlefield
makes the search a long and difficult one. Until a method of determining such patterns can be
established, the search for a theory of combat will never be satisfied.36
Perhaps Clausewitz was correct when he declared that "Moral elements … will not yield to academic wisdom.
They cannot be classified or counted. They have to be seen or felt."37
The eternal aspects of the moral plane, such as leadership, morale, psychological effects, and the difficulty
and confusion which battle entails, are identifiable by pattern, but adequately describing those patterns has
proven to be a daunting challenge. The following appear to be quantifiable to varying degrees: rates of combat
stress reaction (CSR) / operational stress injury (OSI) / post-traumatic stress disorder (PTSD);38 individual
54
THE CANADIAN ARMY JOURNAL VOLUME 15.2 2013
ARTICLES
intelligence; general health and illness; personnel attrition (organizational, non-combat-specific); physical casualties in different types of engagements; weapons effects through operations research (OR);39 physiological
responses and limits; breaches of Code of Service Discipline; soldier opinion obtained through surveys; acts of
heroism as measured by distribution of certain medals;40 a continuum of fighting power capturing a range of
human behaviour, including military resilience; and military effectiveness. I am sure there are others. Several
can be quantified with a high degree of accuracy because there is a large amount of fairly reliable data upon
which to build sound models.
INDIVIDUAL LIMITS
Lord Moran's First World War observation that every soldier has his breaking point represents quantification of
a sort.41 According to Montgomery, "Men stood up to the wear and tear, and the stress of war, just in proportion
to their character and will-power, and it was these qualities we must seek to develop. There were no synthetic
ways of doing so, and no short cuts."42 Wilfrid Eggleston agreed, declaring that "some individuals are equipped
by nature to withstand the strains [of war] better than others, and so the physiologists and psychologist, by
devising suitable screens for non-susceptibility, superior acuteness of senses, endurance, and other qualities,
can select the best men for certain tasks."43
WWW.ARMY.FORCES.GC.CA/CAJ
55
The official American study on combat exhaustion declared that most men "were ineffective after 180 or even
140 days [of combat]." Ninety days was identified as the point of peak efficiency. The number of men on duty
after 200 to 240 days of combat "was small and their value to their units was negligible."44 The Canadian Army
did not set a limit based on the number of days in combat because, as Terry Copp has observed, "none of the
psychiatrists with front line experience thought the idea was useful."45 Canadian psychiatrists during the war
concluded that the breaking point was directly related to a realization that the misery and danger would never
end and a growing sense of personal vulnerability. Every soldier could become an exhaustion casualty if he
experienced enough stress. The argument was that the soldier's ability to "take" cumulative pressure, before he
reached his theoretical limit, was directly related to his constitution (physical, mental and temperamental), his
character, and his personal morale, heavily influenced by unit morale.46 The official history of the Canadian
Medical Services in the Second World War stated: "No test or battery of tests now in use … will predict with
accuracy the soldier's ability to withstand the stress of war."47
Source: NDIL
THE CONTEMPORARY OPERATING ENVIRONMENT
Studying modern Canadian Army fighting power requires an understanding of the COE. Presentism is a real
problem. Consider Peter Worthington's statement that Afghanistan is "tougher" than the Second World War.48
Brigadier David Fraser may be correct to characterize Afghanistan as perhaps "the most complex" mission of
the last 50 years,"49 but complexity is also code for "tougher." Our currently suggested definition of a complex
environment is a "battlespace with a mix of geographical, environmental and human factors that collectively
and significantly complicate the conduct of operations."50 I do not think this is very helpful. All of those factors
were present in the Second World War.
56
THE CANADIAN ARMY JOURNAL VOLUME 15.2 2013
ARTICLES
The geography of Afghanistan means that we have to conduct airmobile operations. This rapid insertion into
action reduces the mental preparation time available to the soldier, but it is not new to the COE. It has been
argued that during the Vietnam War the helicopter may have taken "an unanticipated toll on the will and
morale of the soldier. Despite all of its obvious benefits, the aircraft moved the soldier so rapidly from the rear
to the field that it eliminated a critical period in which the soldier of the past had prepared himself mentally
for battle."51 Mental preparation for battle, I would suggest, is poorly understood.
Consider, for example, the improvised explosive device (IED) threat in Afghanistan. Major-General Guy
Simonds reported on anti-personnel mines during his visit to Eighth Army in Tunisia in April 1943: "A means
of exploding the anti-personnel mine, which can be handled by the infantryman on foot, is an urgent requirement. The moral effect on the troops is considerable and particularly so in the case of formations which have
suffered severe casualties from anti-personnel mines."52 Declaring that the IED threat in Afghanistan is a greater
Source: Combat Camera
psychological burden than the mine threat in the Second World War, without proving it, essentially situates
the estimate. I reject the notion that the COE has fundamentally altered the psychological demands placed
on soldiers.
INTENSITY AND LETHALITY
Fighting power also needs to be analyzed in the context of the concepts of intensity and lethality. The British Army's concept of intensity is "the degree and frequency of violence encountered." Frequency refers to
tempo; degree, to the destructive power of the means used. Intensity can be high when violence occurs often
WWW.ARMY.FORCES.GC.CA/CAJ
57
(frequency) or when encounters are particularly violent (degree). The British Army document goes on to say,
"Given this interpretation, it adds nothing to the understanding of conflict to classify it in terms of intensity."53
A 2006 Lesson Synopsis Report (LSR) from 1 PPCLI BG observed that there "may be a need to have categories
of scaling for high, mid and low intensity fighting." This was linked to ammunition expenditure, not casualties.54
It has been argued that the dominant technological fact since 1900 "has been increasing lethality."55 Lethality
(effectiveness) is a function of the weapon's ability to inflict damage. Dupuy defined it as the "inherent capability
of a given weapon to kill personnel, or to make materiel ineffective in a given period of time."56 Future Force:
Concepts for Future Army Capabilities argued that technology makes the battlespace more lethal because "if
you are seen or sensed—you will be hit."57 In statistical terms, achieving a high probability of a "given target
effect" required firepower overkill.58 Lethality in the COE implies less firepower to achieve a desired effect. The
term "lethal" or "lethality" is not currently found in the Army Terminology Repertoire. However, the army uses
the term all the time. In terms of battlefield deaths, Afghanistan is nowhere near as lethal an environment for
Canadian soldiers as was Normandy: the number killed on D-Day was more than double the number killed
in Afghanistan in eight years. To my mind, intensity and lethality are important aspects of a larger discussion
about attrition. I believe that all war, all conflict is attrition.59 We have suffered physical and moral attrition
in Afghanistan.
We must ultimately be wary of overestimating our fighting power versus the Taliban. We control every aspect
of the battlespace and they possess very limited combat power as we define it. Yet an LSR of 2006 stressed
that close air support (CAS) and indirect fire "is often required to win the firefight in the COE."60 The Taliban do not possess CAS, heavy artillery or tanks, so how should we interpret this statement? Does it suggest
poor fighting power, or does it speak to the superiority of the defence in built-up areas? Certainly, the fact
that we are engaged in a limited war strongly suggests limited willingness to expose one's soldiers to harm.
Lieutenant-Colonel Ian Hope, commander of Task Force Orion, stated that the fear of casualties created a
culture "hard-pressed to deal with the reality of sustained combat." TF Orion sustained 10% casualties (killed
and wounded) in six and a half months.61
Our way of warfare, even in a counterinsurgency (COIN) environment, is combat-power-oriented, built on
mechanization, firepower, CAS and armoured fleets all designed to produce effects at the greatest distances
and, of course, to survive in the battlespace. What really matters in Afghanistan: combat power or fighting power? Have we reached a stage of technological dominance over sub-peer opponents in which fighting
power now counts for less? It seems to me that our fighting power would be adversely impacted if such assets
were unavailable.
LIMITED WARS, LIMITED MOTIVE, LIMITED FIGHTING POWER?
Even in total war, motive has to be generated and sustained. J.L. Granatstein argued, correctly in my view,
that the Second World War was "not a war against anti-Semitism; it was not even a war against Nazism.
All that came later … However just the war, and it was demonstrably a just war well before its end,
Canada did not enter it to fight the good fight."62 Ideology, patriotism or fighting for "the cause" were
not major factors in combat motivation for the U.S. Army in the Second World War.63 Korea was limited
as well. Even while negotiations were ongoing, it was clear that neither side would surrender the field. As
Lieutenant-Colonel Herbert Fairlie Wood observed, there was "little doubt" that the negotiations during the
Korean War "reduced the willingness to take risks."64 Major-General Andrew Leslie observed, "We are in
Afghanistan for three reasons. First and foremost, it is in our national security interests to be there … The
second reason has to do with geopolitics … The third reason … is because Afghanistan needs us."65 Are such
reasons sufficient to generate fighting power? Our entire frame of reference for the use of force has been changed
from the context of national security to one of "security of individuals" in wars of choice or the doctrine of
responsibility to protect (R2P).66 How will this impact our fighting power?
There is a difference between broad motive (ideals) and battlefield motive. In the First World War, the United
States set up the Military Morale Section under the Military Intelligence Branch of the General Staff to build and
sustain the fighting spirit of American troops. The Director of Training at the Medical Corps declared in 1918,
58
THE CANADIAN ARMY JOURNAL VOLUME 15.2 2013
ARTICLES
The efficiency of an army as a fighting force obviously depends on the willingness of its component
individuals to contend—and if necessary to die—for an idea and an ideal. In our service no
systematic effort is made to create, elaborate and explain such ideals. These are left to chance, hazard
and environment ... This country is grossly materialistic where the military service is concerned. It
thinks only in terms of men, money and munitions, which it assumes make the soldier. This is only
a part truth, for such a combination does not necessarily make a fighting soldier. But the psychologic
stimulus is what makes the soldier fight and morale is the driving force behind the spear point.67
Consider the Canadian experience in Normandy. Prior to the murder of our soldiers by the 12 SS Panzer
Division "Hitler Youth," we possessed a certain level of fighting power. Lieutenant-General Harry Crerar, commander of First Canadian Army, told his commanders to pass on the story. Why? He stated that revenge "must
NOT under any circumstances take the form of retaliation in kind." Instead, "Canadian anger must be converted
into a steel-hard determination to destroy the enemy in battle. He concluded, "If any reminder was needed by
any of us concerning the issues we are fighting for, and the evil forces we are fighting against, this has surely
been provided."68 Did we not already possess a steel-hard determination to destroy the enemy? The hypothesis
is that we increased our fighting power to deal with the SS's elevated fighting power.
Clausewitz observed that the climate of war—danger, exertion, uncertainty, chance—demands great "fortitude
of mind" and "character." He added that if the mind "is to emerge unscathed from this relentless struggle with
the unforeseen," determination is essential. He believed that determination "proceeds from a special type of
mind, from a strong rather than a brilliant one."69 Today the concern is not only with how much cumulative
pressure the soldier can take during a single tour, but also the cumulative stress effects of multiple tours.
General William C. Westmoreland preferred one-year tours in Vietnam because he felt that morale would
suffer if they were longer. Our six-month tours permit frequent rotation, a problem we failed to properly address
during the Second World War. Our policy should also allow the army, to use General Rick Hillier's words, "to
give an operations output over the longer term."70 However, it is logical to assume that our fighting power might
be negatively impacted by longer tours.
Psychological preparation for operations is a key building block of fighting power. A report by
Major Allerton Cushman, an observer from the Tank Destroyer Centre and Headquarters Army Ground Forces in
Tunisia, declared that "Both officers and men are psychologically unprepared for war."71 This translated into combat
ineffectiveness against the Germans. Canadian soldiers in Afghanistan employ fire as a way to insulate their
minds. Indeed, there seems to be too much fire, not too little. The high rate of fire is the result of two imperatives,
one tactical and one psychological. Tactically, winning the firefight requires large expenditures of large amounts
of small arms ammunition. Psychologically, such expenditures apparently make soldiers feel safer, but the effect
needs to be examined further. Indeed, our approach to operational ethics stresses deliberate restraint, which I
interpret as restraint in the application of firepower. Would Canadian soldiers feel just as safe if they fired less?
I have raised this question with several veterans and got the feeling that they felt it would be an infringement
on their right of self-defence.
The Army Ethics Program has also introduced the term "moral resilience," said to be achieved by insulating soldiers "from moral angst" by providing "ethical certainty."72 Moral certainty can be codified in rules of
engagement and Queen's Regulations & Orders, but soldiers may not actually believe it. The court-martial of
Captain R.A. Semrau is a case in point. Our regulations tell us that we do not shoot wounded enemy, but the
Semrau case split the army, conclusively demonstrating, in my opinion, that ethical certainty is dubious. I was
struck by Farley Mowat's experience of the same situation in Sicily:
[A] subaltern…suggested that the best thing we could do for the wounded Germans was to put
them out of their misery. When this was received with hostility by the rest of us, he tried to justify
himself. 'Goddamn it, they'll only bleed to death or die of thirst. Surely to Christ it'd be kinder
to put a bullet through their heads!' 'That'll be enough of that!' Alex, who had come up unseen
behind us, was flushed and furious. 'There'll be no killing prisoners! Try anything like that and
I'll see you court-martialled on a murder charge!' The anomaly of hearing such sentiments voiced
WWW.ARMY.FORCES.GC.CA/CAJ
59
by a man who had just butchered twenty or thirty Germans
did not strike me at the time. It does now. The line between
brutal murder and heroic slaughter flickers and wavers … and
becomes invisible.73
The key question is whether or not Semrau's supporters suffer from
"moral angst."
The biggest challenge I see for the fighting power of the Canadian army
is dealing with societal change and influence. The June 2008 draft of
The Army Strategy admitted that "Canadian society itself continues to
be shaped by important changes in individual attitudes and values, the
evolution of a 'rights culture', and a diminished tolerance for hierarchy
and authority." The strategy adds, "The Army must adapt to these realities or build a credible case for exceptions [emphasis added]."74 "The army
must reflect society" is a frequent refrain that I find difficult to accept.
The reality of societal evolution is not compatible with the military ethos
or the requirements of fighting power. Modern Canadian society is characterized by limited liability, impatience, self-centredness, dishonesty,
disloyalty, escapism and an entrenched sense of entitlement. The obesity
level is staggering.75 Colonel E.P. Green argued in 1988 that the linking of
military pay and entitlements to those of the Public Service "has reduced
the stimulus of commitment to cause, and has increased interest in rights
and pensions. At least by the time senior rank is reached (by both officers
and other ranks), the 'job for life' syndrome can be very prevalent."76
We have built up an enormous support structure for our soldiers.
Elaborate and redundant Quality of Life programs are pervasive in the
army. It is all sanctioned under the concept of morale, but I see much of
it as artificial supports for fighting power. What does it say about the raw
material? I say this because our approach to psychological conditioning
has changed over the years. A manual we used in 1950 titled Training for
War bluntly stated,
Mental toughness must…be inculcated. From the start a
man must be taught to take pride in toughness, in his power
to overcome any difficulties and in his capacity to stand up
to long periods of strain. He must realize the Army has no
use for weaklings, and that it is a tough profession in which
only the strong survive. He must get a feeling of being
superior to those not in the Army because of his toughness
and smartness.77
The Warrior: Individual Combat Skills Handbook, which was issued
by Land Force Central Area in the early 1990s, sponsored by
Major-General Vernon, declared, "All of you, in spite of the stress caused
by combat can continue to perform effectively. You have to; your buddies
are depending on you."78 The 1996 Infantry Section and Platoon in Battle
manual stresses this: "Every effort should be made to prevent [CSR] or
provide relief to the genuine [emphasis added] cases. Attempts by individuals to pose as exhaustion cases to avoid battle should be severely dealt
with. Picking the genuine cases requires knowledge of personnel and
close contact with junior commanders."79 The pendulum seems to have
swung from acknowledging but minimizing CSR to developing new ways
60
Source: Combat Camera
to identify it. This latter process, in my opinion, has resulted in a reduced threshold definition. Are we demanding too little? Land Operations 2021: Adaptive Dispersed Operations: The Force Employment Concept for Canada's
Army of Tomorrow was very explicit in enunciating the Land Force's future human dimension requirements.
Tomorrow's soldiers "must possess… emotional competency, i.e., resiliency, hardiness and ability to cope with
stress."80 Yesterday's soldiers needed those attributes as well. Since I believe that the nature of war environments
has not changed radically simply because we use the term "COE," I need to explore whether the changing nature
of our approach to generating and sustaining fighting power will prove durable and effective in the long run.
CONCLUSION
I have touched on only a few issues connected with fighting power. It is a complex subject. I could spend days
speaking to the specifics of morale, cohesion, trust, faith in equipment, the relationship of professionalism and
fighting power, and more sensitive subjects such as the ability of women to generate fighting power. We seem
destined to fight limited wars in the near future, but limited wars possess all the nastiness, unfairness, violence
and morale-testing aspects of wars farther along the spectrum of conflict. It is important to anticipate where
and how our fighting power may falter in the wars of the future.
ABOUT THE AUTHOR
Captain John Nelson Rickard joined the CF in 1999 as a member of Lord Strathcona's Horse
(Royal Canadians). He is currently working in Army Proffesional Development at the
Canadian Army Command and Staff College in Kingston. His ongoing projects include investigating
Canadian Army resilience and fighting power, counterinsurgency, battlefield ethics and educational issues.
Captain Rickard received his PhD in military history from the University of New Brunswick in 2006. His
first book, Patton at Bay: The Lorraine Campaign, September to December 1944, was published in 1999 and
re-released in 2004 under sponsorship from the Association of the United States Army (AUSA). His second
book, The Politics of Command: Lieutenant-General A.G.L. McNaughton and the Canadian Army, 1939–1943,
was published by the University of Toronto Press in 2010. Captain Rickard's latest work, Advance and Destroy:
Patton as Commander in the Bulge, was published by the University of Kentucky Press in the fall of 2011 and
subsequently received an official U.S. Army Historians Award. This article represents the preliminary findings
of a much larger study recently completed for the Canadian Army Doctrine and Training Centre.
ENDNOTES
1.
B-GL-300-001/FP-001, Land Operations, 2008, 4-1, 4-2. This definition is based on NATO Allied Administrative Publication
6–AAP, Glossary of Definitions and Terms 2006).
2.
Land Operations, 4-1, 4-2. Moral is synonymous with "psychological."
3.
B-GL-300-002/FP-000, Land Force, Volume 2, Land Force Tactical Doctrine, 1-4; Martin van Creveld, Fighting Power:
U.S.–German Performance, 1939–1945 (Westport, CT: Greenwood, 1982), 3. This focus on the mental side influenced the current
author in proposing the following definition: "Fighting Power represents the moral complement to combat power. It is the synergy of
moral factors within a military unit that creates moral force. Moral force allows a unit to withstand casualties and setbacks and successfully engage in extended combat. The generation of fighting power allows a unit to impose its will upon the opponent." Captain
John N. Rickard, "The Canadian Army and Fighting Power," The Army Doctrine and Training Bulletin 6, no. 3 (Fall/Winter 2003): 34.
4.
Future Force: Concepts for Future Army Capabilities (Kingston: Directorate of Land Strategic Concepts, 2003), 79. This study
advocates substituting the term "cognitive" for "moral," "as it better describes 'the where and how will is created.'" "Component"
is synonymous with "plane."
5.
David G. Chandler, ed., The Military Maxims of Napoleon (London: Greenhill Books, 1994), 74.
6.
Bruce Condell and David T. Zabecki, eds., On the German Art of War: Truppenfuhrung (Boulder, CO: Lynne Rienner Publishers,
2001), 17.
7.
Jaye Wald et al., "Literature Review of Concepts: Psychological Resiliency, Final Report" (Toronto: Defence R&D Canada,
1 July 2006), Abstract.
8.
Complexity theory states that critically interacting components self-organize to form potentially evolving structures exhibiting a
hierarchy of emergent system properties.
62
THE CANADIAN ARMY JOURNAL VOLUME 15.2 2013
ARTICLES
9.
Robert N. Webb, Understanding the Human Dimension in 21st Century Conflict/Warfare, DRDC Technical Report, August 2007,
1. Advocates of complexity theory hold that reductionism is an inadequate method for studying complex systems, but the author
believes that for the purposes of this study an initial reductionist approach is sound.
10. The moral (or psychological) component "provides the ethical and cultural base from which we derive morale, cohesion, esprit de
corps, and fighting spirit." Land Operations, 4-1, 4-2.
11. Sir Ian Hamilton, Compulsory Service: A Study of the Question in the Light of Experience (London: John Murray, 1910), 121–22.
12. Sir Archibald Wavell, Speaking Generally (London: Macmillan, 1946), 79.
13. James Marshall-Cornwall, Foch as Military Commander (London: B.T. Batsford, 1972), 18–22.
14. Kenneth M. Pollack, Arabs at War: Military Effectiveness, 1948–1991 (Lincoln: University of Nebraska Press, 2002), 13.
15. Colonel Trevor N. Dupuy, Numbers, Predictions and War: Using History to Evaluate Combat Factors and Predict the Outcome of
Battles (Indianapolis: The Bobbs-Merrill Company, 1979), 62. Dupuy's calculated CEV was even higher versus the Soviets.
16. The United States Army utilized Dupuy's model in the early 1980s for Force Comparison (FORCECOMP) but came to question
the statistical basis. John Sloan Brown, "Colonel Trevor N. Dupuy and the Mythos of Wehrmacht Superiority: A Reconsideration,"
Military Affairs 50, no. 1 (January 1986): 16–20; "The Wehrmacht Mythos Revisited: A Challenge for Colonel Trevor N. Dupuy,"
Military Affairs 51, no. 3 (July 1987): 146–47.
17. Philip Hayward, "The Measurement of Combat Effectiveness," Operations Research 16, no. 2 (March 1968): 316.
18. Lieutenant-General Julian J. Ewell and Major-General Ira A. Hunt, Jr., Sharpening the Combat Edge: The Use of Analysis to
Reinforce Military Judgement (Washington, D.C.: Center of Military History, 1974), 233; Hunt, telephone conversation with author,
17 September 2009; Hunt, letter to author, 2 October 2009. Hunt was the Deputy TRADOC and worked with Dupuy.
19. Colonel G.W.L. Nicholson, Official History of the Canadian Army in the First World War: Canadian Expeditionary Force 1914–1919
(Ottawa: Queen's Printer, 1962), 534–35.
20. William Manchester, Goodbye Darkness: A Memoir of the Pacific War (Boston: Little, Brown & Company, 1979), 183–84. Proof of
the severity of the fighting in the Pacific can be seen in James J. Weingartner, "Trophies of War: U.S. Troops and the Mutilation of
Japanese War Dead, 1941–1945," Pacific Historical Review 61, no. 1 (February 1992): 53–67.
21. See D. Rowland and L.R. Speight, "Surveying the Spectrum of Human Behaviour in Front Line Combat," Military Operations
Research 12, no. 4 (2007): 55–57.
22. David French, "'Tommy is No Soldier': The Morale of the Second British Army in Normandy, June–August 1944,"
Journal of Strategic Studies 19, no. 4 (December 1996): 158.
23. Brigadier-General S.L.A. Marshall, Men Against Fire: The Problem of Battle Command in Future War (New York: William Morrow
& Company, 1947), 50–56.
24. John A. English, A Perspective on Infantry (Westport, CT: Praeger, 1981), 145; Dave Grossman, On Killing: The Psychological Cost
of Learning to Kill (Boston: Little, Brown and Company, 1995), 1, 3, 15–16.
25. See Harold P. Leinbaugh and John D. Campbell, The Men of Company K. (New York: Bantam Books, 1987); Eric Smoler, "The Secret
of the Soldiers Who Did Not Shoot," American Heritage 40, no.1 (March 1989): 40–45; Roger J. Spiller, "S.L.A. Marshall and the Ratio
of Fire," RUSI Journal, 133 (Winter 1988): 63–71; John Whiteclay Chamber II, "S.L.A. Marshall's Men Against Fire: New Evidence
Regarding Fire Ratios," Parameters 33, no. 3 (Autumn 2003): 113–21; Michael D. Doubler, Closing with the Enemy: How GIs Fought
the War in Europe, 1944–1945 (Lawrence: University Press of Kansas, 1994), 289–91; Peter R. Mansoor, The GI Offensive in Europe:
The Triumph of American Infantry Divisions, 1941–1945 (Lawrence: University Press of Kansas, 1999), 260–62. For a good overview
of Marshall's impact, see F.D.G. Williams, SLAM: The Influence of S.L.A. Marshall on the United States Army, TRADOC Historical
Monograph Series (Fort Monroe, VA.: Office of the Command Historian, US Army Training and Doctrine Command, 1994).
26. Captain Lionel Wigram of the British Army made similar observations in North Africa. He claimed that "there are only from
four to six men in the platoon who can be absolutely relied on to do as they are told under enemy fire." Quoted in David French,
Raising Churchill's Army: The British Army and the War Against Germany, 1919–1945 (London: Oxford University Press, 2000), 207.
27. Robert Engen, Canadians Under Fire: Infantry Effectiveness in the Second World War (Montreal: McGill-Queen's University Press,
2009), 8–9.
28. Grossman does address the Marshall debate but argues that "at every turn my research has uncovered information that would
corroborate Marshall's basic thesis, if not his exact percentages. On Killing, 333.
29. Colonel Thomas A. Horner, "Killers, Fillers, and Fodder," Parameters 12, no. 3 (September 1982): 31.
30. L.R. Speight and D. Rowland, "Modelling the Rural Infantry Battle: The Effects of Live Combat on Military Skills and Behaviour
During the Approach Phase," Military Operations Research 13, no. 4 (2008): 79.
31. Dupuy, Understanding War, xxii. Our own doctrine admits that "Random variables generate unforeseen effects that make the
reality of warfare and military operations something very different from that envisioned in plans and textbooks … Indeed, the
closer the battle comes to face-to-face human interaction, the greater will be the chance for chaos and uncertainty to grow."
WWW.ARMY.FORCES.GC.CA/CAJ
63
B-GL-300-003/FP-001, Command in Land Operations, July 27, 2007, 1-5, 1-6. Operational Research can quantify behaviour to a
certain extent, but only in terms of "combat degradation," defined as the difference between physically realistic behaviour and that
in the equivalent live-fire battles. David Rowland, The Stress of Battle: Quantifying the Human Element in Combat (London: The
Stationery Office, 2006), 18.
32. Dr. Megan Thompson to author, 27 October 2009; Hope, Dancing with the Dushman, 151. Our own experience with such Mobile
Automated Instrumentation Suite (MAIS) trials was acquired in 2001 at Gagetown. Those trials were not specifically focused
on the human dimension, but we did make some observations in that regard. The increased frontages used by the Blue Force
company over the time of the trial was seen as potentially being the result of soldiers' increased confidence in each other. Fred
Cameron, Roger L. Roy, LCol Rick Bowes and Major Bruce Chapman, "Half a Decade of Operational Research for Developing New
Command Support Capabilities in the Canadian Army," n.d.
33. Robert L. Egbert et al., Fighter I: An Analysis of Combat Fighters and Non-Fighters, Human Resources Research Office Technical
Report 44, December 1957, 26.
34. Many of the physically and intellectually superior recruits in the Western armies in the Second World War gravitated to the air
force, navy, marines, airborne, or rangers. The technical services took the cream of available manpower in terms of intelligence.
See Robert R. Palmer, Bell I. Wiley and William R. Keast, U.S. Army in World War II: The Procurement and Training of Ground
Combat Troops (Washington, D.C.: Government Printing Office, 1948), 3.
35. Egbert et al., Fighter I, p. iii. There does seem to be some link between professional development, judgment and resilience. See
George F. Hofmann, "Armor History and Operations in 1944: The 6th Armored Division Experience in the European Theater of
Operations: A Study in Leadership Development and Execution," Armor (September–October 1994): 11.
36. Colonel Trevor N. Dupuy, Understanding War: History and Theory of Combat (New York: Paragon House Publishers, 1987), 58.
37. Carl von Clausewitz, On War, edited by Michael Howard and Peter Paret (Princeton: Princeton University Press, 1984), 184.
38. This is subject to a given definition.
39. Canadian soldiers suffering from battle exhaustion in Normandy were explicit about their fear of German mortars and the 88‑mm
Flak gun.
40. Though high awards for valour and courage are thoroughly investigated, that does not mean that the heroism of other deserving
soldiers has been properly identified. Heroism awards most likely suffer from rank bias as well.
41. Lord Moran, Anatomy of Courage, 3rd ed (New York: Avery Publications, 1987), xvi.
42. Quoted in Robert H. Ahrenfeldt, Psychiatry in the British Army in the Second World War (London: Routledge & Kegan Paul, 1958),
201. "The Germans always believed character counts more in war than does intellect." Condell and Zabecki, On the German Art
of War, 2001), 17.
43. Wilfrid Eggelston, Scientists at War (London: Oxford University Press, 1950), 211.
44. Quoted in John Keegan, The Face of Battle (New York: Viking, 1976), 329.
45. Terry Copp, e-mail to author, 10 June 2010.
46. Terry Copp and Bill McAndrew, Battle Exhaustion: Soldiers and Psychiatrists in the Canadian Army, 1939–1945 (Montreal &
Kingston: McGill-Queen's University Press, 1990), 144–46.
47. W.R. Feasby, Official History of the Canadian Medical Services, 1939–1945, II: Clinical Subjects (Ottawa: Queen's Printer, 1953), 89.
48. Peter Worthington, "Afghanistan Toughest War Yet?" The Toronto Star (12 January 2009): 18.
49. Interview with BG David Fraser, CSI, Fort Leavenworth, Kansas, 9 May 2008, 7.
50. Army Terminology Repertoire.
51. John M. Carland, The United States Army in Vietnam: Combat Operations: Stemming the Tide, May 1965 to October 1966
(Washington, D.C., 2000), 362.
52. Guy Simonds, Major Tactical Points Arising from Visit to Eighth Army, 22 April 1943, A.G.L. McNaughton Papers, MG 30 E133,
Vol. 132, PA 1-3-3, LAC.
53. Design for Military Operations – The British Military Doctrine, 1996, Army Code n. 71451. A Lessons Learned report declared that
the three weeks of Operation MEDUSA phase II were "high-intensity." Lesson Synopsis Report (06-051) OP MEDUSA Troops in
Contact (TIC) Lesson Report, 27 October 2006, Army Lessons Learned Centre.
54. Lesson Synopsis Report (06 026) Initial Troops in Contact (TIC) Reports, ALLC, 21 September 2006. Three full DOS reloads were
experienced in a single day of operation.
55. Stephen Biddle, Military Power: Explaining Victory and Defeat in Modern Battle (Princeton: Princeton University Press, 2004), 3.
56. Dupuy, Numbers, Predictions and War, 19. Capability includes the following factors: weapon ranges, rate of fire, accuracy, radius of
effects and mobility. Neither the U.S. joint definitions publication (JP 1-02) nor the army/USMC COIN manual (FM 3‑24) define
"lethal" or "lethality." Often "lethal" is used as the antonym for "nonlethal," implying either capabilities or intentions employed with
the objective of killing/destroying. Russell Glenn to author, 8 July 2009.
64
THE CANADIAN ARMY JOURNAL VOLUME 15.2 2013
ARTICLES
57. Future Force: Concepts for Future Army Capabilities, iv.
58. Richard E. Simpkin, Race to the Swift: Thoughts on Twenty-First Century Warfare (London: Brassey's, 1985), 168.
59. Paul Johnston, "The Myth of Manoeuvre Warfare: Attrition in Military History," in Allan D. English, ed., The Changing Face of War:
Learning from History (Montreal & Kingston: McGill-Queen's University Press, 1998), 22–23.
60. Lesson Synopsis Report (LSR) – 06-029 Troops in Contact June and July 2006, ALLC, 25 September 2006.
61. Lieutenant-Colonel Ian Hope, Dancing with the Dushman: Command Imperatives for the Counter-Insurgency Fight in Afghanistan
(Kingston: CDA Press, 2008), 147.
62. J.L. Granatstein, Canada's War: The Politics of the Mackenzie King Government, 1939–1945 (Toronto: Oxford University Press,
1975), 420.
63. Samuel A. Stouffer et al. The American Soldier: Combat and Its Aftermath, II. (Princeton, NJ: Princeton University Press, 1949), 107.
64. Lieutenant-Colonel Herbert Fairlie Wood, Strange Battleground: The Operations in Korea and Their Effects on the Defence Policy
of Canada (Ottawa, 1966), 181.
65. BGen (ret) James Cox, "Major-General Andrew Leslie – Kabul and ISAF," Frontline No. 4 (2004): 7–8.
66. Lloyd Axworthy, Navigating a New World: Canada's Global Future (Toronto: Alfred A. Knopf, 2003), 156.
67. Thomas M. Camfield, "'Will to Win' – The U.S. Army Troop Morale Program of World War I," Military Affairs 41, no. 3
(October 1977): 126.
68. Quoted in Paul D. Dickson, A Thoroughly Canadian General: A Biography of General H.D.G. Crerar (Toronto: University of Toronto
Press, 2007), 298. "It is erroneous to consider that hatred of the enemy is necessary for a good fighting morale, for hatred and sadistic
gratification from killing are sources of guilt to the hater and are not the best motivation for objective and successful combat."
Lt.Col. Roy R. Grinker and Major John P. Spiegel, Men Under Stress (Philadelphia: Blakiston, 1945), 43. However, there does not
seem to be a consensus on the value. John A. Ballard and Aliecia J. McDowell, "Hate and Combat Behaviour," Armed Forces and
Society 17, no. 2 (Winter 1991): 229–41.
69. Clausewitz, On War, 104.
70. "Transforming Force," Vanguard (March/April 2008): 16.
71. Headquarters Army Ground Forces, Observer Report, March 29, 1943, CARL. Another observer, Major-General Lloyd Fredendall,
reported that the commander had concerns about conditioning, stating that until all soldiers were "physically hardened to the
extent of being 'tough guys,'" success would not follow. Fredendall recommended in his report that American troops needed to be
"physically hardened to the point that they are physically tougher than the enemy." Observer's Report, "Notes on Recent Operations
on the Tunisian Front," 10 March 1943, Combined Arms Research Library, Fort Leavenworth, Kansas.
72. Duty with Discernment: CLS Guidance on Ethics in Operations (Draft 2008), 10.
73. Farley Mowat, And No Birds Sang (Toronto: McClelland & Stewart, 1979), 113.
74. The Army Strategy, Second Draft Amdt 1‑24 June 2008, 19. This exact statement is repeated in The Army: Advancing with Purpose,
2nd edition (Ottawa, September 2009), 35.
75. See Wei Luo et al, "The Burden of Obesity in Canada," Chronic Diseases in Canada 27, no. 4 (2007): 135.
76. Colonel E.P. Green, "In Praise of Decision Stress," Canadian Defence Quarterly 18, no. 3 (Winter 1988): 36.
77. War Office, Training for War, 18 April 1950, 18.
78. Land Force Central Area, The Warrior: Individual Combat Skills Handbook, n.d., 1‑16/18.
79. B-GL-309-003/FT-001, Infantry, Volume 3, The Infantry Section and Platoon in Battle, 1996, 14-2-3.
80. Major Andrew B. Godefroy, ed., Land Operations 2021: Adaptive Dispersed Operations: The Force Employment Concept for Canada's
Army of Tomorrow (Kingston: Directorate of Land Concepts and Design, 2007), 25. We are in line with the U.S. Army in recognizing this requirement. The U.S. Army Study of the Human Dimension in the Future, 2015–2024 states that the army "will require
extraordinary strength in the moral, physical and cognitive components of the human dimension." TRADOC Pamphlet 525-3-7-01
The U.S. Army Study of the Human Dimension in the Future, 2015–2024 (1 April 2008), iii.
WWW.ARMY.FORCES.GC.CA/CAJ
65
Source: CFJIC
66
THE CANADIAN ARMY JOURNAL VOLUME 15.2 2013
ARTICLES
CREATING AN AIR ARM FOR THE CANADIAN ARMY
Lessons From the Past
Dr. Randall Wakelam
In 1967 a study was released by the recently amalgamated Canadian Forces Headquarters (CFHQ) that called
for the introduction of broad helicopter support for the restructured Canadian field force.1 The authors stated
succinctly that "air mobility is the next major revolutionary cycle in land force development."2 Air mobility
would give the army an edge by permitting the optimal use of limited resources in all five of the the existing
land combat functions: combat manoeuvre, fire, communications, reconnaissance, and supply. The study noted
that "none of our likely enemies, or countries requiring a peace-keeping operation, has a significant air mobile
capability. Our possession of one would therefore give us a favourable mobility differential and redress our
inferior strength."3
This article seeks to answer, or at least expose, a number of issues. Did this vision align with the thinking of
major allies and their experiences at the time? What happened after the study was promulgated? Are the central
tenets of the study still of any merit today? This article is intended to look at these questions within the broader
context of a Canadian land aviation experience. The author's hypothesis is that while the notion of a mobility differential was understood and accepted, the Canadian Forces (CF) until very recently was never able to
effectively provide that differential in a meaningful fashion. This article will therefore examine past army studies
and public discourse on the matter, the latter largely contained in articles appearing in the defence publications
The Snowy Owl, the Canadian Army Journal and the Canadian Defence Quarterly. It will also compare what
was happening at the time in Canada with the doctrinal developments then going on in the United States (US)
and the United Kingdom (UK). From that point the article will take a somewhat autobiographical approach,
comparing the experiences of aviators (the author included) with the concepts that led the Army to lean towards
air mobility. Overall this article argues that although the CF developed and espoused a fairly sophisticated concept of tactical air mobility, the implementation of that concept has until only recently been less than effective.
Given the paucity of sources available on the subject, it is not surprising that relatively little analysis of the subject has been undertaken to date. There is relatively little written on Canadian helicopter concepts or doctrine
and even less about Canadian land aviation in general. Much of the existing literature consists of technologyoriented glossy volumes or personal accounts, largely from Vietnam, with a growing number dealing with the
Gulf Wars and Afghanistan. Of these sources, the best is Robert Mason's 1983 memoir Chickenhawk, which
describes the experiences of a young Warrant Officer pilot flying with the 1 Cavalry Division (Air mobile)
in Vietnam;4 in terms of quality of content and literary style, the author would put it on the same shelf as
Farley Mowat's And No Birds Sang. There are only a few volumes dealing with the development of helicopter
doctrine, and many of those are US Army reports and studies, which are not always easy to locate. One that is
in most major libraries is General John Tolson's 1973 Airmobility 1961–1971, part of the US Army's Vietnam
Study series.5 The best comparative analytical monograph available is Matthew Allen's 1993 Military Helicopter
Doctrines of the Major Powers, 1945–1992, which deals principally with the US and the USSR but also includes
analysis on the UK, France and Germany.6 Allan makes a number of general observations that will reappear
from time to time in this paper. First, he says, there was not much doctrinal development in the early post-1965
period because the technology did not lend itself to significant advances in concepts or doctrine. Allan focuses
on the period after the mid‑1960s because it was only then, he says, that helicopters and air mobility began to
have an impact on the thinking surrounding major conflict scenarios.7 After examining the various national
experiences indicated above, Allen concludes, "The helicopter's particular contribution [to air-land warfare]
was to make available to land forces the speed of movement by air, while retaining the capacity for direct and
intimate interaction with ground troops and ground terrain. Some have argued . . . that this process can be
termed a 'rotary-wing revolution.'"8
For published works of the Canadian land aviation experience, readers must look to the unit histories of 408
and 430 squadrons, which focus almost entirely on the people and places; as well, a manuscript dealing with air
and aviation support to the army is being prepared by Hugh Halliday.9 Only scant reference to helicopters and
land aviation have appeared in the various journals mentioned above; the few articles found on the topic from
© DR. RANDALL WAKELAM, 'CREATING AN AIR ARM FOR THE CANADIAN ARMY LESSONS FROM THE PAST', CANADIAN ARMY JOURNAL VOL. 15.2
67
the 1950s and 60s will be discussed below. A number of primary sources do reveal some important thinking
about the use of helicopters. The first is the army's Cold War‑era Exercise Gold Rush Study, conducted in the
latter half of the 1950s at the direction of the then‑serving Chiefs of the General Staff, Generals Guy Simonds
and Howard Graham, and the second is the aforementioned Smith Study of 1967.10 Between the
two sources is a 1961 Canadian Army Combat Development Study entitled "The Canadian Army Post‑1970
Operational Study."11
On 19 January 1955 Lieutenant-General Guy Simonds met with the Vice Chief of the General Staff (VCGS)
Major-General Herbert A. Sparling, the Quarter Master General (QMG) Major-General Samuel Findlay "Fin"
Clark, and the Deputy Chief of the General Staff (DCGS) Brigadier Robert W. Moncel; the topic was the use
of aircraft for the resupply of forward formations within the Army maintenance area.12 MGen Sparling noted
that using fixed‑wing aircraft for this function would be problematic for a number of reasons, but noted also
that these could be addressed by using vertical takeoff and landing aircraft. Simonds indicated that the use of
helicopters as a solution should be carefully considered. After some philosophical discussion it appeared that
further exploration of helicopter resupply was appropriate, and the formation of an experimental helicopter
unit was suggested. Simonds gave his approval, saying that the matter should be looked at with some degree of
urgency. But he warned that the introduction of air resupply was not to been viewed as a simple substitution
for land transport or even as the overlaying of a second delivery option. Rather he felt that there was a need to
look at resupply afresh and perhaps see it in terms of a just-in-time system; to do otherwise was "wrong."13 Of
note, appended to the minutes of the meeting were two analyses comparing the efficiency of the two-and-ahalf-ton trucks then in service with that of five‑ton payload helicopters, which were thought to be commercially
available in the relative near term.14
Within weeks of the January discussions Simonds had commissioned an in‑depth study of tactics and logistics.
The Exercise Gold Rush directive of 15 February 1955 signalled a "fresh approach":15 "The object of the study is
to determine what new organization is needed in the field forces at or below the corps level, and in the logistic
68
THE CANADIAN ARMY JOURNAL VOLUME 15.2 2013
ARTICLES
implications, to meet the conditions of future warfare, bearing in mind the necessity for these formations to
be able to fight equally efficiently in a conventional or atomic war."16 The directive stipulated that the study was
to take place in several phases, the first looking at tactical concepts and the resulting logistic support requirements. As part of the logistic studies, the viability and characteristics of vertical and takeoff and landing and
fixed‑wing supply aircraft capable of supporting infantry and armoured formations was to be determined. Also
within Phase 1, a more detailed examination of how an air supply system would work was to be undertaken.
To that end an experimental helicopter unit was to be activated sufficiently quickly so that it could take part
in Phase 2 of the exercise. In Phase 2 Simonds said, "With the formation of an experimental helicopter unit
I have planned that this unit, in conjunction with the exercise team, will conduct the trials and exercises."
Those exercises were intended to determine the practicalities of using helicopters in support of the infantry
and armoured formations of the field force.17 A third phase of the exercise was to develop a fixed‑wing "flying
truck" which, in Phase 4, would be tested similarly to the helicopter. All this work and final conclusions were
to be complete within four years.18
Once Gold Rush was underway Simonds wrote to the Minister to explain what he was doing and why. He stated
that he felt US and British conclusions about the future operational environment did not reach far enough into
the future and "nor do I feel that the studies made to date really represent a fundamental appreciation of the
problems we now face."19 From this it seems reasonable to conclude that while the Canadian Army might in
the future make use of concepts, doctrine, and equipment developed or endorsed by the two allied armies, it
would likely do so only after serious reflection and even generation of independent concepts.
Source: CFJIC
WWW.ARMY.FORCES.GC.CA/CAJ
69
While Gold Rush was a uniquely Army undertaking, the value of helicopters was recognized by all three
services, and work was going on to define just what types were needed and how they could be bought and operated. On 21 December 1955 the "Report of the Ad Hoc Committee on Service Requirements for Helicopters"
stated that its "aim was to make recommendations to the Chiefs of Staff Committee concerning the minimum
number of helicopter types which would meet the requirements of the three services, the procurement of such
equipment, its maintenance and training of personnel, in accordance with the terms of reference issued by the
Chiefs of staff committee."20 Significantly the second paragraph of the study went on to say that "each service
has an immediate helicopter requirement to carry on existing tasks and to develop procedures for known future
tasks." Subsequently the study indicated that for the Canadian Army there were two aircraft required: the first,
a light helicopter for training and utility work including "intercommunication"; the second logistic support
including casualty evacuation.21 The study concluded that the needs of the three services could be met by acquiring
two types of helicopters: the Bell Model 47 and the Sikorsky S‑58.22 Remaining aspects of the study covered
such issues as procurement, maintenance, and training of personnel.
A number of recommendations were made at the conclusion of the document. In addition to suggesting that
only two aircraft types were needed, the authors also proposed that the Land/Air Warfare Committee should
be designated as the body responsible for the coordination of future helicopter requirements for the services,
and that in this regard it should be given two principal tasks: "To determine the minimum number of different
types of helicopters which would be needed to meet the future needs of the services; and to recommend, from
the Services point of view, the desirability of having such helicopters developed in and produced in Canada."23
It was also noted that "when two or more of the services have similar requirements which can be met by an
identical helicopter, the administration of design and development aspects should be undertaken by one service designated by the Principal Supply Officers Committee. This could be accomplished by the establishment
of PSOC subcommittee on helicopters with similar terms of reference and method of operation to that of the
joint services vehicle committee."24 In passing, it is both intriguing and significant to note that as early as 1955,
the services were prepared to entertain the acquisition of common platforms; the Joint Helicopter Acquisition
Project of the late 1980s was at that time viewed as having revolutionary potential for common fleet synergies,
but apparently JHAP, which was to see the army medium transport helicopter, the navy ASW helicopter and
the air force SAR helicopter all replaced by the EH101, came some three decades after coordinated acquisition
was already an accepted principle.
Indeed, along these lines, attached to the report was a service paper entitled "A Paper on the Control and
Operation of Helicopters in the Canadian Services," dated 17 November 1955.25 The introduction to this paper
stated, "The helicopter is still in its infancy and will be subject to extensive development. To date, a variety
of helicopters have been procured to meet the needs of the Canadian services and there are now no less than
six different types in use." The theme of the paper, therefore, was "to examine the various roles of the helicopter
in the Canadian services, and where possible, recommend unification and standardization of helicopter types,
training facilities, spares, procurement and maintenance facilities."26
The paper went on to describe the helicopter holdings and uses within the Canadian Army:
The Canadian Army has participated jointly with the RCAF in the operation of the basic helicopter
training school and CJATC [Canadian Joint Air Training Centre], [at] Rivers [Manitoba], and over
the past two years a small number of Army pilots have received helicopter training at the school.
The two Bell47 and two Sikorsky S‑51 helicopters established at the school were procured by the
RCAF for the Army, however the RCAF has been responsible for the maintenance of the aircraft and
for the procurement and supply of spare parts. Flying instructors at the helicopter school have been
provided by both the RCAF and the Canadian Army. Therefore, the Canadian Army's experience in
the operation of helicopters has been restricted to flying and instructing on light helicopters only.
The Army has no experience in the spares procurement or the maintenance of helicopters.27
Later in the paper was a short discussion on the use of helicopters in the transport and transport support roles,
and it was noted that "[s]ince the Korean War, the Canadian Army has shown great interest in the helicopter as
a transportation aircraft for the RCASC. Additionally the RCAF is keenly interested in the transport helicopter
70
THE CANADIAN ARMY JOURNAL VOLUME 15.2 2013
ARTICLES
as part of the RCAF air transport role."28 The paper went on to say that the Army had recommended the establishment of an evaluation flight for transport operations and that seven H34 aircraft (the military designation
for the Sikorsky S‑58) should be purchased in order to study the potential. While not directly mentioned, there
would seem little doubt that this was related to the Gold Rush program. In addition the paper said that the army
had recommended that Army pilots and Army maintenance people be used for this training and evaluation.29
By June 1956 Simonds had retired, having been replaced by LGen Howard D. Graham. Soon after taking
command of the Army, Graham was presented with a review of Exercise Gold Rush. Extensive portions of the
brief built with the tactical concept, which was to have been considered in Phase 1 of the exercise. The concept
described a fairly classical structure of covering force, main force, and corps reserve actions, but then included a
separate appendix dealing with conclusions derived from the tactical concept with regard to mobility and noted
that "the degree of mobility required on the nuclear battlefield will be ultimately achieved by the combination
of two methods: air transportability; [and] rapid cross-country performance of vehicles including the means
to overcome obstacles."30 [C 1] Separately it was also noted that "aviation must become an integral part of all
Army ground operations. This can be divided into two parts: Army tactical aircraft under the control of Army
commanders; logistic aircraft (subject to call for certain tactical missions)."31 [C - 2]32
By September 1956 a related activity, Exercise Fire-Fly, was well underway. While Gold Rush had identified
the rationale for aircraft portable forces, Fire-Fly's mandate was now to develop in some detail both models of
organizations and operating principles. Tactical air transportability factored in the discussion document, but
in a subsequent organization chart dated 22 October 1956, which laid out what was called the "new infantry
division," while there was some form of aviation organization within the divisional trains as it was called,
established at a squadron or company level, there is no explanation as to how that organization would support
the division.33
The draft Gold Rush tactical concept document, which unfortunately has no date or author, indicated that it
had been written based on a 1960 strategic forecast.34 In this version the 80‑page document contained some
fairly extensive comments on Army aviation, and that discussion was part of a larger section entitled "New
Equipment."35 Those comments began by noting the contemporary technical shortcomings of aviation and the
absolute need for a heavy‑lift helicopter able to move light or even medium tanks. The authors then admitted
that such a capability would not be available during the time frame in question. The concept also pointed to the
difficulties of using fixed‑wing aircraft with their encumbering requirement for landing strips. The commentary
went on to say that aviation would be able to lift all infantry weapons and eventually artillery guns and light
vehicles and that with the ability to move loads of these types and weights, it would be possible to use helicopters to constitute reasonably effective anti‑tank defences based initially on recoilless rifles and then hopefully
anti‑tank guided weapons in the future. It is further noted that aviation could provide a number of tactical
capabilities which did not otherwise exist. These were listed as observation and surveillance (as an extension
to the existing air observation post); rapid deployment and redeployment of screening forces; rapid transport
of one or more battle groups, although these would be obliged to operate without heavy equipment; the rapid
reinforcement or reestablishment of positions after nuclear attack; the deployment of small reconnaissance
patrols deep in enemy rear; supply forces where ground transportation was impractical; and casualty evacuation. Given that this document is procured somewhere in the 1956 or perhaps early '57 timeframe, it was a fair
description of what was or what could relatively soon thereafter be available and, as we know from historical
hindsight, heavy‑lift helicopters such as were desired were only just coming into service.
Here then we have the Canadian Army of the mid‑1950s examining some fairly weighty issues of mobility
on the high‑intensity, and for that period almost certainly nuclear, battlefield. The discussion seems relatively
mature and sophisticated, but arguably all that the evidence shows is that Canadians were parroting, or at least
adopting, the notions being put forward by the US and the UK. This would seem, after the experience of the
Second World War, a normal state of affairs given our historical disposition to work with the British Army,
and then post‑1945 a shift towards adopting US doctrine, tactics and equipment. At that time, and for the next
15 years, the Canadian Army's NATO brigade was part of the British Army of the Rhine, and so it would seem
fair that we might be following a British lead in our helicopter thinking.
WWW.ARMY.FORCES.GC.CA/CAJ
71
In truth, however, from the perspective of aviation capability, the British Army of the 1950s and 60s was not
well organized, either conceptually or practically. During the Second World War the British had developed
and shown the great value of "army" aviation, employing both air observation post squadrons and airborne
divisions with associated glider forces, the latter capable of some dramatic, if one‑way, operations. But after
the war these capabilities had atrophied. As General Sir Anthony Farrar-Hockley, one of the pioneers of the
British army aviation community, notes in The Army in the Air: The History of the Army Air Corps, "Experience
in Malaya and Korea notwithstanding, the Army as a body in 1956 lacked a professional precept for the tactical use of helicopters and, indeed, Austers beyond AOP and taxi work. Few had seen a helicopter in a military
environment."36 Farrar-Hockley goes on to note that when an Army Air Corps was formed in 1956, there was
neither doctrine nor plans nor equipment. While there were aircraft in the field, it was not until 1964 that a
coherent five‑year plan was in place, and that without, apparently, any conceptual study such as Gold Rush. The
helicopter selected during these first chaotic years was the Saunders Roe Skeeter, which was an underpowered
and somewhat hard-to-fly machine, even by helicopter standards.37
This diagnosis of a general malaise is supported by the conclusions of Matthew Allan, who says that the period
from 1945 to 1967 was not a happy one for helicopter proponents in either the British Army or the Royal Air
Force (RAF). In looking at the mobility side of the ledger, he points out that it would only be in the late 1980s
that Britain introduced a permanent air mobile brigade. Even then he concludes that while the equally new
anti‑tank role caught on easily as an extension of ground-based anti‑tank doctrine, air mobility, a completely
new concept for the British Army, was not as well received.38
We may reasonably conclude, it would seem, that even while we had army officers on flying postings with the
British Army, there was not much to be learned that would help shape or even inform our own thinking on air
mobility.39 What, then, of the influence of the US Army?
Here too we had officers on exchange, but while the British were in some disarray, the Americans seemed to
have grasped the conceptual basis of air mobility and the use of helicopters fairly well. Allan describes how
within the US Army there was a strong cadre of high‑ranking and influential thinkers who saw the utility of
helicopters, particularly on the nuclear battlefield. As early as 1954 General John Gavin had written a piece
entitled "Cavalry . . . And I Don't Mean Horses!" which appeared in Harper's Magazine. The central theme,
says Allan, was that mobility would be paramount on the nuclear battlefield and that the helicopter was the
means for that mobility, be it for reconnaissance, the movement of troops or for logistic functions. Despite this
vision there was little money to acquire the capabilities described, but that changed in 1961 with Secretary of
Defense Robert McNamara directing the establishment of an Army Tactical Mobility Requirements Board in
1961. Within months the Board's report was ready. Chaired by General Hamilton Howze, it recommended the
creation of multiple air assault divisions, air cavalry combat brigades (complete with anti‑tank helicopters) and
air transport brigades. The central "assumption was that aircraft, and helicopters in particular, were capable
of fulfilling the army's five combat functions—reconnaissance, maneuver, firepower, command and control,
and logistics."40
Only three years earlier, in a 1958 article in the US Army's Ordnance Magazine, Howze, a self-acknowledged
horse soldier, laid out an impressive, but measured, vision for aviation, which could be seen in the conclusions and recommendations to McNamara.41 In his article Howze began with some caution, pointing out that
while helicopters could do great things, they were also very expensive. He underscored that "its use should be
reserved for certain special purposes, for which it is indispensable."42 These sorts of special purposes included
moving troops and supplies across obstacles or moving them over great distances very quickly, but to do these
things, he pointed out, required many helicopters, and the operation of large fleets of aircraft was an expensive proposition. He said, "It should be first acknowledged that the helicopter is not routine substitute for the
truck."43But he did reiterate that mobile defence did presume mobility and the helicopters would be well suited
for that purpose, even going so far as to suggest that infantry and aviation should perhaps be "bivouacked
alongside and ready to go."44 He went on to discuss dispersion on the modern battlefield and how helicopters
could be used to concentrate forces at particular times and places. But he also looked at the issue of resupply
of these dispersed organizations and opined that "we consider the resupply of isolated units (which in effect
means the majority of units in the most forward areas) by air to be routinely necessary."45 From mobility on
72
THE CANADIAN ARMY JOURNAL VOLUME 15.2 2013
ARTICLES
Source: CFJIC
Source: CFJIC
WWW.ARMY.FORCES.GC.CA/CAJ
73
the battlefield, he then turned to the requirement for reconnaissance, again in the dispersed tactical setting,
arguing that integration of aircraft into reconnaissance doctrine and organizations could be highly useful. To
maximize the effectiveness of aviation assets, he spoke of the need for trained observers. And he went further,
saying, "I visualize . . . platoons of these reconnaissance teams flying for the most part and light reconnaissance
helicopters, each of which will be armed with a single light machine gun. The techniques of operation of the
small teams have yet to be developed, but we are working on it."46 These aircraft would fly at low level in order to
minimize observation. Further, Howze said, these reconnaissance platoons would be backed up by rifle platoons
flying in somewhat larger aircraft, and he went further to say that reconnaissance and rifle teams should be
backed up by a number of what he called "shooting helicopters," which would operate at treetop level in close
coordination with the reconnaissance forces.47
What, for this paper, is perhaps most striking about the article is not what Howze was thinking, although there
is little doubt that he was clearly describing what came to be the air mobile and air cavalry concepts of the
1960s. Rather, it is the fact that this article was reproduced in the Canadian Army Journal in 1958, suggesting
that the editors, if no one else, recognized the importance of air mobility. But this was not a one‑off; there was
a small but informed scholarship on air mobility.
In a comprehensive study that looked at the use of helicopters in counter‑insurgency operations, "Vertical
Envelopment in Anti-Guerrilla Warfare," Australian Maj G.R. Mills, a student at the Canadian Army Staff
College, argued that guerrilla forces in general had two major advantages, intelligence and mobility, which
counter‑insurgency forces must negate. He reasoned that air mobility "provides the anti‑guerrilla fighter with
the requisite speed and surprise that will enable him to attack the guerrilla speedily."48 He pointed to the defeat
of the French in Indochina and the problems of the British in Malaya as indicators of what could happen if
guerrillas were not beaten in these terms. The solution, he said, could be achieved through the use of airborne
forces or helicopter-borne forces, but he then went on to explain why airborne forces were problematic given
the general nature of counter‑insurgency terrain. Heliborne forces, by comparison, could be highly effective.
He noted that technologies had now reached the point where helicopters could carry significant payloads.
Moreover, infantry soldiers used in these operations did not require specialized parachute training, and helicopters required no particular special airfields or landing surfaces and could drop troops exactly where they
needed to be and organized to fight rather than dispersed, as was often the case with paratroops.49 Mills went
on to indicate that using a heliborne force of significant size, which would arrive quickly and without warning,
would neutralize enemy intelligence and certainly mobility. Mills also recognized, however, that helicopters
were not without their limitations and in particular that they were susceptible to ground fire at certain points
in an air mobile assault. He countered that certain strategies could be used to negate or at least minimize these
weaknesses, pointing to the use of armed helicopters and also intriguingly to the French example in Algeria
where all helicopters were flown with two pilots, leading over a three‑year period to a reduction in losses.50
Looking at the possibility of a European conflict, in a 1959 article in the Canadian Army Journal entitled "The
Nuclear Battle Group," Col A.J.B. Bailey of Western Command wrote that dispersion on the nuclear battlefield
would require mobility on the ground and in the air.51 There was not much difference, he said, from what had
gone on the past in terms of actual operations, but nuclear weapons meant that there had to be greater dispersion in the presence of such weapons on the battlefield. In detailing his concept he proposed that the nuclear
battle group, in effect a brigade group in modern parlance, would be built around the use of and protection of
a guided missile or rocket battery equipped with nuclear munitions. In addition to these there would be what
he called conventional forces, essentially four battalion teams which would do some protection of the nuclear
delivery means as well as some normal manoeuvring in the brigade area. Within each of the battalion teams,
Bailey saw the requirement for air resources in the form of liaison aircraft, observation aircraft, and light
transport aircraft. He said, "The rifle companies must have superior cross country and across obstacle mobility;
this can be achieved by light amphibious tracked vehicles and by light fixed or rotary wing aircraft. Sufficient
carriers should exist within the battle group to lift by ground and/or by air at least three of the four infantry
battalions."52 Similarly he believed that the reconnaissance regiment should have both fixed- and rotary-wing
aircraft within each of the reconnaissance squadrons and, in a somewhat futurist way of thinking, felt that there
should be infrared photographic equipment available for the aircraft.53 Turning to logistics, he again stressed the
requirement for light transport aircraft, particularly for the resupply plan for fuel in nuclear ammunition. He
74
THE CANADIAN ARMY JOURNAL VOLUME 15.2 2013
ARTICLES
underlined once again the need for mobility, which could be provided either by tracked vehicles "and or rotary
wing aircraft can serve as personnel or weapons carriers and for the transport of supplies."54 Thus at every level
within the battle group headquarters, reconnaissance regiment, nuclear artillery regiment, battalion teams, and
finally administrative services, Bailey saw a requirement for aircraft of one sort or another.55 In practical terms,
and likely because this was very much a concept piece, Bailey made no suggestion of any particular numbers
or type of aircraft.
These pieces were counterpoised by some interesting and direct marketing from firms that could provide
the mobility differential. Similar to the helicopter advertisements which would appear later in the Canadian
Defence Quarterly, The Snowy Owl carried adverts in several editions: 1961–1963, 1965–1966 and 1969–1970.
The 1961–1963 editions had a full‑page ad from de Havilland Canada featuring the Caribou light transport in
US Army colours. The 1965–1966 edition included an ad from Boeing helicopters asking rhetorically, "When
can you send a platoon to do the job of a company?" and offering the response that the platoon was appropriate and it got to the right place at the right time, the helicopter being the obvious way to ensure that would
happen. And finally in 1969–1970 issue, the Bell 212 and the whole family of Bell helicopters were showcased
in a full‑page spread.56
Away from the public scrutiny of journal articles, in August 1961 the Army was to produce "The Canadian
Army Post‑1970 Operational Study."57 This was very much a conceptual study which tried to lay out the strategic,
operational and tactical circumstances of the world almost 10 years into the future. In looking at the operational
environment, the authors noted that the 1966–1970 period would have led to some shifts in thinking such that
"there may be a greater understanding of the application of the principles of firepower and mobility as needed
in the battlefield environment foreseen in the timeframe after 1970"58 [emphasis in original]. An associated
paragraph dealing with mobility began by saying that "the greatest mobility today is that which is provided by
man's mastery of the air."59
The document subsequently went on to say that "mobility, even more than firepower, will provide the type
of operational environment in which war will be waged in the post‑70 timeframe."60 When all factors were
considered, the authors felt that the post‑1970 battlefield and the environment would be one of great fluidity.
They said, "The 1970–1975 timeframe will be under the threat of nuclear weapons and therefore the dispersed
and mobile tactical concept of 1966–1970 will still be required. However, the increased mobility capability,
particularly from the standpoint of air mobility will allow this form of warfare to take a better shape."61 This
statement underscored the significant requirement for mobility, and the authors indicated that air mobility
and ground mobility would be essential. They wrote, "The theme of any tactical plan will be to strike at some
vital enemy point with air mobile forces, and then to exploit with a larger-scale follow‑up operation of ground
mobile forces."62 "This combination of air mobile and ground mobile troops will allow land forces to operate in
depth on the battlefield on which dispersion and defence in depth will be encountered."63 While it was admitted
that air mobile troops would be vulnerable to enemy action, particularly while in the air, it was felt that the use
of air mobile troops would ultimately be more economical and more effective than trying to break through on
the ground. It was thought that the air mobile force would operate in low‑flying vehicles, either vertical takeoff
and landing aircraft or helicopters, or perhaps even in some sort of air cushion vehicles.64 Air mobile troops
were also seen as having a role in raids, the seizure of small objectives across barriers, deep reconnaissance,
rear area harassment, and shows of force.65
The study then turned to the roles of the various arms and corps of the army. Discussing the combat arms the
authors noted several "points of departure"; the move towards integration of all three combat arms (infantry,
artillery, armour) into one modern organization was one such point, but another more striking one stated that
"the Army will 'take to the air' in every possible way, only scientific and technological limitations restricting
its full tactical and logistic use of air vehicles of all types."66 Later in the study this point was reinforced when
looking at the post‑1970 organization: "Technology may allow for a much higher degree of mobility than at
present. By 1985 cross-country performance may mean above the ground rather than on it, subunits may be
able to actually fight while vehicle borne or airborne."67 Finally the study said, "The Canadian Army must
become fully mechanized and as fully air mobile as possible. There can be no half measures except as forced
on us by science and technology. No Canadian Army of the future can afford to be 'pinned to the ground.'"68
WWW.ARMY.FORCES.GC.CA/CAJ
75
Helicopters could be of use in executing all five ground
force combat functions: command, reconnaissance,
manoeuvre, fire, and logistics.
Source: CFJIC
76
THE CANADIAN ARMY JOURNAL VOLUME 15.2 2013
ARTICLES
Overall the field force would need several capabilities
among them "the highest possible degree of ground
and air mobility to allow it to concentrate despite
seemingly impossible ground."69 And finally "the
post‑70 Army must include a field force which is
organized, equipped and trained to live, move and
fight in a completely mobile environment on the
ground or in the air."70 As a conceptual document this
study said about as much as it could with regard to
aviation considering that, at the time, the Canadian
Army was essentially still one of limited mobility
and one lacking in significant helicopter resources.
Indeed the study did not use the term "helicopters"
in many places but rather used the word "air," and
there could be some reasonable argument that air
would from time to time even at the tactical level
include transport aircraft as opposed to transport
helicopters. It is perhaps for some of these reasons
that the study was as imprecise or as incomplete as
we might today assess it to be, looking back some
50 years. Nonetheless these words provided a clear
rationale to move ahead in exploring the acquisition
of helicopters in support of an air mobility concept.
What sort of acquisition plans the Army might have
were hinted at in short order. In 1962 the Canadian
Army Journal included a short article called "Wings
for the Canadian Army," which offered a brief history of Army aviation plus a statement of holdings in
1962. Most of the article dealt with pilot training and
employment, but a couple of key points were made.
First the article said that improvements in the technologies associated with light reconnaissance and
cargo helicopters were recognized and that these
would provide the Army, or rather could provide
the Army, with excellent cross-country capability in
the Army sense of the word. The article concluded
by identifying the five main functions of aviation:
reconnaissance, artillery air observation post, command liaison, tactical movement of troops, and
logistical support. That said, the article also indicated that there were only 46 fixed- and rotary-wing
aircraft, all of them light aircraft or helicopters available at that time although there were future plans to
acquire a cargo helicopter.71
The notion of air mobility had not caught on
universally, and intriguingly and ironically an
article in the following edition of the CAJ by
Maj V.J. Ferguson took a more traditional slant on
the question of mobility. In his piece "What Do We
Mean by 'Mobility'?" he said that "the aim of this
paper is therefore to consider the term 'mobility' and
define basic concepts that are suitable for military
77
discussions."72 The article ranged broadly from conceptual to technical but was focused very clearly on land
vehicles. If there was a clue to this, when the author began to talk about armoured protection and swimming
characteristics as well as the main armament the possibility that he was discussing aviation was quickly refuted.
Regardless of Ferguson's musings, the decision had been made to buy helicopters. On 20 August 1962,
E.B. Armstrong, Deputy Minister of National Defence, wrote to the Secretary of the Treasury Board asking for
authority to procure 12 cargo helicopters for the RCAF and Army. He made reference to the fact the Treasury
Board had actually approved procurement in January of the same year. This new letter now provided further
details on the procurement plan, specifically indicating that since the US Marine Corps and US Air Force
had in the intervening months both decided to procure hundreds of the same aircraft type, the Vertol 107,
the Army was now faced with the necessary, but happy, prospect of purchasing the US Marine Corps variant,
which was in fact a more substantial aircraft than the Army had initially planned. There was additional good
news: the Marine Corps variant of the aircraft was actually more capable than that proposed by the Army, and
the manufacturer was prepared to sell it to the Canadians at the original price. The bad news was that because
of differences in exchange rates, these aircraft would now cost approximately $680,000 more than had been
originally budgeted.73 On 27 August the Assistant Secretary of the Treasury Board replied, indicating that on
24 August, Treasury Board had considered the request and had approved it allocating funds on a priority basis
to allow for the acquisition of 12 aircraft.74
News of this acquisition was out by the end of the year. Army Aviation News, a mimeographed journal produced by the Army Aviation Tactical Training School located at Rivers Camp Manitoba, made mention of the
purchase decision among its 50‑plus pages. The journal was an intriguing publication that spoke to the tactical
and individual interests of army aviators, its aim being "to encourage serious writing on topics of professional
military aviation interest." In this particular issue Maj Bert Casselman, the CO of the school and editor-in-chief,
provided editorial comment in the form of an excerpt from the Canadian Journal of Economics and Political
Science of 1954. Casselman, who would go on to command 403 Squadron, the first tactical helicopter squadron
formed at the end of the decade, quoted from the journal: "a modern army is above all a dynamic institution,
seeking to adapt to rapidly changing conditions largely outside its control. It constantly exhibits an amazing
flexibility and versatility." Casselman went on to say that "it is the word 'dynamic' that must be applied to
Army aviation if it is to keep step with the Army as a whole." He then pointed out that the acquisition of new
equipment in the form of the CH112 observation helicopter and L19L artillery spotting aircraft, new radios, and
the impending purchase of the CH113 were all indicative of this dynamism. Further, he said it was incumbent
on all members of the Army aviation community to be technically and tactically proficient.75
This then was the context as the newly created Canadian Forces set out to define in specific terms its concepts
and practical abilities in terms of battlefield mobility and the use of helicopters.
When published some four years later, the Wilson Smith study, the "Canadian Forces Helicopter Study,"
began by reiterating its mandate as set out by the Minister of National Defence. The study team had been
directed to "assess the operational effectiveness of vertical takeoff and landing aircraft in providing support to
a mobile force in all ranges of worldwide conflict." The report noted that in conducting their investigations the
study group, composed of Brig N.G. Wilson-Smith, Senior Army Liaison Officer, Canadian Defence Liaison
Staff (Washington); Group Captain G.B. Murray, Director of Land Forces Operational Requirements (Air);
LCol R.E. Borland, Tactical Aviation Branch Headquarters Mobile Command; F.J. Joyce, Directorate of Special
Studies, NDHQ; and S. Woodend, Directorate of Land/Air Operational Research (Annex A) had visited a range
of countries, aircraft manufacturers, research agencies and organizations, and had also interviewed an extensive
number of experienced officers.76 Chapter 1 provided a summary and conclusions, the major one being that "the
air mobility concept . . . is valid in all possible military situations which might face us, and that the provision of
helicopters will greatly enhance our operational capability thus enabling us to do more with less manpower."77
It has also been concluded that while the chances of nuclear war were decreasing, limited wars seemed more
possible and peace enforcing operations in the Third World were much more likely than had been the case
only a few years before. "Conflicts at the lower end of the scale will be in underdeveloped countries possessing
large populations, difficult terrain, and in different communications."78 Turning to the issue of air mobility, the
authors noted that "to meet superior numbers we require superior mobility" and that mobility was important in
78
THE CANADIAN ARMY JOURNAL VOLUME 15.2 2013
ARTICLES
executing all five of the land combat functions: manoeuvre, fire, communications, reconnaissance, and supply.79
Of specific and significant note, "none of our likely enemies, or countries requiring a peacekeeping operation,
has a significant air mobile capability. Our possession of one would therefore give us a favourable mobility
differential and redress our inferior strength."80 Moreover, the conclusions continued, "Air mobility is the next
major revolutionary cycle in land force development."81 The study also noted that "where sufficient aircraft are
provided so that fully air mobile operations are habitual, large savings in ground vehicles can be made. Where
aircraft are supplied only temporarily and occasionally, savings within combat units are not significant."82 Taken
together these conclusions seem to indicate that air mobility would render the Army more effective within
a finite set of resources and strength in that dollar-for-dollar aircraft were more cost‑effective than ground
transportation. The study did go on to say the helicopters were indeed vulnerable but that by using effective
tactics it was possible to minimize losses. Four types of aircraft were proposed: a light observation helicopter,
or LOH, a utility tactical transport helicopter, a cargo helicopter, and an armed helicopter. Intriguingly the
Hughes OH‑6 was suggested for the LOH role; this was the type then in service with the US Army in Vietnam.
As well, while a study mentioned an "armed helicopter," the type suggested for this was the Bell AH‑1G Huey
Cobra.83 It should be noted that at that moment in time, the Huey Cobra was deemed an armed helicopter, but
it would soon become known as an attack helicopter.
Turning to the roles of air vehicles, it was noted that helicopters could be of use in executing all five ground
force combat functions: command, reconnaissance, manoeuvre, fire, and logistics. But this section of the
summary went on to say that "in peacekeeping operations helicopters are particularly useful. Such operations
are most likely in countries possessing few roads and difficult terrain. Air mobility would allow the situation
to be controlled by a strong screen backed by highly mobile, responsive, central reserve."84 As if it had not said
enough, the introductory chapter closed by repeating that air mobility was important and that all five army
functions could be satisfied or enhanced using helicopters. It was noted that the study's mandate had not
included a review of the Mobile Command helicopter program. The authors did say that they had looked at
the program and felt that it was completely appropriate.85
Subsequent sections and chapters of the study continued to emphasize the practicality of air mobility both in
general terms and with reference to specific examples such as Malaya, Korea, the Suez, and Algeria, in addition
to Vietnam. It was noted that "the helicopter gives ground forces the capability of using the air without basic
change to the principles and procedures of ground combat. A helicopter borne force fights with the same aims
and tactics as a vehicle borne force. A combat unit requires little readjustment to becoming air mobile."86 At
the same time it was emphasized that "helicopters provide an extra dimension to every function of the ground
battle. . . . Their introduction will have an equivalent, if not greater, impact on ground force effectiveness than
the replacement of the horse by the motor vehicle."87
The study noted an additional benefit from the introduction of helicopters. "Ideally the addition of helicopters
to the force structure should be matched by reductions in ground vehicles." For units using helicopters on a
continuing basis it would be possible, the study suggested, to remove virtually all of their ground vehicles. An
example here was the US Army's First Cavalry Division (Air Mobile), which had sufficient helicopter lift to
move one third of its ground forces at any time and, that being the case, the division was able to operate with
1,500 vehicles compared to a normal division's 3,500. The study further noted that virtually all of these vehicles
were light utility vehicles.88
The authors spent some time talking about vulnerability, about the tasks of aviation, and about how aviation
resources could be used in the various theatres of war that might develop in the coming years. It was felt that
helicopter operations would be even more effective in regions where limited wars were taking place or where
peace enforcement or peacekeeping was the core mission. Finally, the authors noted that helicopters could be
of extensive use in Canada, either in support of civil governments or in the event of an incursion into the north
when helping to deal with an enemy lodgement there.89
Turning briefly to cost-effectiveness, the authors commented, "The cost figures for air vehicles are within the
economic capability of any nation which now maintains ground mechanized units and tactical air force aircraft.
For example, fully air mobile divisions are only slightly more expensive than other types." A number of figures
WWW.ARMY.FORCES.GC.CA/CAJ
79
Source: Combat Camera
were given for equivalent US Army organizations. The study stated that if an air mobile division's cost factor was
rated as 100 per cent that of an armoured division would be 93 per cent with a mechanized division at 92 per
cent and an infantry division at 87 per cent.90
The Helicopter Study Report seemed to have captured the essence of the previous decade's thinking about
the importance of mobility and how to create and exploit mobility in the air. Moreover, it had factored in
some important historical evidence from that same period and had not shied away from making use of US
concepts and equipments. While not specifying numbers of aircraft, it seemed to have pragmatically captured the
essential ideas of air mobility and the "mobility advantage." The question to which we must now turn is one
simply of how well the concept managed once it crossed the start line.
A 1972 article in the then newly revived Canadian Defence Quarterly by Capt I.R. Binney provided a significant
snapshot of the helicopter situation.91 In his introduction Binney said, "The vision of every troop marching
50 miles into battle has become a matter largely for historians." He then went on to describe the numbers and
types of helicopters that the Canadian Forces had bought or were in the process of buying over the next two
to three years, and suggested that there were more aircraft coming particularly a larger medium transport
helicopter and even perhaps some form of armed helicopter. Binney also noted that "Canada has been a late
but avid participant in the 'airmobile' concepts for tactical troop operations."92 Then he said that the move
towards helicopters had to do with finding ways to increase tactical mobility to address problems with logistic
support. He said that Canada had recognized in the early 1950s and at the beginning of the 1960s that there
was large potential in vertical takeoff and landing aircraft.93 The problem now, he said, was that there simply
80
THE CANADIAN ARMY JOURNAL VOLUME 15.2 2013
ARTICLES
was not enough money to purchase everything that was deemed necessary.94 More significantly, Binney noted,
planners had initially said that air vehicles could replace ground vehicles, and a dollar-for-dollar resupply by
air vehicles was more cost‑effective. That might have been conceptually true, but it was now apparent that there
was a requirement for both ground resupply capability and air resupply capability.95 Moreover, he also recognized that it was inappropriate to use aircraft such as the medium transport Vertol when trying to move only
a few men or a few pounds of equipment. Binney happily noted that Canadian planners had recognized this
and therefore elected to have a range of aircraft in the upcoming purchases. To move one or two people, a light
observation helicopter could do the job; to move a few people a utility helicopter would be more appropriate,
but it was still recognized, as had been seen from the experience by the US Army in Vietnam, that the medium
transport helicopter was essential to move large heavy items such as artillery pieces and artillery ammunition.96
At this point in his article, having introduced the vexing problem of finance, he noted that the Canadian
requirement had been for 18 medium helicopters based on the needs of an air transportable brigade's 125 tons
of logistics per day, but that because of financial constraints only 12 machines had been purchased. He went
on to address the Helicopter Study Report's recommendations for four types of helicopters. He also said that
Canada had quickly purchased 10 utility helicopters, CH118, single Huey, in order to develop doctrine and
procedures. He explained also that the Canadian requirement for a twin‑engine utility helicopter had led to
the development of the Bell model 212, but at the same time he indicated that while the Canadian Forces had
originally required 90 of these machines, now budget restrictions had limited purchases to only 50. Similarly
Binney said that while the force structure model identified a need for 107 observation helicopters, only 74
would actually been purchased; although there were plans to buy more, these were for the moment only plans. 97
WWW.ARMY.FORCES.GC.CA/CAJ
81
He also addressed some of the problems associated with attack helicopters: while these were seen as advantageous from the Vietnam experience, he noted that the Americans had lost several when going against advanced
air defence forces in Cambodia. He also noted that the Israelis had decided to use helicopters only where there
is either light or no enemy air defence capability. These two high‑risk experiences seem to fly in the face of the
most obvious use of Canadian helicopters in any future conflicts in northern Europe. Binney ended his article
somewhat pessimistically, or perhaps realistically, by noting that while there had been plans developed to use
helicopters, these plans, as was the case with all defence plans, were not subject to section significant change
in the change of government. He wrote that "between a drastic financial squeeze in the current government's
apparent intention to down generally less warlike stance in defense policy, the Canadian forces have been forced
to reorganize downwards." Where helicopters would be used and in what numbers were his questions. He also
wondered where helicopters would be used if the Canadian Forces moved away from what might be deemed
classical military roles.98
The problem of using helicopters in Europe was well understood and, even as Binney's article was being
published, NATO was conducting a trial using the Bell TOW Cobra against modern armoured forces. As
Wayne Ralph noted in the Canadian Defence Quarterly, the Bell attack helicopter equipped with TOW missiles
was a formidable opponent. Ralph noted that the problems of helicopter vulnerability were offset by the helicopter's narrow frontage and an ability to side slip at up to 35 kts, making it hard to track. When used in conjunction with a reconnaissance helicopter that would spot targets before bringing the attack helicopter forward, it
was possible, as the trials in which Canada participated demonstrated, to achieve a kill ratio of anywhere from
18 to 34:1. Ralph, however, also noted that helicopters generally had to operate in what he called a "permissive
environment"; that is, they had to operate over terrain held by their own forces. Ralph concluded by saying
that the projected introduction of the Hellfire missile system, a fire and forget missile, would make the use of
attack helicopters on the battlefield, although much more effective.99
Curiously, the following year CDQ published an article discussing Arctic warfare. The author, Maj Ken Eyre,
an experienced and open‑minded infantry officer, made no reference whatsoever to the use of helicopters.
Instead he said that infantry would either be foot borne or use over‑snow vehicles such as Skidoos and that
air resupply would be conducted by Hercules aircraft. It was perhaps curious, but he made no reference to
helicopters because part of his concept called for the use of a full artillery regiment and, even had these guns been
the light pack howitzers in use by the airborne regiment at the time, it would have been extremely difficult to
move guns, ammunition and soldiers over extended distances in the north, particularly in winter. Interestingly,
two years later, the cover of CDQ (Vol. 6, no. 3 Winter 1977) shows a Chinook helicopter operating in the
Canadian Arctic, while an earlier edition of the magazine showed troops in winter camouflage embarking in
a Vertol on snow‑covered ground.100
During this same period tactical doctrine for aviation was promulgated in the form of Canadian Forces
Publication 311 (5) The Tactical Helicopter Squadron in Battle, first issued in May 1971 and reissued in
1978.101 The preface of the new volume noted that "the composition of helicopter squadrons described
herein is just one of the number of possible options. The actual composition of helicopter squadron may vary
depending on policy, roles, equipment, or composition of the field force of which it forms part."102 The preface
continued, "Like any doctrine, it must not be implemented slavishly but must be applied with common sense and
adapted to the prevailing circumstances and tactical situation."103 These words seemed reasonable enough and
perhaps even innocuous, but they opened the door to some unanticipated consequences. However, they were
repeated in the opening lines of the body of the document: "The organizations presented in this manual merely
illustrate the tactical employment concepts discussed, and should not be construed as representative of war
establishments."104 If one may make an observation: Why was this doctrine promulgated which did not represent
war establishments?
The volume then set out the roles and tasks of an aviation squadron in support of a brigade group. Tasks
included reconnaissance and observation; direction of artillery fire; and airborne command post and liaison;
airborne control of close air support aircraft; anti-armour and fire support; tactical airlift troops and equipment; logistic airlift; radio relay; and casualty evacuation.105 The volume also described several characteristics
of aviation, most notably mobility and flexibility. Curiously, and in juxtaposition to the fact that the volume was
82
THE CANADIAN ARMY JOURNAL VOLUME 15.2 2013
ARTICLES
not meant to construe war establishments or perhaps by extension war capabilities, one of the characteristics
of aviation was firepower, yet at the time no Canadian aviation resources were able to provide anything other
than self-defence, and that with some degree of difficulty.106
Chapter 2 of the volume dealt with organizations and began by discussing the various land force organizations
down to division level; these included infantry, mechanized, armoured, airborne, and again, curiously, air
mobile. But it was also noted that most Canadian field formations were actually organized as brigade groups:
"The Canadian brigade group is designed to operate independently of a division. Consequently, in addition
to armour and infantry units, it possesses its own combat support and combat service support units." Listed
among these units was a tactical helicopter squadron.107 Section 3 of the same chapter talked about tactical
air organizations and operations. Curiously, under "Tactical Air Transport Operations," the reader could find
helicopter borne assault while in the next subparagraph, "Tactical Aviation Operations," was listed tactical and
logistic airlift of troops and material.108 There was also some description of functional and tactical organizations, and it was noted that "the establishment and equipment scales of a tactical helicopter squadron are based
on: the number and type of aircraft and a specified flying rate required to meet the assigned role" as well as
the maintenance and support personnel to allow squadrons operate.109 In discussing tactical organizations the
authors said, "The size and operational mission of the supported formation and the roles assigned to the supporting tactical aviation squadron determine the number and type of aircraft grouped as a squadron to support
the land formation." Factors that needed to be considered here were whether or not resources were required
on a continuing basis or for specific tasks of limited duration.110 From these generalities it was then possible to
go on to more specific groupings of helicopters: for reconnaissance support, six observation helicopters would
normally be assigned to a reconnaissance Troop; for air observation or forwarder controlling, three observation helicopters were the norm; command and liaison for the brigade group headquarters normally required
two airborne command post configured utility helicopters and for observation helicopters; medical evacuation
was normally the task for six utility helicopters and finally mobile operations required four utility helicopters
to move a platoon and 12 to move the company.111
After discussing the various leadership and administrative positions within a typical squadron, the manual
turned to a discussion of the various squadrons which could be formed: brigade tactical helicopter squadron;
standard brigade group helicopter squadron; air assault helicopter squadron; medium transport helicopter
squadron; attack helicopter squadron; and finally the aircraft field maintenance squadron.112 The detailed composition and organization of each of the types of squadrons was then presented. The brigade tactical helicopter
squadron "could have a complement of 12 observation and six utility aircraft. It would be organized into a
squadron headquarters, two observation flights, one utility flight" along with administrative and supporting
organizations. The standard brigade group helicopter squadron would operate in support of a brigade group
that had been detached for independent operations. In this case a squadron would have utility flight composed
of lift section of seven utility helicopters able to move a platoon at a time and armed helicopter section also
having seven aircraft able to provide fire support in the form of rockets and anti‑armour weapons. The squadron's observation flight was also divided into two sections totalling 13 aircraft to provide reconnaissance and
artillery support. Finally, there was a medium transport flight of four aircraft.113 An assault helicopter squadron
had the role of conducting a two‑company lift air mobile assault. There were three flying flights within the
squadron, two identical flights of 12 utility helicopters each, and HQ flt containing four utility and six observation helicopters. The observation helicopters were intended to provide pathfinding support for the assault.114
The medium transport squadron would operate 12 transport helicopters with an additional for observation
helicopters in the squadron headquarters. Finally, an attack squadron would have for attack teams or flights
attack flights each operating two observation and three utility helicopters the latter presumably operating as
pseudo-attack helicopters.115
In hindsight, the imprecision of this doctrinal document was disturbing, but at the time, as a pilot flying and
instructing within 10 Tactical Air Group, it seemed simply like a pragmatic way of describing a somewhat
fluid circumstance. The doctrine had been written by people who, like the author, were simply trying to be
as transparent as possible in describing the organization and employment of those resources which had been
purchased in the early 70s. But what it meant quite often was that the squadrons in support of brigades were
not organized based on the requirements of the land formation, but rather simply on what could be cobbled
WWW.ARMY.FORCES.GC.CA/CAJ
83
together on any given day or for any given exercise. Aircraft and capabilities were in essence penny-packeted
across the country with not much more than a training cadre of aviation available most days (but certainly
not every day) to the affiliated brigade. Matters were worse in the west, where distances were such that it took
a full day of flying to even reach units in Manitoba or British Columbia. Compounding the shortfalls in aircraft, crew ratios were never such that serviceable aircraft could be operated even close to the necessary flying
rate. In one case in 1993, 408 Squadron had 10 observation helicopters available but had only 10 pilots within
the observation flight. Given that the tactical flying limitations of the period limited flyers to not more than
six hours of tactical flight per day (with the six hours including any time that the engine was running), and after
officers had been taken away to operate the flight command post and act as liaison for supported units, often
the observation flight was effectively grounded by noon, having started operations sometime before 0600.116
In the late 1970s the Army had introduced into its conceptual framework a field force structure known as
Corps 86. The corps was a very robust combat formation which included an aviation group. At the group level,
providing support to all corps formations were transport and attack helicopter wings, as well as electronic
warfare squadrons and an air ambulance wing. Directly supporting each division was a composite helicopter
squadron, as well as utility squadron of 24 utility helicopters. Finally each brigade was supported by an observation squadron. Ironically the resources of the groups were not always well understood or employed. In at least
one instance, a major command post exercise conducted by the Canadian Forces College in the winter of 1988,
Army students completely ignored the availability of the attack helicopter wing when trying to stem a major
enemy land breakthrough. It was only at the insistence of the aviation group commander with some support
from the exercise director that the attack helicopters were brought into play. Arguably it was the continuing
inability of existing aviation resources to adequately support the mobility and anti‑armour requirements of the
Army which caused the students to forget the utility and availability of aviation.117
84
THE CANADIAN ARMY JOURNAL VOLUME 15.2 2013
ARTICLES
At about the same time while students at Canadian Forces College, the author and, now LGen Marcel Duval,
wrote papers arguing that 10 Tactical Air Group should routinely be organized along doctrinal lines. While
there were no attack resources in Canada at least the balance of units could be organized in accordance with
approved doctrine so that there would be significant support for individual brigades when they needed it during
training concentrations. The wisdom of this approach had in fact been seen during the 1980s and the Rendezvous series of exercises. Most particularly during Rendezvous 85 a divisional utility squadron had been created
Source: Combat Camera
and all available medium transport resources had been grouped as well, but this practice was discontinued by
Rendezvous 92 for reasons unknown. During that exercise, however, the utility helicopters of all participating
squadrons were brigaded from time to time to at least provide an effective lift capability similar to that which
a full utility squadron could offer, and consequently a number of significant company group and battalion air
mobile activities were executed.
The small successes were in stark contrast to some of the abject failures which also occur during this period. In
one particular example, during a winter exercise in the Gaspé Peninsula in 1986, only three Hueys were available to move an entire battalion. Later that year the same battalion planned a 50‑km airmobile insertion using
10 Hueys in two Chinooks; in the event the plan called for only one Chinook of the two, but both broke down
before the beginning of the operation, causing a complete unravelling of the ground tactical plan. These sorts
of SNAFUs had an impact on Army leaders' confidence in aviation's ability to create that mobility differential.
By comparison, during these same years, 10 TAG initiated a series of exercises to train its own personnel;
these were called Exercise Winged Warrior and were a week‑long confirmatory phase of the Advanced Aviation Course, which trained aircrew for employment as mission commanders and subunit level commanders within aviation units. For these exercises sufficient resources were brought together to conduct extensive
WWW.ARMY.FORCES.GC.CA/CAJ
85
reconnaissance and artillery observation, pathfinding, troop lift, and gun lift. When available, attack helicopters
from the United States were also integrated into the exercise. As a bit of a reversal it was the combat arms which
provided support to these training exercises, usually in the form of a company group as well as mortars or guns.
Almost invariably at the end of the exercise, the infantry company commander would express much satisfaction
in the ability of the aviation resources to get him and his men where they needed to be to conduct effective
ground operations. One can conclude, fairly reasonably, that senior aviators understood well enough what was
required in terms of organization and capability to provide the mobility differential. What seems curious was
that no attempts were made to permanently organize so that this reasonable level of mobility could be provided
to each of the formations within the field force on a regular basis. This would have done something not just
for the reputation of the aviation community but also for the tactical competency on both aviation and Army
organizations when the threat of the day was still seen as the Warsaw Pact in central Europe.
The threat, of course, went away approximately 20 years ago, and as the army became increasingly pulled into
peace support operations, aviation units were similarly engaged in operations other than war. Beginning in
1985 with the dispatch of helicopters to the Multinational Force in the Sinai, there began a series of peace support operations, several of them in Central America, which saw helicopters, principally Hueys and then the
newer Griffons, used for utility operations. But when aviation units were stood up in the former Yugoslavia, it
was recognized that the fleet, by this time consisting of only the CH146, needed to have more than just a utility capability. Leaders at 10 TAG and subsequently at 1 Wing argued hard and ultimately successfully for the
acquisition of surveillance technologies and suppressive firepower systems to give the Griffin an ability to seek
out information and to protect itself in hostile environments. What the Griffin did not have was an ability to
work in a high/hot environment such as that found currently in Afghanistan. Both for the very real technical
reason but also perhaps because of the Army leaders' continuing lack of satisfaction with aviation, no aviation
resources were sent to Afghanistan until very recently. Indeed it was only when the then‑Chief of Defence Staff
Lieutenant-General Rick Hillier, who along with his successor, Lieutenant-General Walt Natynczyk, had served
with American forces and well understood the abilities of aviation and in particular transport, the push was
started from the very top to acquire and deploy aviation resources. Subsequently, with the arrival of Chinooks
and Griffons in Afghanistan, aviation has been able to provide the Army with the mobility differential so sorely
needed to be able to conduct operations from the air, much as the Canadian Army Post‑1970 Operational Study
postulated and as the Helicopter Study Report repeated. The issue here is not being to get there the "firstest with
the mostest" but rather to avoid operating on the ground in any sense and thus to negate the insurgent threat.
In that sense the capabilities of aviation very much support the observations of the 1960s. There is perhaps a
certain irony, albeit a very sad one, that almost half a century after the writing of these two documents, that
aviation has provided the support needed by the Army to get an operational job done in a combat theatre.
While both documents very clearly and logically, and with significant prescience, identified the viability and
importance of aviation resources, the realpolitik and real circumstances of budget cuts, doctrines skewed by
domestic geography, and the seeming inability of leaders to recognize and mitigate those limitations, have meant
that the ability of aviation to provide both mobility and firepower would not be fully accepted until Canadians
were sent into harm's way.
ABOUT THE AUTHOR
Colonel (retired) Randall Wakelam, PhD, is a research associate at the Laurier Centre for Military Strategic
and Disarmament Studies and serves on a number of editorial boards. He publishes extensively on command
and leadership questions and on military education. In 2009 he published The Science of Bombing: Operational
Research in RAF Bomber Command (University of Toronto Press), and in 2010 co‑edited, The Report of the
Officer Development Board: Maj-Gen Roger Rowley and the Education of the Canadian Forces. His next book was
Cold War Fighters: Canadian Aircraft Procurement, 1945–54 (University of British Columbia Press). Recently
selected as a visiting research fellow in the Changing Character of War Programme at the University of Oxford,
United Kingdom, he is currently working on a biography of Wilfred Curtis who was Canada's Chief of the Air
Staff from 1947 to 1953 before going on to help establish York University, Toronto.
86
THE CANADIAN ARMY JOURNAL VOLUME 15.2 2013
ARTICLES
ENDNOTES
1.
The author, a former 10 TAG aviator, is conscious of the fact that while today we might speak of aviation support for the army, in
those years such terms were either little understood or relatively frowned upon.
2.
Canada, Department of National Defence, Canadian Armed Forces Helicopter Study Report May 1967, NDHQ file 11520‑1, Vol. 2, 4.
3.
Ibid., 4.
4.
Robert Mason, Chickenhawk (London: Penguin, 1984).
5.
General John Tolson, Vietnam Studies: Airmobility 1961–1971 (Washington, D.C.: Department of the Army, 1973).
6.
Matthew Allen, Military Helicopter Doctrines of the Major Powers, 1945–1992 (Westport, Connecticut: Greenwood Press, 1993).
7.
Ibid., xx.
8.
Ibid., xxi.
9.
408 and 430; Hugh Halliday.
10. DHH 73/1299 Gold Rush folder 1, "Gold Rush Exercise Directive," 15 February 1955.
11. Canadian Army Combat Development Study, "First Draft: The Canadian Army Post‑1970 Operational Study," 11 August 1961.
12. DHH 73/1299 Gold Rush folder 1, "Record of the Meeting Held in the Office of the Chief of the General Staff on Wednesday,
19 January 1955 to Discuss Logistics Support by Aircraft in the Forward Area," 19 January 1955.
13. Ibid., para 7.
14. Ibid., Appendices A and B.
15. DHH 73/1299 Gold Rush folder 1, "Gold Rush Exercise Directive," 15 February 1955, para 2.
16. Ibid., para 3.
17. Ibid., para 11.
18. DHH 73/1299 Gold Rush folder 1, "Exercise Gold Rush Terms of Reference for a Study of the Organization of Field Formations
to Meet the Conditions of Future Warfare," 15 February 1955.
19. Letter Simonds to MND, 14 MA5r 55 cited in HQS 2001-91/G9 (Ex GR) Brief for the Chief of the General Staff, 12 Jun 56.
20. CSC 10-9 (TD 3), "Report of the Ad Hoc Committee on Service Requirements for Helicopters," 21 December 1955 (document
provided to the author by LCol (ret'd) Dean Black).
21. Ibid., para 3.
22. Ibid., para 7.
23. Ibid., para 20.
24. Ibid., para 20.g.
25. "A Paper on the Control and Operation of Helicopters in the Canadian Services," dated 17 November 1955 (document provided
to the author by LCol (ret'd) Dean Black).
26. Ibid., para 2.
27. Ibid., paras 4–7.
28. Ibid., para 14.
29. Ibid., para 15.
30. DHH 73/1299 "Gold Rush folder 1, "Appendix C to HQS 2001-91/G9 (Ex GR) dated 12 Jun 56," para 1. (b).
31. Ibid., para 1. (j).
32. DHH 73/1299 Gold Rush folder 1, "Brief for the Chief of the General Staff Exercise Gold Rush"; file HQS 2001-91/G9 (Ex GR)
12 June 1956.
33. DHH 73/1299 Gold Rush folder 1, Operation 'Fire-Fly'"; file HQS 2001-91/F15 (Ex GR) 28 September 1956.
34. DHH 73/1299 Gold Rush folder 2, "Exercise 'Gold Rush' Volume 1 The Tactical Concept"; file HQTS 1200-6/9, no date, para 5.
35. Ibid., para 37, 10–12.
36. General Sir Anthony Farrar-Hockley, The Army in the Air: The History of the Army Air Corps (Stroud, Gloucestershire: Alan Sutton
Publishing, 1994), 186.
37. Ibid., 187–94, 202.
WWW.ARMY.FORCES.GC.CA/CAJ
87
38. Allen, 127–9, 168.
39. Among others, Col (ret'd) Leo Noiles and LCol (ret'd) Allan Cooper flew Skeeters with the British Army during the early 1960s.
40. Allen, 6–9.
41. Major-General Hamilton Howze, "Helicopters in the Army," Canadian Army Journal, Vol. 12, No. 2, April 1958, 48–58 (reproduced
with permission from the January–February 1958 issue of ORDNANCE Magazine).
42. Ibid., 48.
43. Ibid., 48.
44. Ibid., 49.
45. Ibid., 53.
46. Ibid., 54.
47. Ibid., 55–6.
48. Mills, 66.
49. Mills, 64.
50. Maj G.R. Mills, Royal Australian Engineers, "Vertical Envelopment in Anti-Guerrilla Warfare," The Snowy Owl, Vol. II no.3,
(1963–1965 of the Snowy Owl). 59–68.
51. Col A.J.B. Bailey, Chief of Staff, Headquarters Western Command, "The Nuclear Battle Group," Canadian Army Journal, Vol. 13,
No. 2, April 1959, 5–22.
52. Ibid., 14.
53. Ibid., 14–5.
54. Ibid., 16.
55. Ibid., 17.
56. Info on journals
57. Canadian Army Combat Development Study, "First Draft: The Canadian Army Post-1970 Operational Study," 11 August 1961. This
document had been previously titled "Canadian Army in 1971–75 Tactical and Logistic Appreciation."
58. Ibid., para 402.
59. Ibid., para 411.
60. Ibid., para 411.
61. Ibid., para 417.
62. Ibid., para 421.
63. Ibid., para 422.
64. Ibid., para 423.
65. Ibid., para 424.
66. Ibid., para 609.
67. Ibid., para 805.
68. Ibid., para 907.
69. Ibid., para 912.
70. Ibid., para 916.
71. Directorate of Air/Land Warfare, Army Headquarters, "Wings for the Canadian Army," Canadian Army Journal, Vol. 16, No. 2,
April 1962, 84–9.
72. Maj V.J. Ferguson, "What Do We Mean by "Mobility"?", Canadian Army Journal, Vol. 16, No. 3, July 1962, 48–52.
73. HQ 7811-0 TD 1313 Memorandum "Cargo Helicopters RCAF and Army" DM DND to Secretary Treasury Board 20 Aug 62
(provided to the author by LCol (ret'd) Dean Black).
74. T.B. 589042-1 Memorandum Secretary Treasury Board to DM DND 27 Aug 62 (provided to the author by LCol (ret'd) Dean Black).
75. Maj A.K. Casselman, ed., Army Aviation News Vol. 3 No. 14 (December 1962). 1. The CH112 Nomad was the same aircraft then
entering service with the US Army and the L19L was the most modern variant of the Bird Dog observation aircraft call the O‑1
in US Army parlance.
88
THE CANADIAN ARMY JOURNAL VOLUME 15.2 2013
ARTICLES
76. "Helicopter Study Report", 1.
77. Ibid., 1.
78. Ibid., 3.
79. Ibid., 4.
80. Ibid., 4.
81. Ibid., 4.
82. Ibid., 4.
83. Ibid., 5.
84. Ibid., 7.
85. Ibid., 9.
86. Ibid., 18.
87. Ibid., 17.
88. Ibid., 18.
89. Ibid., 23–4.
90. Ibid., 24–5.
91. Capt I.R. Binney, "The Helicopter in the Canadian Forces," CDQ 1, 3 Winter 1972, 28–33.
92. Ibid., 28.
93. Ibid., 28.
94. Ibid., 29.
95. Ibid., 29–30.
96. Ibid., 30.
97. Ibid., 30–1.
98. Ibid., 32–3.
99. Wayne D. Ralph, "The Bell AH-1Q TOW Cobra: Operational Experience and Field Trials," CDQ 4, 2 Autumn 1974, 24–7.
100. Major K.C. Eyre, "Tactics in the Snow: The Development of a Concept," CDQ 4, 4 Spring 1975, 7–12.
101. Canada, Department of National Defence, B-OG-311-005/FT-001, Tactical Air Volume 5 Tactical Helicopter Squadron in Battle,
April 1978.
102. Ibid., iii/iv.
103. Ibid., iii.
104. Ibid., 1‑1.
105. Ibid., 1‑1, 1‑2.
106. Ibid., 1‑3.
107. Ibid., 2‑3.
108. Ibid., 2‑4.
109. Ibid., 2‑5, 2‑6.
110. Ibid., 2‑6.
111. Ibid., 2‑7.
112. Ibid., 2-11.
113. Ibid., 2-12, 2-14.
114. Ibid., 2-15.
115. Ibid., 2‑17.
116. The author was CO of 408 Squadron during this episode.
117. Still looking for Corps 86 ORBAT. The episode described was one in which the author was a participant.
WWW.ARMY.FORCES.GC.CA/CAJ
89
Lt-Gen G.G. Simonds visiting Italy by jeep...
Lt-Gen Simonds was arguably Canada's
best commander in World War II.
Source: NDIL
ARTICLES
OPERATIONAL RESEARCH AND THE FIRST CANADIAN ARMY
Prof. Terry Copp
The battlefield performance of the Allied and especially the Canadian forces in Normandy and Northwest Europe has been the subject of sharp criticism since the end of the war. Chester Wilmott and
B.H. Liddell Hart were among the earliest critics, with Hart reversing the Great War aphorism to describe 21 Army
Group as "donkeys led by lions."1 C.P. Stacey accepted the argument that "victory was won despite failure on the
battlefield" but suggested that the problem lay in a "proportion of regimental officers whose attitude to training
was casual and haphazard."2 John A. English shared the view that Canadian operations were deeply flawed but
attributed failure to the shortcomings of Canadian commanders who in his view failed to develop appropriate
leadership training or doctrine.3
This author challenged the premise of failure on the battlefield in a series of books and articles culminating in
the publication of Fields of Fire: The Canadians in Normandy (2003) and Cinderella Army: The Canadians in
Northwest Europe 1944–1945 (2006). These books describe a culture of learning and innovation that allowed
the Allied armies, and especially the Canadians, to modify their artillery-based battle doctrine, maximizing
strengths and minimizing weaknesses. They established all‑arms battle groups, learned how to employ new
weapons (Wasps, Crocodiles, Buffaloes, the Land Mattress) and revised tactics.
The learning environment was stimulated from many directions, but this article focuses on the contribution
of operational research by examining the reports of the Army Operational Research Group (AORG) and
No. 2 Operational Research Section (No. 2 ORS) attached to 21 Army Group. This material is supplemented
by extended interviews with some of the principal OR scientists, including Omond Solandt, Michael Swann,
Tony Sargeaunt, David Bailey-Pike, and David Keynes Hill.4
The British and Canadian divisions that fought in Normandy followed a doctrine, or what LGen Guy Simonds
called an "Operational Policy," rediscovered in North Africa and Italy that emphasized the role of the field and
medium artillery in supporting an attack on a frontage "limited to that on which really heavy support may be
given." Simonds noted that "the essence of the German system of defence is the counter-attack" and insisted
that "the defeat of these counter-attacks must form part of the original plan of attack." He outlined the roles
assigned to supporting armour and ancillary units in broad terms, advocating a "sound, simple plan" based on
the possibilities presented by the ground and the enemy's disposition.5
Simonds' doctrine was a clear expression of the approach taken throughout 21 Army Group, and both
Montgomery and Miles Dempsey endorsed his directive. The British and Canadian armies were thus committed
to artillery-based operations which closely resembled those carried out in the First World War.6 Montgomery
and Dempsey shared Simonds' view that the "infantry division is the 'sledge-hammer' in the attack against an
organized defence," while the armoured division was a "weapon of opportunity" to be used against a withdrawing enemy or in exploiting an infantry‑led breakthrough. Simonds had little to say about the role of independent
tank brigades in an infantry support role, and he accepted the view that the vulnerable Shermans would offer
indirect support "following closely behind the leading infantry."7
Simonds appears to have understood the problems inherent in predicted artillery fire, but he believed that
centralized control, unlimited shell supply, training a larger number of bright young Forward Observation
Officers for the field artillery, and employing Air OPs for the medium regiments would compensate for the
inaccuracy of predicted fire.
There is no reference to tactical air power in Simonds' instructions to his corps, as the coordination of "tacair"
was carried out at the Army level. The establishment of Air Support Signal Units (ASSUs) at brigade headquarters in February 1944 might have influenced doctrine, but Second Tactical Air Force insisted that air superiority,
interdiction of enemy supply, armed reconnaissance, direct support and attacks on pre‑arranged targets had
priority over close support. No corps-level plan could ever rely on air assets.8
© PROF. TERRY COPP, 'OPERATIONAL RESEARCH AND THE FIRST CANADIAN ARMY', CANADIAN ARMY JOURNAL VOL. 15.2
91
Source: Wikipedia
The British Army in the United Kingdom 1939–1945: 9.2-inch howitzer of 54th Heavy Regiment, Royal Artillery, during a
practice shoot at the School of Artillery at Larkhill.
This was the doctrine 21 Army Group proposed to employ in Normandy once the beachhead was secure.
Simonds, like Dempsey and Montgomery, had little to say about the tactical challenges faced by the combat
troops tasked with carrying out such "operational plans." As recent arrivals from Italy, they were only vaguely
aware of the work being done at the Schools of Artillery (Larkhill), Armour (Lulworth) and Infantry (Barnard
Castle), and were even less familiar with the research carried out by the Army Operational Research Group
(AORG), which had been given a wide-ranging mandate to undertake the "experimental planning of troop
trials of equipment or tactical methods" as well as the responsibility to "investigate methods of using selected
equipment."9 British and Canadian staff officers at the Army, Corps and Divisional levels attended conferences
and trials at the various schools and were aware of the research, but it is not easy to establish a direct link
between staff knowledge and command decision.
The Army Operational Research Group was formed in January 1943 and, by the end of the year, ten sections
were actively engaged in studying equipment and tactics. AORS 7, Lethality of Weapons, included a subsection,
7B, which investigated the "Accuracy and Lethality of Artillery Fire." Throughout 1943 the assumptions underlying the employment of both field and medium artillery were subjected to rigorous examination at Larkhill
using dummies or "Zuckermans" to represent men standing, lying prone and in slit trenches.10
It was not difficult to establish guidelines on lethality. The vulnerable area for a 25-pounder shell was 80 square
feet. Under optimum conditions, concentrations of 25‑pounder shells produced an 11 per cent casualty rate
on "dummy troops" in slit trenches. The problem was that such casualties and the attendant suppression of
the enemy was greatly reduced because the centre of a concentration was on average 100 yards away from the
coordinates of the task.11
92
THE CANADIAN ARMY JOURNAL VOLUME 15.2 2013
ARTICLES
The inaccuracy of predicted fire, particularly by medium artillery, was well understood at Larkhill, and efforts
to improve the quality of meteor, survey, calibration and command post work absorbed much of the time of
ORS 7B. Further studies carried out in theatre demonstrated how intractable the problem was with less than
five per cent of the medium rounds fired in October 1944 falling within 100 yards of the target. Gunners had
to fire 2,000 rounds at a predicted target to cause 100 rounds to fall in an area 100 yards square.12 Operational
Research scientists could identify the causes of the problem but were only marginally successful in correcting
them. After the Germans surrendered the AORG devoted much of its energies to work mandated by the War
Office "Committee to Investigate the Limitations of Accuracy of Predicted Fire.13
Another major area of research was supervised by Omond Solandt, an assertive, ambitious and brilliant
Canadian scientist who directed physiological research on the causes of tank-crew exhaustion
at the armoured school. Solandt had extended his remit to cover a wide range of equipment and
tactical issues and was the natural choice to lead AORS 4, Armoured and Anti-Tank Weapons and
Tactics. Solandt and his senior associate, Tony Sargeaunt, believed that the mechanical reliability of the
Sherman tank made it preferable to any British model despite the reality that it was under gunned with
inadequate armour. Much of the section's time was devoted to a program to marry the high-velocity
17-pounder anti-tank gun to the Sherman creating the Firefly and the M10 17-pounder.
Sargeaunt worked with various armoured brigades to encourage fire and
movement tactics based on one Firefly per troop and the need to protect it.14
Source: Wikipedia
Prime Minister Winston Churchill and General Sir Bernard Paget (Commander-in-Chief of Home Forces) watch infantry soldiers
on a battle course at an infantry school at Barnard Castle, County Durham, 4 December 1942.
WWW.ARMY.FORCES.GC.CA/CAJ
93
Tank tactics were a controversial subject in 21 Army Group, especially after Montgomery took over. Sargeaunt
had contributed to the 21 Army Group Pamphlet authored by Brig H. Pyman, "The Co-Operation of Tanks
with Infantry Divisions in Offensive Operations," published in November 1943. Pyman's statement that in
an attack, tanks would "remain well to the rear in hall-down or turret-down positions," engaging the enemy
with HE from their 75 military guns, was unacceptable to Monty, who issued a new pamphlet, "Employment of Tanks in Support of Infantry in Battle" (Feb 1944), which restored the concept of tank-led attacks.
Timothy Harrison Place, the author of the influential book Military Training in the British Army 1940–1944,
concludes that "three years of experience had taught everyone, except apparently Montgomery and his lieutenants, that such tactics were ruinous."15 However Montgomery, unlike the armour experts, had to consider the
impact of official statements on the morale of an army preparing to launch the invasion of France.
Second Canadian and other armoured brigades committed to the assault phase of "Overlord" were
largely insulated from these debates, as their training was focused on support during the initial landings.
The First Hussars and Fort Garry Horses were to swim ashore in Duplex Drive tanks and the Sherbrooke
Fusiliers, part of the vanguard for the advance inland, trained with the North Nova Scotia Highlanders for
that specific task.
Under the leadership of a 23-year-old Cambridge zoologist, Michael Swann, AORS 6 was similarly engaged in
research at the School of Infantry. Swann went to Barnard Castle as a hastily commissioned REME officer with
a technical mandate, but his application of a rough-and-ready scientific method to tactical questions turned
out to be his most important contribution. Studies of the accuracy of infantry weapons at various ranges when
handled by a regular versus a demonstration platoon; rigorous examination of the accuracy, or lack thereof, of
the PIAT; and work on the operational use of the 2- and 3-inch mortars was followed by an important study
of the conduct of the infantry battle.16
By 1944 there was general agreement that battle drill, which had done so much to energize training and boost
morale in 1942 and 1943, was of limited value in the artillery-based attack model. Swann drew upon the
experience of junior officers with battle experience and the War Office publication Notes from Theatres of War
(NFTW) to examine "the major problem of the German practice of sitting their defences on the reverse slope."
NFTW 16 had outlined the "main characteristics of reverse slopes" as:
1. By day the forwards slopes are held only by the minimum number of automatic weapons, together
with O.P.'s on the crest controlling mortars and artillery.
2. Close behind the crest and within grenade-throwing distance, is a lightly held outpost position.
3. The bulk of the defending forces are disposed in depth well back on the reverse slope, whence they
can cover the outposts with MG and mortar fire, and be available for an immediate counter-attack,
should the crest be lost.17
Swann argued that "since the main body of the defence is secure from observation, it is therefore impossible to
eliminate or neutralize the defenders by means of accurate mortar or artillery fire…The attackers are particularly vulnerable as they cross the crest line…If nevertheless, the crest can be passed and the outposts overrun,
the attackers now have to face a locality defended in depth with the positions of the defenders practically
unknown."
Swann thought daylight attacks were unlikely to penetrate the enemy's main defensive positions, usually a kilometre behind the crest, so "consolidation must be started soon after the crest is gained." In theory close support
from specialized armour could change the balance, but he knew the Allies lacked the kind of heavily armoured
assault guns employed by the Germans. Swann's suggestion that "using close support aircraft to…attack reverse
slope positions" was unacceptable to Second Tactical Air Force, so the best solution, Swann believed, was a
night attack.18
His memorandum summarizing this view argued the following:
94
THE CANADIAN ARMY JOURNAL VOLUME 15.2 2013
ARTICLES
Night fighting has been largely neglected by the Army. Nevertheless it is considered by many to be
a most important type of operation…
The secret of successful night fighting is constant training and practice which is a matter for
commanders to initiate. But the scientist can help in two ways for there is a lot in night vision which
is not easily understood.19
Swann, who had worked with airborne troops on night vision problems, was especially interested in
determining the "particular degree of darkness" in which various operations can be carried out as well as
methods of providing partial illumination.20
How much impact did AORS 6
have on tactics in Normandy?
LCol W.A.B. Anderson, GSO 1
Operations, First Canadian Army;
his counterpart at 2 Canadian
Corps, LCol R.W. Moncel; and
the divisional ops officers were
frequent visitors to the School of
Infantry21 and no doubt read the
reports of AORS 6, but it is evident that the Army Commander
LGen Harry Crerar was not
involved in debates over tactics and
LGen Guy Simonds used his staff to
implement plans he developed on
the basis of his experience in Italy.
It would take further experience in
Normandy to change command
attitudes to OR.
Swann's work on night operations
may have influenced the decision to begin brigade exercises in
full darkness late in 1943 but, in
the months immediately before
D‑Day, 3rd Division trained for
the assault phase and 2nd Division
for Axhead, the crossing of a tidal
estuary (the Seine).22
In late 1945 Brig Basil Schonland,
a distinguished South African
scientist and soldier, left the
AORG to become Scientific
Advisor to 21 Army Group.
Schonland had served in the Royal
Engineers in the Great War. He was
Professor Terry Copp
Source: Terry Copp
twice "Mentioned in Dispatches"
and eventually served as Chief
Instructor, Wireless Communication. A graduate of Cambridge University's Cavendish Laboratory with an
international reputation in physics, he was able to gain the confidence of younger scientist-soldiers while
developing a close relationship with Montgomery's Chief of Staff LGen F. de Guingand and the Staff Duties
section of 21 Army Group that dealt with equipment issues.23
WWW.ARMY.FORCES.GC.CA/CAJ
95
Schonland selected David Hill, who was serving as the AORG
liaison with 2nd Tactical Air Force, as his air advisor and then
put together a team of young scientists to form No. 2 Operational
Research Section (No. 2 ORS) with a mandate to examine all
aspects of combat in the field.
LCol Patrick Johnson, another Cambridge physicist, commanded
No. 2 ORS, but the energy and ideas came from Majors Swann,
Sargeaunt, Pike, and a Canadian gunner officer, John F. Fairlie,
RCA. Major Fairlie conducted important studies of the role of
the 105‑mm field artillery and the Royal Marine Centaur 95‑mm
tanks on D‑Day. These reports reinforced the work of AORS 7,
noting the value of direct support from Royal Marine artillery
and the relative ineffectiveness of the 105‑mm self-propelled guns
firing from pitching landing craft. For D‑Day historians, Fairlie's
reports provide vital information supporting the view that the
success of the landings were due to the courage and persistence of
combat infantry, engineers and tank crews rather than the "brute
force" of the Allied bombardment.24
After D‑Day, No. 2 ORS concentrated on four major problems
in Normandy: means of locating enemy's mortars, the causes of
tank losses, heavy bomber support of land operations, and the
role of Typhoon fighter-bombers in close and direct support.
The section's greatest contribution was undoubtedly the research
and recommendations that led to an expanded and ultimately
radar-based program of locating enemy mortars. Major Swann,
who led the investigation, interviewed medical officers in
four divisions, including 3rd Canadian, to establish the extent of
the problem. He learned that wounds from mortar and Nebelwerfer fire accounted for 70 per cent of non‑fatal casualties—more
than 25,000 men—in the first seven weeks of fighting.25
Source: Terry Copp
Swann's recommendations to expand counter-mortar staffs
and establish separate (from artillery) observation posts and
dedicated signals capacity were well received by 3rd Canadian
Division, which claimed the volume of enemy mortar fire was cut
by 60 per cent using the new methods. This work alone justified
the existence of the ORS, but the team and Schonland also played
a major role in the improvement of sound-ranging techniques
and the creation of No. 1 Canadian and No. 100 British Radar
Batteries, both of which were to make significant contributions
in a counter-mortar role after September 1944, especially in the
Battle of the Rhineland.26
While Swann focused on counter-mortar, Tony Sargeaunt undertook careful investigations of Allied and German tank casualties. He concluded that "almost every armour-piercing round that hit Shermans penetrated and
73 per cent caught fire, while German assault guns and Panther tanks survived 75 per cent of all direct hits."
This quantified information that all tank crews knew from their experience. Sargeaunt continued to recommend employing Shermans in indirect support roles. He prepared a critical appraisal of the plan for Operation
GOODWOOD which Schonland refused to forward to Montgomery and Dempsey, as they were determined
to attempt an armoured blitzkrieg. The results confirmed Sargeaunt's estimates. Sargeaunt was enormously
impressed with Simonds' employment of armour in operations TOTALIZE and TRACTABLE but did not play
a role in the planning.27 Simonds was an innovator in his own right.
96
THE CANADIAN ARMY JOURNAL VOLUME 15.2 2013
ARTICLES
The third major issue tackled by the ORS was prompted by the bombing of Caen on the eve of Operation
CHARNWOOD, 7/8 July 1944. The section studied the subsequent employment of heavy bombers in Goodwood, Bluecoat, Totalize and Wellhit (Boulogne). Their reports are of great value to historians, since they
document the precise results of the bombing as distinct from the highly coloured impressionistic accounts
issued by Army Group and Bomber Command. L.F. Ellis, the British official historian of the campaign, is one
of the many historians who ignored evidence that the night bombing on the eve of Totalize failed to hit the two
major targets, 28 May-sur-Orne and Fontenay-le-Marmion, in the Canadian sector or Secqueville-la-Campagne
in the zone attacked by 51st Highland Division.29
The OR section used the evidence of problems in target identification and widespread bombing patterns to
argue for a different method of employing heavy bombers. Their Report No. 14, "Heavy Bombers in Support of
the Army," noted that while 90 per cent of the bombs fell within a circle of 1,000 yards in diameter, "the centre
of the pattern" is often "wrongly placed." Further, it was evident that "the actual amount of damage caused to
enemy personnel and equipment…has been small." The OR section concluded the heavy bombers could best
be employed by obstructing enemy movement through bombing a number of selected points. "Blocking on a
flank, blocking the lateral movement of reserves or blocking the path in front of a retreating army" were strongly
recommended. The latter was particularly emphasized, given the situation in late August and September.30
The section was determined to press the case for blocking the German retreat by bombing and persuaded
Schonland to press de Guingand to consider a hastily prepared "Suggested Plan to Block a German Retreat
From Argentan and Falaise." The memorandum noted that:
The scheme that follows is not put forward as an operational plan worked out in detail but rather to
show that with the heavy bombing resources now available, an almost complete block can be placed
in the path of the retreating German army.31
The key was to block the approaches to bridges along the River Dives, and that would require 2,500 sorties.
Neither Bomber Command nor US Eighth Air Force could be persuaded to participate. US Ninth Air Force
agreed to commit medium bombers to the crossing approaches to the Toques and Risle rivers, achieving modest
results, but the bombing was simply not heavy enough.32
Parallel investigation of the role of 2nd Tactical Air Force in stopping the German attack at Mortain embroiled
the OR section in controversy. Air Marshal Coningham and RAF publicists were trumpeting the "Day of the
Typhoon," and an army OR reporting that few enemy tanks were struck by rockets sparked a controversy
that persisted to the end of the war. The OR reports and the controversy are reproduced and described in
Montgomery's Scientists and need not be discussed here, though it is difficult not to repeat the statement
issued by 2nd TAF that it accepted the evidence without accepting the implications for "equipment, tactics or
operational doctrine."33
No. 2 ORS reports on the use of heavy bombers in Normandy offered a cautionary tale to those who advocated
further bombing of French towns occupied by German forces. A bomb pattern with a diameter of 1,000 yards
was bound to include a large numbers of civilian homes, even if the Mean Point of Impact was close to the
intended military target. The scientists regarded the plan to employ hundreds of bombers in attacks on Le Havre
as "sheer madness," and the heavy toll of civilian casualties confirmed their worst fears.34
The OR team worked closely with 2 Canadian Corps and 3rd Canadian Division on all aspects of Operation
WELLHIT, the attack on Boulogne. Both Bomber Command and the medium bombers of 2 Group, 2nd Tactical
Air Force were tasked with stringing specific, identifiable targets largely on the ring of hills and fortifications
that surrounded the town. The effect was chiefly on the morale of the already shaky garrison, but there was no
repetition of the destruction at Le Havre.35
The OR section also examined the role of field and medium artillery in the battle. Major Fairlie led the part
of the investigation that helped establish a closer relationship between senior Canadian gunners and No. 2
ORS. He noted that the lack of coordination between the services and within the army had led to problems in
WWW.ARMY.FORCES.GC.CA/CAJ
97
compiling a list of hostile batteries, diminishing the impact of the
counter-battery program. Fairlie made several sensible recommendations, which were adopted for the assault on Calais.36
No. 2 ORS then became deeply involved in the planning and afteraction analysis of Operation SWITCHBACK, the month-long
campaign to clear the Breskens Pocket. Report No. 24, "Accuracy
of Predicted Shooting," demonstrated that even with the assistance of Air OPs, medium and heavy artillery concentrations rarely
succeeded in placing more than 5 per cent of their rounds in the
100 square yards around the target with a 100 per cent zone of
1,000 square yards.37
Source: Terry Copp
From October 1944 to the end of the war, No. 2 ORS worked closely
with First Canadian Army on artillery, counter-mortar and meteorological trials. The section was deeply involved in the planning of
Operation VERITABLE, February 1945, initiating the establishment
of the first Mobile Radar Control Post (MRCP) to improve the accuracy of medium bombers operating through cloud cover. Ground
checks revealed that it was now possible to employ medium bombers
in bad weather with much smaller safety margins.38
The Operational Research Sections also worked closely with First Canadian Army and 30th British Corps
in the development and analysis of the initial fire plan for Operation VERITABLE. On the basis of previous
studies of the weight of artillery fire required to neutralize enemy positions and destroy line communications,
the OR section calculated the number of tonnes per hundred square yards needed to achieve these goals. The
fire plan provided a four-hour bombardment of the enemy front by field, medium, and heavy artillery with the
forward defences "peppered" with heavy mortars and any other weapons that could be brought into range. This
"pepper-pot" technique was advocated because of indications that the "number of shells was more important
than sheer weight of ammunition."39
The relatively low level of operational commitments in the winter of 1944–1945 allowed First Canadian Army
to focus on training and methods of improving combat effectiveness. Professional armies are very conservative organizations, and it is never easy to introduce changes to established doctrine, but the evidence suggests
that senior Canadian officers at the army and corps levels were flexible as well as open to innovation. Those
characteristics would be necessary in the difficult battles of February and March 1945.40
ABOUT THE AUTHOR
Terry Copp is a Professor Emeritus at Wilfrid Laurier University and the founder and director of the Laurier
Centre for Military Strategic and Disarmament Studies. He teaches undergraduate courses on Canadian military
history and war and memory, and leads an annual battlefield study tour for students to explore the Canadian
role in the two world wars on the actual ground. He has authored and co‑authored numerous books and articles,
including The Brigade, Montgomery's Scientists, Fields of Fire, and Cinderella Army, which offer a reinterpretation of Canadian soldiers' effectiveness in combat from 1944 to 1945. Recently he has published further on the
subject of battle exhaustion in Combat Stress in the 20th Century: The Commonwealth Perspective, as well as
further volumes of his battlefield guidebook series.
ENDNOTES
1.
Liddell Hart, Centre for Military Archives, MS11/1944–45.
2.
C.P. Stacey, The Victory Campaign (Ottawa, 1962), 271–77.
3.
John A. English, The Canadian Army and the Normandy Campaign: A Study of Failure in High Command (New York, 1991).
98
THE CANADIAN ARMY JOURNAL VOLUME 15.2 2013
ARTICLES
4.
Editors Introduction, Terry Copp, Montgomery's Scientists: Operational Research in 21 Army Group (Waterloo, 2000).
5.
Terry Copp, Guy Simonds and the Art of Command (CDA, 2007).
6.
The Letters of Endorsement are attached to a copy of "Operational Policy – 2nd Cdn Corps" in LAC RG24 Vol. 10797.
7.
LAC, "Operational Policy – 2nd Cdn Corps."
8.
Christopher Evans, "The Fighter Bombers in the Normandy Campaign: The Role of 83 Group," Canadian Military History 8,
No. 1 1999.
9.
Minutes of Control Meeting AORG 20 May 1943 NA WO 233/22 cited in Montgomery's Scientists, 10.
10. Wooden man‑shaped targets were used by Solly Zuckerman in earlier tests of lethality, hence "Zuckermans." See his autobiography
From Apes to Warlords (London, 1988). AORG reports on artillery trials and much else are in NA WO 291. Copies of the major
reports and numerous abstracts are available in the Ronnie Shephard Archives, LCMSDS. Consult the online finding aid.
11. AORG Report 149, "The Effect of Artillery Fire in Op. Fortesque," Oct. 1943.
12. No. 2 ORS, Report No. 24 Reprinted in Montgomery's Scientists, 311–317.
13. AORG Report 322 April 1946 NA WO 291/298 (Ronnie Shephard Archives, LCMSDS).
14. Interviews, Terry Copp with Tony Sargeaunt 1990 and Omond Solandt 1991. Copp Papers, LCMSDS.
15. T.H. Place, Military Training in the British Army 1940–1944 (London, 2000), 141–142.
16. Montgomery's Scientists, 14–15. AORSG Reports are in the Ronnie Shephard Archives.
17. AORS6 Memorandum E8/9 Feb 1943, Ronnie Shephard Archives.
18. AORS6 Memorandum, No. 6 April 1943, Ronnie Shephard Archives.
19. Ibid., App A.
20. Ibid.
21. Interviews, Terry Copp with LGen (ret'd) W.A.B. Anderson, Brig (ret'd) George Pangman, Lord Swann, Copp Papers LCMSDS.
Officers identified as Canadians participated actively in conferences on tactical issues at the School of Infantry. See for example,
"Infantry Training Conference, Record of Discussions," 15 May 1944, NAC RG 24 Vol, 13, 241.
22. Terry Copp, The Brigade: The Fifth Canadian Infantry Brigade in WWII, (Stackpole, 2007).
23. B.F.J. Schonland, "Operational Research with 21st Army Group…," Schonland Papers, Imperial War Museum. See also Brian Austin,
Schonland: Scientist and Soldier, (IOP, 2001).
24. Fairlie's Reports, No. 2 ORS Report No. 1 and No. 2 are reproduced in Montgomery's Scientists, 377. Fairlie's report demonstrated the
efficiency of the Centaur's 95‑mm Howitzer in direct support, information of great interest to the Brigadier Staff Duties. Unfortunately, there were not enough Centaurs available to reinforce the squadrons, which were disbanded on D+14.
25. The report is reproduced in Montgomery's Scientists. See footnote at page 431.
26. Terry Copp (ed.), 1st Canadian Radar Battery 1944–45 (Waterloo, 2010).
27. The Reports are reproduced in Montgomery's Scientists, 395–406. Letter, Tony Sargeaunt to Terry Copp, 22 June 1990, cited in
Copp, Fields of Fire, 300.
28. L.F. Ellis, Victory in the West Vol I (London, 1962), 421.
29. Copp, Montgomery's Scientists, 70–119.
30. Ibid., 99.
31. Ibid., 139.
32. Ibid., 153.
33. Ibid., 24.
34. R.F. Delderfield, "Confidential Report on the Recent Bombing of Le Havre," NA Air 20/5040, cited in Copp, Cinderella Army, 347.
Swann interview, Notes, Copp Papers.
35. Montgomery's Scientists, 112–114.
36. Ibid., 114–117.
37. Ibid., 311–321.
38. No. 2 ORS/2 TAF ORS Joint Report, "Note on the Accuracy the MRCP," Reprinted in Montgomery's Scientists, 273–4.
39. Montgomery's Scientists, 359–371.
40. Cinderella Army, 196.
WWW.ARMY.FORCES.GC.CA/CAJ
99
CHINA'S WARS:
Rousing the Dragon, 1894–1949
BIBLIOGRAPHICAL INFORMATION:
JOWETT, Philip. Oxford: Osprey Publishing, 2013, hardcover, 408 pages,
US$40.00, ISBN 9781782004073
Reviewed by Major Andrew B. Godefroy, CD, PhD
China's traditional imperial system of control broke
down at the end of the nineteenth century in the face
of a series of rebellions that would eventually lead to a
near-permanent state of civil war. As a new generation
of independent-minded warlords fought one another
for control of the fledging post-imperial state, the
constant internal conflict left China vulnerable to
foreign intervention and exploitation, most notably by
the Empire of Japan.
Added to this mix of competing military interests was the eventual rise of two distinct revolutionary movements, the Kuomintang led by Chiang Kai-shek and the Chinese Communist Party led by Mao Tse-tung,
which would fight first the invading Japanese and later each other for final control of the new Chinese nation.
China's tumultuous 20th-century military history has been tackled by many western authors over the years,
and Philip Jowett may certainly be counted among the best authorities on the subject. Jowett is the author of
several previous books examining China's warlords, its armies and its early-20th-century civil wars, and this
latest volume from Osprey Publishing is a wider survey of Chinese military evolution from the late 19th century
to the creation of communist China in 1949.
At just over 400 pages, Jowett's book is a comprehensive overview of the tangled web of military politics and confrontation
that engulfed China for nearly six decades. Beginning with
the Sino-Japanese War of 1894–1895, the reader is able to
methodically trace evolutions in military command and control, tactics, technology and logistics as the various Chinese
armies undergo rapid and far-reaching modernization in the
Source: Wikipedia
face of immediate and continuous threats. The chapter examining the height of the warlord period (1920–1928) is particularly
fascinating. In it, Jowett offers one indication of the size and NRA soldiers firing artillery on Communist forces.
scope of the period's conflict: between 1916 and 1928 the total number of warlords fighting for control in China
was estimated at between 1,300 and 2,000 distinct leaders, who, with 1.6 million to 2 million men under arms,
fought in a staggering 500 separate conflicts including five or six major wars.
Even the Second World War and a common enemy could not end China's internal conflicts. Japan's ultimate
defeat in August 1945 only served to reignite the civil war between China's nationalists and communists, a bitter struggle of attrition that lasted another four years. The nationalist forces were irrevocably weakened after
suffering a string of military defeats in 1949, forcing Chiang Kai-shek and what remained of his nationalist
movement to retreat to the relative security of Taiwan. Mao planned to invade Taiwan the following year, but
those plans were sidelined with the outbreak of the Korean War in 1950 and the arrival of U.S. and Commonwealth forces in support of the South Korean government. Mao's support for the north effectively put him at
war with the western powers.
100
THE CANADIAN ARMY JOURNAL VOLUME 15.2 2013
BOOK REVIEWS
Source: Wikipedia
Situation in China in 1929: After the Northern Expedition, the KMT had direct control over China's central east, while the rest
of China proper and Manchuria were under the control of warlords loyal to the Nationalist government.
The war between the communists and the
nationalists never returned to the level of
intensity it had reached in the late 1940s,
but both sides continued to harass one
another throughout the 1950s. Eventually,
artillery shells and bullets were replaced
by a war of words as both Chinas settled
into their new existence. Though neither
side openly accepted the status quo, both
privately had to admit that neither had any
prospect of ever unifying China.
Jowett masterfully captures this great story,
and he is certainly to be commended for
his efforts. The book is beautifully illustrated and includes many rare and previously unseen photographs, in addition to
detailed maps, breakout boxes and a full
index. China's Wars is a worthy addition to
any military history library, and it is highly
recommended to anyone with an interest in
the period, region or subject.
WWW.ARMY.FORCES.GC.CA/CAJ
Source: Wikipedia
Future Chinese President Chiang Kai-shek (right) pays a visit to his
Japanese friends, right-wing political leader Mitsuru Toyama (far left)
and future Prime Minister Tsuyoshi Inukai.
101
ONE DAY IN AUGUST:
The Untold Story Behind Canada's Tragedy
at Dieppe
BIBLIOGRAPHICAL INFORMATION:
O'KEEFE, David Toronto: Alfred A. Knopf 2013, hardcover, p. 471,
$35.00, ISBN 978-0-345-80769-4
Reviewed by Major Thomas K. Fitzgerald, MA, LL.B
There is something in the nature of the soldier that
makes him prepared and willing to die on the battlefield
as long as he knows the reason for his sacrifice.
Whether it is to protect his mates or secure a lonely
crossroad or a hill, a soldier, sailor or airman will
lay down his life if he knows something tangible will
be achieved.
Abstract notions like ending a war sooner, determining the feasibility of a certain operation or strengthening
the resolve of allies and partners likely ring hollow with him. It is, perhaps, for this reason, that more than
seventy years after Dieppe, Canadians are still struggling to find the "real" reason for the debacle. Why were more
than three thousand soldiers––including nine hundred and seven brave Canadians––sacrificed for no discernible purpose? There must have been some practical reason that would justify this apparently useless slaughter?
Several reasons have been advanced in the historiography of the raid to justify it. It was an operation designed
to appease Stalin in his desire for a second front. The capture of Dieppe would determine whether a
fortified port could be captured in a coup de
main. The raid would satisfy Churchill's
desire to "set Europe ablaze" with his plan of
frequent coastal raiding. A large scale operation would demonstrate to the United
States, which had just entered the war,
British resolve to continue the fight. A successful raid would strengthen Lord Mountbatten's vainglorious attempts to demonstrate that his command, Combined
Operations, was an organization on par with
the other three services. These reasons have
now been swept away by historian, documentarian and academic David O'Keefe
who, in his first book, One Day in August,
writes that the main purpose, or "driver," as
Source: Wikipedia
he describes it, of the raid was as a cover for
Canadian prisoners of war being led through Dieppe by German soldiers.
a "pinch operation" to secure one of the new
four wheel German Enigma machines.
The Enigma machine was a complex electromechanical rotor cipher device used to encrypt German
communications. The Enigma was used by the German Kreigsmarine (each service had its own version of the
Enigma) to communicate with its U-boats and surface fleet. By mid-1942, the previous success of the "boffins"
of the National Intelligence Division (NID) working at Bletchley Park in intercepting and decoding German
communication had been undone because the German navy had begun to equip its submarines with new
102
THE CANADIAN ARMY JOURNAL VOLUME 15.2 2013
BOOK REVIEWS
Source: Wikipedia
Dieppe's chert beach and cliff immediately following the raid on 19 August 1942. A Dingo scout car has been abandoned.
four rotor Enigma machines. If the German submarine fleet was not to enjoy another "happy time" and the
German surface fleet prevented from breaking out into the Channel or the Atlantic, the threat of this new
Enigma had to be neutralized. But it had to be accomplished in such a way that the German naval command
would not suspect that its codes had been compromised. Dieppe was chosen because its port harboured many
of the vessels and a German naval headquarters thought to possess the Enigma and accompanying materials.
The Canadians of the 2nd Infantry Division (2 CID) were selected because Mountbatten's first choice, the Royal
Marines, were not considered suitable.
The author has relied upon previously published secondary sources, augmented by recently declassified
reports and diaries and unpublished memoirs of some of the participants, to weave a plausible story about the
"truth" behind the Dieppe raid. There is, however, no smoking gun that can finally lay this controversy to rest.
One Day in August asks more questions than it answers: If JUBILEE was a cover for a pinch operation, why was
it necessary to plan flanking actions at Puys and Pourville when the main effort was in the centre to secure the
ENIGMA? Why was JUBILEE, and RUTTER before it, originally planned as a "two-tide" operation if, again,
the intent was to "butcher and break"? Why were the Canadians not brought into the true intent behind the
raid? Why was the inexperienced 2 CID selected for such an important operation? The author relies on some
snippets of information and his interpretation of some ambiguous comments by the principal parties, such as
Mountbatten who said, "We are still trying to find out things." He speculates about the "real" activities of some
of the raiders. For example, why was Captain (Navy) Robert "Red" Ryder VC, of the Cut Away Force, tasked
with what the author describes as a "publicity stunt"? Why was Commander Ian Fleming of NID present on
H.M.S. Fernie? Why was Fleming's brainchild, 10 Platoon of the Intelligence Assault Unit (IAU), present on
H.M.S. Locust? This reviewer remains unconvinced. It may be that the "pinch operation" was piggy backed onto
JUBILEE, but to say that it was the genesis of the idea of the Dieppe raid stretches the available information
almost to the breaking point.
One Day in August contributes to our understanding of the Dieppe raid. It is a valuable addition to the
growing literature of that deadly August morning. It provides another explanation for why the raid was
mounted, cancelled "for all times," and then remounted again. However conclusive the reasons(s) behind the
raid, it will not diminish the honourable sacrifice, bravery and valour of those Canadian soldiers, sailors and
airmen who gave their lives. The final story has yet to be told, if indeed it ever is.
WWW.ARMY.FORCES.GC.CA/CAJ
103
THE GUNS AT LAST LIGHT:
The War in Western Europe, 1944–1945
BIBLIOGRAPHICAL INFORMATION:
ATKINSON, Rick, New York: Henry Holt and Company, 2013, hardcover,
877 pages, $40.00, ISBN 978-0-8050-6290-8
Reviewed by Major Thomas K. Fitzgerald, MA, LL.B
"You will enter the continent of Europe and,
in conjunction with the other united nations,
undertake operations aimed at the heart of
Germany and the destruction of her armed forces."
That directive, issued by Supreme Commander
General Dwight David Eisenhower to the soldiers,
sailors and airmen of the Allied forces, is how
Rick Atkinson's brilliant and well written The Guns at Last Light: The War in Western
Europe, 1944–1945, the last instalment of his Liberation Trilogy, commences.
This reviewer has often written that a book under review is the
"best" recounting of World War II or that the author has written
a "superb" history of the war. I do not resile from those comments. The Guns at Last Light, however, rises above some of these
earlier efforts. It is not only a superb narrative history of the
European campaign but is elegantly lyrical in its wording and
sentence cadence, befitting Atkinson's experience as a graduate
student in English literature, Pulitzer Award-winning journalist
and former "base brat." With The Guns at Last Light,
Atkinson buttresses his position as the pre‑eminent American
military historian.
Atkinson's first volume, An Army at Dawn (2002), detailed the
coming of age of the United States Army in North Africa and its
growing confidence in battling a tough and determined enemy.
Source: Wikipedia
He followed with his critically acclaimed Day of Battle (2007),
which described the gruelling Sicilian and Italian campaigns. World War II Allied advance through the Siegfried line.
In both those volumes, Atkinson developed the themes and
the characters which follow and are built upon in The Guns at Last Light. This final volume recounts events
surrounding the invasion of Normandy to the surrender at Rheims 11 months later.
Atkinson is a master of his materials. While using classic secondary sources to provide the backdrop of the
European campaign, The Guns at Last Light emphasises contemporaneous accounts expressed in diaries, letters, unpublished manuscripts and unit reports to provide the intimate details of the conflict. His narrative is
rich in detail sourced by over 150 pages of endnotes. It is not detail to overawe the reader. He sets out details
to humanize his characters or their situation. By the time of D‑Day, Eisenhower was smoking four packages of
cigarettes a day. Lieutenant Karl Timmerman, the first American to cross the Ludendorff Bridge at Remagen
on 7 March 1945, was born in Heidelberg before his family immigrated to America. The rope used to hang
Private Eddie Slovik was of a particular type and thickness.
Atkinson also uses detail to demonstrate the truly, almost incomprehensible efforts needed to defeat Nazi
Germany: 4 million gallons of gas a day to fuel the Allied armies, 160,000 tons of chemical munitions for
104
THE CANADIAN ARMY JOURNAL VOLUME 15.2 2013
BOOK REVIEWS
potential use by the Allies, 200,000 aerial
photographs taken of the Siegfried Line
and finally, tragically, 270,000 identifiable American dead repatriated at a cost
of $564.50 per body and brought home
aboard 21 fully loaded "ghost" ships. They
left behind 61,000 of their comrades in
Belgian cemeteries.
Source: Wikipedia
The Guns at Last Light may be disappointing to Canadian, British, French and
Polish readers. It focuses on the American
war effort, but that emphasis is not tantamount to a complete acceptance of American tactics or of Allied leadership.
General Bradley's poor leadership of the
12 Army Group is provided as the reason
why the Germans escaped the Falaise Gap. Pursuit to the West Wall, 26 August–14 September 1944.
Montgomery made a "hash" of his
attempts to close the Gap and prevaricated about its closing to General Alan Brooke. His failure to secure the
approaches, the Scheldt, to Antwerp was "incomprehensible." General Courtney Hodges, commander of the
U.S. First Army, the largest of the American armies, is characterized as the "wrong general" for such a
formation. The chief of American logistics, General Lieutenant General J.H.C. ("Jesus Christ Himself ") Lee,
through his parsimonious and inept supply practices, probably extended the European campaign by months.
The "fault," as Air Marshal Leigh Mallory wrote, "with us is, basically, generalship."
Atkinson develops the major themes started in his first two volumes: the bravery of the Allied soldier
during the randomness and nonsensicality of war. That is not to say that Atkinson needlessly lionizes the
Allied soldier. He writes of the 18,000 American and 10,000 British deserters roaming Western Europe by
December 1945. The "virulent and ingenious" black market saw everything from gasoline, boots, cigarettes and
horse meat sold and entire supply trains stolen, largely by those deserters. He describes the 11,000 General and
126,000 Summary Trials held, again, against many of those same deserters and black marketers, leading one
liberated Frenchman to complain that "the liberators have turned into looters, rapists and killers." While not
as prevalent as the Eastern front, atrocities and indiscipline abounded on the Western Front, perpetrated by
both sides. When members of the 12 SS Hitlerjugend Division massacred Canadians at the Abbaye d'Ardenne,
the British responded in kind with the order "NPT (No Prisoners Taken) below the rank of major." Patton and
Bradley issued orders that SS snipers were not to be taken prisoners. The massacre of 80 American PWs at
Malmedy by members of the 1 SS Regiment on 17 December 1944 during the Ardennes offensive led to formal
orders among some American regiments not to take any German prisoner regardless of rank or unit.
Atkinson asserts that the war was lengthened due to the "dissonance and puerile backbiting" of the Allied
High Command. The chief culprit, he writes, was Montgomery with his persistent demand for acceptance
of his "narrow front" strategy. Montgomery is not alone in his idiosyncratic behaviour that strained the
Allied effort. Atkinson criticizes Bradley for his childish threat to resign during the Battle of the Bulge when
Eisenhower prudently switched command of the U.S. First and Ninth Armies to Montgomery. The vainglorious
Charles De Gaulle, who proved to be a thorn in Eisenhower's side with his incessant demand for priority in
supplies and strategic oversight, is also revealed. Even Winston Churchill is criticized for his inability to see the
strategic wisdom of Operation DRAGOON, the invasion of southern France, and the strategic inadvisability
of his Balkan adventure to the Allied cause.
The eloquence of The Guns at Last Light ends as it begins with a message from General Eisenhower. It was
sent, this time, to the Combined Chiefs: "The mission of this Allied force was fulfilled at 0241, local time,
May 7, 1945. Eisenhower." A monumental book to a monumental achievement!
WWW.ARMY.FORCES.GC.CA/CAJ
105
HITLER'S FINAL FORTRESS:
Breslau 1945
BIBLIOGRAPHICAL INFORMATION:
HARGREAVES, Richard. London: Pen and Sword Publishing, 2012,
hardcover, 268 pages, $34.33, llustrations, 44 B/W, 11 maps,
ISBN: 978-1-84884-515-2
Reviewed by Captain Chris Buckham
Breslau has a long and storied history. Like many
European cities, it experienced ebbs and flows in
fortune. Following the First World War and the collapse
of the German Empire, Breslau was plunged into an
economic decline that left vast numbers of people
destitute and without hope.
The rise of the Nazis in the late 1920s/early 1930s brought a corresponding resurgence in Breslau's fortunes as
Germany's economy recovered. With recovery, however, came control by the Nazi regime and its infiltration
into all aspects of life in Breslau. The city's fortunes did not diminish with the onslaught of war, as its location
precluded it being bombed or damaged (gaining the region the unofficial moniker "Luftschutzkeller Deutschlands"—Germany's air-raid shelter).
Source: Wikipedia
Delegation of German officers walking to negotiations before the surrender of Festung Breslau, 6 May 1945.
106
THE CANADIAN ARMY JOURNAL VOLUME 15.2 2013
BOOK REVIEWS
All of this ended with sudden brutality in January 1945 when the massive Soviet armies under Marshall Konev
drove west, using all of the lessons of Blitzkrieg so painfully learned over the previous three and a half years.
By 13 February, Breslau had been declared a festung (fortress) by Hitler, had been bypassed by fast-moving
Source: Hitler's Final Fortress: Breslau 1945
"The roads of Adolf Hitler..."
The German dictator opens the
100th kilometre of the Autobahn
in Breslau, September 1936.
Ruined buildings in Breslau, 1945.
Soviet forces and was under siege. For
three months, despite constant bombardment and gradual but inevitable
constriction, Breslau held out, true to
Hitler's orders. The end was preordained, however, and on 6 May Breslau surrendered. The Russians, furious at the long siege, inflicted a
horrific, drunken revenge upon the
population. That, sadly, was not the
end of the suffering for the people of
Breslau: in a final tragedy, they were
evicted and the city and region were
given to Poland as part of the peace
treaty. Breslau, a city that had existed
since 1241, paid the ultimate price
and disappeared, to be reborn as the
Polish city of Wroclaw.
Source: Hitler's Final Fortress: Breslau 1945
Hargreaves blends a synopsis of the history of the region and the city with an outstanding rendition of the siege
and its aftermath. Drawing upon a plethora of first-hand published and unpublished sources, he
skilfully shifts between macro and micro views of the battlefield, adding depth, context and a personal element
to the narrative.
Hargreaves's writing style is very lucid and engaging. An expansive bibliography and extensive footnotes are
included, in addition to a number of small-scale maps at the beginning that enable the reader to follow the
advance of the Soviet forces into the city. However, I would have liked to see a larger-scale map showing the
relative positions of the German and Soviet forces before the commencement of the final drive into the heart
of Germany. Hargreaves's discussions of the tactics, motivations and weapons used by the combatants do an
excellent job of providing readers with insight into both the capabilities and the morale of the opposing forces.
The author draws attention to some little-known efforts by the Soviets involving "underwater bridges"—bridges
that were built below the surfaces of the rivers to hide them from the Germans. It would have been interesting
to footnote the origin of the idea for this effective and unconventional tactic.
Overall, this book is an enjoyable and educational success, and it should be included in any casual or serious
historian's library. Hargreaves sheds light upon an aspect of the war in the East that few of us in the West are
aware of. Even in the dying days of the war, when all was lost, the Germans continued to fight ferociously against
the Soviet juggernaut. The price the people of Breslau paid for that devotion was staggering. Hitler's Final Fortress
is well done and strongly recommended for students of the history of this conflict.
WWW.ARMY.FORCES.GC.CA/CAJ
107
ALL HELL LET LOOSE:
The World At War, 1939–1945
BIBLIOGRAPHICAL INFORMATION:
HASTINGS Max, London: Harper Press, 2011, $49.99, hardcover,
748 pages, ISBN 978-0-00-733809-2
Reviewed by Major Thomas K. Fitzgerald, MA, LL.B
Noted author and journalist, Max Hastings, in
his latest book, All Hell Let Loose, sets aside the
traditional historiography of the Second World War
with its sweeping examinations of military campaigns,
the advance and retreat of armies, generals and
grand strategy and focuses on the human tragedy
of war. All Hell Let Loose is the personal experiences of
eyewitnesses with whom Hastings "held conversations
with at some time over the past 35 years" set within a chronological approach to the
war as a whole.
Whether it is stories of Polish soldiers, English housewives, French poilu, American Marines or Indian
nationalists, Hastings is in his element painting the Second World War as truly a world war where few parts of
the world and societies therein escaped completely unaffected.
Hastings writes that this was the first war in history
where civilian casualties greatly outnumbered military
ones. In fact, Hastings writes that World War II was
essentially a war against civilians. This "civilian as combatant" conflict was demonstrated in a number of ways.
Civilians were targeted in the area bombing strategies
of the Allied and Axis countries. The Final Solution
against European Jewry and other exterminatory campaigns against diverse communities were perpetrated
by the Nazis exclusively against civilians. The siege of
Leningrad, where over a million Soviet inhabitants died
largely through starvation while many of their friends
and neighbours were reduced to cannibalism, saw civilians used as bargaining chips by Stalin to gain time for
his hard‑pressed armies. The Imperial Japanese Army
was particularly brutal towards the citizens of many of its
subject countries in its Greater East Asia Co‑Prosperity
Sphere. The sexual enslavement of Chinese, Korean and
Filipino "comfort women" remains a stark example of
war's inhumanity.
Source: Wikipedia
Distribution of food to people in Bengal during a famine
in 1943.
Atrocities, large and small, are enumerated with mind‑numbing frequency. Whether it is the Bengal Famine of
1942–1942 where British imperial indifference led to one to three million Indian citizens starving to death, or
Babi Yar where, over the course of a day, more than 33,000 Russian Jews were shot by members of Einsatzgruppen C, or the individual misconduct by Allied soldiers, particularly at war's end, Hastings is meticulous in his
108
THE CANADIAN ARMY JOURNAL VOLUME 15.2 2013
BOOK REVIEWS
research and masterful in his writing. It is not
surprising therefore that the title of the book
arises from a common sentiment used by
these witnesses to describe what
happened to them during the war, whether
they experienced an air raid, a massacre, a
ship's sinking or a battle.
Hastings continues the themes found in his
previous works. Why was the German Army
defeated when, compared to the British and
American soldiers, the military skill and
performance of the individual Landser was
far superior? Why was Britain, a democracy,
better organized, particularly among the scientific and technological communities, than
Germany to fight the war? Why did the Japanese Imperial Navy embark on a tactically
brilliant but strategically unsound attack on
Pearl Harbour when Japanese national interests lay to the southwest in the resource-rich
territories of the Dutch East Indies? Was the
ultimate defeat of the German Ostheer found
in its initial victories? Was the dissolution
of the British Empire found in Churchill's
attempts to save it?
Woven through these intriguing paradoxes
are a number of questions which Hastings
asks his readers to ponder. Did the aerial
Source: Wikipedia
attack on Britain in the summer and fall of
1940 do more to bind British society together
Babi Yar monument in Kiev.
with a determination to beat the Nazis than
if Hitler had not unleashed the Luftwaffe in the Battle of Britain? Why did Britain, supposedly the paragon of
liberty and freedom, treat its colonial peoples so poorly, including those in its military during the war? Would
the war have taken a distinctly different course if Germany and Japan had adopted a more mutually supportive
strategy than they did? Was the Battle of El Alamein less important to overall Allied victory in North Africa
than the ousting of pro‑Nazi and pro‑Vichy regimes in Iraq and Syria?
If there exists one lesson in All Hell Let Loose, it is that totalitarian governments are much better at fighting
and sustaining wars than democracies. Democracies, as Hastings writes, grow war weary. Public opinion and
patience in prosecuting the war decline after the initial rush of patriotic fervour. Hastings writes that the
Western Allies' method of fighting was "hampered by bourgeois sensitivity about casualties." Hitler and Stalin
were not so constrained. Hastings argues only that a warlord as "bereft of scruple or compassion" as Stalin
was could have defeated Hitler alone. In a comparison between the two men, Stalin proved to be the "more
superbly effective tyrant."
There are many superb one‑volume general histories of World War II. All Hell Let Loose takes its place in this
exclusive group. It will be the standard by which all future histories of World War II will be judged. For both
the general reader of military history and the graduate student, this book is highly recommended.
WWW.ARMY.FORCES.GC.CA/CAJ
109
US CIVIL–MILITARY RELATIONS
AFTER 9/11:
Renegotiating the Civil–Military Bargain
BIBLIOGRAPHICAL INFORMATION:
OWENS, Mackubin Thomas, New York: Continuum Press, 2011,
paperback 205 pages, $29.95, ISBN 978-1-4411-6083-6
Reviewed by Major Thomas K. Fitzgerald, MA, LL.B
The proper relationship between the military and the
civilian society it seeks to protect is an issue which has
been debated for centuries. It is accepted that there
exist "two hands on the sword," one to determine when
the sword is to be withdrawn from its scabbard and
used, the other to keep it sharp and to wield it when
directed. The "normal theory" of civil–military relations allows for the civil government to
set strategy while leaving the operational and tactical decisions to the military, on the
basis that a professional military is best suited for such efforts.1
This is not to say that governmental subordination in matters of operations and tactics is complete. Many
democratic wartime leaders have taken to cajoling, hectoring, interfering with and outright overruling the
military in its decisions on purely operational matters.2
In recent years, civil–military relations in the United States have been described in the media and academic
studies as "broken" or "dysfunctional." The resistance of the US Army to "constabulary" operations in Kosovo
and the so-called "revolt of the generals" in the spring of 2006 over the "surge" in Iraq are presented as examples
of institutional acts of insubordination. These overt acts of intransigence were in addition to the usual "log
rolling," foot dragging and media leaks by military senior commanders when the Executive made decisions
that the military leaders did not support.
This is what makes Mackubin Thomas Owens's US Civil–Military Relations After 9/11: Renegotiating the Civil–
Military Bargain such a fascinating and instructive read. Owens, a highly decorated and now retired USMC
colonel, is an American historian and national security advisor. He is a professor at the Naval War College and
a contributing editor to Orbis. This is his first book.
Owens concludes that the US civil–military relationship is not broken or dysfunctional but evolving. Both
sides of the dialogue must regain the trust of the other. On the one hand, the Executive must realize that the
military is in the best position to determine how to fight a war; on the other, the military must appreciate that
politics infuse the conduct of war and that civilians must have a say, concerning not only the goals of the war
but also how the war is conducted. Additionally, if the civil authority wants an effective military to implement
its policy, it must allow the military a significant voice in the design, training, equipping and deployment of
that military. Overall, Owens theorizes that both sides must present their views openly, frankly and forcefully
without fear of recrimination.3 This is key to a healthy relationship.
US Civil–Military Relations After 9/11 is not for general readers, as Owens refers to events, personalities and
sources which may be unknown to many of them. The book is divided into five pithy chapters. The first deals
with the orthodox theory of civil–military relations and competing theories thereof. The author writes that
while each theory explains aspects of the relationship, it does not provide a comprehensive explanation for it.
The second chapter traces the history of American civil–military relations and recent political developments
110
THE CANADIAN ARMY JOURNAL VOLUME 15.2 2013
BOOK REVIEWS
which, in the author's opinion, have skewered this relationship. Owens points to the Goldwater–Nichols Department of Defence Reorganization Act of 1986 and the subsequent Defence Authorization Act the following year,
which created nine (later eleven) Combatant Commands (CCs), as the chief culprit. The Goldwater–Nichols
Act created American "pro-counsels" in these various commands and militarized American foreign policy. The
third chapter laments the military's failure to develop strategic thinkers. Discussing the American failure to
recognize that the war in Iraq had evolved into an insurgency, Owens argues that the confluence of the marginalization of the Joint Chiefs of Staff in favour of the CCs, the failure of the American military to engage in
planning post-operation efforts and the organizational cultures of the respective services contributed to what
Colin Gray describes as a "black hole where strategy ought to reside." In the fourth chapter, "Who Serves,"
Owens writes of the movement away from the traditional "citizen soldier" to the career soldier. He traces the
Source: Wikipedia
U.S. President Barack Obama and
General David Petraeus, Commander of
International Security Assistance Forces and
NATO Troops in Afghanistan, meet at the NATO
Summit in Lisbon, Portugal, 20 November 2010.
Source: Wikipedia
President Barack Obama lays a wreath at the Tomb of the Unknown
Soldier on Memorial Day.
history of social engineering within the military from President Truman's Executive Order Number 9981, which
racially integrated the US military, to women in forward combat positions, to open homosexuals in the military
and to religious diversity. Owens argues that the issue of who serves will continue to be a dominant feature of
the civil–military negotiation in the post-modern world and is the source of the greatest "friction" in those
relations. In the last chapter, Owens discusses the future of the civil–military bargain in an ever-changing world.
He argues that in the era of insurgency, terrorism, post-conflict stabilization operations, failed states and nation
building, the soldier as a "manager of violence" is a thing of the past, to be replaced by the "national security
operator." That evolution will require the complete warrior to possess skills not traditionally associated with
the conduct of war. It will also put a premium on the professional military education (PME) of the soldier,
which in turn will promote vital civil–military relations.
US Civil–Military Relations After 9/11 is a timely and necessary read for anyone interested in the evolution of civil–
military relations. Notwithstanding its American context, it speaks to such relations in any democratic country. The
Canadian Armed Forces enjoys an exemplary reputation among Canadian civilians. Consideration by our leaders,
both government and military, of many of Owens's comments will only burnish that richly deserved reputation.
ENDNOTES
1.
Samuel P. Huntington, The Soldier and the State: The Theory and Politics of Civil Military Relations (New York: Vintage Books, 1957).
2.
Eliot Cohen, Supreme Command: Soldiers, Statesmen and Leadership in Wartime (New York: Anchor Books, 2002). Cohen
details how Abraham Lincoln, Georges Clemenceau, Winston Churchill and David Ben-Gurion were in the forefront of their
respective countries' military decision making, much to the chagrin of their senior commanders. To this list could be added
Franklin Delano Roosevelt. Sadly, the Canadian experience has not demonstrated such robustness of ministerial leadership:
Tim Cook, Warlords: Borden, Mackenzie King and Canada's World Wars (Toronto: Allan Lane Publications, 2012).
3.
H.R. McMaster, Dereliction of Duty: Lyndon Johnson, Robert McNamara, the Joint Chiefs of Staff and the Lies that Led to Vietnam
(New York: Collins, 1997). McMaster asserts that the failure of US forces in Vietnam resulted both from the Executive's failure to
press its military on the feasibility of its "search and destroy" strategy and from the military's inability to question President Johnson's
strategy of "gradualism" as expressed in the eight-week 1967 Rolling Thunder operation.
WWW.ARMY.FORCES.GC.CA/CAJ
111
The Canadian Army Journal
Have an Opinion?... Something You Want to Say?...
Or Maybe a Better Way of Doing Things?...
Put your thoughts on paper and write for us. The Canadian Army Journal is a serious
periodical for soldiers who want to make a difference. We welcome articles, research
notes, opinions, book reviews and points of interest.
Look inside the cover for submission guidelines, or come visit us on line at
www.army.forces.gc.ca/caj.
Canada's Professional Journal On Army Issues.