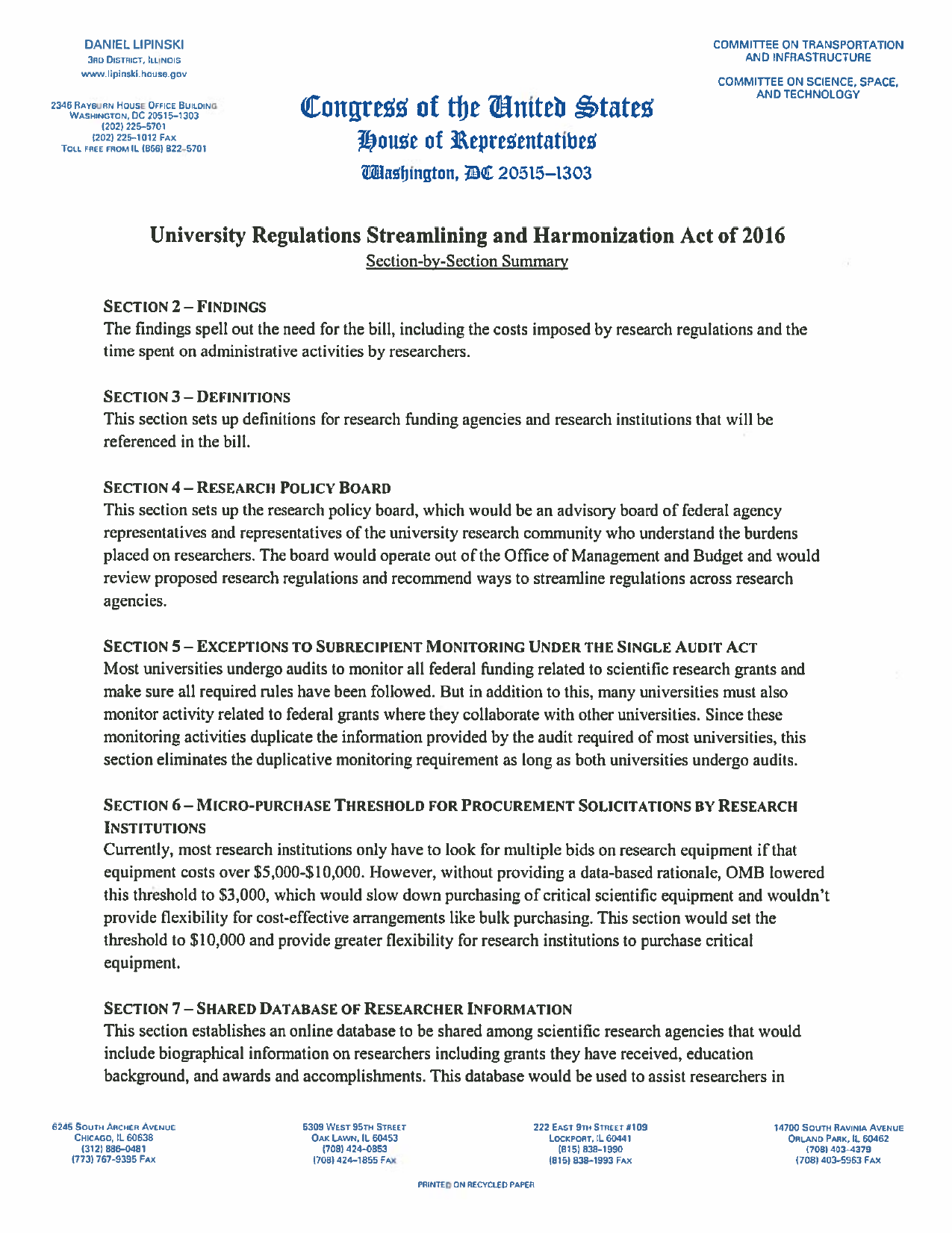 DANIEL LIPINSKI COMMITTEE ON TRANSPORTATION
Ir DISTRICT, ILLINOIS AND INFRASTRUCTURE
www.lipinski.houss.gov
NTE Congress of the United States
(202) 225-5701
Tow préc now IL (B66) 822-5701 House of Repregentatib es
lashington, HC 20515-1303
COMMITTEE ON SCIENCE, SPACE,
AND TECHNOLOGY
University Regulations Streamlining and Harmonization Act of 2016
Section-by-Section Summary
SECTION 2 — FINDINGS
The findings spell out the need for the bill, including the costs imposed by research regulations and the
time spent on administrative activities by researchers.
SECTION 3 — DEFINITIONS
This section sets up definitions for research funding agencies and research institutions that will be
referenced in the bill.
SECTION 4 — RESEARCH POLICY BOARD
This section sets up the research policy board, which would be an advisory board of federal agency
representatives and representatives of the university research community who understand the burdens
placed on researchers. The board would operate out of the Office of Management and Budget and would
review proposed research regulations and recommend ways to streamline regulations across research
agencies.
SECTION 5 — EXCEPTIONS TO SUBRECIPIENT MONITORING UNDER THE SINGLE AUDIT ACT
Most universities undergo audits to monitor all federal funding related to scientific research grants and
make sure all required rules have been followed. But in addition to this, many universities must also
monitor activity related to federal grants where they collaborate with other universities. Since these
monitoring activities duplicate the information provided by the audit required of most universities, this
section eliminates the duplicative monitoring requirement as long as both universities undergo audits.
SECTION 6 — MICRO-PURCHASE THRESHOLD FOR PROCUREMENT SOLICITATIONS BY RESEARCH
INSTITUTIONS
Currently, most research institutions only have to look for multiple bids on research equipment if that
equipment costs over $5,000-$10,000. However, without providing a data-based rationale, OMB lowered
this threshold to $3,000, which would slow down purchasing of critical scientific equipment and wouldn't
provide flexibility for cost-effective arrangements like bulk purchasing. This section would set the
threshold to $10,000 and provide greater flexibility for research institutions to purchase critical
equipment.
SECTION 7 — SHARED DATABASE OF RESEARCHER INFORMATION
This section establishes an online database to be shared among scientific research agencies that would
include biographical information on researchers including grants they have received, education
background, and awards and accomplishments. This database would be used to assist researchers in
6245 SOUTH ARCHER AVENUE 5309 WEST 95TH STREET 222 East 91 STREET #109 14700 SOUTH RAVINIA AVENUE
CHICAGO, IL 60638 Jak Lawn, IL 60453 LOCKPOAT, [L 60441 QALAND PARK, IL. 60462
(312) 886-0481 1708) 424-0853 (815) 838-1990 (708) 403-4379
(773) 767-9395 Fax (708) 424-1855 Fax (815) 838-1993 Fax (708) 403-5963 Fax
PRINTED ON RECYCLED PAPER
applying for federal research grants. Research agencies would be required to use the least burdensome
format possible when developing the database.
SECTION 8 —- MODIFICATION OF DUTIES OF INSPECTORS GENERAL AT RESEARCH AGENCIES
This section would assist policy makers in ensuring that audits and findings required by Inspectors
General are based on the best available data. It would require that costs of audits be included in IG reports
to Congress, and it would improve the ability of the IGs to make necessary policy changes at agencies by
requiring those agencies to report why they have not made requested changes each year.
SECTION 9 — REVIEW OF PAPERWORK REDUCTION ACT ESTIMATES
The Paperwork Reduction Act requires that agencies estimate the burden hours that are required to fill out
application forms and things of that nature. In practice, the estimates of burden hours can vary wildly on
very similar forms. This section would require these estimates of burden to be more data-driven by
requiring OMB to review burden estimates and requiring research agencies to redo them if inconsistent.
SECTION 10 — PUBLIC ACCESS WORKING GROUP DUTIES
This section adds a requirement to an existing working group at the White House Office of Science and
Technology Policy that would make them look at ways improve coordination between agencies of open
access policies that give the public access to scientific research papers and results.

* Your assessment is very important for improving the work of artificial intelligence, which forms the content of this project