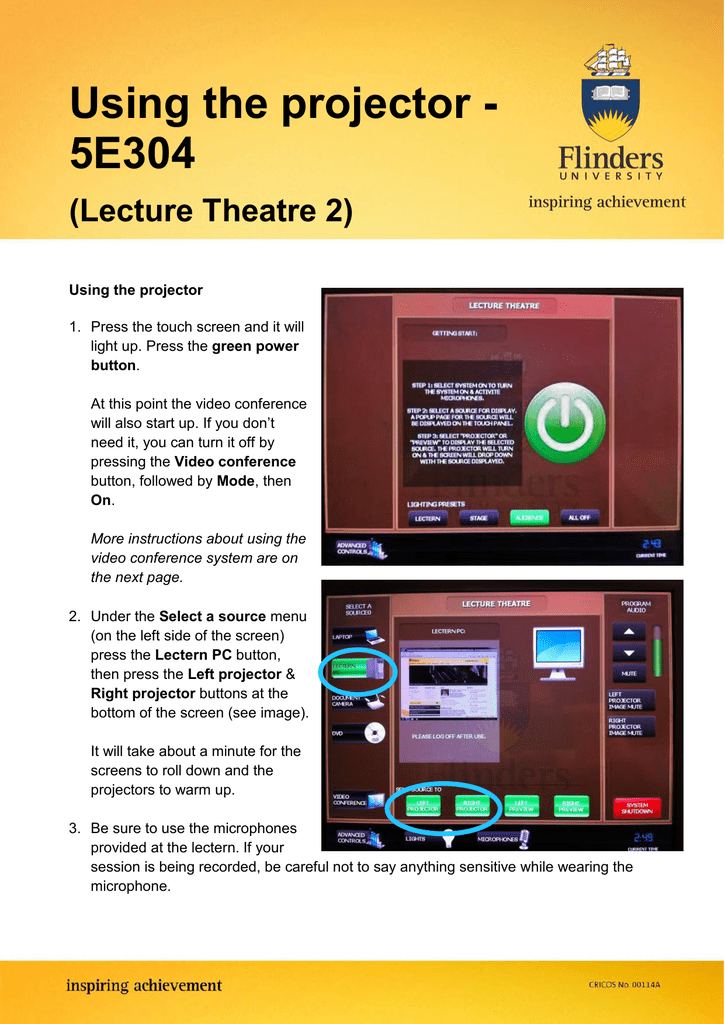 Using the projector 5E304
(Lecture Theatre 2)
Using the projector
1. Press the touch screen and it will
light up. Press the green power
button.
At this point the video conference
will also start up. If you don't
need it, you can turn it off by
pressing the Video conference
button, followed by Mode, then
On.
More instructions about using the
video conference system are on
the next page.
2. Under the Select a source menu
(on the left side of the screen)
press the Lectern PC button,
then press the Left projector &
Right projector buttons at the
bottom of the screen (see image).
It will take about a minute for the
screens to roll down and the
projectors to warm up.
3. Be sure to use the microphones
provided at the lectern. If your
session is being recorded, be careful not to say anything sensitive while wearing the
microphone.
4. To turn the projector off, press the System shutdown button in the bottom right corner
of the screen. A new window will pop up asking if you are sure; press the System
shutdown button again.
5. Remove the microphone and leave it on the lectern.
Using the video conferencing system
1. After you have turned the system on, press the Standby button. After a few seconds,
you will have access to the video conference functions.
2. To send 'content' to your video conference, press the Send source to VC button. Then
chose the content. A list of the types content can be seen in the picture below.
3. To end your video conference, press the Mode button, followed by the On button.
4. When finished, shut down the projector as normal (steps 4-5 above).

* Your assessment is very important for improving the work of artificial intelligence, which forms the content of this project