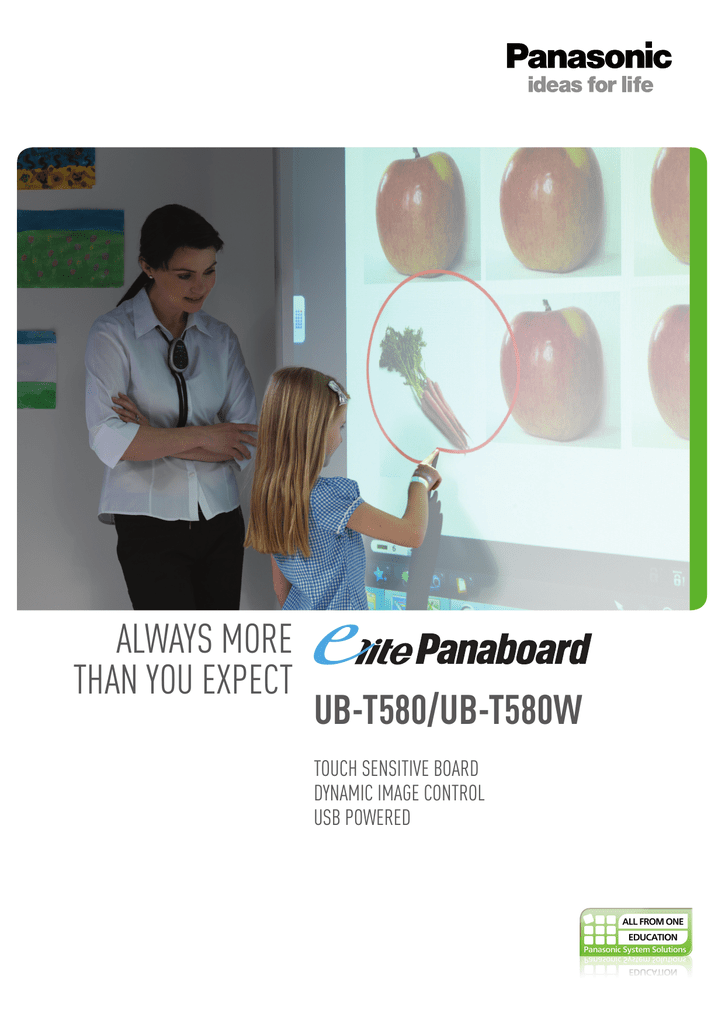 alwaYS More
tHan You eXPect
UB-T580/UB-T580W
toucH SenSitiVe board
dYnaMic iMage control
uSb Powered
create a new tYPe of leSSon
WITH THE UB-T580/UB-T580W
ELITE PANABOARD
the elite Panaboard is an advanced educational tool that helps you grab
students' attention. it makes it easy to create effective, eye-catching teaching
materials and promotes active, visual-based teaching and learning that make the
classroom fun for both teacher and students. by connecting a Pc with internet
access and a projector, you can incorporate live web content into your lesson,
and even manipulate and save PC files on the board. Panasonic's elite Panaboard
helps classroom interactivity make the grade.
oPerate witH a finger
OR THE STYLUS PEN
uSb Powered
EASY-TO-WIRE
All board operations can be performed with the touch of a finger, and your
finger's movement is relayed directly to the board surface for smooth,
comfortable operation. or you can use the stylus pen for writing characters
for instance. the stylus pen works without batteries.
Power is supplied by a uSb cable from the Pc, so there's no need to connect a
power cord from the elite Panaboard to a wall outlet.
the stylus pen is included
with ub-t580/ ub-t580w
dual oPeration
DYNAMIC IMAGE CONTROL
Multifunctional electronic Pen (oPtional)
STREAMLINE YOUR LESSONS
Images can be easily moved, scaled and rotated with your fingers.
You can use the electronic Pen to switch between four marker colours and the
eraser tool, and do things like remotely turn PowerPoint® pages. this helps
to keep the students' attention because you don't need to stop the flow of
the lesson.
Move
Zoom in / Zoom out*
Status led
remote control button x 2
(up/down button)
*when using windows 7 and applications that support Multi touch.
Menu button
inK note
EASILY SAVE INFORMATION WRITTEN
ON THE BOARD
You can insert images and text into Microsoft® word, excel®,
or PowerPoint® using elite Panaboard Software.
data
Penpoint
Selector dial
- 4-colour marker
- 3-colour highlighter
- eraser
- Mouse
- low Power mode
eaSiteacH Software
Software for creating claSS MaterialS
elite Panaboard comes with a complete tool for creating and editing
teaching materials.
MotiVational
easiteach enables users to create personalised lessons and resources from
scratch as well as access a wide range of curriculum-relevant content that can
be used or adapted to suit your own needs.
engaging
both teachers and students can use easiteach to create multi-modal activities
that can include animation, video, sound, text, numbers and hyperlinks all on
one page.
Practical
the product's easily accessible toolbars and widgets allow you to work quickly
in creating whole-class teaching activities to fit with your learning objectives.
Common File Format (CFF) files can then be imported and opened, edited and
saved across many different whiteboard applications so that content can be
exchanged between establishments.
Media bank
register Sound & Video
useful widgets bank
KeY featureS:
• Multi-language and multi-device
• Media bank with over 4,800 resources including over 70 videos
• Text-to-speech capabilities
• Handwriting and shape recognition
• Widget bank with more than 30 widgets
• Easily-accessible toolbars
• Language tools e.g. close tool, remove punctuation and word wallet
• A range of content that comes as standard including templates, lesson aids
and activities
• Activities can be saved as jpegs, pdfs or Common File Format (.iwb files)
for more information visit www.easiteach.com
Minimum System Requirements:
oS Standalone computers using windows XP SP3 (32 bit), windows Vista (32 or
64 bit) or windows 7 (32 or 64 bit), Processor 1.8gHz+, Memory 512Mb, Storage
100Mb, graphics card 64Mb, Screen 1024x768
Prerequisites: Microsoft .net framework 3.5 SP1, flash Player v10 for noninternet explorer browsers, windows Media Player 11 or above
intuitive tool bars
SYSteM
diMenSionS
PC
Projector
ub-t580w
ub-t580
a
1,915 MM
1,637 MM
b
1,860 MM
1,582 MM
c
2,175 MM (86-incH)
10 : 16
2,113 MM (83-incH)
9 : 16
1,958 MM (77-incH)
3:4
UB-T580W / UB-T580
the ub-t580w / ub-t580 does not include a Pc or a projector.
oPtionS
Plain Stand (KX-b061-a)
* this stand cannot accept a projector arm.
electronic Pen (ue-608020)
coMPlete PanaSonic education SolutionS
PacKage includeS:
Height adjustable Stand
interactive tablets
Voting Systems
Sound Systems
compatible with most of today's (ultra) short
throw projectors.to be installed on the wall or
on a mobile stand. additional writing space:
optional, dual-sided magnetic whiteboard
writing surfaces.
for students to enter/modify data without
coming to the front of the class.
encourage student participation, while
benefitting from an instantaneous evaluation.
Provides crystal-clear audio from anywhere in
the classroom.
elite Panaboard Software
Panaboard has a wide range of tools, ranging from basic pens and erasers to
special-effect functions, that make class more exciting and enjoyable.
Function Menu
In addition to drawing tools, Panaboard has a variety of special-effect functions
that attract students' attention, as well as recording functions.
Write or Draw More Information
Multi-page White Background
The software includes a total of ten white backgrounds. When you want to move on
to another subject during the class, you can just start writing the new information on
another white background, without having to erase the previous information.
Up to 10 Pages
Diverse Applications
Screen Shade
The sliding shade can conceal a part of the screen or the entire display. One typical
use is to cover up the answer or explanation while students try to answer a question or
solve a problem.
Saving Lessons as Motion Images
Recorder
With this function, you can record the entire screen or any part of it that you designate.
It is convenient for recording lessons for later review. If you connect a microphone to
the PC, you can also record voices simultaneously.
Other Main Functions
• Magnifier
• Capture
• Spotlight
• Slide Show
• Shape Recognition
• On-Screen Keyboard
• Print
• Application Launcher (Desktop Info Camera,
Voting System, Teleconference System)
• Text Recognition
Recording selection
ub-t580/ub-t580w SPecificationS
Main bodY
Power
SHelf diMenSionS
Supplied uSb bus
Power conSuMPtion
less than 2.5 w (500 ma, 5 V)
oPerating enVironMent
temperature: 10 – 35°c (50 – 95°f), Humidity: 30 – 80 %
eXternal diMenSionS
(HeigHt X widtH X dePtH)
ub-t580w: 1,352 x 1,915 x 74 mm (4 ft. 5 1/4 in. x 6 ft. 3 3/8 in. x 2 15/16 in.)
ub-t580: 1,352 x 1,637 x 74 mm (4 ft. 5 1/4 in. x 5 ft. 4 7/16 in. x 2 15/16 in.)
Screen board SiZe
(HeigHt X widtH)
ub-t580w: 1,175 x 1,860 mm (3 ft. 10 1/4 in. x 6 ft. 1 1/4 in.)
ub-t580: 1,175 x 1,582 mm (3 ft. 10 1/4 in. x 5 ft. 2 5/16 in.)
effectiVe area
(HeigHt X widtH)
ub-t580w: 1,153 x 1,845 mm (3 ft. 9 3/8 in. x 6 ft. 5/8 in.)
(10:16, 86-inch diagonal)
1,037 x 1,845 mm (3 ft. 4 13/16 in. x 6 ft. 5/8 in.)
(9:16, 83-inch diagonal)
ub-t580: 1,175 x 1,567 mm (3 ft. 10 1/4 in. x 5 ft. 1 11/16 in.)
(3:4, 77-inch diagonal)
weigHt
(witHout Stand)
ub-t580w: 26 kg (57.3 lbs)
ub-t580: 23 kg (50.7 lbs)
Panel Surface
Hardcoated Metal board
PoSition SenSor
Reflective Type Touch Sensor
Pen Holder
Maximum 2 pens
interactiVe functionS
interface
uSb 2.0 a type (for Pc)
electronic Pen
(oPtional deVice)
tranSMiSSion SYSteM
infrared rays Sensor
electronic Pen Power
lr03 (aaa alkaline dry cell battery) x 1
operating instructions x 1, Stylus Pen x 1, Software dVd-roM x 1,
wall Mounting Plate (left, right) x total 2, Pen Holder x 2
acceSSorieS
oPtional deViceS
Stand [KX-b061-a], electronic Pen [ue-608020], Stylus Pen (ue-608021), Pen point (ug-6020)
elite Panaboard Software SPecificationS
SYSteM reQuireMentS
coMPuter
ibM® Pc/at compatible with a dVd-roM drive, web browser
Mac® computer with an intel processor, web browser
cPu
intel® Pentium® 4 processor or later
interface
oPerating SYSteM
uSb 2.0
windows XP SP3 or later / windows Vista SP2 or later / windows 7 (windows® 7 Starter, windows® 7
home basic and windows XP 64-bit edition are not supported). Mac oS® X version 10.5.8, 10.6.8 or 10.7.1*
MeMorY
Hard diSK
windows: 1 gb or more
Mac oS X: 2 gb or more
At least 700 MB free space (except saving space for data file)
(an additional 700 Mb may be required when installing Microsoft .net framework.)
to run the elite Panaboard software/book, additional software may be needed. the system requirements above do not meet
the recommended specifications of all operating systems.
* Software for use with the Mac oS can be downloaded from our website:
www.panasonic.co.uk/education
restrictions
- the handwriting and shape recognition features are not supported in windows Vista Home basic, or windows XP
Home edition.
- the ability to import drawing data from other applications, and the ability to save a slide's drawing data to a PowerPoint
file are available in Office XP, Office 2003, and Officce 2007, Office 2010 (The 64-bit version is not supported.).
for detailed information, please access the following url. http://panasonic.net/pcc/support/eboard/elite/download.html
Panasonic System networks europe
Panasonic House, willoughby road
bracknell, berkshire rg12 8fP
3013 lake drive
citywest business campus
dublin 24
brocHure code
0844 844 3888
www.panasonic.co.uk/education
We expressly reserve the right to make reasonable changes to models, dimensions, colours as well as to make modifications that bring our products in line with state-of-the-art technology.