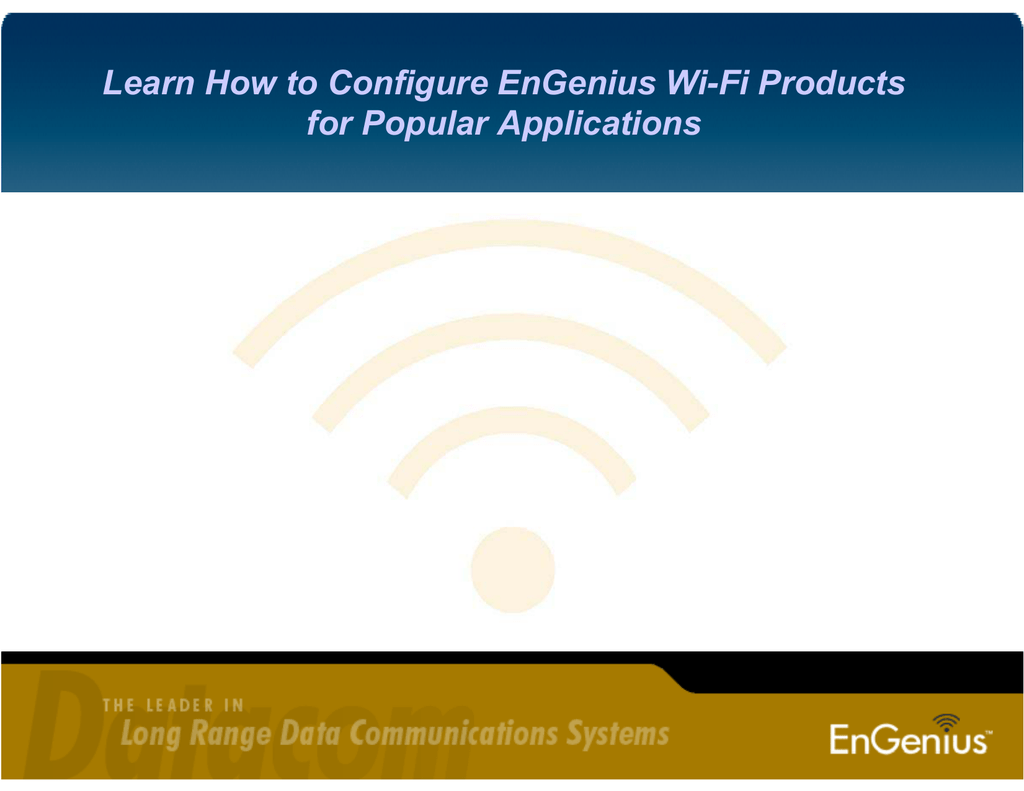 Learn How to Configure EnGenius Wi-Fi Products
for Popular Applications
Operation Modes
•
•
•
•
•
•
Access Point (AP) / WDS AP
Client Bridge (CB)
Repeater
WDS Bridge
Client Router
AP Router
Access Point
• An access point (AP) acts as a central transmitter and receiver of
wireless LAN radio signals.
• A wireless router combines the functions of a traditional switch,
firewall, and wireless access point.
WDS Access Point
• Wireless Distribution System
• Mac Address based ad-hoc connection
• Allows multiple access points to communicate without
the need for a wired backbone to link them.
• Devices using the same chipset recommended
• Should be limited to one hop.
Client Bridge
• Acts as a wireless client that interfaces to an Ethernet
device.
• Stand alone device, no drivers required, platform
independent.
Repeater
• Allows a wireless network to be expanded using multiple access
points without the need for a wired backbone to link them.
• Client and AP at the same time
• SSID based association
• Works with standard 802.11 access points
• Should limit the use of repeaters to one hop
• Dual radio repeaters are better than single radio repeaters
WDS Bridge
• Best for point to point deployments
• MAC Address based Ad-hoc association
Client Router
•
•
•
•
Similar mode as client bridge
Wireless and Ethernet interface separated by NAT firewall
Wireless interface acts as the WAN, connects to an AP
Ethernet interface connects to LAN
Ethernet IP: 192.168.1.xxx
LAN
Wireless LAN IP: 44.205.3.76
Public
AP Router
• Basic wireless router function with no switch
• Wireless and Ethernet interface separated by NAT firewall
• Ethernet port is the WAN interface and receives a public IP
address from the ISP
• Wireless interface acts as the LAN
Wireless LAN IP: 192.168.1.xxx
LAN
Ethernet IP: 44.205.3.76
Public
Dual Radio
• Each radio is configured as a separate device on a single unit.
• Can be dual AP, or use 5GHz radio for backhaul and 2.4GHz for
clients.
Web Based Configuration
• Configuration is done using a web browser
TCP/IP
• No drivers required for AP/CB devices.
• Devices can be configured with Windows, Mac OS X, or Linux.
• Most EnGenius Access Point / Client Bridge models have a default
IP Address of 192.168.1.1, unless otherwise stated in the
documentation that comes with the product.
• The Network Interface Card (NIC) on the PC used to configure the
device must have an IP address on the same IP subnet,
192.168.1.xxx in order to access the web based graphic user
interface (GUI).
Local Area Connection Properties
•Navigate to the Network Connections window.
•Right click on the icon for the Local Area Connection, then
select Properties.
Windows XP
Windows Vista / 7
Network Connections
•Double click on the listing for Internet Protocol (TCP/IP)
•In Windows Vista and 7, make sure to select Version 4
Windows XP
Windows Vista / 7
Internet Protocol (TCP/IP)
•Select the option to Use the following IP address
•Enter the IP address 192.168.1.10 and Subnet Mask
255.255.255.0 , then click OK.
Windows XP
Windows Vista / 7
Logging In
• Type the default IP address your device in the address bar of your
web browser.
• When prompted, enter the default username and password.
Username: admin
Password: admin
Status
Once logged in, the status page will display information about the
device.
Mode Selection
Click on System, then System Properties to choose an Operation Mode,
then click Apply.
Access Point Mode
• In AP mode, a device will broadcast an SSID for Wi-Fi devices to see.
• No configuration is necessary, but it is advised to change the SSID
and enable some level of encryption to prevent unwanted users.
• Click on Wireless, then click on Edit to make custom configurations to
the settings that wireless clients will use to connect to the AP.
SSID Profile
• The SSID Profile window will allow you to change the SSID which is
the network name that wireless clients will see.
• While not necessary, the Wireless Security > Security Mode drop
down box will allow different levels of password protection for clients
joining the wireless network.
• Click Save to apply your settings.
Client Bridge Mode
• A client bridge must be configured to connect to an AP
• Click on Wireless, then manually type the SSID of the AP that you wish
to connect to or click on Site Survey to scan for the APs in range (Also
applies to Repeater & Client Router mode).
Site Survey
• The Site Survey will display information about APs in range.
• Select the AP you wish to connect to.
• If encryption is enabled on the AP, you must also provide the
matching encryption information.
Connection Status
• If correctly configured and is wirelessly communicating with an AP,
the Connection Status will say Associated.
IP Settings
• All devices on a TCP/IP network should have a unique IP Address on
the same subnet.
• Click on System > IP Settings to change the IP configuration.
• This applies to all configuration modes.
WDS Bridge
• No AP is present, instead a pair of devices communicate in Ad-hoc
mode.
• Association is based on MAC Address, not SSID.
• Before setting up the wireless connections it is recommended to
assign different IP addresses to each device.
• For example:
Device A: LAN IP address to 192.168.10.100
Device B: LAN IP address to 192.168.10.101
Wireless MAC Address
• Recording the Wireless MAC Address is VERY IMPORTANT when
configuring WDS.
• This can be found on the Status page.
• Each WDS device will need the Wireless MAC address of the other
device it will be communicating with.
Wireless Channel/Frequency
• Wifi devices must be on the same Wireless Channel to communicate.
• Click Wireless to configure desired Channel/Frequency.
• This setting applies to all operation modes.
WDS Link Settings
• Click WDS Link Settings and change the mode setting to Enable.
• Fill in WDS link partner's WLAN MAC address, then click Apply.
• Repeat the above steps for both WDS Bridges, so that Device A has
the MAC Address of Device B and vice versa.
WDS Link Settings
• To check WDS link status, click Status > WDS Link Status. Status "up"
means the a connection is established.
WDS AP
• The same concepts apply when configuring a WDS AP.
• When in Access Point mode, this function is enabled by clicking on
the WDS Link Settings.
• This allows APs to act as a type of wireless repeater.
Repeater
• For single radio devices such as the ECB-3500, configuration is
identical to Client Bridge mode.
• The device broadcasts the SSID of the AP that is it associated to.
• For dual radio devices like the EOR-7550 or the EOA7530 / 7535, the
process for each radio is the same as if you were configuring two
separate devices in the selected mode.
Client Router
• Wireless configuration is identical to Client Bridge mode but acts as a
WAN port.
AP Router
• Wireless configuration is identical to AP mode.
• Ethernet interface has WAN Setting configuration.
Wireless Security
• Encrypt the wireless network with a password.
• Once a wireless client joins a Wi-Fi network, it stores the profile so
that it does not have to be entered again.
Good
• WEP
• WPA/WPA2-PSK
Better
• WPA/WPA2 Enterprise level, requires RADIUS server Best (AP Mode)
Backup / Restore Settings
• Configuration can be saved to a file in case the device loses its
settings
• Also good when configuring many devices with the same settings.

* Your assessment is very important for improving the work of artificial intelligence, which forms the content of this project