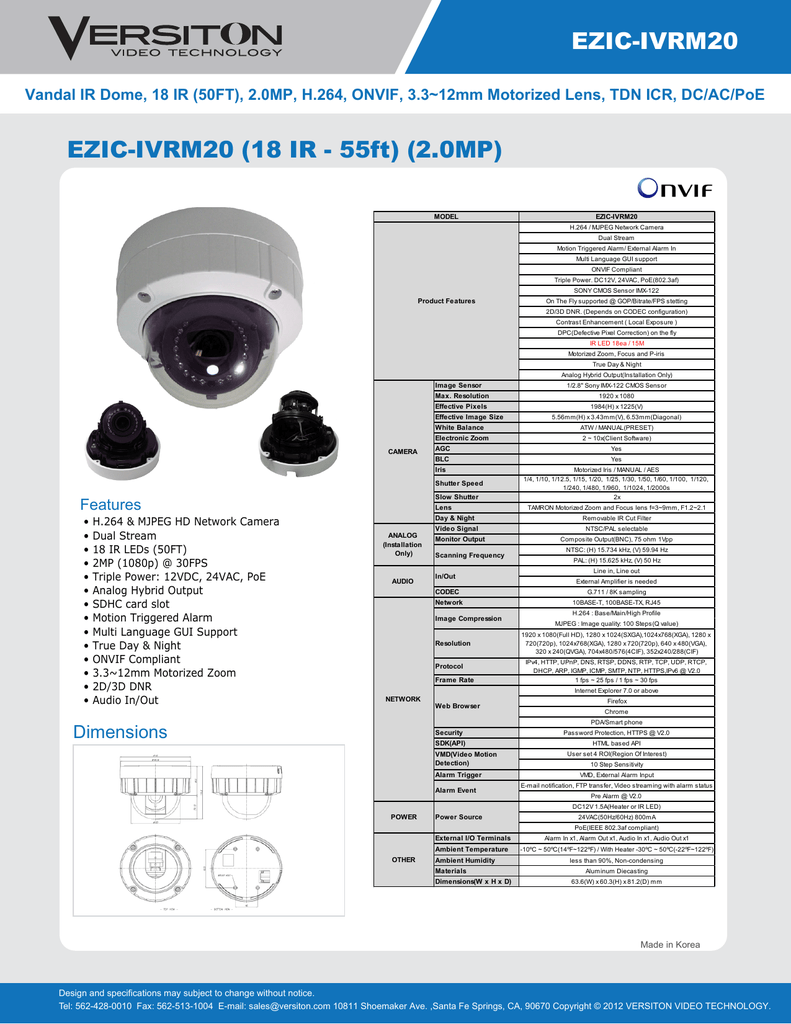 EZIC-IVRM20
Vandal IR Dome, 18 IR (50FT), 2.0MP, H.264, ONVIF, 3.3~12mm Motorized Lens, TDN ICR, DC/AC/PoE
EZIC-IVRM20 (18 IR - 55ft) (2.0MP)
Features
MODEL
EZIC-IVRM20
H.264 / MJPEG Network Camera
Dual Stream
Motion Triggered Alarm/ External Alarm In
Multi Language GUI support
ONVIF Compliant
Triple Power. DC12V, 24VAC, PoE(802.3af)
SONY CMOS Sensor IMX-122
Product Features
On The Fly supported @ GOP/Bitrate/FPS stetting
2D/3D DNR. (Depends on CODEC configuration)
Contrast Enhancement ( Local Exposure )
DPC(Defective Pixel Correction) on the fly
IR LED 18ea / 15M
Motorized Zoom, Focus and P-iris
True Day & Night
Analog Hybrid Output(Installation Only)
Image Sensor
1920 x 1080
Effective Pixels
1984(H) x 1225(V)
Effective Image Size
White Balance
Electronic Zoom
CAMERA
AGC
•
•
•
•
•
•
•
•
•
•
•
•
•
•
H.264 & MJPEG HD Network Camera
Dual Stream
18 IR LEDs (50FT)
2MP (1080p) @ 30FPS
Triple Power: 12VDC, 24VAC, PoE
Analog Hybrid Output
SDHC card slot
Motion Triggered Alarm
Multi Language GUI Support
True Day & Night
ONVIF Compliant
3.3~12mm Motorized Zoom
2D/3D DNR
Audio In/Out
2 ~ 10x(Client Software)
Yes
Yes
Motorized Iris / MANUAL / AES
1/4, 1/10, 1/12.5, 1/15, 1/20, 1/25, 1/30, 1/50, 1/60, 1/100, 1/120,
1/240, 1/480, 1/960, 1/1024, 1/2000s
Lens
Day & Night
Video Signal
AUDIO
ATW / MANUAL(PRESET)
Iris
Slow Shutter
ANALOG
(Installation
Only)
5.56mm(H) x 3.43mm(V), 6.53mm(Diagonal)
BLC
Shutter Speed
Features
1/2.8" Sony IMX-122 CMOS Sensor
Max. Resolution
Monitor Output
Scanning Frequency
In/Out
2x
TAMRON Motorized Zoom and Focus lens f=3~9mm, F1.2~2.1
Removable IR Cut Filter
NTSC/PAL selectable
Composite Output(BNC), 75 ohm 1Vpp
NTSC: (H) 15.734 kHz, (V) 59.94 Hz
PAL: (H) 15.625 kHz, (V) 50 Hz
Line in, Line out
External Amplifier is needed
CODEC
G.711 / 8K sampling
Network
10BASE-T, 100BASE-TX, RJ45
Image Compression
Resolution
Protocol
Frame Rate
H.264 : Base/Main/High Profile
MJPEG : Image quality: 100 Steps(Q value)
1920 x 1080(Full HD), 1280 x 1024(SXGA),1024x768(XGA), 1280 x
720(720p), 1024x768(XGA), 1280 x 720(720p), 640 x 480(VGA),
320 x 240(QVGA), 704x480/576(4CIF), 352x240/288(CIF)
IPv4, HTTP, UPnP, DNS, RTSP, DDNS, RTP, TCP, UDP, RTCP,
DHCP, ARP, IGMP, ICMP, SMTP, NTP, HTTPS,IPv6 @ V2.0
1 fps ~ 25 fps / 1 fps ~ 30 fps
Internet Explorer 7.0 or above
NETWORK
Web Browser
Firefox
Chrome
PDA/Smart phone
Dimensions
Security
SDK(API)
VMD(Video Motion
Detection)
Alarm Trigger
Alarm Event
Password Protection, HTTPS @ V2.0
HTML based API
User set 4 ROI(Region Of Interest)
10 Step Sensitivity
VMD, External Alarm Input
E-mail notification, FTP transfer, Video streaming with alarm status
Pre Alarm @ V2.0
DC12V 1.5A(Heater or IR LED)
POWER
Power Source
24VAC(50Hz/60Hz) 800mA
PoE(IEEE 802.3af compliant)
OTHER
External I/O Terminals
Alarm In x1, Alarm Out x1, Audio In x1, Audio Out x1
Ambient Temperature
-10ºC ~ 50ºC(14ºF~122ºF) / With Heater -30ºC ~ 50ºC(-22ºF~122ºF)
Ambient Humidity
Materials
Dimensions(W x H x D)
less than 90%, Non-condensing
Aluminum Diecasting
63.6(W) x 60.3(H) x 81.2(D) mm
Made in Korea
Design and specifications may subject to change without notice.
Tel: 562-428-0010 Fax: 562-513-1004 E-mail: [email protected] 10811 Shoemaker Ave. ,Santa Fe Springs, CA, 90670 Copyright © 2012 VERSITON VIDEO TECHNOLOGY.