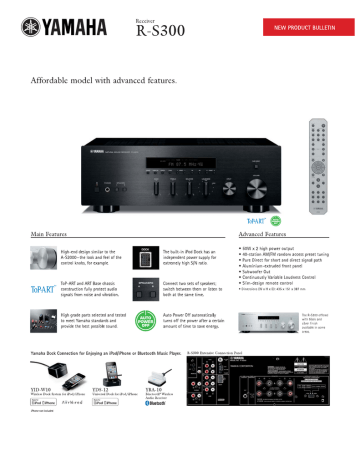 O YA M A H A R-S 300 NEW PRODUCT BULLETIN
Affordable model with advanced features.
)
606060600606
6 66066660
SE YAMAHA LACA TIS WV E E
Main Features Advanced Features
® 50W x 2 high power output
® 40-station AM/FM random access preset tuning
® Pure Direct for short and direct signal path
® Aluminium-extruded front panel
e Subwoofer Out
The built-in iPod Dock has an
independent power supply for
extremely high S/N ratio.
High-end design similar to the
A-S2000—the look and feel of the
control knobs, for example.
e Continuously Variable Loudness Control
, ToP-ART and ART Base chassis us Connect two sets of speakers; e Slim-design remote control
ToPART construction fully protect audio switch between them or listen to * Dimensions (W x H x D): 435 x 151 x 387 mm
signals from noise and vibration. both at the same time.
| i = The R-S300 offered
High grade parts selected and tested AUTO Auto Power Off automatically | EEE 4 me 530 of ere
to meet Yamaha standards and POWER turns off the power after a certain ~~ | «я хязадани re
. . . но =, silver finish
provide the best possible sound. OFF amount of time to save energy. EB | UL WEES © available in some
"SL areas.
Yamaha Dock Connection for Enjoying an iPod/iPhone or Bluetooth Music Player. R-S300 Extensive Connection Panel
BEIN]
YID-W10 YDS-12 YBA-10
Wireless Dock System for iPod/iPhone Universal Dock for iPod/iPhone Bluetooth® Wireless
Audio Receiver
O Bluetooth"
iPhone not included.

* Your assessment is very important for improving the work of artificial intelligence, which forms the content of this project