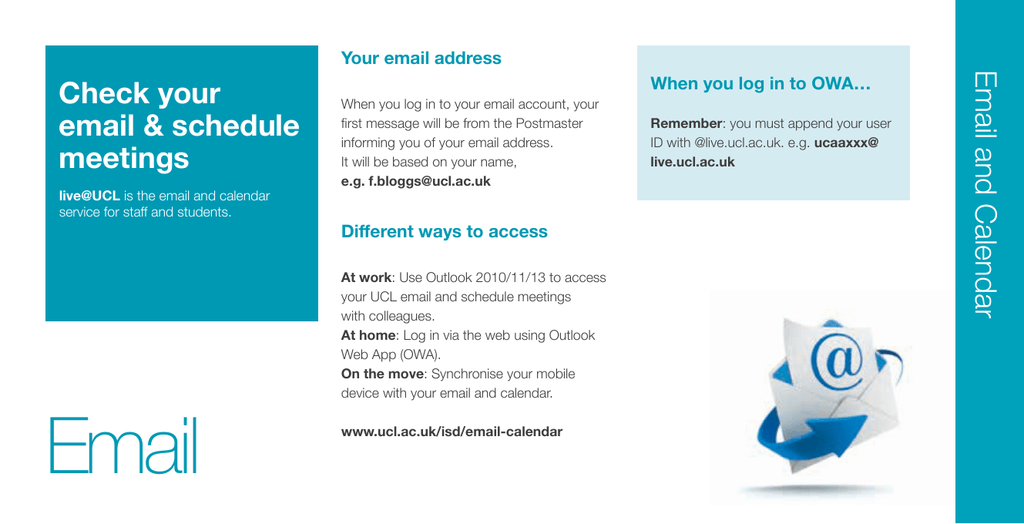 [email protected] is the email and calendar
service for staff and students.
Email
When you log in to your email account, your
first message will be from the Postmaster
informing you of your email address.
It will be based on your name,
e.g. [email protected]
Different ways to access
At work: Use Outlook 2010/11/13 to access
your UCL email and schedule meetings
with colleagues.
At home: Log in via the web using Outlook
Web App (OWA).
On the move: Synchronise your mobile
device with your email and calendar.
www.ucl.ac.uk/isd/email-calendar
When you log in to OWA…
Remember: you must append your user
ID with @live.ucl.ac.uk. e.g. [email protected]
live.ucl.ac.uk
Email and Calendar
Check your
email & schedule
meetings
Your email address
According to UCL protocol,
signatures should contain
your work title, department,
as well as phone number,
email address and relevant
web address where
appropriate.
To set one up
Example signature
• Outlook Web App (OWA)
Click on the settings button on the
top-right corner and select Options.
Select Settings from the left hand window
pane and click on the mail tab.
Cathy Brown
Faculty Manager
Arts and Humanities;
Social and Historical Sciences
Tel: 020 769 1347
Internal: 31347
Mobile: 07826892046
Email: [email protected]
www.ucl.ac.uk/ah-shs-office
• Outlook 2010/13
In a new message window, in the Include
group, click on the Signature button and
select Signatures...
• Outlook for Mac 2011
In a new message window,
select the Message tab.
Select Edit Signatures…
Any variations or additions to this format
should be agreed by the relevant Head of
Professional Services or Faculty Manager.
Top tip
Top tip!
How to set a signature
Find out how technology can help
the student learning experience.
Learning
& Teaching
We are here to help you use technology
to enhance the learning of your students
within and beyond the classroom. E-Learning
is now widely used across UCL, through
for example Moodle, our 'virtual learning
environment', lecture recording, online
assessment and feedback, voting handsets
and distance learning.
UCL eXtend, our public facing learning
portal can even help you engage with
learners outside of UCL for Life Learning,
CPD or Executive Education. We are keen
to work with individuals, departments
and communities such as the E-Learning
Champions network to develop your ideas
and enhance student learning.
www.ucl.ac.uk/isd/learning-teaching
Top 5 ideas popular with
students:
•
Record your lectures and put them online (automatically if you wish) via the Lecturecast service available in UCL's larger lecture rooms.
• Voting handsets encourage better student engagement in large classes.
• Use Moodle to develop simple online quizzes to help students check their progress.
•
The Turnitin service, also via Moodle, enables you to provide online feedback and helps check for
potential plagiarism.
•
Moodle forums can simplify your communications with students, and provide a space for group discussion and feedback.
Learning & Teaching
Enhance
your learning
& teaching
Engage your students
Lecturecast is UCL's automated system for
recording lectures and making them available
via Moodle. It is very popular with students
who use it to review, in detail, the content of
lectures and tag segments to look at again
at revision time.
You don't have to record a whole lecture
either, Lecturecast's downloadable 'personal
capture' software lets you make screen
recordings with voice-over on your own
computer. Many lecturers are using this to
provide supplementary material and extra
feedback to students. Some are even using
this approach to experiment with 'flipping',
creating online material for students to view
materials in advance, to make the most of
their face-to-face time.
How to get started
Visit the Lecturecast information page via:
www.ucl.ac.uk/isd/learning-teaching
Here you can book recordings, learn
how to get access to the personal
recording software and find links to
more detailed guides.
Top tip
Top tip!
Try Lecturecast
LONDON'S GLOBAL UNIVERSITY
SWITCH ON
LOG IN
LEARN MORE
ucl.ac.uk/lynda
FREE unlimited access to over 3,000 video tutorials and training courses for staff
and students. Learn business, software, technology and creative skills to achieve
personal and professional goals.
Types of courses available include:
•Management Fundamentals
• Educational Delivery
•Careers Skills
•Personal Productivity
•Social Media
•Coding
•Office and Adobe
•Multi-media Tools
•Data Management
lynda.com is available through any web browser or download the app for your mobile device.
Download from
Windows Store
Your user ID and password is
your key to our IT systems.
Keep your details safe!
You will be issued with a personal user ID
and password. These credentials will give
you access to UCL wide IT facilities.
Your user ID is 7 characters long and
looks something like: ucaaxxx
Your password
We've set an initial password for you to get
you up and running. But you should now
change it to something only you know.
Do this using the MyAccount service:
https://myaccount.ucl.ac.uk
User ID &
Password
You will need to change your password
every 150 days. Reminders will be sent to
your email account.
www.ucl.ac.uk/isd/userid-passwords
Register with us
Sign up for the User Authentication Service.
It will allow you to obtain a new password
quickly in the event that you forget your
current one. It may seem unimportant now,
but in the future, you'll be glad that you did!
Confused about how
to log in?
For all systems you need your UCL
password, but you may need to enter
your user ID in different formats:
Email (Outlook Web App):
<userID>@live.ucl.ac.uk
Staff desktop and student computer
rooms: <userID> only
Wireless: <[email protected]>
Your User ID and Password
Access central
IT systems
Credentials
Do:
choose a password that is 8 characters long
Don't:
base your password on a dictionary word
Do:
use at least three of the following different
types of characters:
•
•
•
•
Lowercase
Uppercase
Numbers
Symbols
Don't:
base your password on your personal details
Need an example?
A simple approach is to think of a memorable
sentence (8 words long), then form a password
by taking one or more characters from each
word. Remember to use upper and lowercase
letters and punctuation! So, for example:
Phrase: Chickens carried him off,
kicking and screaming!
Password: CcHo,k&s
Phrases that can be visualised – however silly
they might be – are often easiest to remember.
Use your imagination, but not our example!
Note: If you are planning to use UCL
Administrative Systems, your password
should additionally NOT contain: the @
(at) symbol or start with either a space
or " (double quote).
Top tip
Top tip!
How to choose a password
Supporting your research.
Research IT
Assistance with other
Research IT Services
IRIS (Institutional Research Information
Service) is the internal and public research portal for UCL. Use IRIS to maintain your own researcher profile and to identify the research activities of others.
Training
Your publications list
www.ucl.ac.uk/isd/research-it
Your UCL profile
The Research Publications System (RPS)
is designed to provide UCL researchers
with a single point of entry for keeping their publications up to date. It integrates
with both IRIS and Discovery, UCL's open
access full-text repository.
Find out how else we can help you.
Our range of services include: Research
Services, Research Software Development
and Research Data Services.
We run various courses ranging from using the
Legion High Performance Computing cluster
to Software Carpentry Bootcamps.
Research IT Services
Research IT
Services
We develop, deliver and operate services
to assist UCL researchers in meeting their
objectives at each stage of the research
lifecycle, from funding through to publication
and dissemination.
Talk to us about how the
Research Data Service
can provide safe, resilient
storage for your research
project data.
We can provide support for coordinated endto-end research 'workflows' encompassing the
use of both data storage and computational
resources. We can help you plan in advance
how you are going to manage, store and
preserve data beyond the lifetime of your
research project and allow its re-use and
citation by the wider academic community.
By using the Research Data Storage and
Research Data Archive services you will fully
comply with both UCL's and UK funding
bodies' policies and requirements to make
publicly funded research data freely accessible
to the widest possible audience, removing
this burden from you.
Email: [email protected]
Top tip
Top tip!
Talk to us about
the service
Do you have a disability and need advice
on assistive technology?
The Student Enabling IT Suite
Do you have a disability and need advice on
assistive technology? Contact the Disability
IT Support Analyst who can advise you on
software and hardware to meet your needs.
For students with disabilities, we have a
dedicated computer workroom equipped
with an up-to-date range of software
and technology.
Ergonomics
For access and to book inductions
please contact the Disability Service on
either [email protected] or contact
0207 679 0100.
Do you have questions about workstation
health or ergonomics? Learn about the simple
adjustments that can make your workstation
more comfortable.
Disability IT Support Analyst
Disability IT
The Disability IT Support Analyst is here to
help you. Whether you have a temporary
challenge which is affecting your work
or an long term issue, the Disability IT
Support Analyst can provide support.
Contact details
M.Farmer
Email: [email protected]
Tel: 020 7679 2809 (int. 32809)
Location: SEnIT Suite, South Wing
(lower ground floor near print room café.)
www.ucl.ac.uk/isd/disability-it
Disability IT Services
Disability IT
support
Assistive technology
Viewing distance between
16–24 inches
Top of monitor at
or slightly below
seated eye level
Shoulders relaxed
Bad habits and incorrect
posture can lead to aches
and pains. Maintain good
posture at your workstation
by following these tips.
Arms relaxed at sides
with upper and lower
arms forming a
90-degree angle
Keep wrists straight
and fingers relaxed
Lower back supported
Home row of keys
should be at or
slightly above
elbow height
Mouse should be
next to the keyboard
at the same height
Thighs parallel to the floor
forming a 90-degree angle
with the lower leg
Feet flat on the floor
Top tip
Top tip!
Are you sitting
comfortably?
eduroam is the wireless service
connecting you around campus.
You can also connect remotely.
eduroam is a free wireless service and
available throughout campus.
Connection guides
Follow the instructions online on how to
connect for your device. You will need
your user ID and password.
Will you have guests
visiting UCL?
Your visitors can also be provided wireless
access through our UCLGuest service.
Campus
Connections
www.ucl.ac.uk/isd/get-connected
When you connect to wireless…
Remember: you must append
your user ID with @ucl.ac.uk.
e.g. [email protected]
Connect from outside UCL
The UCL Remote Access VPN Service
provides a resilient, secure means of
accessing private UCL corporate central
services from off-site locations.
Examples of services available via
Remote VPN:
• MyView
• MyFinance
• Central Filestore
• Management Systems Database Servers
• UCL MS Key Management Servers
• UCL Desktop data/applications
Connect to the network
Connect on or
off campus
Wireless access on campus
eduroam is a JANET Roaming Service (JRS)
that enables you to use your UCL credentials
(e.g. [email protected]) to access the
internet from UCL or any participating
institution.
The instructions for connecting are the
same regardless of location. However, it
is recommended you
(a) check eduroam works here at UCL and
(b) search on eduroam participating
organisations
Top tip
Top tip!
Did you know? You can
connect to wireless at
other institutions
Telephony Services has a one-stop shop
solution for your mobile telephony needs,
conference calls and your desk phone.
If you need anything from a headset to
a call centre or just some simple advice,
email us on [email protected]
Mobile phones
Use our online service to choose from a
range of handsets and contracts and
manage your mobile phone.
www.ucl.ac.uk/mobiles
Conference and collaboration
Telephony
Services
We have conferencing solutions to provide
a simple voice conference from your desk,
a national or international option and
options to share your desktop or provide
full video conferencing. See online for
further details.
Out of office voice mail
messages
UCL's voicemail facility is not provided
by default. You will need to request this
for your number. There is no charge for
voicemail accounts.
Dialling Colleagues
Many UCL buildings are connected together
and we use extension numbers of 5 digits,
please try to use the internal system rather
than using the long exchange number.
Anything starting with a 9 is an external call.
www.ucl.ac.uk/isd/telephony
Telephony Services
It's for you-hooo!
Telephony service
You can find other contact
numbers by using the UCL
directory or the Global
Address Book via your
email program.
Find people using the
UCL Directory
Go to: www.ucl.ac.uk/directory
Enter the name of the person you are
looking for.
Find people in your
email program
Important numbers
UCL emergency number: 222
UCL switchboard: 100
Maintenance Emergency/Security Control: 33333
ISD Service Desk: 25000
Estates Helpdesk: 30000
Outlook Web App (OWA):
Click on the People button (top right) >
select Directory (left side).
Outlook 2010/13:
On the Home tab, in the Find group,
click on Address Book.
Outlook 2011:
On the Home tab, click on Find a Contact.
222
Top tip
Top tip!
How to find UCL
contact numbers
Access your desktop at work
or from home.
Our desktop service gives you access to
your files, applications and desktop from
anywhere in the world as long as you have
an internet connection.
Where to save your work
Keep your files safe on the central filestore
which is backed up every night.
You can also use a shared data area (S: drive)
which can be accessed by colleagues in your
department and useful for collaborating.
Desktop
Services
www.ucl.ac.uk/isd/desktop
When you log on:
You only need to enter your user ID.
Do not append with @ucl.ac.uk
Desktop Services
Your desktop
Desktop services
We will be rolling out a new desktop service
for staff during 2015. The new desktop
plans to unite everyone under a single service
for easier collaboration, administration,
maintenance and management.
The service will also allow you to access your
applications and files from anywhere, whether
you are onsite or accessing remotely.
Top tip
Top tip!
...new desktop service
rolling out in 2015
Centrally managed print services.
This is called the [email protected] service.
Send your print job from one of our desktop
services or your own computer or laptop.
Then use any device around campus to print
your document. You can also use any device
to copy, scan and fax quickly and easily.
You can even email your print job from your
mobile device and collect from any print
device connected to the service.
[email protected] in your department?
[email protected]
Check whether your department is using
the [email protected] service (at present not all
departments are). If not, contact your local
IT support team to find out the printing
arrangements for your department.
www.ucl.ac.uk/isd/print-copy-scan
The first time you use
[email protected]
Register your UCL ID card
You only need to enter user ID. It does
not be appended with @ucl.ac.uk
Any time after that:
All you need to do is swipe your UCL
ID card to log in.
Print, copy, scan
Print anywhere
on campus
Print, copy, scan
Go to Print
(Ctrl + P or File > Print)
Choose Options or Properties
and select Image Options.
Remove the checkmark from
the Xerox Black and White
Conversion box.
Select OK and Print.
Top tip
Top tip!
How to print in colour
From finance to conference bookings.
Administrative
Applications
Will you be performing admin functions as
part of your role? You will likely need access
to some of the systems we run to help you
do your job.
Examples of some of the systems
available to you are:
• Financial management • HR processes
• Archiving and records
management
• Alumni and fundraising information
• Recording visitors
• Booking rooms
• Portico – the student information System
www.ucl.ac.uk/services
Access to admin services
You will need to register for some of these
services. Help guides and information are
available online.
Most administrative applications require
your UCL user ID and password.
Administrative applications
Tools to help
you with your
administrative
functions
Systems to help
Go to: www.ucl.ac.uk/services
You can list by:
• System
• Process or
• Unit
Once you start using [email protected],
the application will begin to remember
the systems you have visited in the past;
to enable you quick access back to
those systems.
Top tip
Top tip!
Use the [email protected]
website to find admin
services
Access free software & get
good deals on hardware.
Hardware &
Software
If you need new hardware, don't run off to
PC World to buy your new equipment.
On our website, we offer recommendations
for corporate IT equipment. We also provide
managed desktop services where we can
order, install and support the equipment
for you.
Discounted software for home
Through UCL software agreements, you
can get discounted or free software for
use on personal machines. For discounted
Microsoft Windows and Office software
see ucl.onthehub.com. For other software
see swdb.ucl.ac.uk and look under the
licences for each product.
www.ucl.ac.uk/isd/software-hardware
UCL licensed software
Download free anti-virus software plus
any site-licensed software to which you
are entitled from the software database.
Hardware & Software
Make sure your
computer is
secure with
free anti-virus
software
Hardware purchasing
Go to: https://swdb.ucl.ac.uk
Search for a variety of software to discover
what is available to you.
We have information on how to install and
activate products, whether it's free or
needs payment.
Did you know we have resources from
vendors on how to get more out of
their products?
Top tip
Top tip!
Use Software Database
to find out which
applications are available
on our desktop services
and for personal use.
Your one-stop shop for all your creative
and media requirements.
Comprehensive design and photographic
service which supports UCL-wide learning
& teaching, promotional and PR activities.
Poster production
Academic poster printing service –
now expanded to include promotional and
"exhibition quality" printing.
Video & audio production
and delivery
Creative Media
Services
A broadcast quality service, with live
streaming, location and studio production
facilities for all your audio & video
requirements.
www.ucl.ac.uk/isd/creative-media
Digitisation and scanning service
State-of-the-art digitisation facility
incorporating film, document and book
scanning equipment which provide high
quality digital imagery for research and
archival purposes.
Imagestore
An online image library containing images
of UCL activities for use in print, web
and presentations.
www.imagestore.ucl.ac.uk
Creative Media Services
Get creative!
Design and photography
Design: Be open minded, especially to new
design concepts and ideas and always check
that you are complying with the UCL Visual
Identity guidelines. www.ucl.ac.uk/visualidentity
Posters: For academic posters, always
provide both PowerPoint (.ppt) and PDF (.pdf)
files where possible. However, remember that
what you see on screen is not necessarily
what you will see in print so allow time for
amendments – which we are happy to
help with.
Photography: We are here to give
advice if you want to produce your own
images, although wherever possible try to
use professionally produced imagery taken
in high resolution. Your final output, web or
print will be much improved. Image shows
the UCL Pearson Studio.
Video: The process can be time consuming,
so contact us in plenty of time before you need
your production, that way we can help you
better plan and prepare.
Top tip
Top tip!
For Design...
For Posters...
For Photography...
For Video...
Let us help you create a great website.
Will you be maintaining a website as
part of your role?
We provide advice and assistance on
all aspects of websites, from content
management and user experience, through
design and development, to training and
on-going support.
And remember, your website is very important
so make sure you spend time managing it!
So let us help you make your website as
successful as possible.
Web & Mobile
Services
www.ucl.ac.uk/isd/websites
Web & Mobile Services
Help with your
website
Websites
There's a lot to consider when you
decide to design or redesign a
website including:
• What are the purposes of the website?
• Who are the users and what are their
top tasks on the website?
• How do you write content that's suitable
for the web?
• How can you make sure that the website
has a high ranking in Google?
• Who will keep the website up to date?
Top tip
Top tip!
Lots to consider...
Practical tools and resources to help you.
We have an extensive course programme
including Office and Adobe products, website
content management, data analysis software,
bibliographical tools and more.
Online resources
Prefer to learn at your own pace? Peruse our
selection of course materials, videos and other
online learning materials to help you develop
your skills. Find out more overleaf.
European Computer Driving
Licence (ECDL)
IT Training
ECDL is an internationally recognised
qualification. Gain certification of your IT
skills through this accredited programme.
One to one help
We hold regular drop-in sessions during term
time where you can get individual support
with your IT needs.
www.ucl.ac.uk/isd/training
IT Training Services
Brush up on
your IT skills
Course Programme
Virtual Training Company (VTC)
Virtual Training Company (VTC) offers a wide
range of video tutorials on Microsoft Office,
Adobe products, programming, project
management, graphic design, multimedia
and much more.
ISD IT Training
ISD IT Training is our Moodle course
containing all of the training materials and
sample files used in our classroom courses
as well as essential pre-learning for some
sessions.
Activ Online Learning
Activ Online Learning is a Moodle course
providing interactive learning materials for
the Microsoft Office suite to support the
European Computer Driving Licence.
Top tip
Top tip!
Learn at your own pace:
free resources for UCL
staff and students
Helping you protect your information.
Learn the basics
Look after your login details. If someone
else uses them, they may cause you and
others a great deal of trouble.
Our Information Security Awareness course
on Moodle has information on phishing,
protecting data, passwords, and policies.
Log into Moodle, search for "Information
Security Awareness", and self-enrol.
www.moodle.ucl.ac.uk
UCL will never ask you to reveal your
password. Ignore all emails asking for
passwords.
Your responsibilities
As a member of staff you are bound by
the UCL Information Security Policy.
www.ucl.ac.uk/informationsecurity/policy
Information
Security
www.ucl.ac.uk/informationsecurity
Information Security
Information
Security
Keep your password secure!
Use strong passwords – include numbers,
upper and lower case letters and symbols.
Ensure that your machine(s) are fully
up to date, including your operating system,
applications, your browser, and any plugins.
Ensure your anti-virus software is up to
date and firewall is enabled.
Be wary when reading your email –
do not click on any links or attachments in
unsolicited email.
Back up your data regularly
Make sure your backup is not located in
the same place as your working files.
Put a pin code on your mobile device –
e.g. phone or tablet.
Handling sensitive information –
If you are handling confidential or sensitive
information, check our guide on encryption
www.ucl.ac.uk/informationsecurity/
encryption
For further advice, please contact us.
Top tip
Top tip!
Tips to help you protect
your information.
Have you joined the School of
Life & Medical Sciences? If so, we can
help with your IT…
IT for SLMS
Local IT Staff
IT for SLMS staff provide support to the
faculties of:
• Life Sciences
• Medical Sciences
• Brain Sciences
• Population Health Sciences
Local contacts listed here: www.ucl.ac.uk/
isd/itforslms/about/contact
IT Solutions
IT for SLMS can provide or facilitate a range
of services across SLMS:
• Research – including secure data
handling & information governance
• Learning and Teaching – including
e-learning and audio visual support
• Medical Illustration – providing clinical
and general photography, design, print
and video services
• Infrastructure – including hardware,
datacentres and related services.
www.ucl.ac.uk/isd/it-slms
IT for SLMS
IT for School
of Life & Medical
Sciences
Being part of SLMS gives you access to a
broad range of speciality IT services in
addition to the central IT offerings.
IT for SLMS has a range of locally based support available centrally
and across the School of Life and Medical Sciences.
To find out more visit the website at www.ucl.ac.uk/isd/itforslms
Medical Illustration Services can be contacted directly
on 020 7813 8212 and 020 7830 2357.
Top tip
Top tip!
How to find us...
We're here to help.
The Service Desk is your first point of contact
for all requests and queries. Tel: 020 7679 5000 (internal: 25000)
Visit: DMS Watson Library, Malet Place
Email: [email protected]
Hours of support:
Telephone Support:
8:30am – 5:30pm
Monday – Friday
Out of Hours Telephone Support:
5:30pm – 8:30am
Monday – Friday, including overnight,
weekends, all UK Bank Holidays and UCL
closure days. (Note: vacation times vary)
DMS Watson Front Desk:
9:30am – 5pm
Monday – Friday
Service Desk
Other ways to find information
Online: www.ucl.ac.uk/isd/help
Follow us on Twitter: @uclisd
Service news: www.ucl.ac.uk/isd/news
www.ucl.ac.uk/isd/help
ISD Service Desk
Need to
contact us?
Need to report a problem?
The Service Desk portal is your single point
for submitting a problem/request and you
can track any outstanding tickets you may
have open.
To access the portal, visit:
www.ucl.ac.uk/isd/help
Top tip
Top tip!
Use the Service Desk
Portal
All you need to know about IT at UCL
for new members of staff.
IT Essentials
IT Essentials
Central IT services are provided for you by Information Services Division.
You can:
•
Find out more about what we offer online: www.ucl.ac.uk/isd
•
Follow us on twitter – @uclisd
•
Find out more about us at: www.ucl.ac.uk/isd/about
•
Keep up to date with news and developments: www.ucl.ac.uk/isd/news
www.ucl.ac.uk/isd
Top tip
Who we are
and what we do
Did you find
this useful?
Help us to improve this induction pack.
1. Did this pack answer your questions about IT at UCL?
Yes No
If no, what information was missing?
2. How would you prefer to receive this information?
Printed (like this pack) Online
Email
3. What did you think about the amount of content on each card?
Too much Too little 4. Any other comments?
Thanks for the help
About right, I looked online for more detail
Feedback Form
Please help us improve this pack for others, by answering the following questions:
ISD Website & Communications
UCL Information Services Division
The Podium – 1st floor
Gower Street
London
WC1E 6BT
Return to ISD
To:
Thank you
Please place this card in your department's
internal post after filling in the form.