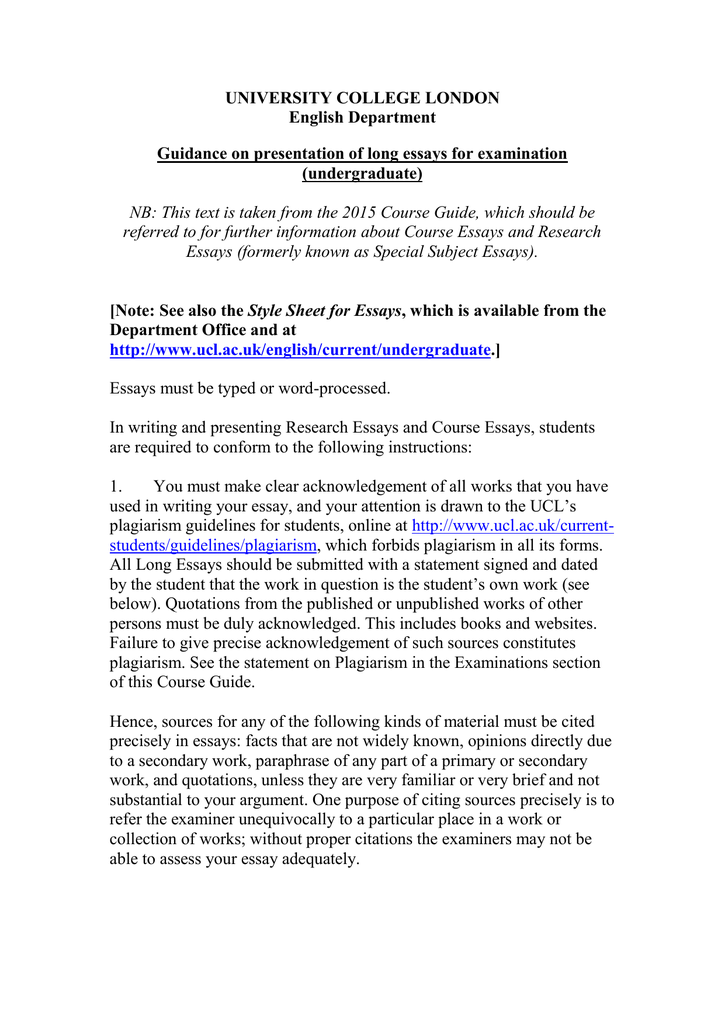 UNIVERSITY COLLEGE LONDON
English Department
Guidance on presentation of long essays for examination
(undergraduate)
NB: This text is taken from the 2015 Course Guide, which should be
referred to for further information about Course Essays and Research
Essays (formerly known as Special Subject Essays).
[Note: See also the Style Sheet for Essays, which is available from the
Department Office and at
http://www.ucl.ac.uk/english/current/undergraduate.]
Essays must be typed or word-processed.
In writing and presenting Research Essays and Course Essays, students
are required to conform to the following instructions:
1.
You must make clear acknowledgement of all works that you have
used in writing your essay, and your attention is drawn to the UCL's
plagiarism guidelines for students, online at http://www.ucl.ac.uk/currentstudents/guidelines/plagiarism, which forbids plagiarism in all its forms.
All Long Essays should be submitted with a statement signed and dated
by the student that the work in question is the student's own work (see
below). Quotations from the published or unpublished works of other
persons must be duly acknowledged. This includes books and websites.
Failure to give precise acknowledgement of such sources constitutes
plagiarism. See the statement on Plagiarism in the Examinations section
of this Course Guide.
Hence, sources for any of the following kinds of material must be cited
precisely in essays: facts that are not widely known, opinions directly due
to a secondary work, paraphrase of any part of a primary or secondary
work, and quotations, unless they are very familiar or very brief and not
substantial to your argument. One purpose of citing sources precisely is to
refer the examiner unequivocally to a particular place in a work or
collection of works; without proper citations the examiners may not be
able to assess your essay adequately.
2.
It is important that you do not exceed the required length of 6,000
words in the case of the Special Subject Essay and 8,000 words in the
case of the Course Essay.
3.
All quotations should be included in the word-count. Quotations
longer than one and a half lines should be indented. Translations of
quotations are not to be included in the word-count.
4.
Footnotes should be included in the word-count. The bibliography
should not.
5.
You may not include any appendix or appendices without first
securing approval from the Chair of Exams. Appendices may only
include pictures, or source materials that are otherwise inaccessible.
Appendices are not included in the word-count. (For the Literary
Linguistics course, different rules apply to appendices; please refer to the
specific guidelines for that course.)
6.
For the title-page, please use the relevant cover sheet (available
from the Department Office, from
http://www.ucl.ac.uk/english/current/undergraduate and emailed at
appropriate times in the year), on which you are required to write the
word-count, the title of the essay, programme/course title, and student
candidate number. The cover sheet should be bound together with the
essay.
7.
Essays should be professionally bound before handing in (ringbinding is recommended); this can be done at the Student Centre on
Malet Street, Rymans in the basement of the Gower Street Waterstones,
or at any other print shop of your choice.
8.
Two copies are required.
9.
Your name should not appear anywhere on your essay. A statement
that the essay is your own work should appear on a separate, loose page
(which is not given to the examiners). This might simply take the form: 'I
certify that this essay [give title] is my own work' with your signature,
name and date. Alternatively, forms for this purpose are available from
the Department Office. Only one declaration is needed for both copies of
the essay.
10.
You must keep a copy of your final essay in its finished form.
11. Students must not repeat material which they have used in any
other part of the examination (whether in a desk exam or long essay).
12. Manner of presentation will be taken into account when the essay
is marked.
13. You will be asked to submit an electronic version in Moodle by the
deadline as well as handing in the hard copies, for all essays to be run
through 'Turnitin' plagiarism detection software. Instructions and further
details will be emailed at appropriate points of the year.
14. The essay must be word-processed, double-spaced, on one side of
standard size (e.g. A4) paper. Leave generous margins (at least
1"/2.5cms).
15. It is permissible but not necessary to divide your essay into several
sections or chapters.
You may find it helpful to consult the document Long Examined Essays:
Frequently Asked Questions, available from the Department Office and at
http://www.ucl.ac.uk/english/current/undergraduate.

* Your assessment is very important for improving the work of artificial intelligence, which forms the content of this project