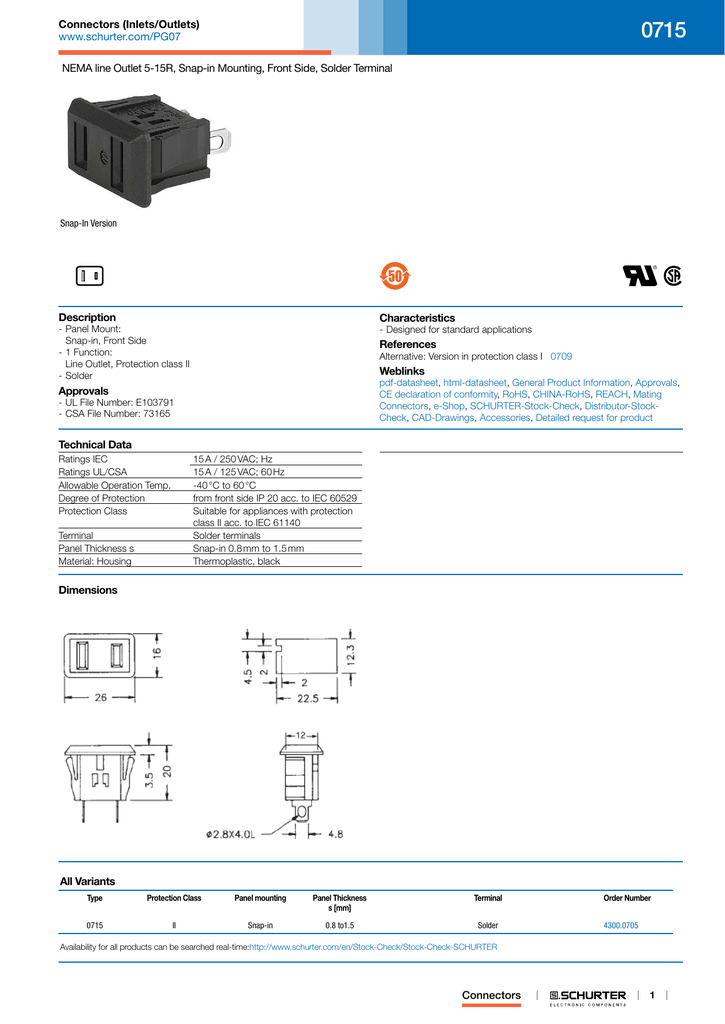 0715
Connectors (Inlets/Outlets)
www.schurter.com/PG07
NEMA line Outlet 5-15R, Snap-in Mounting, Front Side, Solder Terminal
Snap-In Version
Description
Characteristics
-Panel Mount:
Snap-in, Front Side
-1 Function:
Line Outlet, Protection class II
-Solder
-Designed for standard applications
References
Alternative: Version in protection class I 0709 Weblinks
pdf-datasheet, html-datasheet, General Product Information, Approvals,
CE declaration of conformity, RoHS, CHINA-RoHS, REACH, Mating
Connectors, e-Shop, SCHURTER-Stock-Check, Distributor-StockCheck, CAD-Drawings, Accessories, Detailed request for product
Approvals
-UL File Number: E103791
-CSA File Number: 73165
Technical Data
Ratings IEC
Ratings UL/CSA
Allowable Operation Temp.
Degree of Protection
Protection Class
15 A / 250 VAC; Hz
15 A / 125 VAC; 60 Hz
-40 °C to 60 °C
from front side IP 20 acc. to IEC 60529
Suitable for appliances with protection
class II acc. to IEC 61140
Solder terminals
Snap-in 0.8 mm to 1.5 mm
Thermoplastic, black
Terminal
Panel Thickness s
Material: Housing
Dimensions
All Variants
Type
Protection Class
Panel mounting
Panel Thickness
s [mm]
Terminal
0715
II
Snap-in
0.8 to1.5
Solder
Order Number
4300.0705
Availability for all products can be searched real-time:http://www.schurter.com/en/Stock-Check/Stock-Check-SCHURTER
Connectors
1
0715
Packaging unit Connectors (Inlets/Outlets)
www.schurter.com/PG07
200 Pcs Mating Inlets/Plugs
Category / Description
Power Supply or Interconnection Cord Overview complete
Diverse Power Supply and Interconnection Cords 2.5 A
CS01.0221.150
Diverse Power Supply and Interconnection Cords 2.5 A
CS02.0221.150
Power Supply or Interconnection Cord further types to 0715
23.07.2014
2
Connectors
The specifications, descriptions and illustrations indicated in this document are based on current
information. All content is subject to modifications and amendments. Information furnished is believed
to be accurate and reliable. However, users should independently evaluate the suitability and test each
product selected for their own applications.

* Your assessment is very important for improving the work of artificial intelligence, which forms the content of this project