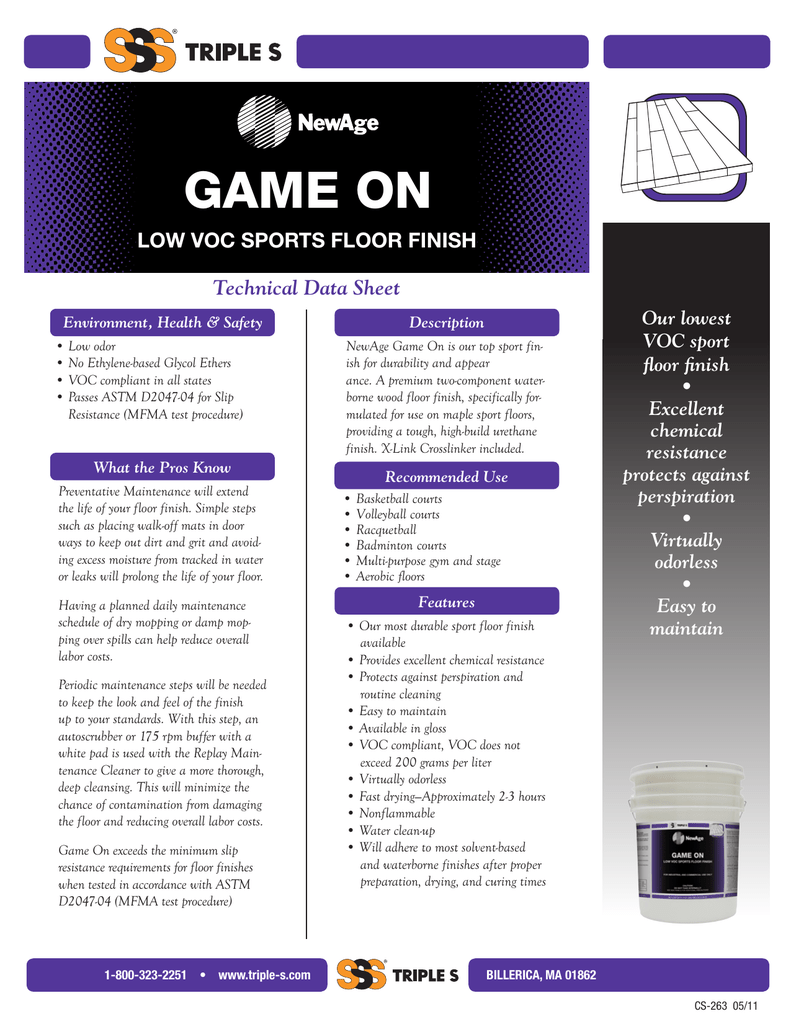 GAME ON
LOW VOC SPORTS FLOOR FINISH
Technical Data Sheet
Environment, Health & Safety
• Low odor
• No Ethylene-based Glycol Ethers
• VOC compliant in all states
• Passes ASTM D2047-04 for Slip
Resistance (MFMA test procedure)
What the Pros Know
Preventative Maintenance will extend
the life of your floor finish. Simple steps
such as placing walk-off mats in door
ways to keep out dirt and grit and avoiding excess moisture from tracked in water
or leaks will prolong the life of your floor.
Having a planned daily maintenance
schedule of dry mopping or damp mopping over spills can help reduce overall
labor costs.
Periodic maintenance steps will be needed
to keep the look and feel of the finish
up to your standards. With this step, an
autoscrubber or 175 rpm buffer with a
white pad is used with the Replay Maintenance Cleaner to give a more thorough,
deep cleansing. This will minimize the
chance of contamination from damaging
the floor and reducing overall labor costs.
Game On exceeds the minimum slip
resistance requirements for floor finishes
when tested in accordance with ASTM
D2047-04 (MFMA test procedure)
1-800-323-2251 • www.triple-s.com
Description
NewAge Game On is our top sport finish for durability and appear
ance. A premium two-component waterborne wood floor finish, specifically formulated for use on maple sport floors,
providing a tough, high-build urethane
finish. X-Link Crosslinker included.
Recommended Use
• Basketball courts
• Volleyball courts
• Racquetball
• Badminton courts
• Multi-purpose gym and stage
• Aerobic floors
Features
• Our most durable sport floor finish
available
• Provides excellent chemical resistance
• Protects against perspiration and
routine cleaning
• Easy to maintain
• Available in gloss
• VOC compliant, VOC does not
exceed 200 grams per liter
• Virtually odorless
• Fast drying—Approximately 2-3 hours
• Nonflammable
• Water clean-up
• Will adhere to most solvent-based
and waterborne finishes after proper
preparation, drying, and curing times
Our lowest
VOC sport
floor finish
•
Excellent
chemical
resistance
protects against
perspiration
•
Virtually
odorless
•
Easy to
maintain
BILLERICA, MA 01862
CS-263 05/11
DIRECTIONS FOR USE:
BEFORE USING, READ ALL DIRECTIONS AND MATERIAL SAFETY DATA SHEETS.
Use directly from container. Do not thin. Nonflammable. Non-photochemically reactive (not an ozone precursor).
For new installation of sport floors, use only in structures with humidity and temperature controls.
DO NOT USE over channel and clip floor systems in environments not controlled for temperature and humidity.
ABRADE AND RECOAT EXISTING FLOORS
1. Be sure floor is free from wax or oily residue.
2. Clean floor thoroughly with NewAge Replay Maintenance Cleaner and use NewAge Recoat Conditioner and Prep Cleaner system (see label for directions).
3. When recoating over other manufacturers' finishes, check with manufacturer for abrading recommendations.
4. Vacuum thoroughly.
5. Tack with untreated dust mop or slightly water-dampened towel.
6. Apply 1-2 coats of a NewAge finish (see finish directions).
NOTE: Game On will adhere to most finishes after proper preparation and dry times; test to ensure compatibility.
SANDING AND FINISHING NEW FLOORS
1. Sand and prepare the floor using MFMA-accepted methods.
2. Make your final cut with 100-120-grit paper. Screen with 120-150-grit screen. This burnishing will reduce the amount of grain raise.
3. Vacuum thoroughly.
4. Tack with untreated dust mop or slightly water-dampened cloth or towel.
5. Apply sealer and paint using MFMA-accepted methods then apply finish system (see finish directions).
INTERCOAT ABRASION FOR FLOORS WHEN GAME LINES ARE NOT BEING APPLIED: Abrading between finish coats is not
necessary for adhesion unless it has been more than 48 hours since the previous coat has been applied.
INTERCOAT ABRASION FOR FLOORS WITH GAME LINES: Apply game lines over the first coat of finish. Before applying game lines, abrade
with a Floor Prep Pad (FPP) or 120-grit screen then vacuum and tack thoroughly. BEFORE APPLYING GAME LINES, ALWAYS PREPARE A SAMPLE
OR TEST AREA TO DETERMINE COMPATIBILITY AND ADHESION. DO NOT USE PAINT CONTAINING VINYLS OR POLY-VINYLS.
Abrade dry game lines with a FPP or 120-grit screen to ensure adhesion of finish. Apply finish coat. Abrading between finish coats is not necessary for adhesion
of finish, unless it has been more than 48 hours since the previous coat has been applied. Always vacuum and tack thoroughly after abrading.
FINISHING: SHAKE OR STIR WELL BEFORE USING.
1. Add NewAge X-Link per label directions.
2. Pour a 4" wide line of finish along the starting wall. Go with the grain of the wood.
3. Using a clean, pre-dampened NewAge Lightweight (LW) 18" Applicator; draw the applicator forward, with the grain of the wood, moving the finish toward the
opposite wall. Holding the applicator at a "snowplow" angle will maintain a wet edge at all times.
4. At the end of each run, turn the applicator toward you and pad out the applicator parallel to the wet edge.
5. Feather out all turns. If pushed too hard or too fast, drips will fly off the applicator.
6. Missed areas can be touched up if seen right away.
7. To prevent lapping and dry marks, be sure you are using the recommended coverage of 500-600 sq.ft. per gallon. Be careful not to spread the finish too thin.
8. Allow your first coat to dry 2-3 hours before application of a second coat.
DRY TIME/CURING: With conditions of 65 to 80º F and 40 to 60% humidity this finish will dry in 2-3 hours. The curing process takes approximately
7 days. The floor may be walked on after 24 hours, but the finish is susceptible to scuffing and marring prior to completion of the curing time. Allow final coat to dry
at least 48 hours before routine use. Do not place athletic or walk-off mats on floor until finish is fully cured. Do not clean with water or detergent until fully cured.
RECOMMENDED APPLICATORS: NewAge Lightweight (LW) 18" Applicator, flocked foam cut-in pad.
CLEAN-UP: Tools should be cleaned with water and stored.
STORAGE: FREEZE-THAW STABLE: Product should always be stored in a climate controlled environment. Do not store above 100° F. If frozen, allow
product to thaw out at room temperature before applying.
MAINTENANCE: Place walk-off mats at all entrance doorways to keep out excessive dirt and grit. See NewAge Replay Maintenance Cleaner instructions
for cleaning and maintenance information.
POT LIFE: The finish/X-Link mixture is active for 8 hours after it is mixed. Within 2-3 days, X-Link may be added one additional time.
SPECIFICATIONS/PHYSICAL DATA:
Physical Characteristics:
Ingredients - Water (7732-18-5), polyurethane resin (Proprietary), Propylene Based Glycol Ethers (Proprietary), Dipropylene Glycol Monomethyl Ether (34590-94-8)
Color - Milky, off white (wet)
Gloss Level - (60˚) 90+
pH - 7.8
Odor - Non-offending
Solids - 32%
Flash Point -N/A
Viscosity - (#4 Ford cup @ 25˚ C) approx. 18.5 seconds
Stability - One year shelf life in unopened container
Density - 8.66 lbs./gallon (1.04 S.G.)
VOC - Does not exceed 200 grams per liter (1.7 pounds per gallon)
Packaging - 5-gallon plastic pail - 32015 • Crosslinker included - 32003
Application Characteristics:
Clarity - Clear when dry
Coverage - 500-600 sq. ft. per gallon
Leveling - Excellent
Percent Cured After 24 Hours - 70%; after 72 hours - 90%
Defoaming - Excellent
Maximum Cure - 100% in one week
Drying Time - 2-3 hours
Application Tools - NewAge Lightweight (LW) 18" Applicator, flocked foam cut-in pad.

* Your assessment is very important for improving the work of artificial intelligence, which forms the content of this project