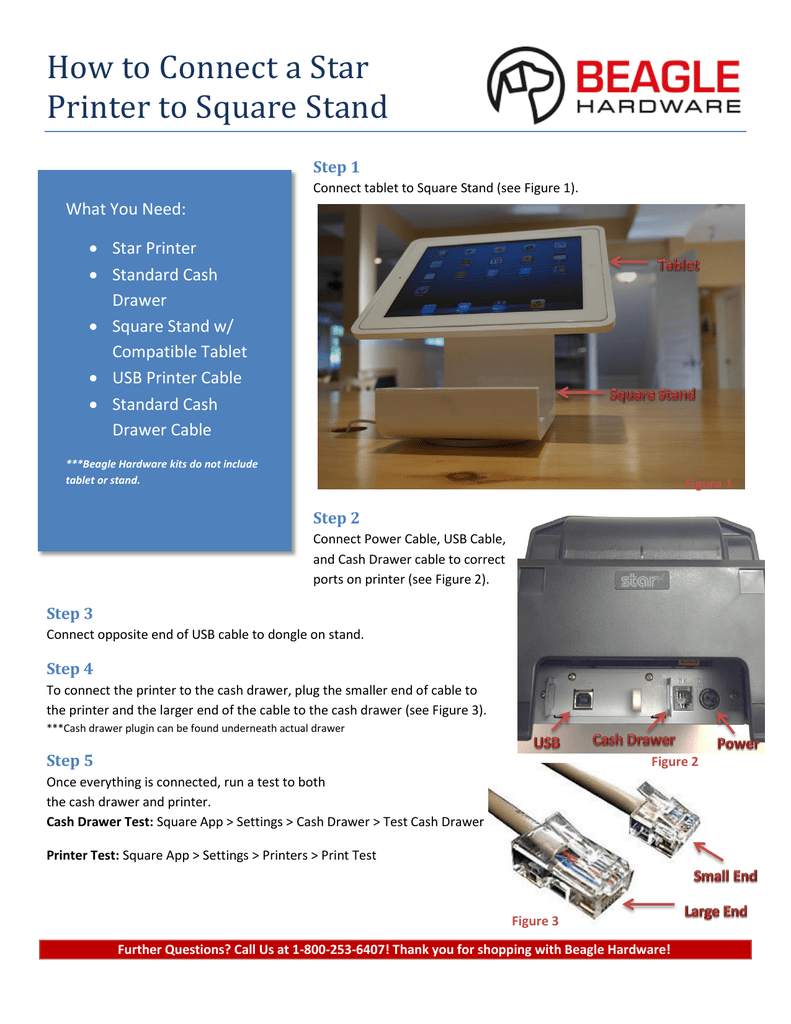 How to Connect a Star
Printer to Square Stand
Step 1
Connect tablet to Square Stand (see Figure 1).
What You Need:
 Star Printer
 Standard Cash
Drawer
 Square Stand w/
Compatible Tablet
 USB Printer Cable
 Standard Cash
Drawer Cable
***Beagle Hardware kits do not include
tablet or stand.
Figure 1
Step 2
Connect Power Cable, USB Cable,
and Cash Drawer cable to correct
ports on printer (see Figure 2).
Step 3
Connect opposite end of USB cable to dongle on stand.
Step 4
To connect the printer to the cash drawer, plug the smaller end of cable to
the printer and the larger end of the cable to the cash drawer (see Figure 3).
***Cash drawer plugin can be found underneath actual drawer
Step 5
Figure 2
Once everything is connected, run a test to both
the cash drawer and printer.
Cash Drawer Test: Square App > Settings > Cash Drawer > Test Cash Drawer
Printer Test: Square App > Settings > Printers > Print Test
Figure 3
Further Questions? Call Us at 1-800-253-6407! Thank you for shopping with Beagle Hardware!

* Your assessment is very important for improving the work of artificial intelligence, which forms the content of this project