No category
University of Wisconsin - Madison REQUEST FOR BID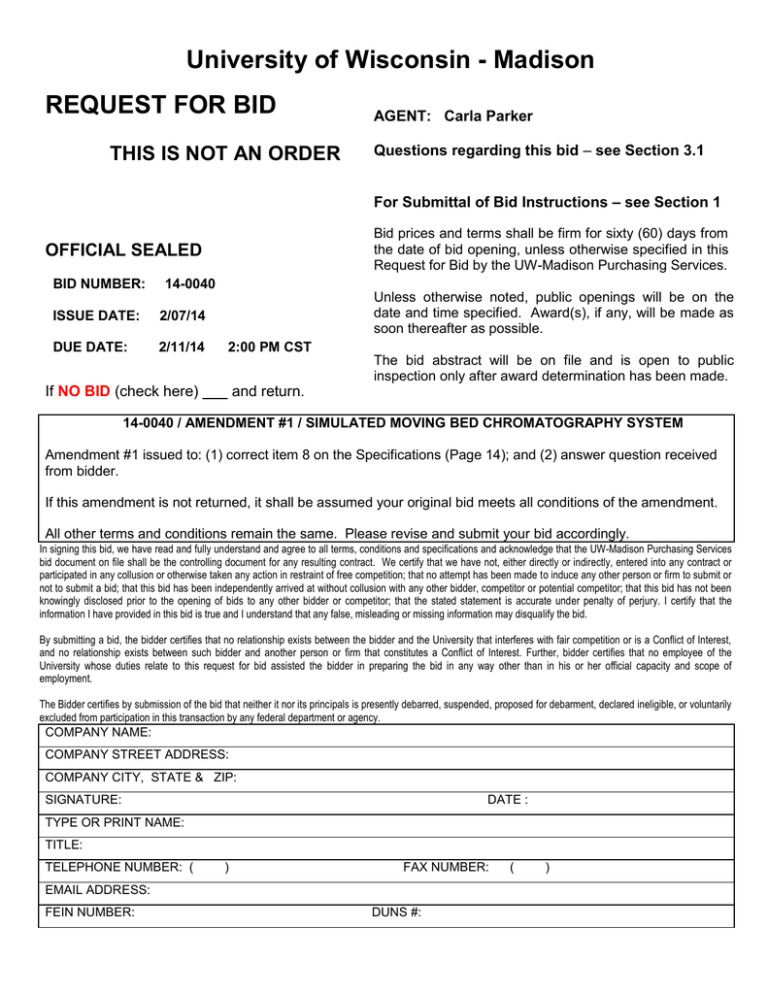 University of Wisconsin - Madison
REQUEST FOR BID
THIS IS NOT AN ORDER
AGENT: Carla Parker
Questions regarding this bid – see Section 3.1
For Submittal of Bid Instructions – see Section 1
Bid prices and terms shall be firm for sixty (60) days from
the date of bid opening, unless otherwise specified in this
Request for Bid by the UW-Madison Purchasing Services.
OFFICIAL SEALED
BID NUMBER:
14-0040
ISSUE DATE:
2/07/14
DUE DATE:
2/11/14
Unless otherwise noted, public openings will be on the
date and time specified. Award(s), if any, will be made as
soon thereafter as possible.
2:00 PM CST
The bid abstract will be on file and is open to public
inspection only after award determination has been made.
If NO BID (check here)
and return.
14-0040 / AMENDMENT #1 / SIMULATED MOVING BED CHROMATOGRAPHY SYSTEM
Amendment #1 issued to: (1) correct item 8 on the Specifications (Page 14); and (2) answer question received
from bidder.
If this amendment is not returned, it shall be assumed your original bid meets all conditions of the amendment.
All other terms and conditions remain the same. Please revise and submit your bid accordingly.
In signing this bid, we have read and fully understand and agree to all terms, conditions and specifications and acknowledge that the UW-Madison Purchasing Services
bid document on file shall be the controlling document for any resulting contract. We certify that we have not, either directly or indirectly, entered into any contract or
participated in any collusion or otherwise taken any action in restraint of free competition; that no attempt has been made to induce any other person or firm to submit or
not to submit a bid; that this bid has been independently arrived at without collusion with any other bidder, competitor or potential competitor; that this bid has not been
knowingly disclosed prior to the opening of bids to any other bidder or competitor; that the stated statement is accurate under penalty of perjury. I certify that the
information I have provided in this bid is true and I understand that any false, misleading or missing information may disqualify the bid.
By submitting a bid, the bidder certifies that no relationship exists between the bidder and the University that interferes with fair competition or is a Conflict of Interest,
and no relationship exists between such bidder and another person or firm that constitutes a Conflict of Interest. Further, bidder certifies that no employee of the
University whose duties relate to this request for bid assisted the bidder in preparing the bid in any way other than in his or her official capacity and scope of
employment.
The Bidder certifies by submission of the bid that neither it nor its principals is presently debarred, suspended, proposed for debarment, declared ineligible, or voluntarily
excluded from participation in this transaction by any federal department or agency.
COMPANY NAME:
COMPANY STREET ADDRESS:
COMPANY CITY, STATE & ZIP:
SIGNATURE:
DATE :
TYPE OR PRINT NAME:
TITLE:
TELEPHONE NUMBER: (
)
FAX NUMBER:
EMAIL ADDRESS:
FEIN NUMBER:
DUNS #:
(
)
UNIVERSITY OF WISCONSIN
MADISON, WISCONSIN 53715-1218
AMENDMENT #1
BID NO.: 14-0040
PAGE 14 OF 23
ATTACHMENT B: SPECIFICATIONS
Simulated Moving Bed Chromatography System
Scope:
The department is seeking as system that will be used to isolate gram quantities of proteins, peptides, phytochemicals
and biologic components to support research in the field phytochemistry and mucosal immunology.
Simulated Moving Bed Chromatography System
ITEM
DESCRIPTION
1.
Simulated Moving Bed Chromatography (SMBC) Solvent delivery System
with capacity to deliver solvent to 8 columns (in SMBC format).
2.
Flow Rates from 0.001 to 12.00 ml/min.
3.
Real –time pressure monitoring with upper and lower pressure limits.
4.
Simulation Software – Modeling of various continuous chromatography
processes (ie. 3 and 4-zone SMBC, intermittent and sequential SMBC).
5.
Application Software – control proportioning valves on solvent delivery
system to accomplish SMBC separation.
6.
UV-Vis Detector and flow Cell
7.
Application Software - Control output from UV-Vis Detectors
8.
Column Stand – 8 column capacity (1ml disposable to-50mm I.D. x 500mm
38mm OD x 45 cmL stainless steel).
MEET
SPECIFICATIONS
YES
NO
AMENDMENT #1
QUESTION & ANSWER FOR 14-0040
SIMULATED MOVING BED CHROMATOGRAPHY SYSTEM
Q1:
This system requires a dedicated computer that should be supplied with the System. Please
confirm whether we should supply computer with the system, as it is currently omitted from
the Specification Table.
A1:
The total cost for the system should include the cost of the computer required to run the system.

* Your assessment is very important for improving the work of artificial intelligence, which forms the content of this project