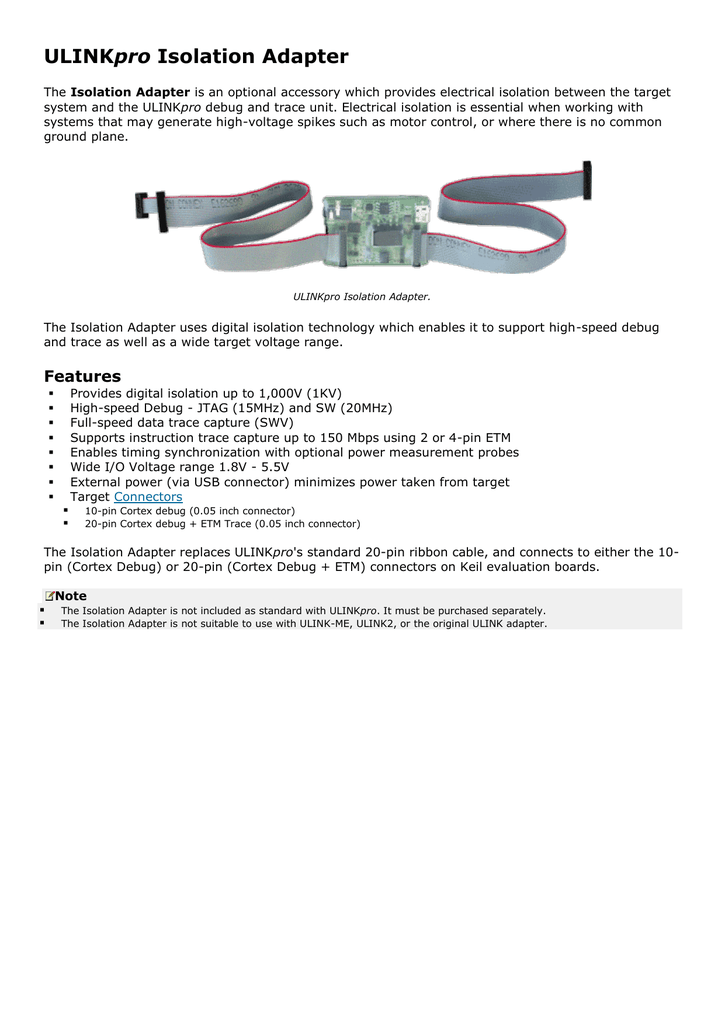 ULINKpro Isolation Adapter
The Isolation Adapter is an optional accessory which provides electrical isolation between the target
system and the ULINKpro debug and trace unit. Electrical isolation is essential when working with
systems that may generate high-voltage spikes such as motor control, or where there is no common
ground plane.
ULINKpro Isolation Adapter.
The Isolation Adapter uses digital isolation technology which enables it to support high-speed debug
and trace as well as a wide target voltage range.
Features
Provides digital isolation up to 1,000V (1KV)
High-speed Debug - JTAG (15MHz) and SW (20MHz)
Full-speed data trace capture (SWV)
Supports instruction trace capture up to 150 Mbps using 2 or 4-pin ETM
Enables timing synchronization with optional power measurement probes
Wide I/O Voltage range 1.8V - 5.5V
External power (via USB connector) minimizes power taken from target
Target Connectors










10-pin Cortex debug (0.05 inch connector)
20-pin Cortex debug + ETM Trace (0.05 inch connector)
The Isolation Adapter replaces ULINKpro's standard 20-pin ribbon cable, and connects to either the 10pin (Cortex Debug) or 20-pin (Cortex Debug + ETM) connectors on Keil evaluation boards.
Note


The Isolation Adapter is not included as standard with ULINKpro. It must be purchased separately.
The Isolation Adapter is not suitable to use with ULINK-ME, ULINK2, or the original ULINK adapter.

* Your assessment is very important for improving the work of artificial intelligence, which forms the content of this project