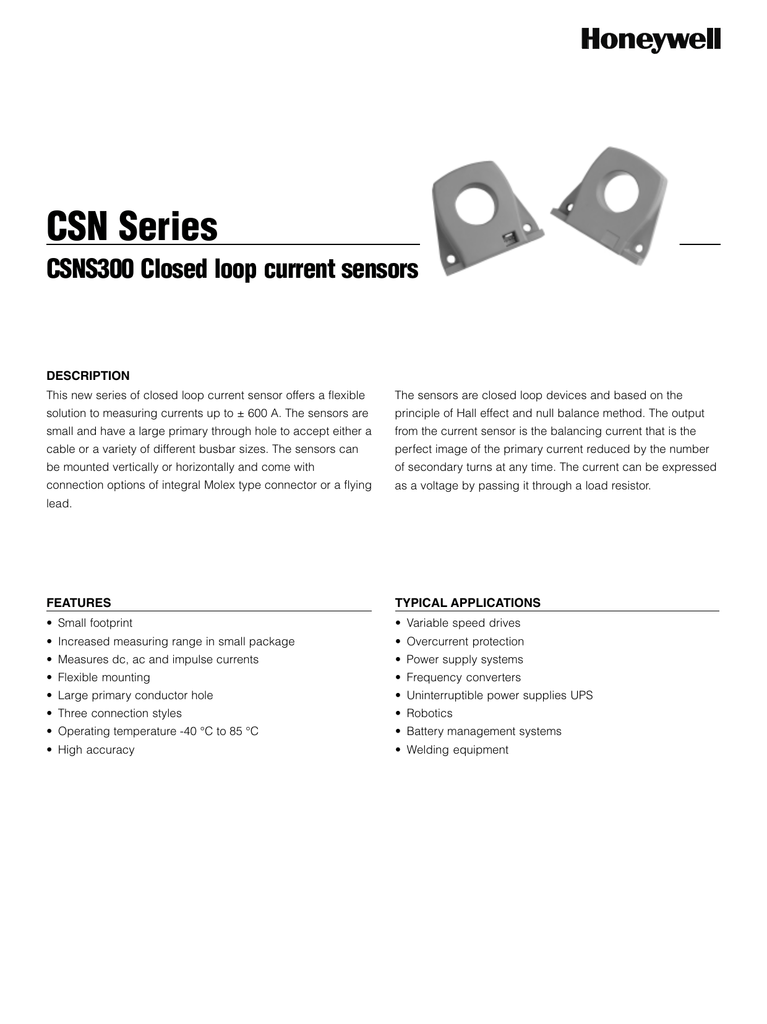 CSN Series
CSNS300 Closed loop current sensors
DESCRIPTION
This new series of closed loop current sensor offers a flexible
The sensors are closed loop devices and based on the
solution to measuring currents up to ± 600 A. The sensors are
principle of Hall effect and null balance method. The output
small and have a large primary through hole to accept either a
from the current sensor is the balancing current that is the
cable or a variety of different busbar sizes. The sensors can
perfect image of the primary current reduced by the number
be mounted vertically or horizontally and come with
of secondary turns at any time. The current can be expressed
connection options of integral Molex type connector or a flying
as a voltage by passing it through a load resistor.
lead.
FEATURES
TYPICAL APPLICATIONS
• Small footprint
• Variable speed drives
• Increased measuring range in small package
• Overcurrent protection
• Measures dc, ac and impulse currents
• Power supply systems
• Flexible mounting
• Frequency converters
• Large primary conductor hole
• Uninterruptible power supplies UPS
• Three connection styles
• Robotics
• Operating temperature -40 °C to 85 °C
• Battery management systems
• High accuracy
• Welding equipment
CSN Series
TECHNICAL INFORMATION
ELECTRICAL WIRING DIAGRAM
+
Electrical
Nominal current (In):
-
300 A.t rms
Measuring range (dc or ac peak):
0 to ± 600 A.t
Measuring resistance (@ +70 °C) [1]:
Rm min.
Rm max.
with ± 15 V @ ± 300 A.t rms max.
5 Ohm
82 Ohm
@ ± 600 A.t rms max.
5 Ohm
25 Ohm
0 volt
OUTPUT
Ter
mination
ermination
150 mA
- supply voltage -15 V (nominal)
1/2000
O/P measured output signal
@ 25 °C:
max. ± 0.5 % @ In
Supply voltage:
± 12 Vdc to ± 18 Vdc (± 5 %)
Galvanic isolation:
6 kV rms/50 Hz/1 minute
Accuracy - dynamic performance
Zero offset current at 25 °C
< ± 0.2 mA
Thermal drift of offset current 0 °C to 70 °C < ± 0.4 mA
Linearity
< ± 0.1 %
Response time
< 500 ns
Bandwidth
dc to 150 kHz
di/dt
> 100 A/us
General data
Operating temperature
-40 °C to 85 °C
Storage temperature
-40 °C to 90 °C
Current consumption
10 mA plus output current
Secondary internal resistance (@ 70 °C)
31 Ohm
Sensor housing
Insulated plastic case
Connection CSNS300M
Molex type connector (3 or 4 pin)
CSNS300F
Flying lead and Amp connector
Note
Values to be confirmed at temperature
ORDER GUIDE
Description
300 A closed loop current sensor
2
O/P
@ 300 A
Turns ratio:
[1]
Rm
+ supply voltage +15 V (nominal)
Nominal analogue output current:
Accuracy
+
Catalogue Listing
Integral Molex type connector (3 pin)
CSNS300M
Integral Molex type connector (4 pin), fully encapsulated
CSNS300M-001
Flying lead and Amp-type connector
CSNS300F
www.honeywell.com/sensing
CSNS300 Closed loop current sensor
MOUNTING DIMENSIONS IN MM (INCHES), FOR REFERENCE ONLY
CSNS300M
CSNS300M-001
CSNS300F
Honeywell Sensing and Control
3
WARNING
MISUSE OF DOCUMENTATION
• The information presented in this
product sheet is for reference only.
Do not use this document as a
product installation guide.
• Complete installation, operation, and
maintenance information is provided
in the instructions supplied with
each product.
Failure to comply with these
instructions could result in death or
serious injury.
WARNING
PERSONAL INJURY
DO NOT USE these products as safety
or emergency stop devices or in any
other application where failure of the
product could result in personal injury.
Failur
e to comply with these
Failure
instr
uctions could rresult
esult in death or
instructions
serious injur
y.
injury
WARRANTY/REMEDY
SALES AND SERVICE
Honeywell warrants goods of its
Honeywell serves its customers through
manufacture as being free of defective
a worldwide network of sales offices,
materials and faulty workmanship.
representatives and distributors. For
Honeywell's standard product warranty
application assistance, current
applies unless agreed to otherwise by
specifications, pricing or name of the
Honeywell in writing; please refer to
nearest Authorized Distributor, contact
your order acknowledgement or consult
your local sales office or:
your local sales office for specific
warranty details. If warranted goods are
returned to Honeywell during the period
Inter
net: www.honeywell.com/sensing
Internet:
of coverage, Honeywell will repair or
Phone and Fax:
replace, at its option, without charge
Asia Pacific
those items it finds defective. The
for
egoing is buyer
emedy and
foregoing
buyer''s sole rremedy
is in lieu of all war
ranties, expr
essed
warranties,
expressed
or implied, including those of
mer
chantability and fitness for a
merchantability
par
ticular purpose. In no event shall
particular
Europe
+44 (0) 1698 481481
+44 (0) 1698 481676 Fax
Latin America +1-305-805-8188
+1-305-883-8257 Fax
USA/Canada +1-800-537-6945
+1-815-235-6847
consequential, special, or indir
ect
indirect
+1-815-235-6545 Fax
damages.
While we provide application
assistance personally, through our
is up to the customer to determine the
suitability of the product in the
application.
Specifications may change without
notice. The information we supply is
believed to be accurate and reliable as
of this printing. However, we assume no
responsibility for its use.
Automation and Control Solutions
Sensing and Control
Honeywell
Newhouse Industrial Estate
www.honeywell.com
+65 6355-2828
+65 6445-3033 Fax
Honeywell be liable for
literature and the Honeywell web site, it
Motherwell, ML1 5SB UK
E-mail: info.sc@honeywell.com
100454-EN Issue 2 UK07 GLO
February 2005
Copyright 2002-2005 Honeywell International Inc.

* Your assessment is very important for improving the work of artificial intelligence, which forms the content of this project