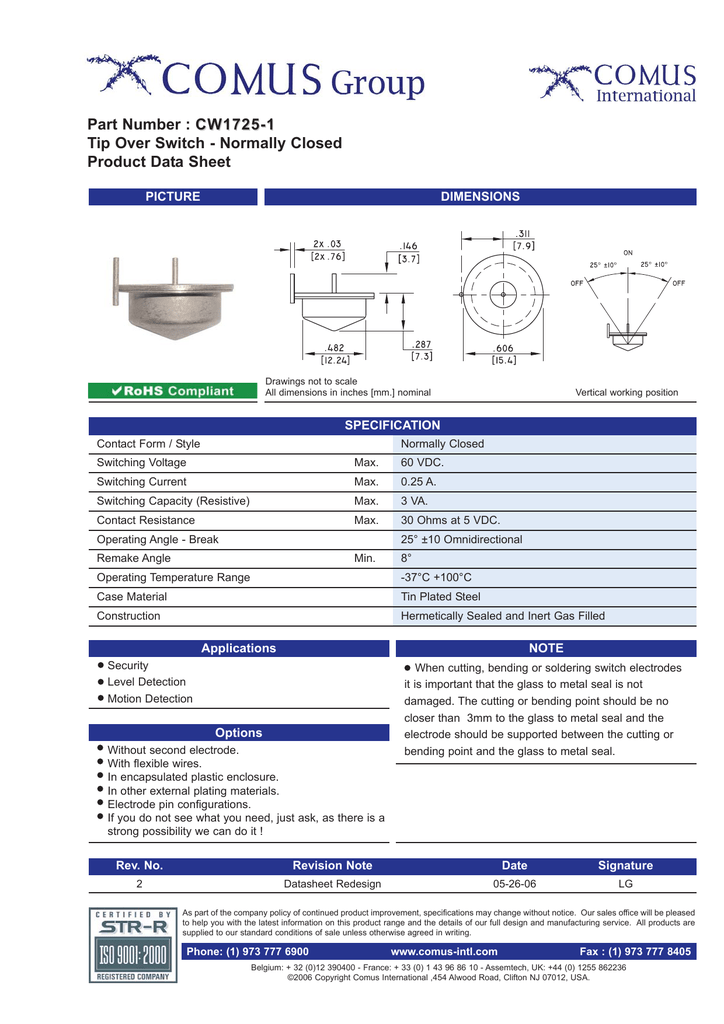 Part Number : CW1725-1
Tip Over Switch - Normally Closed
Product Data Sheet
PICTURE
DIMENSIONS
Drawings not to scale
All dimensions in inches [mm.] nominal
Vertical working position
SPECIFICATION
Contact Form / Style
Normally Closed
Switching Voltage
Max.
60 VDC.
Switching Current
Max.
0.25 A.
Switching Capacity (Resistive)
Max.
3 VA.
Contact Resistance
Max.
30 Ohms at 5 VDC.
Operating Angle - Break
25° ±10 Omnidirectional
Remake Angle
Min.
8°
Operating Temperature Range
-37°C +100°C
Case Material
Tin Plated Steel
Construction
Hermetically Sealed and Inert Gas Filled
Applications
NOTE
Security
Level Detection
Motion Detection
Options
Without second electrode.
With flexible wires.
In encapsulated plastic enclosure.
In other external plating materials.
Electrode pin configurations.
If you do not see what you need, just ask, as there is a
strong possibility we can do it !
When cutting, bending or soldering switch electrodes
it is important that the glass to metal seal is not
damaged. The cutting or bending point should be no
closer than 3mm to the glass to metal seal and the
electrode should be supported between the cutting or
bending point and the glass to metal seal.
Rev. No.
Revision Note
Date
Signature
2
Datasheet Redesign
05-26-06
LG
As part of the company policy of continued product improvement, specifications may change without notice. Our sales office will be pleased
to help you with the latest information on this product range and the details of our full design and manufacturing service. All products are
supplied to our standard conditions of sale unless otherwise agreed in writing.
Phone: (1) 973 777 6900
www.comus-intl.com
Fax : (1) 973 777 8405
Belgium: + 32 (0)12 390400 - France: + 33 (0) 1 43 96 86 10 - Assemtech, UK: +44 (0) 1255 862236
©2006 Copyright Comus International ,454 Alwood Road, Clifton NJ 07012, USA.

* Your assessment is very important for improving the work of artificial intelligence, which forms the content of this project