No category
Document Reference No. 93-68-EEC1374 DECLARATION OF CONFORMITY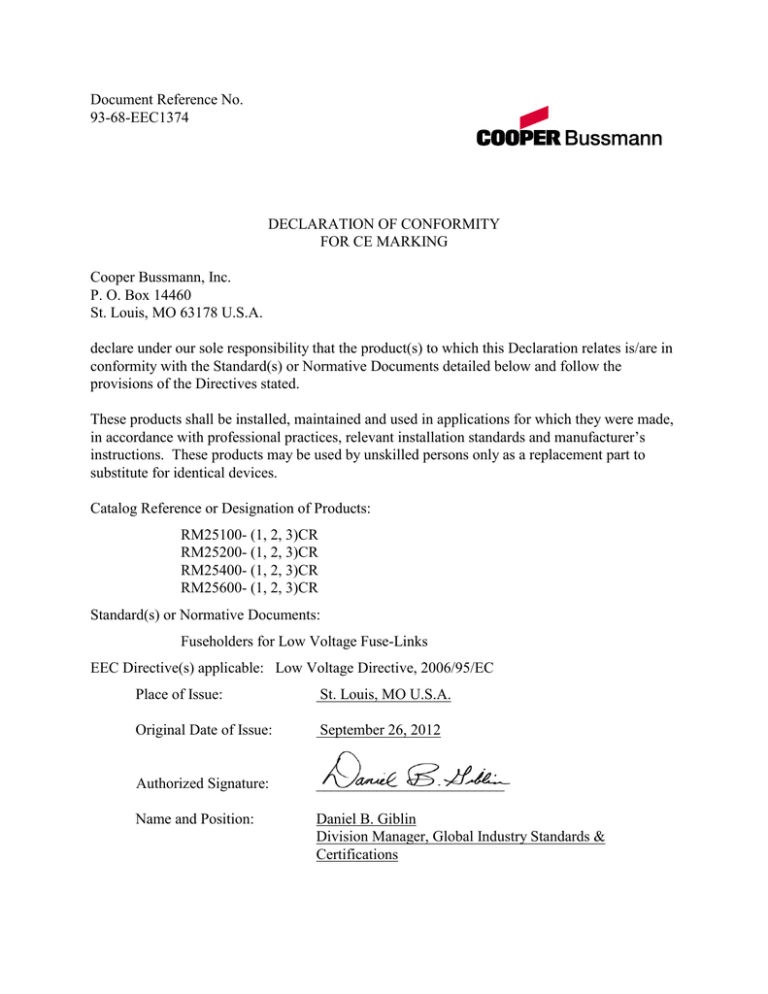 Document Reference No.
93-68-EEC1374
DECLARATION OF CONFORMITY
FOR CE MARKING
Cooper Bussmann, Inc.
P. O. Box 14460
St. Louis, MO 63178 U.S.A.
declare under our sole responsibility that the product(s) to which this Declaration relates is/are in
conformity with the Standard(s) or Normative Documents detailed below and follow the
provisions of the Directives stated.
These products shall be installed, maintained and used in applications for which they were made,
in accordance with professional practices, relevant installation standards and manufacturer's
instructions. These products may be used by unskilled persons only as a replacement part to
substitute for identical devices.
Catalog Reference or Designation of Products:
RM25100- (1, 2, 3)CR
RM25200- (1, 2, 3)CR
RM25400- (1, 2, 3)CR
RM25600- (1, 2, 3)CR
Standard(s) or Normative Documents:
Fuseholders for Low Voltage Fuse-Links
EEC Directive(s) applicable: Low Voltage Directive, 2006/95/EC
Place of Issue:
St. Louis, MO U.S.A.
Original Date of Issue:
September 26, 2012
Authorized Signature:
_________________________
Name and Position:
Daniel B. Giblin
Division Manager, Global Industry Standards &
Certifications
LOW-VOLTAGE FUSEHOLDERS
The low-voltage fuseholder listed on the Declaration of Conformity meet the essential
requirements of the safety objectives of the Low-Voltage Directive for the following reasons:
1.
2.
Marking - These fuseholders are marked with the following information:
-
Manufacturer's name or trademark: Bussmann or Buss
-
Manufacturer's catalog or part number: RM25XXX-(1,2,3)
-
Rated voltage: 250 AC
-
Rated current:
100, 200, 400, 600 A
Availability - These fuseholders are available through a major distribution network in the
European Union.
3.
Prior Sale - These fuseholders have been available in the world market since 2011.
4.
Quality - These fuseholders were manufactured in an ISO 9000 registered facility.

* Your assessment is very important for improving the work of artificial intelligence, which forms the content of this project