No category
Replacing the Front Bezel Snap Server 4200/4500 Removing the Front Bezel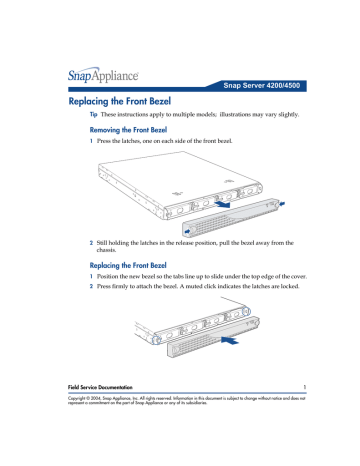 Snap Server 4200/4500
Replacing the Front Bezel
Tip These instructions apply to multiple models; illustrations may vary slightly.
Removing the Front Bezel
1 Press the latches, one on each side of the front bezel.
2 Still holding the latches in the release position, pull the bezel away from the
chassis.
Replacing the Front Bezel
1 Position the new bezel so the tabs line up to slide under the top edge of the cover.
2 Press firmly to attach the bezel. A muted click indicates the latches are locked.
Field Service Documentation
1
Copyright © 2004, Snap Appliance, Inc. All rights reserved. Information in this document is subject to change without notice and does not
represent a commitment on the part of Snap Appliance or any of its subsidiaries.

* Your assessment is very important for improving the work of artificial intelligence, which forms the content of this project