11b/g Wireless P/T/Z IP Network Camera WCS-0020 H/W Version: 1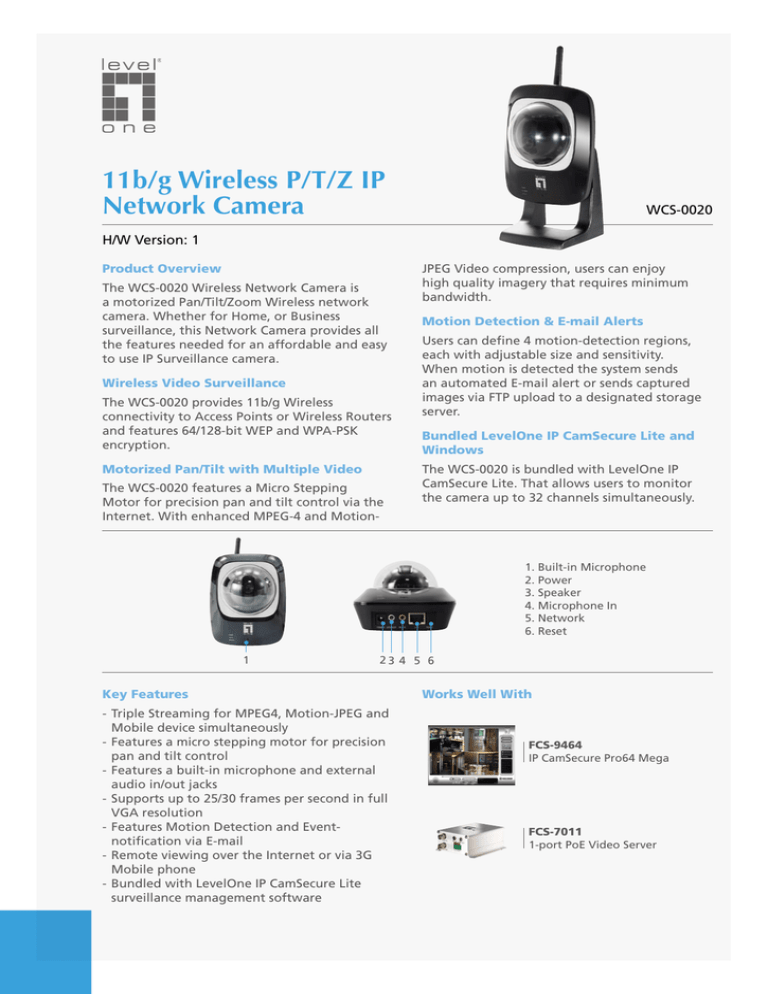 11b/g Wireless P/T/Z IP
Network Camera
WCS-0020
H/W Version: 1
Product Overview
The WCS-0020 Wireless Network Camera is
a motorized Pan/Tilt/Zoom Wireless network
camera. Whether for Home, or Business
surveillance, this Network Camera provides all
the features needed for an affordable and easy
to use IP Surveillance camera.
Wireless Video Surveillance
The WCS-0020 provides 11b/g Wireless
connectivity to Access Points or Wireless Routers
and features 64/128-bit WEP and WPA-PSK
encryption.
Motorized Pan/Tilt with Multiple Video
The WCS-0020 features a Micro Stepping
Motor for precision pan and tilt control via the
Internet. With enhanced MPEG-4 and Motion-
JPEG Video compression, users can enjoy
high quality imagery that requires minimum
bandwidth.
Motion Detection & E-mail Alerts
Users can define 4 motion-detection regions,
each with adjustable size and sensitivity.
When motion is detected the system sends
an automated E-mail alert or sends captured
images via FTP upload to a designated storage
server.
Bundled LevelOne IP CamSecure Lite and
Windows
The WCS-0020 is bundled with LevelOne IP
CamSecure Lite. That allows users to monitor
the camera up to 32 channels simultaneously.
1. Built-in Microphone
2. Power
3. Speaker
4. Microphone In
5. Network
6. Reset
1
23 4 5 6
Key Features
-Triple Streaming for MPEG4, Motion-JPEG and
Mobile device simultaneously
-Features a micro stepping motor for precision
pan and tilt control
-Features a built-in microphone and external
audio in/out jacks
-Supports up to 25/30 frames per second in full
VGA resolution
-Features Motion Detection and Eventnotification via E-mail
-Remote viewing over the Internet or via 3G
Mobile phone
-Bundled with LevelOne IP CamSecure Lite
surveillance management software
Works Well With
FCS-9464
IP CamSecure Pro64 Mega
FCS-7011
1-port PoE Video Server
www.level1.com I one world_one brand_one level_
Network Camera
Technical Specification
Network
1 x RJ-45 10/100 Mbps port
Wireless Specifications
IEEE 802.11b
IEEE 802.11g
Operation Modes
Infrastructure / Ad-Hoc
Wireless Range
50m Indoor
Encryption
64/128-bit WEP, WPA-PSK
Frequency
2.4~2.4835GHz, DSSS
Antenna
2dBi Detachable
Video
Compression Mode
MPEG4/MJPEG
Max. Resolution
640x480 pixels
Frame Rate
160x120: 30fps/25fps
320x240: 30fps/25fps
640x480: 30fps/25fps
3GPP
[email protected], MPEG-4 for mobile phone viewing
Still Picture
JPEG
Video Record
AVI
Camera
Sensor
CMOS, 1/4" VGA Resolution
Lens
4.57mm/F2.0 Fixed Focus
Effective Range: 0.5m to 5m
View Angle
55°
Minimum Illumination
1 Lux
AGC/AWB/AES
Audio
Audio In/Out
Built-in Microphone
External microphone input jack
External speaker output jack
Audio Codec
G.726/G.711
S/N Ratio
>58dB
PTZ
Pan
126° (Left 63° ~ Right 63°)
Tilt
64°
Digital Zoom
4x Digital Zoom
Hardware & Environment
Flash ROM
4MB Flash ROM
SDRAM
32MB SDRAM
Housing
Indoor
Power
DC5V/2A
Environmental Conditions
Operating Temperature: 0°C ~ 40°C
Operating Humidity: 10% ~ 80%
Storage Temperature: 0°C ~ 40°C
Storage Humidity: 10% ~ 80%
Dimension
113.5mm (H) x 52.1mm (W) x 80mm (D)
Weight
273g without stand
377.5g with stand
Supported Protocols
IPv4, TCP/IP, SMTP, HTTP, DHCP, NTP, RTSP/RTP, UPnP
Software
Bundled with 32-Channel LevelOne IP CamSecure Lite
surveillance management software
Viewing System Requirement
OS
Microsoft Windows 2000/XP/Vista
Browser
For MPEG4 video: Internet Explorer in Windows
For MJPEG video: Internet Explorer in MAC, Firefox,
Safari, Mozilla, Netscape
3GPP Player
Real Player 10.5 or above
Quick Time 6.5 or above
EMI and Safety
FCC, CE
Product Diagram
Local Console
Remote
Console
Internet
Wireless
Broadband
Router
WCS-0020
Order Information
WCS-0020: 11g Wireless P/T/Z IP Network Camera
Package Contents
WCS-0020
Power Adapter
Antenna
Camera Stand
CD Manual/Utility
Quick Installation Guide
All mentioned brand names are registered trademarks and property of their owners. Technical specifications are subject to change without notice.
© Copyright 2008 Digital Data Communications GmbH. All Rights Reserved.

* Your assessment is very important for improving the work of artificial intelligence, which forms the content of this project