11g Wireless P/T/Z Network Camera WCS-2010 H/W Version: 3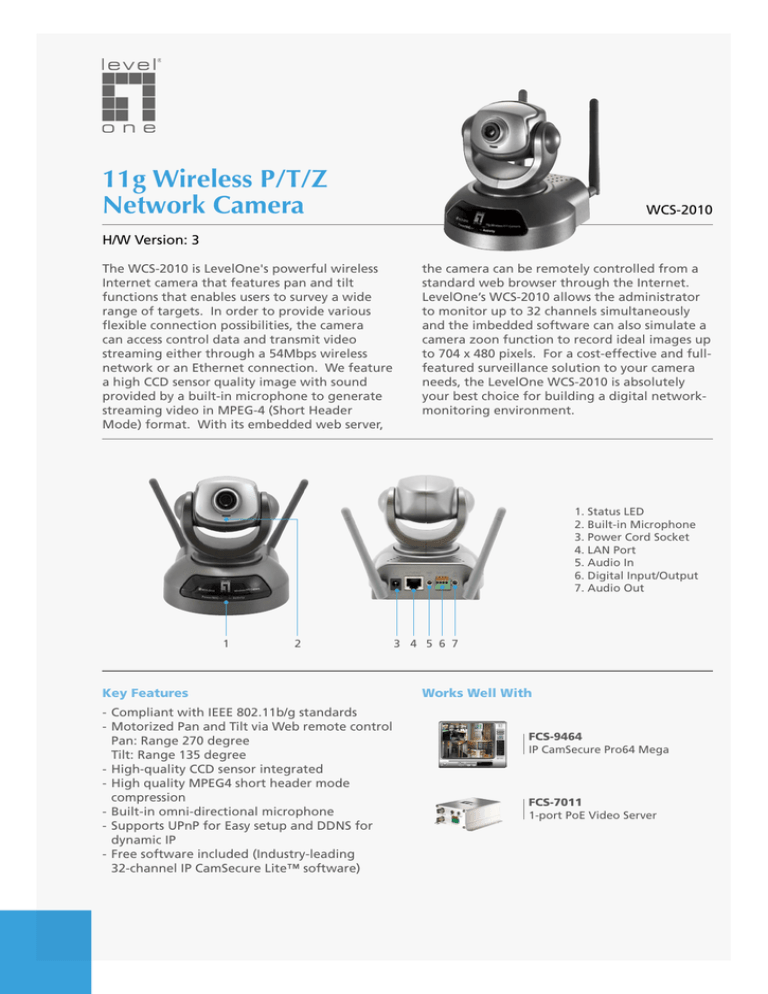 11g Wireless P/T/Z
Network Camera
WCS-2010
H/W Version: 3
The WCS-2010 is LevelOne's powerful wireless
Internet camera that features pan and tilt
functions that enables users to survey a wide
range of targets. In order to provide various
flexible connection possibilities, the camera
can access control data and transmit video
streaming either through a 54Mbps wireless
network or an Ethernet connection. We feature
a high CCD sensor quality image with sound
provided by a built-in microphone to generate
streaming video in MPEG-4 (Short Header
Mode) format. With its embedded web server,
the camera can be remotely controlled from a
standard web browser through the Internet.
LevelOne's WCS-2010 allows the administrator
to monitor up to 32 channels simultaneously
and the imbedded software can also simulate a
camera zoon function to record ideal images up
to 704 x 480 pixels. For a cost-effective and fullfeatured surveillance solution to your camera
needs, the LevelOne WCS-2010 is absolutely
your best choice for building a digital networkmonitoring environment.
1. Status LED
2. Built-in Microphone
3. Power Cord Socket
4. LAN Port
5. Audio In
6. Digital Input/Output
7. Audio Out
1
2
Key Features
-Compliant with IEEE 802.11b/g standards
-Motorized Pan and Tilt via Web remote control
Pan: Range 270 degree
Tilt: Range 135 degree
-High-quality CCD sensor integrated
-High quality MPEG4 short header mode
compression
-Built-in omni-directional microphone
-Supports UPnP for Easy setup and DDNS for
dynamic IP
-Free software included (Industry-leading
32-channel IP CamSecure Lite™ software)
3 4 5 6 7
Works Well With
FCS-9464
IP CamSecure Pro64 Mega
FCS-7011
1-port PoE Video Server
www.level1.com I one world_one brand_one level_
Network Camera
Technical Specification
Network
1 x RJ-45 10/100 Mbps port
Wireless 802.11b/g
Frequency
2.4~2.479MHz
Video
Compression Mode
H.263+ (MPEG4 Short Header Mode)
Max. Resolution
704x480 pixels(NTSC)
704x576 pixels(PAL)
Frame Rate
Up to 30/25 frames at 176x120 or 176x144
Up to 30/25 frames at 352x240 or 352x288
Up to 10 frames at 704x480 or 704x576
Still Picture
JPG
Video Record
AVI
Camera
Sensor
1/4 inch color CCD sensor
Lens
Board lens with 4.3mm focal length, F2.0
View Angle
Vertical 35°
Horizontal 46°
Minimum Illumination
1 Lux / F2.0
Electronic Shutter (Sec)
1/60~1/100,000(NTSC)
1/50~1/100,000(PAL)
AGC/AWB/AES
Audio
Audio Codec
24Kbps, 8Kbps(optional)
Audio In
External Microphone Input*1
Built-in Microphone
Omni-directional
Frequency: 20 – 20,000Hz
S/N Ratio
more than 58dB
PTZ
Pan
270 º (Range+135 º ~-135 º)
Tilt
135 º (Range +90 º ~-45 º)
Number of preset positions
20
Digital Zoom
4x
Hardware & Environment
Flash ROM
2MB Flash ROM
SDRAM
16MB SDRAM
Housing
Indoor use
Digital I/O
1 sensor input(max. 12VDC 50mA)
1 relay output(max. 24VDC 1A, 125VAC 0.5A)
Power
Consumption: near 8.5 W
Universal switching power-supply included
Adapter input: 100-240VAC, 50/60Hz, 0.4A
Adapter output: 12VDC, 1.5A
Temperature
Operating: 0°C~40°C
Humidity
Operating: 95% (RH)
Dimension
104.5mm(L) * 104.5mm(W) * 113.6mm(H)
Weight
NET. 394.8g
Software
Bundled with 32-Channel LevelOne IP CamSecure Lite
surveillance management software
Viewing System Requirement
OS
Microsoft Windows 2000/XP/Vista
Browser
IE 6.x or above
EMI and Safety
FCC, CE
Product Diagram
Internet
Remote User
WCS-2010
Wireless AP
Switch
ADSL Router
WCS-2010
Control Console
Order Information
WCS-2010: 11g Wireless P/T/Z Network Camera
Package Contents
WCS-2010
Power Adapter
Antennas
Camera Stand
AV Cable
CD Manual/Utility
Quick Installation Guide
NAS/DVR
All mentioned brand names are registered trademarks and property of their owners. Technical specifications are subject to change without notice.
© Copyright 2008 Digital Data Communications GmbH. All Rights Reserved.

* Your assessment is very important for improving the work of artificial intelligence, which forms the content of this project