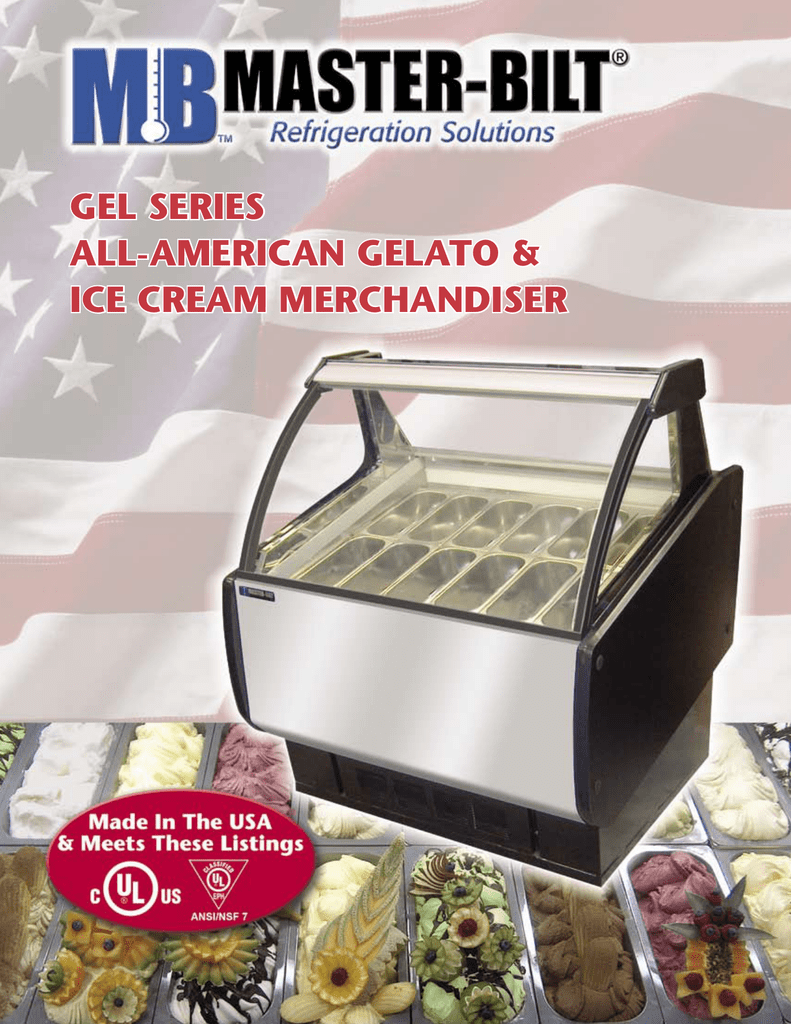 GEL SERIES
ALL-AMERICAN GELATO &
ICE CREAM MERCHANDISER
FEATURES & BENEFITS
• Manufactured in the USA for faster service and parts and no dollar
fluctuation
• Three models available: GEL-6 (6 pans wide), GEL-9 and GEL-12
• Concealed evaporator coils protect from spills
• GEL merchandisers ship assembled – some competitor models don't
• Adjustable temperature range of -5°F to 20°F makes GEL models ideal for
displaying gelato, ice cream, sorbet or Italian ice
• Two levels of pans allows one level for display and one underneath for storage
• Sliding rear lids on back
• Standard electronic controller
• Standard power cord
• Hot gas defrost
• Rear air intake and front air discharge
• Standard T8 electronic lighting with LED optional
• GEL-6 refrigeration system contains one condensing unit while the
GEL-9 and GEL-12 contain two
• Semi-hermetic compressor(s) standard
• 2" thick walls with polyurethane insulation in the refrigeration compartment
for dependable performance
• Standard black finish with stainless steel front panel; optional color finishes
and laminates available
• Optional casters, pans and dipperwells
Glass lid is top hinged for easy
cleaning. Pneumatically supported lid provides smooth closure.
GEL models can be configured to
hold five liter European pans or
USA standard 1/3 size. Pans are
optional on all GEL models.
DIMENSIONS
PLAN VIEW
SIDE VIEW
ELEVATION VIEW
908 Highway 15 North • New Albany, MS 38652
800-647-1284 • FAX: 800-232-3966
www.master-bilt.com
Due to continuous product enhancements, all specifications subject to change without notice.
1263-11/10-web ©Master-Bilt division of Standex International, Inc. All rights reserved. Printed in USA.

* Your assessment is very important for improving the work of artificial intelligence, which forms the content of this project