No category
[email protected] PACKAGED AIR COOLED WATER CHILLER WITH MICROTECH'" CONTROL INSTALLATION AND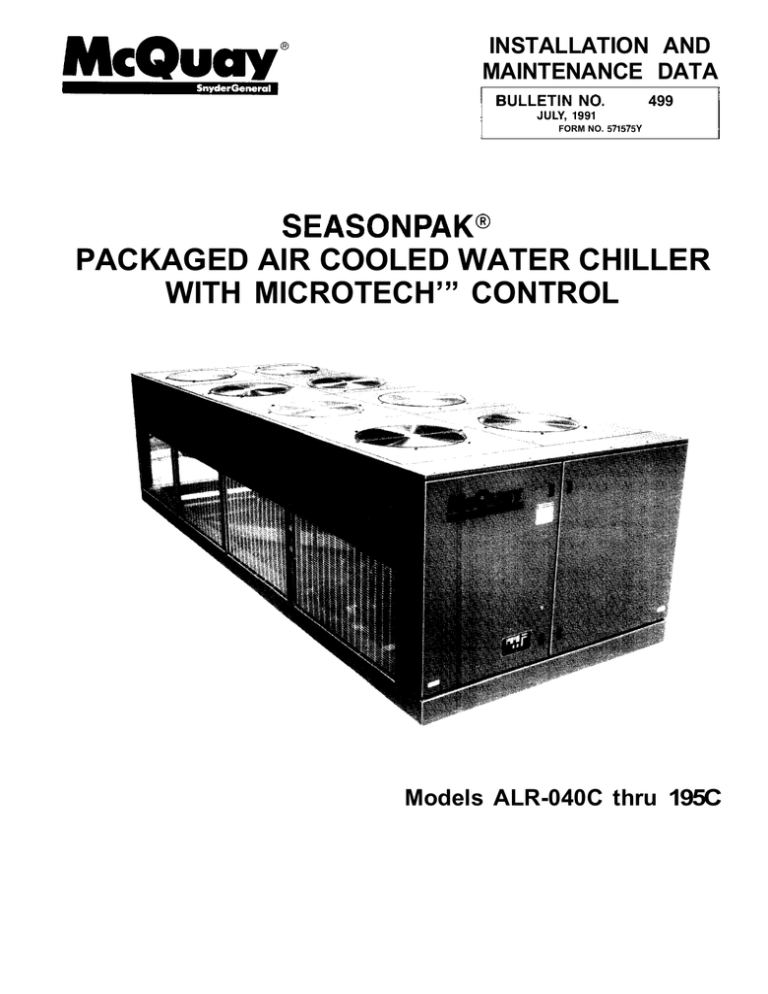 INSTALLATION AND
MAINTENANCE DATA
1 BULLJEETl\!dNl 499 ~
FORM NO. 571575Y
PACKAGED AIR COOLED WATER CHILLER
WITH MICROTECH'" CONTROL
Models ALR-040C thru 195C
INTRODUCTION
trol. All of the operating, safety control, and installation requirements of the MicroTech control are covered in the separate installation and maintenance bulletin IM 493, which must be consulted before startup and operation is attempted.
GENERAL DESCRIPTION
McQuay type ALR SEASONPAK air cooled water chillers are complete, self-contained automatic refrigerating units that include the latest in engineered components arranged to provide a compact and efficient unit. Each unit is completely assembled and factory wired before evacuation, charging and testing, and comes complete and ready for installation. Each unit consists of twin air cooled condensers with integral subcooler sections, multiple accessible hermetic compressors, replaceable tube dual circuit shell-and-tube evaporator, and complete refrigerant piping. Liquid line components that are included are manual liquid line shutoff valves, charging valves, filter-driers, liquid line solenoid valves, sightglass/moisture indicators, and double diaphragm hydraulic element thermal expansion valves. Other features include compressor crankcase heaters, an evaporator heater for chilled water freeze protection, recycling pumpdown during "on" or "off" seasons, compressor lead-lag switch to alternate the compressor starting sequence, and sequenced starting of compressors.
The electrical control center includes all safety and operating controls necessary for dependable automatic operation.
Condenser fan motors are fused in all three conductor legs and started by their own three-pole contactors. Compressors are not fused but may be protected by optional circuit breakers, or by the field installed fused disconnect for protection.
NOMENCLATURE
A L R - 085 C
When the equipment is received, all items should be careful- be checked before unloading the unit to be sure that it agrees ly checked against the bill of lading to insure a complete ship- with the power supply available. Physical damage to unit after ment. All units should be carefully inspected for damage upon acceptance is not the responsibility of SnyderGeneral Corp.
arrival. All shipping damage should be reported to the car- NOTE: Unit shipping and operating weights are available rier and a claim should be filed. The unit serial plate should in the physical data tables 4 and 5, pages 9 and 10.
INSTALLATION
NOTE: Installation and maintenance are to be performed only by qualified personnel who are familiar with local codes
and regulations, and experienced with this type of equipment.
CAUTION: Sharp edges and coil surfaces are a potential injury hazard. Avoid contact with them.
Care should be taken to avoid rough handling or shock due to dropping the unit. Do not push or pull the unit from anything other than the base, and block the pushing vehicle away from the unit to prevent damage to the sheetmetal cabinet and end frame (see Figure 1).
Never allow any part of the unit to fall during unloading or
HANDLING
moving as this may result in serious damage.
To lift the unit, 2%" diameter lifting holes are provided in the base of the unit. Spreader bars and cables should be arranged to prevent damage to the condenser coils or unit cabinet (see Figure 2).
Figure 1. Suggested Pushing Arrangement Figure 2. Suggested Lifting Arrangement
BLOCK REOUIRED
ACROSS FULL WIDTH
IM 499 I Page 3
LOCATION
Care should be taken in the location of the unit to provide Due to the vertical condenser design of the ALR-105 thru proper airflow to the condenser, minimizing effects on con- 195 chillers, it is recommended that the unit is oriented so densing pressure. that prevailing winds blow parallel to the unit length, thus minimizing the effects on condensing pressure. If it is not prac-
Figure 3. Clearance Requirements tical to orient the unit in this manner, a wind deflector should
6 FT MIN CLEARANCE
FOR AIR INLET be constructed.
Minimizing clearances as shown in Figure 3 will prevent most discharge air recirculation to the condenser which will have a significant effect on unit performance.
FOR AIR INLET
NOTES:
1.
Mmimum clearance between units is 12 feet.
2. Units must not be installed in a pit that is deeper than the height of the unit.
3. Minimum clearance on each side is 12 feet when installed in a pit.
SERVICE ACCESS
Each end of the unit must be accessible after installation for periodic service work. Compressors, filter-driers, and manual liquid line shutoff valves are accessible on each side of the unit adjacent to the control box. High pressure, low pressure, and motor protector controls are on the compressor. Freezestats and cooler barrel thermostat are near the cooler. Most other operational, safety and starting controls are located in the unit control box.
On all ALR units the condenser fans and motors can be removed from the top of the unit. A complete fan/motor assemblv should be removed for service.
CAUTION: Disconnect all power to the unit while servicing condenser fan motors.
Vibration isolators are recommended for all roof mounted installations or wherever vibration transmission is a consideration. Table 1 lists spring isolators for all ALR unit sizes. Figure
4 shows isolator locations in relation to the unit control center.
Figure 5 gives dimensions that are required to secure each
Table 1. Vibration Isolators (Spring)
VIBRATION ISOLATORS
McQuay isolator selection to the mounting surface. Table 3 shows the isolator loads at each location shown in Figure 4, and the maximum loads for each McQuay selection are shown in Table 2.
Table 2. Spring Flex Isolators
Page 4 I IM 499
far enough upstream to prevent cavitation at the pump inlet (consult pump manufacturer for recommendations). The use of a strainer will prolong pump life and thus keep system performance up.
7. The shell-and-tube cooler has a thermostat and heating cable to prevent freeze-up down to - 20" F. It is suggested that the heating cable be wired to a separate 1lOV supply circuit, but it is factory wired to the control circuit. Any water piping to the unit must also be protected to prevent freezing.
CAUTION: If a separate disconnect is used for the 1lOV
supply to the cooler heating cable, it should be clearly marked so that it is not accidentally shut off during cold seasons.
Prior to insulating the piping and filling the system, a preliminary leak check should be made.
Piping insulation should include a vapor barrier to prevent moisture condensation and possible damage to the building structure. It is important to have the vapor barrier on the outside of the insulation to prevent condensation within the insulation on the cold surface of the pipe.
WATER COOLED CONDENSER FREEZE PROTECTION
CAUTION: Condenser freeze protection is not provided with heat recovery units.
If freeze protection is required, it can be accomplished in one of the following ways:
1. Wrap condenser and condenser water piping with heat tape and insulate.
2. Circulate warm water through condenser during freeze conditions.
3. Use an ethylene glycol solution in the condenser circuit.
CHILLED WATER SENSOR
On units ALK040C thru 19X, the chilled water sensor is factory installed in the leaving water connection on the evaporator. For detailed specifications regarding the chilled water sensor or any other sensors/transducers, refer to IM 493. Care should be taken not to damage the sensor cable or lead wires when working around the unit. It is also advisable to check the lead wire before running the unit to be sure that it is firmly anchored and not rubbing on the frame from the well for servicing, care should be taken as not to wipe off the heat conducting compound supplied in the well.
NOTE: See IM 493 for additional thermostat information.
CAUTION: The thermostat bulb should not be exposed to water temperatures above 125°F since this will damage the control.
MicroTech. Control Manual
MtcroTech.
Untt Manual
Figure 6.
rEMPFqar"RE SENSOR
I "CATION t
FLOW SWITCH
A WATER FLOW SWITCH MUST BE MOUNTED in either the entering or leaving water line to insure that there will be adequate water flow and cooling load to the evaporator before the unit can start. This will safeguard against slugging the compressors on startup. It also serves to shut down the unit in the event that water flow is interrupted to guard against evaporator freeze-up.
A flow switch is available under ordering number
660-1750338-00. It is a "paddle" type switch and adaptable to any pipe size from 1" to 6" nominal. Certain minimum flow rates are required to close the switch and are listed in Table
3. Installation should be as shown in Figure 7.
The flow switch should be wired per actual unit wiring diagram found on the inside of the unit control panel or refer to IM 493.
Table 3. Flow Switch Minimum Flow Rates Figure 7.
I
Page 6 f IM 499
_.__
1 % 9.80
1%
1270
2 18.80
2% 24.30
3 30.00
4 39.70
5 58.70
6 79.20
I
WATER CONNECTIONS
Water piping to the cooler can be brought up from the bottom of the unit or through the side between the vertical
NOTE: ON UNIT SIZES 175C AND 19X
,
THERE IS A
DIAGONAL BRACE OFF OF A VERTICAL SUPPORT WHICH suports. The optional heat recovery condensers can be piped up from the bottom or the end of the unit. Figures 8 and 9
WILL INTERFERE WITH THE WATER CONNECTION IF
BROUGHT IN FROM THE SIDE. THIS BRACE CAN BE give the necessary dimensions and locations for all piping connections.
REMOVED, BUT ONLY AFTER THE UNIT IS IN PLACE.
REFRIGERANT CHARGE
All units are designed for use with Refrigerant 22 and are shipped with an operating charge. The operating charge for each unit is shown in the Physical Data tables on pages 9 and 10.
GLYCOL SOLUTIONS
The system glycol capacity, glycol solution flow rate in gpm, and pressure drop through the cooler may be calculated using the following formulas and table.
1. CAPACITY - Capacity is reduced from that with plain water. To find the reduced value multiply the chiller's water system tonnage by the capacity correction factor C to find the chiller's capacity in the glycol system.
2.
GPM - To determine gpm (or AT) knowing /IT (or gpm) and tons:
Glycol gpm =
24 x
Tons (Glycol)
A T x G (from table)
3.
PRESSURE DROP - To determine glycol pressure drop through the cooler, enter the water pressure drop graph on page 8 at the glycol gpm. Multiply the water pressure drop found there by P to obtain corrected glycol pressure drop.
4.
To determine glycol system kw, multiply the water system kw by factor K.
Test coolant with a clean, accurate glycol solution hydrometer
(similar to that found in service stations) to determine freezing point. The obtain percent glycol from the freezing point table below.
Condenser - The use of a glycol solution in the heat recovery condensers will not affect heat recovery capacity.
IM 499
I
Page 7
Figure 9. ALR Dimensional Drawings - 115C Thru 195C
FOR FAN ARRANGEMENTS, SEE FIGURE 10, PAGE 15.
All Dimensions in Inches
Table 8. Dimensional Data
(1) EVAPORATOR CONNECTIONS: All connections NPS steel pope. Connectrons are furnrshed wrlh grooves for wtaulic coupltngs by others.
(2) Includes both circuits.
(3) For unit sizes 175C and 195C, see note on water connectrons. Page 7
FIELD WIRING
Wiring must comply with all applicable codes and ordinances.
Warranty is voided if wiring is not in accordance with specifications. An open fuse indicates a short, ground, or overload.
Before replacing a fuse or restarting a compressor or fan motor, the trouble must be found and corrected.
Copper wire is required for all power lead terminations at the unit while either aluminum or copper can be used for all other wiring.
ALR units may be ordered with internal power wiring for either single or multiple point power connection. If single point power connection is ordered, a single large power terminal block is provided and wiring within the unit is sized in accordance with the National Electrical Code. A single field supplied disconnect is required. An optional factory mounted transformer may be provided.
If multiple point power wiring is ordered, three power connections, one per compressor circuit plus one for condenser fans and control circuit, are required and wiring within the unit is sized in accordance with the National Electrical Code.
Separate field supplied disconnects are required for each of the three circuits. A single power block is provided for all of the condenser fans and the optional 115V control transformer.
It may be desirable to have the unit cooler heater on a separate disconnect switch from the main unit power supply so that the unit may be shut down without defeating the freeze protection provided by the cooler heater.
Page 12 / IM 499
CAUTION: Internal power wiring to the compressors for the single point versus the multiple point option are different. It is imperative that the proper field wiring be installed according to the way the unit is built.
CANADIAN CSA LISTING
Canadian units which are CSA listed and are equipped for multiple point power connections have a sticker (see figure below) next to the wiring diagram in the control box. This notifies the installer that local authorities may require the unit to be connected to a single electrical power source. Check with local authorities for requirements.
1
Although this unrt may be prowded wrth options requrrmg more than one source of electrical supply, some electrtcal Inspection auihoritres may requrre this unrt to be connected to a srngle external electrical
SUPPlY.
EXTENDED SHUTDOWN
Move the Circuit 1 and Circuit 2 switches to the "Pump- 5. Tag all opened electrical disconnect switches to warn down and Stop" position. After the compressors have shut against startup before opening the compressor suction,
off, open the Remote Stop Switch and the controller will
stop h e chilled water pump.
discharge and liauid line service valves.
Move the system switch to the "Emergency Stop" posi-
tion and turn off main power to the chiller and the chilled
water pumps.
CAUTION:
It
is the operator's responsibility to provide
pro-
tection against water circuit freezing on A L R units: All water must be drained from the chiller vessel, heat recovery condenser and associated piping if unit is ex-
Close the manual liquid line shutoff valves.
Close the compressor suction and discharge service valves and oil equalization valves on four-compressor units.
posed to freezing ambient conditions. In addition, a separate 115 volt power supply is reauired for the chiller vessel h e a t i n g c a b l e .
.
SYSTEM MAINTENANCE
GENERAL
On initial startup and periodically during operation, it will be necessary to perform certain routine service checks. Among these are checking the compressor oil level and taking condensing, suction and oil pressure readings. During operation, the oil level should be visible in the oil sightglass with the compressor running. On units ordered with gauges, condensing, suction and oil pressures can be read from the vertical supports on each side of the unit adjacent to the compressors.
The gauges are factory installed with a manual shutoff valve on each gauge line. The valves should be closed at all times except when gauge readings are being taken. On units ordered without gauges, Shrader fittings should be installed in the plugged ports provided on the suction and discharge
King valves on each compressor circuit.
FAN SHAFT BEARINGS
The fan shaft bearings are of the permanently lubricated type. No lubrication is required.
ELECTRICAL TERMINALS
CAUTION: Electric shock hazard. Turn off all power before continuing with follow-
ing service.
All power electrical terminals should be retightened every six months, as they tend to loosen in service due to normal heating and cooling of the wire.
COMPRESSOR OIL LEVEL
The oil level should be watched carefully upon initial startup and for sometime thereafter.
At the present time, Suniso No. 3GS, Calumet R015, and
Texaco WF32 oils are approved by Copeland for use in these compressors. The oil level should be maintained at about onethird of the sightglass on the compressor body. Oil levels may fluctuate between compressors in the same refrigerant circuit on 4-compressor units (ALR-105C thru 195C).
Oil may be added to the Copeland compressor through the oil fill hole in the crankcase. To add oil, isolate the crankcase and pour or pump in the necessary oil. If the system contains no refrigerant, no special precautions are necessary other than keeping the oil clean and dry.
If the system contains a refrigerant charge, close the suction valve and reduce crankcase pressure to 1 to 2 psig. Stop the compressor and close the discharge valve.
Add the required amount of oil. During the period the compressor is exposed to the atmosphere, the refrigerant will generate a vapor pressure, retarding the entrance of contaminants. Before resealing the compressor, purge the crankcase by opening the suction valve slightly for 1 or 2 seconds. Close the oil port, open the compressor valves and restore the system to operation.
OIL EQUALIZATION
Units with four compressors (ALR-105C thru 195C) come equipped with oil equalization lines connecting the crankcases of both compressors in each refrigerant circuit. This allows the oil to move from one compressor crankcase to the other during normal operation, and balance between the two when the compressors are off. This method of equalization prohibits the oil level from dropping below the level of the sightglass. Some difference in crankcase oil levels will still exist during unit operation.
The oil equalization line contains a manual shutoff valve for isolating a compressor during service work. The ball valves are shipped in the closed position with a tag attached stating
"Notice, Valve Shipped In Closed Position. Can Be Open For
Normal Operation." When valves are closed for compressor service, make sure they are opened again for unit operation.
CONDENSERS
Condensers are air cooled and constructed with $&" O.D. internally finned copper tubes bonded in a staggered pattern into slit aluminum fins. No maintenance is ordinarily required except the occasional removal of dirt and debris from the outside surface of the fins. The use of foaming coil cleaners available at air conditioning supply outlets is recommended.
Use caution when applying such cleaners as they may contain potentially harmful chemicals. Care should be taken not to damage the fins during cleaning. Periodic use of the purge valve on the condenser will prevent the buildup of noncondensables. The purge valve is located under theft1 fan deck of each compressor circuit.
IM 499 / Page 35
REFRIGERANT SIGHTGLASS
The refrigerant sightglasses should be observed periodically. (A monthly observation should be adequate.) A clear glass of liquid indicates that there is adequate refrigerant charge in the system to insure proper feed through the expansion valve. Bubbling refrigerant in the sightglass indicates that the system is short of refrigerant charge. Refrigerant gas flashing in the sightglass could also indicate an excessive pressure drop in the line, possibly due to a clogged filter-drier or a restriction elsewhere in the system. An element inside the sightglass indicates what moisture condition corresponds to a given element color. If the sightglass does not indicate a dry condition after about 12 hours of operation, the unit should be pumped down and the filter-driers changed.
SERVICE
NOTE: Service on this equipment is to be performed by qualified refrigeration personnel. Causes for repeated tripping of safety controls must be investigated and corrected.
CAUTION: Disconnect all power before doing any service inside the unit.
FILTER-DRIERS
To change the filter-drier, pump each refrigerant circuit down by closing the manual liquid line shutoff valve while a compressor is running. After both refrigerant circuits are pumped down, move the system switch to the "Emergency Stop" position. This will remove all liquid refrigerant from the evaporator and section of liquie line up to the shutoff valve. Only a small amount of vapor will remain in the liquid line/filter-drier section. Front seat the compressor suction valve(s). Remove and replace the filter-drier(s). Evacuate the lines through the liquid line manual shutoff valves to remove noncondensables that may have entered during filter replacement. A leak check is recommended before returning the unit to operation.
LIQUID LINE SOLENOID VALVE
The liquid line solenoid valves, which are responsible for automatic pumpdown during normal unit operation, do not normally require any maintenance. They may, however, require replacement of the solenoid coil or of the entire valve assembly.
The solenoid coil may be removed from the valve body without opening the refrigerant piping by moving Circuit 1 and
2 switches to the "Pumpdown and Stop" position. The coil can then be removed from the valve body by simply removing a nut or snap-ring located at the top of the coil. The coil can then be slipped off its mounting stud for replacement. Be sure to replace the coil on its mounting stud before returning the unit to operation.
To replace the entire solenoid valve follow the steps involved when changing a filter-drier.
THERMOSTATIC
EXPANSION VALVE
The expansion valve is responsible for allowing the proper amount of refrigerant to enter the evaporator regardless of cooling load. It does this by maintaining a constant superheat.
(Superheat is the difference between refrigerant temperature as it leaves the evaporator and the saturation temperature corresponding to the evaporator pressure.) All ALR chillers are factory set for between 8°F and 12°F superheat. If it is necessary to increase the superheat setting of the valve, remove the cap at the bottom of the valve to expose the adjustment screw. Turn the screw clockwise (when viewed from the adjustment screw end) to increase the superheat and counterclockwise to reduce superheat. Allow time for system rebalance after each superheat adjustment.
The expansion valve, like the solenoid valve, should not normally require replacement, but if it does the unit must be pumped down by following the steps involved when changing a filter-drier.
If the problem can be traced to the power element only, it can be unscrewed from the valve body without removing the valve, but only after pumping the unit down.
Figure 16.
Inlet
r . . . ..." ,.."
..L..
'*
1 Hydraulic Fill
? Between Diaphragms
(Contains Diaphragm)
Adjustment Screw
.I
t
I-Cap
EVAPORATOR
The evaporator is of the direct expansion, shell-and-tube type with refrigerant flowing through the tubes and water flowing through the shell over the tubes. The tubes are internally finned to provide extended surface as well as turbulent flow of refrigerant through the tubes. Normally no service work is required on the evaporator. There may be instances where a tube will leak refrigerant into the water side of the system.
In the cases where only one or two tubes leak, the problem cna best be solved by plugging the tube at both ends. When the tube must be replaced, the old tube can be removed and replaced.
To remove a tube, the unit should be temporarily pumped
Page 36 I IM 499
down. Follow the steps involved when changing a filter-drier.
These steps will insure a minimum amount of refrigerant loss when the evaporator is opened up. The tubes are mechanically expanded into the tube sheets (see figure below) at each end of the cooler. In order to remove the tubes, it is necessary to break this bond by collapsing the tube. After doing this at both ends of the shell, the tube can be removed for replacement. The new tube can then be inserted and re-expanded into the tube sheet.
NOTE: The bond produced by expansion must be refrig-
erant tight. This bond must be produced by applying
Locktite (red) to the tube and rolling it into the tube sheet.
After re-assembling the evaporator, a small amount of refrigerant should be introduced by momentarily opening the manual liquid line valve. A leak check should then be performed on the evaporator.
Tube removal can only take place after the leaking tube is located. One method that would work would be to subject each tube to air pressure by plugging each end and, with a pressure gauge attached to one of the end plugs, observing if there is a loss of air pressure over a period of a minute or two.
Figure 17. Top View of Typical Dual Circuit
Shell-and-Tube Evaporator
L,q"id Connections
Another method is to place a cork plug in each tube on both ends of the cooler and applying pressure to the shell of the cooler. After a period of time the pressure will leak from the shell into the leaking tube or tubes and pop out the cork plug.
conditions.
HOT GAS BYPASS (OPTIONAL)
Hot gas bypass is a system for maintaining evaporator pressure at or above a minimum value. The purpose for doing this is to keep the velocity of the refrigerant as it passes through the evaporator high enough for proper oil return to the compressor when cooling load conditions are light. It also maintains continuous operation of the chiller at light load
The system consists of a solenoid valve piped in series with a pressure regulating valve as shown below. The solenoid valve is factory wired to open whenever the unit thermostat calls for the first stage of cooling. The pressure regulating valve is factory set to begin opening at 58 psig (32°F for R-22) when the air charged bulb is in an 80°F ambient temperature.
Since the bulb is factory mounted on the suction line, and suction line temperatures are usually in the 50°F to 60°F range, the chart below indicates that for ALR chillers, the valve is factory set to begin opening at 54 to 56 psig. This setting can be changed as indicated above by changing the pressure of the air charge in the adjustable bulb. To raise the pressure setting, remove the cap on the bulb and turn the adjustment screw clockwise. To lower the setting, turn the screw counterclockwise. Do not force the adjustment beyond the range it is designed for, as this will damage the adjustment assembly.
The regulating valve opening point can be determined by slowly reducing the system load (or increasing the required chilled water temperature setting indicated on the unit thermostat), while observing the suction pressure. When the bypass valve starts to open, the refrigerant line on the evaporator side of the valve will begin to feel warm to the touch.
CAUTION: The hot gas line may become hot enough to
cause injury in a very short time, so care should be taken during valve checkout.
Figure 18. Hot Gas Bypass Piping Diagram Figure 19. Hot Gas Bypass Adjustment Range
Bypass Valve
External Equalizer
Connection to Suction e of Evaporator
To Evaporator Inlet
After Expansion Valve
30 40 50 60 7'0 60 SO 100 110
TEMPERATURE (-F) AT BULB LOCATION
IM 499 I Page 37
IN-WARRANTY RETURN MATERIAL PROCEDURE
Copeland Refrigeration Corporation has stocking wholesalers who maintain a stock of replacement compressors and service parts to serve refrigeration contractors and servicemen.
When a compressor fails in warranty, contact your local sales representative, or our Warranty Claims Deparment at the address on the cover of this bulletin. You will be authorized to exchange the defective compressor at a Copeland wholesaler, or an advance replacement can be obtained. A credit is issued you by the wholesaler for the returned compressor after Copeland factory inspection of the inoperative compressor. If that compressor is out of Copeland's warranty, a salvage credit only is allowed. Provide full details; i.e.,
COMPRESSOR
McQuay unit model and unit serial numbers. Include the invoice and the salvage value credit memo copies and we will reimburse the difference. In this transaction, be certain that the compressor is definitely defective. If a compressor is received from the field that tests satisfactorily, a service charge plus a transportation charge will be charged against its original credit value.
On all out-of-warranty compressor failures, Copeland offers the same field facilities for service and/or replacement as described above. The credit issued by Copeland on the returned compressor will be determined by the repair charge established for that particular unit.
COMPONENTS OTHER THAN COMPRESSORS
Material may not be returned except by permission of authorized factory service personnel at Minneapolis, Minnesota. A
"return goods" tag will be sent to be included with the returned material. Enter the information as called for on the tag in order to expedite handling at our factories and prompt issuance of credits.
The return of the part does not constitute an order for replacement. Therefore, a purchase order must be entered through your nearest McQuay representative. The order should include part name, part number, model number and serial number of the unit involved.
Following our personal inspection of the returned part, and if it is determined that the failure is due to faulty material or workmanship, and in warranty, credit will be issued on customer's purchase order.
All parts shall be returned to the pre-designated factory, transportation charges prepaid.
TROUBLESHOOTING CHART
COMPRESSOR W
NOT RUN
COMPRESSOR N
OISY
OR VIBRATING
HIGH DISCHARGI
PRESSURE
LOW DISCHARGE
PRESSURE
HIGH SUCTION
PRESSURE
E
2.
3.
4.
5.
1. Main switch open.
2. Fuse blown. Circuit breakers open.
1. Flooding of refrigerant rnto crankcase.
2. Improper prping support an suction or lrqurd line
3. Worn compressor.
1.
2
3. Thermal overloads trapped 3
4. Defecbve contactor or coil.
5. System shut down by safety devices
4.
5.
6. No cooling required. 6.
7.
Lrquid line solenord wrll not open 7
6. Motor electrrcal trouble
1. Noncondensables rn svstem
2.
System overcharged with refrrgerant
3.
4.
5.
6.
Discharge shutoff valve partrally closed.
FANTROL out of adjustment
Fan not running.
Dirty condenser coil.
6.
9. Loose wirina. 9.
Close switch.
Check electrrcal crrcurts and motor winding for shorts or grounds. Investigate for possrble overloading. Replace fuse or reset breakers after fault
IS corrected. Check for loose or corroded connections.
Overloads are auto reset. Check unit closely when unit comes back on Ikne.
Reparr or replace.
Determtne type and cause of shutdown and correct It before resetting safety switch.
None. Wait until unit calls for cooling.
Reparr or replace coil
Check motor for opens, short circurt. or burnout
Check all wrre junctions. Tighten all terminal screws.
1
2
3.
Check setting of expansion valve.
Relocate. add or remove hangers.
Reolace.
1. Purge the noncondensables
2 Remove excess.
3. Open valve.
4. Adjust FANTROL settings
5. Check electrrcal crrcuit.
6. Clean coil.
2.
3.
Faulty condenser temperature regulatron
Suctron shutoff valve partially closed
Insufficient refrigerant rn system.
Low suctron pressure.
Compressor operating unloaded.
1 Check condenser control operatron.
2 Open valve
3 Check for leaks. Repair and add charge.
4. See Correctrve Steps for low suction pressure below.
5. See Corrective Steps for failure of compressor to load below
Excessive load. 1. Reduce load or add addrtronal equrpment.
Expansion valve overfeedrng 2. Check remote bulb. Regulate superheat.
Compressor unloaders open 3. See Corrective Steps below for failure of compressor to
LOW SUCTION
PRESSURE
1. Lack of refrigerant
2. Evaporator drrty.
3. Clogged lrquid line filter-drrer
4. Clogged suction lrne or compressor suction gas strarner
5. Expansion valve malfunctronrng
6. Condensing temperature too low.
7. Compressor will not load.
6. lnsuffrcient water flow
9. Evaporator head rrng gasket slippage.
1. Check for leaks Repair and add charge
2 Clean chemically
3. Replace
4 Clean strainers
5 Check and reset for proper superheat.
6 Check means for regulating condensing temperature.
7 See Correctrve Steps below for farlure of compressor to unload
6 Adjust gpm
9. To troubleshoot, take pressure drop across vessel and consult factory to obtain design pressure drop for that
NOTE: FOR TROUBLESHOOTING PROCEDURES ON MICROTECH CONTROL. REFER TO IM 493
Page 38 I IM 499
TROUBLESHOOTING CHART
COMPRESSOR
LOADING/UNLOADING
INTERVALS
TOO SHORT
LOSS OF OIL
PRESSURE OR
NUISANCE OIL
PRESSURECONTROL
TRIPS
COMPRESSOR
LOSES OIL
MOTOR OVERLOAD
RELAYS OPEN OR
BLOWN FUSES
COMPRESSOR
THERMAL
PROTECTOR SWITCH
OPEN
1. Erratic water thermostat.
2. Insufficient water flow.
1. Clogged suction 011 strainer.
2. Excessive liquid in crankcase
3. Oil pressure gauge defective
4. Low oil pressure safety switch defective.
5. Worn oil pump.
6. Oil pump reversing gear stuck In wrong positron.
7. Worn bearings.
8. Low oil level.
9. Loose fitting on oil lines.
10. Pump housrng gasket leaks.
11. Flooding of refrigerant into crankcase.
12. Insufficient waterflow.
1. tack of refngerant.
2. Excessive compression rrng blow-by.
3. Suction superheat to high.
4. Crankcase heater burnt out.
1. Low voltage during hrgh load conditions.
2. Defective or grounded wiring in motor.
3. Loose power wiring.
4. High condensing temperature.
5. Power line fault causing unbalanced voltage
6. High ambrent temperature around the overload relay.
7. Failure of second starter to pull in on part wlnding start svstems.
1. Operating beyond desrgn conditions.
2. Discharge valve partially shut.
3. Blown valve plate gasket.
1. Replace.
2. Adjust gpm.
1. Clean
2. Check crankcase heater. Reset expansion valve for higher superheat. Check liquid line solenoid valve operation.
3. Repair or replace. Keep valve closed except when taking readings.
4. Replace.
5. Replace.
6 Reverse directron of compressor rotation.
7. Replace compressor.
8. Add oil.
9 Check and trghten system.
10. Replace gasket.
11. Adjust thermal expansion valve.
12. Adjust GPM.
1. Check for leaks and repair. Add refrigerant.
2. Replace compressor.
3. Adjust superheat.
4. Replace crankcase heater.
1. Check supply voltage for excessive line drip.
2. Replace compressor motor.
3. Check all connections and tighten.
4. See Corrective Steps for high discharge pressure.
5. Check supply voltage. Notify power company. Do not sta until fault is corrected.
6. Provrde ventrlatron to reduce heat.
7. Repair or replace starter or time delay mechanism.
1.
Add facllitres so conditions are wtthin allowable limits.
2. Open valve.
3 Replace gasket.
PRODUCT WARRANTY
SnyderGeneral Corporation, hereinafter referred to as the
"Company," warrants that it will provide, at the Company's option, either free replacement parts or free repair of component parts in the event any product manufactured by the
Company and used in the United States proves defective in material or workmanship within twelve (12) months from initial startup or eighteen (18) months from the date shipped by the Company, whichever comes first. For additional consideration, SnyderGeneral Corporation warrants that for four
(4) years following the initial warranty period it will provide, at the Company's option, free replacement parts for the motorcompressor, or, free replacement for any integral component of the motor-compressor which proves defective in material or workmanship. For an additional consideration,
SnyderGeneral Corporation warrants that for nine (9) years following the initial warranty period it will provide free replacement of the heat exchanger in gas-fired or oil-fired furnaces which proves defective in material and workmanship. (Extended warranties for motor-compressors and heat exchangers are not applicable unless separately purchased.)
To obtain assistance under this parts warranty, extended motor-compressor warranty, or extended heat exchanger warranty, simply contact the selling agency. To obtain information or to gain factory help: For brandnames Arcoaire and/or
Comfortmaker contact SnyderGeneral Corporation, Warranty Department, 302 Nichols Drive, Hutchins, TX 75141, telephone (214) 2257351. For McQuay, Climate Control, Barry
Blower and JennFan brandnames, contact SnyderGeneral
Corporation, Warranty Claims Department, P. 0. Box 1551,
Minneapolis, MN 55440, telephone (612) 553-5330.
THIS WARRANTY CONSTITUTES THE BUYER'S SOLE
REMEDY. IT IS GIVEN IN LIEU OF ALL OTHER WARRAN-
TIES. THERE IS NO IMPLIED WARRANTY OF MERCHAN-
TABILITY OR FITNESS FOR A PARTICULAR PURPOSE.
IN NO EVENT AND UNDER NO CIRCUMSTANCES SHALL
SNYDERGENERAL CORPORATION BE LIABLE FOR IN-
CIDENTAL OR CONSEQUENTIAL DAMAGES, WHETHER
THE THEORY BE BREACH OF THIS OR ANY OTHER WAR-
RANTY, NEGLIGENCE OR STRICT TORT.
This parts warranty and the optional extended warranties extend only to the original user. Of course, abuse, misuse, or alteration of the product in any manner voids the Company's warranty obligation. Neither the parts or extended warranty obligates the Company to pay any labor or service costs for removing or replacing parts, or any shipping charges.
Refrigerants, fluids, oils, and expendable items such as filters are not covered by this warranty.
The extended warranties apply only to integral components of the motor-compressor or heat exchanger, not to refrigerant controls, electrical controls, or mechanical controls, or to failures caused by failure of those controls.
Attached to this warranty is a requirement for equipment containing motor-compressors and/or furnaces to report startup information. The registration form accompanying the product must be completed and returned to SnyderGeneral Corporation within ten (10) days of original equipment start-up.
If that is not done, the date of shipment shall be presumed to be the date of start-up and the warranty shall expire twelve
(12) months from that date.
No person (including any agent, salesman, dealer or distributor) has authority to expand the Company's obligation beyond the terms of this express warranty, or to state that the performance of the product is other than that published by
SnyderGeneral Corporation.
IM 499 I Page 39
* Your assessment is very important for improving the work of artificial intelligence, which forms the content of this project