No category
School of Accounting and Corporate Governance Faculty of Business BFA202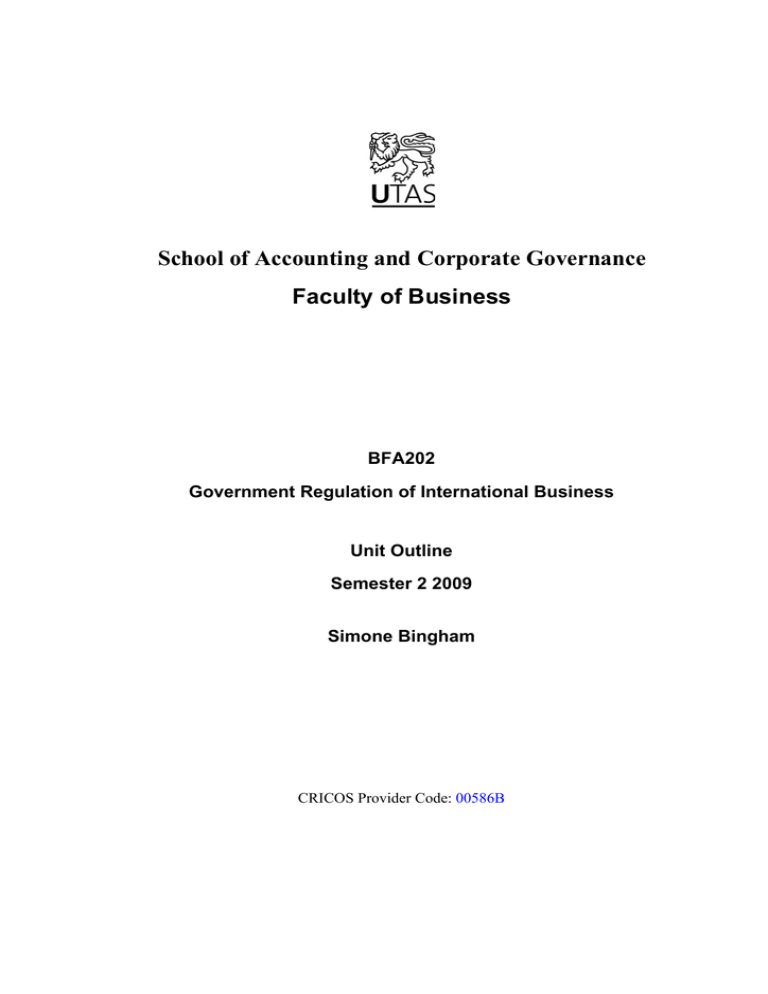 School of Accounting and Corporate Governance
Faculty of Business
BFA202
Government Regulation of International Business
Unit Outline
Semester 2 2009
Simone Bingham
CRICOS Provider Code: 00586B
Contact details
Unit coordinator/lecturer: Simone Bingham
Campus: e-mail:
Phone:
Fax:
Room number
Consultation hours:
Hobart
(03) 62262314
(03) 62267845
Room 421, Commerce Building, Hobart
TBA
© The University of Tasmania 2009
Contents
16.
17.
18.
19.
20.
1.
2.
3.
4.
5.
6.
7.
8.
9.
10.
11.
12.
13.
14.
15.
Unit description
Learning outcomes
Generic graduate attributes
Prior knowledge &/or skills 3
Learning Outcomes/Generic Graduate Attributes Matrix 4
Learning resources required 4
2
2
2
E- (Electronic Resources)
Further learning resources required
Details of teaching arrangements
Learning expectations and strategies
Specific performance requirements 9
Assessment 9
5
6
6
8
Submission of assignments 14
Penalties 14
Requests for extensions
Return of coursework
Unit schedule
Academic referencing
Plagiarism
Further information and assistance
15
15
16
17
17
18
1
1. Unit description
This unit is designed to provide you with an understanding of the regulation to which an international business is subject. It will provide a broad overview of the major types of regulation that a manager needs to be aware of and a detailed examination of a number of industries and the regulation that influences their behaviour. The primary focus adopted will be that of the manager faced with the need to manage the impact of differing sets of national and international policies and regulations. Without effective management of their impact, differing regulatory requirements can lead to substantial costs for the firm.
2. Learning outcomes
On completion of this unit, you should be able to:
1. Clearly describe the major characteristics of the regulation of international business.
2. Describe how regulation is developed and the role of business in its development.
3. Identify and assess the impact of domestic and international regulation upon the international business firm, including the value of theories of regulation.
4. Clearly describe what is involved in managing the impact of regulation including a range of current and likely future issues.
5. Describe and assess the role of the consumer in the regulation of business.
6. Identify and assess the impact of industry self-regulation in a domestic and international context.
7. Demonstrate an ability to work both independently and/or cooperatively, as required, to effectively assess, organise and then communicate information, supported by well-reasoned arguments as appropriate.
3. Generic graduate attributes
The University has defined a set of generic graduate attributes (GGAs) that can be expected of all graduates see:
http://www.utas.edu.au/tl/orientation/generic-ga.html
By undertaking this unit you should make progress in attaining the following attributes:
2
Knowledge – by further developing your understanding of international business in the regulatory context and being able to discuss and apply a range of underlying concepts relevant to that context.
This learning concept will be developed by the case studies and by the discussions that take place during tutorials and will be assessed by the individual research assignment, by the group research assignment and by the examination.
Communication skills – you will enhance your ability to effectively communicate across a range of contexts, to present well-reasoned agruments, communicate as a member of a group, and access and organise information from a variety of media.
This learning outcome will be developed by the case studies and by the tutorial discussions and will be assessed by undertaking the individual and group research assignments, where you will draw upon a range of media, and use group discussion and communication in order to complete the group research assignment.
Problem-solving skills – you will improve your problem-solving skills by undertaking a range of activities designed to help conceptulaise problems and formulate solutions to those problems.
Global perspective – you will further your understanding that businesses that operate in the global environment are subject to both domestic and international regulation and enforcement of this regulation by both domestic, regional and international enforcement agencies and that these international businesses play a role in the development of the international regulatory regime.
This learning outcome will be assessed by the individual research assignment, the group research assignment/case study and the examination.
Social responsibility - you will gain an understanding of both the impact international businesses may have on their various stakeholder groups, including the communities in the foreign countries in which they operate and how these various stakeholder groups may impact on how international businesses operate.
This learning outcome will be assessed by the group research project/case study and the examination.
4. Prior knowledge &/or skills
Students studying BFA202 need to have successfully completed BFA141 Commercial
Transactions and BFA181 Introduction to International Business before enrolling in this unit.
3
5. Learning Outcomes/Generic Graduate Attributes Matrix
Assessment task 1
Individual Research
Assignment
Group Research
Assignment/Case study Assessment task 2
Assessment task 3
Learning Outcomes:
Final Examination
Learning outcome 1
Learning outcome 2
Learning outcome 3
Learning outcome 4
Learning outcome 5
Learning outcome 6
UTas Generic Graduate Attribute
Learning outcome 7
√
√
√
√
√
√
√
√
√
√
√
√
√
√
√
√
Matrix adapted from Unit Outline, Faculty of Business, University of the Sunshine Coast 2003
6. Learning resources required
Requisite text
It is essential that you obtain ready access to the following textbook:
Carroll, P. and Eccleston R. 2008, Regulating International Business Pearson
Australia
Buying the prescribed textbook and legislation
For students in Tasmania, the textbook may be purchased from branches of the Coop
Bookshop on the Hobart and Launceston University campuses or by arrangement from Cradle Coast Campus. If stocks are depleted, the Bookshop will re-order when students request it to do so.
4
7. E- (Electronic Resources)
MyLO
General
MyLO is an internet service that has been adopted by the University and will be used in this unit. MyLO may be accessed on computers in computing laboratories at the
University or on your computer at home or at work. Information about accessing and using this service, about required computer specifications and frequently asked questions, and about how to get help if you experience difficulties, is available at the following University website:
http://www.utas.edu.au/coursesonline
You are strongly advised to visit this site and become familiar with the features of
Vista, especially if you have not used it before. You will probably be using it in other units that you are studying as well. Here are some important points about accessing our web site:
Access to MyLO
You can access your MyLO course from the Student Page on the University's web site: Current Students
Ë
LOGIN [email protected] or go directly to the web address noted above:
• Enter your email POP account "Username" (for example, dsmith) and your
"Password". These are identical to the pop account/email username and password that you are given with your enrolment confirmation form. If you forget your pop account username, contact the Help Desk (see below under
'getting assistance with MyLO). Both MyLO and e-mail passwords must remain the same. If you are going to change your password, change your email password first.
• When you enter your user name and password, click on OK and choose
"BFA202" from the list of units (subjects) in which you are enrolled. [NOTE:
Another box may periodically appear when using the University network which asks you to verify your user name & password, this is simply a security device – enter your password when asked & click OK]. o
MyLO will automatically check that your browser is properly configured.
If the MyLO 'browser checker' window appears – scroll down to make sure you have a tick in each area shown – then close the window.
• From the Unit's homepage click on the area you wish to access e.g. "Unit
Information". A table of contents will appear on the left hand side of your screen. Scroll through the list until you find what you want & click the underlined topic.
5
Getting IT assistance, including with MyLO
The Service Desk provides support for students on IT, Library and online learning matters:
In person: Morris Miller Library on the Sandy Bay Campus and the Launceston
Campus Library.
Online:
Phone: http://www.utas.edu.au/servicedesk/student/index.html
6226 1818
1300 304903 (Local call charge from within Tas, mobiles excepted)
PDF files
Many of the files made available through MyLO (e.g.: in the 'Learning Resources' area) will be in Portable Document Format (PDF). These files can be viewed from within your web browser or separately by using a program called Adobe Acrobat
Reader. This software is already installed on the machines in the Faculty Computing
Laboratory, but can be downloaded free of charge from the Adobe site should you want a copy for another machine. At time of writing the required URL was: http://www.adobe.com/prodindex/acrobat/readstep2.html
8. Further learning resources required
PDF files containing copies of the weekly material including Powerpoint 'Lecture
Slides' will be progressively placed in the "Learning Resources" area of MyLO during Semester.
'Additional Materials' may be made available to assist with learning and research in this unit. Any such materials will be placed in the "Learning Resources" area of
MyLO. The lecturer will notify you by posting an announcement in the 'Discussion' area when additional materials, other than the lecture slides and lecture materials, are placed in the "Learning Resources" folder.
9. Details of teaching arrangements
General
In each teaching week of Semester, with the exception of Week 1 (lecture only) there will be a two (2) hour lecture and a one (1) hour tutorial. The topics to be covered are as shown in the Unit Schedule. The estimated time required to cover each week's topic is.
-12
6
The time allocated for each of the learning activities gives an indication of the relative importance of contact time and private study and is in keeping with the reflective approach to teaching and learning which emphasises independent learning through private study. An approximate average allocation of your private study each week could be:
Consolidating materials after each lecture
Preparing for tutorials and assignments
3 hours
4 - 7 hours
Put differently, it is not enough just going to lectures and tutorials memorising whatever is presented. You should read the textbook and any other material that is recommended.
Above all, ask questions of your tutor and discuss topics with fellow students when appropriate, noting the very strict rules regarding plagiarism. Reflection, the act of thinking carefully, is an essential part of learning at university.
Lectures
A weekly 2-hour lecture will be used to introduce the various topics we will cover in the unit. Do not expect to learn all you need to know by just attending lectures. It is mostly what you do before and after the lectures and tutorials that really consolidates your knowledge.
Tutorials
Tutorials are designed to develop your skills in applying the legal knowledge you have gained from lectures and private study. 'Theoretical' and 'Problem' type case studies and other questions are examined and discussed in tutorials.
During the first week students will be allocated different tutorial weeks where they will be required to be the facilitator of the tutorial. During these tutorials you must come along prepared to ask questions and answer questions from the tutor and other students. This will help you to gain confidence and understanding and develop important skills. The Tutorial Program is discussed in detail below.
Self-Study – Your Commitment
As stated earlier, most of your learning will be done independently and away from the lecture theatres. This is a feature of a reflective approach to learning and will be achieved through your reading and written work. Your attempts at the tutorial and assignment questions are the most important of all learning activities so you must allocate sufficient time to doing them. Answering the questions will help you to:
• develop your problem solving skills;
• discover where you have learning difficulties;
• keep up with the pace of lectures; and
• be prepared for the tutorials, assignments and the examination.
7
Complete the answers to the tutorial case study questions conscientiously so that we can both find out where your difficulties lie. Because these are learning activities, we expect you to make some mistakes but help from your tutor should resolve many problems. Do not leave major areas of difficulty until the end of the semester.
Again, your private study can be more effective if you work with a friend or informal study group. Private study need not be a solitary experience.
You are expected to take responsibility for your own learning. Information about the
Faculty's philosophy on teaching and learning is set out in Part 2 of the Faculty's
Guide for Students: see School of Accounting & Corporate Governance Website –
Resources for Current Students: "Faculty Guide for Students (includes referencing style manual) at http://www.utas.edu.au/accg/studentres.htm
10. Learning expectations and strategies
General
You will need to obtain early the prescribed textbook and legislation. Throughout the semester, your object should be to gain a broad knowledge and understanding of the international regulation that impacts upon businesses in the global marketplace and of the regulators that enforce this regulation. An important skill to develop is an understanding of the major characteristics of this regulation and a logical mind and the ability to identify international regulatory issues. These are important because as a manager you need skills that allow you to generally identify regulatory requirements for particular transactions and activities of companies and recognise when it is necessary to obtain advice from a legal practitioner.
Wherever possible, discuss issues with other students. This can be very helpful. If you have a problem that cannot be resolved in this way, do not hesitate to speak to your lecturer.
The tutorial questions
This type of question consists of a set of facts or a set of questions drawn from the lecture material and from the text book For the case study questions you are required to analyse the facts and identify what international regulation is relevant to the factual situation, where such regulation can be found and what domestic, regional or international agency is responsible for its enforcement.
When confronted with such a question, you must carefully read every word of the question. Carefully consider all the information given in the question and identify relevant facts and issues. If the facts are deficient, you should state in your answer what additional information you require and why you require it.
Discussion of the tutorial questions in tutorials will help you to develop further important skills that you need. For example, identifying regulatory issues that arise from real life situations and applying relevant legal rules will often involve group activity with open discussion and argument as well as preparation and interpretation of written reports. International businesses may form committees to investigate the facts of a particular situation and the committee will be required to prepare a written report.
8
11. Specific performance requirements
In order to pass this unit you must complete and submit each item of assessment, complete the examination, and achieve an overall mark of at least 50% of the total available marks.
12. Assessment
Assessment schedule
Assessment task Date due Percent weighting
15 % Assessment task 1: Individual Research
Assignment
Assessment task 2: Group Research Assignment questions
3:00pm
Friday
14 August 2009
3:00pm
Friday
25 September 2009
End of semester exam
25 %
60 %
9
Assessment details
Assessment task 1 – Individual Research Assignment – 10%
Task description
Select one of the following international or regional organisations, (or one of your own choosing with the consent of the lecturer prior to commencement).
• Asia-Pacific Economic Cooperation (APEC);
• Association of South East Asian Nations (ASEAN)
• European Union (EU)
• International Consumer Protection and Enforcement
Network (ICPEN)
• International Organisation of Employers (IOE)
• International Organization of Securities Commissions
(IOSCO)
• International Law Commission (ILC)
• Organisation for Economic Cooperation and
Development (OECD)
• The World Bank
• World Intellectual Property Organization (WIPO)
• World Health Organization (WHO)
• World Trade Organisation (WTO)
What is this organisation's role in the international regulatory framework; what type of international regulation is it involved in establishing and how effective is it as an international or regional organisation in the international regulatory framework? What has been this organisation's response or role in minimising the affect of the recent global financial crisis?
Please consider its relationship with international business, governments and other stakeholders in the development of international regulation.
2200 words
Task length
Learning outcomes 2, 3, 5& 7
Links to unit's learning outcomes
Assessment criteria / guidelines
• Appropriate use of relevant source material including the home page for the selected organisation, the textbook and other academic writing (2 marks)
• Logical structure and development of ideas and consideration of the selected organisations role in the international regulatory framework and its relationships
10
Date due
with other stakeholders (2 marks)
• Demonstrated critical thinking of the effectiveness (or otherwise) of the selected organisation as an enforcer of regulation and creator of new regulation (2 marks)
• Demonstrated understanding of the global financial crisis and any contribution or recommendations made by the selected organisation in ways regulation may be used to reduce the impact of the global finance crisis or suggestions on how to avoid future occurrences (2 marks)
• Appropriateness of the selected assignment format, grammatical correctness and referencing ( 2 marks)
3.00pm Friday, 14 August 2009
11
Assessment task 2 – Group Research Assignment/Case Study – 20%
A paired case study research assignment.
Task description
Each pair of students will be provided with a case study comprising two sets of facts, one representing a seller in a country and the other a buyer in another country.
The student pair must work together to:
• determine what domestic and international regulation regulates the proposed agreement;
• document the steps taken by both buyer and seller to work towards a sustainable agreement, including all correspondence and communications;
• develop a joint understanding on how they can achieve a purchase/sale agreement;
• identify what agencies and stakeholders may have an input into the development of the agreement
• identify how the global financial crisis of 2008-2009 has impacted upon any trade agreements or arrangements that may be considered.
Task length
5000 words in total
Links to unit's learning
Learning outcomes 1, 2, 3, 4,5, 6 & 7
outcomes
• Research component
Assessment criteria / guidelines
o
The provision of a complete diary of all source material accessed, including all domestic and international regulation examined. (2 marks) o
The provision of a complete record of all research undertaken. (2 marks)
• Communication component o
The provision of a record of all communication exchanged between buyer and seller. (2 marks) o
Development of a clear understanding of the factual situation and of any other assumptions that are necessary to proceed with the case
12
Date due
study. (1 marks) o
Development of a clear understanding of the impacts of the 2008-2009 global financial crisis and how this may have changed some aspects of international trade (2 marks)
• Content component o
The development of a feasible agreement culminating from all the necessary investigations and research. (5 marks)
• Style and presentation component o
The structure of the results of the various components of the case study, including research, communication and the ultimate agreement reached. (3 marks) o
Correct spelling, syntax and grammar ( 1 mark) o
Correct referencing (1 mark) o
Good organisation of the research project undertaken ( 1 mark)
3pm Friday, 25 September 2009
Assessment task 3 - Final exam
Description / conditions
You are required to sit an examination of 3 hours. A total of eight (8) questions will be set. You will be required to answer any five (5) of these ten questions. Each question may be divided into two or more parts. All parts of the question must be attempted.
Date The final exam is conducted by the University Registrar in the formal examination period. See the Current Students homepage (>Examinations and Results) on the University's website.
13
13. Submission of assignments
Detailed information on the presentation of written work is given in:
• the Faculty of Business Guide for Students
• http://www.utas.edu.au/accg/studentres.htm
. and;
Fleet, W., Summers, J. and Smith, B. 2007, Communication Skills Handbook
for Accounting, John Wiley & Sons Australia, Brisbane, Australia.
If any case of conflict between these, the Faculty Guide for Students prevails.
Specific instructions
Written assignments must:
• Be typed in 12-point Times New Roman font and be easily read. Number every page in the bottom right corner.
• Contain references throughout, including page numbers of the textbook, cited correctly with a consistent format.
• Include a List of References at the end, including (as relevant):
• References list (all texts used);
• Table of Legislation;
• Table of Cases; and
• Table of Web Citations.
• Have stapled to its front the Assignment Cover Sheet, completed, signed and dated by you.
• NOT exceed the specified number of words (see below under Word Length).
Lodging Coursework
Remember that you are responsible for lodging your written coursework on or before the due date. Keep copies of your assignments until they are returned marked.
Place your written coursework in the assignment box at the School of Accounting &
Corporate Governance Office on Level 5, Faculty of Business Building.
14. Penalties
Over-length Work
Policy under review – consult the Faculty website for the latest policy document.
Late Submission of Continuous Coursework
Policy under review – consult the Faculty website for the latest policy document.
14
Review of results and appeals
You may request a formal remark of your original submission (in accordance with
Rule of Academic Assessment 2, Clause 22.1). Under the Rule of Academic
Assessment 2, clause 23, you may also request a review of your final result in a unit.
For further information see: http://acserv.admin.utas.edu.au/rules/Rule2.doc
15. Requests for extensions
Consistent with the Faculty's policy on late submission, extensions of time will only be granted on medical or compassionate grounds. They will not be granted because of work or other commitments. Requests for extension must be made to the unit coordinator in writing on the School's Application for Late Submission Form available at http://www.utas.edu.au/accg/studentres.htm
or on MyLO before the due date of the assignment. Medical certificates or other evidence, which supports the application, must be attached and must contain information which justifies the extension sought.
16. Return of coursework
Coursework will be returned during tutorial classes. Coursework not collected during the semester or submitted in the final tutorial will be available from the School's offices at the end of Semester.
15
17. Unit schedule
10
11
8
9
12
13
5
6
3
4
7.
Lecture
1
Week beginning
13 July
20 July
2
27 July
3 August
10 August
17 August
Topic
Introduction to the Unit
Making and implementing business regulation and the origin of business regulation in Australia
Regulation, globalisation and international organisations
Regulating Intellectual Property
Rights
Regulating Finance and Capital
Regulating Corporate Governance
Chapters 2 & 3
Chapter 4
Chapter 5
Chapter 6
24 August Regulating Food Chapter 8
7 September
Mid Semester Break ( 31 – 4 September)
Regulating the Environment Chapter 9
14 September Regulation and Consumers in an international context
21 September Regulatory barriers to international trade
28 September The regulation of international taxation
5 October
12 October
International Business Regulation in the 21 st
Century
Revision
Study Break 19 – 23 October
Text Reference
Chapter 1
Chapter 7
Chapter 10
Chapter 11
Chapter 12
Chapter 13
16
18. Academic referencing
In your written work you will need to support your ideas by referring to scholarly literature, and other sources of information such as the accounting regulatory bodies.
It is important that you understand how to correctly refer to the work of others and maintain academic integrity. Failure to appropriately acknowledge the ideas of others constitutes academic dishonesty (plagiarism), a matter considered by the University of
Tasmania as a serious offence.
The appropriate referencing style for this unit is the Harvard referencing method. In addition to the Faculty Guide for Students, you are encouraged to read Fleet, W,
Summers & Smith, B. (2006), Communication Skills Handbook for Accounting, which provides detailed information about using the Harvard referencing system.
Further information on presentation of assignments, including referencing styles is available at: http://www.utas.edu.au/library/assist/gpoa/gpoa.html
You can also access information about the referencing style used in this unit in the
Faculty of Business Guide for Students available via MyLO or from the School's website - http://www.utas.edu.au/accg/studentres.htm
.
Please read the following statement on plagiarism. Should you require clarification please see your unit coordinator or lecturer.
19. Plagiarism
Plagiarism is a form of cheating. It is taking and using someone else's thoughts, writings or inventions and representing them as your own; for example, using an author's words without putting them in quotation marks and citing the source, using an author's ideas without proper acknowledgment and citation, copying another student's work.
If you have any doubts about how to refer to the work of others in your assignments, please consult your lecturer or tutor for relevant referencing guidelines, and the academic integrity resources on the web at: http://www.utas.edu.au/plagiarism/
The intentional copying of someone else's work as one's own is a serious offence punishable by penalties that may range from a fine or deduction/cancellation of marks and, in the most serious of cases, to exclusion from a unit, a course or the University.
Details of penalties that can be imposed are available in the Ordinance of Student
Discipline – Part 3 Academic Misconduct, see http://www.utas.edu.au/universitycouncil/legislation/
The University and any persons authorised by the University may submit your assessable works to a plagiarism checking service, to obtain a report on possible instances of plagiarism. Assessable works may also be included in a reference database. It is a condition of this arrangement that the original author's permission is required before a work within the database
can be viewed.
17
For further information on this statement and general referencing guidelines, see http://www.utas.edu.au/plagiarism/ or follow the link under 'Policy, Procedures and
Feedback' on the Current Students homepage.
20. Further information and assistance
If you are experiencing difficulties with your studies or assignments, have personal or life planning issues, disability or illness which may affect your course of study, you are advised to raise these with your lecturer in the first instance.
There is a range of University-wide support services available to you including
Teaching & Learning, Student Services, International Services. Please refer to the
Current Students homepage at: http://www.utas.edu.au/students/
Should you require assistance in accessing the Library visit their website for more information at http://www.utas.edu.au/library/
If you have a problem…
then in the first instance you should discuss the matter with your lecturer. However, if you do not feel comfortable approaching your lecturer, or if you have a discussion with your lecturer and are not satisfied with the outcome, then you are encouraged to contact one of the Ombudspersons listed below, who also teach in the School of
Accounting & Corporate Governance.
Mr Peter Collett
Room: 502, Faculty of Business
Building, Hobart
Ph: (+61 3) 6226 2192 email: [email protected]
Ms Sue Conway
Room D111
Launceston
Ph: (+61 3) 6324 3068 email:[email protected]
Discussions with the ombudsperson will be kept in the strictest confidence. If you wish to pursue the matter further, they will provide advice as to how this can be done.
The University also has formal policies, which can be accessed at: http://www.admin.utas.edu.au/ac_serv/complaints_info.html
18
* Your assessment is very important for improving the work of artificial intelligence, which forms the content of this project