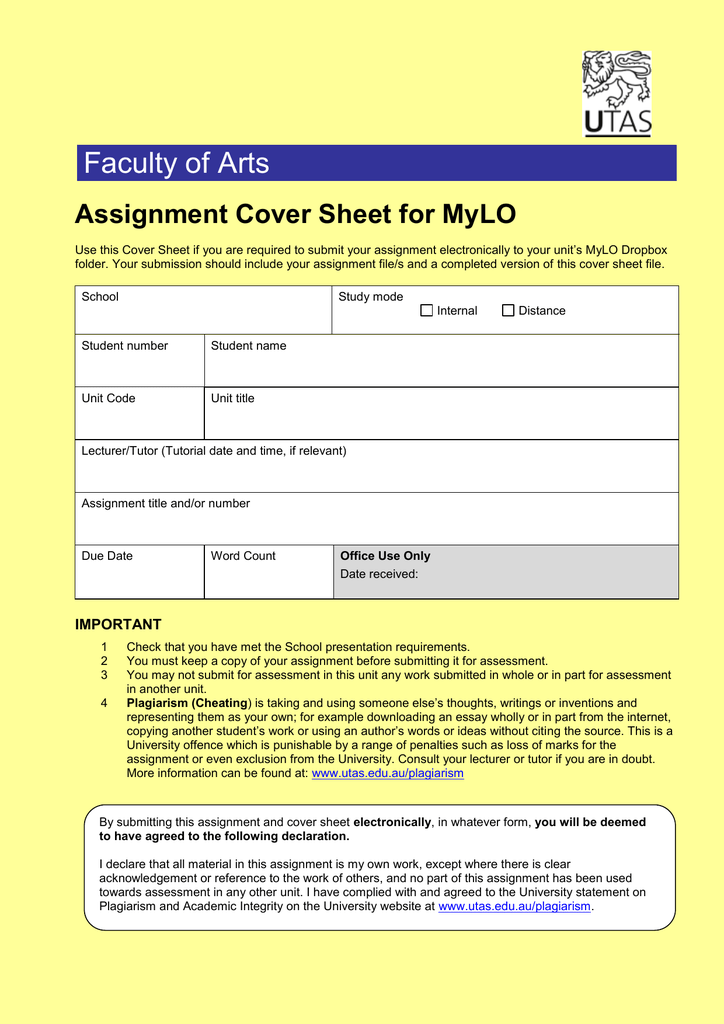 Faculty of Arts
Assignment Cover Sheet for MyLO
Use this Cover Sheet if you are required to submit your assignment electronically to your unit's MyLO Dropbox
folder. Your submission should include your assignment file/s and a completed version of this cover sheet file.
School
Study mode
Internal
Student number
Student name
Unit Code
Unit title
Distance
Lecturer/Tutor (Tutorial date and time, if relevant)
Assignment title and/or number
Due Date
Word Count
Office Use Only
Date received:
IMPORTANT
1
2
3
4
Check that you have met the School presentation requirements.
You must keep a copy of your assignment before submitting it for assessment.
You may not submit for assessment in this unit any work submitted in whole or in part for assessment
in another unit.
Plagiarism (Cheating) is taking and using someone else's thoughts, writings or inventions and
representing them as your own; for example downloading an essay wholly or in part from the internet,
copying another student's work or using an author's words or ideas without citing the source. This is a
University offence which is punishable by a range of penalties such as loss of marks for the
assignment or even exclusion from the University. Consult your lecturer or tutor if you are in doubt.
More information can be found at: www.utas.edu.au/plagiarism
By submitting this assignment and cover sheet electronically, in whatever form, you will be deemed
to have agreed to the following declaration.
I declare that all material in this assignment is my own work, except where there is clear
acknowledgement or reference to the work of others, and no part of this assignment has been used
towards assessment in any other unit. I have complied with and agreed to the University statement on
Plagiarism and Academic Integrity on the University website at www.utas.edu.au/plagiarism.

* Your assessment is very important for improving the work of artificial intelligence, which forms the content of this project