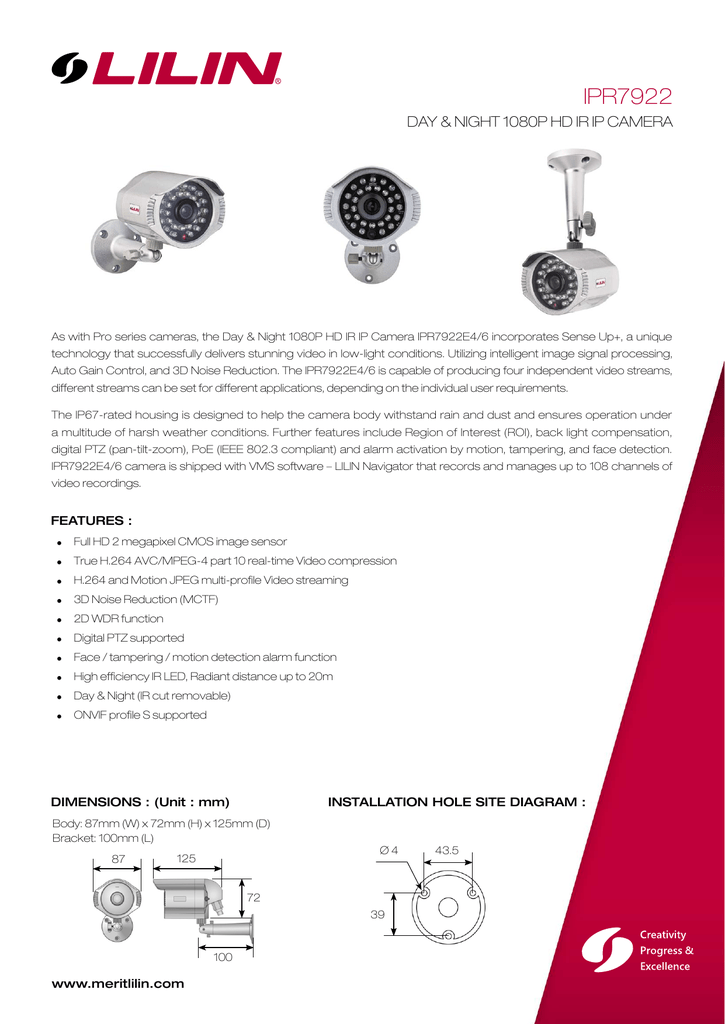 IPR7922
Day & Night 1080P HD IR IP Camera
As with Pro series cameras, the Day & Night 1080P HD IR IP Camera IPR7922E4/6 incorporates Sense Up+, a unique
technology that successfully delivers stunning video in low-light conditions. Utilizing intelligent image signal processing,
Auto Gain Control, and 3D Noise Reduction. The IPR7922E4/6 is capable of producing four independent video streams,
different streams can be set for different applications, depending on the individual user requirements.
The IP67-rated housing is designed to help the camera body withstand rain and dust and ensures operation under
a multitude of harsh weather conditions. Further features include Region of Interest (ROI), back light compensation,
digital PTZ (pan-tilt-zoom), PoE (IEEE 802.3 compliant) and alarm activation by motion, tampering, and face detection.
IPR7922E4/6 camera is shipped with VMS software – LILIN Navigator that records and manages up to 108 channels of
video recordings.
FEATURES :
• Full HD 2 megapixel CMOS image sensor
• True H.264 AVC/MPEG-4 part 10 real-time Video compression
• H.264 and Motion JPEG multi-profile Video streaming
• 3D Noise Reduction (MCTF)
• 2D WDR function
• Digital PTZ supported
• Face / tampering / motion detection alarm function
• High efficiency IR LED, Radiant distance up to 20m
• Day & Night (IR cut removable)
• ONVIF profile S supported
DIMENSIONS : (Unit : mm)
INSTALLATION HOLE SITE DIAGRAM :
Body: 87mm (W) x 72mm (H) x 125mm (D)
Bracket: 100mm (L)
87
125
Ø4
72
39
100
www.meritlilin.com
43.5
SPECIFICATION :
Name
Model
Day & night 1080P HD IR IP camera
IPR7922E4
IPR7922E6
4mm
6mm
F1.6
F1.8
84.8°
57.6°
45.2°
31.4°
100.6°
67.3°
1/2.7" CMOS image sensor
1,920 (H) x 1,080 (V) = 2,073,600 (pixel)
5.856mm (H) x 3.276mm (V)
Progressive Scan
Auto / Schedule / day (color) / night (mono)
0.15 Lux at F1.6 (Low light mode)
0.18 Lux at F1.8 (Low light mode)
/ 0 Lux with IR LED on
/ 0 Lux with IR LED on
Auto / tungsten / indoor / fluorescents1 / fluorescents2 / outdoor1 / outdoor2
Off / On
1/30s ~ 1/8000s
Off / 1 frame / 2 frames / 3 frames / 7 frames
Yes
36 dB Variable Gain
Off / 1-32 selectable
Off / On
Off / On (4 zones)
Brightness, Contrast, Hue, Saturation, Sharpness, Mirror, Flip
IP67
Ø 63.8 heat resistant glass
850nm
30°
20M
- 40°C ~ + 50°C ( -40°F ~ 122°F )
Body: 87mm (W) x 72mm (H) x 125mm (D), Bracket: 100mm (L)
630g
DC12V ±10% / PoE (IEEE 802.3af compliant)
DC12V, 5.6W / PoE, 6.5W
Focal length
Iris
Lens
Angle of view
H
V
D
Pick up element
Effective Pixels
Chip size
Scanning System
Infrared cut filter
Minimum illumination
White balance
Back light compensation
Electronic shutter
Sense up
Sense up +
Auto gain control
3D Noise Reduction
2D WDR
Privacy masking
Image effects
IP Rating
Window
Peak wavelength
Infrared
Beam spread
LED
Radiant distance
Operation Temperature
Dimension
Weight
Power supply
Power consumption
Network
Video compression
Resolution
Profile
Profile
Multiple profile
Profile
Profile
Video streaming
Video bitrate
Security
Users
ePTZ & digital zoom
OSD
Alarm Function
CPU, memory
Maintenance
Network Interface
PC requirement
Network protocols
Mobile phone and PDA
System integration
CMX
Video display
OS
SD Card Recording
#1
#2
#3
#4
H.264, Motion JPEG
1080P(1920 x 1080), 720P(1280 x 720), D1(720 x 480), CIF(352 x 240)
H.264: up to 30 fps @ 1920 x 1080, MJPEG: up to 30 fps @ 720 x 480
H.264: up to 30 fps @ 1280 x 720, MJPEG: up to 30 fps @ 352 x 240
H.264: up to 30 fps @ 1920 x 1080, MJPEG: up to 30 fps @ 1280 x 720
H.264: up to 30 fps @ 720 x 480, MJPEG: up to 15 fps @ 1920 x 1080
RTP/HTTP, RTP/TCP, RTP/UDP, Multicast
128 Kbps to 5 Mbps
Frame rate and bit rate controllable on-the-fly
VBR / CBR / GOP supported
Base64 HTTP encryption
Multiple user access levels with password protection
10 user accounts available
8 simultaneous users
Yes, ROI is supported
Text overly for date, time , camera name
Motion / tampering / face detection triggering recording into SD card
Image upload over FTP and E-mail by face / tampering / motion detection
Embedded SoC ARM11,528MHz, 256MB DDR2, 256MB flash memory
Firmware update via HTTP
Firmware available at web site
10Mbps / 100Mbps Base-T, RJ-45
OS: Windows 2000 , Windows XP , Windows Vista, Windows 7, Windows 8
Browser : Windows Internet Explorer 6.0 or above
CPU : Intel Pentium 4 1.8GHz or above
RAM : 1GB or above, Independent Display Card
IP, TCP, UDP, HTTP, SMTP, NTP, DDNS, UPnP, FTP, ARP, DHCP, PPPoE, DNS, Telnet, RTSP,
RTCP, ICMP, IGMP, SNMP, SIP, ONVIF profile S, Bonjour
iPhone, iPad and Android support
ONVIF & LILIN HTTP API
CMX HD 3.6 / Navigator 1.0 support
LILIN Universal ActiveX & LILIN Java Applet
Embedded Linux 2.6.32
Support Micro SD / SDHC card for circular recording (card is not included)
No liability will be accepted for any errors or omissions. Design and specifications are subject to change without notice.