No category
S600 DIU FEATURES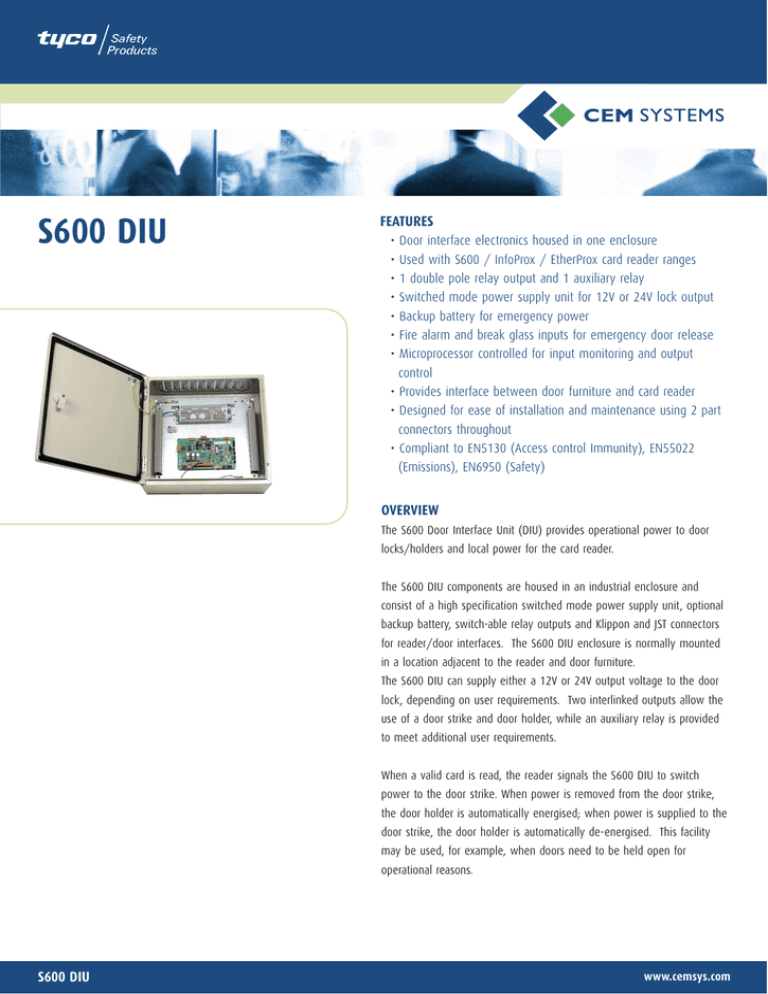 S600 DIU
FEATURES
•
•
•
•
•
•
•
Door interface electronics housed in one enclosure
Used with S600 / InfoProx / EtherProx card reader ranges
1 double pole relay output and 1 auxiliary relay
Switched mode power supply unit for 12V or 24V lock output
Backup battery for emergency power
Fire alarm and break glass inputs for emergency door release
Microprocessor controlled for input monitoring and output
control
• Provides interface between door furniture and card reader
• Designed for ease of installation and maintenance using 2 part
connectors throughout
• Compliant to EN5130 (Access control Immunity), EN55022
(Emissions), EN6950 (Safety)
OVERVIEW
The S600 Door Interface Unit (DIU) provides operational power to door
locks/holders and local power for the card reader.
The S600 DIU components are housed in an industrial enclosure and
consist of a high specification switched mode power supply unit, optional
backup battery, switch-able relay outputs and Klippon and JST connectors
for reader/door interfaces. The S600 DIU enclosure is normally mounted
in a location adjacent to the reader and door furniture.
The S600 DIU can supply either a 12V or 24V output voltage to the door
lock, depending on user requirements. Two interlinked outputs allow the
use of a door strike and door holder, while an auxiliary relay is provided
to meet additional user requirements.
When a valid card is read, the reader signals the S600 DIU to switch
power to the door strike. When power is removed from the door strike,
the door holder is automatically energised; when power is supplied to the
door strike, the door holder is automatically de-energised. This facility
may be used, for example, when doors need to be held open for
operational reasons.
S600 DIU
www.cemsys.com
CEM/B/010 Rev A
PRODUCT HIGHLIGHTS
Interfaces
The S600 DIU provides direct interfaces to the following devices: •
•
•
•
•
•
•
Card Reader
Electric Door Strike
Electric Door Holder
Fire Alarm System (optional)
Break Glass Unit (optional)
Exit Push Button
Inputs from alarm devices
Up to 5 inputs can be wired from alarm/status monitoring devices
direct to the S600 DIU. These devices are used to monitor door
sensors, DIU tamper and battery alarms and fire/break glass
emergency conditions.
The S600 DIU has three interconnected relays when configured for failsafe operation. Relay 1 is used for the door strike; the remaining relays
are wired in series with Relay 1 and are operated by the fire alarm and
break glass unit inputs. If an input from the fire alarm system or break
glass unit changes state, the S600 DIU automatically drops power to the
door strike; this hardware controlled facility ensures that the door opens
in an emergency situation. Details of alarm conditions are sent directly
to the master card reader for central alarm notification.
Board Protection
The mains input to the S600 DIU is filtered to protect against mains
carried interference. The door strike and door holder outputs are
protected against lock faults. Lock electronics should be installed as per
manufacturer's instructions with diode or MOV protection, as required.
TECHNICAL SPECIFICATIONS
Inputs
S600 DIU Inputs
2 master reader relay inputs
2 exit reader relay inputs (optional)
*
I/P_0
*
I/P_1
*
I/P_2
I/P_3
I/P_4
I/P_5
I/P_6
I/P_7
* = 4 state tamper protected inputs (can also be used as general purpose inputs
if primary function is not required).
Note: When DIU inputs are used for door monitoring, reader inputs can be used
as general purpose inputs.
Outputs
S600 DIU
12V/24V to Door Strike/Door Holder
12V/24V to Auxiliary Output
12V/24V to External Sounder
(Suppression device: diode, MOV, etc. required at output device)
Electrical
Unit Power
Supply Voltage
240V ac OR 115V ac (factory setting)
Output (Door Strike)
12V @ 3Amp
OR
24V @ 2Amp
(12V or 24V link selectable)
Power consumption
10W + load of lock
Battery Backup
12V Operation
One lead acid battery
24V Operation
Two lead acid batteries
Battery protected against deep discharge and overcharge
Mechanical
Unit Enclosure
High impact steel case, sealed to IP54. Protected by tamper sensor.
A power status indicator panel may be mounted on the exterior of the
enclosure.
Enclosure Dimensions
(H x W x D)
CEM Systems Ltd
Unit 4 Ravenhill Business Park
Ravenhill Road
Belfast
BT6 8AW
Northern Ireland
Door Position
Lock Status
Exit Push Button
Break Glass Unit
Fire Alarm System
DIU Mains Fail
DIU Battery Status
DIU Tamper
300 x 250 x 150 mm (11.8 x 9.84 x 5.9in)
Environmental
All ratings and values are given for 25ºC ambient temperature.
Tables for battery sizes and ambient temperature de-rating are available in the
Technical Manual.
Product Codes
DIU/600/12V
DIU/600/24V
S600 DIU 12V
S600 DIU 24V
Tel: +44 (0)28 9045 6767
Fax: +44 (0)28 9045 4535
email: [email protected]
web: www.cemsys.com
Product specifications and availability is subject to change without notice. Certain product names mentioned herein may be trade names and/or registered trademarks of their companies.

* Your assessment is very important for improving the work of artificial intelligence, which forms the content of this project