KitchenAid 4171206 Dishwasher User Manual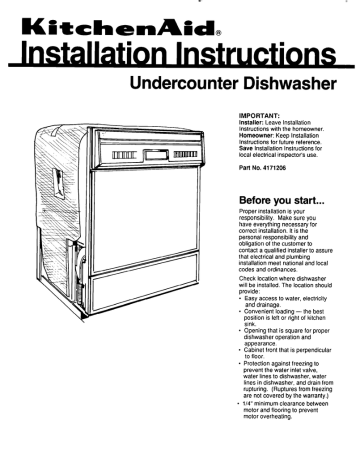 Undercounter Dishwasher
IMPORTANT:
Installer: Leave Installation
Instructions with the homeowner.
Homeowner: Keep Installation
Instructions for future reference.
Save Installation Instructions for
local electrical inspector's use.
Part No. 4171206
Before you start...
Proper installation is your
responsibility. Make sure you
have everything necessary for
correct installation. It is the
personal responsibility and
obligation of the customer to
contact a qualified installer to assure
that electrical and plumbing
installation meet national and local
codes and ordinances.
Check location where dishwasher
will be installed. The location should
provide :
Easy access to water, electricity
and drainage.
Convenient loading - the best
position is left or right of kitchen
sink.
Opening that is square for proper
dishwasher operation and
appearance.
Cabinet front that is perpendicular
to floor.
. Protection against freezing to
prevent the water inlet valve,
water lines to dishwasher, water
lines in dishwasher, and drain from
rupturing. (Ruptures from freezing
are not covered by the warranty.)
l/4" minimum clearance between
motor and flooring to prevent
motor overheating.
l
l
l
l
l
Electrical ground is required. See
Electrical requirements.
DO NOT install dishwasher over
carpeted flooring.
Proper electrical, drain and water
supply lines must be available or
must be installed as specified within
shaded area to prevent interference
with dishwasher frame or other
components. See Electrical, Water
and Drain requirements. Plumbing
and wiring should not cross in
front of motor or dishwasher frame.
Product Damage
Protect dishwasher and water
lines leading to dishwasher
against freezing.
Failure to do so could
cause inlet valve, water lines
leading to dishwasher, water
lines in dishwasher and drain
to rupture.
Such ruptures are not
covered by the warranty.
-~
-D
Corner location - 2" min.
door to cabinets or wall
Cut 1" holes for water,,drain
and electrical lines within
shaded area.
Figure 1
-I-
33-7116" min.
to 35" max.
counter height
If 33-7116'
height Is needed,
the leveling legs
will have
to be removed
l
l
Electrlcal wlring and
components must not contact
any plumbing material or drain
hose.
Electrical wiring, water supply
line and drain line must not
contact any exposed terminals
of dishwasher wiring.
Cabinet opening must
completely enclose sides, top
and back of dishwasher. A
side panel and wood top are
available from your
KitchenAid dealer to install
your dlshwasher at the end of
a cabinet.
Failure to follow these
instructions may result in
personal injury from exposed
wiring.
Page 2
)\
23-112" min.
cabinet depth
Xi
ountert
IMPORTANT: Observe all
governing codes and ordinances.
11 /
I-26"
77
The unshaded area must
be free of oioes.
drain hose or 'wires.
underside
24" opening
\
I
width
I
depth
23-7/6"'1
Flgure 2
For installations where the
dishwasher will be left unused and
subjected to freezing temperatures,
it must be prepared as outlined in
your Use and Care Guide.
l
Grommet
required for
electrical cable
hole cut in
metal cabinets
J
'Whisper
insulation
Quiet
compressed.
Personal Injury Hazard
Avoid opening dishwasher
door before dishwasher Is
installed. Dishwasher, before
it Is installed, may tip over
when door is opened, resulting
in personal injury or product
damage.
Parts supplied for
installation:
2 countertop
anchor
screws
Remove parts from package.
Check that all parts were included.
Tools and
materials needed
for installation:
electric drill
- Phillips
screwdriver
2 adjustable
wrenches for
co per fittings
0 I! 2 pipe
wrenches for
jl;,pp
Or iron
l
l
- pliers
measuring
tape
* flat-blade
screwdriver
- 3/4" nut driver or
socket wrench
wire cutters
* level
* 1" drill bit or
hole saw
* l/8" drill bit
- square
'112" OD copper
tubing OR 316" pipe
. shutoff valve
. supply line fittings
. 1, 3/E" NPT street
elbow (2 for
galvanized
line) OR
90" compression
elbow wtth 316" NPT
at one end for
. ;;J,e;;;aIm
l
.
.
.
.
.
.
and
detergent-resistant
hoseand
clam1
OR 5/r, c30- carper
tubing anad rnur
""'XIS
liy, 5/a** rUIJ soft
lbing if
copper
L:-L ,--- tu
HKJ~ loop drain is
needed. (See Page 3.)
3/4" strain relief bushlna
tubing iutter
oiae-ioint
~&mpotmd
twist-on wire
connectors
electrical tape
Electrical
requirements
Electrical Shock Hazard
. Electrical ground is required
on this appliance.
Improper connection of the
equipment-grounding
conductor can result in
electrical shock.
Check with a qualified
electrician if you are in doubt
as to whether the appliance is
properly grounded.
Disconnect power to the
junction box.
. This appliance must be
connected to a grounded,
metallic, permanent wiring
system, or a grounding
connector should be
connected to the grounding
terminal or wire lead on
the appliance.
Do Not have a fuse in
the neutral or grounding
circuit. This could result
in electrical shock.
Do Not use an extension
cord with this appliance.
Such use may result in a fire,
electrical shock or other
personal injury.
Failure to do so could result in
serious injury or death.
l
A conduit connector must be
installed at junction box. Wire sizes
(COPPER WIRE ONLY) must
conform with the rating of the
dishwasher.
receptacle, grounded in accordance
with the National Electrical Code,
ANSVNFPA 70.latest edition and
local ordinances. Follow instructions
packaged with the flexible cord.
Alternate grounding
method
If the recommended grounding
method is impossible - connect a
separate, green grounding wire (No.
16 minimum) from grounding
connection screw located inside the
terminal box to a grounded, cold
water pipe*. See Figure 3.
Water
requirements
l
Grounding
screw
l
xre3
THIS IS NOT RECOMMENDED.
Do Not ground to a gas
supply pipe or hot water pipe.
Do Not connect to electrical supply
until dishwasher is permanently
grounded.
l
groundlng clamp
must be tight
on pipe
l
A single phase, 115volt, 60 Hz, AC
only, 15 or 20 ampere, fused
electrical supply is required. Timedelay fuse or circuit breaker
is recommended. It is recommended
that a separate circuit serving only
this appliance be provided.
It is the personal responsibility and
obligation of the customer to contact
a qualified electrician to assure that
the electrical installation is adequate
and is in conformance with the
National Electrical Code, ANSI/
NFPA 70-latest edition and local
codes and ordinances.
The dishwasher can be connected
with flexible armored or non-metallic
shealhed copper cable (with
grounding wire).
*eta1 water pipe
Figure 4
*Grounded,
cold water pipe must have metal
continuity
to electrical ground and not be
interrupted
by plastic, rubber or other
insulatmg connecton
such as hoses, fittings,
washers
or gaskets (Including water meter or
electrical connector
pump). Any msulatin
should be jumped wit3 a length of No. 4
copper wire securely clamped to bare metal at
both ends as shown in Figure 4.
Flexible cord connection
Local codes may permit the use of a
U.L.-listed, flexible, three-conductor
cord terminated with a three-prong,
grounding-type plug. It is
recommended that cord kit, Part No.
675456, available from your
KitchenAid dealer or parts supplier,
be used. If the cord kit is not
available locally, the flexible cord
used must be a three-conductor, 16gauge cord that meets the National
Electrical Code, ANSVNFPA 70latest edition and local codes and
ordinances. The length of the cord
must not exceed six feet. It must be
routed so it does not touch the
dishwasher motor or the lower
portion of the dishwasher tub. A
grommet (Par-l No. 302797) must
cover the hole cut in a metal cabinet
for the flexible cord. The flexible
cord must be plugged into a mating
three-prong, grounding-type wall
The hot water line to the dishwasher
must provide between 20-l 20 psi
water pressure. The hot water
heater should be set to deliver
120°F (minimum) water temperature
to the dishwasher (except as noted
in your Use and Care Guide) for best
results.
Use l/2" O.D. copper tubing or 3/8"
galvanized pipe inlet line.
Dishwasher inlet valve has 3/8"
internal pipe thread.
Drain
requirements
Product Damage
9 The drain line connection to
the house plumbing must be
a minimum of 20" above the
floor. A lower drain
connection may result in
siphoning.
9 If the drain is routed to a
connection point less than 20"
above the floor, the drain line
must form a loop 20" above
the floor. See Figure 5,
Page 4.
Do Not kink hose and copper
tubing.
Failure to provide either a 20"
mlnlmum connection height or
a 20" high loop will result in
improper drainage and may
cause product damage.
l
The drain hose should be 9/l 6"
minimum ID flexible hose or
5/8" OD copper tubing. A minimum
of 22" flexible drain hose or a 12"
length of copper drain line with 12"
length of flexible hose added is
needed. Flexible hose, resistant to
heat and detergent, can be found
at plumbing, hardware or automotive
supply stores. Do Not use a drain
line or fittings less than l/2" ID.
If drain line Is copper, clamp a 12"
length of g/16" ID flexible, heat and
detergent resistant hose to end of
copper drain line to connect to
dishwasher valve.
Page 3
copper, the copper
should be 12" plus a
12" length of flexible
hose attached to the end.
Connect the air gap to a waste
tee or disposer using a rubber
connector. Most disposers have
7/8" connectors or special
connectors are available at plumbing
supply houses. Be sure to remove
the disposer knockout or plug
before connecting the drain hose.
Air-gap
Figure 5
If drain hose connection is less
than 20" above the floor, the hose
must form a loop using 38" OD
copper tubing 20 inches above the
floor. Make sure there are no kinks
in the hose or copper tubing.
se
tor
Product Damage
All solder connections must be
made before the water line is
connected to the dishwasher
to prevent damage to the inlet
valve.
'0 Do Not solder within 6" of inlet
valve. The plastic part of the
1 water inlet valve could be
damaged.
l
Alternate
methods:
If connection to an air gap is
required, air gap kits are available
from local plumbing sources.
Recommended
methods:
Air-gap
kit
If local plumbing codes permit,
dishwasher drain hose may be
connected directly to a waste tee
or directly to a waste disposer.
Install air gap according to kit
instructions.
Page 4
The waste tee connection MUST be
made ahead of the trap and a
minimum of 20 inches above the
floor. Most disposers have 7/8"
connectors or special connectors
are available at plumbing supply
houses. Be sure to remove the
disposer plug before connecting
the drain hose.
Now start...
with dishwasher
in kitchen.
Disconnect electric supply before
installing dishwasher.
\
Cut 1" holes for water,drain'
and electrical lines within
shaded area.
Thd unshaded area must
be free of pipes,
drain hose or wires.
'"\I
II
Rough in water and drain
m lines to the dishwasher
cabinet opening using one of the
routing methods shown. Cut 1" hole
in cabinet, rear wall or floor for water
and drain lines.
Numbers
correspond
to steps.
13.
8.
18.
Electrical Shock Hazard
Disconnect electrical power
at the service panel (fuse box
or circuit box).
Make sure that the water
supply line, drain line and
wiring do not touch any
exposed terminals of the
dishwasher wiring.
Failure to do so could result in
serious Injury or death.
lv
A&?-l
l
l
12
Install a shutoff valve in the
n
I water line where it can be
1
easily used.
13
Flush water line to get rid of
W any particles that may clog
inlet valve. Tbrn shutoff valve-to the
"OFF" position.
-,
Remove the 2 screws
below the access panel.
Press up on tabs and pull out bottom
of access panel to unhook tabs from
frame. Then pull the access panel
downward to slide the panel flanges
out from behind the support channel.
Set the access panel aside on a
protective covering. Remove the 2
toe-panel screws. Remove the toe
panel.
I I
lu-
n
14
Check that there are no
sharp bends or kinks in
water line that might restrict
water flow.
n
Install air gap. Attach drain
hose to air gap or waste
tee. See "Drain requirements",
Cut a 1 inch hole in the
cabinet for the electrical
wiring to pass through. If this hole is
cut in a wood cabinet, the hole
should be sanded until smooth. If
the hole is cut in a metal cabinet, the
hole must be covered by a grommet
(Pan No. 302797). Run flexible
cable from fused disconnect, circuit
breaker or junction box through hole
in cabinet. Cable should extend 24"
from back wall.
The dishwasher is shipped
to be installed in 34"
cabinet opening. Measure height of
cabinet opening from underside of
countertop to floor. Adjust leveling
legs to required opening height.
/8
n
Page 5
Floor Damage
Slide dishwasher onto
cardboard or hardboard before
moving across floor. Failure to
do so may cause damage to
floor coverimzf.
Connect 318" NPT
compression elbow (3/8" NPT one
end). Connect street elbow to water
valve. Connect supply line to
compression elbow. If galvanized
pipe is used, use a second 3/8"
street elbow in place of the
compression eydz
Place drain hose on the left
side of the cabinet opening
between the motor and the frame. Latch dishwasher door. Grasp
dishwasher by the door frame and
push the dishwasher into the cabinet
opening. Be careful not to push on
the dishwasher panels. Center
dishwasher in cabinet opening.
Check that front leveling legs are
firmly against the floor.
back of dishwasher
n
alternate
position
..-I__-
h
rear cross channel
original posltlon
Check to see if rear
cross channel contacts
drain, electrical or water lines. If the
channel contacts any line, pull
dishwasher out of opening. Do
Not remove the channel. Remove
both cross channel screws on the
right-hand side. Remove the bottom
screw on the left-hand side and
loosen the top screw. Align the
bottom hole in the loose end of
channel with the higher hole in
frame and attach with screw.
Tighten the top screw on the other
-drain
hose
leek that drain
hose is not kinked
crimDed or contactina
Remove red plug from dishwasher
valve. (A small amount of water may
still be in the valve area from quality
assurance testing.) Place hose
clamp over dishwasher valve.
Connect drain hose to valve and
secure with hose clamp. Check for
good fit and that there are no bends
or kinks in drain hose that could
restrict water flow.
Disconnect brackets
located at the toD corners
of flange. Reattach brackets with
bracket end facing away from
dishwasher. Drill starter holes 3/4"
deep through bracket holes into the
underside of countertop using a l/8"
drill bit. Do not exeed 3/4" depth.
Attach brackets to underside of
countertop. Make sure the screw
heads do not interfere with the door.
You MUST secure dishwasher to
keep it from tilting when door is
opened or closed. Do Not drop
screws In dishwasher tub. If
screws should fall Into the pump,
pump and motor failure may
occur. Remove paper from bottom
of dishwasher.
top mounting
If brackets cannot be attached to
countertop, Do Not disconnect
brackets. Attach dishwasher to floor
using 1/4"lag bolts through hole in
each side of dishwasher frame.
equally
/
Open dishwasher and
Align dishwasher door
with cabinet front, not doors.
Page 6
pieces for upper corners of door.Remove bottom rack. Place a
newspaper or large sheet of paper
over bottom of dishwasher to protect
the pump area when securing
dishwasher to countertop.
spaced
\
Open door approximately
3" and check for equal
spacing between inner door and
tub sides. If necessary, loosen
screws that fasten dishwasher to
countertop and shift tub. Retighten
screws.
B-l
Remove terminal box
. cover. Install conduit
connector to box. Insert power
cable through grommet. Connect the
white wire of the power supply cable
to the white leads in the terminal box
with twist-on wire connectors.
Connect the black wire of the power
supply cable to the black leads in
the terminal box with twist-on wire
connectors.
-I
Place level against
. interior flange as shown.
(17
Level dishwasher front to back and
side to side by adjusting leveling
Connect the grounding wire of the
power supply cable to the grounding
screw on the dishwasher frame.
Replace terminal box cover.
122
Check that all parts have
. been installed and no
steps were skipped. Check that you
have all the tools you started with.
123
CHECK ELECTRICAL
REQUIREMENTS. BE
SURE YOU HAVE CORRECT
ELECTRICAL SUPPLY AND
RECOMMENDED GROUNDING
METHOD. Turn on electrical
supply. Turn on the water supply.
124
Start dishwasher and
. allow it to complete a
cycle. Check that dishwasher is
working properly and that there are
no water leaks.
I
II
close easily without slamming and
should not open with its own weight.
If necessary, close door and adjust
door spring bracket. If the door
closes too fast from an open
position, adjust the door spring
brackets upward to a different hole.
If door falls open too quickly, move
spring bracket downward.
access
125
Replace toe panel with
g two screws. Check that
the opening at the bottom of toe
panel is clear so air can circulate to
cool the motor. Align access panel
flanges to fit under channel. Slide
panel up until it stops. Push up tabs
located at bottom of access panel
until tabs hook over frame. Use two
screws to attach panel.
120
Remove all shipping
materials. Do Not
remove the white plastic plug
buttons from the side of door or the
plastic bumpers from the front
corners of the lower rack. Do Not
remove the two spring retainers
attached to the heater (not included
on all models).
n
Electrical Shock Hazard
Disconnect power before
making electrical connection.
Failure to do so could result In
electrical shock.
1211
Take a few minutes to
' read the Use and Care
Guide to fully understand your new
dishwasher.
126
If color of door is to be
changed or custom panel
installed, change the panel now.
See Use and Care Guide for
instructions.
n
To get the most efficient use from
your new dishwasher, read your
KitchenAid Use and Care Guide.
Keep Installation Instructions and
Guide close to dishwasher for
easy reference.
Page 7
Custom-made
panels
If the dishwasher
is not operating
properly.. .
Check these points:
Is the door closed tightly and
latched securely?
9 Has the cycle been set correctly
to start the dishwasher?
Is the water turned on?
Has a house fuse blown?
Has electrical power been
interrupted?
l
l
l
l
I----23
9116"
Note: If the motor has stopped
because of overload, it will
automatically reset itself within a
few minutes.
-I
If after checking these points the
dishwasher still does not run or
complete a cycle, call for service.
*For Models: KUDA220T and
KUDA22ST-17-7/16"
Custom wood or other materials
should be l/4" thick. Thinner
materials will need to have a spacer
panel installed behind custom
panel. If custom panel is more than
i/4" thick, the outer edge
will need to be routed as shown.
Custom wood panels need a
waterproof protective finish applied
to all sides and edges of panel.
After custom panels are installed,
check the door tension. The door
should be counterbalanced so it
doesn't fall open or close when
opened. If the door closes from an
open position, adjust the door-spring
brackets upward to a different hole.
If door falls open too quickly, move
spring bracket downward. If custom
panels are heavy, heavy-duty door
springs are available from your
KitchenAid dealer.
Part No. 4171206
01989 KitchenAid
Prepared by KitchenAid@, St. Joseph, Michigan 49085
Printed in U.S.A.

* Your assessment is very important for improving the workof artificial intelligence, which forms the content of this project