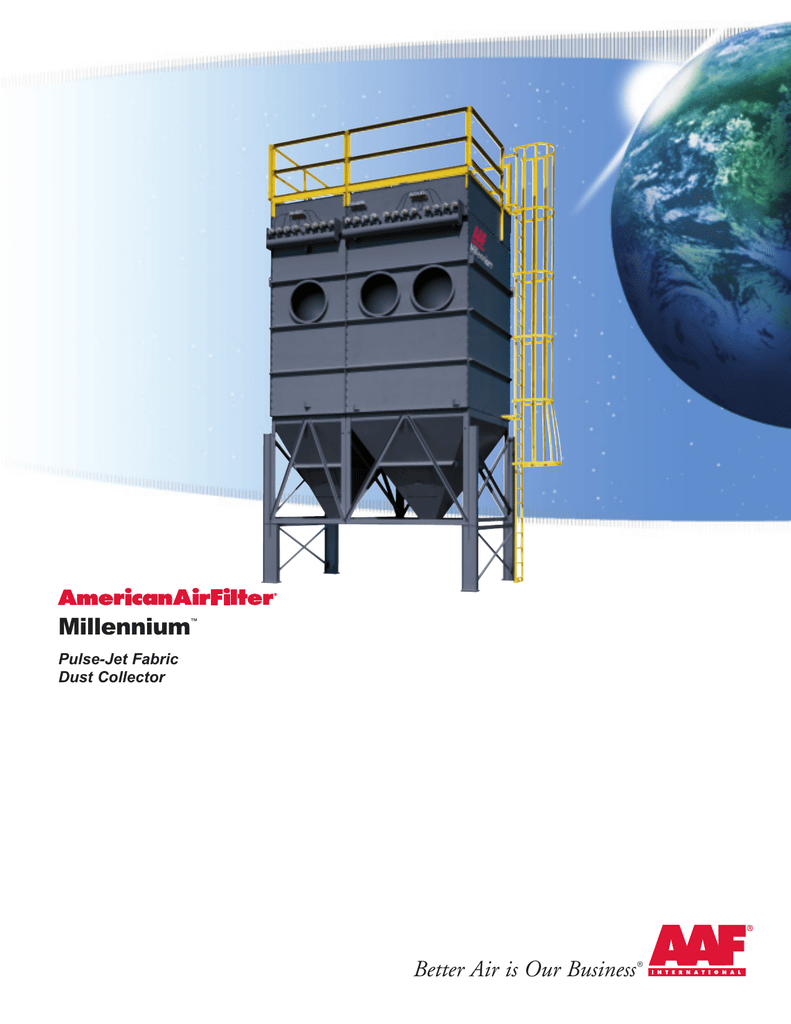 Millennium
™
Pulse-Jet Fabric
Dust Collector
Better Air is Our Business
®
Millennium
™
Pulse-Jet Fabric Dust Collector
Safety Railing
The Millennium offers a flexible design that reduces freight and
erection costs, fits tight quarters, is easy to install and service,
and meets the stringent efficiency requirements mandated by
today's tougher regulations.
Designed Right and Built to Last
Each Millennium is constructed of 10 gauge steel and designed to
withstand 100 mph wind exposure or Universal Building Code Zone 4
earthquakes. The standard Millennium will withstand a negative pressure
of up to 20" water column. Rated for temperatures up to 180 degrees,
higher temperature versions are also available.
The Millennium is supplied with a two-coat enamel paint on the outside
and a coat of primer on the inside.
Fits Anywhere – Sized to Meet All Process Needs
Available in two module sizes,
one Millennium module contains
96 bags and the other module
contains 144 bags. Each module
is available in four heights and
can accommodate fabric bag
lengths of 8, 10, 12, or 14 feet
long, as well as pleated bags.
Since each Millennium will be
constructed from a combination
of these two basic modules,
there is almost no limit to the
size of the collector.
With a wide range of media
fabrics to choose from, we can
cost-effectively design a dust
collection system to meet the
needs of any industrial process
2
and install it in virtually any plant
location. For processes with low
headroom, limited access,
restricted space, or small footprint
requirements, the Millennium
offers a customized solution with
off-the-shelf pricing. Best of all,
you get maximum filter area in a
minimum size house.
Designed to adapt to changes in
emission regulations, if your
process changes, so can the
Millennium. Just use the
flexibility of bolt-together
assembly and modular
construction to connect,
dismantle, or add units without
obtaining new operating permits.
Legs and Bracing
96 Bag Module
144 Bag Module
Access
Ladder
Reduced Installation Costs
Single modules ship fully assembled and ready to install. Multiple
modules can also ship with the individual modules fully assembled or
knocked-down for field assembly to reduce freight cost. Simply bolt the
modules together and assembly is complete. Only four support legs
are required for collectors containing up to five modules. Intermediate
legs are supplied on collectors larger than five modules. This
eliminates most of the foundation and anchoring preparation that is
necessary with conventional baghouses. The result is reduced cost and
installation time.
Maintenance Friendly Features
Continuous operation and
self-cleaning bags extend the
service life of the media,
resulting in less frequent
change-outs and reduced
replacement and disposal costs.
The Millennium also has an
elevated inlet and diffusion baffle
which divert heavier dust directly
to the hopper.
A hinged access hatch is
included with the standard
pyramid hopper, which is
convenient when accessing the
hopper or when removing the
filter bags during a change-out.
Just drop the dirty bags through
the tube sheet and remove
them from the hopper. Lift off
access doors in the roof of the
Millennium provide easy
access to the bags and the
clean air plenum.
Check out these other super
features that are standard on
the Millennium.
• Access ladder and protective
handrails which meet OSHA
safety requirements.
• Exposed manifold and pulse
valves with quick
disconnect piping; very
easy to service.
• Manifold connection kit to
connect multiple modules
which often reduces field
piping to only a single
connection.
• Proven control technology
using a simple solid-state
control timer which
eliminates replacing
difficult-to-find, complex
electronic components.
Solenoid Valves in
NEMA 4 Enclosure
Safety Railing
Compressed Air
Surge Tank
Diaphragm
Valves
Clean Air
Plenum
Outlet
Flange
• Discharge hopper which
can utilize an airtight rotary
lock for discharge of dust to
sealed drums or containers,
thus eliminating concerns
about secondary dust
contamination.
Inlet
Flange
60°
Sloped
Hopper
Energy Efficient
The solid-state timer that initiates pulse-jet cleaning of the filters is
adjustable for both pulse interval and duration. An electronic
differential pressure switch is also available which initiates cleaning
when the pressure drop reaches a preset level. This minimizes
compressed air usage and maximizes bag life. The pressure control
is also available with an after-shift pulse option.
Normally, less than 1.0 SCFM of clean, dry compressed air will be
required for each 1,000 CFM of dust-laden air. Actual requirements
will vary with the dust loading, air-to-cloth ratio, and specifics of the
application. Air-to-cloth ratios normally vary between 3:1 and 15:1
depending on the physical and chemical properties of the dust.
Hopper
Access
Door
Legs and Bracing
12" x 12"
Hopper
Outlet
Access Ladder
Pressure drop across the collector is fairly constant as a result of
continuous cleaning of the bags. Pressure drop will vary with the
air-to-cloth ratio, temperature of the gas stream, dust loading,
and characteristics of the dust. Normally, pressure drop will range
from 3" to 6" w.g.
3
Millennium
™
Available Options for Customized Needs
Typical Applications
Foundries
Industrial Processes
• Shake Outs
• Plastic & Rubber
• Sand Handling
• Rock & Related Products
The standard Millennium is a versatile, high-performance dust
collector that has been designed to meet the needs of most industrial
applications. For customers with special requirements, we offer the
following design change options:
• Transfer Points
• Coal Dust
General Options
Elevated Temperature Options
• Furnace Fume
• Powder Paint
• Poke hole and strike plate
• Designs for up to 400º F
• Reclaim
• Pesticides & Fertilizer
• Pour Floor Fume
• Tobacco
• Support legs for 6, 8, and
10 foot hopper clearance
Ancillary Equipment
• Carbon Black
• High pressure design
• Rotary lock/s
Cement
• Fumed Silica
• Walk-in clean air plenum
• Discharge conveyor
• Rotary Kiln
• Aluminum Casting
• Access platform
• Solenoid valve heaters
• Bagging
• Ceramics
• Solenoid valve
• Cement Block
• Printing
• Explosion vents and vent cages
• Sprinkler systems for fire
protection
• Hopper vibrators
• Power Plants
Metal Working
Bag and Cage Options
• Abrasive Blasting
Food Processing
• Cutting, Grinding & Polishing
• Cereals
• Metalizing
• Dog & Cat Food
• Weld Fume
• Sugar
Control Options
• Arc Gouging
• Milk Solids
• Pressure demand control
• Battery Manufacturing
• Candy
• After-shift pulse
• Various bag and cage
materials and styles
Paint Options
• Specially selected coatings for
severe duty
• Nut Shells
Chemical & Pharmaceutical
• Chocolate
• Material Handling
• Starch
• Bulk Mixing
• Flour & Mixes
• Packaging
• Paper Dust
Municipal
• Refuse Transfer Stations
Woodworking
• Incineration
• Furniture Manufacturing
• Composting
Standard and pleated bags are available
to meet specific application needs.
• Cabinetry
Better Air is Our Business
®
10300 Ormsby Park Place Suite 600
Louisville, Kentucky 40223-6169
www.aafintl.com
ISO-9001 Certified Firm
Customer Service 800.477.1214
Fax 800.254.3019
©2006 AAF International
APC-1-405B FEB '06 CP 5M
AAF has a policy of continuous product research
and improvement and reserves the right to change
design and specifications without notice.

* Your assessment is very important for improving the work of artificial intelligence, which forms the content of this project