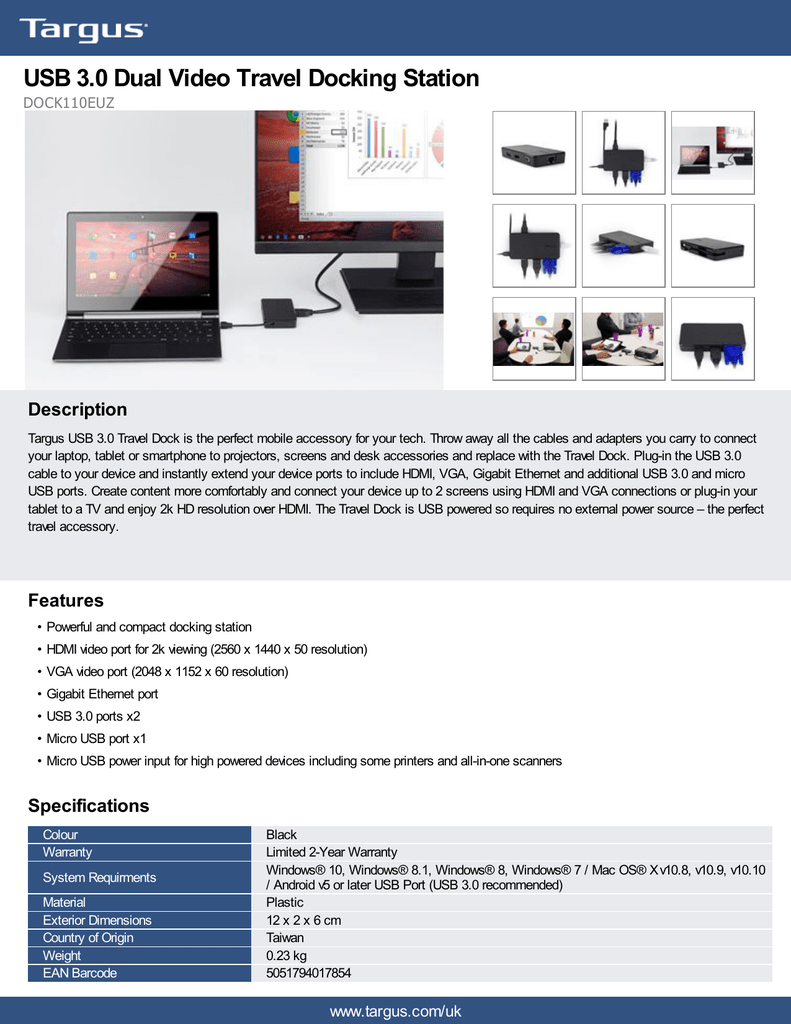 USB 3.0 Dual Video Travel Docking Station
DOCK110EUZ
Description
Targus USB 3.0 Travel Dock is the perfect mobile accessory for your tech. Throw away all the cables and adapters you carry to connect
your laptop, tablet or smartphone to projectors, screens and desk accessories and replace with the Travel Dock. Plug-in the USB 3.0
cable to your device and instantly extend your device ports to include HDMI, VGA, Gigabit Ethernet and additional USB 3.0 and micro
USB ports. Create content more comfortably and connect your device up to 2 screens using HDMI and VGA connections or plug-in your
tablet to a TV and enjoy 2k HD resolution over HDMI. The Travel Dock is USB powered so requires no external power source – the perfect
travel accessory.
Features
•
•
•
•
•
Powerful and compact docking station
HDMI video port for 2k viewing (2560 x 1440 x 50 resolution)
VGA video port (2048 x 1152 x 60 resolution)
Gigabit Ethernet port
USB 3.0 ports x2
• Micro USB port x1
• Micro USB power input for high powered devices including some printers and all-in-one scanners
Specifications
Colour
Warranty
System Requirments
Material
Exterior Dimensions
Country of Origin
Weight
EAN Barcode
Black
Limited 2-Year Warranty
Windows® 10, Windows® 8.1, Windows® 8, Windows® 7 / Mac OS® X v10.8, v10.9, v10.10
/ Android v5 or later USB Port (USB 3.0 recommended)
Plastic
12 x 2 x 6 cm
Taiwan
0.23 kg
5051794017854
www.targus.com/uk
Features and specifications are subject to change without notice.
All trademarks and registered trademarks are the property of their respective owners. ©2015 Targus Group International, Inc.

* Your assessment is very important for improving the work of artificial intelligence, which forms the content of this project