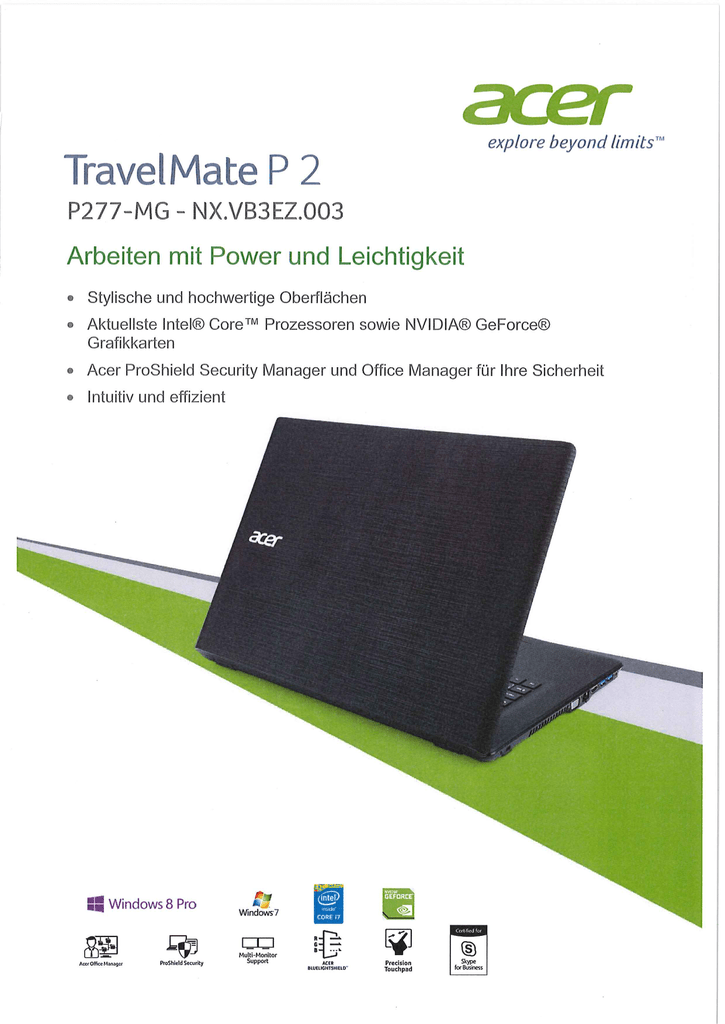 acer
explore beyond limits™
TravelMate P 2
P277-MG - NX.VB3EZ.003
Arbeiten mit Power und Leichtigkeit
e Stylische und hochwertige Oberflächen
e Aktuellste Intel® Core™ Prozessoren sowie NVIDIA® GeForce®
Grafikkarten
e Acer ProShield Security Manager und Office Manager für Ihre Sicherheit
o Intuitiv und effizient
Er
GEFOR
Windows7
== LE = |
Acer Office Manager ProShield Security uppo sc ACER o" Fra Coie я
ma Windows 8 Pro
©
15
? 10
Product views 1. Headphone/speaker jack 5. External display (VGA) port 9. Multi-gesture touchpad 13. DC-in jack
2. Two USB 3.0 ports 6. Kensington lock slot 10. Microphone 14. Power button
3. HDMI? port 7. SD" card slot 11. Two USB 2.0 ports 15. Webcam
4. Ethernet (RI-45) port 8. LED indicators 12. Optical disc drive 16. 17.3"screen
Operating system"? Windows 7 Pro 64-bit/ Windows 8.1 64-bit
CPU and chipset' Intel® Core™ i7-5500U (4M Cache, up to 3.0 GHz)
Memory" *3 Dual-channel DDR3L SDRAM support:
16 GB (2x8) of DDR3L system memory
Display 17.3" FHD+ 1920 x 1080 resolution Acer ComfyView * LED-backlit TFT LCD
16:9 aspect ratio 60% color gamut Mercury free, environment friendly
Graphics! NVIDIA® GeForce® 940M with 2GB-DDR3 (256*16*4)
Audio Two built-in stereo speakers Built-in digital microphone
Storage" Card reader: SD" card
Hard disk drive:
e 1 HDD: 1x 1000 GB S-ATA (5.400 U/min) + 256GB SSD
Optical media drive 8X DVD-Super Multi double-layer drive M-DISC Ready"
Webcam Acer webcam with 1280 x 720 resolution; 720p audio/video recording
Wireless and WLAN: WPAN:
networking" ® e Integriertes Acer InviLink"" 802.11a/c e Bluetooth? 4.0LE
LAN
* Gigabit Ethernet, wake-on-LAN ready
Security Acer ProShield Security Manager including: e Data Protection: File Encryption & Decryption, Personal Secure Drive
e Facial Recognition Login e Data Removal: File Shredder
BIOS user, supervisor, HDD passwords Kensington lock slot
Dimensions and Dimensions: 423 (W) x 281.9 (D) x 27.5/31.65 (H) mm (16.65 x 11.1 x 1.08/1.25 Weight: 3 kg (6.61 Ibs.) with 4-cell battery pack
weight! inches)
Power adapter and ACPI 5.0 CPU power management standard: supports Standby and Hibernation power-saving modes
battery" '* Power adapter Battery
* 3-pin 90W AC adapter * 37 Wh 2500 mAh 14.8 V 4-cell Li-ion battery pack
Input and control Keyboard: 103-/104-/107-key Acer FineTip keyboard with independent standard numeric keypad, international language support, power button
Touchpad: Precision touchpad, supporting two-finger scroll and pinch; swipes access charms, application commands
e Microsoft Precision Touchpad Certification
Windows Store apps!" Acer branded
* Acer Explorer
Windows Desktop Acer branded * Acer Power Management * Acer Quick Access Security
apps!" *? e Acer Care Center e Acer Recovery Management Productivity * Acer ProShield
* Acer Office Manager e Acer Registration e Office 2013'3'* * McAfee" Internet Security
Options and Optional:
accessories * 43,9cm (17,3") Acer Traveler XL Case * Optische Acer Maus, wireless, schwarz matt, Nano USB Dongle
(LC.BAGOA.006) (LC.MCEOA.028)
System compliance EPEAT? registered"
Warranty 2 Years Standard Bring-In (incl. one-year International Travelers Warranty (ITW)) Optional: Acer Advantage 3 Jahre Carry-In (SV.WNBAP.AQ6)
Acer Advantage 3 Jahre Vor-Ort-Service (nbd) (SV.WNBAP.A12)
Quality and reliability Temperature and humidity Acoustics Shock and vibration Keyboard-switch life
tests Hinge life Spillage Electrostatic discharge immunity MTBF (mean time between failures)
Weight and pressure Free drop
1. Specifications vary depending on model. 10. The listed battery life is based on MobileMark 2012 productivity mode testing with wireless on. Details of
2. 64-bit software is required to enjoy the advantages of 64-bit processing. MobileMark 20129 testing are available at www.bapco.com. Battery life rating is for comparison purposes
3. For P2770-MG models. only. Actual battery life varies by model, configuration (including HDD capacity, RAM capacity, processor in
4. A 64-bit operating system is required to enjoy the ultimate performance of 4 GB or higher memory. use, display type and resolution, etc.), applications, power management settings, operating conditions, and
5. Shared system memory may be allocated to support graphics, depending on system memory size and utilized Features. A battery's maximum capacity decreases with time and use.
other factors. Actual system memory available to the operating system vall be reduced by any memory 11. Bundled software may vary depending on hardware configuration, OS and regional availability.
used by the graphics solution and resources required by the operating environment. 12. Trial periods vary depending on the operating system language, geographic region and specifications: 365-
6. For E5-772G models. day trial for China, Taiwan, Hong Kong and Singapore (Simplified Chinese and Traditional Chinese models);
Fe 1 GBis 1 billion bytes. Actual formatted capacityis less and may vary depending on preloaded materials 60-day trial for other regions.
and operating environment. Recovery Management uses a portion of the stated hard disk capacity as 13. Some madels/configurations have a Microsoft Product Identification (MPI) card in the box, which contains a
dedicated backup space. product key to activate the full version of Microsoft Office 2013 Home and Student Edition. If your device
8. Actual throughput may vary depending on network conditions and environmental factors such as network does not include an MPI card, you will need to purchase a product key separately.
traffic or overhead, building construction and access point settings. 14. Some models/configurations may activate to a 1 year subscription for Office 365 Personal, depending on the
9. For P2770-M models. operating systeminstalled.
15. EPEAT? registration varies by country. See http://www.epeat.net/ for registration status for each cou ntry.
Ina continuing effort to improve the quality of our products, information in this document is subject to change without notice. Images shown are only representations of some of the configurations available for this model. Availability may vary depending on region. As
a phenomenon known to thin-film transistors (TFTs), liquid crystal displays (LCDs) commonly exhibit 2 small number of discoloration dots, as so-called "non-conforming pixels." This phenomenon is a limitation of TFT LCD technology, not a product defect, and as such
is not covered by Acer's warranty.
© 2015. All rights reserved.
Microsoft and Windows are registered trademarks of Microsoft Corporation.
Intel, Intel Core, Core Inside, Pentium, and Pentium Inside are trademarks of Intel Corporation in the US. and other countries.
Uber Acer
Acer Inc., gegrúndet 1976, ist heute einer der weltweit groBten IT-Anbieter. Das Unternehmen entwickelt und vertreibt Notebooks, Minibooks, Tablets, PCs, Displays, Projektoren und
Smartphones sowie Produkte fir den Bereich Home Entertainment und mobiles Internet. Zudem engagiert sich Acer intensiv im Bildungsbereich, um durch den Einsatz von Technologie
die Qualität der schulischen Lehre zu verbessern und die multimediale Vermittlung von Unterrichtsinhalten zu Fördern.
Gemäß dem Slogan "Explore beyond limits" liefert Acer IT-Produkte, die sowohl professionellen als auch privaten Anwendern erlauben, neue Dimensionen zu entdecken und Grenzen zu
überschreiten. So trägt das Unternehmen entscheidend dazu bei, die Grenzen zwischen Mensch und Technologie zu überwinden, um persönliche Aufgaben schneller, komfortabler und
effizienter umsetzen zu können. A ;
Weltweit nimmt Acer laut IDC im vierten Quartal 2012 Platz 4 im PC-Gesamtmarkt und Platz 4 im Segment Portable PCs ein. Über 8.000 Mitarbeiter tragen zum Erfolg des Unternehmens explo re b eyo n d lim LES ™
bei.Im Jahr 2012 belief sich der Umsatz (alle Lander und Regionen) auf 14,7 Mrd. US$. Das Unternehmen arbeitet mit Handlern und Distributoren in mehr als 100 Landern zusammen.
Acer Schweiz Firmiert mit Sitz in Dietikon als Acer Computer (Switzerland) AG.