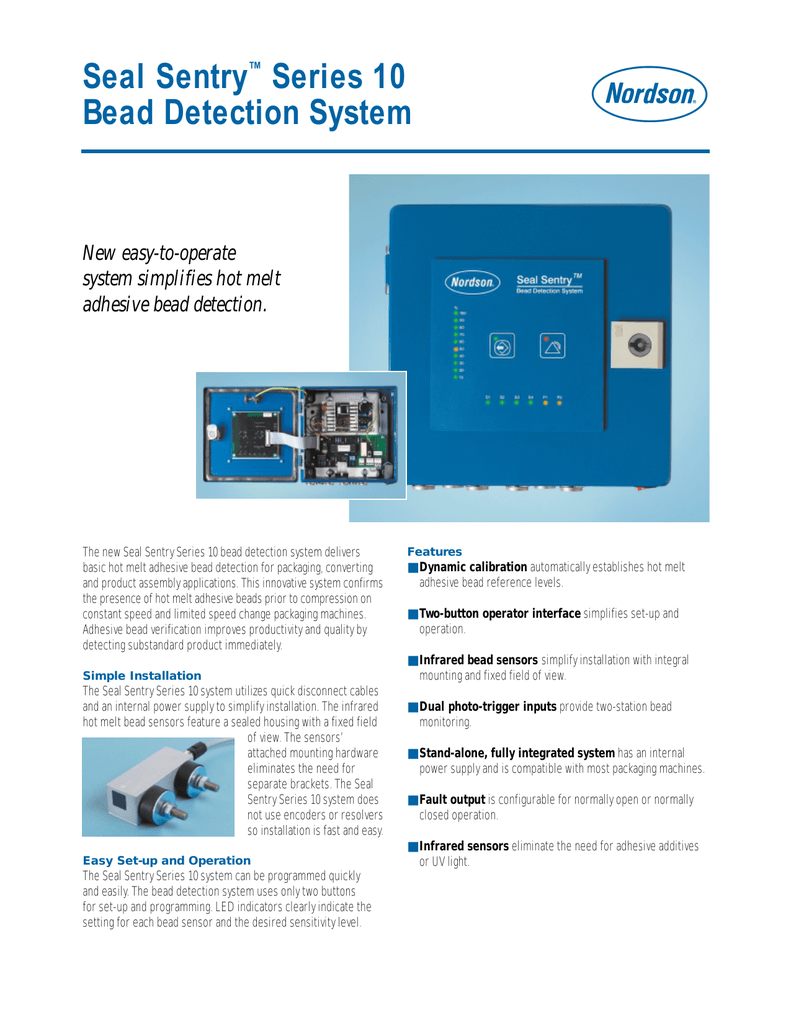 Seal Sentry™ Series 10
Bead Detection System
New easy-to-operate
system simplifies hot melt
adhesive bead detection.
The new Seal Sentry Series 10 bead detection system delivers
basic hot melt adhesive bead detection for packaging, converting
and product assembly applications. This innovative system confirms
the presence of hot melt adhesive beads prior to compression on
constant speed and limited speed change packaging machines.
Adhesive bead verification improves productivity and quality by
detecting substandard product immediately.
Simple Installation
The Seal Sentry Series 10 system utilizes quick disconnect cables
and an internal power supply to simplify installation. The infrared
hot melt bead sensors feature a sealed housing with a fixed field
of view. The sensors'
attached mounting hardware
eliminates the need for
separate brackets. The Seal
Sentry Series 10 system does
not use encoders or resolvers
so installation is fast and easy.
Easy Set-up and Operation
The Seal Sentry Series 10 system can be programmed quickly
and easily. The bead detection system uses only two buttons
for set-up and programming. LED indicators clearly indicate the
setting for each bead sensor and the desired sensitivity level.
Features
■ Dynamic calibration automatically establishes hot melt
adhesive bead reference levels.
■ Two-button operator interface simplifies set-up and
operation.
■ Infrared bead sensors simplify installation with integral
mounting and fixed field of view.
■ Dual photo-trigger inputs provide two-station bead
monitoring.
■ Stand-alone, fully integrated system has an internal
power supply and is compatible with most packaging machines.
■ Fault output is configurable for normally open or normally
closed operation.
■ Infrared sensors eliminate the need for adhesive additives
or UV light.
Seal Sentry™ Series 10 Bead Detection System
Specifications
Input
85-260 VAC
Maximum Output
4A, 230 VAC
Minimum Bead Size*
1.5mm @ 20 m/min
Maximum Line Speed*
300 m/min with a 60mm bead
Bead Sensors
Infrared with 12-18 mm field of view
Fault Output
Single NPN or PNP
Easy to use
operator interface
*Based on bead size of 3 mm @ 175°C application temperature (0.125 in @ 350°F)
Metal enclosure
LED input level indication
System on-off switch
Installation/
ship-with kit
Up to four bead sensors
with quick disconnect cable
High-speed fiber optic
photo trigger
For more information, talk with your Nordson representative or contact your Nordson regional office.
United States
Duluth, Georgia
Telephone: (800) 683-2314
Toll-free Facsimile:
(866) 667-3329
Canada
Markham, Ontario
Telephone:(800) 463-3200
Facsimile: (905) 475-8821
Europe
Lüneburg, Germany
Telephone:(49) 4131-894-0
Facsimile: (49) 4131-894-149
Japan
Tokyo, Japan
Telephone:(81) 3-5762-2700
Facsimile: (81) 3-5762-2701
Asia/Australia/
Latin America
Amherst, Ohio
Telephone: (440) 985-4496
Facsimile: (440) 985-1096
www.nordson.com
When you expect more.®
© 2001 Nordson Corporation
All Rights Reserved.
Nordson reserves the right to make
design changes between printings.
Nordson Corporation • 11475 Lakefield Drive • Duluth, Georgia 30097-1511
PKL-00-1884
Issued 1/01
Printed in U.S.A.

* Your assessment is very important for improving the work of artificial intelligence, which forms the content of this project