No category
I STILL PLAY: EXPLORING PLAY AND CREATIVITY IN EARLY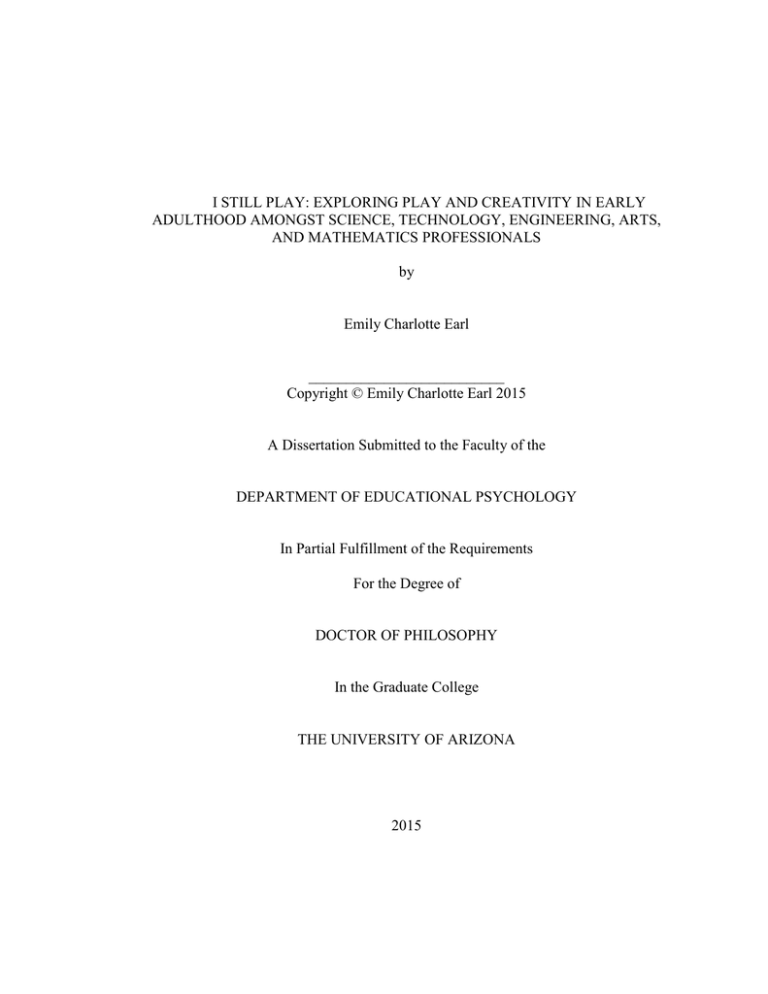 I STILL PLAY: EXPLORING PLAY AND CREATIVITY IN EARLY
ADULTHOOD AMONGST SCIENCE, TECHNOLOGY, ENGINEERING, ARTS,
AND MATHEMATICS PROFESSIONALS
by
Emily Charlotte Earl
__________________________
Copyright © Emily Charlotte Earl 2015
A Dissertation Submitted to the Faculty of the
DEPARTMENT OF EDUCATIONAL PSYCHOLOGY
In Partial Fulfillment of the Requirements
For the Degree of
DOCTOR OF PHILOSOPHY
In the Graduate College
THE UNIVERSITY OF ARIZONA
2015
2
THE UNIVERSITY OF ARIZONA
GRADUATE COLLEGE
As members of the Dissertation Committee, we certify that we have read the
dissertation prepared by Emily Earl, titled I Still Play: Exploring Play and Creativity in
Early Adulthood Amongst Science, Technology, Engineering, Arts, and Mathematics
Professionals and recommend that it be accepted as fulfilling the dissertation requirement
for the Degree of Doctor of Philosophy.
_____________________________________________ Date: October 2, 2015
Sonya Gaches
_____________________________________________ Date: October 2, 2015
Heidi Burross
_____________________________________________ Date: October 2, 2015
Francesca Lopez
Final approval and acceptance of this dissertation is contingent upon the
candidate's submission of the final copies of the dissertation to the Graduate College.
I hereby certify that I have read this dissertation prepared under my direction and
recommend that it be accepted as fulfilling the dissertation requirement.
_____________________________________________ Date: October 2, 2015
Dissertation Director: Deborah Levine-Donnerstein
3
STATEMENT BY AUTHOR
This dissertation has been submitted in partial fulfillment of the requirements for
an advanced degree at the University of Arizona and is deposited in the University
Library to be made available to borrowers under rules of the Library.
Brief quotations from this dissertation are allowable without special permission,
provided that an accurate acknowledgement of the source is made. Requests for
permission for extended quotation from or reproduction of this manuscript in whole or in
part may be granted by the copyright holder.
SIGNED: Emily Charlotte Earl
4
ACKNOWLEDGEMENTS
This has been a process unlike anything I have undertaken or hopefully will ever
undertake again. How can I, in a few words, thank all who helped, inspired, and
supported the growth necessary to get to this point? Just admitting I am standing on the
shoulders of giants is not enough; yet, acknowledging all who helped would be
impossible, if not implausible. For those I neglect, know that in my education you played
an important role and I appreciate your example, knowledge, and assistance on the great
adventure called learning. Your exposure to seminal perspectives and contexts provided
me with questions, concerns, and the confidence to challenge my own views and see the
need for change. Even greater gratitude goes to those who are willing to participate in
my continual education and future.
Thanks to the members of my committee, Deborah Levine-Donnerstein, Sonya
Gaches, Heidi Buross, and Francesca Lopez, who accepted my crazy idea for a
dissertation and just rolled with the shenanigans that emerged from there. Special thanks
to each member who let me corner them and talk about what I was doing, discuss
problems I was having, and challenged me to take it a step further than I thought I could.
Special thanks to Sonya for letting me have a few, several, meltdowns in her office and
then for lovingly telling me to get back to work.
Along this journey I was blessed to collect many mentors, who took time from
their lives to assist me with advancing mine. I would be remised if I did not mention
these people and their incredible contributions. Dr. November Papaleo who generously
5
gave large allotments of time to meet with me regularly, discussed my progress, and
demanded more from me than anyone else. She also made sure I was eating and
reminded me to live what I was studying. The hikes we went on were invaluable as were
our conversations about theory, academia, and research. I am forever indebted to Andrea
Holms and Heather Severson, from the Writing Center, for making me think about
writing as a process not a product, providing me with feedback, reading draft after draft
of this dissertation, and for their attempts to keep me, and my sass, in check. For your
patience, support, and friendship, I thank you. Dr. Maisa Taha, I appreciate your
willingness to teach me how to do fieldwork and for reviewing my initial attempts at field
notes. Marianna Pegno, for being my dissertating buddy, together we learned that being
out-of-the-box thinkers makes you work a lot harder than just adhering to the
norm. Despite the extra work we can say that we had a lot more fun researching and
exploring our topics than should be allowed in Ph.D. school. Diana Hill, your friendship
and commitment to finding new ways to booster me intellectually and emotionally for the
last two years. Your support will never be forgotten. Together we beat the odds and won
our own epic battles.
Unspeakable gratitude should be extended to all of my friends and family member
who encouraged and maintained contact with me throughout my Ph.D. studies, even
though I rarely responded to anything in a timely manner, said no to all the fun things
they planned, and for realizing that I really only talked to them during breaks between
terms. Thank you to the Chitwoods and Casidas for making me "take breaks" and spend
6
time with them. Special thanks to my roommates Sarah and Lindsey for putting up the
messes, grad school drama, and my non-social behavior. For sticking through all of that
you have demonstrated what true friendship is and the importance of having wonderful
people in your life. Suzannah, Lorraine, and Leah for helping me learn how to use
technology and explore alternative ways of presenting research. I would also like thank
the weekday staff (Taylor, Daniel, Justin, and Courtney) at Quick Trip (QT) for being my
suppliers of Diet Coke and cinnamon-sugar pretzels. Your friendship, inquiries, and
service made you the real heroes of this process. It was like I had my own Cheers bar…
because they knew my name. The band, Green Day for creating the soundtrack for my
graduate school experience and reminding me that you have to challenge the norms to
secure the future you want. Google because of your commitment to play and creativity in
adulthood and for developing a search engine that provides more information than I could
have ever found on my own (#googlescholar).
Special thanks to the following business and people who were a part of my dissertation:
•
•
•
•
Zuzi Dance- For letting me come and play weekly for the last 11 months. Thank
you for never letting me accept what I thought I could do and for making me
remember that play requires rejecting your inhibitions, pushing yourself, and the
importance of "getting out of your head" in order to be a part of the moment.
Owl & Panther: A Project of the Hopi Foundation- Thank you for letting me a
part of such an amazing organization, teaching me that tolerance is not enough,
and for letting me be among the most incredible people I have ever met.
Greg Cooke- the best tennis coach in Tucson and his willingness to let me to sit in
on lessons.
The public places- all of the brunch locations, the Arizona Renaissance Festival,
Reffkin Tennis Courts, and the mall area of a major research university in the
American southwest.
7
•
Those who were involved in the research process just by being present when the
play was occurring. Joe C., Chili For, Sir Geoffrey, Sophie, and Nina thanks you
for joining in the play and sometimes let me into their home for research.
Finally, thank you to all of you who believed in me and to those who did not. Without all
of you I never would have grown, explored, and challenged.
8
TABLE OF CONTENTS
RESEARCH VIDEO ........................................................................................................ 15
ABSTRACT ...................................................................................................................... 16
PREFACE ......................................................................................................................... 17
CHAPTER 1: PLAY ......................................................................................................... 18
Introduction ....................................................................................................................... 18
A Brief History of Play ............................................................................................... 20
Play as We Know It .................................................................................................... 24
Purpose of Study ......................................................................................................... 28
Research Statements and Questions ........................................................................... 31
CHAPTER 2: METHODOLOGY .................................................................................... 34
Method .............................................................................................................................. 34
Participants.................................................................................................................. 34
Recrutiment ................................................................................................................. 42
Materials and Procedure ............................................................................................. 45
Analysis and Conclusion ............................................................................................ 47
CHAPTER 3: PREAMBLE OF RESULTS ..................................................................... 52
CHAPTER 4: EARLY ADULTS AT PLAY ................................................................... 55
Introduction ....................................................................................................................... 55
Literature Review.............................................................................................................. 55
Defining Play .............................................................................................................. 56
Theories Used to Discuss Play.................................................................................... 59
Play as Development .................................................................................................. 65
9
TABLE OF CONTENTS – continued
Adults and Play ........................................................................................................... 74
Research Statement and Questions 1 .......................................................................... 78
Section 1: Definitions of Play ........................................................................................... 79
Science ........................................................................................................................ 79
Technology ................................................................................................................. 81
Engineering ................................................................................................................. 83
Arts.............................................................................................................................. 84
Mathematics ................................................................................................................ 86
Me ............................................................................................................................... 88
Themes from the Definitions ...................................................................................... 89
Summary and Conclusion .......................................................................................... 93
Section 2: Styles and Types of Play ................................................................................. 95
Styles of Play .................................................................................................................... 97
Explorer- Engaging with the World in New Ways ..................................................... 98
Mover- Activities Requiring Movement................................................................... 102
Socializer- Hosting or Engaging with Other People ................................................. 103
Creator- Making and Developing ........................................................................... 108
Storyteller- Writing or Reading ................................................................................ 111
Joker- Bring Nonsense into a Situation .................................................................... 114
Competitor- Finding Ways to Compete .................................................................... 116
Director- Planning and Executing Play Activities .................................................... 118
Collector- Retrieving, Gathering, and Saving Objects ............................................. 120
10
TABLE OF CONTENTS – continued
Types of Play .................................................................................................................. 122
Spending Time with Friends (Hanging or Going Out) ............................................. 123
Being outdoors .......................................................................................................... 124
Learning Something New ......................................................................................... 125
Developing or Working on A Hobby ....................................................................... 126
Spending Time with Family ..................................................................................... 128
Relaxing .................................................................................................................... 129
Spending Time On Your Own .................................................................................. 129
Attending Cultural Events ........................................................................................ 130
Reading ..................................................................................................................... 131
Surfing the Internet ................................................................................................... 131
Participating in Sports ............................................................................................... 132
Using Social Media ................................................................................................... 132
Volunteering ............................................................................................................. 133
Shopping ................................................................................................................... 134
Work ......................................................................................................................... 135
Other: _____________ ............................................................................................. 135
Summary and Conclusion ........................................................................................ 137
Section 3: Play Experiences ............................................................................................ 139
My Play Experience: Ebbinghausing .............................................................................. 142
The Participant's Play Experiences: Beyond Ebbinghausing ......................................... 147
Magnus Flair (and Scifi) ........................................................................................... 150
11
TABLE OF CONTENTS – continued
Anne .......................................................................................................................... 153
Rose .......................................................................................................................... 156
Will ........................................................................................................................... 157
Rex ............................................................................................................................ 159
Ryan Finely ............................................................................................................... 163
Mary ......................................................................................................................... 166
Andy Scott ................................................................................................................ 169
Super Ninja ............................................................................................................... 171
Scifi ........................................................................................................................... 174
Maija ......................................................................................................................... 175
Marina Lopez ............................................................................................................ 178
Leroy Pumpernickel .................................................................................................. 179
Archie........................................................................................................................ 181
Pancho McCloud (and Rose) .................................................................................... 183
Brunhilda .................................................................................................................. 186
Themes of Participant's Play Experiences................................................................ 188
Summary and Conclusion ........................................................................................ 191
Section 4: Uniqueness of Adult Play .............................................................................. 192
Time .......................................................................................................................... 192
Money ....................................................................................................................... 194
Changes in Play Over Early Adulthood .................................................................... 197
Play History for Understanding Lifespan Play ......................................................... 204
12
TABLE OF CONTENTS – continued
Summary and Conclusion ........................................................................................ 205
Section 5: Not a Question of How, But a Question of Why ........................................... 206
Discussion and Conclusion ............................................................................................. 210
CHAPTER 5: PLAY TO CREATE ................................................................................ 215
Introduction .................................................................................................................... 215
Literature Review............................................................................................................ 218
Creativity: What Does it Mean? ............................................................................... 218
Play and Creativity.................................................................................................... 220
Creativity and Innovation ......................................................................................... 222
Research Statement and Questions 2 ........................................................................ 224
Results ............................................................................................................................ 226
Linking Play, Work, Creativity, and Innovation ...................................................... 228
Themes of Play, Work, Creativity, and Innovation .................................................. 237
Discussion and Conclusion ............................................................................................ 242
CHAPTER 6: WHAT PARTICIPANTS WANTED THE READERS TO KNOW
ABOUT THEIR PLAY................................................................................................... 244
Discussion for Applied Qualtiative Research ................................................................. 248
CHAPTER 7: PLAYING WITH- THE FUTURE OF- RESEARCH ............................ 250
Introduction ..................................................................................................................... 250
Literature Review............................................................................................................ 250
Methods for Researching Play .................................................................................. 250
New Methods of/at Play ........................................................................................... 253
13
TABLE OF CONTENTS – continued
Research Statement and Questions 3 ........................................................................ 256
Results ............................................................................................................................. 257
Considerations for Play Research ................................................................................... 257
Quantitative Measures for Play................................................................................. 257
Playtime .................................................................................................................... 260
Wordplay .................................................................................................................. 261
Playing with Ethics ................................................................................................... 262
Power Plays............................................................................................................... 265
Grand Perspective for Future of Play Research .............................................................. 268
Learning from Literature .......................................................................................... 268
Theoretical Framework ............................................................................................. 272
Future of (My) Play Research ................................................................................... 277
Moving Towards a New Theory that Includes Adults .............................................. 278
Discussion and Conclusion ............................................................................................ 280
CHAPTER 8: FINAL THOUGHTS ............................................................................... 281
CHAPTER 9: EPILOGUE .............................................................................................. 283
Introduction ..................................................................................................................... 283
Why Study Play? ...................................................................................................... 283
Participants: Children vs. Adults .............................................................................. 284
Thoughts on Human-Centered Research Methodology............................................ 286
Discussion and Conclusion ............................................................................................. 288
CHAPTER 10: FUTURE RESEARCH .......................................................................... 289
14
TABLE OF CONTENTS – continued
APPENDIX A: ONLINE SURVEY ............................................................................... 290
APPENDIX B: INITIAL SEMI-STRUCTURED INTERVIEW ................................... 293
APPENDIX C: ANALYZING SEMI-STRUCTURED INTERVIEW .......................... 295
APPENDIX D: EXAMPLE OF CODING PROCESS ................................................... 296
REFERENCES ............................................................................................................... 298
15
RESEARCH VIDEO
A video was created in order to integrate examples of play, documented during
data collection, into the final product of my dissertation.
To access the video this is the web address: http://vimeo.com/137393148
This is the password to gain access to the video: Dissertation
Edits: Vaughn should have been Vaughan.
16
ABSTRACT
Play is acknowledged as a fundamental need and right of the human experience.
However, across the human lifespan is not always valued. Research on play has
traditionally been on children, and while some attention is now being paid to older adults,
there is little scholarship regarding play in adulthood. This exploratory study examined
how adults in early adulthood (25-40 years old) play, the influence playing has on
creativity and career performance, and implications for future research on play. The
study was completed utilizing traditional and non-traditional research methods with the
intent to incorporate the participants' voice and perspectives into a human-centered
research design. The end results of this study, demonstrated that early adults engage in a
number of play experiences that shape their development and learning as well as
influence their creativity and work performance. The use of human-centered research
provided participants with the opportunity to individualize data collection, analyze
results, and have a voice in the final product.
17
PREFACE
Learning happens in all contexts and through all experiences. As the field of
Educational Psychology promotes research on learning and development, it must be open
to exploring environments and actions that have not always been present in a scholarly
discourse, but have always been present in the process of knowledge acquisition. This is
one of the reasons I selected play as my dissertation topic. While play is highly
publicized and marketed as an important aspect of childhood, it continues to influence
learning and development across the lifespan; even for those in demographics/life stages
that are frequently overlooked.
Providing an opportunity for adults to be invited into this conversation, and the
research community, is why I elected to complete a study on play in early adulthood as
the cornerstone assignment of my Ph.D. studies. This topic provided me with the
freedom to explore powerful learning moments that occur when people engage with
intrinsically-directed educational experiences that advance abilities, thinking, and
development. In this dissertation, I will discuss this in more depth and why play is a
limitless act of scholarship that transcends and transfers unlike any other form of
learning.
18
CHAPTER 1: PLAY
Introduction
Play is an innate need, which provides players with opportunities and situations
that expand their understanding through self-directed interactions. Play as an action can
be recognized when observed or engaged in; but discussing play in an academic setting is
difficult. Sutton-Smith (1997) points out that play is something that is documentable and
felt, "but when it comes to making theoretical statements about what play is, we fall into
silliness" (p. 1). I argue that one of the reasons the "silliness" occurs is that play is
treated as something that is childish rather than a developmental marker that has the
capacity to create desired outcomes that impact the individual and society. It also,
services as a learning tool that can be applied in formal and informal learning
environments. While play has been studied and advocated for in a number of different
contexts (e.g., education & therapy), the act of consistently playing is not valued equally
across the different stages of the life cycle. The age group most impacted by the
discrimination of play's value (Danby, 2005) is adults, more specifically those in early
adulthood.
When adults are discussed in the play literature, the focus is on emergent adults or
those between the ages of 18-24 (Arnett, 2004), and those who have retired (Cheang,
2002; Kelley, Little, Lee, Birendra, & Henderson, 2014). This means that play research
overlooks nearly 40 years of the lifespan, where people participate in a variety of
activities that have direct impact on their learning and development. Play also serves as
19
an important function for human existence, for example, without play in adulthood
courtship would be nearly impossible because play creates opportunities for
communication, interactions, and connection that enhance "true intimacy" (Brown &
Vaughan, 2009, p. 166). Ignoring adult play does little to help our understanding of lifelong learning or human development, which is why Cohen (2006) argues this gap in
research has occurred long enough and contemporary researchers need to start addressing
and recognizing the importance of play in adulthood.
This recognizable gap in the literature is not an issue that I am introducing; it has
been discussed as something that needs to be addressed. However, rather than tackling
the lack of understanding about adult play, the more common stance taken by academics
is to state that there is a need for more research (L'Abrate, 2009; Fagen, 2011) and this is
why adults are continually left out of the conversation.
In order to explore the influence of the innate act of playing within the confines of
early adulthood, it is important to first acknowledge the ways in which adults have used
their play to shape cultures and societies as well as the way it influences everyday
behaviors. The intent of discussing the spoils of play in adulthood, from a historical
perspective, provides context for understanding the privilege of whose play is recognized
(Cannella, 2002), the value of play in application (Paley, 2004), and the implications it
has on the lives of adults (Cohen, 2006).
The tangible outcomes produced from adults' play need to be recognized before
socially constructed ideas about adulthood and playing can be evolved. Play researchers
20
who discuss play in childhood frequently mention that play as an adaptive system
(Johnson, Christie, & Wardell, 2005; Paley, 2004). Meaning, play, requires an
environment that allows for ideas and produces to be constantly evolving in order to
fulfill predetermined and emergent objectives of those involved. Play cannot be treated
as stagnant experience or something only to be enjoyed in childhood or retirement
because it is what molds interests into abilities and goals into actions. Playing is a
necessary activity, Cohen (2006) suggested that the lack of adult play research amongst
psychologist is one of the great downfalls of the field because everyone else (i.e.,
historians, industry, & neuroscientists) seems to be cognizant of its value. Furthermore,
the misconception that children are the "experts of play" (Johnson, et al., 2005) needs to
be dismissed and replaced with an acceptance that play is an instinct that all people haveat least occasionally (Sutton-Smith, 1997)- and the outcomes of these experiences are
some of the greatest markers of the human experience. One of the great play advocates
of the 20th century, Johan Huizinga (1950), prefaces his research with the
recommendation that humans no longer call themselves homo sapiens but rather homo
ludens- man the player.
A Brief History of Play
Before exploring the role of play in contemporary society, the following is a brief
overview of the impact play has had on Western Civilization. The role of play in culture
and civilization has been documented, unintentionally, throughout history by scientists,
philosophers, and artists. While each discipline had its own focus and use for
21
documenting play, today, the products of their labors provide a rich contextual harvest
that supports the impact of adults' play.
Ancient Greeks recognized the intrinsic value of play as well as the extrinsic
products that could be developed then shared (D'Angour, 2013). While not all aspects of
play were valued equally, there was an acceptance that it provided the foundation from
which people learned about moral reasoning, abstract ideas, and rituals that then
influenced cultural norms and behaviors (Huizinga, 1950). D'Angour supported
Huizinga's findings and added that playing also was important for sustaining society
through ceremonies and accepted notions of reality. Beyond the everyday, festivals and
celebrations were rituals that invited and normalized play for centuries. Carnival, for
example, provided participants with a brief respite from expected behaviors of decency
and social norms (Caillois, 1961) and replaces those ideals with the freedom to explore
ludic behaviors. Caillois also discussed how fairs invited people to step away from the
ordinary and into intervals "excitement, illusion, and disorder" (p. 135) to engage with
the unknown in a safe and known environment.
Not only do artifacts from these events exist but they also were incorporated into
literature and art of the time; thus, reinforcing examples of play within other cultural
contexts. For example, William Shakespeare included everyday play (i.e., banter,
singing, and dancing) into his productions as well as references to major events or
pastimes (i.e., reveling and theatricals) to mirror life and the experiential/cultural relevant
knowledge of the viewer. As with many cultural practices, play can go unseen and
22
under-recognized until focus is placed on the activity or an acknowledgement is made
about how others benefit from playful acts. Pieter Bruegel, a renaissance painter,
captured the daily activities of pheasants' lives in his work and provides an account of the
play he saw in his daily life.
When asked to explain play or provide context for the play, responses generally
centered on a desire to alleviate the monotony or required tasks (Burghardt, 1984). In
adulthood, many tasks are required for existence (e.g., employment); however, there
completion does not have to be executed in a tedious manner (Ellis, 1973). Through
play, participants are presented with a way to revive the mundane aspects of life.
Bateson and Martin (2013) discussed the ways in which Mozart incorporated his
notorious playful side (i.e., pranking and joking) into his composition process as well as
his final product. Huizinga (1950) referenced music as a cultural representation of play,
which is often accompanied by its "twin-sister, the dance" (p. 164). The use of dance has
been documented throughout history as an "integral part of play" (p.165) and a
demonstration of "social discourse" (Oreck & Nicoll, 2010, p. 111). The cultural
exchanges explored through dance were developed to meet the needs of each group and
were reflective of the rituals, norms, and behavioral expectations for movement (e.g.,
courtship). Dance has also been used to challenge social and physical interactions across
history (Cass, 1993), which resulted from playful physical expression (Oreck & Nicoll) in
an array of contexts.
23
Play-infused environments have historically been discussed as being important for
the development of ideas by scientists, artists, musicians, and theorists because these
spaces allowed for the exploration of traditions through the examinations of "tensions,
and uncertainties" (Huizinga, 1950, p. 47). Another example provided by Bateson and
Martin (2013) about the importance of play in the development of ideas was in reference
to Nobel prizewinner Richard Feynmann's initial boredom with his career choice. As a
young physicist he found his tasks dull and unfulfilling; until he took a step back and
remembered that what he originally liked about physics. This resulted in his resolve to
never engage with research on a topic that he did not find interesting. His conversion
caused a reintroduction of play into his work, which increased his satisfaction, flow
(Csikszentmihalyi, 2008), innovation, productivity, and discoveries. Today his
commitment to play provides us with a deeper understanding of quantum
electrodynamics.
From centuries of artifacts, adult's influence as players in society have been
documented through the advancement ideas, cultures, and eventually civilizations. Yet,
play in adulthood has been overlooked and underrepresented for much of history. Cohen
(2006) discussed that prior to the start of the Renaissance play was rarely mentioned or
when it was discussed the execution was in a "hap hazard way" (p. 17). However,
through theater, art, journals, and archeology findings (Lewis, 2009) there is evidence
supporting that play happened and that research needs to continue on every day
observable play practices.
24
Thinking of play as a developmental tool, rather than a childish act, illustrates that
playing integrates learning into life practices that advance understanding (Rogoff, 2003).
This again demonstrates the academic disconnect (Cohen, 2006) between the relationship
of play and natural interactions that lead to development (Vygotsky, 1978; Huizinga,
1976; Bandura, 2001), especially amongst those in adulthood.
Play as We Know It
Contemporary play researchers credit Rousseau's Emile (1979) as being a pivotal
literary contribution that advanced the study of play and childhood (Cannella, 2002;
Johnson, et al., 2005). Rousseau considered children to be a blank slate who needed to be
raised with care so that they could develop into rational beings, which is why play was
needed. Chudacoff (2007) argued this shift in thinking about and the treatment of
children provided a developmental explanation and acceptance of play by groups who
had previously halted access to such activities (i.e., Puritans). From that time, a societal
shift occurred that altered the expected behaviors and activities of children.
As a result, philosophers started taking note of play in terms of childhood, which
was a new social construction (Cannella; Cohen, 2006) and subsequently treated research
on play as relevant to a developing child. The role of play in childhood also drew the
attention of educators who started to advocate for play as a learning and teaching tool.
Some of the most vocal and still referenced early childhood educators, who used play in
the classroom and their theoretical discourse, were: Forbel, Montessori, and Dewey
(Johnson, et al. 2005; Chudacoff, 2007). The use of play in the learning context has
25
continued for the past 150 years; however, in the United States, play in the classroom has
been impacted by education trends and policy (Johnson, Sevimli-Celik, & Al-Mansour,
2013). Play in the classroom has always had the overarching expectation that through
children's participation, with play-based learning, they were being preparing for a greater
skill set or would be able to produce greater tangible results in the end (Montessori,
1976). Outside of the classroom the use of play has become widely recognized within a
sociocultural framework as teaching and learning tool from which players engage in
guided participation (Lillard, 2007; Rogoff, 2003; Bandura, 2001). Vygotsky (1978)
discussed the importance of play as way for a child to move forward within
developmental contexts that require meaning making to occur within multiple social
settings (i.e., home and school). Similarly, Saracho (2003) discussed the educational
merits of play as a way for children to advance their "cognitive, creative, language,
social, and physical" abilities as they interpret and "understand the world" (p. 77).
Despite the focus of educational-play research existing only to support children, we can
assume that playful learning occurs across the lifespan.
However, the play research that originated in the Victorian era still impacts
contemporary perspectives on whose play is recognized. Colarusso (1994) found that
people from the Victorian era created a social stigma around the idea that play was for
children and work was for adults. This did not mean that adults stopped playing, but
rather that the acknowledgement of their pursuits became limited by society standards as
a negative stigma became attached to playful behaviors. This belief was supported by
26
Freud (Cohen, 2006) and later stage theorists (Erikson as referenced by Hoare, 2002).
Even contemporary researchers apply stigmatic perspectives when discussing adults play
(Bateson, 2011) rather than advancing research about this age group.
The importance of play in adulthood has started to become more prevalent and is
gaining attention by business and popular culture. During the summer of 2014, National
Public Radio ran a week long segment about the importance of play and focused an entire
day on adults need for play (Yenigun, 2014). Huffington Post has published several
articles on adults needing play (Dayton, 2010) and why adults should defend their right to
play (Ebrahim & Tangelder, 2012). Kane (2004) calls for adults to create a personal
"play ethic" in order to become more successful in today's society. Movies such as The
Secret Life of Walter Mitty (Comfeld, Goldwyn, Goldwyn, Stiller, & Stiller, 2013) and
Wish I was There (Cestone, Conners, Johnson, Morgan, Woodrow, & Braff, 2014)
showcased the changes that occur when adult character's reintroduced play into their
lives, which results in an alteration of their perspective and state of being.
Furthermore, entrepreneurs have started creating opportunities to support adult
play. For example, Mice at Play and Preschool Mastermind are services that provide
play-based opportunities to adults in an array of contexts and activities. In the business
world, there is a shift occurring within company cultures to make the work environment
more playful (Meyer, 2010). While the shift is not a mainstream occurrence, companies
that provide playspaces (i.e., Google & Twitter) consistently rate higher on Forbes "Best
Places to Work" lists (Scott, 2015). The most cited reason is the playful workspace that
27
companies invest in for their employees (Meyer; Brown & Vaughan, 2009; Moultrie, et
al., 2007). Environments that support play show a positive correlation between employee
productivity and motivation (Proyer, 2014; Meyer). Meyer explored both the learning
and business aspects of turning workspaces into playful environments, what she found
was companies who had a play culture also had: lower turnover, high reported job
satisfaction, increased net worth, and people wanted to contribute because the space was
"energizing and invigorating" (p. 71), which meant their ideas were worth something to
those around them. When innovation and creativity is the desired result there is an
embedded need for play to be present in order for new ideas to be explored.
Within fields that require a final output to be in the form of new information/
innovation, companies are turning to play as a tool to support their employee's
productivity and creativity (Proyer, 2014; West, Hoff, & Carlsson, 2012; Stewart, 2013;
Amabile, et al., 1996). The act of playing allows for the challenging of ideas and
exploring old content in new ways. It has been said, "necessity is the mother of
innovation"; however, Brown and Vaughan (2009) argue that play is actually the mother
of innovation because it is through the process of being playful divergent thinking occurs
and that is what leads to creative solutions. Providing an environment that supports play,
furthers companies productivity because employees have the freedom to engage in
solutions by thinking abstractly (Russ, 1993), challenge what they know as they process
new information (Vygotsky, 1978; Piaget, 1945), fail in order to find a new solution
(Bruner, 1966), and explore concepts with tangible materials and theoretical resources
28
(Macintyre, 2001). To explore play, in early adulthood, an understanding of its diverse
nature and interdisciplinary connections must be explored more extensively as well as the
influence it has on human development and learning.
Purpose of Study
This study examined the relationship between play, creativity and early
adulthood. The participants were early adults between the ages of 25-40 and had
previous employed or had training in one of the following fields: Science, Technology,
Engineering, Arts, or Mathematics (STEAM). By only focusing on a general STEAM
requirement this offered an introduction to an array of career paths, which is why I
introduced categories to describe the participants' career paths: student, teacher, and
other professionals. Since other professionals had he most variance (i.e., engineer, movie
critic, investor, etc.) they are just referenced as professionals because there is no clear
way to capture all of the different nuances of their careers in one title. This does not
mean that being a student or teacher is not a profession, it just means that those career
paths do not require a lot of additional information to have their meaning understood.
The study was intended to have three to four people from each area of the
STEAM acronym. In the end there were 16 participants, three from each field except
mathematics, which had four participants. The STEAM demographic was selected
because these fields have an embedded expectation that innovation is required for
success. Additionally, STEAM not Science, Technology, Engineering, and Mathematics
(STEM) was explored because currently there is a desire to "infuse" STEM with more
29
creativity (Mishra & Henriksen, 2012). Mishra and Henriksen and Root-Bernstein
(1996) discussed the need to reintroduce the arts into the sciences and revising the
acronym to be more inclusive of the creative fields. The segregation of arts from the
sciences, was the result of post-renaissance beliefs in the superiority of a "science-overart hierarchy" (Barone & Eisner, 2012, p. x), which is still in existence today. However,
the arts assist with the development of divergent and critical thinking that can provide
another perspective through which innovation can occur and promote interdisciplinary
understanding (Dewey, 1934; Pugh & Girod, 2006). Kuhn (1962) asserts that when
advancements are made it is the "result of successful creative work" (p. 161) and that
means that value needs to be placed on all fields who work to support innovation in all of
its contexts.
Since early adult play is a severely neglected area of research, this study focused
on individuals in that stage of life. In addition to their underrepresented status, this is the
time of life in which there are many "life defining" moments and societal expectations
(i.e., education, career development, relationships, and families) (Erikson, 1993; Miller,
2002). Needless to say, this time of life is filled with experiences that are reflective of
changing interests and abilities that exist within the constructs of cultures (Rogoff, 2003)
and personal expectations. While those specific areas are not being investigated, they are
important for understanding the experiences of people in this stage of life and their play
pursuits.
30
This study was designed to be an exploratory study (Glesne, 2011) that utilized
many aspects of participatory action research (PAR) (McNiff & Whitehead, 2010),
survey research, and interviews. A multi-method research framework, allowed for
participant interaction and reflection within the research design, which was critical to the
process. Incorporating these types of elements into the design also will allow for
different power dynamics (Sutton-Smith, 1997) to exist within the research process that
cannot be explored while working with children. For example, Corsaro (2003) discussed
the complexities that arise when adults enter children's play areas because of the
embedded hierarchy of age. In an attempt to avoid issues of power dynamic, I selected to
research with my demographic rather than enter a stage of life that would have required
more adaptation on my part.
Since little research exists on play on adulthood, grounded theory was
incorporated in the analysis of data and to code for themes (Denzin & Lincoln, 2011) in
order to explore the development and learning that occurs through playing. The findings
will then be used to explore a theoretical approaches (Corbin & Strauss, 2008) in future
research on play with early adulthood. Throughout the data collection process my role
was of a researcher-participant (Grbich, 2004) this terminology was selected over
participant-observer (Lincoln & Gube, 1985) because it is more in line with
contemporary qualitative research (McNiff & Whitehead, 2010; Holloway & Jefferson,
2000; Glesne, 2011) and allowed me to state that my position would be as an active,
critical, and involved as well as a participant.
31
Research Statements and Questions
Unlike traditional research studies where hypotheses are posed with the intent to
investigate specific variables, the lack of empirical data about early adult play prohibited
the development of specific research questions (Glesne, 2011). For this reason, I have
chosen to employ research statements, supported by general questions, to explain my
agenda rather than focusing on questions that would fail to meet my study's objectives.
Additionally, statements are more appropriate to an exploratory research because they
allow for the participants' data to influence the process and findings of the study rather
than all responses heeding to my perspectives. The following three statements, with their
subsequent questions, were used to direct this research study.
Research statement 1. Through my research, I sought a dataset that explored
play in early adulthood and what play means to those in this stage of life. This dataset
was derived from retrospective and study-based experiences by the participants and
myself. The responses were generated to illuminate the research communities
understanding of play activities that were authentic to those in this stage of life. The
following questions directed Research Statement 1 and the results are discussed in
Chapter 4:
1. What ideas are included in early adults' definitions of play?
2. How can play activities pursued during early adulthood be explained through
styles and types of playing?
3. In what ways do early adults demonstrate what they consider play?
32
4. What are some unique aspects of play in adulthood?
Research statement 2. My primary rationale for studying STEAM professionals
was embedded in their career requirement to create and innovate. While an extensive
body of literature exists linking play to creativity in childhood, there is little academic
research about this relationship in adulthood. Building on the previous assumption that
early adults play, I investigated additional information about the influence play has on
professional ingenuity and performance. The assumption was that STEAM professionals,
like children, demonstrate higher levels of creativity when play is present in their lives.
The findings for this statement and questions are found in Chapter 5.
1. Do early adults in STEAM fields link their play to creativity and innovation?
2. Can participants provide examples of how play and creativity influence their
career performance?
Research statement 3. As my study was on an underrepresented demographic
and on a topic that has been traditionally reserved for childhood, this presented the
opportunity to explore alternative methodology as well as the freedom to develop a
theoretical perspective that captured my understanding of research. In Chapter 6, I
discuss the potential for alternative methodological considerations and my evolving
perspective on play research, by answering the following questions:
1. What are considerations that must be addressed when researching play with
adults?
2. How can future research on play be advanced?
33
In each chapter, the research statements are restated and the findings are presented in line
with the research questions.
34
CHAPTER 2: METHODOLOGY
Method
Participants
The participants of this study were comprised of teachers, undergraduate and
graduate students, and other professionals who had or are receiving training or were
employed in a field of Science, Technology, Engineering, Art, and Mathematics
(STEAM) and were between the ages of 25-40. Within this initial parameter, participants
had different characteristics such as: income, obtained education level, current academic
engagement, and sex. Race was not well represented in this study.
Demographics. This study included 16 participants (8 female and 8 male) from
STEAM fields. Within each field, I attempted to have both sexes represented. I was
successful in doing so in the fields of science, technology, engineering, and math but the
arts were only represented by females. Also, the roles that women filled were primarily
those of students or educators. Other unintentional recruitment findings, that I did not
inquire about but was informed of, were about family/relationship dynamics of the
participants. First, only male participants had children. Second, during interviews
participants' relationship status emerged and 62.5% of them had a significate other. Two
of the participants were in a relationship with each other. This is not relevant to the study
but is important to mention because the establishment of relationships is considered an
achievement of early adulthood (Miller, 2002).
35
In many ways, this was a very homogenous sample, 93.8 % identified as white
within that race category and one participant identified their ethnicity as being of Latino
or Hispanic descent. One participant identified as Asian. The median age of was 31.5
with a range of 25-40. Of the 16 participants, 12.5% had some college, 56.3% achieved a
Bachelor's, 18.8% completed a Master's, and 12.5% had obtained a Ph.D. It should be
noted that within the sample, 10 participants are currently pursuing a degree or were
recent graduates. This explains the high education and low income levels of most of the
participants. While the income range of participants started at $0-9,999 and exceeded
100,000+ a year, eight of participants made under $29,999 in 2014. Of those eight
participants, six were currently students-or students/professionals- and two were working
professionals. Of the two professional who were not also students, one had just
graduated with his Bachelor's degree and the other had a Ph.D. and spent that year
working for a STEM non-profit.
Further breakdown of participants who identified as full or part-time students
showed that the two who were pursuing a Bachelor's degree reported making between
$20,000-29,000. Two full-time graduate students made between $10,000-19,999 and the
other student made $0-9,999. The art educator who was also pursuing a Ph.D. made
between $20,000-29,999. The other three students were teachers who made the
following: $30,000-39,999, $40,000-49,999, and $50,000-59,999 a year. The person
making the most out of that group lives in Southern California. The final person was
working in the tech industry and attending school and was making $60,000-65,000. I
36
wanted to analyze income, play, and professional status (i.e., student, teacher,
professional) but these lines were often blurred, as 62.5% of my participants are currently
working towards a degree (Bachelor's n = 2, Master's n = 5, and Doctorate n = 3) and the
distinctions could not be made clear enough to avoid an overlap.
Introduction of participants. Each participant was asked to create their own
research name by which they would be referred to throughout the study and these names
are derived from nicknames, family member's names, interests, or names that made them
laugh. One person admitted that they just want me to use the name Super Ninja in an
academic context. To keep each participant distinct, everyone was asked to select a
different font in order to assist with identification and quotations (Lather & Smithies,
1997). Additionally, I used their primary career path to categorize them (student, teacher,
and professional) as well as what their field is within the STEAM acronym to provide
clarity when discussing the participants, unless otherwise written. For example, Magnus
was a graduate student and his field is in science so when I report results he is the first
person I reference. Anne comes next as the teacher and Rose completes the "science"
participants as the professional.
Below are brief introduction that provides participants research name, age, career
path, why they were recruited, and by whom. It should be noted that while I wrote each
of these introductions, participants provided edits and additional information they felt
was relevant before giving their final approval. Location of where participants live and
work is not being disclosed because some of the participants have jobs that require
37
security clearance and asked not to have that information presented. For consistency, no
one's specific location information will be include outside of a statement that all data was
collected in Arizona or Southern California.
Science. Magnus Flair is a 27 year old Ph.D. student studying optical
science. He was recruited through a joint effort by Scifi and myself. Magnus'
play takes multiple forms put primarily is done in the outdoors and changes
depending on the climate he is in. Play is extremely important to Magnus and
when we was selecting a graduate school the determining factor was the types of
outdoor play present in the region near the university.
Anne is a 32 year old science teacher and has taught for the last
eight years. I recruited her because she places a high value on play and
actively pursues it in a variety of ways. I also, know that she brings play
into the classroom, whenever possible to support her students by making
science fun and accessible. She says this is become difficult as standards
dictate what and how she teaches. In addition to being a teacher, Anne,
also tutors because it gives her the opportunity to share her passion for
learning with children who are struggling to master concepts.
Rose is 35 and a social scientist, activist, educator, and researcher who
has works to promote STEM education at the university and in the
community. During this study she decided to take time off work so that she
38
can explore her career options, determine the person she wants to be for the
next 10 years, and most importantly play. Due to her STEM connections, she
recruited her partner, Pancho McCloud and Andy Scott.
Technology. Will, 33, is currently completing his Ph.D. in a technology
field that supports learning. He is an advocate for the importance of play and its
role in the development, design, and application of technology. Due to our
similar interest we have had many conversations about play, which is why I
recruited him.
Rex is 32 and has been a technology teacher for nine years. We met
during an impromptu monsoon dance party about seven years ago and built our
entire friendship around playing. Those experiences and her use of play in her
personal and professional life are the reasons she was invited to be involved in
this study.
Ryan Finely is 29 years old and works as technology support supervisor at a
college. We grew up together and have been involved in each other's play for
decades. Due to the background knowledge I had, about the types of play he
participates in, he was recruited.
Engineering. Mary, 27, was trained as an engineer but left the field because she
determined that it would not be an enjoyable long term career choice. She is currently
pursuing a degree in education. Her career move was finalized after she spent a year
39
teaching at an English immersion school in South Korea and realized that teaching
would be a much better career choice for her. Mary technically recruited herself by
making a very good argument about being included and the importance of careers
changes to support overall happiness. And the play she pursues is fascinating to me.
Andy Scott, 40, is an engineering/robotics middle school teacher and is
current pursuing a Master's degree. He is one of the few engineering/robotic
teachers in the state and is an award winning educator. Andy explained that
his teaching philosophy requires that play be a part of the learning experience
because otherwise you cannot have creativity. He was recruited through Rose
who knew him from her work with STEM outreach.
Super Ninja is a 26 year old optical engineer who works with the
development of new products. He just graduated with his undergraduate degree
last year and enjoys the creativity his job offers. I've known him for about three
years and recruited him for this study because he always finds a way to bring play
into whatever situation he is in.
Arts. Scifi is a 25 year old who is currently working towards a Master's
degree in art history and works as a teaching assistant and a museum educator.
We have mutual friends, play interests, and similarities in our scholarly pursuits
despite being in different fields. She was a sound board throughout the
development of my study so it made sense for her to be recruited into the final
product.
40
Maija is 28 and a museum educator. She is currently pursuing a
Ph.D. in art education. I met her through Owl & Panther where we
volunteer. Later we took a class together on the importance of
semiotic learning and information processing. Through these
experiences, we have shared several structured play opportunities so I
knew she would be an excellent participant for this study.
Marina Lopez is 25 and a film critic who publishes her
work (i.e., reviews and podcasts) on an online forum that
she helps manage.
While being a film critic is not her
full-time job it is an important aspect to her career
development and play.
I recruited her because she brought
an interesting dynamic to the discussion between the crossover of play and work as her job as a critic stemmed from
her love of movies.
Mathematics. Leroy Pumpernickel, 31, is pursuing a Bachelor's degree in
Accounting. Leroy worked various hospitality jobs before deciding to attend
college full-time. As a non-traditional student he has life experiences and
perspectives that support him as a learner and in application for his current
41
field of study. He was recruited while he was at Disneyland at the suggestion
of Archie.
Archie is a 35 year old math teacher at a continuation school. He is
currently pursuing his Master's degree in math education. I met Archie on a
backpacking trip with his other brother, Max Powers, six years ago. Due to his
high levels of commitment to playing, Archie was one of the first people I
recruited but also one of the people I referenced and brainstormed with as I was
developing this study.
Pancho McCloud is 35 years old who works as a business analyst for a major
technology company. The requirements of his job actually put him into the fields of
technology, engineering and mathematics but he felt he was more on the math side
because his end tasks at work are more analyzing then technology- or engineeringcentered. Pancho started out as a teacher but left the field after eight years to get
his MBA and enter a more lucrative career path. His partner, Rose, recruited him.
Brunhilda, 37, and works for a high-end life insurance company. She explains
that her job supports her play interests. I have known Brunhilda for about seven years
and am familiar with her commitment to playing and some of the activities she pursues.
She was recruited by Anne who described her as a play mentor.
42
Recruitment
I wanted to be very selective in the participants I recruited. My rationale for
doing this was that play can be very candid; and I needed people who would be willing to
have their ludic actions researched without fear of what other people would think of them
or the interpretations that, we, might derived from their actions. To meet the intended
sample of this study, which was three or four people for each field of STEAM, I
implemented a snowball sampling procedure (Babbie, 2007), based around common
interests (Kindon, Rain, & Kesby, 2007), where I recruited people I knew and then asked
for referrals. While this kind of sampling is not suggested because it limits the selection
of participants (Babbie), it was the best choice for this study as I was intentionally
targeting individuals within a certain context and with "playful characteristics" (Barnett,
2007). The implementation of this strategy provided me access to participants I would
have been unable to recruit using other sampling methods that are more supported in
social science research (Glesne, 2011). An unintentional benefit of employing this type
of strategy was the way it reinforced the role of the participants' voice in the research
process (Grbich, 2004). This was an exploratory study that utilized multiple research
methods including participant action research (PAR). The PAR model allowed me to
gain access and build trust within the research framework with participants I knew and
those I met through their engagement in the study (Glesne; Kindon, et al., 2007; McNiff
& Whitehead, 2010). It also provided some insight into the role of interpersonal
43
relationships that exist through others relationships and networking (i.e., Anne, Rose &
Scifi's recruiting efforts).
Initial recruitments occurred through direct invitation to acquaintances I had in
STEAM professions. My personal invitations accounted for 62.5%, referrals from other
participants constituted 25%, joint recruitment ventures- recruitment done myself and
another participant- included 6.3%, and self-recruitment was 6.3%. Recruitment was
completed through personal interactions, over the phone, or email. As most of the
participants were either friends, acquaintances, or referrals from other participants, the
formality in which they were recruited depended on our familiarity and relationship
norms. For example, good friends were approached through normal informal
communication methods (i.e., in-person, phone or email) while participants who were
referred by another person received a formal informational email. In the end, everyone
received the University of Arizona Human Subjects Protection Program's Institutional
Review Board approved information and recruitment letter that explained in detail the
study and participation requirements
Another recruiting tool I employed was casual conversations. Although these
referrals did not always meet the parameters I set for participating in my study, there was
a great deal of interest from various adults to have theirs and other's play studied. For
example, a faculty member in the College of Mathematics, at the University of Arizona,
chastised me for being an ageist and encouraged me to do a second study to include
middle-aged adults because she had lot of great ideas on how she demonstrated play as a
44
50ish year old women. She was not the only person who criticized my exclusion of
certain groups and career areas. Multiple students in the College of Education argued to
be included because they felt that they could provide insights that might be overlooked by
ignoring non-STEAM disciplines. Although I had made attempts to include people in
education (i.e., teachers and students) I did take this into consideration and included a
student who left engineering to enter education.
Another example of how I adapted my study to include the feedback I was
receiving from people came through an alteration for the category of students. I had
originally wanted to look at graduate students, teachers, and professionals but I was
informed that I was failing to account for those who were on their second career. My
original thinking with only including graduate students, teachers, and professionals was
that within these areas I would incorporate the key career areas pursued by people in
STEAM fields. However, it was suggested that by only looking at graduate students I
was missing out on non-traditional undergraduate students who fit my age and STEAM
requirements, this lead to the recruitment of undergraduates so that I could have a more
inclusive study of what early adulthood and STEAM encompasses. Being flexible with
who and how recruitment was completed gave me a broader sample and understanding
about participants career experiences. Another aspect of this was that participants who
helped with providing referrals said they felt more invested (Glesne, 2011) in the project
because they were being useful in multiple areas of the study.
45
Materials and Procedures
This was a mixed-methods study that was primarily qualitative but there was a
quantitative survey (See Appendix A: Online Survey). The survey was used to obtain
consent and inform participants of their rights. The survey was also the first stage of data
collection, which asked about demographics (i.e., gender, race and ethnicity, age,
education level, and income), styles and types of play pursued, and for a personal
definition of play. The survey was administered using SurveyMonkey (SurveyMonkey,
2014). This program was selected because it has an SSL encrypted package, which
protects transmission and administration of the survey and the participant's responses
(SurveyMonkey). I developed the survey to meet the needs and interests of this research
project. I utilized terminology about play personalities from Brown and Vaughan (2009,
which I referred to as play styles. Additionally, I added a style and referred to as
"socializer". The survey also fulfilled the quantitative aspect of the exploratory study.
Creswell (2011) explains that for a study to be truly exploratory it must have elements of
quantitative and qualitative measures. The individual survey responses were used to
individualize the remaining stages of data collection.
After participants complete the survey, the next section of the research was the
first of the semi-structured interviews (Seidman, 2012; Fontana & Prokos, 2007). This
interview asked participants for further explanation on survey responses as well as
questions about play in their life (See Appendix B: First Semi-Structured Interview).
Areas that were covered in the interview focused around participant's definition of play,
46
what they consider play, how they play, and the ways in which their play has changed.
This interview took between 15 minutes to an hour depending on the information
participants wanted to share about their play lives.
Following the interview, each participant and myself engaged in a "play
experience" (Sutton-Smith, 1995) of their choosing. It was explained to participants prior
to the start of the study that they were required to select a play experience or several
experiences that demonstrated or showcased play in their life. In each situation, the
participant was the expert and introduced me to an area of play they felt represented
them. During the play experience documentation occurred in a number of ways and was
dependent on the activity that was selected and the cultural norm that were associated
with participation (Rogoff, 2003). Documentation included: video recordings, pictures,
notes, and interviews. All experiences were not able to be documented because of the
level of engagement required for participation, unable to document in certain locations, or
permission could not be obtained due to the unintended participant's age (i.e., minors).
This will be explained more in depth later in the results section. In the end, the play
experience accounted for 3-18 hours of each participant's data collection depending on
the selected activity. Prior to the play experience, each participant was informed that
they are responsible for paying for themselves and that the play experience had to stay
below $50. Only one person surpassed the $50 limit and that was because we did
multiple activities. This over expenditure was prearranged and compensated for the 44%
of the participants pursued play that was free.
47
Following the play experience, the final stage of data collection occurred. This
was a second semi-structured interview (See Appendix C: Final Interview) that utilized
exploratory and PAR frameworks (McNiff & Whitehead, 2010; Grbich, 2004) to invited
participants to reflect and analyze their play experience and explain the significance of
the playing in relationship to their life and career. The final interview allowed for the
development and employment of different types of methodology (Babbie, 2007) that are
not used in traditional research and the ability for each participant to create connections
(Neuman, 2011) on why adults need play (Colarusso, 1994), what their play looks like in
practice, and the importance of their play during this stage of life (L'Abate, 2009).
In addition to the age and STEAM prerequisite, a geographical requirement
existed and was limited to the Arizona and Southern California. This was put in place
because of the need to have optimal participation and interaction during the play
experience; however, within the geographic limits other factors such as time and
schedules became an issue. Thus, online data collection occurred via Google Hangouts
to ensure that participant's schedules and time constraints were respected.
Analysis and Conclusion
Since play in adulthood is under-researched (L'Abate, 2009), the study was
intentionally designed to explore what play means to people in early adulthood and the
ways in which playing influences different aspects of their lives. To explore these
different areas, there was an embedded need for liberties to be taken as data were
collected and analyzed (Thomas & O'Kane, 1998; Clark, 2011; Morrow & Richards,
48
1996). This was accomplished by using a multi-method framework based heavily around
exploratory and PAR methodology while still including traditional aspects of qualitative
and quantitative research (Bernard, 2011; Babbie, 2007; McNiff & Whitehead, 2006).
The result was that the voices of the participants became integrated into the design, data
collection, and analysis, which then lent itself to higher levels of authenticity and
representation of experiences throughout the process. After all, play is a highly
individualized experience so it is critically important that the participants share their
perspectives, and that as the researcher I report their perspective. Additionally, my own
voice was added into the results of the study as I presented my findings and experiences
in the manner of an autoethnography (Huges, Pennington & Makris, 2012, Grbich, 2004),
which provides a more authentic (Jacobs, 2008) and critical perspective on the project.
Within the chapters, introductions and literature reviews for each topic are presented in a
traditional research format.
Due to the various components of this study, data analysis was completed
utilizing a variety of methods and in stages. The initial analysis was completed using the
participants' survey responses to provide an overview of their demographics and play
interests using descriptive statistics. All statistical analyses were completed with
Statistical Package for the Social Sciences (SPSS). The original intent was to provide
results based on a regression model that identified relationships between the variables;
however, this tactic was not employed in the end because once I started to understand the
data in relationship to the participants' perspectives, the results would have had
49
meaningless correlations (Field & Hole, 2003). For example, play styles could have been
explored with independent variables (i.e., income or profession) but since play is
intrinsically selected this would have identified irrelevant correlations.
A reliability test of the measure would have provided no information about the
construct because a majority of the questions asked participants to select items they felt
were applicable to their play and their responses could have included all of the variables
presented. As the variables were presented in a list form, selected options were given a
value of 1.00 or Yes and unselected items were treated as missing data in order to avoid
providing items with an unintended value. As this was an exploratory-qualitative study
with a quantitative component, the survey was used to prime the participants to start
thinking about play and for them to identify their styles and types of play prior to the first
interview.
After the interviews were transcribed and returned to the participants for their
verification through member checking (Glesne, 2011; Seidman, 2013; Lincoln & Guba;
1985), I began coding. Using the survey to identify similarities of activities and
connection between participants and their interviews, I was able to establish rationale and
interactions about what constitutes play in adulthood. In order to identify further
relationships, I utilized aspects of triangulation (Denzin & Lincoln, 2011; Plummer,
2011; Glesne), which is a common practice in grounded theory and qualitatively-focused
data analysis. This method allowed me to identify key themes from the data by initially
identifying words or phrases used by participants. The ideas generated by the
50
participants were then linked to major categories and sub-categories (Glesne; Charmaz,
2011). Holloway and Jefferson (2000) recommend that once categories were identified a
ranking system be implemented to identify the strength of the theme across participants
(See Appendix D: Example of Coding Process). The coding was not completed using a
qualitative software because in trial runs with ATLAS.ti (ATLAS.ti Scientific Software
Development, 2015) and NVivo (QSR International, 2015), these programs were not
effective at identifying the nuances of play and its different meanings. This is in part
because play has so many meanings that a computer analysis system was unable to
classify and contextualize the various connotations of the word. Thus, all analysis was
completed by myself for greater accuracy.
From here a grounded theory approach was used to explore themes that emerged
to connect their responses with existing literature on children as well as begin the
generation of new information within the context of established data (Tobin, 2005). As
my primary research question focused on understanding the ways in which early adults
play, I entered the study with some preconceived ideas about how individuals would
respond or the themes that would emerge but no firm data. However, early on in the
interview process I realized the wealth of knowledge that was being generated about
adult play that was not applicable to children's research, and these ideas were used in
coding (i.e., responsibility, time, and money). Since little research exists on early adults'
play, it was sometimes challenging to make connections to the available literature or in
51
the fields I have experience researching. The difference is apparent in the amount of
attention themes receive and the breadth of connections made to support the findings.
The analysis and presentation included quantitative (Shadish, Cook, & Campbell,
2002) and qualitative research (Glesne, 2011; Clandinin, & Connelly, 2000; Lincoln,
Lynham, & Guba, 2011; Barone & Eisner, 2012). Key to the design of the study is the
flexibility in how the research was documented and the role participants undertook in the
analysis of their own "play experiences." As I was a participant as well as the researcher,
I employed methodology typically found in narrative (Barone, 2001) and
autoethnography (Ellis & Bochner, 2000) into my data collection, final analysis, and
presentation of results.
Participants' voice and perspectives were used as frequently as possible to ensure
their understandings and experiences were represented. Including participants' insight
provided a personal explanation that is often missing in play research (Paley, 2004;
Corsaro, 2003) and is necessary when doing qualitative research that supports the voice
of the people being researched (Glesne, 2011). Due to the lack of research on play in
adulthood, this study expanded research in this area as well as provided more questions
for future investigations. Additionally, by using a mixed-method design, (Babbie, 2007)
that incorporates traditional (i.e., observation, survey response) (Schwartzman, 1995) and
non-traditional research methods (i.e., participant directed research) (Grbich, 2004;
McNiff & Whitehead, 2010), the results captured array of contexts in which play appears
in early adulthood.
52
CHAPTER 3: PREAMBLE OF RESULTS
In play, the exploration and process of the experience is often more important
than the end result (Bergen, 2009; Paley, 2004). Similarly in research, it is from the act
of investigating and the process of engagement with an area of study that a scholar's
knowledge advances. Throughout my doctoral studies I have had professors inform me
"no research project is perfect" but rarely are these learning experiences explored or
discussed in the context of the final product and if they are it is only to explain the use of
a post-hoc method. This has always bothered me because why recreate a mistake when
you can learn from it? Specialized texts exist to provide insight into how to conduct
research (Glesne, 2011; Seidman, 2012), but those are often for generalizable procedures
not the accounts of the struggles individual researchers encounter along the way.
As I knew so little going into my dissertation about what would transpire from my
research, I determined a priori that I would disclose my failures and successes throughout
my results. I do this to provide authenticity to the dissertation process. Jacobs (2008)
states that while "dissertation work is the pinnacle event" (p. 1) of doctoral studies, the
dissertation, fails to capture the undertakings of the candidate's journey. As an
educational psychologist, it is my responsibility and privilege to study the role of
development and learning, so why would I neglect to capture my own? Jacob's inspired
me to take control of my education and make it a point to discuss my own intellectual
advancement throughout this process. Perhaps this is too radical a notion (Grbich, 2004)
53
but if I am going to spend the rest of my career supporting the learning of others then I
need to know how I support my own and the ways I deal with setbacks and achievement.
My design was centered on the exploration of what play is in an under-researched
area, my journey has been wrought with transparent ambiguity. I use that phrase because
so often the answer was before me like a purloined letter (Poe & Mabbott, 1969) that
only after reflection and aimless searching I was able to recognize my findings for what
they were and make connections (Torrance, 2011). Returning to the idea of a dissertation
as a process, I have been able to immerse myself in the content not only as a scholar but
as a pursuer of applicable knowledge. Focusing not only on the responses generated
through the interactions of my research, but also through those used by others who
research similar areas and topics that supported my interests and arguments (i.e., art as
life, feminist theory, and poststructural perspectives).
Additionally, by incorporating my learnings into the final product, I provided
myself with a framework by which I could critically analyze my own practices (McNiff
& Whitehead, 2010; Torrance, 2011, hooks, 1994) and beliefs as I report on my findings.
Thereby, demonstrating not only my learnings but how it has transferred to impact my
scholarly practices. While on paper these appear to be fairly linear, the experiences
collected on a journey of discovery, Kuhn (1962) suggested, are not linear but examples
of persistence and recognition of evolution understandings. This is what I intend to
demonstrate as I report my results. Additionally, while there is a great deal of research
on play, adults, creativity, and methodology linking them together has not been done nor
54
has the incorporation of methods I have chosen to utilize. This dissertation is laying the
ground work to my future research and publications. And in the end, what is the point of
research if it does not challenge and advance understanding and practice?
To best describe this change and understanding my findings will be presented in a
number of writing styles. First, some of my findings are presented in narrative format.
This style was chosen because it provides a way to merge the plotlines of the participants
and myself to the literature (Clandinin & Connelly, 2000). Second, abridgements of my
field notes (Denzin & Lincoln, 2011; MacNaughton, 2005) were used to explain the play
experiences. The use of field notes provides the reader with a basic gist of what occurred
and some of the major events of that were important to understanding the reflections of
myself and the participant. Third, as much as possible the participants' voices were
incorporated in the form of direct narratives (Clandinin & Connelly) to ensure their
understanding of the experiences and perspectives on play were reported. Finally, I
choose to present my findings in a narrative telling (Jacobs, 2004) because as Cohen
(2006) suggests, when people discuss play, they often forget to bring in the play.
Therefore, I will be including as much of my personality as possible while still
maintaining some academic decorum in this conversation.
55
CHAPTER 4: EARLY ADULTS AT PLAY
Introduction
Play happens in early adulthood. However, based on the lack of previous
research produced on play during this stage of life, it must be concluded, that adult play is
not valued. When research is conducted on play in early adulthood the focus is on how
parents interact with children (Stamm & Spencer, 2007) or on play as a therapeutic
treatment (Ellis, 1973; Axline, 2012; L'Abate, 2009). In the literature, there is little
empirical recognition for the importance of play as a regular and needed experience for
adult development. This chapter is intended to begin a dialogue about early adult play,
building on existing play literature before presenting my research findings on what the
participants in this study had to say about play's influence on their life.
Literature Review
As previously discussed, play is essential to human development. However,
unlike other necessary functions of the human existence, play is "abstract and fluid"
(Johnson, et al., 2005, p. 11) and completely dependent on the interpretation of the
participant (Csikszentmihalyi, 2008). Therefore, the ways in which people participate, as
players, becomes dependent on what they derive as being of value from the input and
output of a chosen activity. The objective of this literature review is not to explain every
aspect of play; but to provide an overview of play as a scholarly pursuit, the role of
playing in lifespan development, and the debate around pursuing play as a scholarship. It
should also be noted, that in the research, there are distinctions made between the word
56
play and its derivatives (Bateson & Martin, 2013), but for the purpose of this review
semantics will not be discussed as the intent is to begin a dialogue. As most research on
this topic has been conducted on children and animals, seminal perspectives and theorists
(i.e., Vygotsky, Johnson et al., and Sutton-Smith) are referenced to support, explain, and
challenge adult's relationship as players. Due to the lack of research, a culmination of
peer-reviewed articles, popular culture, and experts- formal and informal- publications
were utilized to explain the benefits of play on learning, social, motivational, and
physical development during the early adulthood stage of life. The benefit to the lack of
scholarship on this stage of life is that it is a fertile opportunity for inquiry and research in
this field.
Defining Play
When entering into a scholarly discourse, it is customary and expected that an
operational definition exist; however, play, by nature, cannot have a concrete definition
as it is a concept that changes depending on perception and situations (Johnson, et al.,
2005), interactions (Glenn & Knapp, 1987), technologies (Subrahmanyam, Reich,
Waechter, & Espinoza, 2008), behavior (Brown & Vaughan, 2009; Ellis, 1973),
development (Sutton-Smith, 1997; L'Abate, 2009; Bruner, et al., 1976) and culture
(Rogoff, 2003; Huizinga, 1950; Roopnarine, 2011). Since play can be viewed and
experienced in an array of contexts, an all-encompassing definition cannot capture all of
its meanings and nuances. Caillois (1961) explains the reason that an operational
definition cannot exist is because all attempts have been "too broad and too narrow" (p.
57
4). Play therefore has to be defined based on experiential procedures or recognition of
the act as being playful from the individual or group participating in the act (SuttonSmith, 1997). The incoherence and ambiguity once taunted the advancement of research
in this field because of the difficulty of acknowledging the obvious agnotology (Proctor
& Schiebinger, 2008; Weiss, 2012) that must exist in the study of play. This has led to an
acceptance, within the field, that there is no definition capable of capturing play's
meaning, purpose, or value. Rather play is segmented into categories (Sutton-Smith,
1997; Johnson, et al., 2005), functions (Bateson & Martin, 2013), criteria (Burghardt,
2011), or sub-definitions (Burghardt, 2005; Pellegrini, 2009; Fagen, 1981) to provide
context, clarifications, and explanations of what is observed when researching the acts of
playing.
Despite there being many ways to classify play, Brown and Vaughan's (2009)
play personalities provide enough variability in context and generalizability for people to
explain and categorize the meaning of play in their life. Brown and Vaughan discuss
how the different areas have not been researched extensively but they are derived from
interviews and anecdotal experiences, which are reflective of many themes of children's
play (Johnson, et al., 2005; Pellegrini, 1995). Brown and Vaughan's personalities are
being utilized because of the reference these authors made to behaviors pursued by adult.
While other criteria about play styles and attributes are more empirically researched,
those characteristics are usually in reference to animals (Bateson, 2011; Fagan, 2011) or
children (Sutton-Smith, 1997; Johnson, et al., 2005), which is why Brown and Vaughan's
58
play personalities are useful when discussing play in adulthood. As described by Brown
and Vaughan the play personalities are: Joker is "the most basic and extreme player
throughout history" (p. 66). The person who considers themselves to be a joker has a
tendency to embrace nonsense in order to advance a jovial agenda or "social strategies"
(p. 66). The Kinesthete player is a mover. They are not necessarily athletes but are
people who find ways to engage their bodies. The Explorer is the person who "never
loses their enthusiasm" (p. 67) for discovering their environment. The exploration
pursued can be physical, emotional, or mental and have a process or result that invites
them to an "alternative universe of play" (p. 67). The Competitor needs rules or a
winner. Interestingly enough a competitor can thrive in an individual venture or with a
group. The Director thrives in an environment where they have the planning power
"even when they're playing in the B-movie leagues" (p. 68). The fun of the play comes
from the organization required for playing. Collector is the person who gathers with the
intent to have "the most, the best, [and] the most interesting…objects or experiences" (p.
68). Artist/Creators are the makers or inventors who produce a process or product by
which their skills can be displayed or advanced. Storytellers are the players who create
imaginary worlds and then invite others in. Participants in this style can play in nearly
every setting. Play personalities are not stagnate or all-inclusive, they are intended to
discuss an individuals' perceived interests in regard to the pursuit and preferences of
what is considered play.
59
Play is also defined by the obvious functions that produce a measurable output,
such as: physical activities, relationship advancement, learning, enhance creativity, and
identity development (Johnson, et al., 2005; Smith, 2007). While those functions are
usually associated with children they continue into adulthood. However, other playbased functions and behaviors emerge during adulthood. For many adults, the act of
reproduction becomes a functional result of playing (Erikson, 1959; Smith; Brown &
Vaughan, 2009). Not only is this function necessary for the survival of the species but
those who are perceived to be good players were also highly skilled at mating (Burgdorf,
et al., 2008). Since play has the power to penetrate every aspect of our lives, exploring
the functions of play rather than definitions provides an empirical way to explore
observable behaviors (Johnson, et al.) and outcomes that can then be connect to several
interdisciplinary theoretical perspectives.
Theories Used to Discuss Play
The need for play does not diminish over the course of our lives. George Bernard
Shaw once suggested that "we don't stop playing because we get old, we get old because
we stop playing" (as cited by Palagi, 2011). To understand why play's value refuses to
weaken over the lifespan, this section will outline play from various theoretical
perspectives that have been used to provide an explanation of play.
Classical theories. Classical theories attempted to capture the purpose of play
and its relevance in our lives. Classic theorists explained play as a way to use surplus
energy: the belief that the body had produced too much energy and play was the means
60
by which the excess could be eliminated (Fredric Schiller as cited by Ellis, 1973); a
recreational pursuit: energy had been spent and play was the tool by which people could
then revitalize and restore what had been used (Lazarus, 1883); practice or preparation:
was focused on helping children become adults and understand social expectations as
they incorporated culture or learning into their activities (Groos as cited by Johnson, et
al., 2005; Bruner, 1966); and recapitulation: through play children evolve as they learn to
evolve past primeval instincts as they act out developmental stages (Hall, 1920). Many
of these theories were developed or connected to an evolutionary perspective. They have
since been discredited or are considered too weak to stand up against modern
perspectives (Mellou, 1994) and contemporary understanding of evolution, energy, and
development (Saracho & Spodek, 2003). However, as these theories were derived from
philosophy rather than empirical research (Saracho & Spodek) they do have a
"commonsense appeal" (Johnson, et al., 2005, p. 34), which still influences people's
understanding of play. For example, in classrooms, children are expected sit for long
stretches of time which is why they then need to burn off the mounted energy through
play; rather than acknowledge that there is a metabolic need to move regularly
(Burghardt, 1984). While these theories have been discounted they were critical for the
expansion and recognition of play in childhood; however, adults were not recognized as
players in many of these theories. Cohen (2006) and Colarusso (1994) suggest that this
was because many of these early theories were developed during the Victorian Era, where
61
a distinction between work and play began to emerge at a cultural level. This belief then
influenced modern theorist perspectives on ignoring adult play.
Modern theories. Unlike classical theories, modern to postmodern theories work
to examine play as a phenomenon (Mellou, 1994) and are based on the participants'
reality and knowledge (Beyer & Block, 1996). Modern theorists explain children's play
in terms of context, purpose, and development, which supports the child's abilities,
knowledge, and experience within a playful context. Johnson, et al., (2005) synthesized
main aspects of modern theories into the following three areas: psychodynamics, social
learning theory, and cognitive theories. As each of these areas are still utilized in
developmental and learning theories, they are only addressed briefly.
Psychodynamic theories look at play as a way for people to understand and
express emotions (Freud, 1965; Cannella, 2002; Erikson, 1975). L'Abate (2009)
discussed that when people invite emotions into their play they are providing themselves
with the opportunity to development of emotion regulation. Johnson, et al. (2005)
explains that this is because play provides the participant with the opportunity to create
emotional situations and rehearse responses in other realities. While play perspectives of
emotions are deeply-rooted in psychoanalysis (Hoare, 2002), there is growing support for
the impact of emotions and play in terms of processing and social engagement.
Panksepp, Siviy, and Normansell (1985) found that rats who played, regularly, had better
emotional skills, friends, and social lives than those who did not. While dominant
discourses devalue play in adulthood, Nicholson, Shimpi, and Rabin (2014) worked with
62
pre-service teachers to explore their own emotional dependency on play and documented
their changing perspectives on play across the lifespan.
Social learning and sociocultural perspectives require players to engage in and
with their environment. It is through these interactions that the player explores their
world and makes connections between their understandings and the cultures that they
engage in and with (Rogoff, 2003; Vygotsky, 1978). Cannella (2002) argues that "play is
a cultural artifact" (p. 124), which is developed and shared based on norms and practices
of the players' cultures. Modern perspectives on play were limited in scope and diversity
meeting only the needs of the dominant culture (Piaget, 1945) were represented in the
development of theories. However, the culture of play research has shifted to focus on
the incorporation cultural refined experiences and practices on play (Leacock, 1971;
Howes, 2011). While there is a greater incorporation of race and ethnic diversity in play
research (Tudge, Brown, & Freitas, 2011) there is still a lack of diversity amongst
lifespan research (L'Abate, 2009) and the ways in which culture influences these stages
of life and play.
Cognitive and intellectual perspectives on play were originally influenced by the
work of Piaget (1945), Bruner, et al. (1976), and Dewey (1934) who discussed the role of
play in promoting learning and processing. Educational play was viewed as a way for
children to prepare for later life tasks and "practice mastery" (Bruner, 1966, p. 118).
From a critical lens, the way people choose to play provides for an opportunity for them
to invite learning into their play spaces or by supporting experiences that directly related
63
to the activities they value (Johnson, et al., 2005). This is where the binaries of play and
work fail to stay at odds because they are easily merged (Elkind, 2007), depending on the
activity the participants choose to engaging in and with.
Postmodern theories. While modern theorist examined the world for truth,
postmodern theories treat truth as objective or subjective depending on the participants
and researcher's experiences, agendas, and beliefs (Johnson, et al., 2005). For many
contemporary theorists culture is one of the root reasons for explaining and studying play.
Saracho and Spodek (2003) discuss the need to understand the environmental
expectations, norms, and practices when discussing play and how it then influences those
engaging in particular activities. Huizinga (1950) discussed the way in which play
transfers knowledge, rituals, and solutions. Rogoff (2003) suggests that guided
participation occurs as children watch and participate with others; when play occurs in
different cultural contexts participants learn as they engage and explore their situation
(Bandura, 2001). Vygotsky (1978) discussed extensively the importance of play in
childhood for children to develop their own understanding of their world. While the
focus of culture is often on the child becoming rather than being, the need for play within
a cultural framework is important for discussing learning and cognition across the
lifespan. Bronfenbrenner (1979) explains that as capacity for understanding one's
environment develops so does their ability to grow and achieve their own goals within
that setting or in a specific cultural community (Goncu, Tuermer, Jain, & Johnson, 1999).
The diversity of the environments which people participate in then provides an every
64
changing understanding of what play is or can be. Thus, the rationale for studying play
on an individual basis or in a setting is reinforced in order to avoid overgeneralizations
across cultures.
Critical theories can also be used to support the study of play. From an
educational perspective, critical lenses, argue for the recognition of play from
underrepresented demographics. Paley (1978) discussed her own realization that the play
of students in her class was different based on race and class. This finding has been
reinforced by other researchers (Corsaro, 2003) and used to expand methods as well as
play in early childhood. Feminist perspectives have also supported the need to identify
the role of play in the lives of women and to have their voice accounted for as well as
their actions. Brannen (2002) who worked as was a human resource manager and then
became a play advocate argues for women to recognize their play, do it more often, as
well as vocalize their experiences and need to play. Similarly, Schulte (2014) talks about
her own shift of thinking about play as she critically examined her own life and the
activities she put before her need to engage in play. Belenky, Clinchy, Golberger, and
Tarule, (1997) discussed the importance of play as a teaching and learning tool, that gives
the player knowledge and power within a symbolic world, and the harm that can come
when that world is ignored or silenced. As Cohen (2006) suggested it is time to give
attention to the role of play in adulthood because culturally we are ready for this research.
Other critical perspectives that support postmodern perspectives on play, work to
dissect the binaries that exist within the concept of playing (i.e., work and play) and
65
underlining power dynamics (Sutton-Smith, 1997; Foucault, 1980). As play is rarely
discussed in adulthood, by the research community (L'Abate, 2009), these connections
are still emerging and will require empirical review rather than just observations and
assumptions.
Play as Development
Each of the mentioned theoretical phases has a place in the expansion of this field
because each perspective builds on the previous arguments and then produces a deeper
understanding of what play is and the ways in which it impacts human development.
Within a developmental context play is necessary and manifests itself in learning,
socializing, motivation, and physical advancement.
Playing is learning. The impact of play on cognition has been researched from a
number of different perspectives and learning theories. The relationship between play
and learning is not a new concept, from ancient Greece to modern times there have
always been those who support the idea that learning comes in the form of play (Plato &
Jowett, 1941) and that "play fulfills… a pedantic intellectualization" (Vygotsky, 1978)
that cannot be obtained in other ways. Johnson, et al. (2005) discussed the origins of the
word for play and education (paitheia), by explaining that the aural pronunciation was
what distinguished the meaning. (For more information on the history of the word play
see Huizinga, 1950). Thus, from the beginning of Western Civilization there has been a
connection between learning and play (Singer, et al., 2006; Macintyre, 2001; Kolb &
Kolb, 2010; Elkind, 2007). In early childhood, the role of play is recognized as a
66
powerful learning tool by researchers and practitioners (Yoon, 2014; Paley, 2004). In
adulthood, experiential learning (Kolb, 1984) connects the vital role of experience and
play to learning and processing. Similar to child research, the focus with experiential
learning theory is that learning will occur in a holistic way that supports abstract thinking,
complex processing, and later production. In more recent work, Kolb and Kolb (2010)
explored the role of ludic spaces for their learning potential. They found that through
experience and play allows "players to come back to the familiar experience with a fresh
perspective" (p. 47) that enhances their understanding and later engagement.
Neurological. Playing supports neurological functioning and development.
Nolte (2002) explains that when neurons become myelinated stronger pathways are
developed, which then increases the speed by which information chemicals- called
neurotransmitters- send and receive signals. One neurotransmitter in particular,
dopamine assists not only with the alignment of connections but also as a support that
increases excitement or disdain with the stimuli that is being processed (Hannaford,
2004). As the pathways throughout the myelinated connections are strengthen, the result
is an increase in ability to export important information to other areas of the brain and
body. Connections advance through repetition as well as through association (Marsh,
Gerber, & Peterson, 2008; Galinsky, 2010). For example, as information arises, the brain
attempts to assimilate and accommodate (Piaget, 1976) new material into the preexisting
pathways that have previously been developed (Nolte) in order to reach a state of
equilibrium (Piaget) or homogeneity.
67
While neuroscience has shown that adult brains are finished developing by their
mid-20s, research on children's brain development has shown that connection are
enhanced through play (Hannaford, 2004; Berk, Mann, & Ogan, 2006). Older adults who
participate in play are healthier and cognitively more responsive when they are active
players (Yarnal, & Qian, 2011). There is little information about play's impact on the
adult brain outside of observation (Brown & Vaughan, 2009). Neuroscience continues to
support the importance of play as a tool for increasing cognitive transaction, processing,
and understanding; however, more research needs to be done on the ways in which this
occurs in early adulthood.
Socialization of play. Playing leads to learning but it is also supports the
development of social competency. In this section, the role of social play across the
lifespan is discussed because this is one of the areas of play most researched. As humans
are social animals, play provides an outlet through which behavioral norms are explored,
refined, and advanced (Singer, et al., 2006). Socialization as play begins with infants and
continues till the end of life. Stamm and Spencer (2008) explained multiple ways in
which play supports parent-child interactions as demonstrated by attachment, bonding,
and communication. The interactions shared between caregiver-child with play are
highly researched and valued because of the implications of social play on a
multigenerational relationship development (Erikson, 1975; Elkind, 2007; Ginsberg,
2007) but also because of the information exchanged that occurs (Creasey & Jarvis,
2003). Adding to the attachment perspective, sociocultural theorists discuss ways adults
68
or other mentors provide children with guided participation (Bandura, 2001; Rogoff,
2003) that later supports their social aptitude.
From the social play infants have with caregivers, then transfers to the
relationship they have with peers (Creasey & Jarvis, 2003; Erikson, 1975). Corsaro
(2003) discussed the ways in which systems of play evolve around rules and shared
understandings or expectations. Johnson, et al. (2005) discussed the need for
"enactments and negotiations" (p. 71) within social play to describe the communicational
exchanges and navigation of ideas necessary for the subsequent play to be successful.
For example, children's sociodramatic play has provided decades of research that
illustrates the ways in which children introduce social constructs (i.e., behaviors,
terminology, gender roles) into the storylines of their play (Johnson, et al., 2005;
Vygotsky, 1967). In these settings, children learn important lessons relating to social
differences and how to navigate and merge others experiences and cultural expectations
in order to advance their play (Paley, 2004; Pellegrini, 1995; Bornstein, 2007). It should
be noted that this is not always completed seamlessly; rather it requires multiple attempts
to rectify the differences (Paley, 1978). As the ability to socially engage with others
emerges and develops, play enactments and negotiations advance allowing participants to
share resources (e.g., ideas and materials) that advance the content of the experience
(Johnson, et al.) beyond initial understanding and interpretations.
Throughout the lifespan play interests are influenced by society (Chudacoff,
2007) and culture (Howes, 2011). Elkind (2007) discussed the changes that occur
69
through maturation and the shifts that peer groups then have on individuals and group
play. Again, this reinforces that play is fluid and ever changing in order to meet the
needs and objectives of the player. The functions of play also transform over time to
meet emotional, intellectual, and biological desires. Brown and Vaughan (2009) share an
example of the ways in which social interactions between two friends led to other
interactions from which they developed mutual life goals (i.e., career paths, marriage, and
children). Without the initial friendship brought about through playful interactions their
later relationship would not have been solidified. Other researchers have found that
people who know how to play and find ways to explore their abilities/interests make
desirable play partners (Bateson & Martin, 2013). Brannen (2002) discussed at length
the importance of supporting relationships through play as a way to increase the novelty
and find new ways of connected through the socialization some play requires. When
Hoare (2002) explored Erikson's later work, which focused on the influences of play in
adulthood, he found a very restrictive view of adult play that was framed by societal
expectations. Since social interactions reflect cultural behaviors, play frequently adheres
to aspects of the rules or preexisting objectives established by the cultures that players
participate in and with (i.e., sports rules or social norms). But there are groups and types
of play that counter these expectations. For example, Yarnel (2006) research on older
women who participated in the Red Hat Society- an organization that supports social
interactions and bonding amongst women- found that participants developed strong
friendships and a social network through the playful interactions they shared. When
70
others are involved in social play, an added dimension of learning and development are
revealed.
Play to motivate. Literature connects learning and socializing to play; however,
they are dependent on intrinsic motivation a person has to participate. The idea that play
is rewarding to the individual is a key concept of what play is in action (Bateson &
Martin, 2013; Johnson, et al., 2005; Brown & Vaughan, 2009). While motivation in play
research exist for children (Rothbart & Hwang, 2005; Elkind, 2007; Paley, 2004) that
does not mean that it should be overlooked as being important to adults. However, the
very relationship of motivation and play is contrary to the binary of play is for children
and work is for adults because that perspective leads to the assumption that adults are not
interested in play. This misconception has even been written about by Bateson (2011).
He suggested that adults "generally have less time for it [play] and less inclination" (p.
42). He offers no explanation for why adults have "less inclination" to engage in and
with play thus reinforcing that this belief is propagated without any empirical support.
However, in the same publication he wrote "the more the individual had been deprived of
the play, the more readily it would work for the opportunity, and the more it would play"
(Bateson, 2011, p. 43). If his later statement is accurate; adults, who are less inclined to
play, should actually be more motivated to seek out play because they have experienced a
deficiency.
Huizinga (1950) offers another perspective on why adults play is less prevalent
than children's, his answer is that they can defer play; not that they lose value or desire to
71
participate in play. They just realize that other activities (i.e., survival) become more
important than the play of childhood. However, from research on children's play and
motivation, and common sense, an assumption can be made that adults play because they
want too and they seek the opportunity to participate in activities they consider beneficial.
From intrinsic interests, adults find and pursue activities that fulfill their
objectives. Ackerman (1998) and Smith and Pourchot (1998) explained that adulthood
supports self-directed activities because they have the abilities and motivation to plan,
execute, and evaluate their own engagement and participation based on their interests.
Bruner (1966) suggested that motivation and enjoyment are critical for an individual's
pursuit of an activity because "we get interested in what we are good at" (p. 118). He
also stated that the act of playing is what allows for intrinsic learning because it reduces
pressures and consequences that are felt when an external factor is forcing the experience.
It is through the unique backdrop that playing creates that an individual can become
motivated to pursue experiences that lead to the exploration and achievement (Deci &
Moller, 2005) of skills that are significant to the individual.
Play as a motivational tactic for learning, enhances an environment that is
advantageous to a learner because it is a safe area where failure is not only accept but
encouraged. However, the word failure is more often referred to as repetition or
redundancy (Johnson, et al., 2005; Sutton-Smith, 1997), in literature on children, with the
understanding that through the repeated action that skills are develop or a desired skill
emerges (Millar, 1974; Singer, et al., 2006; Johnson, et al., 2005). The act of repeating
72
and rethinking an activity, that an individual is inherently attracted to, is what provides
the participant with an understanding that when you are playing you enter a zone where
everything is possible. This zone can be thought of as being flow (Csikszentmihalyi,
2008). He suggests that when an individual becomes completely absorbed in a task that
provide an intellectual tension- not too simple or difficult- these is an environment that
propels the participant into a trajectory that results in their reaching of a desired goal. To
reach a state of flow an individual has to engage with challenges that push them beyond
their perceived limits while they invest in a goal. While Csikszentmihalyi recognizes
that play is not the only way to achieve flow, educators and play advocates reference his
work to support the need for play in learning experiences (Renick, 2006; Gaskins, Haight,
& Lancy, 2007; Brown & Vaughan, 2009) as well as in the workplace (Meyer, 2010;
Csikszentmihalyi & LeFevre, 1989). Sawyer (2012) cites the need for flow to be present
in order for creativity to occur. Motivation to engage then results in a process that
supports results.
As a person engages with the creative process, as they define it (Barone & Eisner,
2012), they have to have the freedom to challenge tradition and ask good questions
(Csikszentmihalyi, 1965). Then it is from their intrinsic interest, rather than extrinsic
motivation (Deci, 1995), that understanding emerges as they participate in a creative
problem finding/ solving dichotomy (Sawyer, 2012). Brown & Vaughan (2009)
suggested that creativity is the great merger between the constructs of work and play
73
because both have to be present in order to produce an advancement of an idea, skill, or
task. When play is limited so then is creativity.
Physical play. The roles of learning, social, and motivation play have many
attributes that are intellectual but they are also deeply rooted in physical engagement and
development. For children, it is assumed that they will and need to be physically active
and they demonstrate this in their play (Carlson, 2011). However, physical play in
adulthood focuses on health, longevity, and weight control (Kwan, Cairney, Faulkner, &
Pullenayegum, 2012). Somehow over the course of human existence the idea that
physical play should be playful shifts to it become an objectified exertion. What is being
missed is the physical release, rush, and flow that comes from the process and product of
this kind of play (Csikszentmihalyi, 2008). As discussed in previous sections, players are
more attractive to the opposite sex. Bateson and Martin (2013) discuss the evolutionary
attributes that are associated with physical play in reproduction, adaptation, and survival.
More so than learning, social, and motivation, physical play creates a setting that
questions the player's physical abilities and stamina through participation. Brown and
Vaughan (2009) discussed the role of participation in running clubs, where people get
together for the sole purpose of running, as a way for adults to engage in physical play.
Cohen (2006) similarly explored adult physical play activities; the people he studied were
those who participated in extreme sports or risky behaviors and the way these
engagements were used to eliminate boredom. The results he discussed were focused
mainly on the death or injure of these weekend adventurers; however, this supports
74
Bateson's (2011) and Brown and Vaughan's point that when people are deprived of play
their need to play can be manifested in risky behaviors. Bateson explains further that,
with animals, when the young are underexposed to play, as adults, they do not have the
same experiences as their counterparts who played regularly to develop their physical
abilities and understand the environments they engage in. Physical play therefore, is
important for old and young but so is an understanding of abilities in context of task
mastery (Vygotsky, 1978).
Adults and Play
Neuroscientist, Carla Hannaford (2004) stated that "play at the simplest physical
level as well as the furthest reaches of the intellect…" (p. 74) impacts our humanity. In a
his synthesis of Erikson's late work on adulthood, Hoare (2002) discusses the
overarching long-term attributes of play and the benefit of adult childlikeness in play.
Adult childlikeness involved "play with wonder and trust" (Hoare, p. 113), which can be
considered attributes of play. However, the terminology used, adult childlikeness, show a
disservice to human development because it reinforces the notion that adults play should
not be taken seriously as its own enterprise; rather it can only exist with children in mind.
Humans are ingrained with the need to play and the need for play; its benefits should not
be linked solely to one stage of life but rather treated as a continuum.
Even in the prominent research, there is a propagate misconceptions about adults
and play. If anything the perceived loss of play, in adulthood, should be treated as an
oversight in the study of human development (L'Abate, 2009; Cohen, 2006). However,
75
with that lack of information there are a lot of hypotheses and not a lot of information
about what play means or how it is demonstrated in adulthood. The most prominent type
of empirical data that shows connections between play and adulthood is obtained from
research on animals. For example, Burghardt (2005) and Panksepp, et al. (1985) found
that play in adulthood is vital to an animal's health, wellbeing, and social desirability
amongst others in their species. Utilizing this research Brown and Vaughan (2009) then
reinforced these concepts with his medical knowledge and was able to discuss play as
biological drive. While this is an excellent example of the interdisciplinary nature of play
research, there is a need to develop measures that capture the adaptive and ambiguous
(Sutton-Smith, 1997) nature of play in adulthood as well as a need for a new way to
discuss play in a scholastic manner.
While there have been multiple arguments and support for studying play from an
evolutionary and developmental perspective most theorist fail to explore play beyond
adolescence (Piaget, 1945; Bruner et al., 1976; Goncu & Gaskins, 2007). Postadolescence, the terminology of play shifts and the lines of what play is becomes blurred
and are introduced through the pretense of leisure (Nazareth, 2007) or recreation (Kelley,
2012).
Kelly and Godbey (1992) explain that children are expected to play but adults
have supposedly outgrown the act of "playing" but are able to engage in leisure or
recreation because they imply a higher level of maturity or sophistication. However,
these words are poor substitutes for play because the very nature of their meanings can
76
exclude the experiences they are attempting to describe. Nazareth (2007) explains that a
true definition of leisure, from an economic perspective, is any activity where money is
not exchange for services. This means that leisure time includes all activities that are
done outside of a paid position. Therefore chores, sleeping, and errands are all
technically considered tasks of leisure; however, based on the individual perspectives
these activities can be treated as play. Recreation implies only that those involved are
attempting to recreate or restore a previous activity, interest, or amusement (Kelly, 2012).
Further evidence exists (Veal, 1993); however, researchers who work to make the
distinction between these words find that there is an overlap in practice and that
definitions become muddled (Kelly & Godbey). In the end, there is agreement that
leisure and recreation can be play but that does not mean that playing is always a form of
leisure or recreation.
Play in daily life. Play is an adaptive system that humans engage in throughout
their lives. It is through play that an individual is able to "impart meaning to the action"
(Huizinga, 1950, p. 1) they have chosen to engage in and with (Rogoff, 2003; Deci &
Moller, 2005). While the contexts and purposes of play alter throughout a lifespan, the
need to participate in play does not (Brown & Vaughan, 2009). From a developmental
stand point, play is ever changing and while chronological ages influence the types of
activities a person can engage in and with, there is a strong disconnect between
development as it applies to age and play (L'Abate, 2009; Nicholson, et al., 2014). As
abilities change so do skills and preference that impact the types of activities that are
77
popular with an individual and cultural level (Rogoff, 2003; Tudge, et al., 2011).
Cannella (2002) warns that play should not "assume linearity, universal human behavior,
unidirectional progress, and standards of normality" (p. 124) because it can be completely
based on what is being privileged by the individual. While the differences in the types
and reasons for play are mentioned in the research (Bruner, et al., 1976; Erikson, 1975;
Pellegrini, 2009; Elkind, 2007), there is limited empirical research that looks extensively
at what playing is or means in early adulthood.
In Western society, when play is discussed there is an assumption that the act will
be done by children or adolescents and not by adults (Sutton-Smith, 1997; Pellegrini,
2011). This idea was made popular through the work of stage theorist (Miller, 2002;
Erikson, 1975; Piaget, 1945) and early educators (Montessori, 1964) and a number of illinformed researched statements. Hoare (2002) suggested that adult play was just away
for adults to recapture what they lost as they aged. Yet, the role of play, in all of its
forms, has been documented for centuries and with examples from across the lifespan
(Cannella, 2002; Rogoff, 2003; Burner, et al., 1976; Huizinga, 1950). In a sociocultural
and poststructural context, play can be the result of individual's interpretation (Gregen,
2009) and participation (Rogoff). For this reason it is important that adults develop their
own recognition of what play means to them (Colarusso, 1994; L'Anate, 2009) and
obtain a voice depicting what it means to them at this time. As the individual understand
their own relationship with play, they will be better prepared to analyze and acknowledge
the types of play they engage in (Sutton-Smith, 1997). Sutton-Smith also discussed the
78
issue of adults' reclusiveness to acknowledge their own play due to the cultural
disconnect that occurs based on age and subjugation to cultural ideas and stages of life.
The act of privileging (Cannella, 2002) one's own play is subsequent for research in adult
play to occur (L'Anate) and why Cohen (2006) argues so ardently for research and
acceptance regarding recognition of play in adulthood.
Research Statement and Questions 1
Making my stance clear, adults play and their play is important to their
development in a number of ways. Through my research, I sought a dataset that explored
and confirmed this belief. The dataset was derived of retrospective and study-based
experiences that focused on the ways early adults incorporate play experiences into their
lives. The findings of this study will be presented in the following four sections in order
to answer the following questions.
1. What ideas are included in early adults' definitions of play?
2. How can play activities pursued during early adulthood be explained through
styles and types of playing?
3. In what ways can early adults demonstrate their play in a research study?
4. What are some unique aspects of play in adulthood?
79
Section 1: Definitions of Play
This section explored each participant's definition of play and the rationale they
employed when developing their description. On the survey, this was the last question to
provide participants with the opportunity to first reflect and categorize the activities they
pursue before verbalizing their definition of play. The definitions were later used in the
first interview to inquire about the participants' metacognition on play, as they defined it,
and how their criterion of play influences the activities they pursue. I will conclude this
section with my definition of play and the rationale I employed when creating my
explanation. This section will conclude with a brief discussion on the themes that
emerged from the different definitions.
Science
Magnus Flair: Doing things I enjoy that I don't get paid for.
When I asked Magus to explain his definition he's first comment was "that's a
tough question." Then explain that his definition is "the only way I can think about
play. I do it because I want to do it." As motivation is the driving force of his play,
he explained that his interests influence the types of play he pursues and since "I haven't
tried to go pro in any sports… I don't get paid. So I just try to do things I enjoy."
Anne: Doing something outside of work and school that is not work
or academic based.
80
Anne started out explaining some of the issues with associating with work
colleagues:
If I go out with teachers we tend to talk shop. And that's not play
in my mind it is relaxing and cathartic but it is not play. And then I
spend a lot of time working on my own master's so when I get a
chance to do not those things it feels like I am playing.
Anne, in addition to be employed as a high school teacher and working on a Master's
degree tutors to supplement her income. This directs her play, "I don't get a whole
lot of time to play so I want to capitalize on it in the most fun that I can."
She further explained that "when I talk to someone and say "hey let's go play"
it usually means going out and doing something that I don't usually do."
This might include "going to a movie or maybe going to dinner and not
talking about work… or [attending] festivals, carnivals, and farmer's
markets. You know just getting out of the house and doing something
not ordinary."
Rose: A moment of positive reflexivity.
Rose's definition is base in her theoretical beliefs as demonstrated by her use of
the term reflexivity (Bourdieu, 1990). She explained:
Because play captures so many different meanings for people I think
that the commonality is that we have a moment of focusing on
something positive in our lives of having a chance to just do something
for enjoyment not because it increases professional capacities or because
it is strategic. It is just a really selfish moment that is celebrated.
81
Rose explained that "a lot of what I pursue is intellectual play. Sitting with a
girlfriend talking about research study or spending time thinking about how
we can solve problems are really the sexiest intellectual moments of play."
Also, engaging in play that exist for the sake of pleasure was also an important
component "time to read, time to go to movies with girlfriends, [and] time to
know what my girlfriends are doing with their lives; is enjoyable. It gives me
connectivity."
Technology
Will: Action intended to be enjoyable but without a strict goal other than
enjoyment. Not to be confused with 'playful'.
My recording software did not work during Will's interview. However, using my
notes from the interview as well as my field notes I was able to patch the following
together. He later approved my notes to be used as quotes as he felt I captured what he
was said accurately.
Will also researchers play but his focus is on the role of play in gaming
development and design. Since there is room for a potential overlap between his
profession development and play he has to make a very conscious effort to distinguish
between play and work. He used the phrase "code-switch" as a way to talk about the
activities he does for work verses the play he pursues on his own. He talked about the
difference between play and incorporating playful features into his work. Work can be
playful but it is still work and therefore not play, he believes.
82
Rex: I define play as something that makes me happy. I think of it as an
event or time away from my job or things that cause me stress. Play helps
me to relax and recharge.
For Rex, play, acts as a therapeutic outlet:
My job as a middle school teacher is very stressful, I have to make
decisions every day for lots and lots of people who can't make their own
decisions. There comes a point where I have just too many thoughts and
decisions in my mind and so I need something that clears all that. Play is
when I don't have to work or make decisions for anyone else. It is just
what I want, what I can do to make me happy, and how I can figure out a
problem on my own.
She went on to explain that her play is then influenced by this need to do mindless things
"because there is not a lot of thought process to them." Rex also explains that her
schedule also influences her play:
The mindless things [are done,] during the weekdays because I'm really
tired at the end of the day. So surfing the internet, talking on the phone
with a friend, or watching TV that helps my mind come down and relax.
On the weekends, I choose things that usually have more structure to
them but its stuff that I get choose, create, or something I really enjoy.
Ryan Finely: When I think of play I think of freedom to explore within and/or
without boundaries. I think of time as a child where the boarders were the
backyard and yet the play could lead you anywhere your mind could go. So I
guess the easiest way to define play for me is to define what play is not and
that is strict guidelines and constructs by which one must follow. At work I
must follow a clock, a book of rules, and expectations. Overall, I must meet
the employers expected performance expectations. At play, I am bound by
the restraints of creativity. This often times leads to learning new things and
83
trying new experiences, which only expands the boundaries beyond my
current imagination.
In his definition he explains the elements that went into his definition.
Boundaries, creativity, freedom and imagination were important to his understanding of
play; he added only this in the interview "my thought [was] really trying to define
where the differences are and how people characterize play. For me, it was more of
things I do."
Engineering
Mary: Doing something that is competitive and/or doing something that is fun
and enjoyable.
Mary explained that for her play needed to be "competitive, fun, [and]
enjoyable." She also stated that play "most of the time it is more of just a distraction or
something to do. So when I don't want to do my school reading. Then maybe I will do
something that I think is more fun than reading academic papers." It is important to
note that her play is centered around tennis and she told me that when she created her
definition she was "thinking of tennis."
Andy Scott: A physical or mental activity that allows a person to have
fun.
Andy Scott talked about the role of personal experience in his definition:
I have to be doing something that affects my body and my mind and I
have to enjoy doing it. So it doesn't preclude the ideas of work or
getting something done but it does have to be emotionally vested that I
have a good time with it.
84
He sees his definition demonstrated in the play he engages with when "affect me
personally. So the things I like to don't necessarily have to be as physical as
much as intellectually stimulating."
Super Ninja: Things I do for fun. For the most part, anything I do while I'm
not at work. Occasionally I have fun at work too.
Super Ninja stated that play was more of a lifestyle rather than a specific event, "I
am essentially trying to have fun at any time… so if I am having fun then I would
say I am playing." With this attitude, he explained that his desire to participate with
play is demonstrated by his desire to pursue play:
It is kind of something that I need to seek after. So if I just sat around
waiting for fun things to happen to me the probability of that happening
to me would probably be pretty low. So [finding play] is almost like a form
of work.
Arts
Scifi: Anything I don't include on my regular to-do list; anything not
related to school or work.
Scifi's definition was different in that it was not what she did for play but rather
the things she does not usually do that could then be interpreted as being play. "If it is
something that has to be accomplished and they're negative repercussions if I
don't do it then it is not play." To illustrate what she meant she explained that play she
pursued was "generally self-contained." By playing alone she avoided the chance of
85
"letting someone down [because they are] not relying on me for it and it is just for
fun. Relaxation."
Maija: Something that gets me excited and amped - often including mess
making and giggling.
If you meet Maija one of the first things that she will tell you about herself is that
she is non-liner. When she talks about her play this idea becomes very pronounced:
Play is not perfectly contained or simply defined whether the
mess is literal [like] an actual art making as a mess or just a
messy process of getting to a point where its play. I often find
that when my best laid plans go awry is when play is the most
fun.
She also talked about the importance of having a physical reaction to the play "when I
am having a good time I giggle." Because she does not put her life into
categories "mixing the idea of work and play together happens for me
when I am having a good time." Maija then she sees play as becoming most
apparent when creativity is at the root of the activity, which then provides a backdrop for
"getting messy or going rouge and the giggling [and] all of it coming
together."
Marina Lopez: Play is any enjoyable activity that is
relaxing, invigorating, or restorative.
Marina's recognition and definition of play were firmly rooted in experience, "I
work a lot so I use play to maintain balance in my life and
mental wellbeing.
Based on how I use play in my life…
I
86
would emphasis restorative." The use of play as a way to balance her life was
explained further by the types of play she seeks out. "I'm more selective with
the types of play I engage in because my time is limited I
make sure that the play that I choose is what I get the
most out of."
Mathematics
Leroy Pumpernickel: Going and doing something active such as going
to a destination or hanging out with friends. Basically anything that
gets me out of my own house.
Leroy described his play as "basically going and doing." His play pursuits
require "a change of scenery because home is a place of comfort and
relaxation, which I don't really view as play." Since his play involved getting out
and doing things, the role socializing was essential. He explained that when he pursued
play it usually
I can get kind of antsy if I stay home too much. I usually try to get out
of the house as much as possible and being involved, going out, and
being around people. Even if it is just going to their house and just
sitting, the fact that it is not my house it was more entertaining to me.
Archie: Not work and having fun.
Archie admitted that "it is difficult to define play." He made it very clear that
there was a difference between work and play in his life but when he explained what play
was he referenced it as an "organically situation, it comes up from something that
87
you want to do and not something that you have to do." The way he plays
reflected this belief in the organic nature of play, "so when I pursue play it is a sport,
like basketball or volleyball, playing board games with family and friends, just
going and BBQ, sitting down and just talking-chatting with people is a sort of
play." In these situations, "I'm not trying to bring a pay check home. I'm not
necessarily helping anyone with anything or doing any favors. I am just there to
be there and relax and turn my mind off at some time or completely."
Pancho McCloud: Anything fun.
Pancho provided this insight "if I enjoy it I think of it as play. The play in itself is
the enjoyment- the process. I mean true enjoyment not just trying to get to an end
goal purpose." So with that definition he elaborated that his pursuit of play has to
include "anything that I feel fits that definition so if I don't enjoy it I will pretty much
stop [doing it]." He explains that
I will try just about anything but if I don't enjoy it I will stop pretty quickly. So I
have a high quit level for things, so I developed and learned over time that
there are certain things I am looking for… there has to be something about it
that intrigues me.
Brunhilda: Any activity engaged in primarily for fun, relaxation, or enjoyment.
Brunhilda expanded on her definition by adding, "I thought that any activity
could be thought of as play." She also explained that "there needs to be no benefit from
a monetary stand point, or benefit from a career standpoint, or a benefit from someone
88
else's expectations… no unpleasant aspect of it. So if it was fun for you, then it would
be play." She later explained how her play choices were based around the idea of utility:
[Utility] as measured by fun, enjoyment, and relaxation… if I have a choice
between alternatives, I want to pick the choice that maximizes my enjoyment
and relaxation…I can identify which activities are more productive than others,
even if the production I am achieving isn't obvious or could even be measured
by someone else, but to me the level of enjoyment for that activity might be
higher than doing something else.
Me
My simple definition is: play can be everything because it is limitless. However,
in an attempt to sound more academic I will include this definition: Play is an opportunity
to mentally, socially, or physically challenge, engage, and participate in activities that
will provide a desired outcome. Play can have positive and negative aspects and often
requires preparation, process, and an achievement. This might mean that all aspects of
play are not enjoyable but necessary for goal attainment.
When constructing my definitions, my first thought "why am I doing this? I
should have picked an easier dissertation topic." But because I asked everyone else to
critically think about their definitions, I returned to the drawing board and made a second
attempt to define play. For me, play is the time I set aside for something I find
stimulating. I can turn just about anything into a playful experience, so sometimes play is
a reserved/formal time that cannot be used for anything other than the activity I have
decide to pursue, no matter how busy I think I am. Once a formal time has been set aside
I have to treat it like a serious commitment. Play requires that I challenge myself and
push boundaries either physically or mentally but the perfect play incorporates both.
89
Since there is a challenge there must be opposition and that makes failure not only an
option but a requirement. This also means that sometimes when I playing my inhibitions,
self-awareness, and fears are challenged. Due to the demands I think play should place
on me, it can be draining; however, if the process or experience results in the acquisition
of the development of a goal or desired achievement, it is completely worth it. I often
blur the line between play and work because I think that it can and should an inclusive
experience that emerges organically in all contexts. This means that I consider the words
play and learning to be synonymous and I thrive in cognitively strenuous play arenas
(i.e., organizing or activities that require creation). My desire to engage with an activity
that can have measurable results is why I have an inability to consider relaxation play;
although that could be a side effect of grad school.
Themes from the Definitions
While all of these definitions could be torn apart in a theoretical debate, they
provided important contexts about play in early adulthood and introduce adults' views on
what play is and how it they apply their understanding to their practice. The following
themes, which emerged from participants' definitions and explanations, demonstrate the
way their understandings are interwoven with the existing literature.
Pleasure. Of the 16 participant 13 mentioned the need for an emotional
stimulation to occur for an event to be considered play (i.e., fun, enjoyment, happiness, or
liking) in their definitions or interviews. While Vygotsky's (1978) argument that
"pleasure cannot be regarded as a defining characteristic of play" (p. 92) tries to
90
disconnect emotions from play, there is a neurological response and desire to pursue
things that bring pleasure (Nolte, 2002). When people with normally developed brains,
and are without addictions (Sapolsky, 2004), engage in acts that result in pleasure there is
a release of dopamine, the good feeling hormone. This then creates a neurological
conditioning to seek out stimuli that provide similar responses (Hannaford, 2004;
LaFreniere, 2011). Simply put, when people play, their "brain literally changes in
response" (Stamm & Spencer, 2007, p. 70). Moreover, since dopamine provides the
chemical backdrop necessary for emotional response; feelings and memories intertwine
to make connections of pleasure stronger (Nolte). From there intrinsic motivation takes
over because we do things we enjoy (Bruner, 1968; Deci & Moller, 2005).
In my literature review, and in all other sections of my dissertation, I purposefully
do not discuss the role the fun factor of play because the explanation of "it's awesome"
rarely makes it into academic discourses. Although an accurate statement, in scholarship
there is a pressure to sound smart and sometimes the message of what we are suggesting
can get lost amongst the jargon so I decided to wait to talk about the fun associated with
playing until the participants introduced that concept. However, I did not anticipate that
the pleasure response would mention directly by 13 of the respondents. Will and I
discussed how not all aspects of play are enjoyable because sometimes while it is part of
the play process it just does not meet the player's qualifications of pleasure. For
example, the introduction of a new skill could be considered play but the learning curve
required to develop the skills might be wrought with disappointment and the pleasure
91
comes through the process. This is why understanding the pleasure/fun obtained from
playing can be explored in immediate and delayed forms of gratification.
Out of the ordinary. The idea that play needs to bring novelty is referenced by
human and animal researchers (Bateson & Martin, 2013). Play provides the contexts
through which new activities can be explored without the pressures of an expected
outcome and without a commitment. Anne discussed how attending festivals give her the
opportunity:
[To get] out of the house and do something not ordinary… [that's]
where I can have a lot of fun, exhaust myself, then go back to the
real world thinking that I've actually done something out of
ordinary and fun for the sake of fun.
Play often requires pursuit, even if it is just thinking "I want to do that", and with that
drive comes an interest in novelty (Brown & Vaughan, 2009). Super Ninja and Leroy
Pumpernickel argued that play is something sought after, especially if it is something new
or different. As discussed in the previous section the brain is wired for the pursuit of
pleasure and this can frequently come through novelty.
Relaxing. Half of the participants explained, either in their definition or in the
interview, that their play has a rejuvenating feature for them. Anne, Rex, Scifi, and
Archie discussed the ways in which play helps them to "turn off their brain" and focus on
themselves or the experience they were a part of. While Super Ninja, Marina Lopez, and
Brunhilda discussed the ways they employed the relaxation aspects of play to
decompress, restore energy, or balance themselves. This is also an example of play as a
function. The purpose of pursuing a relaxing activity (i.e., video games, bubble baths, or
92
reading) results in emotional or psychological respite (Johnson, et al., 2005) to
"maintain balance in my life and my mental wellbeing." Or at
least that is the argument being made by the participants of this study.
Play/Work. The integration or segregation of participant's play/work lives is a
research project in and of itself. As mentioned before this belief is culturally constructed
and reinforced by stage theorists who depict play for children and work for adult. Some
of the participant had very strong opinions that play and work must be separated. Archie
explained it like this, "play is the opposite of work as I have come to understand it.
Work can be fun and I enjoy my job but it is something more mandated."
Likewise, Anne, Scifi, and Magnus Flair discussed their need to draw clear distinction
between this binary. Scifi even developed her own categorizations to further disintegrate
work/school items from play activities. However, on the other side of the argument,
Ryan Finely, suggested that "play is work" because the effort we put in then impacts the
process of the experience and eventually the product. In my field notes from his play
experience, he expanded more on this idea by suggesting that play as a process that
requires work to be successful; just like work requires some play for you to want to be
there.
With the shift occurring in popular culture, especially for early career
professionals, to create work spaces that incorporate play (Meyer, 2010) the ideologies
about play and work are beginning to shift. Csikszentmihalyi (2008) wrote about the role
of play in relationship to entering a state of flow, or where the ideas come together to
93
produce deeper understanding or connections. This is why Maija, Andy, Rose, and I all
support the idea of blurring the work/play relationship. As a museum art educator Maija
is always finding new ways to support the learning experience of her students this means
she has to create a playful environment that invites divergent thinking and challenging
ideas. She explained that for her play is often "trying to be creative about the
execution of things." Andy Scott described his classroom as his personally created
playground, which also meets the needs of his students. Rose talks about her work being
"intellectual play." As for me, I planned an entire dissertation around play, so my
boundaries are a little smudged. While Super Ninja was not as vocal about the merging
of play and work he did discuss how he finds ways to play at work and that "I am
essentially trying to have fun anytime I can… if I am having fun then I would say I
am playing." He later talked about some of the play experiences he had at work. While
opposition and disagreement exists between the work play debate, Meyer suggested that
it is in stimulating environments where play and work exist simultaneously that benefit
most from innovation and team work.
Summary and Conclusion
While play is difficult for scholars to define, the participants in this study were
able to create conceptualized definitions for their understanding and application of play in
their lives and explain the rationale they used for the behaviors and activities that fit into
their perspective. From these explanations, themes arose that connected play in
adulthood to research in childhood (i.e., pleasure and novelty) as well as introduced the
94
idea of work and play as a situation more representative of early adulthood. Furthermore,
relaxation was discussed as a necessary function of play; however, it is generally
accepted as a need for wellbeing. Further exploration on the role of relaxation as a
function of play of adulthood needs to be explored.
95
Section 2: Styles and Types of Play
In this section, the participants' views of their own play styles and types were
explored in order to explain activities pursed during early adulthood. The reason I opted
to include an entire section on play styles and types was because the literature that does
exist on play in this stage of life and often fails to capture a comprehensive view of
activities that adults consider play. In the children's play literature, every type of play
that children engage in has been written about (Howes, 1992; Johnson, et al., 2005).
While that might be an exaggeration, it is not far off. From sociodramatic to academics,
children's play has been analyzed extensively (Pellegrini, 1995; 2011; Johnson, et al.;
Singer et al., 2006; Sutton-Smith, 1997). However, if you examine research on what is
considered play during early adulthood, or even adulthood in general, the options are a bit
narrow. This section acts as an introduction not only into understanding playstyles and
types, but also as a conceptual analysis for human-centered research rather than making
assumptions about a group without measures of support. For example, there is this belief
in the literature that gambling is a prominent type of play in adulthood (Sutton-Smith,
1997; Colarusso, 1994). Perhaps I am not associating with the wrong people, but I do not
know anyone, in early adulthood, who gambles as much as some researchers suggests.
Being able to identifying play pursuits, through participator research, was a vitally
important aspect of initial data collection. The responses provided in the survey and first
interview acted as general guidelines for understanding the application of play. I utilized
the definition and examples generated by the participants as much as possible to provide
96
insight into how adults see and explain the ways they play. The differences in responses
made extracting narratives difficult; when additional context was needed I provided
clarification. Additionally, some responses focused on one or two specific types of play
(i.e., Ryan Finely and music) and others included a comprehensive perspective on what
play means to them. This meant that the answers were personal experiences with play
and therefore, only the participants were able to explain their understanding of what the
general idea meant to their play practice. While the explanations generated were
extensive, coding the results proved more complex than I originally anticipated. In short,
my initial coding system, that was computer-based, failed to adequately incorporate the
responses of the participants because the ideas around play are so complex, multilayered,
and multidimensional that electronic-coding could not account for the human experience.
The inability to use a computer for analyzing my data reinforced to me that meaning
making in research is the result of knowing content and being able to apply the
discovered. This also, assisted my understanding of the importance of humanizing
research to ensure that what is being produced is representative of the participants, their
experiences, and their understanding. That is why I use the phrase human-centered
research.
To analyze my findings, I had to create a hand-generated system that was more
adapted to meet the needs of that data (Corbin & Strauss, 2008; McNiff & Whitehead,
2010). At first I felt that this specific system was not as rigorous or scientific as my
initial system because it dequantified my results; however, when I compared the results
97
of the different systems, the second coding system allowed for richer data connections,
which led to categories, and later themes (Denzin, & Lincoln, 2011).
Styles of Play
The styles of play or "play personalities" (Brown & Vaughan, 2009, p. 65)
reference big generalizations about how we perceive ourselves as players and the kinds of
play we opt to engage in. Brown and Vaughan provide more detail about each of the play
personalities. Many of these themes are mentioned in the literature but not given
categories that transition as well with adults (Johnson, et al. 2005). Since the categories
of play personalities were developed only through observation and not empirical work, I
decided to utilize and explore the ideas further because the attributes mentioned were
more generalizable to adults than other researchers' stringent criteria for children or
animals. The authors mention eight different categories but I added a ninth to focus on
the social aspect of play.
I opted to call "play personalities" styles because I felt this kept the terms broader
and less definitive as a characteristic of play. Since my aim was to understand how early
adults play and their perspectives on what play means to their lives, I wanted each person
to critically analyze their play in terms of what they actually do rather than idealize the
way they would like to play. Although idealization of play styles and types were
referenced during the interviews, for the most part the responses were accurate and
resulted in the telling of multiple stories about their recent play experiences in order to
illustrate their strengths as players.
98
Each style was defined, in the survey, with minimal details or words as a way to
prime participants to critically think about their play, and during the interview, they were
provided with an opportunity to explain their perspectives on each play style they
selected. This meant that some of the answers were focused on keywords from the
survey while others used their own interpretation to explain their own beliefs about
themselves. Additionally, since the responses were completely individualized and based
on the participants' experiences, the explanations they provided about their play styles
were either focused on one activity or an attempt to explain their play in comprehensive
terms.
Participants were given the option to select as many styles as needed to
characterize their play, but no one selected all of choices. I conclude each play style
option with a discussion on the findings and will end the section with a discussion of all
the emergent themes. I did not include my own responses in this section, but I added
commentary when needed. The styles are presented in the order of popularity amongst
participants.
Explorer- Engaging with the World in New Ways
Explorer was the most popular play style, with 13 of the 16 participants
identifying exploration to be an important feature of the play they pursued. Explorers
explained this style in the following ways:
Magnus: I like to see new things, have different experiences.
Anne: Because I love finding new things to do and new places to do
it. So I kind of feel like that's exploratory. Like going caving that is
99
something I never thought I would want to do because I would be
terrified of it, because I am a little claustrophobic. But I loved it, or
rock climbing because I am scared of heights but I still try it. Oh,
10 years ago you never would have seen me on a motorcycle. But I
figure what the heck. I'm only out $300 bucks if I hate it, but at
least, then I can say "hey, I did it." So I have a bucket list of things
I want to try just to say I tried it.
Rose: Looking for places where we can have an adventure.
Will: Engaging with the world in new ways, never becoming compliant
with where you are, [and] seek novelty.
Rex: I like to go new places and see new things and explore places I've
never been before. And so that usually means driving somewhere and
then wandering with no set schedule and no itinerary because sometimes
you just need to wander.
Ryan Finely: As an explorer it kind of forces me to [explore] the various
musical elements, tools, and resources that are available.
Super Ninja: [Being an explorer] that's kind of what has driven me for the
better part of my life. That's one of the reasons I became an engineer, I
was always very curious about how things worked [and] I would take
things apart and even sometimes put them back together.
Scifi: I'm just trying to explore a whole new world. Also, sometimes I like
doing new things.
Maija: I am thinking about play being messy, it's not contained
so there is a lot of exploring [with] materials or [a] new city.
100
Marina: It is really important to me to try new things
because the rest of my daily life can be very mundane and
repetitive and so doing new things is important and fun.
Archie: I like to get into new things; I like to figure out about new things.
I am very much a dive in first to situations and figure it out later when I
am in the middle of stuff. It gets me into a little trouble.
Pancho: I have been to 43 countries now so I love to go explore and meet new
people and see new scenes in terms of the natural landscape and animals. I
love exploring. I think it keeps you awake, alert, and alive in the world… and
not set in your ways, you know when you start see more and more of how
people do [things] completely different than you. Your natural reaction is to
say "well that's wrong" but as you see how they are going it, it is not
necessarily wrong it is just different. And sometimes it is actually better than
the method that whatever it is you are doing. I'm not talking about culture
but in their infrastructure the way they do their road ways and stuff like that
so it is just different and sometimes it is just better and it keeps you alive and
open minded.
Brunhilda: I have always enjoyed new things. I am a dilettante; I want to try a
little bit of everything. Part of that goes back to my educational background. I
was very good at school, all subjects. I had a very difficult time narrowing
down what I wanted to study in high school and college. I felt that there were
not enough hours in a day to take the classes I wanted to in high school. I took
seven AP class in high school because I was interested in all of those topics. And
I passed all of them with fours and fives because I was so interested in new
ideas, thoughts, [and] philosophy. I have always enjoyed understanding the
world around me. So I am interested in new people, new techniques, new
theories, new methods, and I find myself drawn to people who have a great
ideas, great stories, or great new thing I should try.
Discussion on explorer play style. The responses provided by the participants
discussed the need for novelty, most particularly when they are actively creating
exchanges with their surroundings or engaging in or with mental or physical quests.
101
Novelty of new experiences. Explorers are those who engage with their
surrounds wherever they are or whatever they are doing. This openness to new
experiences provides a platform that encourages explores to see the world with endless
possibilities for play because they seek novelty. This includes trying new things, going
somewhere new, meeting new and different people, and experiencing cultures other than
their own. Pancho captured the sentiments of others when he explained that being an
explorer "keeps you alive and open minded", which is why many people are drawn to
this play style.
Physically or mental exploration. Explorers actively find ways of physically or
mentally interacting with their environments with the intent of producing a deeper
understanding of themselves or situations. Another way to categorize explorers is to
acknowledge that they are adventurous with what they consider play. Magnus captured
this sentiment best when he discussed his need for adventure-based exploration:
If you want to see cool stuff then you have to hike there. They don't build
roads everywhere…and it is fun to go somewhere on your own volition.
To see how the distance changes by foot and how much you can travel on
foot…it is amazing to have the satisfaction of going somewhere under
your own power.
While many of the explorers talked about the physical adventures associated with being
an explorer, others focused on the intellectual benefits of mentally exploring an object or
concept. For Maija, Archie, and Super Ninja, this style of play provides uncontained and
limitless opportunities for interactions with ideas or materials, which resulted in new or
102
deeper connections from experiences. The explorers shared several commonalities for
why they selected this style, but what I found especially interesting was the role of
continuing education as play for explorers. No matter what they were exploring, there
was a learning component that could not be dismissed. Explorers are continually learning
in order to engage with this play style. More than learning, the participants' play resulted
in the construction of meaning making through their experiences (Linn, 2006; Kolb,
1984) that allowed them to advance their play skills.
Mover- Activities Requiring Movement
Brown and Vaughan (2009) called this style "kinesthete" (p. 66), but I opted for
the name mover because I thought it was more representative of the actions taken by
people who utilize this play style. Movers are those who play in a way that requires
movement, and this style was identified as something that 11 participants considered an
important aspect of their play. Movers explained their rationale and use of this play style
in the following ways:
Magnus: I like to do things that involve moving…a lot of exercise [or]
moving. Going different places.
Will: Augmented reality [games] allows for play on the move.
Rex: I love doing physical things. But I have to be in the right mood for it and
those usually fall on the weekend when I have a little bit more time. I just bought
a bike and I love biking. I like hiking but I'm a horrible companion because I'm
slow and I complain.
103
Mary: [Playing tennis] yeah, that's what that was… because I am not a person
who can go to a gym… I hate it and I want to kill myself.
Super Ninja: I have always enjoyed sports. So that is one thing that I do to
have fun. Growing up, I played organized sports and also the friends that I
spent time with we, almost always, did some sort of impromptu sports
activity when we spent time together.
Scifi: I hate exercising in a gym or feeling like I'm just working out, but I
love moving and being active so if I can bring activity into my social life,
that's perfect. This is part of why I love climbing, it is great exercise, but
it's also a really great way to have fun and spend time with someone.
Maija: Play being messy it's not contained so there is a lot of moving
around
Marina: My job is sedentary so when I play I like to move.
That's what gives me energy [and] it also helps me be
healthy.
Leroy: I enjoy pursuing hobbies like mountain biking or shooting, hiking, even
playing with an RC car [and] playing sports.
Archie: When I am playing I don't sit still well. Even though I do enjoy
relaxing in front of the TV and stuff. But when I consider play, I am
usually considering a sport and getting up and moving a lot. Even chasing
my kid around the house or something. That is more play than if I am
just sitting there, that's more like sleep.
Pancho: I actually went on a 5k run this morning with the dog. I'm trying to do
that to get in shape but also to put a little bit of fun to it so we go out in the
wild and run. We don't do it as much on the streets here because I find that
boring to see the same scenario over and over. So we go out in the wild and I
104
take the dog off her leash and she can run around like a maniac smelling for
coyotes and chasing rabbits and failing. All those sorts of things so it
increases her enjoyment as well and I can just pick my route and run. When I
am playing, I like to feel good about it afterwards. Doing that type of run you
feel good. I feel like I am doing something for my body, I am doing something
good for my 12-year-old dog. There is an aspect of positiveness to it.
Discussion of mover. Movement for adults comes in many ways, from chasing
young children (i.e., Archie, Ryan Finely, and Andy Scott) around the house to going on
a multiday backpacking trip (i.e., Scifi and Magnus). For those who consider movement
a style in which they engaged, I determined that sub-categories needed to be established
to best illustrate the different explanations provided. First, movement is an opportunity
to play with the intent to exercise or engage in a sport. The examples of sports-based
activities varied, but what was suggested was that sports provide an outlet whereby
purposeful movements could result in a game or objective. The second category of
movers were those who enjoyed being active and moving but not in what they considered
a "sports situation" (i.e., hiking or rock climbing). Archie talked about how moving
helped him keep his focus and Maija discussed the importance of moving because play
cannot be limited to one area. Those who sought experiences that required movement
also referenced how these types of play provided an opportunity to double barrel play and
social interactions because the activities were lower-impact and invited others to engage.
The third category, focused on the benefits of movement. The activities are selected for
their playfulness, but the intrinsic and extrinsic potential. Pancho discussed how moving
helped him feel good afterwards. Similarly, Marina referenced how playing as a mover
105
helps her stay health and have better energy. In the end, the play style of mover supports
players as they find activities that propel them into situations where movement is the
desired outcome.
Socializer- Hosting or Engaging with Other People
This was the play style I added to Brown and Vaughan's play personalities. I felt
it was important to acknowledge that play can sometimes exist for merely social reasons.
What I found was that 11 of my participants agreed and expanded my initial thought by
explaining what social play is to them.
Magnus: I mean everything that I do for fun involves other people and it
is usually the way I make friends is by inviting them to go out and do
something specifically. All my friends are people I do specific activities
with.
Rose: As a socializer, that is where work comes in. About half of the
time is building relationship, maintaining relationships, and then
creating relationship between people who many not necessarily know
what they have in common. That's probably my favorite thing to do,
put people with divergent interests or beliefs, who don't see how they are
related, and put them together… not a date as in seeking romance but
as in putting together a professional date. Matchmaking people based
on their interests and the possibilities that those interests generate…a
professional matchmaker. I think intellectual romance is highly
underrated.
Andy: I like things that involve other people. So like with the video
games I play are usually MMOs [Massively Multiplayer Online games],
because I think that adds a dynamic. RPG [Role-Play Games], where you
are interacting with other people and getting the same thing done. Or
even the old pencil and paper method where you just sitting around
106
talking to other people. So I like choosing things that I can be social
about. If I did paintball I am doing it with other people.
Super Ninja: I've taken these personality tests and I'm sort of a weird mix.
I don't like large groups but I get very close to the people I do know. And
that is sort of the setting I like to [be] social. Usually small groups that I
know very well.
Scifi: Other people can be fun. I like being alone, but if I want to go out
and do something, it's nice to have a buddy.
Maija: I like to talk with other people and I think that that comes
into play with the idea of the giggling because I think that social
exchange can be banter.
Marina: For me, it is really centering and enjoyable when I
have meaningful interactions with people that I care about.
Leroy: I enjoy being around others and if someone usually wants to
hang out it is usually a yes for me.
Archie: I like to talk. It goes along with socializing and if I have an
audience or if there are a group of people around and nobody is talking I
feel awkward so I try to bring something out of whoever is sitting near me
and sometimes at my own personal expense or to my own dignity at times
or self-esteem. But it's alright it goes along with having fun playing.
Pancho: I like to be social so I will do events with friends whether that is a
night out at the bar or we did the Renaissance festival with friends and
apparently we are now doing couples nights. So I'm doing those now.
Brunhilda: I am very outgoing and always have been. I find myself motivated by
and encouraged by interactions with other people. It really doesn't matter what
I am doing, [or] even if it is an individual activity, in the same room or in an
adjoining room. I like to just have people around. That motivates or excites me,
107
um, especially if we do things that are collaborative or similar, or if I can catch
other people's enthusiasm for the project I am working on, if I can demonstrate
it to them, or show off to them.
Discussion for socializer style. Adding this style allowed for a deeper
understanding of the importance adults place on having social exchanges with people
they know, but also the ways in which they develop relationships with others. The
majority of participants discussed that engaging in activities with other people would
direct the play pursuits they sought out. Brunhilda added that sometimes having people
around (i.e., in another room) was enough and that they did not even need to be engaging
in the same activity. The rationale, based on the information provided by the
participants, could be refined to these two reasons. One, the participants want to share
experiences with others. Two, they enjoyed having others around. Through social-based
play the participants had opportunities to develop, enhance, and maintain relationships
with other people.
Archie and Brunhilda also talked about how social experiences introduced an
audience where stories and interests could be shared with mutual encouragement that
then increased their motivation to pursue relationships or types of play.
When I started this project I thought having a category just for socializing was
extremely important to introduce. However, now I would not include the socializer style
because embedded in play is the notion of being social. Johnson, et al. (2005), and every
other play researcher (Sutton-Smith, Pellegrini, Howes, Singer, et al., Paley), discusses
the development of social play in children and why social play is important; yet,
108
somehow I never made the connection that play was social for adults too. This will be
discussed in more depth in later.
Creator- Making and Developing
Of the 16 participants, 10 of them identified themselves as having a creator style.
The following descriptions explain their perspectives further:
Rose: Creator pushes outside of what is a traditional delivery.
Rex: I love creating stuff. I find that when I'm creative it really helps me. It
just helps the stress just come away from me and helps me focus… at the
beginning [of] the project there's nothing; I have no idea how it's going to
go and then go through the process of trying. You have an idea in your
mind and you go through trying to figure how you're going to do this and
how you do that and then there some trial runs things don't try out the
way you want and then you figure how to do it a different way and then
you end up with really cool creation in the end that you didn't think was
going to be there but it turned out even more cool than you thought.
Ryan Finely: The way I play is I like to create music…, it kind of forces me to
[use] resources that are available as well as the technology that kind of
interplays into them and the way they all work together as well as the
motivation behind working on a sound or song or something where without
trying to sound pretentions or weird… when you are working in problem
solving there is a right solution there can be a ton of ways to get there like
software or hardware but either way you have one end goal. For me, in my
creative side of things, which is what I feel my play is, just an opportunity
kind of let my creative side lead instead of my technical side of me. There
isn't an end goal. The idea of creating whether it is comedy or creating music
right now the only thing I know is that something in the end something will
be created.
Andy Scott: I love Legos, being able to design my own thing. RPGs [RolePlay Games] are without limitation, MMOs [Massively Multiplayer Online
109
games] have fewer limitations. So I like things that don't limit me and
say you have to follow this to get to this.
Super Ninja: [Being a creator] that's what I do, that's my job. I develop
things that have never been done before. That is something that has sort
of been a part of me of my life. I remember when I was younger we [his
brothers and him] used to play Mission Impossible. And we would set up
booby traps or whatever and you would open a door or pull a string…
things would happen. I don't think that anyone ever got seriously hurt.
Scifi: I quilt. That's fun and crafty. Sometimes I also draw pictures for my
roommate.
Maija: I think that all of the things [play styles] for me come under
the idea of creator just because I think that I like art and being a
creative person.
Marina: Creator is probably the bottom of the ways that I
play- the least ways that I play. But I find joy in
discovery and in creating and making things that I haven't
made before.
Archie: I grew up building things and doing a lot of things that way. I
created rails for the bottom of that horse [pointing at giant rocking horse] so
my daughter can play on it that way. I enjoy building things, I enjoy
having a vision and seeing them come that way or through, it's a good
time for me.
Brunhilda: Partly going back to the crafty thing, when I was a child. I was [in] a
club, a 4-H Club, as a child where we explored different things. We did a
photography unit, a cooking unit, we did a sewing unit, we did table
decorations. And I really enjoyed, discovered my passion for creating things.
And it wasn't that I was particularly great at any of them, but I was pleased
always with the things that I made, even if they weren't perfect... I always felt
that my creations were done well, and sometimes they really were. I seemed to
have a knack for it and so I recognized a talent, which reinforced my
110
enthusiasm, which again reinforced my talent because I would spend more time
on it. So it was a cycle of getting better at creating.
Discussion of creator style. Brown and Vaughan (2009) referred to creators as
those who have an artistic side, but I thought their perspective was limited and that there
was more to producing something creative than artwork. Of course there is the artistic
side of being a creator; some of the items that participants identified were crafts, music,
quilts, and drawings; however, based on the descriptions there was a lot more to being a
creator than art. Being a creator, according to the participants, means that boundaries are
being pushed in order to develop new ideas or a final product. Rose and Andy gave the
example of how delivering information in non-traditional ways is the result of intellectual
play. They explained that creating ideas or producing new understandings through
sharing, listening, or learning resulted in a playful experience for them as well as those
they were supporting. Rose explained that a creative play session could include sitting
around discussing theory with a group of friends and a bottle of wine. Super Ninja and
Archie identified that their creative play resulted in practical outcomes. Archie gave the
example of how he turned an otherwise useless giant horse toy into a rocking horse just
by adding tracks to the feet of the toy; thereby, making it functional. Brunhilda and Rex
verbalized an idea that several of the participants inadvertently hinted at, that creators
have a cycle they go through. The cycle of creativity starts with an idea or a problem,
which leads them to immersing themselves in the generation of a solution through trials
and analysis, which they could measure in a final product. The discussion of creativity
continues in Chapter 5.
111
Storyteller- Writing or Reading
Brown and Vaughan (2009) focused on storytellers as being those who can
transport others into the world of their creation, usually through writing or reading.
Again, providing participants with the freedom to interpret and personalize the style
yielded richer responses about what being a storyteller means. Ten people identified
themselves as having this play style and explained storytelling as:
Magnus: Oh, everything involves getting a good story to tell later on.
Getting bragging rights.
Anne: I love to try new things just so I can tell people about them later. I
love it when my family asks what I'm up to be able to tell these elaborate
tales of my adventures. [For example,] the only time I have ever seen a
scorpion, in the 20 years I have lived in Arizona… it came in on a kid's
backpack. I am an arachnophobic and it turns out this extends to
scorpions so this story turned into this elaborate tale of terror… and
adventure as I'm trying to figure out what to do while my brain is going
"AHAHAHAHA" the whole time. So it's a lot of fun for me to tell the
story in an entertaining way to my sisters and my nieces and nephews
and let them live vicariously through my amazingness.
Will: You can choose your own adventures [by] designing and developing
your own world that others can share.
Rex: I like retelling my day to people. I like telling people about my students,
about my job, and about what I do because people they don't give teachers as
much credit as they usually deserve so I want to make sure what they hear from
me is positive.
112
Ryan Finely: [When making music using] sounds, emotions, and thoughts but
really you have to play with the tools, resources available… storytelling leads
back to that whole idea where even if it isn't through lyrics or anything else,
you are telling a story of some kind or another. I have to create what those
feelings are. It is not something that anyone else will interpret… that way it
is how I find those sounds and how I link it. Sometimes it is a process I will
work on it for five minutes or sometimes an hour and sometimes I'll not
touch it for months and then go back because it is hard sometimes to find
that interpretation. It becomes something that you have to toy with.
Super Ninja: I like to read a lot and…I took a creative writing class once
and I really enjoyed it. It's not something I spend a lot of time doing so
maybe that is an imaginary one for me.
Scifi: I don't necessarily do things for explicitly for the story, but I certainly
put myself into situations where I think, "Will this yield a good or funny
story?" If the answer is yes, I will probably do it. And even if it gets weird,
in the end, someone has fun from it.
Maija: My conceptualization of the storyteller is borrowed from
oral traditions and they ways in which people would relay ideas,
experiences, or encounters as a verbal narrative - for me this
relates to play because my play is social and interactive and
does not happen in isolation. Thus, there is constantly an
exchange of ideas and a sharing of knowledge that I see in
parallel to the notion of storytelling.
Archie: I tell stories and Max Powers, my brother, is probably the only one
who tells nearly as many stories as I do. And they are 100% truthful,
always and at all times, and in all manners of the story, which I maybe
fibbing on a little bit. But a good story and you embellish on a little bit
then it is still technically true and might make people laugh about it a little
more it's a definitely something I am good at.
Brunhilda: I think of myself as well-spoken and semi-intelligent. So I enjoy
sharing. Part of that being outgoing and social is sharing stories and
113
experiences, hearing other people's stories and experiences, and that's part of
what get me excited about being with people.
Discussion of storyteller style. From the explanations provided, there are two
major categories of storytellers. The first are the non-verbal orators. In this study, these
people had very different ways of developing and sharing their stories. Will used video
games to create another world, Ryan Finely composed his alternative world through
music, and Super Ninja utilized the written word as his medium. The play is not only in
the creation of a product, but also the way in which the process allows them to refine and
challenge their innermost thoughts and experiences to transport themselves and others
into their alternative realities. The second group could be classified as the Homers of
today. From their perspective, storytelling was a playground through which they
transported others into their lives. Their life experiences provided the backdrop for the
development of the stories they shared with others and even at times navigated their life
choices to ensure that an epic story would part of the experience. Brunhilda and Archie
both discussed that they were drawn to other storytellers because those people know how
to tell stories. Being around people who had similar abilities provided them with
opportunity to be with likeminded people who appreciated their strengths and ingenuity
as weavers of tales.
Joker- Bring Nonsense into a Situation
The nine participants who selected this style were those who enjoyed making the
jokes. Brown and Vaughan (2009) referenced these people as being the "most basic and
114
extreme" (p. 66) players, which is an accurate statement based on the following
descriptions:
Magnus: I mean you just have to have a good time when you are playing,
right?
Will: That satirical perspective to life making sure you aren't taking
yourself too seriously.
Super Ninja: I think I have an odd sense of humor but the people, who
understand it; we can really enjoy each other's company. Just sitting
around talking about things and making fun of how ridiculous… thing are.
Scifi: I'm not a monster, so obviously I really like laughing.
Maija: I like to talk with other people and I think that that comes into
play with the idea of the giggling because I think that social exchange
can be banter.
Marina: I like to laugh and that makes me happy and helps
me put my life in perspective.
Leroy: In card games and things, it usually involves yelling or screaming at
others. Part of it [the play] is the yelling and screaming at people and [their]
misfortune.
Archie: I like to have a good time. I like to make fun of other people. I
like to make fun of myself a lot… I like to associate with laughing and if
people aren't laughing and having a good time, it is probably not the type
of play I want to engage in.
115
Pancho: I love to joke around and have fun. So that can just be a causal
conversation with a friend. I love comedy so I watch a lot of comedy movies,
TV shows, [and] I try to go to the comedy events in town occasionally…I think
part of the play I like to incorporate [has] the jokester element. I used to do a
lot more practical jokes than I do now a days but I always found a lighthearted and not harmful practical joke is pretty good.
Discussion of joker style. Laughter is a key to the success of a joker's play and
how they share their play with others. Jokers need an audience because without other
people engaging in their shenanigans, their play is meaningless. Subsequently, jokers
bring the nonsense, and when possible a bit of chaos, to the play situation they create or
find themselves in. Thus, providing opportunities to laugh and have social exchanges
with others who share their common interests. Jokers are a diverse group of people
because people laugh at different things; however, in this study many participants
referenced their humor as having a certain level of sophistication and needing to be
around people who were aware of the world. Will, Super Ninja, Archie, Leroy, and
Pancho all discussed the art of the satire or mockery as their specific form of joking.
Super Ninja discussed his odd sense of humor that others do not always understand but
the immediate connections that emerge when people get his joke style. Archie and Leroy
reference the art of mocker and the fun that can be had when they find people who get
their jokes and the repost in a similar way. Maija during the play experience informed
that me that being a prankster was one of her favorite ways to play because "I just like
to fuck with people!" which is true she does. In the end, jokers can bloom where they
116
are planted because they like to laugh and bring varying levels of nonsense to those
around them.
Competitor- Finding Ways to Compete
Play as a form of completion was a style that seven participants identified as
being important. Environments that allow for competition created a unique playground
for the following reasons:
Magnus: [I'm] just a competitive person so I like to do things that feature a
little competitiveness where I can be better or a little worse.
Mary: Competitor, I work quite a bit in practice to get better so I can win. I was
just watching the Australian open and there was this little interview of Serena
Williams. She is the best women's tennis player… I'm going to say ever. And
she said, "I just hate to lose!" When I was watching her I was thinking "how
pompous is that" but at the same time I understand because when I am losing I
don't like it, especially when you work really, really hard to be good and you
lose.
Andy: I like being pushed to my limits to see what I can do. Not necessarily
against other people but against myself. Things that I want to choose to do, is
going to make me a better person or I am at least going to feel like I was
challenged in some way.
Super Ninja: I feel like it is just one of those facts of life, just like everyone
has stress, people are competing against people all the time. I played
competitive sports when I was younger but I think you don't have to be in
an organized sport to be competitive. We compete for everything, we
have a finite amount of resources and we try to basically get as much as
we can. That's why people go to work, to get money. It's then the money
that we use to get what we want.
117
Leroy: I am very competitive when there is a goal or something that can be
won.
Archie: I grew up playing sports, I've always been competitive, and I am
probably the most competitive person in my family. I've always [been],
because no one else was really competitive in my family, I grew up kind
of seeking it out and it kind of became something that drove me to play
sports a lot and things like that seeking other people that are competitive.
Pancho: I like to compete but I like to compete where everybody realizes it is
just a game about the worse type of competitor is the ones who take it way
too seriously. I have stopped doing adult games [leagues], I was in kickball
and I have done baseball and softball as an adult, and I have actually ended up
with my overall experience with those was negative; unfortunately, because
you would come across people who were cheating and taking it way to
seriously. I'm like we are adults we should try to enjoy this and it's not like we
are playing for a championship and making money off of it. I like card games
and board games and things of that nature where there is a light-hearted
competiveness to it where at the end of the day it doesn't really matter you
know, you might talk a little bit of trash but you're joking.
Discussion on competitor style. Competitors are playing for the outcome and
seek out opportunities that challenge their abilities. Magnus explained that being a
competitor means that you place yourself into challenging circumstances and that means
exposing yourself to losing. Although Leroy and Mary stated that losing is not their
desired outcome, when they play, there is a recognition that result could potentially occur
each time they compete. Through the challenge that the play presents, participants
agreed that you have to be willing to recognize your shortcomings so that you can build a
schematic process to find ways of improving (Vygotsky, 1978). Andy talked about how
118
he likes to compete against himself in order to see his improvement. Mary had similar
sentiments but focused more on how when you are a competitor, your play is also your
work because the action of improving comes at the cost of investment. For those who
seek out competition, there is a constant need to be challenged but Pancho says there is
fine line between playful competition and dominance, and that dominance is what
destroys the playful aspect of this style. This was the first play style that participants
cautioned about the negative side that can result from play (Pellegrini, 1995) and how the
extremist can run the experience if they cannot keep a tune their behaviors the culture
(Rogoff, 2003) of the play-group or the experience.
Director- Planning and Executing Play Activities
The ability to be the director, of their own and others play was a style that
accounted for six of the participants. For these participants, play begins long before the
observable experience technically starts.
Magnus: I organize most of the stuff. I organize a lot of trips. I think I
find that fun. Trip planning bringing people together. It doesn't have to
be outside it can be playing a video game. I like bringing people together.
Rose: I often found that directors are folks who want to organize and
then deliver a final product whether it is a curriculum or a fun activity.
Will: [Discussed the director's side of game design].
Scifi: I'm not good at making decisions when I think the outcome will be
equal, but at the same time, I can be pretty controlling and sometimes I
like to be in charge of a situation. If I am the one planning the play
activity, I know I won't feel like it's a waste of time or wish I was doing
something else.
119
Marina: I enjoy planning things.
And I enjoy planning
things for others, so part of the fun for me is planning
the play.
Pancho: I like to organize and structure things. It is part of my personality. So
I like to, you know, plan out an event or a trip somewhere that is part of the
enjoyment for me. So if I plan a trip to let's say the Grand Canyon, I like doing
the research for it. I like to figure out hotel accommodations and stuff. I
actually enjoy that, which I know it is not everybody but I actually like
directing and coordinating things. And part of the reason is, I guess you could
say, [I'm a] control freak. I try not to be a control freak but I have a little bit of
that in personality.
Discussion of director style. Those who consider director a play style are
seeking opportunities to create or develop an experience with a final product or result in
mind. For Will, as a game designer, he wants people to enjoy the journey as well as have
the satisfaction of achievement as he directs their play. This need to direct also goes
along with the need to create. Needing to be in control of the small details was an
important aspect for all of the people who identified themselves as directors. From
researching out an experience ahead of time to bringing people together through a
determined type of play, directors know all of the integral details of the experience ahead
of time. Pancho and Magnus discussed how researching different possibilities and
outcomes was play for them because they could see all of the options before making a
final choice. The participants who like the director style of playing also identified
themselves as control freaks and acknowledging when they are in charge they know their
time will not be wasted. While that might sound negative, it is not because directors have
120
enough experience to know how to execute an event by focusing on the early stages of
planning in order bring it to fruition. The most important part of being a director is the
end result, where people are brought together and all of the work pays off as
demonstrated by theirs and other's positive engagement with a play experience.
Collector- Retrieving, Gathering, and Saving Objects
Collecting things was the least popular of the play styles and identified by four of
participants as something that is considered playful.
Will discussed the virtual side of collecting in games like "Fetch Quest
and Skyrim." This type of collecting allows the player to progress and
advance as a form of collecting in order to progress in the game.
Mary: You start with one or two things you really like, and then happen to see
them somewhere else… and then you have to buy it.
Archie: I have plenty of old stuff from my part that I like to hold on to
that jars good old memories. Stuffed animals even, stuff like that I run
across now and again that just jogs a memory and makes you want to get
back to somewhere fun, doing fun things. [Me: Do you currently collect
anything?] Records, yeah. I do collect music.
Pancho: Yes, as a kid I was a huge collector of cards [and] comics, my
collection, I thought I was really clever because I was collecting to make
money in the future I would sell the comics and cards later on, but I did not
understand supply and demand like I do now. I actually lost a lot of money on
that, in terms of my childhood allowance. So I like to collect and I'm always
thinking of how I can sell later. So we're [Rose and Pancho] doing this real
estate thing now and we are starting to learn a lot about real estate stuff and I
did the remodel of a home... I am thinking about how I can build rentals and
I'm kind of thinking about that as a hobby because I will have a full-time job
121
and then rentals will be my hobby and… I actually am finding that I enjoy it
the more I do it. So it is turning into a job into play.
Discussion on collector style. Prior to this research study, I did not understand
how collecting things could be considered play. I'm what you would consider a
minimalist and I find large quantities of stuff to be stifling. Luckily, as with many of the
other play styles discussed, collectors were able to provide insight on why this is play.
Mary explained that her family has a history of collecting artifacts and their
example shape her interest in having collections. "My Grandparents started a museum
with their own collection of Native American pots and what not. So collecting is in the
family. My mom always collected things as well. So it was something that I kind of
grew up with." Since I conducted the interview at her house, I was able to have an
interactive tour of her collections. She explained [my comments have been removed
from this interaction]:
Mary: Okay, let's just start in this room. This is my Tintin collection. The things
with my Tintin collection are: Tintin things are usually pretty expensive, I collect
Tintin books in different languages, [and] they are translated into a 112 like
different languages and dialects. If I know someone going to a different country
or I am going there I check to see if they have a Tintin book. I try to get a Tintin
book, so it is very impressive already even though I only have about 12 or so.
This is my little budding hedgehog collection right here. My friends have given
me quite a bit of it; although, I have gotten a bit of it myself. This is probably my
most recent because when I lived in Seattle, my friend had a hedgehog and it
was the cutest thing ever. You're not allowed to have hedgehogs here. I mean
you can but you have to have a permit and it is really-extremely difficult and
that's why a lot of zoos in Arizona don't have hedgehogs because the permits
are really hard to get so. In case you were thinking about getting a hedgehog,
122
they are really hard to get. That wood art stuff is mostly stuff that my
grandfather had. Actually, that box that I was moving... has some more of his
wood art stuff that I decided to keep. Because he collected wood art. Oh, okay
so over there I have two collections. The first is Harry Potter, so Harry Potter
Legos and things and bookends, and I have them [the books] in British English
and American English. And then I have puzzles. Those are all puzzles with little
people doing funny little things. So there is a lot of stuff going on… you can see
some Where's Waldo and you get the point. I have an extensive pop-up book
collection that I primarily inherited from my grandmother. She is the one who
started it. I have some many now that I only buy them now if they are really,
really extraordinary. I also have kind of a funky elephant collection which is an
animal I like. And a Darth Vader collection, it's not a picture of Darth Vader
[collection] it is a figurine or something of his face.
After giving me this background about her reason for collecting, I began to understand
that it is not the ownership of possessions that creates significance but the role of the
object's meaning on the individual's identity and their ability to express themselves
(Belk, 1988). This reinforced Archie's perspective that collections are about connecting
you to significant memories, through a tangible investment.
Types of Play
As for types of play, I was unsure how to find out what other people my age did
for play, so I generated a list of things that I considered play and piloted some of the
activities with friends to see if there were similarities and to obtain feedback about what
should be included. In addition to the list I generated the survey also had an "other"
open-ended option where participants could contribute to other areas that they felt were
important. For style no one added anything, but in types there were three additions that
will be discussed later.
123
No context or definition was given and each participant was asked to explain their
reason for choosing the types they selected. I will note here the interpretation of the
application of the types of play varied from participant to participant, this includes my
own inference about the activities and how they related to the type of play being
discussed. My analysis of the different types of play was completed to identify how
general activities (i.e., sports) could be interpreted differently by different people. Again,
these findings will be reported based on popularity of each type of play will be explained
by some of the participants.
Spending Time with Friends (Hanging Out or Going Out)
As was previously reported socializing is a key aspect of playing and therefore,
you need playmates. Social play is what acted as a driving force for many of the
participants play pursuits. Not only were the social exchanges sought out, without other
people some of the play styles previously discussed would be pointless (i.e., storytelling
and directing). When asked about certain types of play that occurs when spending time
with friends these were the responses I received: getting stuff done, shopping, drinking,
going out, just hanging out and being with others, unwinding, and sharing thoughts.
When I first assimilated this list, I thought that it seems a little dull but extremely
accurate because from my experience being with friends is about investing time in
someone you like and that does not always require effort from either party. Similarly, the
reasons participants gave for wanting to engage in social play provided context for why
laid back associations with others were so important: pausing routine, develop
124
relationship, meaningful conversations, doing crazy and wild things, rejuvenation,
creating memories, and sharing interests. The social functions of play in adulthood are
diverse and complex. But just like with children, there is that need to seek out a playmate
(Paley, 1992), who gets you, no questions asked. Anne gave the example of being a part
of a friend circle of all white women who totally into Bollywood movies. Rex and Rose
talked about the importance of brunch for a way to have scheduled bonding time with
friends. Magnus talked about extreme outdoor adventures with others. In the end, it was
Archie and Super Ninja description of the way friends become family that really captured
what hanging out with friends means in adulthood. Additionally, Rose explained that her
friends as being the family, she chose, and the importance of being able to connect with
them whenever possible. As already established, socializing is key to playing. But
playing is also key to finding ways to socialize.
Being Outdoors
As this study was conducted in locations that have predictably good weather
(Arizona and California), 75% of participants identified the outdoor as having activities
they considered play, and weather was a factor in the play they choose. The accessibility
to the outdoors provided an array of responses about what people like to do outdoors
including: tennis, hiking, backpacking, motorcycling, mountaineering, camping, rockclimbing, walking, hunting, scuba diving, swimming, sports, mountain biking, remote
control cars, and gardening. The explanations varied but in short, if you live somewhere
125
that provides you with so much opportunity to be outside you should find things to do to
maximize your experience according to the participants of this study.
Learning Something New
As the sample was a scholarly bunch, I was not surprised that 75% of the
participants identified that learning something new was a quindecinnial to playing.
Specific examples of activities participants were learning included: drawing, cooking,
being healthier, cosmetics application, construction or remodeling, and things that made
them better or more interesting people. While I was asking for exact activities, what I
received were ideas about the play participants wanted to pursue in order to learn new
things. For example, Magnus talked about the need to learn new skills in order to
advance his play (i.e., what do in an avalanche) as well as the consequences that could
arise if he did not refine his skills (i.e., die). Rose also talked about the need to learn new
things because it provided her the chance assess her limits and then make plans to alter
them in the future. This idea of not staying compliant with a certain skill set was shared
by Anne, Rex, and Andy even if they fail in the ventures.
Since play requires failure, learning new things requires that mistakes are made
and abilities reassessed constantly. This happens in physical and mental play. Andy
talked about how learning new things gives you the opportunity to think about "normal"
things in different ways. The example he gave was in regard to the steampunk movement
and asking questions about how would this item be different if technology was from
another era. Play provides that freedom to push boundaries and "jump in and figure it
126
out as you go." Pancho talked about how his learning-based play provided him with an
increase of confidence because even he could discuss things at a more intellectual level.
He provided this example:
I just enjoy those types of useless trivia… I think it helps you understand
yourself and the world better and I like the [things] that make you better at
everything in your life. Even if you don't see it at first… it helps you know
what you are dealing with… so you know how to react or underreact and just
know how to deal with the situation properly.
Similarly, Marina, Archie, and Brunhilda referenced one of the reasons they like to learn
was because it made them more interesting and more accessible to other people. For
Marina, this gives her the opportunity to gain "identity capitol" or as a way of investing
in herself as she learns and masters new ideas and concepts (Cote, 2005). Increasing
their general knowledge as well as becoming more interesting was discussed by Rex,
Archie, Pancho, and Brunhilda. While their interests were different, they needed a
learning outlet. I think Will said it best, when he stated, "play requires that something
new be learned." Embedded in play is the result that learning will occur; however, it is
on the player to determine the value and implication of the learned knowledge in other
areas of their life (Vygotsky, 1978; Howes, 2011; Zoss, 2010). The importance of play
as a learning tool should not be reserved for children alone, as adults recognize its value
in their everyday lives. This will be addressed more in Chapter 6.
Developing or Working on a Hobby
Magnus explained that having a hobby provides play with a purpose. I thought
that was a unique way to talk about play because play is often referred to as purposeless
127
until meaning is given to it (Johnson, et al. 2005) and not the driving force behind a
pursuit. Within the sample, 75% of the participants also identified working on a hobby as
a form of play for them. Some examples of specific types of play that participants
pursued included: writing, fixing a car, learning, physical fitness, cosmetics, and finding
new hobbies (as a hobby). Some of the items listed under learning new things resurfaced
in this section as did the rationale for why this is play. This sample group likes to learn
and the development of new hobbies requires learning. As hobbies are generated through
intrinsic interest, Will, Rex, and Ryan Finely suggested that the development of a new
skill has some initial external reward or a tangible result. However, as the look- at- me
factor wears off, the person's the reward of the hobby once again the individual's
recognition of skills, new knowledge, and memories. (This perspective needs more
research in the future).
Ryan Finely mentioned that when you are really focused on developing one
hobby it gives you the freedom to try new methods. Johnson, et al., discussed that in
children's play the perseveration on a plot point and the continual refinement of a
character is key to the development of understanding about concepts children need to
master. This is the same for adults as they develop their hobbies, it gives them the
freedom to create, pushes themselves to learn, and in the end produce a tangible outcome
that represents their understanding. Furthermore, being a hobby-ist gives people the
freedom to try things out and if the experience was not enjoy no further pusuit has to be
made. This is why Anne, Rex, Archie, Pancho, and Brunhilda all talked about finding
128
new hobbies often served as a hobby because it provided them with experiences. For
Brunhilda, one of her goals is to be able to identify herself as someone who does things
and that is why she has hobbies.
Spending Time with Family
For 69% of participants, family time was considered play but how they defined
family changed. For some people family included friends who had been in their life for
decades, for others it was their fiancé or partner, the family they grew up with, nieces and
nephews, and others talked about their spouses and children, but the common theme wasno matter how they defined their family it was under the umbrella of being people with
whom they had a special connection and bond. When participants spent time with their
families they would: communicate (i.e., face to face, text, talk on the phone, and
FaceTime/Skype/Hangout), get together, take family outings, play with kids, meal prep
and sharing food, game nights, family dinner, family reunions, and creating and maintain
relationships across generations. This is again another example of social play and the
role experiences play on developing relationship with other people. Andy gave this
example of how family altered his view of play:
There are times when you're like "we're going to go do this fun
activity!" and the kids are grumpy about it and the wife is grumpy about
it and you just realize "no this isn't going to happen."
129
In the end, family play has to represent the family's play goal. Everyone who selected
this option, talked about how important family time was because they were able to be
around and interact with people they cared about, and that's why it was play.
Relaxing
The opportunity to just be is a play type selected by 63% participants. Relaxing
allowed participants to: turn off their brains, read, take bubble baths, play video games,
watch movies, be alone, spending time with spouse, reward for work, spend time with
pets, listen to music, binge watch Netflix, and exercise. The reason most given for why
the participants considered relaxing a type of play they pursued was because it gave them
time to not think. This scholarly bunch and sometimes they just wanted to "turn their
brains off" and just have a moment to be. Whether that meant taking time to exercise,
spend time with others, or just veg out the result was a moment of nothing other than
relaxation. Relaxation was also used interchangeably with rejuvenating. The idea that
play sometimes comes in the form of self-care is an important notion to consider and one
not often discussed in early childhood research.
Spending Time on Your Own
Taking time to be alone was identified by 63% of participant as being a type of
play they actively sought. Similar to relaxing several participants talked about how being
alone gave them time to turn off their brain. However, being alone also gave them the
opportunity to do other tasks that others might not enjoy or find odd. Activities included:
taking time to be an introvert, chilling out, driving, listening music, puzzles, planning
130
vacations, goal making, enjoying not thinking, reflecting/working on problems, and
gaming. An observation I made while I was transcribing was that this question prompted
the participants to either apologize about what they did or provide heavily detailed
explanations about what they did when they were alone more so than any of the other
types of play. The common theme that emerged from the responses about this play type
can be categorized into three major categories: rejuvenation, turning off, and focusing on
themselves.
Attending Cultural Events
The participants' response provided a spectrum of possibilities for what cultural
events are to people in early adulthood. A cultural event, based on the 56.30%
participants, could include: movies, live music concerts (i.e., rock, folk, and electric),
festivals, theater, symphony concerts, theater (i.e., viewing and performing), engaging in
another culture's tradition (i.e., Dia de los Muertos, Luaus, and Holi), museums, opera,
and dance productions. Attending or participating in cultural events provided the
participants with the opportunity to understand more about the world and others traditions
but it also included building their own culture (Rogoff, 2003) by "being around
lots of people all united under a common interest." Central to
the idea attending a cultural events was the expectation that learning about another group
of people or sharing knowledge about the context of the event would occur, which is why
Magnus, Maija, and Pancho expect that the events are well done in order for them to
attend.
131
Surfing the Internet
For participants, 50% admitted that surfing the internet was play and a "black
hole because it's sucks you in and you just keep scrolling and scrolling you're like
there's always something cool and everything is one spot so you have to go out
searching." The internet is usually a click away so participants can always find ways to
be on: Pinterest, Buzzfeed, Instagram, find/read articles relating to interests, catch up on
pop culture, keep up to date on their favorite teams, find comedy websites/watch videos,
read the news, watch YouTube videos, search for answers to questions, and look at
pictures of animals. While it is a black hole, participants talked about the ways just
mindlessly surfing the internet helped them decompress while still being able to learn or
explore their interests.
Reading
This type of play would have been higher but three of the participants wanted to
make it clear that since starting graduate school they no longer find reading play. With
that said 50% of the participants consider reading play and used the following words to
describe their love of the written word: addict, veracious, book devourer, and binge
reader. The playful aspect of reading was described by being able to escape, creating a
medium for thinking, and becoming wrapped up in the lives of others. The connection to
learning was made and explained by as the opportunity to explore another words and
make connections with what you know and what was being discussed.
132
Participating in Sports
Only 37.8% of participants identified this type of play, those who played sports
provided a great deal of insight about the importance of it in early adulthood. From pickup to planned sporting activities, participants explained that sports provided them with a
sense of comradery and friendship as well as an opportunity to continually learn how to
refine their skills. The sports that were discussed included: video game sports,
basketball, tennis, volleyball, martial arts, mountain biking, soccer, anything taught in a
P.E. class (Archie is a math educator who also teaches a P.E. class), surfing, and extreme
outdoor sports. Social interactions are part of the sporting experience and create
opportunities for long-term friends to connect or new acquaintances to be made. Pancho
talked about how he used to play on adult leagues so he could meet new people in an
environment while he was also doing something for his physical wellbeing, but others
attitudes ruined that experience. Now he only engages in pick-up games with people who
are there because they enjoy it and not to win. Mary, Leroy, and Super Ninja, who
provided the most information about why sports is an important part of play, explained
that sports deliver an activity they know others are committed to participating in, which
then gives them a predesignated outlet and a friend group with whom they can share their
interest.
Using Social Media
This was a type of play I was expecting a higher response rate on; however, it was
explained that being on social media is a part of everyday life so it is more an item on a
133
to-do list than a play activity. That being said, for the 37.8% of the participants who play
using social media, they find it is a way to keep in touch with friends and family.
Although Rose and Marina pointed out that social media provides opportunities to be
deviant and stalk people, which is why they consider this play. For clarification, Rose
researches people's internet behaviors and Marina, as a movie critic, needs to be aware of
the ongoing of people in the movie industry. Others talked about how being on social
media allows them to explore the world without leaving their home and through social
media understand people they know at a deeper level; based on the information they post.
Maija explained that what you create on the internet (i.e., Instagram) is a perspective of
your life and an on-going reflection of the way you want others to see you. The play of
social media is dictated by the player and the level of engagement they are interested in
having with virtual world.
Volunteering
For 31.25% of participants volunteering is play. While they did not list specific
types of volunteering their reason for wanting to volunteer could be classified as wanting
to work with children or youth. The participants selected that demographic because they
felt they had specific skills that would support them or be accessible to that demographic
over any other. Brunhilda, whose play is based around volunteering, explained that she is
an incredible mentor. This skill provides her with the opportunity to share her interests
with children and youth who others have given up on. Using her interests to mentor
invites the children/youth she works with to share their own, explain what they need, talk
134
about future plans, and direct her on how she can help. The process of mentoring creates
a mental, physical, and social playspace that others find too complex or time consuming
to participate in, but Brunhilda has found this is an environment she thrives in. Being
accessible to the demographic was the reason provided by Andy and Anne, who are both
teachers. Since the kids are there and they see a need being unfilled they create programs
to further engage their students or support them in ways they cannot do during contract
hours. They both talked about how sometimes their volunteering becomes out of balance
and then it becomes a continuation of work; however, when it is play it is rewarding and
stimulating. Pancho and Rose explained that because the play work balance can quickly
become out of whack they did not select volunteering as a type of play. From the
participants' perspective, volunteering as play provided them with a way to measure their
own impact on the world, change lives, focus on other humans, and feel gratification for
doing something that helps another.
Shopping
For the 18.8% who selected shopping, 2/3 of those participants are graduate
students and on tight budgets, so their shopping was more imaginary then real. Maija
explained that she is an expert at abandoning virtual shopping carts and creating wish
lists. Scifi talked about how shopping for her right now is done through the window.
Brunhilda, on the other hand, can actually go on real shopping trips. To her shopping
provides an opportunity to avoid thinking, which is why she likes retail therapy. Whether
135
real or imagined shopping provides a pause from real life and an opportunity to step into
the world of what if/why not?
Work
Going against the Victorian dichotomy of work and play (Cohen, 2006), 12.50%
of participants considered work to be play. Ryan Finely stated that "work is play for me
because nothing in life worth having comes without a cost." As a song writer, Ryan,
challenges himself and his abilities to develop his craft and while he considers
composition play he is also very cognizant of the work required to create the sound he
wants to produce. Maija, as a museum educator, scrutinized her job as play:
I work a lot with kids and I think that comes into play a little when I
am trying to teach or engage with a work of art in a new way... that
trying to be creative about the execution of things is important.
While most participants outright reject the idea of play as work these two participants
took to different approaches, work as part of the play process and play being brought into
work environment. The focus for both participants' ended up being on the learning
potential work brings to a playspace.
Other: _________________
I knew this list would be incomplete so I left an Other: ____ option so that
participants could personalize the survey to be more representative of the types of play
they pursue. Andy and Scifi introduced Cooking/Baking, their rationale was that
making food provided them with a chance to create and individualize a dish. Scifi also
talked about the social aspect of food. Since everyone needs to eat, cooking provides an
136
opportunity to interact with friends with a shared purpose, and time frame. Maija
suggested that Spending Time with Pets should be an option in the future. Her reason
was because they are important and need attention just like humans. The final suggestion
was to include Video/Phone Games. I completely agree with this because gaming was
mentioned by 50% of the participants in the interviews. Gaming happens across the
lifespan (Gee, 2005) and should have been better represent in this study. I do not identify
as a gamer and played more video games (i.e., time and variety) in this study then I have
during the rest of my life. The exclusion of video games was an excellent example of my
own biases being present in the creation the survey.
As this was open-ended the participant's interpretation of types of play were able
to compensate for me overlooking play activities because of the way they defined their
use of the types of play I mentioned (i.e., gaming fell into spending time alone). This
became a strength of the study because it reinforced that the participants were able to
interpret and personalize the questions to meet their understanding of play.
Additional thoughts on other. I purposefully did not include "divergent"
activities (e.g., drinking, gambling, or promiscuity) because I wanted to see if those
activities would be added on to the survey by participants. In retrospect, I should have
added alcohol related activities to the types of play because they did come up in a few
interviews; however, it was not the alcohol consumption that was considered play, it was
the social atmosphere that drinking created. Rose gave this example of how alcohol and
socializing created a play experience:
137
I ended up having a couple of bottles of wine with three of my
girlfriends and we ended up putting together a plinko game [from] The
Price is Right! So we put together a plinko game that we called drinko
and rather than winning money you had the ability to tell a secret or
something about your life or you could take a shot.
Even with the social aspect being addressed, those who talked about drinking with friends
also discussed that they were moving past that type of play. Pancho explained this was
because he's done it and has no need for another "pub crawl." In early adulthood, the
shift in maturation changes alcohol related play activities because of life changes and so
do responsibilities. Also, people suggested their bodies could not recover as quickly.
Another play form that I failed to investigate thoroughly was gambling. I
recognized this too late that I should have included this just to debunk the belief that
adults spend copious amounts of time on casino related activities (Sutton-Smith, 1997).
However, when there were lulls in conversations, especially during the play experiences,
I brought up the idea of gambling with many of the participants. While most people just
laughed at it as a regular experience, two people said "yes, when I am in Vegas." My
favorite response was "what am I, 90 years old and from Jersey?" From
anecdotal responses, gambling as play was not a popular activity in my sample.
However, that could have just been because of the participants in this study.
Summary and Conclusion
In this section, play has been discussed in terms of styles and types. Examining
each participant's selected styles of play provided a general archetype of the ideas they
associate with playing and how that shapes the activities they pursue. Once participants
138
identified their styles, they were asked to provide specific examples of the types of play
they participate in. Using information about the types of play pursued by early adults, I
was able to make connections for the rationale and perceived benefits derived from
participating in these types of play.
Having these concrete explanations of play creates a rich understanding of play
behaviors and activities pursued those in early adulthood. As adults they have years of
play experiences which means they know about the activities they prefer and their
strengths within different environments. There was an underlining theme of "I do what I
want" when it comes to my play activities. This had to with time limitations, interest,
access, and an understanding of the benefit they would receive from the experience. As
participants explained their play activities, they provided additional information about
how play supports their cognitive, social, and physical development and the relationship
motivation has on learning.
139
Section 3: Play Experiences
I begin this section by providing some critical insight into my reasoning for
studying play. I present this as an autoethnography (Grbich, 2004, Barone & Eisner,
2012; Ellis & Bochner, 2000), to illustrate my changing perspective on play over the last
few years.
When I entered my graduate program, I came in with the intent of entering
academia professionally. I knew what I wanted to do and that a Ph.D. was required for
the career I wanted for myself. Determined and armed with an end goal, I took heavy
course loads to complete the requirements and my program as quickly as possible in
order to move on with my life plan. After about a year and a half, of killing myself with
heavy courses loads, internships, working two jobs, and running my own research
projects, a faculty member pulled me aside to inform me that it was very apparent I did
not value my education. While I still do not fully understand this person's reasoning, I
think it has to do with not being willing to stay in a Ph.D. program for five years, they
made it extremely clear that they did not want me to be on the academic track. Again,
their strongest claim being that I did not value my education. At first I was a taken back
by that accusation, because it has been my experience that people pursuing Ph.D. do in
fact place a high value on education. However, after some reflection, I realized that
person was right.
My focus was on fulfilling the institution's requirements and working towards a
career I thought I wanted, had derailed me from my education, which is so much more
140
than textbooks and papers. That conversation resulted, not only with my disenchantment
of academia, more importantly caused me to reevaluate what my education was and how
I should be supporting its development. This forced me to alter my goals and resume
interests that I rejected in my quest for academic fame. The interesting thing was, that
conversation acted as a catalyst for propelling my education in a direction that was far
more supportive of person I want to be and a refocus on the goals that will help me
achieve those attributes, than the unidirectional path I had been pursuing. During the
early years of my Ph.D., I had been working so hard for the departments' acceptance that
I was not acting in a manner that matched my ideas about learning or development.
Since then I have attempted to alter my behaviors and refocused my energy on pursuits
that coincide with my perspectives on learning in application and not as much on the
expectations of others. This meant that I enrolled in courses that made me appear
"aimless" to other members of my department but were instrumental in helping me
understand discourses I had long wondered about (i.e., poststructuralism). I explored
alternative methodologies (i.e., arts-based and child-friendly research) that were not
taught by my direct faculty. Doing so open multiple doors and opportunities to present in
scholarly and community settings about this ideas that were far more relevant to my
education that the curriculum I had been exposed too and had intended to make a career
out of.
Outside of school, one of the first steps I took was to start playing again. I had
spent years researching and advocating for play as a learning tool; however, that was a
141
part of my education I was neglecting. As I started to evaluate my play and its role in my
life, the results were depressing. For someone who claimed to support play, it was
something that I rarely did. This sent me on a personal quest to find out how people my
age played as well as remember how to play myself. It also provided me with the
opportunity to do applied research, starting with myself.
In a course I took years ago, we briefly discussed Hermann Ebbinghaus. When
he was developing his learning theory, he first researched his own learning before
subjecting others to his tests (Driscoll, 2000). At the time, I thought he sounded crazy.
Five years later, I found myself following a very similar path as I recruited myself to be
the first participant in my dissertation (Ellis & Bochner, 2000), which you do not need an
IRB to do. My first task was to explore how I played and be able to explain why it was
play to me.
When I play, I want to engage in activities that will better me in some way. For
that reason, I selected volunteering and learning something new as the play activities that
I would document. As these are my own experiences, I am not following the format that
will be used later in this section (i.e., introduction of experience with amended field
notes, participant's reflection, and my reflection with references to research); rather, I
will focus on a syntheses of my play and then provide a reflection reinforced with
research. Since the research I conducted on myself took place over 10 months, I am only
providing an overview of my experiences and not a detailed account.
142
My Play Experiences: Ebbinghausing
First I will discuss volunteering as play and what it means in adulthood. For over
a year and a half, I have volunteered with an organization called Owl & Panther. It is a
program for refugee children and families who have been impacted by trauma, traumatic
dislocation, and torture. Owl & Panther provides participants' with the opportunity to
engage with expressive arts to address their life experiences. I served as a volunteer at
weekly meetings by driving and supporting children's emerging art skills. The reason I
consider this play is because it is something that is out of the ordinary and pushes me to
try new things. While I do not usually complete art myself, as it is for the participants not
the volunteers, the interactions I have with the participants is what makes the experience
playful. I would have liked to include some of the participants' perspectives on why they
thought volunteering with Owl & Panther was my play but as most of the participants are
under the age of 18 and could not give consent so they were not include in the study.
Their inability to be acknowledged and have a voice (Cannella, 2002) became a source of
many frustrated discussions, especially because without them I would not this experience.
Without their perspective, I am left with my own account, which focuses on my version
of the adventures we had together. Since last September, we have been to local
museums, homeless shelters, and a community garden. At these locations, we have
created art projects (i.e., visual, dance, and literary), volunteered and supported
underrepresented members of the community, and planted and harvested our own garden.
We also shared inside jokes, expanded our friendships, and made life goals. While I
143
consider this play, it was sometimes a lot of work and exhausting, as much of play is.
One of the major tasks we completed this year was producing enough art to create an
entire exhibit at a local museum.
Entire studies have focused around the benefits of superhero play in childhood,
but what happens when the hero players grow up? I argue that volunteering in adulthood
is the equivalent of children's superhero play, only with actual consequences and
implications. Adults' superhero play does not require running around dressed in drapes,
mostly because that is frowned on by the dominant culture, rather it commands the player
to take time to engage with the crusades that matter most to them. As suggested by the
other participants of this study, it also helps you feel connected to other people and
demands that you share talents that might be overlooked or seen as unimportant in usual
settings. This means that volunteering-play is directly related to an individual's intrinsic
motivation (Rehberg, 2005; Elliot & Dweck, 2005) because only the volunteer can invest
in something that they are passionate about.
From my own experience with Owl & Panther, I found the playful interactions
between participants created a community of practice that supports each other, a group
environment that people want to attend each week, and a space where each person's
weaknesses were just as important as their strengths. When comparing volunteering to
being a superhero, the freedom to fail is critical (Johnson, et al., 2005) because it is
through the recognition of weaknesses that abilities improve (Baumeister, Bratslavsky,
Finkenauer, & Vohs, 2001). And every superhero has their weaknesses. As I have
144
volunteered with Owl & Panther, I have made countless mistakes and there were multiple
times where I did not have an answer or a solution for problems that arise. That's where
play became the great equalizer. As a program that supports expressive arts there was
always a creative energy in the room so I could turn to jokes, storytelling, art, and the
experiences of others to a patchwork solution. Not being reliant on myself for all of the
answers, but the team of superheroes I was a part of, helped to alter the traditional
perceived ideas about holders of knowledge and power (Foucault, 1980), that often exists
within multigenerational contexts. By this I mean, I would tell participants when I did
know and we would find someone who's "superhero" powers were more suited for the
development of a solution. From my perspective and what other participants suggested,
this gave other members of the group an opportunity to see a mainstream adult make
mistakes or have the benefit of being a flawed hero, but also see how solutions could be
reached when team work is implemented. Finding a way to work together is pretty much
a theme throughout every comic superhero team.
My second experience, that I felt showcased my play best was learning to trapeze.
As mentioned, I consider learning play so I wanted to develop a new skill that I had no
need for as well as sounded interesting. Disclaimer: I picked trapezing because I thought
it would produce some great stories and bring some risk into my life. When I first started
trapezing, I intended to only do it a few times; however, as the weeks went on it became a
fixture in my weekly schedule and at times the highlight of my week because I knew that
I was going to have an hour of solid playtime, growth, and exhilaration. Over the last 11
145
months, I have attended about 30 classes and been in two performances. An unexpected
result was me becoming totally obsessed with trapezing. Documentation of this play was
not always possible because minors were present.
What struck me throughout my experience as an amateur trapeze artist was the
level of physical, mental, and emotional engagement required for pursuing a new skill
set. I am providing examples and connections for each of the areas just mentioned as
they relate to what I learned while trapezing. The physical requirements should not have
been a surprise because trapezing is an active activity that requires the trifecta of:
strength, endurance, and stamina. Over the last 10 months, I have been shocked to see
how these elements have advanced and continue to grow as my muscle memory advances
to complete the trapeze moves. I can honestly say that I am the strongest I have ever
been. I have the ability to lift my own body weight and the strength to lift or stabilize
another person's while balancing on a trapeze, for an extended period of time. Also, my
hands are currently peppered with trapeze related calluses. The mental aspect of
trapezing for me was challenging because there was often an incongruity between the
physical and cognitive boundaries I established for myself and my actual abilities and
potential. For example, I initially had a hard time standing on the trapeze because I was
afraid I would fall. That is a legitimate fear because I'm over five and a half feet off the
ground and could seriously hurt myself. I eventually was able to complete my objective
by applying previous knowledge to a new domain. Since the risk is always there,
trapezing is a constant game of give and take between cognitive planning and physical
146
engagement. Now I stand on the bar with one foot while learning back or just ignore its
existence in some routines and lately have started doing flips in the air above the trapeze
bar. But again there are always those moments of self-doubt and overcoming mental
barriers. Emotional engagement of trapezing came in the form of extreme frustration or
elation of achievement. Usually when I play with the intent to learn something new I
expect that there will be an immediate reward to compensate my efforts; however, this
experience was challenging and wrought with delayed gratification. After the second
week when I was unable to jump up on the trapeze as quickly as everyone else I was
extremely distraught and frustrated because I was unable to keep up or be more advance
than everyone else. Yet, as I have preserved and started to implement emotion regulation
(Gross, 1998) I have found that I am better equipped to handle my frustrations, recognize
that I am engaging in a process, and celebrate the small successes with as much
enthusiasm as the big ones. While that might not seem like an important part of play it is
vital because play is a process and without the failures you cannot appreciate your
accomplishments (Paley, 2004) or identify learning (Vygotsky, 1978). To this day, I am
unable to jump up and throw my legs over the bar in order to land on my pelvis, without a
modified step, but when that happens it will be a major achievement until then I am also
ridiculously pleased with keeping my toes pointed as I do the routines.
From my Ebbinghausing, the complexities of play research became increasingly
apparent. Not only regarding the issues of collecting data, taking notes while playing is
extremely difficult and can destroy the moment, but a bigger issue I found initially was
147
the stigma that exists when you talk about play. I frequently found myself constantly
having to justifying why I was playing and explaining its value to others. An
unintentional benefit of having to explain my thoughts on play on a regular basis was that
I learned to talk about it academically and in different applications. This lead to many
conversations about the present culture of education and the emphasis on achievement
rather than process. I was able to use play as a way of illustrating the importance of task
engagement, frustration, failure, and the development of alternative solutions in ways that
were catered to my listeners. From these conversations, I was able to pull on my own
experiences to discuss how my trapeze play was a failure-based process towards success
and about how skills transfer depending on their application. While responses varied
others starting to think critically about what they considered play and inevitably they
would start disclosing information about they had learned from playing. Although not
part of the study, young moms gave some of the most interesting and innovative
responses about the changes they made regarding their play after talking to me and the
changes that occurred in their live because they started playing again.
The Participant's Play Experiences: Beyond Ebbinghausing
Once I had a better understanding of my play and a basic approach to data
collection. I was able to begin researching how other people my age played. Each
participant was asked to provide an experience that provided insight into how they play
as an early adult. There were two caveats the first was that I had to come along and
collect data on their play. What was interesting about this contingency was that people
148
enjoyed the idea of having to play and that a fellow player would be present in whatever
activity they choose. In many situations, I acted as an enabler for people to complete
activities on their bucket lists or things they had always wanted to do. Since everyone
knew this was for my dissertation, when someone would question whether we should
keep playing or not, I would remind them that what we were doing was "for science" and
our sacrifice would advance a field, which then resulted in heightened levels of play. The
phrase "for science" was used by me so much that every participant picked it up and it
became an explanation/excuse for justifying doing something ridiculous. While they did
have the option of selecting anything I would remind them that it was for my dissertation
and that documentation of the event would be included in publications and future
presentations, which sometimes altered the activities because participants did not want to
have some of their more candid experiences publicized in such a manner. While none of
the play experiences that were initially discussed by participants would not be considered
exceptionally deviant for this stage of life, they were not necessarily the activities people
wanted researched (i.e., drinking games) or that I wanted to research (i.e., bedroom
gymnastics). In the end, all of the activities were wholesome but that does not mean that
a lot of jokes were made about adult play. This is discussed later.
The second rule was a budget limitation of $50 and the understanding that each
person had to pay for the activity we were doing. Before I started this study and was
casually asking early adults what they would choose if they were bringing someone along
with them to play, a lot of very interesting activities were suggested. Some ideas
149
included international travel, snowboarding trips to Aspen, and skydiving. As my goal
was to have at least 15 participants I realized, before everything was finalized, that I
needed to have a budget constraint for all play experiences. I decided that $50 dollars
seemed like a manageable amount and several people agreed that was more than enough
to demonstrate one or more play activities. This was also a way of getting myself out of
some activities I have no intention of ever doing (i.e., skydiving and outdoor activities in
the snow).
In the initial interview, I asked each participant what they would like to do for
their play experience and while the ideas discussed were not always followed through on
(i.e., glassblowing and rock climbing), several people told me that they liked having a
sounding board to start brainstorming the play they wanted to demonstrate and how to
document playing. This chapter is dedicated to these play experiences. An overview of
each play experience is documented below, in an abbreviated field note. Additionally,
each participant's rationale for choosing the activity was included as well as my thoughts
and connections with the literature. In this section the STEAM acronym is used to
organize the play experiences of the participants; however, there is some overlap between
participants who combined their play activities with another person in the study. I will
conclude by discussing my own play experiences before connecting them major themes
of adult play that emerged during these play experiences.
150
Magnus Flair (and Scifi)
Magnus and Scifi planned a backpacking trip in the Chiricahua Mountains. This
was an area that none of us had been to and was somewhere Magnus and Scifi wanted to
explore. The hike they selected was a nine mile loop and required a better part of the day
so it was determined that we would go down the night before and camp overnight. When
we arrived at the park, it was dark and as Magnus prepared dinner he and Scifi had a
discussion about mirages. Magnus is in science and Scifi is in the arts, this concept
directly relates to their work and research interests. As we were in the middle of a
national park there was little lighting and lots of star viewing areas. This also led into a
discussion between them about the cosmos again, relating it back to their research
interests. We ended the night early with the intent to get up early the next day to start the
hike. The next morning we were on the trail by 8:00 am and were immediately
impressed by the rock formations and the changes in nature that occurred rapidly as we
hiked. The Chiricahua Mountains is famous for its multiple ecosystems and the
geological features left behind by the volcanic eruptions that shaped the current landscape
(U.S. National Park Service, 2015). In other words, the changes happen quickly and this
area is home to several plants and animals that cohabitate in this unique region. As we
hiked there was lots of discussion about the changing landscape and how a geologist
could be an important addition on a hike like this to answer all of the questions that
emerged. After completing the hike we returned to Tucson.
151
Magnus and Scifi are very outdoorsy and both agreed that their play needed to
involved nature. Magnus explained:
I chose backpacking as the play experience because I wanted to rock
climbing but my climbing partner was unavailable. And so the back-up
plan was to go hiking and backpacking. That's just one of my favorite
things to do. When I think of play I think of this.
Scifi's explanation was similar, "I like being in nature, I like being outside, and it
was relaxing."
This was one of the first play experiences I went on and I struggled to enjoy.
While I had once been an avid hiker that was one of the activities I stopped doing when I
entered my Ph.D. program, mostly because when I moved I left my hiking friends behind
and never found new people to hike with in Tucson. As I had previously been an active
hiker I had no qualms about entering into this play experience. Until I realized how
distinct hiking culture can be. While it was the same activities there were massive
differences, although I had the schematic reference to engage with the undertakings of the
activity, it was not the same activity. This was the first time I really interacted with
Magus and Scifi in a play environment and I did not know their play culture, especially
the preferences they had when participating with the outdoors. This led me to make
several mistakes regarding things that they valued. For example, they prefer sleeping
under the stars and I am a fan of sleep in a tent. This lead to an argument and I slept in a
tent!
152
Play research with children has addressed some of the problems that can arise
when adults insert themselves into children's worlds (Corsaro, 2003; MacNaughton,
2005) so it was my hope that I would be able to bypass some of these problems by
working with adults. However, no matter how you look at it research is invasive no
matter how hard we might try to neutralize the situation, the fact is we are entering
another's life and practices. With that invasion comes our biases (Glesne, 2011) and our
own understanding of how things ought to be done (Rogoff, 2003); even when
researching play. The recognition of cultural elements and the rules of play has been
talked about with children (Corsaro; Paley, 1978) so it should not have surprised me that
adults have the same expectations. Also, I started getting sick on this trip and was not
necessarily pleasant as I later found out I had a sinus infection and strep throat. As I
knew both Magnus and Scifi they were both very aware that I was not doing well and that
this was my least favorite play experience of my dissertation. Also, one of them
suggested that I was "a little shit on the trip", which was an accurate analysis because to
me this situation was not play since I did not fit into their established hiking culture. It
was also one of the most beneficial for all subsequent data collection because it provided
me with vital awareness about the issues that can arise when inserting yourself into
someone else's play culture.
Anne
Anne selected her annual trip to the Renaissance Festival or as she put it "the
"Marti Gras for the Druid's" as her play experience. In the initial interview she
153
talked about her love of festival season and how that becomes an important part of her
play during the Arizona winter and early spring. As the Renaissance Festival is one of
her favorites and as I had never been we agreed it was a great choice because we would
both gain something from the experience. Anne informed me that she makes it a point to
attend this event every year and tries to take new people with her, whenever possible,
because she considers it to be a unique and enjoyable event. Due to her experience
attending the festival, she has specific activities she likes to participate in and watch but
more importantly she knows how to time things to avoid crowds and bypass wait time.
For example, she knows the ideal time to arrive at the fair and how to get good seats at
the shows. From her years of attending, she has several performers whose shows she
likes to watch. For example, the singing nuns and the backwards storyteller are two of
her favorites. Each skit was about 30 minutes long and the performers had very unique
abilities that flourish in a festival setting as they catered to the demographic of those who
attended the festival. One of the best lines from a performer was, "the Renaissance
Festival or the land of the liberal arts degree," which was an accurate description. In
addition to the nuns and the storyteller, we also watched some jugglers, a whip show, a
puppet show, attended lady lessons, and finished our day by viewing a joust.
The historical authenticity of the fair was non-existent; however, the atmosphere
was always inviting and welcoming to all. We did a great deal of people watching as we
explored the fair. People watching is something I think that is expected at this kind of an
event based on the details that went into costumes and some people's showmanship as
154
they performed alongside the actors and interacted with other attendees. Anne was
wearing a shirt that referenced two different popular culture crazes, as she put it, in the
"nerd world" (i.e., Doctor Who and Despicable Me). As we wondered the festival people
would continually comment on her shirt or make references that only people familiar
with those franchises would understand. By the end of the day she had received seven
comments about her shirt. Anne also ran into a student, which she says is always a
special experience. We also met up with some of her friends who joined us for the joust.
It was very interesting to see how interactions, at the festival, were made amongst
strangers and friends through a common interest of the renaissance-ish time.
Anne said that she wanted to attend the Renaissance Festival as her play
experience because:
It is something I only do once a year at most so it feels a little special. It
is different from anything I usually do. It is a time to step out of the
world for a while and enjoy the presence of weird and goofy people that
aren't being judged for their weird and goofiness.
Anne later explained that it was the best way to demonstrate her play because "it
gives me that chance to step out of the world for a little bit. I feel that play
should be for the most part something outside what you normally do so that
you can actually just enjoy an experience."
As this was my first experience with the festival it was exciting to see the ways in
which ecological and social cultural perspectives are explored by those who engage in
this type of play. As mentioned, this event lacked specific historical contexts or even
reality (i.e., the fairies) but it was an event that was open to all. At one point Anne
155
explain that the Renaissance Festival is a place "where the truly unique come
together." This was the best explanation because what you saw was an environment
where one individual could be completely different from those who were surrounding
them (i.e., a fairy surrounded by Vikings) and be accepted. Despite the fundamental
differences that existed amongst the participants and performers, the Renaissance Festival
served as a playground for representing an imagined reality where comradery for all
kinds of behaviors could be encouraged. Bronfenbrenner's (1979) Proposition F states
that "different kinds of setting give rise to distinctive patterns of role, activity and
relations for persons who become participants in these settings" (p. 109). This idea of a
liberating force that emerges when you take on another's identity is directly related to
socio-dramatic play (Howes, 1992). In socio-dramatic play, ideas can be challenged as
characters and mannerisms provoke different roles. In Shakespeare's' As You Like It, this
idea of being able to become different characters depending on the situation was
referenced by the character of Jaques, when he said," All the world's a stage and all the
men and women merely players; they have their exists and their entrances; and one man
in his time plays many parts" (Shakespeare & Hattaway, 2000). The Renaissance
Festival provides adults with a playsphere where reality can be altered through the level
of participation people are willing to authorize for themselves and the performances they
are willing to craft.
156
Rose
Rose's main play experience will also be mentioned with Pancho, but spending
time with friends was something that she considered very much part of her play. Our
relationship is very much built around intellectual play and brunch, which is something
that we did twice, for science. While food has always been a key part of the exchange,
the real purpose for brunch is often to catch up and discuss and brainstorm research ideas.
Rose said this about brunch:
It unites two of the things I find most enjoyable: eating and having
people serve me, which is a dream I have had for 15 years while I
finished my education. Its social, it's a time to chat and catch up, and
explore what we are doing in our lives. It's a reconnection moment in a
friendship.
For me this kind of play reinforces the need for social exchange and the importance of
interacting with others who keep your intellect challenged and engaged. In older adults
social interactions have been shown to increase longevity and cognitive functions
(Carstensen & Hartel, 2006). For children, the role of social play is important for helping
them develop desired peer interactions as well as lifelong societal desirability
(Chudacoff, 2007). In early adulthood, social interactions are directly tied to the notion
that there is a need for long-term relationship to develop and be maintained (Berndt,
2002). For me, these shared brunch experiences were never about the food; rather it was
about the idea sharing that occurred. Rose and I have many similar life experiences and
goals that are explored as we dine. Belenky, et al., (1997) discussed the ways in which
play allows women to think freely and communicate meanings as they interact with
157
others, and that's what brunch dates are between Rose and I. A time for "spending
time thinking about how we can solve problems… [they] are really the sexiest
intellectual moments of play." This ability to have these cognitively challenging
conversations captures an aspect of what play is in adulthood because together we
generate and advance out shared understanding and there's food!
Will
Will and I played a video game for his play experience; however, it was unlike a
traditional video game. This game created an augmented reality around landmarks and
everyday items. This play experience required us to tour the University of Arizona
looking for specific sites, or portals, that were part of the augmented reality. The
purpose of the game was to secure or destroy existing power structures or bases within
the game. Having spent a majority of my time on campus for the last few years, I was
shocked at how little I knew and all of the new places I was seeing as we played the
game. I even got lost a few times because we were cutting through places and alleys
that I had never before seen. Fun Fact: there is a sycamore on campus called the moon
tree and it received that name because the seed for that tree went to the moon on Apollo
14 in 1976. Will told me as we were walking between locations that because socializing
with others is required for advancement in the game, there are groups that schedule
times to play. During the course of the game, we met other players, as this is meant to
be a social gaming experience and they shared their information with us in person and
over text. After concluding our formal game playing and our tour of the offbeat parts of
158
campus, we ventured to a food hub near campus. We continued to play intermediately as
we walked. This game allows the player to select the intensity with which they
participate. As we walked to lunch we paid little attention and looked for portals
causally. After spending several hours playing this game, I feed it challenges many of
the negative stereotypes (i.e., non-social, sedentary, and inside) associated with gaming.
Will had the following to say about why he chose this experience:
Well, mostly because it is interesting combination in terms of play and
playfulness… you're getting out, you're seeing people, which in and of
itself is kind of work sometimes but it is more interesting than sitting on a
couch playing video games. It's a completely different experience that's
not really captured in any other kind of play. The closest thing you had
was like geocaching or maybe LARP-ing [Live Action Role Play] but even
then it is a completely different kind of experience. 'Cause this is an
augmented experience you are still going the same museum the same
library. You are still going to the same places you go in the real world but
there is another reason it's a game of redefining reality kind of.
The world of augmented reality is something that I have heard him talk about for
years and this was the first opportunity I have had to participate in this type of gamming.
In all honestly, when I recruited Will I hoped that he would pick this game for his play
experience because it sound so different. While I am not a huge fan of sitting around
playing a video game, over the last few years I have become more interested in the
learning and social benefits that gaming can introduce, especially in the context of James
Gee's (2003; 2005) literacy work. The augmented reality game is not focused on
literacy but I reference to discuss the changing role and perceptions of gaming in the
world of academia. As I participate in this play experience, I was amazed by the
159
intricacies of the game and I kept thinking about Bronfenbrenner's (1979) ecological
systems as the game is jumps from the individual to larger community just by activating
a globally accessible app. As mentioned this game requires some social interactions and
as I spoke with Will and the other gamer it became very clear that "the structure of the
settings… altered and produce corresponding changes in behavior and development"
(Bronfenbrenner, p. 4) as we participated in the game. In a way, it forced us to
challenge ourselves and enter areas that we were not use to exploring. The idea of
exploring your surrounding with the intent of visiting the same places with a different
intent fascinated me and even after a few hours of playing I started observing and
organizing campus differently. If I gained anything from Will's play it was that while
biases exist about certain play types and styles, engaging with those activities can
provide a new experience and the chance to see the world a little differently.
Rex
Rex had many adventures planned and it took a better part of a weekend to
complete all of the activities she had on her list because of scheduled interruptions. We
started out by going to brunch. Part of brunch was spending time catching up on life and
discussing the state of education in Arizona. An interim was necessary as we both had
other things on our own to do but we reconvened in time get ready to attend a dinner for
teachers receiving their National Boards, a career achievement in her life. This included
primping due to the formality of the event and we joked the entire time that it was like
getting ready for prom. We then called the dinner "teacher prom" for the rest of the
160
evening. Going to the dinner was a big part of her predetermined play plan because this
was an example of the celebratory aspect of play. The program at this event included
mingling and cocktails, formal dining and speakers. We agreed that most of speakers
were boring but one was hilarious and spoke about the importance of why good teachers
need to exist. His admitted that good educators do not need to exist for his kids, they'll
be fine, but one day his daughter might want to get married and she needs to be with
someone who is not an idiot… The next morning included a bike ride around her
neighborhood. Followed by some crafting, where we figured out how to do some
Pinterest art project Rex wanted for over her mantel. I later found this Pinterest art is
actually called "string art." Our play was to serve as a trial run for a project she is doing
for on top of her mantle.
Rex explained the weekend of play in the following way:
I chose those activities because I wanted to involve you in things I consider fun
and involve you in how I play. And sometimes I play in many disconnected ways
and in multiple ways over the weekend. I wanted you to see how I did that.
This was exhausting to do all of these things in one weekend because of all of the events
and time phrase we had to adhere to. For me, what Rex illustrated most was play in
adulthood can be just as diverse as it is in childhood (Johnson, et al., 2005; Sutton-Smith,
1997). In her play, we pursued activities that required stamina (i.e., physical and mental)
and it changed depending on the objectives of the experience. For example, attending
"teacher prom" required me to wear heels for four hours while socializing about nonacademic stuff. It was tough. But on a more serious note, the art project required a lot of
161
mental consideration and a priori preparation as well as multiple reconsiderations during
the creation process. The two experiences required the application of improvisational
skills (Sawyer, 1997) and negotiations that arise from social play (Fromberg, 2002). The
use of improvisation and social negotiation that occurs during play are often discussed in
the literature on children's pretend play (Paley, 2004; Corsaro, 2003; Howes, Unger, &
Matheson, 1992), but Rex's play experiences brought those elements into adult play. I
think that this has to do with the objectives that were desired from the play and the
various levels of formality the activities required. As we made our string art project,
Rex's overarching goal was to figure out and improve the process of this craft. We
completed this activity on her back porch so it was extremely informal and little
navigation was required. During the initial interview, she had talked about the
importance of process in her play, especially when attempting a new skill. Since she
eventually wanted to make a larger version, she wanted to figure out the particulars on a
smaller, cheaper version. During the process of constructing the art project, we paused
multiple times to discuss alternative options, try out different techniques and improv
solutions that influenced the final product (Barone & Eisner, 2012). With "teacher
prom", which was the most formal situation I entered into during my data collection, the
atmosphere and purpose required multiple social negotiations that had to be navigated
because there were multiple times that I was interacting with other guests, school
administrators, and Rex's mentors in a role that I had never been in before. I also had to
keep my researcher views on education to myself, based on the conversations I was
162
involved in, the other attendees they would not have appreciated my perspective.
Behaviorism was running amok at this place, luckily, Rex and I had discussed that we
would not be able to express our liberal views on education and learning at this event.
Corsaro (2003) and Glesne (2011) warned about the role of a researcher as neutral
participant. Attending teacher prom made me implement this neutrality as I was
navigating the social practices of this group of teachers and the environment they were
promoting.
On a not-so-critical note about social negotiation of play at teacher prom, this
experience was prefect for introducing play in celebrations. The role of celebrations as
play is limited in the literature; yet, it is very important when discussing early adulthood.
This is a stage of life where many major life decisions (Miller, 2002) are made and these
choices are often accompanied by family or communal recognition. Rogoff (2003)
references how major events in life introduce the need to celebrate but they can also
reinforce the cultural traditions and activities that surround special occasions. This was
something that came up during the final interview and in subsequent discussions with
Rex. She shared that all of her major life experiences as an adult had some level of
celebration accompanying them. Some examples she listed off were: college
graduations, work promotions, buying a house, and especially her wedding. Life
milestones and achievements have traditionally been acknowledged through celebrations.
Rex talked about how her celebrations marked the end of the "delayed gratification and
work" required for completion. The play/celebrate provided her with an opportunity to
163
"share the accomplishment with friends and family". As Rex was the only one who
focused on this, I do not have enough information to report on it in more depth at this
time. Future research: The role of play in major life events has the potential to be an
entire area of study in the field of adult play because, I believe, each experience has
specific and individual rituals that then merge with cultural practices and expectations.
To summarize what was learned from Rex's play was that adulthood invites many
of the same innovative and social opportunities that childhood play requires. Playing
sometimes requires a process and a willingness to take risks. Play is used to document
life achievements as well as everyday activities.
Ryan Finely
Ryan Finely works in tech but also writes techno music. Together we developed
a song that incorporated themes of my research and his understanding of play. Due to
scheduling issues we had to conduct the play experience via the internet. This worked for
this activity because my involvement was peripheral, at best, as I did not have the
training to use the equipment. This play experience had several other unique features in
that Ryan only had an opening between 6:00-10:00 a.m. on a Saturday morning and since
I was telecommuting into this activity, I conducted all of the research from my bed. We
started off talking about some of the themes that had emerged from my research. With
that, we started brainstorming ideas on how we could merge our ideas and develop a
song. Pulling from the first interview, we decided the first noise we should use was a
quacking duck. Ryan had joking said that he would use a quacking duck in his music if
164
he wanted and no one could tell him no. That is why it was pivotal that we use that
sound. From there, many variations and rhythms emerged, building on the idea of play
and the feelings and emotions that go with it. Ryan was the one who focused intently on
the emotional side of play. The process was instrumental to this play experience as it was
an orchestration of ideas, sounds, and experiences that resulted in the composition of a
final product. Though Ryan said it still needed something more.
Ryan Finely described his decision to create a piece of music for his play
experience:
I find it very stress relieving and I really enjoy the process. So we just spent
hours working on a let's see- I believe the total time on this things is 3 minutes
and I guess it's one of those things that I love the process of how it comes
together. To me I enjoy the process. I find it interesting, stress reliving, and yet
again, an opportunity to let out my creative side with where my mind takes me.
For me, this was a very unique experience. I had never been involved with music
making, and while I knew Ryan was a song writer I was more familiar with his high
school grunge/punk music, which meant that I had a lot of new information thrown at me
before we even started. The first surprise was that he wrote techno/electronic music. The
next astonishing bit of information was he no longer used actual instruments. The final
major revelation was the variety of sounds he could create with his music equipment.
Starting the experience with all of this new information demonstrated just one way play
can evolve across the lifespan. While Ryan's genre and sound is different, his love of the
process is the same. In the first interview, he explained that making music was a journey
for him and a way to explore his life experiences. This was the play experience in which
165
I felt most like a tagalong because I did pretty much nothing but watch and add a few
suggestions. However, I had anticipated that this was what my role was going to be in
this experience since I did not have the technical abilities or composition knowledge to be
actively involved. This was another reason why conducting the play experience over the
internet worked.
To relate this play experience to research, the role of process in play will be
discussed. While the spontaneity of playing is often discussed (Chudacoff, 2007; Brown
& Vaughan, 2009) sometimes play requires preparation. The development of an
experience can be just as playful as the final product. Paley (1978) talked about the effort
her students went through to prepare for their play experiences and found that sometimes
the process for preparing for the planned play took longer than the implementation.
Dyson (1994) had similar findings and concerned that planning is frequently more
important to the process than the outcome. In Paley's and Dyson's work the process of
developing characters was where the play, creativity, and exploration combined forces to
create that intellectual playspace for the children. Not unlike the playspace created by
Ryan when starts to compose.
Mary
Mary is an avid tennis player, which is why she selected to have four play
experiences that demonstrated her play in three distinct ways (i.e., lessons, hitting, and
tournament). On two different occasions I accompanied Mary to her tennis lessons.
During the lesson I would sit and document her progress and take notes about the
166
instruction she received from her coach, Greg Cooke. In both lessons, the area most
focused on was Mary's struggle with follow-through after hitting the ball. As these were
private lessons, Greg offers a lot of direct instruction and modeling for how to rectify this
problem and the ways he expects Mary to change her swings and movements. To do so,
he referenced a certain professional player's style, which then became a joke between
them and would be referenced to ease the tension when mistakes were made or followthrough was incorrect. At one point Greg turned to Mary and mimicked the way she
swung while stating, "you are the only one who does this" and her response was "I'm
special!" Despite the chastening there was a lot of joking between the two of them,
which then provided an atmosphere that allowed for failure as learning occurred. During
both lessons, the focus was on the process of playing and the relationship with practice in
preparing for a final product. The second experience involved Mary and I playing tennis.
At least that was the intent but I was really bad. We met at the tennis courts and
practiced hitting or rallying the ball back and forth. We had a few serves that became
actual rallies, more often than naught, the play experience was spent chasing down, my,
rogue balls that escaped the court. This was all documented with the GoPro so there was
a lot of walking around and not so much tennis. The final play experience was Mary
playing in a tournament and me observing that aspect of tennis culture. Including this
part was critical because the other two activities were focused on the process and
improving; however, in a tournament setting, there is an end result and that has an effect
on ranking and future opportunities for the participants. In this tournament, Mary was
167
playing with Joe C. and it was their first time playing together. The tournament itself was
set up into three match brackets with the winner being determined based on the final
game. The first game was against an older couple, who Mary and Joe C. crushed. The
second game was against a very competitive couple. It was also a victory for Mary. The
final match was against one of Mary's hitting friends and her tennis partner. In the end,
Mary and Joe won this tournament, which we joke they did just for my dissertation. She
also, won another tournament during the time I was collecting data but I was unable to
attend that event.
Mary explained that these were important aspects to understanding why she
selected tennis as her play "because it is what I play… when you are talking about tennis
you actually say, 'hey, do you want to play tennis?' … so you do say play all the time."
Through the activities she selected to showcase, her play demonstrated the "gamut of
what I do for tennis."
From my perspective, this was an interesting play to observe and participate in
because so much of what occurred in these play experiences was rooted in education.
From a Vygotskian approach, her lessons utilized the Zone of Proximal Development
(Vygotsky, 1978), where her coach would never change the task, but would provide her
with the schematic reference to advance her abilities. Using that same framework, when
we hit together she became the instructor and had to provide me, as a novice, with the
basics so I could engage with the activity. The process of learning requires that time is
spent on development and refining abilities before a demonstration of ability. In play,
168
failure is expected because obtaining a desired outcome can only occur through exploring
possibilities (Paley, 2004). Similarly, Montessori (1976) suggested that it is through
exploration of materials, that result in the reconstruction of knowledge, that learning
happens and abilities advance. With so much time invested in the process and
development of skills, Mary was able to recognize the changes in her abilities and how
she was then able to apply them in the different play settings. Sometimes processing
happened immediately. For example, during the first lesson, she said, "pretend I didn't
do that because I was supposed to do this" as she corrected her swing and executed it
the way she was being trained to. This illustrated, the principles of Kolb (1984), who
advocates for the importance of experience and active reflection in the learning process
because it is through these actions that meaning and application occurs. Mary's play,
demonstrates the role of intrinsic motivation because during lessons there were times
where Mary would become frustrated, but because she had a bigger picture in-mind and a
clear understanding what she wanted from her abilities, she persevered. While Mary
made improvements through practice, it was not until she was playing in a tournament
that the different aspects of her preparation were demonstrated. In many ways, Mary's
play experience demonstrated the relationship between play, motivation, and learning and
the ways in which adults incorporate this trifecta into their lives without realizing the
association.
169
Andy Scott
Andy Scott wanted to demonstrate how he makes work play and invited me into
his classroom. As I did not have ethics approval to do research when children were
present, I explained my study to the principal of his school and set-up special guidelines
for how I would conduct research. The rules were: I could be there when children were
present but I could not document anything when the children were in the room. The
reason my research was allowed without an IRB was because I was not researching
children and Andy had given his consent and wanted his classroom to be the place he
demonstrated play. Since I did not take any field notes of this experience the information
provided is from Andy and it is retrospective of his incorporation of play in his
classroom. He explains:
Of the two activities, I did today, they both dealt in the curriculum that I am
teaching. [In robotics, we were] programing computers, that directly translates
to programing robots. Programing computers relates to doing an action so
having the kids experiment with how to objects move on the screen is simpler
than having them program robots to do the motion in the real world. So it is a
virtual representation of how to make something work. [In engineering,] my
game that I played today was to reinforce that vocabulary is necessary for
them to understand the big picture of aviation and master[ing] of those words
is something that you have to keep coming back to so that when you refer to
them it is part of their innate understanding.
He explained that is was a good way to demonstrate play in his classroom
because:
I like the challenge, I like competitiveness. I feel like at the middle school
age, everything is a little bit of challenge against one another but due to the
nature of how I structure the game it's not just about being aggressive, you
have to write down your answer, you have to be in a collaborative group and
170
[be] sharing ideas, so it prevents one person from dominating. So even more
passive people feel like they can participate and so that's the way I like to play
games. Where everyone can participate and everyone can feel like they are
having a good time and no one can be exclusionary.
By having play in his classroom/playground, Andy said:
At least I enjoy my job and if I can enjoy my job I can be a happier person at
home. I see teachers who are burned out. I don't know why they stick to this
there are definitely easier ways to make money out there and when I look at
these teachers they are some of the smartest people I know… but for me doing
this, the way I do… I have fun. I enjoy coming in. Even on days that are really
rough and I don't feel like coming in, at least I know I can relax and I don't
have to feel so pressured about it.
For me, Andy's choice of experience really showcased the relationship between
learning and playing in his classroom. The first time I walked into his classroom, I
noticed an energetic-chaos about it that inspired exploration. From my perspective, his
classroom was designed as a playground that provided students with materials (i.e.,
computers, Legos, and application-based assignments) that were reliant on the
curriculum but also on the learning space. Kolb (1984) discusses the ways experiences
shape our schematic references and how our knowledge can then be applied and adapted
to the situation we enter and interact with. As the creator of this intellectual playspace,
the role that environmental interaction had on the learning process was abundantly clear
because of the displays of completed assignments and works in progress that lined the
perimeter of the room. Bransford, et al. (2006) discussed the ways that learners
classrooms environment can propel learning. Early advocates for play as a learning tool
provided similar stimulating environments to their students as well as materials that
promoted the advancement of ideas and challenge learners to explore their surroundings
171
in order to make meaning (Montessori, 1976; Vygotsky, 1967; 1978). The construction
of a learning environment that supports aspects of play is similar to the research done on
workplaces that supports play (Meyer, 2010). The end result for both situations is the
advancement of ideas and an increase of overall wellbeing.
Super Ninja
Super Ninja had several ways he wanted to demonstrate his play. He described
himself as a "comprehensive" player so no one activity would suffice. In the end we
completed three different activities. The first was playing video games. This occurred
the same night as the first interview. I explained the short turnaround time I had for my
dissertation, Super Ninja, suggested we start playing right away. He selected a game that
he thought a noobie would enjoy and would be able to learn quickly. Also, it was one of
his favorite games. The game we played was about overcoming demons. We played this
game for about an hour. While he did not advance, because he was playing at the
introductory level for me, I went from level 0-23. Super Ninja was an excellent teacher
and help me learn how to navigate the game as well as the controller. He also discussed
the ins and outs of the game and how it could be played socially as well as individually.
The second play activity we engaged in was working on his house. During the interview
he described his renovation of the house as the playground. The task that he set aside for
play experience was breaking apart concrete. This was important step that was required
before he could change the plumbing for the new bathroom and kitchen he was planning
on installing. To complete this task we had to use a jackhammer. Not only did I need to
172
learn how to use a jackhammer to engage in this play activity but there was a physics
lesson involved because when pressure is placed on the concrete in a certain way it falls
apart so it was necessary to understand the most effective/safest ways to go about
jackhammering. We documented this using a GoPro that we attached to an open beam.
This was done so that we could see the demolition process. The final activity that Super
Ninja selected was volunteering. As he is actively involved with Boy Scouts where he
lives he selected an activity that captured some aspect of how he volunteers for that
organization. As I could not be present around children, he decided that we would
complete some behind the scenes work, which was necessary for the Pack Meeting that
would occur later that week. As it was a video game themed pack meeting that focused
on the idea of building, he needed some materials (i.e., brinks, swords, and picks) for the
Boy Scouts so that they could demonstrate self-reliance, the scouting objective they had
been working on that month, in connection with the video game. This meant that we cut
out 20 picks and swords while we discussed the fun of volunteering and the role of
process that exists in play.
Super Ninja's provided the following reasons for why he selected the different
play experiences he did:
It is a comprehensive way to see all the play… working with the Cub
Scouts is gratifying, that's the reason I like it. Even though sometimes it is
a little bit frustrating because they [the Cub Scouts] are not always
motivated… but it is still fun. Working on the house is really nice, when I
want to… hit stuff I guess and get some physical activity. So right now at
my job I sit down most of the day so it's nice not to sit down for a little
173
while. Video games are kind of the opposite of that, if I have been very
active then I just want to sit down and do nothing.
Super Ninja did in fact provide a comprehensive look at his play. As I reflected
on the different activities he selected, it reminded of watching children wander around a
classroom trying out different toys and centers. From our initial interview, Super Ninja
stated his intent to document his diverse interests. The video game and construction
work were foreign activities to me, so it provided Super Ninja the opportunity to explain
why he considered these activities play and teach me how to be an active participant. In
both situations, the role of practice to mastery was demonstrated as he provided
instruction and application for the task as well as adding support at different levels as my
"conception of ability" shifted (Bandura, 1993). Obviously, with using a jack hammer
and breaking up concrete the connection is clear, when I was successful the concrete
broke and my efficacy increased. However, when we were playing video games, his
insider knowledge became increasingly important when we were attempting to secure
certain items that to me were meaningless until he explained their value and my points.
This information then became more relevant as we advanced in the game and objects
took on meaning. As play can be such a personal experience there were many times that
I entered participant's chosen activities with limited background knowledge; however,
through guided participation (Rogoff, 2003) I developed enough of a skill set to be
successful on my own and replicate the activities without assistance.
174
Scifi
Scifi as mentioned was a part of the backpacking trip but she also wanted to take a
pole fitness class. So for science, we went and participated in this unique workout at
Tucson Pole Fitness, were we took their beginner level classes. As both of us our
graduate students, we are not known for our intense workouts or strength. This made the
experience far more comical. Needless to say that form and our application of the
techniques failed to correlate. I personally struggled with maneuvering around the pole
as in walk around the pole the "right way". There were many times that a comment like
"I am an intelligent person, I have _______ (current education level obtained) degree,
how is it possible I can't manage to do this!" were made. But at other times the
completion of the task was met with cheers or giggles. Also, we were invited to select
the music and we picked Beyoncé.
Scifi talked about how her participation in pole fitness as a way for her to expand
her mental, social, and physical abilities:
I did something new and I brought several people with me just [to] have an
experience. I was able to hold whole body up by my thighs which I never
knew I could do. So I learned something new about my body. I was very
proud of that.
Since I had no context for participating in this type of fitness program, I went in
with a lot of preconceived notions and presumptions about engaging in this activity.
However, all of these were unfounded because this activity illustrated that learning can
occur in unexpected places. From participating in this activity, there was a physical and
mental learning that occurred as ability and expression were merged. Oreck & Nicoll
175
(2010) discussed how dance is a "communal activity and demonstrates an extraordinary
depth of mostly non-verbal social discourse" (p. 11). In this situation, instruction and
learning occurred through verbal and non-verbal mentoring and feedback. Similar to my
trapezing, this activity did have the potential for physical harm so information needed to
be exchanged in multiple mediums (i.e., verbal, visual, and narrative). This again was a
demonstration of a sociocultural information transfer when learning a new skill or
exploring a different surrounding.
Maija
Maija is not a play planner as she told me several times before, during, and after
the play experience. She informed me that all she ever wants to do is participate in
playful experiences that happen organically. But for the sake of my dissertation, she
came up with a day full of activities that involved exploring the southwest. To keep it
playful, I was only informed about the upcoming segment only after we got in the car to
proceed to the next stage. Her husband, Chili For, was also present as he is her most
trusted play partner. The overall experience included: a restaurant that served
southwestern inspired dishes, a trip to San Xavier's Mission, and an adventure at Saguaro
National Park (U.S. National Park Service, 2015). Each event demonstrated a different
type of play that Maija enjoyed (i.e., eating, art, and nature). When we were at Saguaro
National Park, the original purpose was to see petroglyphs but we got distracted in the
gift shop, Maija found children's ranger hats. This led us to purchase the hats and
completing the Not-So-Junior Ranger certification packet. This was something of a
176
surprise to the park rangers as this activity is normally geared for youths, not 25+ year
old adults. However, for science, Maija and I rose to the challenge and completely the
course in about 45 minutes, which included a mile long hike. Chili For did not choose to
become a Not-So-Junior Ranger but assisted with documentation of our adventure and
making fun of us. This provided us with an organic play experience the emerged around
the idea of accessorizing with the ranger hats and badges. Not only did we participate but
the park rangers joined in the play experience to help use complete the fact finding part of
the certification. This was because their questions did not match the current exhibits.
With our backgrounds in education we showered them with lots of suggestions on how to
rectify this problem. They let us know we were more than welcome to volunteer to
change the guidebooks too! We declined. After the Not-So-Junior Ranger activity was
over we went on another hike and to see the petroglyphs and wildflowers.
Picking a play experience was difficult for Maija because she does not plan play
but she provided this insight to her choice:
I was torn between things. I wanted something that was playful in its
construction and I wanted it to be something creative but I didn't
necessarily want to just think of the actual art making experience that
as playful. I'm really into playspace learning, experiencing our
community where we live, and I really do like nature though I don't
feel like I get out in it enough. So I thought one way to engage with
nature was to think about the cultural significance of places. We went
from the San Xavier, which is a mission not far from here, and saw the
different baroque/rococo style sculptures and architecture. They call it
the White Dove of the desert. Before that we ate because food is
really important. Then after that I wanted to go check out some
petroglyphs but we got a little distracted out there. For the "not-so
junior ranger" scavenger hunts, which was fun [and] we got fun hats!
177
This was one of my favorite activities because while Maija had an overarching
theme and goal for the play experience but it was open to interpretation and spontaneity.
Burghardt (2011) suggests that spontaneity is a criterion for play because it demonstrates
an intrinsic desire to engage and therefore the act is both the stimulation and
reinforcement. This experience was play in its rawest form where participation was
determined on nothing other than willingness to engage. As it was our objective to play,
the only limitation might have been our own self-restraint in this situation; luckily we did
not have any. This resulted in Maiji's desire to have an organic play experience and in
our obtaining Not-So-Junior Ranger status with the National Parks. Everyone involved,
including the actual park rangers, recognized the ridiculousness of the situation but also
joined in in some way. This play experience really illustrated the comradery that play
can create. The park rangers joining in also contradicted the belief that children better at
initiating play with strangers then adults (Johnson, et at., 2005); however, Maija and I
demonstrated that when you see others playing there is a desire to around those people
and participate (Panksepp et al., 1985). From my perspective, this was why all of the
park rangers were ignoring the other patrons and joining in the play because it was very
apparent that we were playing and they wanted to be a part of it. Future research: As
play is not always as overt in adulthood, as it is in childhood, how are play-based
relationship developed? How do these relationships emerge in different settings?
Another aspect of Maija's play experience was that it provided an example of how play
can be fluid. The experience as originally planned would have been sufficient for my
178
needs but through the interactions and idea shifting that occurred during the course of the
day, it took on new meaning and purpose.
Marina Lopez
Marina Lopez wanted to do something she could check off her bucket list so we
went belly dancing. She did all of the research for us to participate in this experience, we
went to a belly dance studio in the American southwest on a number of occasions.
Together we took several classes that incorporated multiple aspects and techniques
required for this style of dancing. Each class followed the same format: warm up to
Michel Jackson, breakdown of techniques and skills, and finally putting everything
together in a short routine.
Marina explained:
It was something that I had been meaning to try and I
like to try new things for play.
Marina had mentioned during the interview that finding new ways to engage or
challenge her body was something she considered an important aspect of playing. Since
she had never belly danced this fulfilled both her desire to engage in physical play and to
try something new. Physical play is referenced by Carlson (2011) and Hannaford (2005),
as being an essential part of playing and learning. Learning new physical movements
requires the working knowledge of what your body can do and the ability to construct a
framework that unites experience with current expectations. This was a new experience
and as we debriefed about it afterwards, we talked about the process of cognitively
comprehending the tasks and sometimes the difficulty in getting out bodies to recognize
179
the challenge. For example, a move we were trying to learn dealt with sucking the
stomach in as far as it would go, exhaling all of the air, taking a short breath, and then
moving the diaphragm. This move was called flutters but when we did it nothing
happened. This illustrated the importance of thinking of play as a process and one where
repetition is necessary if improvement is going to occur. This class also provided
multiple examples of ZPD in the dance process because everyone is always a learner and
is always seeking a mentor (Oreck & Nicoll, 2010). The culture of the class was that
everyone worked together to contribute. Students with more experience would model or
provide anecdotal examples of how they struggled with similar moves when they first
started or seek assistance if they still did not have a concept correct.
Leroy Pumpernickel
Leroy Pumpernickel suggested a game night and family dinner also became part
of his play. Leroy had several other commitments and was a late addition to my
dissertation, so he had the shortest amount of documented play time. What he selected
were things that were important to him and demonstrated the importance of family in his
life and play. Games nights are usually a multi-extended family event. Key players are
Leroy's and Archie's siblings, their wives, their parents, Archie's children, their nieces
and nephews as well as friends/adopted family members. Game nights can have up to 30
people playing or as few as three. Leroy and Archie, the brothers, both selected game
night as their play. Unfortunate, due to schedule differences the game nights had to occur
180
on separate occasions, but they both took place at Sophie and Sir Geoffrey's house. I will
analysis both of their play experiences together because the experiences were so similar.
As Leroy's considers social interaction key to playing had to involve other
people, in this case of game night it involved his nephews and niece who were an integral
part of his play experience. There were children present so I cannot provide a lot of
examples about the play, apart from we played a game called Ligretto that Leroy brought
back from Europe several years ago. It is one his family's favorite games to play during
their game night. Ligretto is a fast paced game where you try to get rid of your cards
faster than anyone else. This leads to having your hand slapped and potential profanity.
Leroy informed me, during the game, that swearing was fine as is name calling because
you are around family and it is all in the name of fun. This was followed by him
exploding with expletives when someone put down a card faster than him and followed it
with a snarky response. The second part of his play was completed after the final
interview, again because of time restraints, but incorporated the social aspects of play and
family. Family dinner happens every Sunday and since most of extended family lives in
very close proximity, this is a weekly tradition and it is an opportunity for
multigenerational interactions to occur through talking, joking, and eating.
Leroy selected game night because:
Something that I come over on a weekly basis [and do]… we always
have a good time. It's easy to pass time with my family playing games.
181
Archie
Archie's game night, actually took place during the day and included having
social time with the family. His play experience had more of the family present, with
more adults participating in Archie's game night. The morning started with Archie, Nina,
and their kids picking me up for a donut run before returning to Sir Geoffrey's and
Sophie's home for games. Sir Geoffrey and Sophie had just returned from a trip, which
meant the morning was a mess of stories and pictures about different adventures people
had been on over the years as they compared and contrasted their adventures. This really
reinforced Archie's love of storytelling as many times he drew the focus of the room to
be on him and his adventures. That might sound harsh, but it was a factual observation
that everyone one acknowledges. I member checked with his family and Archie even
said so himself. He is a gifted storyteller so it is always entertaining, especially if you
were present for the original experience because then you can identify the incongruities
or elaborations he includes. After the storytelling round-robin ended, we proceeded to
play dominos, which is a classic family game because skill does not impair you from
playing so younger family members can be involved. A full game of dominos can take
hours and there were a lot of activities going on so we only made it from round 12 to
round 6. As mentioned Archie likes to tease people and he will perseverate on mocking
someone if he feels you have earned his mock-attention. During game night I was the
person who was mocked because I mixed up the number 12 and 11 and tried to go first
with the wrong domino. From that time on all 12's were referred to as "Emily's elevens."
182
The goal of any game night is to laugh as hard as possible and enjoy the company of
those you are with, even if it means being mocked. After dominos socializing continued,
with periodic app games, storytelling, and an emergency food run.
Archie explained:
I chose game night because we had time for it and I enjoy it and it is with
family and friends so we can all have a good time with it. It is one of my
favorite things to do. [It started back when] I was in high school and they
have evolved over the years from just kind of doing jig-saw puzzles with
my parents to bringing people in from the outside [that's when] game
nights got a lot more fun.
For Leroy and Archie, game nights provided an opportunity to be social and
engage with family and friends in an environment that provides intellectual simulation
and competition. More than any other play experience, game night created a situation
where multigenerational play could occur. Usually there are three generations,
participating in game night. From the shared play, Leroy and Archie have cited that their
family's relationships have grown stronger, even though sometime someone leaves in
tears. While play research on adults has been built around the shared interactions of
parents and children (Stamm & Spencer, 2007), it is important that this research continue
on the non-nuclear exchanges that occur within family/cultural interactions (Rogoff,
2003). To me, I see game night as an excuse to interact. Leroy mentioned this kind of
activity happens just about every week so relationships are constantly being nourished
through this play-based interaction. This again reinforces the sociolearning and
interactions that have been spoken about in other play experiences.
183
Pancho McCloud (and Rose)
Pancho McCloud and Rose shared their play experience because they are a couple
and they wanted to show how partners interact as well as the real life advantages that
come from playing with a significant other. So we went house hunting. I met them at
their house at about 12:00 pm as most of the open houses were from 1 to 4. They
selected 5 homes they wanted to look at varied from below to above the budget they
wanted to spend because sometimes you "just have to go class jumping." In the end,
we went to all five houses; however, two of the houses did not have a relator at their open
house so we looked around or drove past. The first house we went to was in the west
Tucson hills. This house was about $650,000 and was palatial. What was interesting was
to see how Pancho and Rose interacted and the ways, in which their expectations and
wants for a home merged or differed. For example, at this house the outside area was
troublesome to both of them because for Pancho it was not designed well for pets and for
Rose it was not going to do well for hosting parties. One thing they both liked was the
surround sound that was in the family room "because that way they could feel the
volume" when watching movies or playing video games. The second house we looked at
was what became known as the "wicker house" because it had an entire room full of
wicker furniture. This house was in dire need of some a renovation as the previous
owners were less than attentive. What I observed here was a conversation where Pancho
and Rose redesigned the entire house to meet their tastes and their expectations of where
they wanted to raise their family. They quickly brainstormed together everything from
184
tiles to wall removals but Rose made it very clear "the wicker stays!" Actually that
was very much so a joke. It was here that I observed that they take time to care for things
in vacant houses that are being neglected by the real estate agents. For example, Rose
realized that the fountain in the backyard was running but there was not enough water in
it and the engine was in danger of burning out. She stopped and filled it up to "prevent
an unnecessary expense" for the homeowners who were obviously no longer living in
this house. As the next location was on the opposite side of town, we drove through
neighborhoods and they talked about the Tucson real estate statistics and homes in that
area. The next two houses Pancho and Rose wanted to view had open houses but were no
shows for the real estate agents. We then had a quick break at an international market,
followed by another house. This house was in far east Tucson. When we got to the
neighborhood we got a little lost and ended up at a totally different house that was having
an open house and since it looked nice we went on a tour. Turns out that this house was
on the market for $1.5 million dollars and I think this was because it had a library in the
master suite. It was a very nice home and was eloquently decorated inside and out. Rose
said it fit all of her hosting requirements because it had an outdoor kitchen/entertaining
area as well as a lavish dining room and open-concept kitchen/living area on the inside.
We all agreed though that overall that house was a little ridiculous but it was fun to see.
Driving back to their house full of was laughter, joking, and judging about the things we
saw.
Pancho's rationale for selecting house hunting for his play experience:
185
I enjoy it, which is the first thing. Also, because we are looking to buy a house
so it ties in with the rest of my life very well. So while enjoyable, it also has
another purpose or function because we are looking for a home. I think a lot
of things can be fun and play if you have the right mind set…to some people
purchasing a home can be a chore and we try to make it enjoyable. Think
about it along the lines of if this were our house, even if we had no interest in
buying that house, what would we do differently? It's like playing house, in a
sense, but the adult version.
Roses' explanation for choosing house-hunting:
The house hunting experience, it's weird because it's not necessarily
something that most people would call play but you get to go be a voyeur
and go and look at other people's lives. You get to experience class
passing which I always think is fun. We got to go through a million
and a half dollar home which is my version of eroticism. And we also
got to go through homes that were more reasonable and that we can
actually afford. But there is that moment between $300,000 and a
million and half that has a lot of dreams and a lot of ideas and a lot of
ways to making space custom and personalized. That's fun exploring
what my partner and I both conceptualize our home could look like,
what we want it to look like, and what we want our home to feel like for
people who come as a guest or for our children. Creating an alternate
reality that we could actually pursue; it's like getting to play house and
now we actually get to play house?
Pancho and Rose have been house hunting for a while so having me join in was
not a big deal. It actually gave them a chance to share their knowledge about the real
estate market and the relationships they were building as they interacted with realtors and
home owners. While their understanding of the housing market was growing, they were
also learning how to communicate with each other about topics that rarely receive
attention during courtship; for example, bathtubs versus showers. They both agreed that
186
as they toured homes, they were once again engaging in socio-dramatic play (Johnson, et
al., 2005; Howes, 1992). However, their version of house was more extreme because
they are actually constructing their future. The house they are hunting for will one day be
the location where they host parties, have pets, raise children, welcome visitors, cook
dinner, and growing old. What they are making will not end when a bell rings and
playtime is over, but will continue for years, which is why it is important to figure out the
right set up for the rest of their lives. This play experience provided such a unique look
at how adults play because they took a mundane task and turned it into something
enjoyable as they were constructing their future within a variety of layouts/playspaces.
Brunhilda
The biggest way Brunhilda plays is through volunteering, primarily with youth.
As her play involved children, and a high risk population, I took no notes or photos and
all information about this experience comes from Brunhilda.
We volunteered at the family homeless shelter; I don't believe it is a protected
location where it can't be known by the public. But it is downtown, tough to
find, not well-labeled, so we met at my house then went together… Typically if
you are on time, which we were not because of traffic, they give an intro about
why the shelter exists, who runs it, and how it is structured differently from
other homeless shelters, and sometimes you actually get a tour from one of the
people who is there. This particular group is run by an organization [name
removed]. They have this opportunity posted on their website 3 times a week
MWF, and there is someone from that group that kind of runs the evening who
is familiar with the location and all of the toys and supplies that are available for
volunteers to use because there are always a couple of people who are band new
so they orient the new people, show them what to do, and provide a little
oversight. Had we been on time, we might have had a little bit of that. The time
that we arrive is after dinner and before bedtime. The kids are generally done
with homework, what homework they may have, and this time is just simply
playtime for them. For the adults, it is an opportunity for them to complete
187
whatever chores they might have been assigned or to meet with other staff
people or other agencies who might send people in the evening and when the
parents are not out job searching or going out on appointments. It is a time for
the adults to do the things they need to do and the children to get some one-onone attention from other adults. They [the children] come in at random times,
but generally the whole cadre for kids is available at about 6:30 and the adults
[volunteers] spread out in the playspace. There is a specific area for the smaller
children with a rug and toys that are appropriate for younger ages. But the
older kids wander from activity to activity. They know that the adults are there
to play with them and that they are under no obligation to stick with one for the
entire duration of the evening. There are always more kids than there are
adults.
Over the course of the evening:
We did origami the most. Again, I had been there before and I knew that it was
popular. One of the advantages, the origami has, is that it is 3 dimensional,
relatively simple, definitely easy to clean up, and it is easy to bring to an end. It
is short-term, just a few minutes to create something and if you are not
interested in doing the next thing then you can just float out and do something
else. So for the kids they will see maybe a frog or a box that they really want to
make "Hey, that's cool! I want to make that" and so we make another one and
then somebody else comes up "Hey, I want to make that" and then the first kid
takes off and leaves. It can handle a large number of kids, I can handle maybe 6
at a time. Oh, from an educational standpoint, the project started with a large
language bent. They wanted activities where the kids would help with their
language skills, like reading or word bingo or whatever it was, because they
wanted to give them a literacy help. And so to the extent that I can provide a
little bit of education, like following directions, I can.
Brunhilda explained her reason for picking this activity:
I thought that it was a representative activity because it incorporated
volunteering. It incorporated a society of peers, there is a group of people who
do this together. It incorporated meeting new people, which is another thing
that I find enjoyable that is part of the play experience for me. Playing with
children, I think, always lends itself to light-heartedness, and it's easy to quickly
engage with that play frame of mind when you are with a child who can get
into that frame of mind instantly.
188
Brunhilda provided an experience that was reflective of her life goals. In the
interview, she explained that when she moved to Phoenix she made the goal to become
more like a mentor, she had as a youth, who actively sought ways to volunteer. Over the
years, she said she has tried out many different types of volunteering and found that she
has a talent for working with youth. This has allowed her to be a mentor others and has
recently become a foster mother. Volunteering and finding ways to connect with others,
especially those who need her skills, is her play. Beyond the research I sighted early,
when I was discussing my play, there is little information about play as volunteering.
What Brunhilda illustrates is the way volunteering connects the participant to different
systems (Bronfenbrenner, 1979) outside of the sphere where they normally reside. This
allows for diversity in relationships and the opportunity to explore the world through
another's perspective. Through participating in another's culture, learning occurs and the
lessons learned shape or alter our worldviews.
Themes of Participant's Play Experiences
This section provided concrete examples of how early adults play as depicted by
people in this stage of life. The examples were selected by the participants, who also
provided the rationale for selecting the activities they did. The following are the themes
that were generated from the participants' responses and my reflections that emerged
during the play experiences.
Play invites social experiences. This was one of the first themes that emerged as I
reviewed the experiences. The social nature of play invites a way for humans to connect
189
and develop relationships but is also give adults the opportunity to learn about themselves
within these socially driven arenas. This connection is given liberally, when discussing
children (Vygotsky, 1978; Howes, 2011; Paley, 2004). However, the exact same
framework should have been used to discuss play in adulthood. The activities that were
selected were social, in that there were at least two of us engaging in every experience,
but they usually incorporated more people, even if only peripherally (i.e., being in class
or sharing spaces with others). We learn through participation (Rogoff, 2003; Bandura,
2001) so I found myself wondering why the perspective had not been implemented to
study play in adulthood. I do not have an answer but was impressed with the easy that
adults found themselves talking about play as a social experience through which they
learn.
Playing equals learning. Each experience provided an educational oulet.
Whether it was intentionally educational, (i.e., becoming a not-so-junior ranger, sitting in
a classroom, or learning the rules of tennis) or unintentional (i.e., exploring a new area of
town or making intellectual connections when a joke was told), playing, creates a
medium for learning to occur in an authentic manner and through experience (Kolb,
1984). Play is rarely perfect and a huge part of play is being able to make mistakes and
try again. Participants and myself discussed the process of playing, more than we did the
final output. It was during the process that jokes were made and adaptations invented.
Advocates for early childhood education, argue with zeal that play must be in educational
settings (Singer, et al., 2006; Paley, 2004) but that need is rarely acknowledge with the
190
same fervor once an individual reaches beyond the age of eight (Copple & Bredekamp,
2009). Not one participant demonstrated an act of play that did not require or exhibit
learning. The learning that resulted from these experiences included: cognitive, social,
and physical growth and this advancement of knowledge was either the driving force
behind their play or an anticipated result. This raises the question of, if adults benefit and
learn so much from play, what are children missing out on when it is cut from their
education? Beyond childhood, adults need to question, why they are trained not to see
play as an educational resource?
Play happens everywhere and in any location. Since play is based around the
individuals' interests and motivations, the location of a play experience is always under
the jurisdiction of the participant. From the documented play experiences, participants
were able to demonstrate how play can happen just as easily at work as they can on
excursions. When boundaries do exist (i.e., physically, socially, or mentally) many
participants saw these as mere guidelines that they needed to breakdown. Ryan Finely
and Rose were two of the greatest advocates for the removal of boundaries from their
playspace and they explained in detail how they go about challenging limits that arise as
they play. The need to tear down barriers is an example of the risky side of play, from
which deviant thinking and problem solving emerge (Russ, 1993). The participants',
who engaged in activities with some form of boundaries, discussed the play of the
challenge because it provided them with an intellectually stimulating play to pursue.
191
Summary and Conclusion
Play in adulthood, just like in childhood, has a great deal of variability and is
based on personal preference. Adults do what they want because it fulfills an objective or
desire and because it is so personalized some activities do not translate as play to others.
The individualized play experiences, selected by the participants, showcased a number of
activities that provided concrete examples for how early adults play. The experiences
documented in this section demonstrate some of the activities that early adults engaged in
during this stage of life. From these experiences, the participants demonstrated multiple
ways early adults play as well as the social, cognitive, and physical ramification produce
development and learning in social and individual contexts.
192
Section 4: Uniqueness of Adult Play
This section explores the issues and events that supports or hinders early adults
from playing. Early adulthood has a lot of transitions (i.e., relationships, jobs, and
school); all of these factors yield multiple ways play can be affected, for good and bad.
For example, moving to a new city could impact a person's social play until they make
new friends; however, it could open up new opportunities. Factors that influence of
change across childhood has been studied and documented (Johnson, et al., 2005; SuttonSmith, 1997; L'Abate, 2009), but I wanted to know about the unique factors that impact
early adults play. When I asked about factors that influence play, time and money were
the most referenced issues for either supporting play or as an excuse for it was not
happening.
Time
As more responsibility enters into the lives of adults the ability to have as much
access to play time decreases. Over the course of the interviews, 100% of the
participants cited this as being an impeding issue to playing. Work, school, and
responsibilities all came before play. Part of that is maturity and the recognition that
survival is, evolutionarily speaking, the thing to focus on (Bateson, 2011); however,
participants also discussed ways of embedding play in their everyday lives to ensure they
had access to it regularly (Brown & Vaughan, 2009). Some participants talked about
how, like me, there were times when they removed play from their lives because they
thought it might distract them. They also provided examples of how this had serious
193
ramifications on their wellbeing. Scifi gave this example that illustrates having a play
deficit:
It was my first semester at [grad] school and I was always in my office… I
was always the first one in and the last one out of our graduate student
office… and it was exhausting. I specifically remember how one night all
of my friends were getting together to go play video games at someone's
house, and I don't like video games, it was 2 weeks before finals and they
were all graduate students. Two of them were Ph.D. students, three of
them were master's students and they were getting ready to go and just
mess around and play video games and I was furious because I was going
back to the office. I was so mad that when I got back to the office I cried,
real human tears. I was mad that I was working my ass off and they were
playing video games… the next semester I decided I was going to play a
little more… each semester I have just added a little more play to my life,
which means I am tired all the time, but it also means that I am not crying
in my office because I'm not playing video games, I don't even like.
Brown, who has been cited repeatedly, made his career studying the psychological
ramifications of what happens when people do not play. Neuroscience has shown that
when children are not engaged with, or placed in a stimulating environment, areas of their
brain go unused and development occurs abnormally, if at all (Schore, 2001; Stamm &
Spencer, 2007). In animals, lack of play leads to issues in cognition, relationship, and
physical development; however, when play is engaged in there is an increase of survival
skills (Pellis & Pellis, 2009). So what happens if adults do not take time to play, how
does that impact their life, survival, and abilities? That is a question that cannot be
answered with the information I have from this study. To do so would require a team of
neuroscientists with a functional magnetic resonance imaging (fMRI) machine and a
sample group of identified play deficient adults to adequately explore that question. For
194
now, I can address the participants' identified side effects they observe when they do not
play. Adjectives like cranky, stressed, bored, and exhausted were used to describe how
they felt during short-term periods where they did not play. Archie explained why he
needed play:
[Play] helps me get through the tedious parts of life. It helps you get
through the times when you are in a grind at work for quite a while and
just you need that relaxing time and just be able to look forward to it and
just knowing that "this weekend I'm going to just relax and have fun."
Finding a way to balance schedules and responsibilities with the need to play is one of the
great adventures of adulthood. Ellis (1973) suggested that adults treat play as an item on
a checklist or like an appointment. While many participants talked about how they
scheduled play, especially if it was a social experience, to ensure that they were
respectful of their friends' time as well as to make sure they had time to be "present" in
the experience. Other people brought up that they also found ways to engage in
spontaneous play (i.e., impromptu dance parties, spending time with their kids, or phone
chats with friends). More than anything, the attitude participants' brought to an event or
experience was what determined if it was play. The impact of attitude also determined if
the experience was worth the time investment.
Money
Money was identified by 87.5% of the participants as a factor that influenced their
play. Marina was one of two participants who did not acknowledge money as a factor of
play, and she explained that if she was committing to play, she would only do it if she
195
had the money. Will said that since his play was usually video game based, the only cost
was electricity and that was not an issue. For the remaining 14 participants, money
influenced their ability to play extravagantly (i.e., skydiving weekly or road trips to
Paris), but that meant they found play that was practical for their short- and long-term
goals. Again, this is a demonstration of how play can be adapted to fit objectives and
financial means. One of my initial assumptions was that class was going to influence the
play people pursue. This was before I considered or had data about the demographic I
was studying. My thought was that people with more money would do more extravagant
things. That might be the case with another sample of people from this stage of life, but
young families and graduate students are not the sample to see if there is a correlation
between playing, money, and class. Also, 62.5% of the participants opted not to respond
to the questions about how much money they spent on play on the survey.
Not having money. You do not need money to play. Even without having a lot
of monetary resources at their disposal, participants talked about how their play was
based around what they could do. Play is social, so a lot of the examples focused around
social activities, spending time with family and friends, finding cheaper activities, and
exploring their local surroundings. Some participants talked about how online gaming
allowed for a cheap way to socialize with friends and others talked about how they
budgeted for play to make sure they were involved in the activities they wanted to
experience.
196
When discussing spending money on play, participants spoke repeatedly about
treating high-cost play as an investment. Marina talked about how spending money on
classes was a way to learn new ideas or skills that she would not have access to in her
daily life. Leroy discussed about how he would focus on equipment he needed to
improve his mountain biking experience by only buying the pieces he needed, doing the
work himself, and the importance of saving in order to purchase more expensive gear.
But it was Maija, Scifi, Brunhilda, and Pancho who introduced the change in their
willingness to spend more on play as they have gotten older. This is something that I
found true for myself. Since reinvesting in my play, I do more things, and money is less
of an issue because I realize the value the experience creates. Since last September, I
have invested over $500 dollars in trapezing and regret nothing because it is one of the
best play pursuits of my life, so far. Several of the participants pointed out that at this
stage of life; they do not have as much time to play, so they want as much "bang for
their buck" as they can get from one experience.
Friends not having money. In early adulthood, as demonstrated by the
participants' incomes, affluence varies. Magnus and Brunhilda brought up the issue of
other people's incomes influencing their play:
Magnus: [Money is] definitely an issue and [it has] become more of an issue
recently. Not my finances because I usually don't try to do things that I
can't afford. But planning long-term trips with multiple other people and
having everyone else be[ing] able to do things is difficult.
Brunhilda: I have a very difficult time finding someone who has the budget, the
same taste, or the time off to pursue all of the activities I wanted. For instance, if
I want to plan a vacation to India, I need to find someone who can afford plane
197
fare to India, who has at least a week of time off, and someone who is interested
in going to that country.
When I spoke earlier about class, this was the kind of thing I also was expecting to find.
I had assumed that income had some kind of impact on accessibility to some kinds of
play and who could play. The relationship between money and play provides an
interesting dichotomy. As has been discussed, money does not limit someone's ability to
play; however, as discussed by Magnus and Brunhilda, it can impact what you can do and
with whom. I appreciated this issue being brought up because it is something that I have
been on both sides of as an early adult, sometimes not being able to affording to go out
and other times not having anyone who could afford to play the way I wanted to. Having
other people discuss this issue brought up a really great point about how play can be an
issue of affluence. By this I mean, it brings up the issue of whose play is seen and
therefore considered more valuable (Danby, 2005). Home was cited as the number one
location for play to occur, by the participants of the study, because of easy and monetary
advantageous. But that might be the reason that adult play is overlooked; not many
researchers go into homes looking for moments where adults play or the types of
activities that make adulthood playful.
Changes in Play Over Early Adulthood
From understanding the ways play is influenced by time and money, I also
inquired how play changes over adulthood. From the narratives, I drew my conclusions
about how play changes but also recognize that more research is needed to explore the
198
particulars and generalizability of age based shifts. Themes are discussed following the
participants' explanations:
Magnus: My work schedule is so… with the start of grad school and
working during school, my schedule is tighter and I used to get up and go
whenever I wanted but now I plan ahead farther to the future to make
sure I do things that I want to do.
Anne: Haha! Yes, I actively work harder to find things that are different
and try things that are new. I think part of that is just in general growing
up and having more money to play with but also I had a roommate for
three and half years who is a really good at play. I piggybacked off that.
It was her idea to go caving. It was her suggestion that she was going to
learn to ride a motorcycle and I was like 'that sounds awesome mind if I
horn in on that experience?' … The way I socialize. I'm a little more
inclined to be the planner. I'm not a huge party planner but I'm more
likely to text people and plan something for next week, instead of waiting
for someone to text me or invite me. I actually now I find that I am the
only one willing to call and say 'hey let's plan something for next week'
which is different.
Rose: Two to five years ago I was in a hole called dissertation and I
didn't socialize or if I did socialize it was for two hours at a time I'd
have a drink go home and keep working. It was really just a break from
working whereas now it is a chance to have a little fun and catch up.
Five years ago, I was ending the first year of my Ph.D. program and
getting hired as staff at the university while doing my comps. So play
was what I could find at work. I had a batch of undergraduate interns
who were really dynamic and we would do dorky things together to
benefit women and girls pursuing STEM careers and we would have a
great time, we would have comradery but we were still working on
getting something done. Whereas now I get to play without work being
a key component. It was work/play and now it is play/work. The
priority has changed… I had a great friend-pocalypse… the absolute
one time destruction of friendships that no longer fulfill you so I had a
huge drop off [friends] that were not contributing to the benefit of my life.
199
I had a lot of girlfriends who took more energy than they gave back and
they had to go. My time is too damn valuable… if I get paid $40 an
hour to do an hour of consulting. Is this person worth $40 dollars an
hour to spend time with in addition to whatever it is we are doing for
fun… If it is not a friend that I walk away thinking that was fun, that
was exciting, and that was interesting I just don't want to do it
anymore. No more social vampirisms.
Will: Social gaming has advanced so outings can take place in a variety of
places.
Rex: I have noticed that since I started dating and then engaged and married,
that my play has started to involve him more. It's no longer just what I want to
do, I have to take into consideration… that I'm not monopolizing all of my spare
time but that I am including him in it as well. That is probably the most obvious
factor. And then the interests change over the years. So it used to be that play
was getting a whole big group of my friends together and hanging out, throwing
themed parties, having lots of people over, and be surrounded by a lot of people.
Then over the last couple of years, I find that I am more comfortable and it makes
me happier when I am around people that I truly care about… because the quality
of the interaction, the play, and the relationship is bigger and deeper to me than
spreading my time with 30 people as opposed to three to five people.
Ryan Finely: Definitely. I guess you reach a point when you start looking
back on things… the theme [of]" there's no day but today and there is no
tomorrow" when you are younger that is something you really focus on,
there is always time to play. I think that as I've gotten older and the
responsibilities have change and I recognized that there is a tomorrow and
that there is probably an insurance bill due and that definitely impacts how
you plan and look at things… and I have a finite amount of time.
Mary: [Play] has had to adapt to school because I have night classes.
Andy: Yes, like I said I am a lot more indoorsy… I have kids now so I'm a lot
more focused on family and kids than doing the other things with my friends. It
has happened since my son was born which was four and half years ago. Even
marriage didn't change it as much as just having kids.
200
Super Ninja: [Talking about his house] I don't know I have always loved
doing small projects but this is the first time that I have had a house to
work on. It is not so much that I change in nature but that I change in
volume. So now I engage in that kind of play a lot more than I used to
because I have something to work with, something to play with basically,
[a] playground that is basically what the house is right now.
Scifi: After I graduate my bachelor's degree I took some time off from
school and I learned how to quilt and that was mostly play for me… So
quilted all day and I would get up every morning and go running. I ride
my bike almost every day. It was all play because I had time to do what I
wanted and I didn't have time commitments, but since being in graduate
school I don't have time to quilt all the time. I don't always have the time,
to go running for fun. So my play has kind of adjusted in that regard.
Maija: I think I am willing now to spend a little more money on things.
Marina: I would say that my play has shifted to emphasize
more with friends and family and strengthening meaningful
relationships while engaging in play activities.
Leroy: I don't play as much at night because of being married… and I have
less time when I go and do things on my own because I am usually with my
wife doing things that we both enjoy.
Archie: Yeah, well for one thing all of our friends are having kids and they
are all kind of the same age so play kind of more involves running around
in a backyard squirting water guns at each other more than playing "adult
games"… I don't know a better way to say it, things that children would
not be able to accompany you with. So in a way, the play is not as
intellectual [but] it's just as fun… Well I am getting old and I am kind of
fat now, so just playing in general is a lot more straining… I might end up
with more ice packs on me when I get home, stuff like that. In need of
201
massages just to keep me standing up or going to work the next day. A
lot of Advil.
Pancho: Yes, I used to spend a lot of time going to bars and night life type
stuff and house parties and I am kind of transitioning much more to… more of
the male-role of a father/suburban dad… God forbid… less hyper-intense
activities, especially the ones that are bad for your health… Two hours of
sleep or a night of drinking. It just becomes more difficult so I am trying to
focus just on the healthy activities and healthy play stuff that doesn't leave a
negative effect in any way shape or form.
Brunhilda: I already mentioned the volunteering as an increase since I moved
here… And I stopped entirely doing improv comedy. I think lately I have done
more crafting, over the last couple of years… I have done more crafting than I
have hanging out with friends. I used to plan a lot more parties, and I used to
be involved with a larger volume of people at the same time. And part of that
has come from a transition to a different church group… part of it is maturity
or interest level in other things that are more solitary or relatively solitary.
Social Factors. When Rose first shared the idea of a friend-pocalypse with me, I
thought it was one of the strangest things I had ever heard, until I thought about it,
inquired about it, and realized I too had participated in a similar event. Turns out it is a
very common practice among early adults, because time is scarce, people want to have
meaningful relationships with others who reciprocate their commitment to being in a
relationship; there comes a time to let people go. Throughout the study, 69% of the
participants discussed how their play-based relationship had a similar purging, although
most people just said they drifted apart, rather than admitting to consciously ending
relationships. This ability to end relationships, I argue, is a privilege of adult play
because unlike in childhood you can tell someone they can't play (Paley, 1992 this is in
reference to her book titled, You Can't Say You Can't Play). Being an adult you have
202
the autonomy and experience to realize when friendships are not advantageous and can
move on to new relationships. In adult play, there is more of a focus on equality between
friends because adults can control for more areas of their lives than children. Brunhilda
explain this in the following way:
The other thing that I think is different about people in this time of life is that we
cling to our passions more than we cling to our people. Back in high school,
your crowd might do something that one or more of you all enjoyed, and you
decided to enjoy it because the crowds did. My group played cards, my group
was in the band, my group did whatever. But by the time you are this age, not
only do you not care about the peer pressure or the social pressure to conform,
but you also have the resources to find the people like you… And that is not
something that younger adults or teenagers have the ability to do.
Play is adaptive to the needs of the player. While the focus thus far has been on how
play-friendships often result in break-ups as interests and commitment levels change, I do
not want to dismiss the importance of play on developing and maintaining relationships.
In the end, play might be the secret to all long-term relationships (Brown & Vaughan,
2009) because according to the participants:
-
Personality comes out differently when we are playing and that gives better
insight to who people are
-
Play is how people find ways to invite others to join in an interaction (in close
proximity or through the internet)
-
Play provides new contexts where communication can be strengthened and
objectives achieved
-
Play invites multigenerational interactions ( i.e., parent-child, mentor-mentee, &
extended family exchanges)
203
As has been discussed, the socialization of playing is key to early adulthood and one of
the great attractions of playing. Finding ways to experience and share play with others
serves as an opportunity to invest in relationships that provide short- and long-term
fulfillment as well as intellectual stimulation. As early adulthood is traditionally the time
when lasting relationship are established (Miller, 2002), the role of play is critically
important to building and maintaining those connections.
Choices. Another theme that I saw was that play in early adulthood is all about
choices. Not only on the activities they would pursue but just as importantly what not to
do. This theme ties into the time factor, in that participants want to make their play
worthy of their goals and resources. Andy and Brunhilda referred to this as utility.
While Magnus, Scifi, and Marina discussed the need for their play to have a productive
element to it (i.e., grading while watching TV, running while listening to lectures, and
taking classes to prepare for later adventures). The focus on double barreling- or doing
multiple things at once- goes against the childhood notion that play requires all of an
individual's attention (Hughes, 2010) and supports the need for the player's intrinsic
motivation to be the driving force behind actions (Deci & Moller, 2005). Atlhought those
ideas are present, other requirements of life must be met. Beyond multitasking play,
participants talked about how their choices shifted to ensure that they were building
relationships, exploring interests or developing skills, taking initiative to have play
opportunities, and considering the implication of their play on their wellbeing and others.
Having just referenced that play has to be intrinsically motivated, a lot of thought goes
204
into including others, which I thought was interesting because this illustrates how much
negotiation has to happen for someone to engage in an experience they want to have
when other factors are present and important. Future research: How does play shift
across adulthood and how are these shifts important?
Play History for Understanding Lifespan Play
When talking about changes in play in adulthood it is important to reference the
similarities that remain. While I did not ask about play histories directly, every single
participant referenced their childhood activities in relation to the play they pursue as
adults. From going to the park to building with Legos, play shapes our identity.
Participants also discussed how their play identities and interests influenced their careers.
For example, Will discussed how playing video games led him to be interested in game
design and that curiosity is now the crux of his job. Similarly, Super Ninja's booby traps
that he built with his brothers gave him experiential learning opportunities and fortitude
necessary to become an engineer. Ryan Finely talked about the way his love of music as
a child is still apparent as an adult. Basically, you become engaged with the things you
like (Bruner, 1966) and that then impacts the activities you pursue. The play of
childhood acted as scaffolding (Vygotsky, 1978) for adult play.
When researching play, it is important to consider past experiences and how
present choices are related to those earlier interactions. This was something I had not
considered because my focus was on how adults play, but after the participants
continually introduced their current play by prefacing it with their past experiences; I
205
have become extremely interested in this relationship. In the future, I would ask for a
brief play history similar to McAdams' (2001) life histories to provide more contexts for
the information that is divulged during the research process.
Summary and Conclusion
Play is an adaptive system that evolves to meet the needs of the player.
Participants gave examples of factors that they think influence their access to play (i.e.,
time and money), but they also provided solutions for ensuring that they make time to
play. Additionally, their choices influence their relationships and way they maximize
their playtime. As early adults, they have found multiple ways to define and restructure
their play parameters (i.e., what they consider play) to ensure they have access to certain
experiences. Early adult play is not a result of one experience but constructed on
previous experiences and interests. Factors, choices, and previous experiences all add to
the uniqueness of how adults play.
206
Section 5: Not a Question of How, But a Question of Why
In this section, I will discuss the shortsightedness of my research question. I went
into this study with the intent to demonstrate how play happens in adulthood. While that
was an example of a bigger question, I needed to have started off asking a better question.
If I could I would have change my research question to why early adults play. This
would have allowed for a deeper contextual and theoretical explanation, and analysis, of
the relationship between learning and development as it relates to play. Luckily, I had
the forethought to ask participants why they played, as a filler question, and was elated
that I had this information after I realized my mistake. This will be addressed briefly
here because I feel the issue of why must be addressed, but will not be explored in depth
at this time. Here are the reasons the participants gave for why they play:
Magnus: 'Cause that's like 50% of life. You have goals and play… But
half of it is doing your thing and making a name for yourself and the
other half is just doing what you want to do. 50-50! That's a law.
Anne: So I can forget everything else and just enjoy my time. But also so
I can experience new things.
Rose: I equate it to voting. It just makes you a better citizen. Ideally, if
you look up your candidates and do your research and not just don't
vote down party lines. Voting is supposed to be a liberating experience
in a democratic society, where we are privilege enough to have a say in
our government. But that is largely bullshit at this stage, because most
people who vote, vote down party lines and don't bother doing any
research. So play is also being a responsible citizen if we focus solely on
the capitalist production of material goods we forget or deny ourselves
the main traits of mammals. And that's what we do. We work, we play,
207
we eat, and we sleep. Those are the four corporal functions of what
mammals do and if we stop, we suddenly become severely imbalanced.
Will: Same reason people read "I can't put it down." It is a natural part of
being.
Rex: I play because I need to relax. I play a lot.
Ryan Finely: Why do I play? It's my therapy. It is a good opportunity to
explore and create and tell stories. Because I guess I recognize that playing
with my two year old or my five month old is play, for me, but they are
different and a lot more drool-y. I guess using music as an example; so a
bunch of us would work on songs and just jam and all of a sudden you could
be like "you know what you should do with the base? (Bass beat noise)" "Or
on the drums (drumming beat)"… And so circling back to that whole idea of
what is fun and why do I do it, because that's what I do. I'm driving and all of
a sudden the sound of a car whizzing past will make a sound that just triggers
something for me to think about it. It's like zoom, zoom, zoom, zoom and
then wherever it goes. There is a part of it that I just kind of enjoy and I get
satisfaction from it.
Mary: Because it is fun. That is my kindergarten answer.
Andy: I really think it makes me a better person. I like to think of myself as
pretty intellectual, a thinking kind of person, and if you don't use it you lose it.
This is play for me because I'm helping the kids with doing creative stuff. That
is enjoyable for me. I get to push myself mentally without being bored by it.
Sometimes I see people working on doctorate, and they read tons of papers and
they do all this laborious stuff but you've got to have fun with that. So I like
where I'm at because I get to experience all the stuff and learn so much about
it but I don't have to over analyze it.
Super Ninja: I mean, I kind of feel like we touched this already but mostly
just to stay sane. Because sometimes people find themselves in stressful
situations and it is nice to take some time to not worry about it.
208
Scifi: Because I'm human! Because I don't hate myself! Because I'm
allowed too!
Maija: Because it gives me a moment to not have to be bogged down
by the pressures of being an adult and I think play for me is natural.
Marina: Like I said before, to restore balance to my life
and to maintain a feeling of youth.
That I think is vital
to my emotional and physical wellbeing.
Leroy: To be happy. Just spur of the moment things, it's just I'll have feeling
that I want to do something and I get a bit OCD about wanting to do
something and I don't really feel satisfied until it is done.
Archie: Why do I play? To keep my sanity! I play because there was a
stereotype growing up that adults weren't as much fun… it was always
about buttoning down and taking care of your family and stuff like that. I
always thought it was important to keep a bit of lightness and a sense of
humor in your life as you grow up. I'm probably not as responsible in life
as a 35 year old adult should be, but growing up my grandpa was a big
deal in my life and he worked construction constantly. You never saw him
play. I don't know what his definition would have been. He was a crane
operator; he just worked hard and then came home and he did what he
was supposed to at home and then he went to bed and then he got up
and did again the next day. I always saw that as once you hit that point
in your adult life to where these things kind of things disappear. And then
I found out later on after he retired that he had a lot more fun after he
retired, that he could still have a good time and laugh and joke with
people but it seemed like he missed out on some of the years doing that.
I even found out later that he played sports, I didn't know he played
football and stuff like that.
209
Pancho: Number one. To have fun. I like to have fun. I like to play and it is
also healthy for you. I think play in every capacity is good for the soul and is
going too led to a healthy longer life.
Brunhilda: I believe it is part of human nature that you need a balance between
work and play. Work feeds a part of your soul that needs to strive, that needs to
accomplish, needs to challenge, and improve you in some way. Play is the
release of that rubber band. It helps you relax. It is that opposing force that
enables you to bounce back stronger. You need sort of that interval. They talk
about runners and how they need to start with that interval training of walking
and running and walking and running. If you don't have any walking, you
can't go as far or as fast. So I think that it is important to have a balance. People
who play all of the time are just as unsatisfied, just as stressed out, and just as
tired as people who work all the time.
Based on these responses, I saw multiple themes and possible research paths. For this
paper, it suffices me to say the reason why early adults play is because they see it as an
investment, in their learning, development, and wellbeing. It is an action they are taking
now to create the identities, relationship, and abilities that will sculpt their present and
future life. The responses given and themes initially identified will be used in later
research projects and explorations.
210
Discussion and Conclusion
The goal of this chapter was to create a discussion about how early adults play
without the "silliness" (Sutton-Smith, 1997). The how of playing was based around each
participants' understanding or definition of what play is in their life right now. The
participants' definitions provided insight into the play lives of early adults and began to
introduce similarities of play across the lifespan (i.e., play is fun) as well as illustrate
some of the differences (i.e., play is not work). The definitions reflected the fluidity of
play (Johnson, et al., 2005) as the ideas of employment, responsibility, and wellbeing
emerged to focus on the needs of adulthood while still representing their need to engage
in an "unessential" (Bateson, 2011) albeit desirable act. In addition to the seemingly
useless play activities (i.e., trapezing), many of the participants emphasized the functions
and criteria (Smith, 2007; Sutton-Smith; Burghardt, 2011) used when discussing play in
childhood or animal behaviors, which demonstrated that play frequently serves as a tool
to promote human needs and measure learning and development. Finally, the definitions
introduced the what of the rest of the research study. This means that the definitions
fueled what would be explored not only in the interviews and play experiences but also in
the ways participant would analysis their own understanding of play. This reinforces the
poststructural perspectives that build on individual knowledge to create meaning or
understanding of an issue or problem, as it relates to their knowledge (hooks, 1994;
MacNaughton, 2005; Foucault, 1980), while still connecting the ideas with the shared
211
cultural understanding of society (Vygotsky, 1978). Utilizing the participants' definition
of what play meant then allowed for the next step of understanding how people play.
By inquiring about styles and types of play, I was able to understand common
themes and ideas about early adults' "play personalities" (Brown & Vaughan, 2009) as
well as the specific types of activities adults consider play. This not only served as an
important step for understanding the nuances of early adults' play activities, through
examples, but it also explained the social, intellectual, and physical ramification of these
pursuits as well as the motivation behind selection. This information also served to
illustrate the role of life histories (McAdams, 2001) as an important aspect of
understanding play at a certain stage of life and the way play assists with the
development of identities. While novelty for new opportunities was still sought, most of
the mentioned ideas for future play fell into categories of activities the participants
already knew they enjoyed (i.e., a new hiking location). Another area discussed, which is
important to understanding play in adulthood, was the implication of maturation and
expectations placed on being an adult.
Early adulthood involved certain life choices (i.e., children, marriage,
employment, and school) that have subsequent responsibilities. The responsibilities then
introduce factors such as time and money into the discussion of how adults play. While
social status is referenced in early childhood play (Lareau, 2002), the difference is that
the status of early adults is impacted by income, education, and occupation and all of this
can change quickly (i.e., graduation). As many of the participants of this study are
212
actively working towards a degree, they are considered part of the transitional poor
(Schwartz & Robinson, 1991). This demographic is often considered poor but there is an
expectation that after degree completion, or a few years in a career, their financial status
will change to be more affluent. At present, money influenced the ability for participants
to engage in all the play activities they wanted to; however, they found ways to adapt
their means to their play. Participants' reference time as being more impactful on their
ability to play than anything else; this is because all of the participants were wearing
several hats (i.e., student, young professional, and parent) that required them to adapt or
reallocate their time to ensure responsibilities were being taken care of before play. This
was done by double-barreling their play and responsibilities (i.e., merging work and
play). Factors of time and money influenced play but they also illustrate how participants
would be creative about the way they would introduce play into their daily lives to ensure
they had some sort of play happening.
The demonstration of how early adults play was completed through their selected
play experiences. As a majority of research on play has been documented through the
use of anthropological measures (i.e., observation) (Pellegrini, 1995; Goncu & Gaskins,
2007), I determined that researching play as an experience through humancentered/directed methods would yield deeper connections about the hows of early
adult's play. This assumption was correct in that it provided more opportunities for
participants to demonstrate their play as a process rather than discuss the experience in
terms of a product (Barone & Eisner, 2012). It also illustrated the variety of play
213
activities that are participated in during early adulthood and the ways ecological systems
are transcended (Bronfenbrenner, 1979; Goncu & Gaskins) and sociocultural meaning is
constructed through participation (Rogoff, 2003).
The play if each participant provided examples of how play can be planned and
organic within the act of the experience (Johnson, et al. 2005). Each play experience
provided ample examples of cognitive, physical and social learning (Singer, et al., 2006)
on the part of the participants and myself. This coincides with educational research on
why children need play, but also demonstrates the need for more research to be
completed on adult play (Cohen, 2006), especially as a learning and developmental
resource and need.
When discussing how early adults play it is important that the participants'
analytical voice was included in the process and product of the research. Traditional
research places the researcher in a place of power over the participants (Cannella, 2002,
Glesne, 2011) but when working with adults, the hierarchy of power shifts because
participation occurs at a more equal level. While the dynamics of the researcher and
participant are not always equal, they are closer than an adult and child, therefore ideas
and experiences were more transferable through joint participation.
The answer to how adults play is simple: they do what they want. Their
motivation is driven by their play styles. Their styles of play then influence the types of
play they pursue and the fulfillment of experiences that constitute what they define play
to be for them. The hows of adults' play can be demonstrated through final product, but
214
it is the aesthetic (Huizinga, 1950) of the process that provides more insight into play as
an experience necessary for learning and development (Sutton-Smith, 1997). Cohen
(2006) suggested that when we play we actually have our best development and learning.
I support this statement and suggest that when adults' play, there is a liberating factor that
frees them from the expectations of others and their own inhibitions.
215
CHAPTER 5: PLAY TO CREATE
Introduction
From its infancy, the United States has developed a reputation for being a nation
of innovators. It is here that dreams become reality and where ideas develop industry
(Portes & Rumbaut, 2006; Obama, 2013). As economic values and expectations change,
the United States has shifted from being a country of industry to a nation of information
(Gilpin & Gilpin, 2000). With this shift in economic production, comes a need for
greater production of capitalizable information that can be developed and exported
(Brynjolfsson, 2011). However, there is growing concern that the United States does not
have the capacity to maintain its status as a world leader, in industry, because early career
professionals are perceived to lack the practical skills that are needed for imagination
(Brown & Vaughan, 2009, Russ, 1993). Florida (2004) suggested that this is because
creativity is not being valued early enough in life nor as highly as it used to be, which
means that ideas are not being generated later in life or professionally. To remain an
economic world leader, a mind-shift must occur to place a higher value on innovation and
creativity (Amabile, Conti, Coon, Lazenby, & Herron, 1996; Meyer, 2010). To improve
creativity and innovation, many researchers recommend that people play.
While play sounds simplistic and a solution for a childhood activity, there is a
mounting pile of evidence that reinforces the notion that play is key to the development
of new ideas (Miller, 2002; Ellis; 1973; Sawyer, 2012; Kelly & Kelly, 2012; Bateson &
Martin, 2013). As mentioned, companies have found tremendous differences in their
216
employees' abilities to create based on their play (Brown & Vaughan, 2009). Play has
long-lasting impacts because we develop our identity and interests around what we gain
pleasure from participating in and with (Rogoff, 2003; Bruner, 1966). When play has a
mastery function there is potential for intrinsic and extrinsic motivation to influence the
development, dedication, repetition, and evaluation (Johnson, et al., 2005) for the desired
result. The time committed to the exploration of a specific play experience then "takes
on a life of its own" (Burghardt, 2011, p. 15) this has immediate and long-term influences
on the player.
Within fields that require a final output in the form of new information or
innovation, play is a tool that supports productivity and creativity (Proyer, 2014; West,
Hoff, & Carlsson, 2013; Stewart, 2013; Amabile, et al., 1996). Providing an environment
that supports play furthers innovation because employees have the freedom to engage in
solutions by thinking abstractly (Mainemelis & Ronson, 2006; Russ, 1993), challenge
what they know as they process new information (Vygotsky, 1978; Piaget, 1945), fail in
order to find a new solution (Bruner, 1966), and explore concepts with tangible materials
and theoretical resources (Macintyre, 2001). In short, play forces creativity because it
requires alternative paths of cognition.
Returning to the initial statement about the potential looming loose of creativity
(Florida, 2004), in an attempt to be proactive, some experts in Science, Technology,
Engineering, and Mathematics (STEM) fields are looking for ways to "infuse" STEM
with creativity (Mishra & Henriksen, 2012). The argument is that those who engage in
217
scientific work must be creative in order to engage with advancing knowledge, develop
theories, solve problems, and produce solutions (Sawyer, 2012). Mishra and Henriksen
and Root-Bernstein (1996) discussed the need to reintroduce the arts into the sciences and
revising the acronym to be more inclusive of the creative fields STEAM. The
reintroduction of the arts was directly linked to the belief that art provides another
perspective through which innovation can occur and promote interdisciplinary
perspectives (Dewey, 1934; Pugh & Girod, 2006). Barone and Eisner (2012) reference
the renaissance as a time when the arts and the sciences were not viewed in oppositions,
but rather as a partnership where information was passed between disciplines.
Segregation of STEAM was the result of the need to have a "science-over-art hierarchy"
(p. x), which still exists today. Altering this perspective to be more representative of the
interconnected ways we experience life would support Kuhn (1962) argument that when
an advancement occurs, no matter what the discipline, the "result of successful creative
work is progress. How could it be anything else?" (p. 161). As interest in the
relationship between STEAM and innovation continues to mount, the role of play is
becoming more discussed (Bergen, 2009, Sawyer, 2012; Swedlund, 2015) by academics
and industry. Those companies who incorporate play and multidisciplinary perspectives
(STEAM) into their work culture are drawing attention to the benefits of a creating a
work climate that incorporates employees' full potential, which has shown to increase
productivity (Meyer, 2010) and wellbeing. Before reporting the participants' responses,
218
the following literature review will briefly discuss the relationship between creativity and
play.
Literature Review
As was previously discussed there are many theoretical perspectives that attempt
to capture and explain play, but no operational definition. Similarly, creativity is a
difficult concept to adequately define; however, when creativity is being discussed there
is usually a measurable end product, which makes it more accessible than play. In this
literature review, creativity is discussed based on what it means for the individual and
others, the relationship between play and creativity, and creativity's role in innovation.
Creativity: What Does it Means?
Creativity is an act, a process, and a result. The act of creating is a cycle that
requires an individual or group to critically analyze current and past understandings in
order to identify a new way of exploring a concept (Albert, 1990). This leads to the
process of creating. During this stage of the cycle, questions are explored using different
ideas and concepts. This is where a constructivist approach (Vygotsky, 1978; Piaget,
1954) to learning becomes central to the creative process because as questions are asked,
past information is required to advance future thinking. Kolb's (1984) experiential
learning, which is firmly based in a constructivist perspective, discussed the need for
interactions with material, either physical or intellectual, as a requirement for advancing
understanding. Citing that through the challenges presented with hand-on learning,
information is obtained and organized. When a hands-on approach is implemented into a
219
learning space, whether formal or informal, motivation is also impacted because the
learners' confidence with the material and concepts becomes challenged and advanced
meaning is constructed throughout the experience. Runco (2005) linked motivation and
competency to creativity by explaining that the desire to develop new ways of thinking or
producing leads to an investment in the form of tangible abilities that advance goals or
capacity.
Creativity can occur at the individual or group level and is dependent on the
intrinsic and extrinsic motivation behind the development of an individual's process as
they work towards the innovation of a product. For the individual, "creativity is a new
mental combination that is expressed" (Sawyer, 2012, p. 7). At the individual level this
means that an individuals is creating their own connections with someone else's product,
but for the individual they are engaging with a new way of thinking about an idea or area
in a way that is abstract or untested by them. Creativity, then, is dependent on each
person's interests and intrinsic motivation for generating deeper meaning and pursuing
connections within the parameters they dictate (Amabile, 1990). For a group of people to
produce something creative, it must be a "generation of a product that is judged to be
novel and also to be appropriate, useful, or valuable by a suitably knowledgeable social
group" (Sawyer, p. 8). The individual or group alone cannot be the judge of whether a
development is original or unique; the culture must decree the authenticity of the
creation. Csikszentmihalyi (2013) discussed the importance of the culture's vote on
determining whether an idea or artifact is in fact a creative expenditure. Additionally,
220
there must be others' ideas in the development (i.e., cite your source) and these
contributions must be recognized by all as a "synergy of many sources" (Sawyer, p. 1),
which supports a general advancement of thinking through what is produced. This
argument for multiple voices being integrated into a new idea or artifact is similar to
Kuhn's (1962) belief that scientific revolutions occur because many people are pushing
for the evolution of present knowledge. The value of creativity is therefore dependent on
the culture's willingness to integrate new ideas and structures into "mutually
constituting" (Rogoff, 2003, p. 51) schematic references and procedures. In cultures
where innovation is welcomed, new ideas and behaviors "assist us in the restructuring of
identities and abilities" (Bruner, 1990, p. vii) and move these cultures into advanced ways
of thinking.
Play and Creativity
When people play they have the freedom to engage, assess, and reinvent the exact
same experience or idea repeatedly until they feel that they have successfully mastered
their objective (Johnson, et al., 2005; Vygotsky, 1978; Howes, 1992). Few other contexts
exist where it is encouraged for an individual to repeatedly engage with the same activity
in order to find new ways of advancing its complexity. Despite the redundancy the act of
play is never completed in the exact same way more than once (Johnson, et al. 2005;
Paley, 2004). Play and Zone of Proximal Development (ZPD) (Vygotsky, 1978; 1967)
are clearly linked because without the ability to grow in a task, it would become
monotonous and therefore no longer rewarding. Vygotsky's work, and subsequent
221
research (Holzman, 2010; Oreck & Nicoll, 2010; Johnson, et al., 2005), has been
extremely clear that play provides a natural source through which learners abilities are
propelled. This builds on the notion that "In play a child [or adult] always behaves
beyond his average age, above his daily behaviors; in play it is as though he were a head
taller than himself (Vygotsky, p. 102). Play activities that are challenging or require
commitment on the part of the player provide an "inexhaustible" (Csikszentmihalyi,
2013, p. 350) realm for growth, exploration, and creativity, which can ignite for the
individual thinking and processing. Holzman takes ZPD further to explain its role in the
creativity of groups as the method through which creators shape their ideas or products.
Bateson and Martin (2013) stated that "play behavior… is generally far from
cautious: it is typically repeated many times and its very exuberance often leads the
player into blind alleys" (p. 5). This resilient perseverance is important to the creative
process because success is predicated on failure. However, what playing provides in the
creative process is that ability to maintain a semblance of sameness across different
scenarios, while variables are explored and exchanged. The familiarity must be kept until
understanding or a creative solution has been obtained because that provides a framework
from which to build on in the future (Paley, 2004). It is this ability to explore alternatives
and fail that is vitally important in the creative process. From failure, learning occurs
(Baurmeister, et al., 2001) as does flexibility of thought (Torrance, 1972), because these
experiences require an individual to reassess their understanding and challenge what they
know. Being creative requires a willingness to think about familiar things in alternative
222
format. In many ways, the process of being creative is the perfect example of the ZPD
(Vygotsky, 1978) being implemented because the task never changes but the level at
which the creator engages with their understanding shifts based on the schema they are
exposed to and their changing abilities. The process of working towards a creative output
continues until alternative thoughts on separate trajectories meet and "form the beat of
the cathartic rhythm" (Connery, 2010, p. 23) of a new idea. The result is creativity and
innovation.
Creativity and Innovation
The role of play as a tool for creativity and innovation has been documented in
children, but only recently has this connection been extended to adults. Kelley (2012), an
advocate for the reintroduction of creativity in adulthood, argues that everyone is creative
but those abilities are often stifled by the judgements of others. When the belief that one
is non-creative becomes a personal truth, the result is a fear to create, and that halts the
advancement of ideas and artifacts. To regain confidence, Kelley and Kelley (2012)
suggest following Bandura's (1993) guided mastery technique to rediscover and enhance
abilities. The root of Bandura's work is that self-efficacy, or the belief in oneself, can be
obtained by challenging preexisting concepts as they are countered with new experiences
that lead to success. In short, create until you recognize yourself as a creator (Kelley &
Kelley) and then create until others judge you as one (Sawyer, 2012). After all, creativity
is constructivism at its finest, because the focus is on learning for understanding by
building connections across a spectrum of experiences and knowledge. Brown and
223
Vaughan (2009) gave the example of being creative as taking on several ideas and
throwing them around until one idea stands out, but not letting go of the other thoughts
because you never know when it will develop. Creativity in relationship to innovation,
Sawyer explains, is the part of creativity but has a special role as the improved and
modified skills or ideas that are ready to be applied.
This brings in the sociocultural dynamic, because for a product to be truly
creative, it must influence and interact with the sociocultural sphere that is was intended
to advance (Csikszentmihalyi, 2013). Sawyer (2012) suggests that this does not always
mean that innovation comes in the form of something new or original. Rather it can be
the result of an old idea or product being utilized in a more effective manner for the
current culture, which what Kuhn (1962) said is generally what happens with scientific
advancement. To use the old colloquial reference of rebuilding the wheel, sometimes all
that needs to occur is a rebranding or reimagining of a resource to reach a current
sociocultural need (i.e., phones to cell phones or mops to Swiffers).
Returning again to Kelley and Kelley's (2012) argument that creativity halts when
it is devalued, play reenergizes the process because the experience of play requires a shift
in mindsets and allows for problem solving through divergent thinking (Russ, 1993;
2012). Kelley (2012) discussed that being creative requires practice; it is not something
that just happens without work. There must also be a willingness to inhibit rules and
challenge accepted knowledge in order for creativity to emerge and innovation force
ideas forward.
224
Research Statement and Questions 2
Utilizing STEAM professionals provided me with a group of individuals whose
career required some level of creativity and innovation. An extensive body of literature
exists that links play to creativity in childhood; however, there is little academic research
about this relationship in adulthood so I turned to non-academic sources (Kelley &
Kelley, 2012; Ebrahim, & Tangelder, 2012). In this study, all of the information about
the play and work relationship was reported by participants. While I obtained examples
and experiences of the relationship between play and creativity, this section did not yield
as much information as I would have liked. One of the assumptions I made was that
everyone would identify their own creative process and have examples of how play aided
their process. But I did not ask about people's creative process so the acknowledgement
was not always there and some of the best information I received was shared in passing
or after the data collection was completed and participants started to identify their play
experiences in different contexts. Another issue was that, for most of the participants, I
did not enter their workplaces so the answers were generated with a retrospective
perspective and I had no other information from which I could construct follow-up
questions to obtain a better depiction of their experiences. I hoped that using STEAM
professionals, or people who have to create and innovate in some capacity, would yield a
working knowledge of their relationship between play, creativity, and innovation within
their professional lives. While I had wanted more information, what I received revealed
enough about the relationship, especially relating to these two research questions.
225
1. Do early adults in STEAM fields link their play to creativity and innovation?
2. Can they provide examples of how play and creativity influence their work
performance?
The responses generated were substantial for a first study and provided me with a greater
understanding of where future research can go and the need to enter workspaces to see
the relationships between those areas interact. I also learned that to understanding this
relationship, a onetime data collection would be insufficient. Rather an
ethnographic/PAR study would need to occur over an extended period of time.
226
Results
When I originally created this research question it was with the intent to explore
the participants' experiences and output within their STEAM field. As I argued in the
introduction of this chapter, STEAM fields are where play needs to happen because this
is where ideas are expected to being pushed forward and explored (Florida, 2004). While
I found that this was occurring and that the participants could perform a rhizome analysis
(MacNaughton, 2005; Grbich, 2004) in order to link their play with their creativity and
innovation, the connections did not occur within their fields as much as it did within their
career tracks (i.e., students, teachers, and professionals). Within the tracks, participants
also raised some interesting issues that were directly related to their career paths that did
not transfer across their STEAM field. Students could identify play to adding to their
ability to innovate, but creativity was not always there because their work was directed
and not their own (i.e., working on someone else's research or in a lab). However, they
could see how they were adding to an innovative workspace. With teachers, creativity
and innovation was subject to the school environment and administration. It was the
professionals who were able discuss the interactions between their play, work, creativity,
and innovation with the most application. Even then, there were some difficulties in
describing this relationship. This could because people are rarely asked to identify how
their play, creativity, and innovation impact their career performance.
Upon reflection, only asking about the relationship between play, work, creativity,
and innovation was a limit of the research design. I realized, after the fact, that to really
227
explore this relationship I needed to experience each participant's work environment in
order to fully understand their responses and daily use of play. However, with this
sample, I would not have been able to enter everyone's workplaces due to lack of
permission (i.e., schools, business, or government) and access.
Since most of the participants' were just beginning to sculpt their own views
about play, creativity, and innovation in relationship to their career performance, this
question required more time to respond to then other questions I asked during the
research process. Some even continued to analyze this relationship after the second
interview ended. For example, after Brunhilda finished, we continued talking about my
dissertation and something was jogged in her memory about how she played at work.
She asked me to turn back on the recorder and she provided an amazing response, which
will be reported later in this chapter. This also happened with Ryan Finely who changed
careers shortly after participating. He later contacted me to let me know what was
different about his past and present positions and how his new job demands that he play
and is creative. Additionally, the importance of member-checking, and continued
communication, proved to be a benefit because of the continued investment in the study.
This demonstrated to me that the participants put a lot of value into what they were
saying, but also that they recognized the concepts we discussed had application and value
in their lives.
228
Linking Play, Work, Creativity, and Innovation
Students. The way play was used by students was to help them maintain sanity
as they navigated their course- and workloads. Engaging in playtimes provided an outlet
for avoiding burnout and a break from the stress of school. All of the students discussed
that as they played, they would generated solutions or connections for their courses or
work. For example, Magnus shared that taking time to bike to school provides him with
an opportunity to reflect, formulate questions, and develop a work plan prior to entering
the lab. While he used this time to relax, it also gave him an extra level of focus think
and the ideas he gets while biking "are the things I don't usually get in the car 'cause
I get in the car and turn on something else. It's easier when I am on my bike [to
reflect] it takes a little longer and it helps me to think." The ability to reflect in order
to generate new information is critical to the creative process (Amabile, 1990; Connery,
2010); even as simple as making a plan to be more productive that is helping him enter
the lab ready to work. The idea of play providing time to think reinforces the idea that
play in adulthood often is coupled with another element of practicality. This observation
challenges traditional view that play must be a purposeless act (Brown & Vaughan, 2009;
Johnson, et al. 2005) and that it can provide a duel function. Other students discussed
similar experiences and how they use play to provide them with the opportunity to reflect
or explore alternatives. Will explained that because there is an overlap, between his
research and the implementation of play in his life, he has to make a conscious effort to
distinguish when he is playing for the sake of play and when he is playing for research.
229
He did make it clear that both pursuits impact his creativity and even with the conscious
effort to distinguish between the boundaries become blurred. Mary discussed how in a
"not creepy way" she would watch interactions between coaches and children. Since her
training was originally in engineering she is still learning about teacher-child interactions.
The courts provide a "classroom" for her to observe and recognize teaching strategies
that are being discussed in her classes as well as some techniques that do not work. This
ability to utilize her play time to create a teaching philosophy has helped her with her
current career development. Scifi discussed how taking breaks from school insured that
she has the opportunity to become rejuvenated, so that she can focus on academics and be
able to achieve the expectations she and others have for her. Leroy referenced how
training to be an accounted is all about "rules, calculations, and paperwork" so when
he plays it is a release, a chance to express himself and have the freedom to take risk.
Playing, Leroy explained:
Play gives a way to sometimes see things differently… It is a bit of a reset so
you are not just getting bogged down by the stress of life all the time.
[School and work] it is more focused and you are not really free to do
anything or express yourself. Whereas when you are playing games you can
be more yourself and it is not so cut and dry.
Leroy was not alone in his comments about school not being the place to explore
creativity. I had anticipated that students would have been the most driven to be creative
because, hypothetically, they are currently expanding and engaging in the discipline of
230
their choosing, but overwhelmingly the response was that school did not afford them the
opportunity to create or explore the content they actually wanted to study. While this
surprised me at first, I realized that until I started my education everything I did was a
compilation of institutionally directed assignments and objectives that were dictating
what I learned/valued. This does not mean that the participants' do not enjoy what they
are studying; it just suggests that their studies are not providing them with the chance to
be creatively engaged. However, because so many of them work on faculty's projects,
they are required to be innovate or deliver a product (Sawyer, 2012) for someone else's
creative design. Magnus and Scifi explained the work they often were required to
complete fails to meet their long-term goals and objectives or challenge their creative
spirits. This was an interesting finding and something I would like to investigate further
because as Csikszentmihalyi (2013) suggested, people who are creative find themselves
inventing the content they are interested in. My question is what happens when free
thinkers who are unable to have that intellectual freedom during their studies and/or what
happens later when they have freedom to create and do not know what to do with it?
Teachers. It was the teachers who were able to start discussing the relationship
between play and creativity at more of a career-centered level. However, their ability to
teach was dependent on their subject, administration, and the policies that were in place
at their school. Anne was the only teacher who did not have the ability to create and
implement her own educational content. While she taught higher level courses (i.e., AP
or college prep) she was required to teach from the book, sometimes to the point where
231
she would read a script from bought instruction. Like the students, Anne utilized play to
help her maintain sanity and have a creativity outlet outside of school. For example, she
worked as a freelance afterschool tutor so that she would able to create lesson plans and
develop learning opportunities that centered on the fun aspects of science. She explained
that she had to take up being a tutor to remember why she wanted to become a teacher.
Rex, Andy, Maija and Archie all have carte blanche to create their own materials. For
Rex and Andy, this is because they are elective teachers who aligned their subjects to the
standards through the projects they create for their students. Maija works in an art
museum and therefore has the ability to create curriculum that directs students towards
specific ideas; however, she says that she is always "willing to let things get messy
and take a chance on new way of doing something and that can lead to
successes and failures." Archie teaches elementary mathematics at an alternative
high school, his challenge is finding ways to promote math as an application, rather than
a bunch of abstract ideas that his students have disconnected themselves from. While
math is a core subject, his position gives him more freedom since the students he works
with have been given-up on by the educational system. To bring math to life, Archie
talked about how he utilizes gamification (Deterding, Dixon, Khaled, & Nacke, 2011) to
support math education.
The teachers all talked about how their play directly impacts their students
through the lessons they prepare because their interests provide them with new ways of
talking about and engaging with their students and the content. Anne talked about how
reading a book gave her a new way to explain a difficult concept to one of the students
232
she tutored. The new way of discussing the concept helped the student, but also gave
them (i.e., Anne and her tutee) a deeper understanding as they completed an applied
project around this idea. Similar examples about how playing helped the teachers
enhances the content they were teaching were shared by all teachers. Rex explained:
I definitely go through a creative process when I am trying to figure out final
projects for my students because I know what the end process is going to be…
from there I use a step back process. I look at this skill that leads to this skill that
leads to this skill, which back tracks to this skill and then I start with the first skill
they need to know so that I can build from there. For example, in Photoshop, we
just did an animal mash-up where you take two different animals and you smash
them together. They needed to know how to use the cloning tool, and before
that they needed to use the brush tool, and before that they needed to know five
other steps just to get to the cloning piece, which we had already scaffolding at
three different times and I just needed to teach them two new steps. Then I had
to demonstrate to them how to put everything together. I combined a horse and
an ostrich to make a horstrich which was the head of a horse with a jockey and
the feet and the body an ostrich running through the safari. And they saw the
step by step process going from beginning to end where before we had just
practiced the cloning piece with random pictures and then at that moment where
I show them were going to take this picture and this picture and I showed them
the step by step process of how to do and I told them watch piece by piece and
don't miss any steps. You could see the lightbulbs go off and there like 'that's
what you mean' 'yes, and now you are going to apply this to your own.' I had
eagles and horses together for hegles. I had Tyrannosaurs Rex and pit-bull for
Pit-bull Rex. There was a giraffe and a peacock… it was a pearaff… My creative
process is completely necessary and if I don't have a creative outlet it is difficult
for me to explain that to students, because a lot of them don't really have a lot of
background with creativity. And as silly as that sounds they just don't and being
able to show a process helps them.
Andy discussed how teaching with a play focus supported learning in a way a lecture
never could. Andy explained how his interest in zombies resulted in the creation and
233
innovation of an entire math game around exponential growth and a zombie epidemic.
Maija's interest in playing with different art mediums impacts what she introduces to
museum visitors (i.e., acrylics, casting, & watercolors). As was discussed Archie is
always looking for a way to bring play into any environment so his playful outlook
directly influences his students engagement with the content and in a way that challenges
their thinking and understanding. For example, he teaches math as an application and
uses real life examples to build knowledge. He also makes up his own games, based
around his interests, to support students at their levels through instruction and incentives.
Play as an educational tool is primarily focused on how playing helps students make
connection (Howes, 1992; Johnson, et al., 2005; Paley, 2004), but what the teachers in
this study demonstrated was that their play does help their students learn; however, it was
just as important to their learning, understanding, and ability build connections.
Other professions. The participants, who referenced play's impact on their
creativity and innovation, the most, were the professionals. Rose provided multiple
examples of how playing has helped her throughout her career, citing its ability to help
her stay intellectually sharp and engaged with the positions and careers she has
undertaken. She explained that her work has always been "about problem solving
and finding creative solutions." For example, her previous job provided her with the
opportunity to create an intellectual playground for the undergraduates who were
cultivating leadership skills. She suggested that having a playful work environment was
the key to the program's success, at the university and in the community, because people
234
saw the process of the program and the final presentation. Ryan Finely, in the interview
talked about how his need to create was not being fulfilled by his job, which is why he
had to have play in other aspects of his life to feel complete. Since he participated in this
study, he has changed jobs and asked me to inform the readers that his new position
utilizes his technical skills as well as encourages him to tackle problems, be creative, and
develop innovative solutions. This career change also has a different work environment
that is more millennial-friendly and invites play into the workspace. He now sees a direct
connection between being in a playful atmosphere and his ability to produce new ideas.
During the first interview, Super Ninja referenced his career choice as being correlated
with his play styles and types. He found that as an engineer, he has to explore, engage,
and merge information to produce creative and innovative ideas or products. Between his
playful personality and his career requirements he says that play makes up a large part of
his life. The week we did the final interview was a high stress week for him at work,
where he put in more hours than he was accustomed too. He informed me of the drain he
felt because he could not be his playful self. This impacted not only his energy, but also
he noticed that as the week went on he started to make mistakes that he usually would not
have made. Being part of this project had made him more conscious about his play and
not having the same access to play as he usually did and how he was planning on playing
more to make up for what was missing in his life. Marina discussed how her play helped
her stay focused at work or studying because she knew how to use her play pursuits to
reward behaviors or activate her thinking. As a movie critic, she has to find creative
235
ways to discuss her cinematic experiences. Her work it is often playful and feisty
because that is her personality and the way she wants to present herself as a critic. She
also suggests that she writes like that in order to pull in her knowledge of film and any
additional information she thinks might help the reader as they are reading her
informatively-opinionated review of a movie. Marina has no one, except for herself,
setting her boundaries when she writes; however, she wants to find ways to keep her
readers returning, which is where she demonstrates her professional creativity and
innovation. To be able to reach more readers, Marina told me she works to continually
make herself more interesting and play provides an outlet for her to engage with new
experiences. Pancho has a repetitive day job; however, as I found out through this study,
he and Rose are starting a real estate rental business. As a developing entrepreneur,
Pancho discussed the influence play had on his emerging knowledge of the housing
market. He explained building a rental empire lets him use his MBA and financial
training in new ways and gives him a chance to develop handyman skills, which is
something he has always wanted to have. This play is intellectually stimulating and
requires him to think about the city, properties, and investing in new and creative ways.
Brunhilda's job is something that she enjoys, but it is not always stimulating. This has
provided her with an opportunity to explore alternative ways to introduce play into her
work environment. Brunhilda gave the following example of how allotting 15% of each
day to self-directed or play-based projects has transformed her office into a more
innovative machine. She explains:
236
[During] 'magic hour' you could work on whatever project most inspired you.
We met once a quarter to figure out what projects are important and as a team
we brainstorm ideas and things. We say, 'What are you going to use your time
on?' and people just self-sign up for the types of things they want to work on.
So every day at 3:00 we shut our doors; it's essentially Do-Not-Disturb time to
work on our stuff. Then every Friday we have a staff meeting where it's the
entire group, and sometimes there are presentations of projects that have
concluded. One guy did a documentation project… about our monthly report
process… probably the dullest thing imaginable. And yet, for him, that was
creative, even though it was a documentation process… he wasn't inventing
anything, but being able to pull together the words and the pictures and put
everything in an understandable format, thinking about the person coming in
behind him who would read this for the first time that was creative for him, and
he loved it. And he did a bang-up job. One of our Friday meets was him
presenting the results of his work. So he got the accolades for doing it. Frankly,
we gushed. We are oh, so grateful that none us had to do this horrendously
boring, terrible thing… that would have put me to sleep in a heartbeat… But he
loved it, and he was great at it, and we put him in charge of something else that
needed documentation, and he was fine with it. We discovered a skill that he
has; we discovered a passion that he has; and we as a team are more effective. If
I had done the same project, I would have [been] way less efficient. I would
have taken much longer and not done as good a job. So by allowing for some
creativity, some play time during working hours, people are more engaged
because they are self-selecting projects that they are interested in or want to
learn more about. They feel like they have more control. They are more
engaged in the process. It's definitely a team building process, because we are
all working towards the same types of things, the same lists of things. We are all
encouraging one another. All of those aspects help us become better as a team
and crank out results like nobody's business. So that is one of the things that
play has been incorporated into my work environment.
The professionals explained was that play is needed and can be applied in many different
facets of their work environment. They also, reinforced what the students said, in that if
they do not play they have a hard time staying engaged and being able to create.
However, they also have the most freedom to engage with ideas and challenge
understandings within their fields through their productivity.
237
Themes of Play, Work, Creativity, and Innovation
When creativity and innovation are discussed, there is an expectation that a life
changing outcome has to be produced. What the participants' demonstrated was that
creativity and innovation influence career performance through small and simple
activities. Play activities that happen outside of a workspace (i.e., self-care and exploring
their own creative process) and in the work environments (i.e., making time for chosen
projects) impacts career performance and engagements with tasks.
Humans need to play and when there is a deficit they crave the opportunity to
play (Bateson, 2011; Brown & Vaughan, 2009). When the participants were not
regularly playing they could see a difference in their work performance. For example,
they reported that they felt sluggish (i.e., physically or intellectually) and unattached to
what they are doing. An almost verbatim response was given by 14 of the participants,
who talked about how if there was a time lapse, when they were not playing, others
would mention that they should play because they were a little _____ (i.e., crabby,
disengaged, shit, cranky, or stressed). Anne explained that when this happened another
teacher would make her go out for a happy hour. Scifi talked about how her brain just
does not work right when she takes a hiatus from playing, especially from playing in the
outdoors. In short, "life without play is death" (Brown, 2008) and bringing play into
workspaces, or in preparation for work, helped the participants feel engaged and alive.
While I was focusing on the tangible creative element of what should be expected
from play in a workspace, it was the socializing that many people suggested supported
238
their creativity and innovation. As play is social, this is an important aspect of creativity
and innovation because bring other people's ideas into the mix, especially in an
interdisciplinary environment, allowed everyone involved to explore and share ideas that
lead to the enhancement of understanding (Sawyer, 2012; Vygotsky, 1978). Super Ninja
and Brunhilda also talked about how when they had good relationships with their coworkers it made the office more enjoyable. Super Ninja illustrated this idea by
explaining:
Play gives me opportunities to connect with some of my colleagues who
have similar interests to me. It helps us connect and then our working
relationship improves and so does our productivity and work… a lot of
times you are working with people that have access to things that you
don't have access to or… authority. So it is good to keep a good working
relationship with those people and not everybody does. And then those
people sometimes screw themselves over because you ask that person to
do you a favor and they are like "no".
Play helps you build relationships and generates opportunities to share interests and
perspectives on everyday experiences and abstract thoughts. These shared experiences
then add to the work environment and people's abilities to work on a team (Sawyer,
2003). Rose talked about how the work place she thrives in are built around creating an
atmosphere where similarities are found, ideas exchanged, and everyone realizes
innovation can only be implemented when they work together. The need to share workbased understandings with someone who is working in a similar situation is required for
environments that require innovation (Kuhn, 1962; Kahneman, 2013; Sawyer, 2012).
When an environment exists where ideas can be shared there is an enhanced opportunity
239
to build on others ideas, to think abstractly, and to reach mutual solutions (Sawyer; Russ,
2003).
More than creating an opportunity to think abstractly, play creates a language
through which intellectual capital (Bourdieu, 1986) or creative capital is developed. The
creative capital of a group is unique because understanding emerges as each participant
introduces their strengths and weakness, which contribute to the group's overall
effectiveness (Kelley & Kelley, 2012; Paley, 2004) and innovative production. Sawyer
(2003) explained that within group play there is a communitive process that merges the
conscious and non-conscious and as contributions are made participants are able to move
ideas towards an innovative product. Play that is expected to produce an outcome (i.e.,
jazz bands, business, or writing) requires that all involved be able to check their
inhibitions and take some risks in order for flow and creativity to occur
(Csikszentmihalyi, 2008; 2013).
The teachers discussed seeing this flow to innovation loop happen when they
utilized play-infused lessons in an environment that builds on playfulness. Andy Scott
was especially, excited to share his example of how his teaching style challenged what
his school's evaluators were expecting to find in a "learning-friendly classroom." He
explained:
I'm not in the normal mold of things… I teach 10 to 15 minutes…
because I know I can't keep them [the students] engaged for that long. I
try to keep them long enough for instructions and questions… then I let
them learn as they explore… [Talking about the day he was evaluated.] And
so at that point she was like, 'you are not doing all of the other
techniques that we know you should be doing, but the kids are working
240
and doing everything you want them to do and they are learning more
than you expected them to do. So they are going outside the realm of
expectations and this is actually better.'
The assignment that Andy had them working on, when he was being evaluated, was
computer coding in preparation for robotic programing. He explained that his
assignments are designed around getting a classroom full of middle school students
excited about STEM by showing them what they can do with even the most basic skills.
By not directing every step of the experience, the students have more freedom to interact
and expand their knowledge by creating their own application based around their interests
and emerging abilities. Seeing the students expand their understanding, Andy informed
me is how he sees his job as being playful and how he utilizes creativity in his daily life.
He also, builds major projects around the students' interests (i.e., aviation or Legos) to
ensure that what they are learning will help them develop the skills they want to have.
The group dynamic is critical to his teaching style because the students help each other
and that propels the class into new ways of thinking and experiencing STEM. He is not
changing the world with his creativity-infused teaching style, but he provides his students
with the autonomy to realize their potential and that helps him be a force of innovation in
his field.
The need for a free thinking environment was a key factor for 13 participants and
their ability to create and innovate; although not everyone experienced that kind of a
work environment. For those who were in that work environment, it was the atmosphere
that made a difference in the lives of the participants. "Failure to thrive" has a negative
241
connotation, especially for people who are developing their careers; however, the need to
be able to fail was mentioned as a powerful teaching tool by the participants. One person
explained "you have to fail to learn." This was seconded by Andy who explained how
he created a workspace that welcomed failure because it is a powerful learning and
teaching tool (Baurmeister, et al., 2001). The other teachers (i.e., Rex, Maija, and
Archie) also discussed the important role failure had in their work environment and how
they could utilize play to support that culture and use it to obtain better responses from
their students. Play research on children (Johnson, et al., 2005; Paley, 2004), advocates
for letting children fail to learn because it provides them a chance to explore their own
solutions. This was exactly the contexts that the teachers were supporting in their
classrooms and referencing the positive affect that comes from being in an environment
where intellectual challenges can be mastered (Bandura, 2001; Vygotsky, 1978) through
exploring different outcomes. What this illustrates is play lets you engage at a higher
level of thinking; however, the environment has to welcome play as a tool for learning.
The initial cost may appear as mistakes but the long-term product is deeper understanding
that influences a persons or societies creativity and innovation.
242
Discussion and Conclusion
I entered this project with the intent to explain that strong connections exist
between play, work, creativity, and innovation with STEAM; instead the relationship I
explored was manifested through career paths. The participants showed that to invited
creativity and innovation into the workspace, environment and career track had a greater
influence on seen outcomes than being employed in a certain field. STEAM people are
expected to innovate within their careers, which they do but there are professional rules
and culture dictate the boundaries and hidden curriculum they have to follow. Those who
are studying to become the academic lifeblood of their fields discussed how their ability
to create and innovate is limited by their student status. Teachers have the freedom to
create playspaces in their classroom, depending on the expectations of their employer.
Professionals have the most freedom but must yield tangible and measurable results from
their play.
When people talk about the creativity loom (Florida, 2004) what they are failing
to recognize is that, it is the small things that people do with the resources they have that
advances creativity and innovation within their work sector. Through enough small and
subtle changes paradigms are challenged and ideas emerge that led to major shifts in
thinking (Kuhn, 1962). However, in order for these changes to occur people need to be
in environments that welcome change, unique thinking, and the ability to deviate from
the norm.
243
In the end, I agree with Kelley & Kelley (2012) that everyone is creative; the
challenge is that people often fail to recognize their creative and innovative abilities
within the different contexts they are working. Through further exploration of creative or
innovative experiences, that lead to manifestations or advancements (i.e., idea or
product), a better understanding of personal and group achievements can be understood.
This will require a focused study that allows for interactive experiences in work
environments to be explored with data collection concentrating on how thinking,
interactions, and recognition of knowledge leads to new ideas and understanding. For
those who do not consider themselves creative, it will be important to support their
reengagements with being a creator by identifying routines and activities that support and
develop their innovative behaviors (Albert, 1990; Kelley, 2012; Brown & Vaughan,
2009) through play, in a work environment.
While this chapter did not provide me with the findings I was initially searching
for, I learned a great deal about how environment and career track influence access to
play and the various ways adults utilize creativity and innovation in their daily activities.
What was illustrated more than anything was that if you want to be creative you cannot
sit around waiting for inspiration. It has to be sought after, by engaging with playful
activities that allow for connections to be enhanced or for material to take root.
Additionally, the bounds of environment are not as much of factor because people will
find ways to create if they want, even if they have to blow through boundaries.
244
CHAPTER 6: WHAT PARTICIPANTS WANTED THE READERS TO KNOW
ABOUT THEIR PLAY
Research on play has traditionally focused on research that explores the
perspective of what is occurring from the researcher's perspective. For example,
Pellegrini (1995) discusses the implementation of anthropologically-based methods like
observation and interviews. While interviews allow for the voice of the participant to be
present, the participants rarely have the opportunity to inform the researcher what they
feel is most important about their experience with the project or general knowledge they
would like to be included. In the first part of this section, I include only the information
that the participants thought should be included. In this section, I present what the
participants want other to know about their play. I added nothing more than formatting.
The second part of this section, discusses the importance of including participant-directed
narrative in qualitative research that seeks to be human-centered (Grbich, 2004; Lundy,
2007; Smith, 2013).
Magnus: [Talking about the backpacking trip] if you want to see cool stuff
you have to hike there. And it is fun to go somewhere on your own
volition to see how the distance changes by foot and how much you can
travel on foot you don't believe it but it is amazing to have the satisfaction
of going somewhere under your own power that seemed hard. And that
gives you confidence. Doing something like that gives me confidence in
myself which then trickles down into other aspects of my life… I just feel
like a badass when I do cool stuff. And when I feel like a badass from
doing snowboarding, or something else, and I come down and talk to the
people like "I'm a badass what are you?" That's just how it goes. And so
when you are successful in one aspect of your life, I feel like it can give
245
you the motivation to be successful in another aspect of your life,
especially if something is not going well in your work. If I am not
achieving my goals or things are not going as fast I want to go, having
success in other aspects of my life that can kind of bridge the gap.
Anne: [Talking about the Renaissance Festival] it was like a mini-vacation for
me. It was relaxing, but exhausting at the same time. It was a good fun
kind of exhausting and that doesn't happen as often to me as it probably
should… for adults where we can just goof off for a while like we did
when we were kids… when we would run till we couldn't run anymore we
don't do that as often and the Renaissance Festival is an all-day event
that I can look forward too. Where I can have a lot of fun and exhaust
myself and then go back to the real world thinking that I've actually done
something out of ordinary and fun for the sake of fun sake.
Rose: I get private time with the most important person in my life. We
get to laugh, we get to joke, we get to be kind of critical of how other
people live their lives. So being judgy is kind of fun like "oh, my gosh
they used chartreuse as the primary color of their living room walls…
why didn't they just vomit on it and save themselves a $3000 dollar
paint job." Or "WOW! This house has eight different types of flooring
why didn't they just pick one, that is so passé" Mostly it is just about
Pancho and I having time to just have time to be without other friends,
without our phones, without our families, without finding jobs, without
trying to physically figure out where we are going to live, without
having to figure out how we are going to get me pregnant. It is about
enjoying an isolated moment of enjoyment in the present while so much
of our lives are about the future. It is about experiential immediate
gratification rather than different potential possibilities.
Will: [Explaining play from a gaming perspective] a lot of it was I first started
playing when I first moved here, maybe within the first 6 months. At that
point it was just home, work, home, work, and I didn't have any friends. I
didn't come here knowing anybody. So this was a really good way for me
to meet people and explore new spaces and try new things. That was the
246
benefit that started, still is, and I am friends with some of the people I first
met. And I find it interesting.
Rex: Play is necessary and we can't live without it. It is how we understand the
world, even as adults. That is all I have to say about that.
Ryan Finely: I enjoy making things and so whether it is woodwork, writing
jokes, or stories… I just enjoying see something or listening… in existence
when I am done and sometimes it is hard. Working out can be fun for me
when I can see the effects of it but when I no longer see the effects of it, it is
no longer fun for me. And that is just kind of how things go. I am one who
likes to experience and I enjoy having the memories but I like having
something that I can take with me in the end.
Mary: It is kind of a good physical thing. Not to sound redundant but I'm not
thinking about school [when I'm playing] and I get to hang out with my friends,
especially when I'm with my team hanging.
Andy Scott: Things people enjoy are a necessary-necessity to life… My wife
likes to read. If she didn't get a chance to read she would not enjoy life. So if
her job took away her ability to read out of pleasure, I think she would soon
quit because why do something to take away any reason for being happy. I
realize that sometimes people have jobs that they don't like but if you don't
have anything that make you happy- either your job makes you happy or after
your job makes you happy- I like to think I have both. And that makes me
pretty lucky, I don't underestimate that I can do both. My wife has a job that
she finds rewarding, which makes her satisfied with her job even though she is
frustrated with what she has to go through to get through her job but then she
enjoys her life when she gets home. Having her kids, playing, reading, I can
enjoy going home like playing video games with my son, playing with actions
figures, talking about silly things, watching a television show and so those are
my things at play. So you have to have something to look forward too. I know
that that sounds cliché.
247
Super Ninja: I think the benefit overall was just I feel like a more complete
well rounded person when I have opportunities to do things that I like to
do.
Scifi: I think that play is whatever I want to do and if that means taking a
pole fitness class or going on a 9 mile hike then that's what I am going to
do. Also, in regard to hiking, we went camping, it was several hours away,
and there were other people involved. It's a way to be social as well. That
sort of brings a lot of things together.
Maija: So I think I use play to think differently about things or have
me experience play in a new way. This kind of play experience… I
didn't want to tell you all of the things we were going to do
immediately so I wanted it to be fun and kind of scavenger for
someone participating in my play experience, which again is something
that I teach. I want to give clues, but I don't want to give away every
immediately. I want there to be little punctuated surprises. And I
think that kind of anticipation is part of play.
Marina: I feel the most free and liberated when I am moving
my body to music so that is really centering for me and
reinvigorating because of that I have more energy, for
work, and I am healthier. When I experience something new
I create new goals and those experiences give me identity
capitol, which give me confidence.
Leroy: Just being able to ignore other aspects of life that are more.
Consuming or frustrating just having a release.
Archie: It just helps me to decompress. It keeps be sane. I'm just
tittering here on the sanity.
Pancho: I think that sometimes, people don't play for play's sake… you play
with an alternative motive and I don't mean that in a negative way. There is a
purpose beyond it, you are trying to get better at something or improve
248
something. In this case I am trying to a larger knowledge of the real estate
market so that I can make informed and smart decisions when I do purchase
property. I think that is true for any type of play. When parents play with kids
there is an alternative motive of like teaching kids how to share better.
Teaching them how to compete in a fun enjoyable way where it is pleasant.
They know how to compete and learn how to lose. That is an important part
of growing up is knowing how to fail. I think when people play, including
myself, that has an alternative motive that is also positive. I think that is what
you can get out of mine is that play has other motives and that is sometimes
positive motives.
Brunhilda: It is relaxing while simultaneously giving me a sense of
accomplishment. I feel that every type of play I engage in gives me something...
For this particular type of play, it hits on so many cylinders. Again, it is a social
interaction, where I got to meet other people. It satisfied my instinct for
teaching. I got to demonstrate and share a talent that I have or a skill set that I
have. I care passionately about children, and I was able to, in a very small way,
impact children's lives. I just really like doing origami. And so just
participating in an activity where I wouldn't have normally done origami on a
Monday night… so the process of recalling or relearning how to do something
and becoming enthusiastic about is all over again. For me, play has so many
different benefits and crosses so many different borders that I don't think utility
can be measured.
Discussion for Application in Qualitative Research
While I have attempted to include the voice of the participants as much as
possible there were times when narratives were shortened and edited. However, it is
important to include this section because it was an example of a good research practice
when engaging in human-centered research. This chapter, illustrates why it is important
to provide participants with a voice and an opportunity to share what they think others
should know from their experience in the research process and life. This idea to include
an entire chapter on what the participants wanted the readers to know was implemented
249
after I read Smith's (2013) reflective account of what can occur when the researcher's
perspective is the only voice being privileged in the analysis and report. This idea was
further supported by the work of Patricia Lather (1997) who documented the lives of
women who have HIV/AIDS. She utilized narrative form to give participants'
experiences more value than if she had paraphrased everything that she had been told.
While the participants all assisted with data analysis and determining what should be
included and what was not to be used, I still performed much on the analysis and my
reflections have dominated the discourse. This chapter provided a participant-centered
explanation for what the readers of this dissertation should know about early adult play.
This reinforced my stance that the participants were the actual experts and I did/do not
have the right present only my perspectives.
250
CHAPTER 7: PLAYING WITH- THE FUTURE OF- RESEARCH
Introduction
By introducing alternative methodologies and practices in data collection, I was
able to gain a greater understanding of what play was then has previously been addressed
in the research. While the difference in data collection has been discussed several times,
play research has not been discussed as its own entity. This last chapter is a reflection of
methodology building up to a discussion of where play research can go in the future and
my research perspective.
Literature Review
This literature review explores the challenges of researching play in an academic
manner, because play research has traditionally been done on children, their voice,
experiences, and non-academic language they bring in their explanations is often
neglected to make way for the academic expert. This is where I see change occurring in
play research and what I have argued for throughout my dissertation. In this review, I
discuss the way traditional and contemporary research methods can merge to provide a
better conceptual manner and practice for future research.
Methods for Researching Play
The overarching criticism of play research is not its validity as a field of study,
but rather that it is limitation in scope, context, and application (Cohen, 2006). The
question must be raised is how do you effectively and authentically capture all that play
is and all that it can be? That is the great question that play research faces and must
251
generate solutions for. In order to advance this field, methodology must advance past
traditional methods (i.e., observation, checklists, experiments, and surveys) (Lundy,
2007; Smith, 2013; Thomas, & O'Kane, 1998; Trudge, et al. 2011; Holloway &
Jefferson, 2000) to incorporate the perspectives of those are demonstrating the content
being explored. Despite the groundwork and recognition of play's role in people's lives,
the study of this area is still emerging as are methods for researching the acts that
influence human development across contexts, people, and civilizations.
Shifting methods from children to adults. Research on play had typically
focused on children. In most play-based research projects involving children, they are
treated as subjects rather than knowers (Davey & Lundy, 2011). Researchers have gain
insight into how children and animals play by utilizing methods such as: ethnography
(Huizinga, 1950; Tudge, et al., 2011), observation, (Smith, 2011) and interviewing
(Smith, 2007; Corsaro, 2003). While they have advanced the study of play and provide
necessary approaches to research, they are most effective at progressing the researcher's
agenda and fail to incorporate the participant beyond the completion of tasks
(Whitebread, Coltman, Jameson, & Lander, 2009; Christie, & Enz, 1992; Gary, 2011).
Only recently have children begun to be invited into the research process and their
experiences/knowledge utilized as a tool for generating greater understandings about the
impact of their play on their lives (Cannella, 2002; Smith, 2013; Clark, 2011). However,
child-centered research on play is still developing and most research occurs
internationally, the major issues of play research remain in play (i.e., play changes based
252
on the individual or group). Researching play is difficult in part because of the reasons
already discussed but also due to research methods that are traditionally used in the social
sciences (i.e., qualitative & quantitative).
Huizinga (1950) discussed, 65 years ago, about the issues with using quantitative
methods to explore play. He argued that "without first paying attention to its [play's]
profound aesthetic quality… it leaves the primary quality of play… virtually untouched"
(p. 2). Some researchers even question if play can be quantified because so much of it is
an asthenic experience (Stevens, 2014), which is why qualitative methods have been
traditionally employed. The perpetual problem with using qualitative research is that
play is a topic limitless so a survey can only capture a small glimpse of what needs to be
explored to understand play in action. While researchers who work with children have
understood this issue, when early adults manage to be included in play research data is
collected using quantitative measures (Shen, Chick, & Zinn, 2014; Barnett, 2007; Glynn
& Webster, 1992; Russ, 1993; Smith, 2007).
To advance methods of any study requires researchers be willing to "search for a
method" (Vygotsky, 1978, p. 65) and change tradition if necessary. Goncu and Gaskins
(2007) recommend that play research needs to be done at an interdisciplinary level so that
quantitative and qualitative research styles can merge through an assortment of
methodologies used in different fields. This would also allow for more access to
different theoretical backgrounds that could support/advance their investigations of how
play impacts the human experience across disciplines.
253
New Methods of/at Play
As methodologies expand so will our understanding of what play means across
the lifespan and the ways in which it is implemented in everyday practices. Sutton-Smith
(1995) wrote about the need to advance play research through methods that capture its
ambiguity and implementation. Despite this call to arms being issued 20 years ago, large
gaps in the field remain present and methodological advances sometime impede the
inclusion of participants' and their abilities. For example, with the development of new
technology it has become a popular tactic to record individuals and groups playing in
order to later code and analyze the recordings (Johnson, et al., 2005; Christie & Enz,
1992). From these recordings information and incredible research has been obtained; yet,
there are issues with them being viewed retroactively, without participants' insight, and
without an understanding of the latent variables that impacted the play experience (Smith,
2011; Smith, 2013). This means that play research is generally based on an outsider's
perspective and not on the experiences of those engaged in the act.
As mentioned gaps (i.e., race, age, and socioeconomic status) still exist, these
could be eliminated by inclusion of the participants and expanding the demographics
being studied. Utilizing a feminist (hooks, 1994) or poststructural (Grbich, 2004)
framework, allows for the incorporation of participant-centered (i.e., human-centered)
methods that move away from a product- to a process-based research model of play
(Barone & Eisner, 2012; Stevens, 2014). This would also provide the participants with a
voice in their own experience (Cannella, 2002; Belenky, et al., 1997).
254
In other areas fields where research has becomes more participant-focused,
attention has been given to discovering ways to limit issues of power and hierarches that
have traditionally been underexplored in research studies (Glense, 2011). Narrative
research and critical theory have done a lot to support this change. Corsaro (2003)
discussed his discomfort with positioning himself in a research setting with young
children because of the immediate power dynamics that arose between himself and his
participants. It was only after mutual navigation of their roles that traditional adult/child
power dynamics altered and new roles were established. The ways in which a researcher
presents themselves has a direct influence on the participants that can have short- and
long-term impacts on those involved as well as the results of a study (Valenzuela, 1999).
Using an exploratory research design to discuss the role of play in adulthood and by
finding ways to minimize the traditional issues of power imbalance between the
researcher and participants it is important for joint participation (Glesne; Fontana &
Prokos, 2007). In a participatory action research (PAR) model, an embedded element to
the methodology is that learning and information is exchanged together rather than the
"traditional asymmetrical power relationship between research and practitioner
[participant], which positions the official researcher as 'the one who knows'" (McNiff &
Whitehead, 2010, p. 18). This shift is why non-traditional methods are gaining
popularity amongst contemporary researchers who are interest in human-centered
research (Bernard, 2011; Neuman, 2011). When the participants are adults the age
relationship also serves as a potential for a reduction in the researcher-participant
255
hierarchy (Glesne, 2011). This shift in the relationship allows for a transfer of knowledge
and power (Foucault, 1980) that provides a backdrop through which shared information
is exchanged.
Barone and Eisner (2012) voice the need for research to focus on the process in
order to account for understanding the changes and reasoning that goes into an
experience. The role of process is especially important in play research because much of
what is considered play is developed through what occurs during an experience.
Researchers need to have ways of explore the intrinsic value of pursuing an act, which
occurs through the process, to be able to understand the product (Deci & Mollar, 2005).
When process has been discussed in play research it is through retrospective interviews
(Smith, 1995). In this sense, there is invitation to develop and utilize alternative forms of
data collection in order advance the understanding of play and the role of process during
and after the experience.
In participatory research, feminist and poststructural perspectives are used to
improve the voice of participant throughout the different aspects of a study (Clark, 2011;
Glesne, 2011). The presentation of research findings has traditionally been presented
based on the discretion of the researcher (Corsaro, 2003); however, that perspective is
outdated when it comes to engaging with the intimate details of participants lives
(Bernard, 2012). Providing participants with the opportunity to narrate their own
understandings provides an analytical piece that is missing from the application aspect of
play research (Burghardt, 2011; Sutton-Smith, 1997). Additionally, Clark (2011)
256
recommends that when working with marginalized and underrepresented groups it is
important to support their perspectives by offering them opportunities to explain their
experiences in a number of ways. While adults are rarely considered a marginalized
group, in play research they are. This is why multiple lenses are needed to explore their
understanding, the application of play in their lives, and the incorporation of voice in the
final research product.
Research Statement and Questions 3
As my study was on an underrepresented demographic and on a topic that has
been traditionally reserved for childhood, this presented the opportunity to explore/ play
with methodology as well as what needs occur to advance research on play. Through my
answers to the questions below, I will also explain my perspective on human-centered
research:
1. What are considerations that must be addressed when researching play with
adults?
2. How can future research on play be advanced?
257
Results
Considerations for Play Research
One of the problems with researching play is the lack of rigorous methodology.
Some have tried (Barnett, 2007) to create measures but they are retrospective, selfreported, and fail to address play as an action as well as an experience. In my survey, I
used the questions to prime response with the intent that people would reflect their
association with play in preparation for the interviews and play experience. Embedded in
my design was the need to incorporate past and present experiences, which is why my
survey could not be considered standalone measure or anything more than a quick
glimpse into an individual's life. For this study, my measure provided with enough
background information that I could enter the first interview with particulars about how
each participant viewed their play. However, without the interview, the survey would
have yielded little information or understanding about how early adult play. Play by
nature is a personal process, which is why it is primarily researched using qualitative
measures. Now that I have a better understanding of play and how to research it, I do
believe that there are effective ways to capture play in a quantitative format
Quantitative Measures
The first area, I want to discuss is the issues with design and the ways
methodology need to be improved in subsequent research studies. Although this study
was intended to be mixed methods in the end it was a qualitative study garnished with
some descriptive statistics. Since I was exploring a topic that had little preexisting
258
information, my zeal for expanding the field was unable to be matched by my dataset.
My initial plan for this study overlook the "profoundly aesthetic quality" (Huizinga,
1950, p. 2) of play, especially in adulthood. As I experienced and analyzed my research,
I found that it was more important to understanding trends and experiences then making
correlations between outcomes that I did not understand (Levitt & Dubner, 2009). If I
had run correlations between income and play styles, it would have been an inappropriate
use of the data and presumptuous to make statements about the relationships between the
variables in the survey. I set this up to be exploratory but somehow forgot to think about
what that means in terms of statistics. So in the end, I decided to focus more on
understanding and exploring trends and experiences that could be used to identify themes
and connection as they related to previous and emerging literature. With better
background knowledge of play in adulthood, I can ask better questions and improve
research methodologies.
Now that I have a better idea of how to study play in adulthood, I can potentially
pose a research design that requires a quantifiable measure. What I am going to suggest,
was an idea developed while discussing the issues of quantifying play with Brunhilda.
This is also an excellent argument for why play is an interdisciplinary topic. During the
interviews with Brunhilda, she would reference play in terms of utility and making sure
the activities she selected met her personal agenda. It should be noted that utility of play
is a term used in animal research (Bateson, 2011) as a measurable way to quantify cost
259
and benefits. Utility then became the way we talked about how play could potentially be
measured before jumping into following research study idea.
The overarching themes we discussed to make a study on play quantifiable
included: access to a living document in order to log play experiences based on their
interests and definitions of play. As a living document the responses generated could be
changed to fit play interests and each participant would then link their play experience to
predetermined categories, "practical" variables (i.e., time spent, cost, number of other
participants, location, and travel) as well as questions about the motivation/reward from
participating (i.e., skill development and social experience). The analysis of such a
document could then draw on major ideas such as play styles or types, which would be
categorized by the participant, in relationship with demographic, practical variables, and
motivation/reward. Although there are some areas that need refining, a living document
includes aspects of traditional and non-traditional methodology in a way that captures
respondent's experiences and perspectives on play as they understand it.
Potentially, there could be a lot of problems with this type of survey construction,
validity and reliability being two major issues (Shadish, et al., 2002) but given the
adaptive and aesthetic nature of play, traditional quantitative measures fail to capture the
essence of what play is or how it is applied by participants. I argue for an advanced
measure and the incorporation of participants with the development of such an
assessment type. This would also introduce a PAR-friendly approach (McNiff &
Whitehead, 2010) to quantitative research because participants would be able to generate
260
their own thoughts into the repository databased that focused on their developing
interests, experiences, and recognition play. Additionally, this would allow for
participant's voice to be involved in a more accurate and authentic way (Cannella, 2002).
I recognize this kind of participant lead research could go very wrong very quickly;
however, scientific discover cannot advance unless traditions and ideas are challenged,
especially in areas that have become stagnant due to lulls in advancement and lack of
creative and innovative methodology (Kuhn, 1962). Since play research has always been
advanced through qualitative data rather than quantitative data there is much to be
challenged and explored.
Playtime
Another area that needs to be addressed is the amount of time adults spend
playing as well as the acknowledgement that adults do/need play. This is an area I
completely overlooked when I was designing the study. While everyone acknowledge
themselves as players, I do not know how much time they spend playing outside of what
I documented for this study (Med = 4 hours and range = 2 – 18 hours); however, the lack
of documented time adults spend playing is one of the reasons people say they do not
play (Bateson, 2011; Colarusso, 1994). More research on the time component will be
helpful to understanding the relationship between time and play from the perspective of
adults. I would also recommend, that further inquiry about the focus on the quality time
spent playing and not the quantity of time.
261
Wordplay
One of the most vexing parts of this project was explaining to people that my
dissertation was on adult play and their response being "that sounds dirty". The
vocabulary of research on early childhood play, does not help the situation (i.e., rough
and tumble play) (Pellegrini, 1995). The issues of terminology became a real hindrance
at times because people would perseverate on the cultural interpretations (Vygotsky,
1978) of what "adult play" could mean and initially fail to expand or consider what
playing in adulthood is/was. Note: these were usually unintentional participants or
spectators and sometimes their sobriety was questionable. I will again reinforce that
adult play does include bedroom activities, as it is a function of this stage of life and an
important type of play for adults (Colarusso, 1994) but that was not the direction my
research is intended to go.
As I struggled with the problem of adult-friendly terminology to discuss play, I
began to see why adults talk about play as leisure or recreation. Speaking with
participants about this issue we discussed the awkwardness of asking a 30+ year old
friend if they want to be your playmate. Again, contemporary culture has given that
word a different meaning, especially for women. When I was trying to determine what to
call the play experience stage of data collection, I brainstormed a lot of different options
(i.e., playdate, playtime, playvention, and adventure play) but each one failed to offer any
authenticity and sounded as though I was asking everyone to replicate a childhood idea.
In the end, I read play experience in Sutton-Smith's (1997) The Ambiguity of Play.
262
Sutton-Smith did not use the words the way I interpreted them so I decided to utilize/give
new meaning to the words as a tool for data collection. The expansion of terminology is
necessary to expand research across the lifespan and for adult play to be taken seriously
(Danby, 2005). Or everyone just learn that words can have multiply meanings, and that
adults need playmates.
Playing with Ethics
Research ethics have always fascinated me. Prior to this experience, I had never
considered the need for ethical procedures of the Institutional Review Board to be
challenged, but this experience really changed my opinion on the current status of ethical
practices. Based on my research training in graduate school, I treated the IRB obtainment
as the tool for securing integrity-based practices and key to the advancement of research.
As this had been my perspective, and because I recognized the potential that could arise
when documenting ludic behaviors, I actively attempted to consider my own ethical
practice to provide locations, participants, and others with an ethics-fused experience. I
admit I overthought this and in the end my raised ethical approach to research was
detrimental to the start of my study and my respect for IRB.
Children. The first major issue was that to obtain my IRB I was told I had to lose
my ethics. As mentioned, I wanted to be as ethical as possible. In a previous research
project I had struggled with how to approach unintentional participants and in the end
determined their information was to be ignored because I did not procure their permission
as I had with participants. Knowing that I had lost incredible data in the past, by
263
overlooking consent, I opted to develop a form for anyone who could potentially
contribute even peripherally to the study. In fact I created two, one for adults and one for
minors. Through the consent form I informed them that they were not actual participants,
but their presences influenced the person I was researching with and they had the right to
choose what information was shared about them, as "unintentional participants." Again,
play is often social and multigenerational so it was important to me that I was not
referencing others without their permission. The problem that arose was my desire to
extend the ability to "consent" to children (Dell, 2011).
Given my research on children's rights, the idea of consent is part of my ethical
DNA. In short, if I am asking anyone, regardless of age, to participate their permission is
the determining factor. I full endorse parents need to provide consent as well and
included a line for their signature on the child consent form, but I do not treat parents'
permission as an override if a child says no (US Health and Human Services, 2009). This
is not a radical notion and children's consent is the more fashionable approach to take
when doing research with children, especially at the international level (Lundy, 2007;
United Nations, 1989). Despite my arguments and citation regarding this matter, I was
told that until I changed my stance my research would not be approved.
As exploring the advancement of play research was one of the areas investigated
for my dissertation, I had a real problem with being told I needed to dismiss my ethics if I
wanted to obtain ethics approval. I can emphatically tell you that one of the most
264
important steps to improving play research is to treat anyone involved in the process like
a human instead of an age (Walker, Brooks, & Wrightman, 1999).
Rather than losing my ethics, I decided to ignore children and their presence,
which is why when children were present in photos their faces were covered with a gray
circle or when adults play involved children it was their reflective-narrative rather than
my observations. I will state that this decision to ignore that children's existence angered
children, especially the refugee youths I volunteered with, because they were important to
the situation and their experiences were silenced (Cannella, 2002). You cannot explore a
topic such as play, which is so multigenerational by excluding a generation. Also,
multiple participants changed their play or how it was documented in order to avoid the
child issue. While this was useful for completing data collection, it also calls into
question the authenticity of the experiences (i.e., parent-child play interactions).
Playspaces. To promote ethical considerations of play research some of my key
arguments stemmed from Bronfenbrenner's (1979) ecological model, which required the
acknowledgement that everyone has multiple systems that they constantly interact with
and navigate. As discussed, my research took me into other people's systems and
cultures and this required the upmost respect from me as well as an understanding that as
a novice in these settings I would make mistakes. But is it also meant that within the
various areas research could not be conducted and these factors needed to be considered.
This introduced the role of public versus private spaces. With my personal
communications with IRB I had varying accounts of what constituted public and private
265
space. Based on this large discrepancy, I ended up having to provide IRB with specific
potential examples of where I could be collecting research in order to get a clear answer
of whether I could document in these locations with or without permission. I learned
quickly that I had to rely on loopholes, which IRB told me about, to complete some of the
play experiences (i.e., public school and homeless shelter). I did get permission from the
school to be in Andy's classroom and promised not document anything. When he
discussed the experience later, it was done as a reflective personal experience rather than
a shared experience, relying solely on his interpretation of the experience. While I had
permission from IRB and the school to compete research in this manner, I referred to his
and Brunhilda's play experiences, as "loophole ethics" because I never felt like I was as
ethical in these situations as I would have liked to have been and usually felt like I had
gone rogue.
In the end, the most important lesson I learned was not about how to improve
ethics in play research, it was more about how difficult it is to exert your intellectual
freedom in order to challenge tradition when researching. My experiences in attempting
to be ethical, has led me to critically analyze the way participants, especially children, are
treated in research and the integrity and validity of the IRB process.
Power Plays
Hierarches of power exist in research and usually they support the researcher's
power. This is especially true when working with children (Lundy, McEvoy, & Bryne,
2011; Corsaro, 2003) but can also be documented when working with adults (Glesne,
266
2011; Seidman, 2013; Foucault, 1980). By working with adults on a topic such as play,
this afforded me the opportunity to explore and challenge power norms and dynamics, at
least for part of my data collection. For example, as I designed the study I wanted to
provide participants with as much opportunity to voice their understanding of what play
was to them in an unstructured environment. This is why play experiences were chosen
and planned by the participants. I went into many play experiences with little knowledge
about what we were going to do or an understanding of their play culture, so I was often
the novice and dependent on the scaffolding provided by the play experts (Vygotsky,
1978). Since each participant, unless they chose to partner up, had complete and total
control over what we did and how we documented there were many experiences that took
me out of my schematic reference or even normal behaviors.
One example that really illustrated the shift in power dynamics was when I spent
the day playing the augmented reality video game with Will. Within minutes of meeting
up it became very clear that I did not have the skills or terminology to converse about or
play video games. This was illustrated by several situations where the objective did not
make sense and I had to have Will had to explain the game to me, using layman's
terminology (i.e., point and click). As this game was designed to be a social experience,
other players have to engage in tasks with you to advance the game. To facilitate this
there is a chat session that can be activated to provide discussions on stratagem and to
make associations. We played this game and meet several people, who were also playing
the game and helping me, before I found out about the chat option. So when a stranger
267
came up and started discussing the game with us I had no idea that it was a prearranged
meeting to help me advance and to see the social side of the augmented reality. The
interactions that arose between us was very much shop talk and strategies that reinforced
my noobie status and their desire to help me succeed. By my own standards, there were
many times I was inadequately skilled to be an active participant in the play, but through
guided participation (Bandura, 2001; Rogoff, 2003) and explanations that divide was
lessen and the power balance shifted to be more equal.
Experiences where it was apparent that I was the novice were extremely important
part of understanding more about preexisting power structures that are in place where
research is concerned. Throughout my own experiences with power structures, and
questioning my behavior within these dynamics, I thought back to the work of Corsaro
(2003) and the ways in which he navigated similar relationship with children, not as a
teacher but as a friend. As I knew most of the participants, our previous association
helped bridge the participant-researcher relationship; even so there were still times when
that relationship was abundantly clear one person referenced me as their researcher and
others checked to make sure I was taking notes. In this situation the power dynamic was
instigated by the participants, not myself.
Participants would often asked me if we were doing it right, again seeking for that
authoritative perspective from the researcher and so the phrases "you tell me" and "this is
your play" became integrated into my verbal repertoire in order for me to reinforce their
role in the process. This gave me the opportunity to take on a different power structure as
268
I enabled participants to be players. This was especially true for people who wanted to
do new things and were treating this as an excuse to play. In short, to alter traditional
research power structures, invoke a method where participant can be empowered.
Grand Perspective for Future Play Research
If I have not made this clear, play is an innate need and is extremely complex.
Luckily, the more I know about play the less I understand. Nevertheless, from this
perspective I created my own "grand perspective" for how to advance the study of play.
My perspective is less about me and more about how to research based around the
participants' and their understandings. To be able to make the abstract accessible I call
this perspective "stone soup."
Learning from Literature
Let me preface my explanation of this grand perspective by referencing a
children's book called Stone Soup (Brown, 1947). This technique was used by
MacNaugton (2005) to "explore the politics of a text in order to create a new text" (p.
120) through a rhizoanalysis. I chose Stone Soup, not because I like the story but
because in many ways I feel it is a reflection of the research process. Before I perform
my analysis, I will provide a brief summary of the story; three hungry soldiers come to a
town and are rejected by the townspeople because they consider them beggars and the
people of the city did not want to share. The soldiers are shunned and turned away but
they were clever. The soldiers go to the center of town and start making soup out of the
resources they have, a few stones and a cauldron. Slowly, the people of the town became
269
curious and inquired about the soup. The soldiers told them, they were making soup for
everyone out of stones. They mentioned a list of indigents that would improve the soup
but admitted they did not have right garnishes themselves. The curiosity of what stone
soup might taste like acted as an incentive to participate and the townspeople started to
volunteer their resources that they had previously been keeping private. With the shared
crops and resources the people and soldiers were able to produce an incredible soup, far
better than one person could have produced on their own or if only one person had
contributed.
Stone soup. The story of Stone Soup (Brown, 1947) kept popping into my head
as I was doing this project because in many ways, as a researcher, I relate to the soldiers.
I wander into participants' lives with an agenda and an expectation that it will be filled.
By inviting others into the process, the participants act as the villagers and volunteering
their ideas, interests, and experiences as the substance of the soup. My skills as an
emerging researcher, act as the caldron that collected all of the information and then
produced something comprehensible from the copious amount of information I received.
In the end, everyone who participated benefited in some way; even if it was just because
they had a play partner for an afternoon or from this experience they placed a higher
value on their play. This idea of stone soup is key to my grand perspective is based in the
following areas: participants, research, and theory. Each of these areas will be discussed
in the relationship to the overall study, from my perspective.
270
More than participants. The villager's resources were the reason the soup was
more than hot water and rocks. In any research project, involving human participants,
their perspectives and responses are vital to process and final product. As I reflect on the
interactions I had with participants throughout the study, their input changed and shifted
the nuances of the research process in dozens of ways. For example, I had originally
intended to focus more on the connections between the literature on children's play as it
is seen in adulthood, but a conversation, with a participant made me realized that
authenticity of my argument about adults need for play would be lost if all I did was
compare it rather than examine differences and expand the conversation. This led me to
investigate play with more of a Vygotskian perspective that focused on how adults'
abilities and sophistication changes the task to meet their needs. While this development
demonstrates the fluidity of play across the lifespan, not exploring play as an adult
practice/need would have limited my understanding of why playing is so important.
Another way I learned from participants was through the different stages of data
collection. The stage approach provided me with several contexts from which I could
expand my understanding about the relationship, early adults, have with play and the
ways they recognize it in their lives. Despite the similarities in what was said, each
person also provided a unique perspective that created superior results and insight than I
could have obtained if I had only focused on one stage (i.e., survey, interview, or play
experience).
271
Humility and teachability of the researcher. Similar to the soldiers, I had only
what I was given from the participants to complete this study. First of all, they provided
me with more information than I could possible use in one dissertation. Second, I learned
more from them through the experience than I could have learned in a class (Kolb, 1984).
In reality, what I was asking them to do was time consuming and intensive with no
tangible reward for them. My desire to not be wasteful of their resources was one of the
reasons I was so critical of my process because across the study I did not want to repeat
my mistakes. I also did not want to come off as being omniscient about the research
process or what I was expecting to find through my research. Glesne (2011) and
Seidman (2012) discussed the hierarchy of power that comes with being a researcher.
Dell (2011) suggested some of the most useful ways to counter the power relationship are
to be yourself and accessible. This meant that I would sometimes have to inhibit my
researcher tendencies, to be an active participant in the moment and match the energy of
other in the experience. The non-traditional methodology lent itself to researching in a
reflective manner because reflection is built into PAR, grounded theory, and exploratory
research, which provided me with the opportunity to shift from my agenda and focus on
the information I was receiving from the participants. This was probably the best
demonstrated when I was engaging in activities I had little experience with, and needed
instruction from the participants (i.e., video gaming or tennis).
Listening went beyond the interactions we had in person to include the online
interactions we had via email. I checked all transcripts by member checking (Glesne,
272
2011) for reliability and validity, the feedback I received from participants was extremely
important. A few people told me they skimmed it and it looked accurate. While others
line edited the document to make sure all of the ums and uhs were removed from the final
product and that they sounded smart. Someone else made sure I changed her cat's name,
it is Kailey not Caitlyn. Other participants asked me to remove some of their statements
because they decided they were not related to my study or provided too much
information. Having these frank interactions gave me some very definite participantdirected boundaries that were important to the relationships I cultivated and my
willingness to take their directions. Respecting their wishes was more important than
keeping a few details about their lives. As a researcher, I can only use what I have
permission to use and, like the soldiers, I can only create something out of the generosity
of those who are willing to participant in the work I am pursing.
Theoretical Framework
The story of Stone Soup (Brown, 1947) is used to teach children about the
importance of cooperation and sharing. I think it has more to do with having an idea and
then finding the resources to bring it into fruition. Early in my graduate studies, I was
told to find the one theory that I related to best and build a career around those ideas. I
did not like that idea then and dislike it even more now. As a researcher, I have to have
the flexibility to alter my theoretical perspective in order to objectify and explore the
situation or context I am in. That means my theoretical framework has to be malleable,
273
while it might be rooted around a few chosen perspectives, I hope to find ways of
advancing my understandings to better fit the people I work with.
My resolve is not to go completely rogue from the training I have received, but to
stone soup-it and embrace different aspects of an array of theories in order to create a
framework that is relevant and applicable to my work and the perspectives of those my
research will support. This provides a transformative approach to research that allows for
variance of thought that can then be grounded in different disciplines and audiences.
This means venturing beyond theories used extensively in education (i.e., learning
theories) to embrace other fields perspectives (i.e., critical and poststructuralism) as well
as the resources practitioners bring to the project. In relation to play, this kind of
perspective bridges the issue of one theory being "too broad and too narrow" (Ellis, 1973,
p. 4) and makes the merging of understandings and findings direct-able in a
conceptualized manner through themes and commonalities. Therefore, play must be
explored using a gamut of perspectives and theories are needed to explain the actions and
rationale that occurs in the complex worlds of play.
For this current project, I drew on psychology, learning theories (i.e.,
constructivism, and sociocultural), human development, anthropology, poststructuralism,
and neuroscience to explain and support my findings and to advance my understanding of
play. However, other areas that I could have explored or discussed with more depth
included: economics, women's studies, recreation, leisure, identity, and all of the areas I
274
previously mentioned because play occurs everywhere and every person can insert their
own meaning into every experience.
Benefits of a stone soup perspective. Like everything else in this study, my
stone soup perspective can use a bit more refining but throughout the study I was able to
reap the benefits of inviting other people into the conversation on play. For example,
many of my participants are currently engaged in their own studies. As they thought
more about their own play, they would make connections between their studies and my
dissertation topic. Several times I received emails referencing news links and quotes
from their readings or lectures that were directly related to my study. Will, who during
the course of this study completed his dissertation, provided me with a number or
resources to help me better understand his perspective on what play is and the ways he
engages with it as an academic and practitioner. Scifi, whose research focuses on
photography, found the following quote in one of her readings and told me that it should
be included because it explains the need for play from both of our fields, "Kodak
removed the possibilities for boredom by interjecting play into the experience of
photography, allowing consumers… to take their own portraits and to adopt informal
poses and gestures in informal settings- beaches, parks, city streets" (West, 2000, p. 4-5).
This idea of photo-playing, or the act of using photography as play, coincides with
Burghardt's (1984) argument that play is the result of boredom and therefore we need
play as a way to challenge ourselves. Through capturing images, those playful
experiences become memories but also challenges for future play. On another occasion
275
Scifi heard an artist mention the role of play in their development of a piece by saying
"play gives value to the process itself rather than the product." This not only reinforced
the literature on the need for process (Barone & Eisner, 2012), but this quote came right
before I worked on the song composition with Ryan Finely and it acted as a primer for
observing the process with greater attention than the focusing on the end result. The idea
of the end result as a negative aspect of the play experience was something Rose
introduced by stating that it is a "problem with living in a neo-liberal society". That
quote required that I learn more about poststructural theory and application, which I was
already interested in so that I could understand her theoretical perspective as a
participant. The final example I will mention here is from Rex, who would find news
articles to support play in the classroom and on the changing climate of workplaces that
she felt would help my research as well as support her teaching practices.
My gleaning of information extended beyond those in my study. Friends,
mentors, and casual acquaintances would provide references, conversations, suggestions,
quotes, and memes that they felt would advance my understanding of play. A graduate
student and mentor in the College of Education would send me Vygotsky quotes
regularly. Her weekly quotes from Vygotskian scholars acted as a motivator for
continuing to ask question and then to reinforce for then my findings. One of my favorite
quotes that came when I was bogged down, by the reality of the vastness of my chosen
topic was, "the influence of play on development is enormous" (Vygotsky, 1978, p. 96).
Sometime you just need your observations validated. Another mentor, who works in the
276
arts, would send me any links she received about the demands for STEM professionals to
become more innovate or articles calling for the reintroduction of the arts into STEM.
Additionally, a casual acquaintance in engineering mentioned that my work provided him
with the opportunity to reflect on his own beliefs about play and actions, which then
challenged him to reintroduce/recognize the play in his daily activities that he admitted
had become stagnant throughout his studies. He periodically reports in on how his play is
doing and the benefits he is seeing. If I had limited myself to the experiences and
research that I started with, or even just in the field of education, this project would not
have worked.
The completion of this study was a culmination of ideas from "insiders and
outsiders" (Rogoff, 2003) that resulted in a cultivation of ideas that advanced the
perspectives of many, even if the advancement only directly impacted those involved.
Kuhn (1962), as has been discussed, supported this very notion when he suggested that
advancement of ideas occurs because many people are generating and contributing to a
repository of knowledge, not just one person.
That is the very essence of what my stone soup perspective is about in
application. The advancement of understanding that can only occur through participants'
willingness to share their resources, researchers being willing to recognize others as
experts, and the invitation for interdisciplinary studies to contribute to a "toolbox"
(Goncu & Gaskins, 2007, p. 15) of theoretical and methodological approaches that can
further academic studies and practice. This idea that no one holds all of the tools
277
reinforces the use of the PAR model and grounded theory because it demonstrates the
need for reflection and engagement throughout the research process (MacNaughton,
2005) and empowerment of perspectives (Kesby, Kindon, & Pain, 2007) that can occur
when invitations are extended to participate.
Weakness of stone soup. There are weaknesses to this ideology. First of all, it is
somewhat chaotic. Second, the final product will be more work for the researcher
because the variability of perspectives might not yield a strong framework as much as
create a revolving door of ideas. Finally, more than interdisciplinary, this perspective
sounds more undisciplined (Genosko, 1998) or the idea that preconceived theories led to
ambivalent results. The argument of undisciplined theorists is that starting with a focus
cannot create something theoretically stronger because the perspectives, generated from
research, should be what directs which theories are referenced. Even with these
weaknesses, I think the stone soup is the best perspective to take when studying play
because it can counter the ambiguity and undefinable issues created when discussing
something that cannot be defined. It also provides me with the freedom to push
boundaries and challenge norms as well as incorporate traditional research practices to fit
the perspectives of those I am working with and the topics being explored.
Future of (My) Play Research
From my original dataset and preliminary inquiries into play in early adulthood, I
was able to complete what I wanted to do with this project. The next step is to
determine… what now? Within this write up, I have referenced many areas that need
278
further research and have discussed my perspective on how to engage in more effective
research practices. While I am against the idea of a single theory being used to describe
play, new perspectives need to be introduced to the field in general.
Moving Toward a New Theory that Includes Adults
This study established basic information about play in early adulthood and
provided concrete examples of how play occurs during this stage of life as well as a
deeper understanding about factors contributing to adult's access to play. From this base
knowledge, further research can be conducted to generate empirically-based findings that
can be used to further the field. Utilizing the qualitative research gained in this study, I
have a better understanding of how to ask quantitative questions that address the issue of
how to quantify the aesthetic nature of play (Huizinga, 1950). While I intend to
introduce a quantitative measure into data collection, I want to state that data collection
on play should always include a strong qualitative component (i.e., narrative) because
numbers will always fail to capture what the individual can tell you. But the statistics of
play can create a visual representation in a way words cannot.
Whatever the future of adult play theory look like, it will be influenced by key
areas such as social, cognitive, and physical attributes and their role in providing context
for styles and types of play pursued. The role of intrinsic motivation behind playing as
well as constraints (i.e., time and money) and freedom (i.e., responsibilities and
resources) needs to be included in understanding the dynamic role of play across
activities and situations. More importantly for adults, the interactions they share through
279
play must be addressed. This was an area I had trouble documenting but nevertheless,
play is a multigenerational experience. When discussing play it is important that all
players have the recognition they deserve. I tried to create a figure that captured all of
these elements but I decided it just looked like scribbles and what I really needed was a
3-D model that was built around social, cognitive, and physical play and then highlighted
all other contexts, almost like Bronfenbrenner's systems (1979) but more interconnected.
I am also still trying to solidify my findings with the literature in an attempt fill gaps in
the field of play. But that is what I can spend my career developing. But first I have to
find like-minded people who value the importance of play and play research on learning
and development. Without that step, a new general theory would be meaningless.
280
Discussion and Conclusion
It is expected that learning occurs while dissertating. By having a research
question that required me to reflect on my own learnings it provides the reader with
unique insight into my process that would have otherwise been ignored in a traditional
dissertation. As I have considered the ways in which the study of play can be advanced, I
found myself critically analyzing not only my own behaviors and theoretical perspectives
but also the methods I was utilizing to complete my research. In the end, I was able to
identify ways in which measures could be improved (i.e., qualitative and quantitative),
formulate an argument to challenge wording and the ethical practices accepted by my
culture, and explore power dynamics. I also developed a perspective, not quite a theory,
which I can continue to explore as an early career professional. In many ways, this is
what Nelson, London, and Strobel (2015) suggested be done by academics. They argued
that now is the time to reinvent the researcher, by challenging norms in order to have
academia fit a more modern perspective where scholars support practical application.
I also realized on my dissertating journey that I am an applied researcher and my
intent is to make a difference. I want my research practices to reflect that stance. If that
means breaking the rules of academia, I'm fine with that because the end result will be
change and the enhancement new ideas. Pushing intellectual boundaries that alter
behaviors and ideas is definitely a component of my own play.
281
CHAPTER 8: FINAL THOUGHTS
This study has demonstrated that playing does not just benefit children but
provides a context through which adults continue cognitive, emotional, and physical
maturation as it relates to their motivational interests. Play is experiential, which is why
it is difficult to explain on paper. The art of playing evolves and changes across the
lifespan to meet the needs of the participants. While not as traditionally observable as it
is with children, play is something that is valued by those who recognize its importance
in their everyday lives and acknowledge the impact it has on their development. This
study has demonstrated what it intended to explore and has provided additional insight
into how to expand the fields of play, research with adults, and methodology.
This study also attempted to remove the "silliness" (Sutton-Smith, 1997) factor by
discussing play as a need for learning and development. While the participants talked
about play as "fun" or "enjoyable", when it came to discussing play as a merit of human
existence, I actively worked to avoid using pleasure-based terminology to emphasize the
process and advancement that occurs through playing. If the focus of early adult play
research was more about what was gleaned through play experiences, I think there would
be a greater appreciation for playing. I am not alone in this opinion (Kelley & Kelley,
2013; Meyer, 2010; Brown & Vaughan, 2009; Ebrahim & Tangelder, 2012). That is why
businesses are turning towards creating play cultures and infusing play ideas into the
work they do. Cohen (2006) argued that play is not frivolous, but an act that simulates us
282
in a way that no other action can. That is where the focus of all future research can begin
and where academia can join in the pursuit of knowledge.
283
CHAPTER 9: EPILOGUE
Introduction
By becoming an educational psychologist, I thought I would be able to explore
the latent variables that contribute to learning and find ways to improve education by
addressing social practices of homes, schools, and communities. This means that I am
extremely comfortable discussing "taboo" topics such as race, social class, and access to
resources. However, not everyone in education is as apt to discuss latent variables as I
am. People are unaccustomed to discussing, in a critical manner, issues that directly
influence formal and informal learning. As a student, I often found myself being silenced
when I addressed issues straight on. This became even more abundantly clear when my
first dissertation topic was rejected because a faculty member, not on my committee,
thought it did not meet the requirements of being an educational psychology study. The
rationale was that it had too much a social justice focus. Despite it being rooted in
motivation, statistics, and development (American Psychological Association, 2015), I
was forced to change topics.
Why Study Play?
When I tell people I study play the responses I get vary between "that is an
aimless topic" and "that is the research of tomorrow." Play serves as a great conversation
starter but no one ever asks why I study play. The answer is simple; I study play because
it lets me talk about social injustice in a palatable manner. As I previously stated, I knew
284
I wanted my dissertation to address a social justice issue and in the end I selected play as
it is something I find fascinating.
Play is the great equalizer of education, because no matter what your social class,
race, or abilities are, play is something that challenges your development, learning, and
understanding (Singer, et al., 2006; Paley, 2004). Practitioners and theorists have cited
the power of play for decades as being an instrumental tool for learning (Vygotsky, 1978,
1967; Hughes, 2010). Yet, in schools, play is constantly being cut out in favor of
academics, especially in low-income or underachieving schools (Cummins, 2007). That
demonstrates that play is reserved for those who have privilege, resources, (Cannella,
2002; Danby, 2005) and preconceived notions about who should be allowed to play.
Participants: Children vs. Adults
Once I had determined that my topic would be play, I then had the task of
determining whose play I would value. Yes, I see the irony. I had just completed a
research study with children and had the notion of continuing down that path, until I went
on a tour of the Google complex and saw how play could be incorporated into everyday
activities and work. This experience then caused me to realize that play research had
failed to account for a majority of the lifespan, and that adults were practically
unaccounted for in the literature. For a number of reasons this troubled me, not only as a
scholar, but as someone in that stage of life. The first was that play research is frequently
referenced as important to development, but reaching the marker of adulthood does not
mean that development is over. Development is a lifelong process (Rogoff, 2003);
285
therefore, if play is important to development, we need play across the lifespan. The
second reason was I wanted more information about my stage of life and the impact play
has on my peer group. As mentioned, I had stopped playing to pursue school, and while I
had read about what happens to children and animals (Bateson, 2011) when they stop
playing, I had little information about my own group and felt that needed to change. The
third reason is that adults historically have more power than children. I eventually intend
to use the conversations I have started about adult play and connect them back to research
on children. If adults can take a stance on needing play breaks, especially those who
think, process, and create professional, how much more do children have this need? The
final and most important reason was that working with adults would allow me more
freedom to challenge research methods than if I was working with children. Location,
activities, and rationale would be completely different with adults, I assumed, and
therefore the data collection would need to more adaptable than if I worked with children
in a school or at their homes. The ability to challenge procedures was key to overall
development of my design for this project because I wanted to see how research could be
done when participants are active contributors, and the way they would direct data
collection to make it representative of their interests.
How is adult play a social justice issue?. Social justice discusses the
distribution of resources across a group of people and society. While injustice is
involved, it means that someone is being denied access to a resource. In the case of play,
early adults are denied the same acknowledgement that engaging in play is an important
286
aspect of their development. However, there is increasing examination in the literature
regarding the need for older adults to play. This leads me to believe that society needs to
reconsider the treatment of play across the lifespan. This takes me back to why I selected
play as a research topic. I wanted to demonstrate the power that play has on adults who
recognize the importance of playing regularly. I asked them, to explain the major reasons
they felt playing was an important to their lives, which lead to conversations about
identity and the benefits they gain from through playing.
Thoughts on Human-Centered Research Methodology
Much of my research design and procedures were rooted in children's rights
research (Lundy, 2007; Swadener, Peters, & Gaches, 2013). Mixing these ideas with
traditional research allowed me to make the process human-centered (Kelley & Kelley,
2013) and focus on those who shared their experiences with me. Fieldwork is not
something that can be systematically taught, it is something that is experienced (Kolb,
1984) and individualized. Designing and collecting my own data provided me with the
insight that I needed to understand the strengths of traditional research as well as the
importance of staying true to my beliefs in how people should be treated when engaging
in the research process.
While I said this study was about play, I also see this study as a platform for
social justice and a trial run for future research. For example, using the layout that I used
in this study, I can continue to research underrepresented groups by merging traditional
(i.e., interviews and surveys) with non-traditional (i.e., experience-based and human-
287
centered data collection) research in order to create deeper connections between what is
assumed about these groups and what participants actually experience.
288
Discussion and Conclusion
In the end, I accomplished what I intended to do from the beginning, which was
complete a dissertation on social justice. Exploring a topic that is recognizable when it is
participated in (Sutton-Smith, 1997) introduced multiple perspectives and the opportunity
for me to provide a demographic that has been silenced (Cannella, 2002) with a voice.
Throughout my dissertation I discussed how early adults were left out of the field of play,
expect for assumptions made about people in this stage of life. From my research it has
been made clear that adults need play to learn and develop. Working with adults also
opened the door for exploring multi- method research as well as inviting participants to
act as researchers as they directed many aspects of the data collection. For me, this is
what social justice research needs to be: an invitation for those who experience events
that are underrepresented, to have a voice and be present throughout the research process.
More than anything this dissertations has provided me with a methodological framework
for doing applied research and that is what I needed to learn from a Ph.D. program.
289
CHAPTER 10: FUTURE RESEARCH
Taking what I have learned from this process, I will be able to research play
across the lifespan. This has the potential to not only expand understanding of human
development and learning, but to do so from an interdisciplinary perspective (i.e.,
neuroscience, education, psychology, mathematics, & music) (Goncu & Gaskins, 2007).
My research interests with methodology will continue to explore non-traditional
traditional research methods to advance human-centered (either child or adult) research
and involve the participants voice and perspective throughout the process. Finally, my
research will continue to explore social justice issues that impact people's everyday lives,
that might be overlooked or under-discussed by the majority, and provide them with the
opportunity to narrate the story they want others to hear about them.
While there is a lot of potential for me to explore my interests further, whatever I
study will be in an applied context, which means it will be dependent on the people I am
researching with and the agenda they want fulfilled.
290
APPENDIX A: ONLINE SURVEY
Name:
Profession:
Is this in the field of (check one):
Science
Technology
Engineering
Art
Mathematics
31
32
Demographics
Gender: (please select one)
Male
Female
Other
Age (please select one):
25
26
27
28
29
30
33
34
35
Highest Level of Education:
High School Some College Bachelor's
Master's
Doctorate
Are you currently pursuing a degree?
Yes
No
If you are currently pursuing a degree, what type of degree are you working towards?
Bachelor's
Master's
Doctorate
Not Applicable (not pursuing a degree)
Race (please check all that are applicable)
White
Black or African-American
Hawaiian or Pacific Islander
Ethnicity
American Indian
Other: ___________
Asian Native
291
Are you of Latino or Hispanic descent?
Yes
No
What was your income in 2014 (your income only):
0-9,999
10,000-19,999
20,000-29,999
30,000-39,999
40,000-49,999
50,000-59,999
60,000-69,999
70,000-70,999
80,000-89,999
90,000-99,999
100,000- +
Play
What is your play style (check all that apply):
_ Mover- activities requiring movement
_ Explorer- engaging with the world in new ways
_ Competitor- finding ways to compete
_ Joker- bring nonsense into a situation
_ Director- planning and executing play activities
_ Collector- retrieving, gathering, and saving objects
_ Creator- making and developing
_ Storyteller- writing or reading
_ Socializer- hosting or engaging with other people
_ Other: __________________
292
Which of the following activities do you consider "your type of play"? (check all that
apply)
_ Being outdoors
_ Learning something new
_ Shopping
_ Attending cultural events
_ Developing or working on a hobby
_ Participating in sports
_ Spending time with family
_ Using social media
_ Surfing the internet
_ Volunteering
_ Spending time with friends (Hanging or going out)
_ Work
_ Relaxing
_ Reading
_ Spending time on your own
_ Other: ______________
How often do you make plans to engage in a specific act of play? (check all that apply)
Daily
Weekly
Monthly
Other:
How much do you think you spend (i.e. money) on planned play? (check all that apply)
Daily:
Weekly:
Monthly:
How often do you engage in spontaneous play? (check all that apply)
Daily
Weekly
Monthly
Other:
How much do you spend on spontaneous play? (check all that apply)
Daily:
Weekly:
Monthly:
How do you define play? (open-ended)
293
APPENDIX B: INITIAL SEMI-STRUCTURED INTERVIEW
In the survey you defined play as _______, can explain the elements that went into your
definition?
How do you see the elements, in your definition, influence the play you pursue?
What are the biggest factors influencing the way you play?
How would you describe your play style? (refer to the responses of survey)
In the survey, you were asked about different "types of play"; can you tell me a little bit
more about your reasons for choosing (refer to their list)?
Can you give me some examples of how you engage/participate in these "types of play"?
(What do these types of play look like in application?)
Where do you play the most?
Is location a determining factor in the play you pursue? If yes, why do you think it
happens the most in this location?
Are there other factors that impact when and where you play? (e.g., resources)
Have you noticed a change in how you play over the last few years?
If yes, how have those changes influenced the way you play?
If no, why do you think your play isn't changing?
What do you think needs to be present for a "good" play experience?
Why do you play?
How does your play influence other aspect of your life?
In what ways do you share play with other people?
294
Anything else you would like to add?
Questions about the "Play Experience"
What is the "play experience" we will be engaging?
Why did you choose this activity?
How will we document this "play experience"?
In what ways do you prepare for your favorite types of play?
Do you always need to prepare for your play activities?
Is there anything I need to prepare for to participate in this "play experience"?
295
APPENDIX C: ANALYZING SEMI-STRUCTURED INTERVIEW
Why did you choose _______ as your "play experience" activity?
How was this activity the best way to demonstrate your ideas/experiences with play?
How does this type of play influence other aspects of your life? (Rhizome analysis)
What was the benefit of this type of play for you?
What are the most important aspects of this experience that you think should be included
in the write-up of this study?
In what ways, do you think your play experience is representative of play in early
adulthood?
In what ways, do you think your play experience impacts your careers choice?
Anything else you would like to add?
296
APPENDIX D: EXAMPLE OF CODING PROCESS
*EACH STEP OF CODING HAD A SPECIFIC COLOR
Explorer
Step 1: Words or Phrases
New things Mag, Anne, Will, Archie, Pancho, Brunhilda, Scifi
Trying something new Anne, Archie, Pancho
Going somewhere new Rex, Rose, Pancho
New people, Pancho, Brunhilda
Adventure Rose, Pancho
No Schedule/Wandering Rex
New world- Scifi
Different interactions/how things work SN, Archie
Not contained Maija
Learning through exploring- RF, SN, Archie, Pancho, Brunhilda
Step 2: Categories
Novelty of going somewhere, meeting new people, or trying something
New things Mag, Anne, Will, Archie, Pancho, Brunhilda
Trying something new Anne, Archie, Pancho
Going somewhere new Rex, Rose, Pancho
No Schedule/Wandering Rex
New people, Pancho, Brunhilda
Exploration as an Adventure- Physical or Intellectual
Adventure Rose, Pancho
Different interactions/how things work SN, Archie
Not contained Maija
Exploration as Learning
Learning through exploring- RF, SN, Archie, Pancho, Brunhilda
Stage 3: Themes
Explorers are those who engage with their surrounds wherever they are or whatever they are
doing.
Novelty of going somewhere, meeting new people, or trying something
New things Mag, Anne, Will, Archie, Pancho, Brunhilda
New people, Pancho, Brunhilda
Trying something new Anne, Archie, Pancho
Going somewhere new Rex, Rose, Pancho
No Schedule/Wandering Rex
Explorers actively find ways of physically or mentally interacting with their environment to
produce a deeper understanding of themselves or situation with the intent to gather new
information
297
Exploration as an Adventure- Physical or Intellectual
Adventure Rose, Pancho
Different interactions/how things work SN, Archie
Not contained Maija
Exploration as Learning
Learning through exploring- RF, SN, Archie, Pancho, Brunhilda
298
REFERENCES
Ackerman, P.L. (1998). Adult intelligence: Sketch of a theory and applications to
learning and education. In M.C. Smith & T. Pourchot (eds). Adult learning and
development: Perspectives from educational psychology. Mahwah, NJ: Lawrence
Erlbaum Association, Inc.
Albert, R. S. (1990). Identity, experiences, and career choice among the exceptionally
gifted and eminent. In M.A. Runco & R. S. Albert (eds.) Theories of creativity.
Newbery Park, CA: Sage Publications.
Amabile, T. M. (1990). Within you, without you: the social psychology of creativity , and
beyond. In M.A. Runco & R. S. Albert (eds.) Theories of creativity. Newbery
Park, CA: Sage Publications.
Amabile, T. M., Conti, R., Coon, H., Lazenby, J., & Herron, M. (1996). Assessing the
work environment for creativity. Academy of management journal, 39(5), 11541184.
American Psychological Association (2015). Educational psychology definition.
[website]. Retrieved from http://www.apa.org/about/division/div15.aspx.
Arnett, J. J. (2004). Emerging adulthood: The winding road from the late teens through
the twenties. New York, NY: Oxford University Press.
ATLAS.ti Scientific Software Development. (2015), ATLAS.ti [computer software].
Retrieved from http://atlasti.com/.
Axline, V. M. (2012). Play therapy. New York, NY: Ballantine Books.
299
Babbie, E. (2007). The practice of social research. Belmont, CA: Wadsworth Cengage
Learning.
Bandura, A. (2001). Social cognitive theory of mass communications. In J. Bryant, & D.
Zillman (eds.). Media effects: Advances in theory and research (2nd ed.)
Hillsdale, NJ: Lawrence Erlbaum.
Bandura, A. (1993). Perceived self-efficacy in cognitive development and
functioning. Educational psychologist, 28(2), 117-148.
Barnett, L. A. (2007). The nature of playfulness in young adults. Personality and
individual differences, 43, 949-958.
Barone, T. (2001). Touching eternity: The enduring outcomes of teaching. New York,
NY: Teachers College Press.
Barone, T., & Eisner, E. W. (eds.). (2012). Arts based research. Thousand Oaks, CA:
Sage.
Bateson, P. (2011). Theories of Play. In A. D. Pellegrini (ed.), The Oxford handbook of
the development of play. New York, NY: Oxford University Press.
Bateson, P. & Martin, (2013). Play, playfulness, creativity, and innovation. New York,
NY: Cambridge University Press.
Baumeister, R. F., Bratslavsky, E., Finkenauer, C., & Vohs, K. D. (2001). Bad is stronger
than good. Review of general psychology, 5(4), 323.
300
Belenky, M. F., McVicker, B. C. Goldberger, N. R., Tarule, J. M. (1997). Women's ways
of knowing: The development of self, voice, and mind. New York, NY: Basic
Books.
Belk, R. (1988). Possessions and self. New York, NY: John Wiley & Sons, Ltd.
Bergen, D. (2009). Play as the learning medium for future scientists, mathematicians, and
engineers. American Journal of Play, 1(4), 413-428.
Berk, L. E., Mann, T. D., & Ogan, A. T. (2006). Make-believe play: Wellspring for
development of self-regulation. Play= learning: How play motivates and
enhances children's cognitive and social-emotional growth, 74-100.
Bernard, H. R. (2011). Research methods in anthropology. Lanham, MD: Rowman
Altamira.
Berndt, T. J. (2002). Friendship quality and social development. Current directions in
psychological science, 11(1), 7-10.
Beyer, L. & Bloch, M. (1996). Theory: An Analusis (part 1). In J. Chafel & S. Reifel
(eds.), Advances in early education and day care: Theory and practice in early
childhood teaching. Greenwich, CT: JAI Press.
Bourdieu, P. (1986). The forms of capital. In J. Richardson (ed.) Handbook of theory and
research for the sociology of education. New York, NY: Greenwood.
Bourdieu, P. (1990). In other words: Essays towards a reflexive sociology. Stanford, CA:
Stanford University Press.
301
Brannen, B. (2002). The gift of play: Why adult women stop playing and to start playing
again. Lincoln, NE: Writers Club Press.
Bransford, J. D., Barron, B., Pea, R. D., Meltzoff, A., Kuhl, P., Bell, P., Stevens, R.,
Schwartz, L., Vye, N., Reeves, B., Roshelle, J., & Sabelli, N. H. (2006).
Foundations and Opportunities for an interdisciplinary science of learning. In R.
K. Sawyer (ed.) The Cambridge handbook of the learning sciences. New York,
NY: Cambridge University Press.
Bronfenbrenner, U. (1979). The ecology of human development: Experiments by nature
and design. Cambridge, MA: Harvard University Press.
Brown, M. (1947). Stone soup. New York, NY: Aladdin Paperbacks.
Brown, S. (2008, March). Play is more than just fun. Retrieved from
http://www.ted.com/talks/stuart_brown_says_play_is_more_than_fun_it_s_vital?l
anguage=en
Brown, S. & Vaughan, C. (2009) Play: How it shapes the brain, opens the imagination,
and invigorates the soul. New York, NY: Avery.
Bruner, J. S. (1966). Toward a theory of instruction. Cambridge, MA: The Belknap Press
of Harvard University Press.
Bruner, J. S., Jolly, A. & Sylva, K. (1976). Play: Its role in development and evolution.
New York, NY: Basic Books Inc.
Bruner, J. S. (1990). Acts of meaning. Cambridge, MA: Harvard University Press.
302
Brynjolfsson, E. (2011). Wired for innovation: how information technology is reshaping
the economy. Cambridge, MA: MIT Press Books.
Burgdorf, J., Kroes, R. A., Moskal, J. R., Pfaus, J. G., Brudzynski, S. M., & Panksepp, J.
(2008). Ultrasonic vocalizations of rats (Rattus norvegicus) during mating, play,
and aggression: Behavioral concomitants, relationship to reward, and selfadministration of playback. Journal of comparative psychology, 122(4), 357.
Burghardt, G. M. (1984). Animal Play. In P. K. Smith (ed.) Play in animals and humans.
Oxford, England: Blackwell, Inc.
Burghardt, G. M. (2005). The genus of animal play: Testing the limits. Cambridge, MA:
MIT Press.
Burghardt, G. M. (2011). Defining and recognizing play. In A. D. Pellegrini (ed.), The
Oxford handbook of the development of play. New York, NY: Oxford University
Press.
Caillois, R. (1961). Man, play, and games. Champaign, IL: University of Illinois Press.
Cannella, G. S. (2002). Deconstructing early childhood education: Social justice and
revolution. New York, NY: Peter Lang.
Carlson, F. M. (2011). Big body play: Why boisterous, vigorous, and very physical play is
essential to children's development and learning. National Association for the
Education of Young Children.
Cass, J. (1993). Dancing through history. Englewood Cliffs, NJ: Prentice-Hall, Inc.
303
Charmaz, K. (2011). Grounded theory methods in social justice research. In N. K. Denzin
& Y. S. Lincoln (eds.) The SAGE handbook of qualitative research. Thousand
Oaks, CA: Sage Publications.
Carstensen, L. L., & Hartel, C. R. (eds.). (2006). When I'm 64. Washington, DC: National
Academies Press.
Cestone, M., Conners, M., Johnson, S. E., Morgan, H. D., Woodrow, C., & Braff, Z.
(2013). Wish I was here. United States of America. Worldview entertainment,
Double Feature Film, & Wild Bunch.
Cheang, M. (2002). Older adults' frequent visits to a fast-food restaurant: Nonobligatory
social interaction and the significance of play in a "third place". Journal of Aging
Studies, 16(3), 303-321.
Christie, J. F., & Enz, B. (1992). The effects of literacy play interventions on
preschoolers' play patterns and literacy development. Early Education and
Development, 3(3), 205-220.
Chudacoff, H. P. (2007). Children at play: An American history. New York, NY: NYU
Press.
Clandinin, D. J., & Connelly, F. M. (2000). Narrative inquiry: Experience and story in
qualitative research. San Francisco, CA: Jossey-Bass Inc.
Clark, C. D. (2011). In a younger voice: Doing child-centered qualitative research. New
York, NY: Oxford University Press.
Cohen, D. (2006). The development of play (3rd ed.). New York, NY: Routledge.
304
Colarusso, C. A. (1994). Fulfillment in adulthood: Paths to the pinnacle of life. New
York: NY: Plenum Press.
Comfeld, S, Goldwyn, S, Goldwyn, S. Jr., Stiller, B., & Stiller, B. (2013). The secret life
of Walter Mitty. United States. Twentieth Century Fox Film Corporation, TSG
Entertainment, Samuel Goldwyn Films, Red Hour Films, New Line Cinema, Big
Screen Productions, Down Productions, & Ingenious Media.
Connery, M. C. (2010). The historical significance of Vygotsky's preschool of art. In M.
C. Connery, V. P. John-Steiner, & A. Marjanovic-Shane (eds.). Vygotsky and
Creativity: A cultural-historical approach to play, meaning making, and the arts.
New York, NY: Peter Lang.
Copple, C. & Bredekamp, S. (eds.) (2009). Developmentally appropriate practice in
early childhood programs: Serving children from birth through age 8 (3rd ed.).
Washington, D.C.: National Association for the Education of Young Children.
Corbin, J. & Strauss, A. (2008). Basics of Qualitative Research (3rd ed.). Thousand Oaks,
CA: Sage.
Corsaro, W. A. (2003). We're Friends, Right?: Inside Kids' Culture. Washington, DC:
Joseph Henry Press.
Côté, J. E. (2005). Identity capital, social capital and the wider benefits of learning:
generating resources facilitative of social cohesion. London review of
education, 3(3), 221-237.
305
Creasey, G. & Jarvis, P. (2003). Play in children: An attachment perspective. In O.
Sarcho & B. Spock (eds.). Multiple perspectives on play and early childhood
education. New York, NY: State University New York Press.
Creswell, J. W. (2011). Controversies in mixed methods research. In N. K. Denzin & Y.
S. Lincoln (eds.) The SAGE handbook of qualitative research. Thousand Oaks,
CA: Sage Publications.
Csikszentmihalyi, M. (1965). Artistic problems and their solutions: An exploration of
creativity in the arts. Unpublished PhD thesis, University of Chicago, Chicago.
Csikszentmihalyi, M., (2008). Flow: The psychology of optimal experience. New York,
NY: Harper Collins.
Csikszentmihalyi, M. (2013). Creativity: Flow and the psychology of discovery and
invention. New York, NY: Harper Collins.
Csikszentmihalyi, M., & LeFevre, J. (1989). Optimal experience in work and
leisure. Journal of personality and social psychology, 56(5), 815.
Cummins, J. (2007). Pedagogies for the poor? Realigning reading instruction for lowincome students with scientifically based reading research. Educational
Researcher, 36(9), 564-572.
D'Angour, A. (2013). Plato and Play: Taking Education Seriously in Ancient
Greece. American Journal of Play, 5(3), 293-307.
306
Danby, S. (2005). Preschool girls, conflict and repair. In J. Mason & T. Fattore (eds.)
Children taken seriously: In theory, policy and practice. Philadelphia, PA: Jessica
Kingsley Publishers.
Davey, C., & Lundy, L. (2011). Towards greater recognition of the right to play: An
analysis of Article 31 of the UNCRC. Children & Society, 25(1), 3-14.
Dayton, T. (2010). When adults play. Huffington Post. Retrieved
http://www.huffingtonpost.com/dr-tian-dayton/when-adults-play_b_666145.html
Deci, E. L. (1995) Why we do what we do: Understanding self-motivation. New York,
NY: Penguin books.
Deci, E. L. & Moller, A. C. (2005). The concept of competence: A starting place for
understanding intrinsic motivation and self-determined extrinsic motivation. In A.
J. Elliot & C. S. Dweck (eds.). Handbook of competence and motivation. New
York, NY: The Guilford Press.
Denzin, N. K. & Lincoln, Y. S. (2011). Introductions: The discipline and practice of
qualitative research. In N. K. Denzin & Y. S. Lincoln (eds.) The SAGE handbook
of qualitative research. Thousand Oaks, CA: Sage Publications.
Deterding, S., Dixon, D., Khaled, R., & Nacke, L. (2011). From game design elements to
gamefulness: defining gamification. In Proceedings of the 15th International
Academic MindTrek Conference: Envisioning Future Media Environments, 9-15.
Dewey, J. (1934/2005). Art as Experience. New York, NY: Penguin.
307
Driscoll, M. P. (2000). Psychology of learning for instruction (2nd ed). Boston, MA:
Allyn & Bacon Inc.
Dyson, A. (1994). The ninjas, the X-Men, and the ladies: Playing with power and identity
in an urban primary school. The Teachers College Record, 96(2), 219-239.
Ebrahim, Z. & Tangelder, M. (2012). Defense of play. Huffington Post. Retrieved
http://www.huffingtonpost.com/zahra-ebrahim/benefits-of-play_b_1973705.html
Elkind, D. (2007). The power of play: Learning what comes naturally. Philadelphia, PA:
Da Capo Lifelong Books.
Elliot & Dweck (2005). Competence and motivation: Competence as the core of
achievement motivation. In A. J. Elliot & C. S. Dweck (eds.). Handbook of
competence and motivation. New York, NY: The Guilford Press.
Ellis, C.S. & Bochner, A. (2011). Autoethnography, personal narrative, reflexivity:
Researcher as subject. In N. Denzin and Y. Lincoln (eds.). The Handbook of
Qualitative Research. Thousand Oaks, CA: Sage Publications.
Ellis, M. J. (1973). Why people play. Englewood Cliffs, NJ: Prentice-Hall, Inc.
Erikson, E. H. (1959) Identity and the Life Cycle. New York, NY: International
Universities Press.
308
Erikson, E. H. (1975). Studies of play. New York, NY: Aron Press.
Erikson, E. H. (1993). Childhood and society. New York, NY: WW Norton & Company.
Fagen, R. M. (1981). Animal play behavior. New York, NY: Oxford University Press.
Fagan, R. M. (2011). Play and development. In A. D. Pellegrini (ed.), The Oxford
handbook of the development of play. New York, NY: Oxford University Press.
Field, A. & Hole, G. (2003). How to design and report experiments. Thousand Oaks, CA:
Sage Publications.
Florida, R. L. (2004). America's looming creativity crisis. Cambridge, MA: Harvard
Business School Publishing.
Fontana, A. & Prokos, A. H. (2007). The interview from formal to postmodern. Walnut
Creek, CA: Left Coast Press.
Foucault, M. (1980). Power/Knowledge: Selected interviews and other writings 19721977. New York, NY: Pantheon.
Freud, A. (1965). Normality and pathology in childhood: Assessments of development,
New York, NY: International Universities Press.
Fromberg, D. P. (2002). Play and meaning in early childhood education. Boston, MA:
Allyn & Bacon, Inc.
Gray, P. (2011). The Decline of Play and the Rise of Psychopathology in Children and
Adolescents. American Journal of Play, 3(4), 443-463.
Galinsky, E. (2010). Mind in the making. New York, NY: Harperstudio.
309
Gaskins, S., Haight, W., & Lancy, D. F. (2007). The cultural construction of play. In A.
Goncu & S. Gaskins (eds.). Play and development. Mahwah, NJ: Lawrence
Erlbaum Associates, Publishers.
Gee, J. P. (2003). What video games have to teach us about learning and
literacy. Computers in Entertainment (CIE), 1(1), 20-20.
Gee, J. P. (2005). Good video games and good learning. In Phi Kappa Phi Forum (Vol.
85, No. 2, p. 33). The Honor Society of Phi Kappa Phi.
Genosko, G. (1998). Undisciplined theory. Thousand Oaks, CA: Sage Publications.
Gilpin, R., & Gilpin, J. M. (2000). The challenge of global capitalism: The world
economy in the 21st century (Vol. 5). Princeton, NJ: Princeton University Press.
Ginsburg, K. R. (2007). The importance of play in promoting healthy child development
and maintaining strong parent-child bonds. Pediatrics, 119(1), 182-191.
Glenn, P. J., & Knapp, M. L. (1987). The interactive framing of play in adult
conversations. Communication Quarterly, 35(1), 48-66.
Glesne, C. (2011). Becoming qualitative researchers: an introduction (4th ed.) New York,
NY: Pearson.
Glynn, M. A., & Webster, J. (1992). The adult playfulness scale: An initial
assessment. Psychological reports, 71(1), 83-103.
Goncii, A., Tuermer, U., Jain, J., & Johnson, D. (1999). Children's play as cultural
activity. Children's engagement in the world: Sociocultural perspectives, 148170.
310
Goncu, A. & Gaskins, S. (2007). Play and development: Evolutionary, sociocultural, and
functional perspectives. Mahwah, NJ: Lawrence Erlbaum Associates, Inc.
Grbich, C. (2004) New approaches in social research. Thousand Oaks, CA: Sage
Publications.
Gross, J. J. (1998). The emerging field of emotion regulation: an integrative
review. Review of general psychology, 2(3), 271-299.
Hall, G. S. (1920). Morale: The supreme standard of life and conduct. New York, NY:
Appleton.
Hannaford, C. (2005). Smart moves: Why learning is not all in your head. Salt Lake City,
UT: Great River Books.
Hoare, C. H. (2002). Erikson on development in adulthood: New insights from the
unpublished papers. New York, NY: Oxford University Press.
hooks, b. (1994). Teaching to transgress: Education as the practice of freedom. New
York, NY: Routledge.
Holloway, W. & Jefferson, T. (2000). Doing qualitative research differently: free
association, narrative, and interview method. Thousand Oaks, CA: Sage
Publications.
Holzman, L. (2010). Without creating ZPDs there is no creativity. In M. C. Connery, V.
P. John-Steiner, & A. Marjanovic-Shane (eds.). Vygotsky and Creativity: A
cultural-historical approach to play, meaning making, and the arts. New York,
NY: Peter Lang.
311
Howes, C., Unger, O., & Matheson, C. C. (eds.). (1992). The collaborative construction
of pretend: Social pretend play functions. Albany, NY: State University of New
York Press.
Howes, C. (2011). Social play of children with adults and peers. In A. D. Pellegrini (ed.)
The Oxford handbook of the development of play. New York, NY: Oxford
University Press.
Huges, S., Pennington, J. L., & Makris, S. (2012). Translating autoethnography across the
AERA standards as empirical research. Educational researcher, (41)6, 209-219.
Hughes, F. P. (2010). Children, play, and development (4th ed.). Thousand Oaks, CA:
Sage Publications.
Huizinga, J. (1950). Homo Ludens: A study of the play-element in culture. Boston, MA:
Beacon Press.
Jacobs, D. T. (2008). The authentic dissertation: Alternative ways of knowing, research,
and representation. New York, NY: Routledge.
Johnson, J. E. Christie, J. F., & Wardle, F. (2005). Play, development, and early
education. New York, NY: Pearson.
Johnson, J. E., Sevimli-Celik, S. & Al-Mansour, M. (2013). Play in early childhood
education. In O. N. Saracho & B. Spodek (eds.). Handbook of research on the
education of young children. New York, NY: Routledge.
Kane, P. (2004). The play ethic. London, England: Pan Books.
312
Kahneman, D. (2013). Thinking, fast, and slow. New York, NY: Farrar, Straus, &
Giroux.
Kelley, D. (2012, March). How to build your creative confidence. Retrieved from
http://www.ted.com/talks/david_kelley_how_to_build_your_creative_confidence?
language=en#.
Kelley, T., & Kelley, D. (2012). Reclaim your creative confidence. Harvard business
review, 90(12), 115-8.
Kelley, K., Little, S., Lee, J. S., Birendra, K. C., & Henderson, K. (2014). Articulating
Meanings of Positive Adjustment to Aging through Physical Activity
Participation among Older Adults. Journal of Park and Recreation
Administration, 32(1).
Kelly, J. R. (2012). Leisure (4th ed.). Urbana, IL: Sagamore Publishing.
Kelly, J. R. & Godbey, G. (1992). Themes and definitions. In The Sociology of Leisure,
State College: Venture Publishing.
Kesby, M., Kindon, S., & Pain, R. (2007). Participation as a form of power: Rethinking
empowerment and spatializing participatory action research. In S. Kindon, R.
Pain, & M. Kesby (eds). Participatory action research approaches and methods.
New York, NY: Routledge.
Kindon, S., Pain, R., & Kesby, M. (2007). Participatory action research: Origins,
approaches and methods. In S. Kindon, R. Pain, & M. Kesby (eds). Participatory
action research approaches and methods. New York, NY: Routledge.
313
Kolb, D. A. (1984). Experiential learning: Experience as the source of learning and
development. Englewood Cliffs, NJ: Prentice-Hall.
Kolb, A. Y. & Kolb, D. A. (2010). Learning to play, playing to learn: A case study of a
ludic learning space. Journal of Organizational Change Management, 23(1), 2650.
Kuhn, T. S. (1962). The structure of scientific revolution. Chicago, IL: University of
Chicago Press.
Kwan, M. Y., Cairney, J., Faulkner, G. E., & Pullenayegum, E. E. (2012). Physical
activity and other health-risk behaviors during the transition into early adulthood:
a longitudinal cohort study. American journal of preventive medicine. 42(1), 1420.
L'Abate, L. (2009). The Praeger handbook of play across the life cycle: Fun from infancy
to old age. Santa Barbra, CA: Praeger.
LaFreniere, P. (2011). Evolutionary Functions of Social Play: Life Histories, Sex
Differences, and Emotion Regulation. American Journal of Play, 3(4), 464-488.
Lareau, A. (2002). Invisible inequality: Social class and childrearing in black families
and white families. American sociological review, 747-776.
Lazarus, M. (1883). About the attractions of play. Berlin, Germany: F. Dummler.
Leacock, E. (1976). At play in African villages. In J. S. Bruner, A. Jolly, K. Sylva (eds.).
Play –its role in development and evolution. New York, NY: Basic Books, Inc.
Publishers.
314
Lewis, C. (2009). Children's play in the later medieval English countryside. Childhood in
the Past, 2(1), 86-108.
Lillard, A. (2007). Guided participation: How mothers structure and children understand
pretend play. In A. Goncu & S. Gaskins (eds.), Play and development:
Evolutionary, sociocultural, and functional perspectives. Mahwah, NJ: Lawrence
Erlbaum Associates, Publishers.
Linn, M. C. (2006). The knowledge integration perspective on learning and instruction.
In R. K. Sawyers (ed.). The Cambridge handbook of the learning sciences. New
York, NY: Cambridge University Press.
Lincoln, Y. S. & Guba, E. G. (1985). Naturalistic inquiry. Beverly Hills, CA: Sage.
Lincoln, Y. S., Lynham, S. A., & Guba, E. G. (2011). Paradigmatic controversies,
contradictions, and emerging confluences, revisited. In N. Denzin and Y. Lincoln
(eds.). The Handbook of Qualitative Research. Thousand Oaks, CA: Sage
Publications.
Levitt, S. D. & Dubner, S. J. (2009). Freakonomics: A rogue economist explores the
hidden side of everything. New York, NY: Harper Collins.
Lundy, L. (2007). 'Voice' is not enough: Conceptualizing article 12 of the United
Nations Convention on the Rights of the Child. British educational research
journal, 33(6), p. 927-942.
315
Lundy, L., McEvoy, L. & Bryne, B. (2011). Working with young children as coresearchers: An approach informed by the United Nations Convention on the
Rights of the Child. Early education & development, 22(5), 714-736.
Macintyre, C. (2001) Enhancing learning through play: A developmental perspective for
early years settings. London: David Fulton Publishers.
MacNaughton, G. (2005). Doing Foucault in Early childhood studies: Applying
poststructural ideas. New York, NY: Routledge.
Mainemelis, C., & Ronson, S. (2006). Ideas are born in fields of play: Towards a theory
of play and creativity in organizational settings. Research in Organizational
Behavior, 27, 81-131.
Marsh, R., Gerber, A. J., & Peterson, B. S. (2008). Neuroimaging studies of normal brain
development and their relevance for understanding childhood neuropsychiatric
disorders. Journal of the American Academy of Child & Adolescent
Psychiatry, 47(11), 1233-1251.
McAdams, D. P. (2001). The psychology of life stories. Review of general
psychology, 5(2), 100.
McNiff, J. & Whitehead, J. (2010). You and your action research project (3rd ed.).
New York, NY: Routledge.
Mellou, E. (1994). Play theories: A contemporary review. Early child development and
care, 102(1), 91-100.
Meyer, P. (2010). From workplace to playspace. San Francisco, CA: Jossey-Bass.
316
Millar, S. (1974). The psychological of play. New York, NY: Jason Aronson.
Miller, P. H. (2002). Theories of developmental psychology (4th ed.). New York, NY:
Worth Publishers.
Mishra, P., & Henriksen, D. (2012). Rethinking Technology & Creativity in the 21st
Century: On Being In-Disciplined. TechTrends, 56(6), 18-21.
Montessori, M. M. (1976). Education for human development: Understanding
Montessori. New York, NY: Schocken Books.
Morrow, V. & Richards, M. (1996). The ethics of social research with children: An
overview. Children & society, 10(2), 90-105.
Moultrie, J., Nilsson, M., Dissel, M., Haner, U. E., Janssen, S., & Van der Lugt, R.
(2007). Innovation spaces: towards a framework for understanding the role of the
physical environment in innovation. Creativity and Innovation
Management, 16(1), 53-65.
National Center for Educational Statistics. (2015). Retrieved from
http://nces.ed.gov/fastfacts/display.asp?id=372.
Nazareth, L. (2007). The leisure economy. Mississauga, ON: Wiley.
Nelson, I. A., London, R. A., & Strobel, K. R. (2015). Reinventing the Role of the
University Researcher. Educational Researcher, 44(1), 17-26.
Neuman, W. L. (2011). Social research methods: Qualitative and quantitative
approaches. New York, NY: Allyn & Bacon.
317
Nicholson, J., Shimpi, P. M., & Rabin, C. (2014). 'If I am not doing my own playing then
I am not able to truly share the gift of play with children': using poststructuralism
and care ethics to examine future early childhood educators' relationships with
play in adulthood. Early Child Development and Care, 184(8), 1192-1210.
Nolte, J. (2002). The human brain: An introduction to its functional anatomy.
Philadelphia, PA: Mosby Elsevier.
Obama, B. H. (2012, February). Remarks by the President to UAW Conference.
United Auto Workers Annual Conference. Washington, DC.
Oreck, B. & Nicoll, J. (2010). Dance dialogues: Creating and teaching in the zone of
proximal development. In M. C. Connery, V. P. John-Steiner, & A. MarjanovicShane (eds.). Vygotsky and Creativity: A cultural-historical approach to play,
meaning making, and the arts. New York, NY: Peter Lang.
Paley, V. G. (2004). A child's work: The importance of fantasy play. Chicago, IL:
University of Chicago Press.
Paley, V. G. (1992). You can't say you can't play. Cambridge, MA: Harvard University
Press.
Paley, V. G. (1978). White teacher. Cambridge, MA: Harvard University Press.
Palagi, E. (2011). Play at every age: Modalities and potential functions in non-human
primates. In A. D. Pellegrini (ed.). The Oxford handbook of the development of
play. New York, NY: Oxford University Press.
318
Panksepp, J., Siviy, S., & Normansell, L. (1985). The psychobiology of play: theoretical
and methodological perspectives. Neuroscience & Biobehavioral Reviews, 8(4),
465-492.
Pellegrini, A. D. (ed.) (1995). The future of play theory: A multidisciplinary inquiry into
the contributions of Brian Sutton-Smith. Albany, NY: State University of New
York Press.
Pellegrini, A. D. (2009). The role of play in human development. New York, NY: Oxford
University Press.
Pellegrini, A. D. (ed.) (2011). The Oxford University of the development of play. New
York, NY: Oxford University Press,
Pellis, S. & Pellis, V. (2009). The playful brain: Venturing to the limits of neuroscience.
Oxford, England: Oneworld Book.
Piaget, J. (1945). Play, dreams, and imitation in childhood. New York, NY: Norton.
Piaget, J. (1976). Piaget's theory. New York, NY: Springer Berlin Heidelberg.
Plato, & Jowett, B. (1941). Plato's the republic. New York, NY: The Modern library.
Plummer, K. (2011). Critical humanism and queering theory: Living with the Tensions
postscript 2011 to living with the contradictions. In N. K. Denzin & Y. S. Lincoln
(eds.) The SAGE handbook of qualitative research. Thousand Oaks, CA: Sage
Publications.
319
Poe, E. A., & Mabbott, T. O. (1969). Collected Works of Edgar Allan Poe: Tales and
Sketches, 1843-1849 (Vol. 3). Cambridge, MA: Belknap Press of Harvard
University Press.
Portes, A. & Rumbaut, R. G. (2006). Immigrant America. Los Angeles, CA: University
of California Press.
Proyer, R. T. (2014). Perceived functions of playfulness in adults: Does it mobilize you at
work, rest, and when being with others?. Revue Européenne de Psychologie
Appliquée/ European Review of Applied Psychology, 64(5), 241-250.
Pugh, K. J., & Girod, M. (2007). Science, art, and experience: constructing a science
pedagogy from Dewey's aesthetics. Journal of Science Teacher Education, 18(1),
9-27.
QSR International. (2015). NVino 10 [Computer software]. Retrieved from
http://www.qsrinternational.com.
Rehberg, W. (2005). Altruistic individualists: Motivations for international volunteering
among young adults in Switzerland. Voluntas: International Journal of Voluntary
and Nonprofit Organizations, 16(2), 109-122.
Resnick, M. (2006). Computer as paintbrush: Technology, play, and the creative society.
In D. G. Singer, R. M. Golinkoff, & K. Hirsh-Pasek (eds.). Playing=learning:
How play motivates and enhances children's cognitive and social-emotional
growth. New York, NY: Oxford University Press.
320
Rogoff, B. (2003). The cultural nature of human development. New York, NY: Oxford
University Press.
Roopnarine, J. L. (2011). Cultural variation in beliefs about play, parent-child play and
children's play: Meaning for childhood development. In A. D. Pellegrini (ed.).
The Oxford handbook of the development of play. New York, NY: Oxford
University Press
Root-Bernstein, R.S. (1996). The sciences and arts share a common creative aesthetic. In:
A. I. Tauber (ed.), The elusive synthesis: Aesthetics and science (pp. 49–82).
Netherlands: Kluwer.
Rothbart, M. K., & Hwang, J. (2005). Temperament and the development of competence
and motivation. In A. J. Elliot & C. S. Dweck (eds.). Handbook of competence
and motivation. New York, NY: The Guilford Press.
Rousseau, J. J. & Bloom, A. (1979). Emile: Or On Education. United States of America:
Basic Book.
Runco, M. A, (2005). Motivation, competence, and creativity. In A. J. Elliot & C. S.
Dweck (eds.). Handbook of competence and motivation. New York, NY: The
Guilford Press.
Russ, S. W. (1993). Affect and creativity: The role of affect and play in the creative
process. Hillsdale, NJ: Lawrence Erlbaum Associates, Publishers.
Russ, S. W. (2003). Play and creativity: Developmental issues. Scandinavian journal of
educational research, 47(3), 291-303.
321
Sapolsky, R. M. (2004). Why zebras don't get ulcers: The acclaimed guide to stress,
stress-related diseases, and coping (3rd ed.). New York, NY: St. Martin's Griffin.
Saracho, O. N. (2003). Young children's play and cognitive style. In O .N. Saracho & B.
Spodek (Eds.) Contemporary perspectives on play in early childhood education.
Greenwich, CT: Information Age Publishing.
Sawyer, R. K. (1997). Pretend play as improvisation: Conversation in the preschool
classroom. Mahwah, NJ: Lawrence Erlbaum Associates.
Sawyer, R. K. (2003). Group creativity: Music, theater, collaboration. Mahwah, NJ:
Lawrence Erlbaum Associates, Publishers.
Sawyer, R. K. (2012). The science of human innovation explaining creativity (2nd ed.).
New York, NY: Oxford University Press.
Scott, R. (2015). Why are these 100 companies the best to work for? Forbes. Retrieved
from http://www.forbes.com/sites/causeintegration/2015/04/06/why-are-these100-companies-the-best-to-work-for/.
Schiebinger, L., & Proctor, R. N. (2008). Agnotology. The making and unmaking of
ignorance. Stanford, CA: Stanford University Press.
Schore, A. N. (2001). Effects of a secure attachment relationship on right brain
development, affect regulation, and infant mental health. Infant mental health
journal, 22(1-2), 7-66.
Schulte, B. (2014). Overwhelmed. New York, NY: Sarah Crichton Books.
322
Schwartz, S. & Robinson, M. M. (1991). Attitudes towards poverty during undergraduate
education. Journal of teaching in social work, 7(1), 107-121.
Schwartz, D. L. (1995). The emergence of abstract representations in dyad problem
solving. Journal of learning sciences, 4(3), 321-354.
Seidman, I. (2012). Interviewing as qualitative research: A guide for researchers in
education and the social sciences (4th ed.). New York, NY: Teachers College
Press.
Shadish, W. R., Cook, T. D., & Campbell, D. T. (2002). Experimental and quasiexperimental designs for generalized causal inference. Belmont, CA: Wadsworth
Cengage Learning.
Shakespeare, W., & Hattaway, M. (2000). As you like it. New York, NY: Cambridge
University Press.
Shen, X. S., Chick, G., & Zinn, H. (2014). Validating the Adult Playfulness Trait Scale
(APTS): An Examination of Personality, Behavior, Attitude, and Perception in the
Nomological Network of Playfulness. American Journal of Play, 6(3), 345-369.
Singer, D. G., Golinkoff, R. M., & Hirsh-Pasek, K. (eds.). (2006). Play= Learning: How
play motivates and enhances children's cognitive and social-emotional growth.
New York, NY: Oxford University Press.
Smith, K. (2013). A rights-based approach to observing and assessing children in the
early childhood classroom. In B.B. Swadener, L. Lundy, J. Habashi, & N.
323
Blachet-Cohen (eds.) Children's rights and education: International perspectives.
New York, NY: Peter Lang.
Smith, M. C. & Pourchot, T. (1998). Adult learning and development: Perspectives from
educational psychology. Mahwah, NJ: Lawrence Erlbaum Associates, Inc.
Smith, P. K. (1995). Play, ethology, and education: A personal account. In A. D.
Pellegrini (ed.), The future of play theory. Albany, NY: State University of New
York Press.
Smith, P. K. (2007). Evolutionary foundations and functions of play: An overview. In A.
Goncu & S. Gaskins (eds.), Play and development: Evolutionary, sociocultural,
and functional perspectives. Mahwah, NJ: Lawrence Erlbaum Associates,
Publishers.
Smith, P. K. (2011). Observational methods in studying play. In A. D. Pellegrini (ed.),
The Oxford handbook of the development of play. New York, NY: Oxford
University Press.
Stevens, V. (2014). To Think without Thinking. American Journal of Play, 7(1).
Stewart, J. B. (2013). Looking for a lesson in Google's perks. The New York Times.
Retrieved from http://www. nytimes. com/2013/03/16/business/at-google-a-placeto-work-and-play. html.
Stamm, J. & Spencer, P. (2007). Bright from the start. New York, NY: Gotham Books.
324
Subrahmanyam, K., Reich, S. M., Waechter, N., & Espinoza, G. (2008). Online and
offline social networks: Use of social networking sites by emerging adults.
Journal of Applied Developmental Psychology, 29(6), 420-433.
SurveyMonkey Inc. (2014). SurveyMonkey. Retrieved from www.surveymonkey.com.
Sutton-Smith, B. (1997). The ambiguity of play. Cambridge, MA: Harvard University
Press.
Sutton-Smith, B. (1995). Conclusion: The persuasive rhetorics of play. In A. D. Pellegrini
(ed). The Future of Play Theory: A Multidisciplinary Inquiry into the
contributions of Brian Sutton-Smith. Albany, NY: State University of New York
Press.
Swedlund, E. (2015, March). Gaining STEAM: Science and technology educators add
arts component to spark imaginative leaps. ASU Magazine, 18(5), 29-31.
Swadener, B.B., Peters, L., & Gaches, S. (2013). Taking Children's rights and
participation seriously: Cross-national possibilities and perspectives. In L.
Pochner & V. Pacini-Kethabaw (eds.) Resituating Canadian early childhood
education. New York, NY: Perter Lang.
Thomas, N. & O'Kane, C. (1998). The ethics of participatory research with children.
Children & society, 12(5), 336-348.
Tobin, J. (2005). Strengthening the use of qualitative research methods for studying
literacy. Reading Research Quarterly, 91-95.
325
Torrance, E. (1972). Can We Teach Children To Think Creatively?. The Journal of
Creative Behavior, 6(2), 114-143.
Torrance, H. (2011). Qualitative research, science, and government. In N. K. Denzin &
Y. S. Lincoln (eds.) The SAGE handbook of qualitative research. Thousand Oaks,
CA: Sage Publications.
Tudge, J. R. H., Brown, J. R. & Freitas, B. L. (2011). The cultural ecology of play:
Methodological considerations for studying play in its everyday contexts. In A. D.
Pellegrini (ed.), The Oxford handbook of the development of play. New York, NY:
Oxford University Press.
United Nations. (1989). United Nations convention on the rights of the child. Geneva,
Switzerland: United Nations.
U.S. Department of Health and Human Services. (2009). Code of federal regulations 45
§ 46 . Retrieved from
http://www.hhs.gov/ohrp/humansubjects/guidance/45cfr46.html.
U.S. National Park Service. (2015, March, 15). Chiricahua national monument. [National
park visitor page]. Retrieved from http://www.nps.gov/chir/index.htm.
U.S. National Park Service. (2015, March 30). Saguaro national park. [National
park visitor page]. Retrieved from http://www.nps.gov/sagu/index.htm.
Valenzuela, A. (1999). Subtracting schooling: U.S.-Mexican youth and the politics of
caring. Albany, NY: State University of New York Press.
Veal, A. J. (1993). The concept of lifestyle: a review. Leisure Studies, 12(4), 233-252.
326
West, S., Hoff, E., & Carlsson, I. (2012). Playing at work: professionals' conceptions of
the functions of play on organizational creativity. International Journal of
creativity and problem-solving.
Vygotsky, L. S. (1967). Play and its role in the mental development of the child. Journal
of Russian and East European Psychology, 5(3), 6-18.
Vygotsky, L. S. (1978). Mind in Society: The development of higher psychological
processes. Cambridge, MA: Harvard University Press.
Walker, N. E., Brooks, C. M., & Wrightman, L. S. (1999). Children's rights in the United
States: In search of a national policy. Thousand Oaks, CA: Sage.
Whitebread, D., Coltman, P., Jameson, H., & Lander, R. (2009). Play, cognition and selfregulation: What exactly are children learning when they learn through
play?. Educational and Child Psychology, 26(2), 40.
Weiss, K. M. (2012). Agnotology: how can we handle what we don't know in a knowing
way?. Evolutionary Anthropology: Issues, News, and Reviews, 21(3), 96-100.
West, N. M. (2000). Kodak and the lens of nostalgia. Charlottesville, VA: University
Press of Virginia.
West, S., Hoff, E., & Carlsson, I. (2013). Playing at work: professionals' conceptions of
the functions of play on organizational creativity. The International Journal of
creativity and problem-solving, 23(2), 5-23.
Yarnal, C. M. (2006). The Red Hat Society®: Exploring the role of play, liminality, and
communities in older women's lives. Journal of Women & Aging,18(3), 51-73.
327
Yarnal, C., & Qian, X. (2011). Older-Adult Playfulness: An Innovative Construct and
Measurement for Healthy Aging Research. American Journal of Play, 4(1), 5279.
Yenigun, S. (2014). Play doesn't end with childhood: Why adults need recess too.
National Public Radio. Retrieved from
http://www.npr.org/blogs/ed/2014/08/06/336360521/play-doesnt-end-withchildhood-why-adults-need-recess-too.
Yoon, H. S. (2014). Can I Play With You? The Intersection of Play and Writing in a
Kindergarten Classroom. Contemporary Issues in Early Childhood, 15(2), 109121.
Zoss , M. (2010). Keeping ideas and language in play: Teaching drawing, writing, and
aesthetics in a secondary literacy class. In M. C. Connery, V. P. John-Steiner, &
A. Marjanovic-Shane (eds.). Vygotsky and Creativity: A cultural-historical
approach to play, meaning making, and the arts. New York, NY: Peter Lang.

* Your assessment is very important for improving the work of artificial intelligence, which forms the content of this project