No category
GROUND -WATER RECHARGE FROM URBAN RUNOFF AND IRRIGATION RETURNS ABSTRACT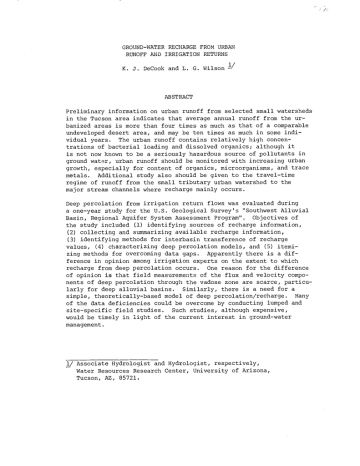 GROUND -WATER RECHARGE FROM URBAN
RUNOFF AND IRRIGATION RETURNS
K. J. DeCook and L. G. Wilson 1/
ABSTRACT
Preliminary information on urban runoff from selected small watersheds
in the Tucson area indicates that average annual runoff from the urbanized areas is more than four times as much as that of a comparable
undeveloped desert area, and may be ten times as much in some indiThe urban runoff contains relatively high concenvidual years.
trations of bacterial loading and dissolved organics; although it
is not now known to be a seriously hazardous source of pollutants in
ground water, urban runoff should be monitored with increasing urban
growth, especially for content of organics, microorganisms, and trace
Additional study also should be given to the travel -time
metals.
regime of runoff from the small tributary urban watershed to the
major stream channels where recharge mainly occurs.
Deep percolation from irrigation return flows was evaluated during
a one -year study for the U.S. Geological Survey's "Southwest Alluvial
Basin, Regional Aquifer System Assessment Program ". Objectives of
the study included (1) identifying sources of recharge information,
(2) collecting and summarizing available recharge information,
(3) identifying methods for interbasin transference of recharge
values, (4) characterizing deep percolation models, and (5) itemizing methods for overcoming data gaps. Apparently there is a difference in opinion among irrigation experts on the extent to which
One reason for the difference
recharge from deep percolation occurs.
of opinion is that field measurements of the flux and velocity components of deep percolation through the vadose zone are scarce, particuSimilarly, there is a need for a
larly for deep alluvial basins.
simple, theoretically -based model of deep percolation /recharge. Many
of the data deficiencies could be overcome by conducting lumped and
site -specific field studies. Such studies, although expensive,
would be timely in light of the current interest in ground -water
management.
1/ Associate Hydrologist and Hydrologist, respectively,
Water Resources Research Center, University of Arizona,
Tucson, AZ, 85721.
2.
ground water in place, and the mechanisms of its arrival in the subsurface, are being examined by others; but gaps exist in our knowledge
of the changes undergone en route from the urban source to the aquifer
destination.
URBAN RUNOFF CHARACTERISTICS AT SOURCE
The University of Arizona Water Resources Research Center has collected
rainfall /runoff data on several urban and suburban watersheds in Tucson
since 1968, and also maintains a data file on Atterbury Experimental
Watershed (Figure 1), until recently an undeveloped desert area, dating
The Atterbury data provide a baseline for conditions withfrom 1957.
out urbanization, and the data for High School and Arcadia Watersheds
are cited as examples of urbanized areas in the Tucson region. Figure
2 shows the delineation of watersheds in the urbanized valley region.
Figure 3 illustrates the configuration and topography of High School
and Arcadia Watersheds, which are 0.9 and 3.5 square miles in area,
respectively. Also shown are the location of raingages and stream flow gaging stations (critical -depth flumes with continuous recorders).
The character of land use in these two watersheds, as reflected by percentage of types of surface area, is illustrated in Table 1.
Distributed samples of runoff quality from the various land -use surfaces
would be highly useful in identifying and isolating specific pollutant
sources; distributed sampling has been undertaken, but results are not
as yet available in sufficient detail to be conclusive. Lumped samples
of runoff from each watershed have been collected and analyzed for a
number of storm events, and an indication of results is shown in Table 2.
The water quality parameters that consistently show relatively high
values are suspended solids, chemical oxygen demand (COD), and bacterial
density. By comparison, runoff samples collected from the undeveloped
desert area in Atterbury Experimental Watershed show suspended solids
content even higher than that in the urban area (about 5,200 mg /1), while
COD was roughly equivalent (223 mg /1), but bacterial counts (total
coliform) were much lower, only 13 percent of the concentrations found
in the urban runoff.
The Pima Association of Governments (1978) has stated that urban runoff
in the Tucson region "...is considered a low level immediate health
hazard, but a high level long -range problem ", and has recommended a
continuing monitoring program to determine the impact of urban runoff on
area ground -water supplies.
The amount of loading of these constituents arriving as inflow to the
major streams and attributable to the tributary urban watershed depends
of course upon the amount of runoff generated on that watershed. Table
3 indicates the volume runoff and peak flows measured as outflow from
High School and Arcadia Watersheds in Tucson, for the period 1968 -79.
As may be expected in a semiarid region, the year -to -year variation
in both volume runoff and peak flows is rather large, and within each
year the peak flow in summer months commonly exceeds that of the winter
As compared with undeveloped areas in the desert watershed, runseason.
off values are generally much higher in the urbanized area; whereas the
3.
GOLF LINKS ROAD
NOTE: SUB-WATERSHEDS W -2
1L_
RI
TANK -
FLUME
1
\
/
l
Nt-
i
j
F-IB +R-7
FLUM
I
R-5
\R-5
R-4
W
W
0. 47
W -3
+ R-36
+ R-3
/
W- IA
AREA- SO MI
4.49
SUB -WATERSHED
W -2 (EXCL. W -3)
®R-2
(
1RVINGTON RD.
\\
iJ
ZI
+
R-9
+
R 30t\ R-10`
\
\. -PR,IL
w
48q. NR-I2
0.
\`
\R-131
.
T.15 S.
W IB
\\
W
R- 8
`
+\
1
R-I6
t
j
®
R-i4
-- ...
N
-15
i- R-3I
VI -IX
.\
+R-19
R-17
R-18
\
TANK
2
WATER RESOURCES RESEARCH CENTER
ATTERBURY EXPERIMENTAL WATERSHED
UNIVERSITY OF ARIZONA
R -2d
} R-21
R-22
W-2
R-34%.
1971
R-2
EXPLANATION
+ R-25
+
R -24
MAIN WATERSHED BOUNDARY
SUB -WATERSHED BOUNDARY
\
R- 26\
R-33
RECORDING RAIN GAGE
T.15S
NON- RECORDING RAIN GAGE
TANK
\
T.I6 S.
FLUME
8
R-.3
®
R-27
W-3
32
SCALE
0
I
W -3
I
(KINNESON LAKE)
F- IA
8
LIE OUTSIDE CITY OF TUCSON
IN UNDEVELOPED RURAL AREA
R-29
2
MILES
FIGURE 1.
FIGURE 2.
Tucson Urban Area
watershed area=
0.9 sq. mi.
main watershed
recording
boundary
rain
gauge
rain gauge
non - recording
water sampler
automatic
flume
t
0.5 mi
o
t
o
t
0., 5 km
1
contours in feet
SCHOOL WASH
HIGH
Water
Resources
EXPERIMENTAL
Research
University of
watershed area
3.5 sq. mi.
water
automatic
gauge
N
sampler
flume
o
1
t
N
\
111P4
Broadway
recording rain gouge
rain
residential area
Speedway
main watershed boundary
non -recording
Center
Arizona
watershed lies in fully -developed
Note
WATERSHED
=moo.
22nd
1
mi
t
tkm
0
ARCADIA
WASH
Water
EXPERIMENTAL
Resources
Research
University of
Center
Arizona
Note: watershed lies in suburban area
FIGURE 3.
WATERSHED
4.
contours in feet
T
6.
Table 1.
Land Use
(Percent of time)
Land -use Characteristics of the
Experimental Urban Watersheds
High School
Arcadia
65.5
60.4
Commercial
3.5
6.1
Industrial
0.0
0.0
19.9
13.3
Open, undeveloped
5.1
15.6
Parks, grassed
0.6
2.1
Unpaved roads
3.4
1.7
Institutions
2.0
0.8
7.06
6.98
Residential
Paved
Population density,
people /acre
7.
Table 2.
Summary of Mean Values of Urban Runoff
Analyses, Tucson Region*
Watershed
Arcadia
High School
Summer
Storms
Physical or Chemical
Quality Indicator **
Winter
Storms
Summer
Storms
Winter
Storms
Suspended Solids (mg /1)
923
630
1768
1019
pH
7.3
6.9
7.4
7.1
Total Dissolved Solids
(mg /1)
212
166
208
138
Chemical Oxygen Demand
(mg /1)
227
248
200
170
2.0
0.4
0.36
0.33
0.21
>98x105
19x105
67x105
17x105
>20x105
6x104
16x105
4x104
>21x104
48x103
>1Ox104
45x104
Nutrient or Biological
Quality Indicator **
Nitrate, NO
(mg /1)
3.1
3
Phosphate, PO4E (mg /1)
Total Coliform (Density per
0.59
100 ml)
Fecal Coliform (Density per
100 ml)
Fecal Streptococci (Density
per 100 ml)
Dhannadhikari, 1970.
*Source:
* *For comparison, standards for recreational waters (partial body contact)
in Arizona specify the following:
6.5 - 8.6
pH
Fecal Coliform:
1x103
Geometric mean
1.
10% of samples for 30 -day period shall not exceed 2x103
2.
4x103
Single sample shall not exceed
3.
Standards for suspended solids and chemical oxygen demand have not been
Total dissolved solids content is acceptable for all uses.
set.
8.
Table 3.
Streamflow Data1 for Urban
Watersheds in Tucson, Arizona
High School Wash at Cherry Avenue3
Calendar Year
1968
1969
1970
1971
1972
1973
1974
1975
1976
1977
1978
1979 * **
Range
Average
Average /mit
Volume Runoff (ac -ft)
Summer2 Winter2 Annual
38
93
102
59
20
42
44
30
9
23
27
9 -102
44
49
20
15
41
71
31
16
19
30
69
92
27
15 -92
39
43
Maximum Summer
Peak (cfs)
58
109
144
130
51
58
62
60
78
115
54
486
341
409
664
*800
204
126
195
129
129
111
346
Maximum Winter
Peak (cfs)
74
50
43
40
110
52
45
27
62
178
99
51
51 -144
111 -800
27 -178
83
92
328
364
69
213
265
594
1207
940
121
264
133
347
213
724
647
310
77
Arcadia Wash at Pima Street
* *1968
1969
1970
1971
1972
1973
1974
1975
** *1976
1977
** *1978
1979
Range
Average
Average /mit
32
205
363
159
15
38
21
68
17
87
13
32
94
184
57
50
11
17
48
177
136
34
15 -363
11 -184
65
104
30
19
45
237
456
343
72
87
32
86
65
264
170
32 -456
169
49
121 -1207
472
135
93
124
313
254
74
104
75
37
191
343
70
37 -343
166
47
*Peak Computer - Overflowed Flume.
* *No records prior to 3- 19 -68.
** *Estimated values for some storm events because of equipment failure.
1Measurements by critical -depth flume.
2Summer rainy season is June through September; winter season is
October -December and January -May.
3Preliminary data, as calculated; subject to revision.
9.
long -term average runoff from Atterbury Watershed is 2 -1/2 to 3 percent
of rainfall or about 15 acre -feet per square mile per year (ac -ft /mi2 /yr),
the volume runoff from Arcadia Watershed is more than three times as
much, approaching 50 ac -ft /mi2 /yr, and that of High School Watershed
This factor can
shows a six -fold increase or more than 90 ac -ft /mi2 /yr.
be even greater, of course, for individual storm events.
According to figures published by Pima Association of Governments (1978)
in reference to specific categories of watershed surface type, annual
runoff may range from 3 ac -ft /mi2 /yr for horticultural plots to 130
For multiple watersheds containing
ac -ft /mi2 /yr for paved streets.
a mixture of seventeen land -use categories and excluding undeveloped
desert areas, the average volume of runoff from the Tucson urban area is
approximately 65 ac -ft /mi2 /yr.
Peak discharges, especially for summer storm events, also may be increased in the urbanized watersheds. A comparison with the undeveloped
Atterbury drainage would be difficult, as it is much larger and because its flow is regulated in part by several stock tanks. Nonetheless,
the record for the suburban Arcadia Watershed shows an average peak
summer (and annual) flow of 135 cubic feet per second per square mile
(cfs /mi2), and that for High School Watershed, the smaller and more intensively developed area, shows 364 cfs /mi2.
DISPOSITION OF URBAN RUNOFF
To dispose of urban runoff in a humid region, the traditional storm
sewer system is commonly used, but in desert regions such as southern
Arizona, such systems may not be economically justified, and various
In Los Angeles
other means are employed to dispose of storm waters.
and Fresno, California, for instance, storm runoff is controlled through
collection systems and recharged artificially through spreading basins
In Phoenix, runoff from shopping centers and parking lots
and pits.
is collected within those areas and injected underground into "dry wells"
which do not penetrate the zone of saturation.
A notable exception
In Tucson, storm runoff is largely uncontrolled.
is the system constructed by the Corps of Engineers, by which runoff
from Davis -Monthan Air Force Base is diverted, routed through Ajo Road
Detention Basin, and discharged through Julian Wash to the Santa Cruz
Elsewhere, city streets and natural arroyos are the principal
River.
channels of discharge to the major watercourses.
Surface Inflow
Inflow to the major streams in the Tucson basin is a principal source
of recharge water, and the main channels are rather efficient natural
Burkham (1970) has estimated that about 70 perrecharge mechanisms.
cent of the average annual inflow to selected reaches of these channels
is depleted by infiltration. To what extent this natural flow and recharge system is affected by urbanization remains to be determined.
10.
First, does deep percolation occur during or following rainfall /runoff events, within the small, urban tributary watersheds? It is
generally believed that recharge in the valley floor is negligible, and
it would appear that recharge in the small collector channels is insignificant, also.
Some basic requirements for recharge would be a permeable medium for infiltration and deep percolation; a significant
wetted surface area; sufficient head to force infiltration; and
sufficient duration of flow or ponding to cause substantial downward
movement of water. Generally, these factors are not favorably assembled
in the urban area. Much of the surface consists of impermeable roofs
and paving, the near - surface strata include caliche and thin beds of
silt or clay, and flow duration is measured in hours for each runoff
event, of which there are only perhaps twenty per year. The head of
surface water imposed on possible infiltration surfaces then may be
visualized as an occasional "pulse ", which over time may be so attenuated with depth that its effect on the zone of saturation a few hundred feet below may be undetectable. In any event, the net effect of
conditions in the urbanized area is such that deep percolation there is
relatively very small, and runoff to the main stream channels is
relatively large, as seen in Table 3.
The effect of such discharge on existing flow and recharge in the
main channel depends heavily upon timing of the urban tributary flow.
In terms of individual runoff events, if the urban flow arrives at a
time when the main channel is carrying little or no flow (quite possible,
especially in the summer rainy season), the urban discharge may be
spread upon a receiving channel surface which is quite favorable to
recharge; if it arrives, however, when mainstream flow is already at
high stage and channel materials are largely saturated, the influence
of the realtively small pulse of tributary inflow may be negligible.
The same idea can be carried to seasonal timing. As shown in Table 3,
somewhat more than half the annual discharge and most of the larger
The relation of
peak flows occur in summer on the urban watersheds.
these factors to the flow regime in the main channels depends upon
which main channels are receiving the urban tributary inflow. As
shown by Keith (1980), the Rillito receives flow from mountain streams
such as Sabino, Agua Caliente and Tanque Verde Creeks, in which approximately 70 percent of annual discharge occurs during the winter (NovemArcadia Watershed and several others in the northern
ber- April) season.
and eastern urban or suburban area of Tucson also discharge into the
Rillito, but their heavy summer flow contributions would be seasonally
out of phase with these major mountain -stream runoff events.
High
School Watershed, on the other hand, represents numerous small drainages
which are tributary to the Santa Cruz River, a piedmont stream wherein
70 percent or more of the annual flow occurs in the summer season (May
through October). These flows coincide with the predominant summer
urban runoff input, so that conditions for recharge of the urban flows
may be less favorable. These relationships deserve further study.
This line of investigation becomes important also in evaluating the
quality (or pollutant potential) of urban runoff.
It is readily
apparent that at times of high flow in the mainstream, a discharge of
11.
urban runoff with high contaminant concentration but short duration
may become highly diluted by mixing, whereas such a discharge at times
of no flow in the main channel may enter the recharge zone in relatively
concentrated form.
Subsurface Movement
Once an increment of urban storm runoff has reached a potential recharge location such as a major stream channel -- having undergone
various forms of abstraction, tranformation, and dilution /concentration
under surface -flow conditions -- the next in- transit flow movement is
in the subsurface, from the infiltration surface to the zone of saturation, where it will encounter further mixing and other changes. During
its downward percolation from the surface to the aquifer, the recharged water may undergo a complex sequence of changes in quality
through adsorption, solution /precipitation, or filtering. Empirical
sampling in the aquifer can show the end result of all these processes,
but the results are ex post facto. In order to avoid undesirable
changes (ground -water pollution), prior evaluation and prediction must
be made, based on knowledge of the quality parameters of the recharging
waters at the surface as well as the quality of ambient subsurface
waters and the lithochemistry of the intervening soil /rock strata. The
cost of such information is high, but methods for control are being
studied by agencies such as the Arizona Department of Health Services,
in order to set standards for subsurface disposal of surface waters
and develop procedures for protection of ground -water quality.
COMMENTS AND RECOMMENDATIONS
1.
2.
Two small urbanized watersheds in the Tucson area yield an average
annual runoff of about 50 to 90 ac -ft/mi2 /yr. For the larger Tucson
"urban window ", excluding undeveloped desert areas, it appears that
approximately 220 square miles of urbanized area yield an average
of about 65 ac -ft /mi2 /yr or a total of 14,300 acre -feet per year
(Pima Association of Governments, 1978, p. 58). In the unurbanized
state, these same areas evidently would yield about 15 ac -ft/mi2 /yr
or 3,300 acre -feet in total. Therefore, urbanization appears to
have effected a net increase of 11,000 acre -feet of runoff per
year to the main stream channels in the basin, during the 1970's.
The observed quality of urban runoff in Tucson does not clearly
indicate a presently high pollution potential for ground water.
The urbanization process, however, is both intensifying and
expanding, so that future pollutant loadings will be rapidly
growing without a corresponding increase in assimilative capacity
or dilution potential in the natural stream system. Accordingly,
the following recommendations by Mooradian (1980) are endorsed:
(1) Analyses of urban runoff samples should be continued; (2) an
extensive research program should be implemented to document the
movement of urban runoff in the surface and subsurface, using
techniques such as tracers; (3) studies should be continued on
the soil attenuating capabilities of the riverwash sediments; and
(4) water samples should be collected and analyzed, from monitor
12.
wells along the linear sinks for urban runoff such as the Rillito
Distributed sampling within specific
and Santa Cruz Rivers.
urban land -use areas also would be useful, for isolating "hot
spots" of pollutant contribution.
3.
The travel -time /flow regime of the urban watershed should be
investigated, in terms of the relationship of arrival times of
urban tributary inflows to those of mainstream inflows.
4.
Where it appears desirable to modify the flow time of urban
runoff or where high pollutant level is found, it is recommended
that systems be devised for off -channel detention of increments of
the urban runoff in upstream areas, where it could be clarified
for use as in park areas, or released at controlled rates for
more compatible recharge downstream.
AGRICULTURAL RETURN FLOWS AS A SOURCE OF RECHARGE
In the course of a one -year study, initiated on June 1, 1979, the
Water Resources Research Center has been assisting the U.S. Geological
Survey in the Southwest Alluvial Basin, Regional Aquifer System Analysis
This program is one of several RASA projects initia(SWAB /RASA) program.
ted since 1976 to systematically study the regional ground -water systems
General goals of all RASA studies (Anderson, 1979) are
in the U.S.
(1) to describe the hydraulic and geochemical properties of developed
and undeveloped ground -water systems, (2) to determine changes resulting from development, (3) to interrelate results from previous studies,
and (4) to provide predictive models to facilitate further management
The area of the SWAB /RASA project comprises about 84,000
projects.
square miles in southern and central Arizona, and smaller portions of
California, Nevada, and New Mexico. The project area is divided into 71
hydrological basins.
The general purpose of the study undertaken by the Water Resources
Research Center for the SWAB /RASA effort is to assess the recharge
component of alluvial basin hydrological systems. Both natural and
"culturally modified" components of recharge are included. Natural
recharge consists of recharge from streamflow depletion and from
mountain front infiltration. "Culturally modified" recharge sources
include irrigation return flows, (i.e., deep percolation), canal
seepage, leakage from pits, ponds and lagoons, artificial recharge,
and streamflow depletion of sewage effluent discharged into ephemeral
(Urban runoff, an additional "culturally modified"
channels.
recharge sources was discussed in the first major section of this
The five specific objectives of the recharge study are as
paper.)
to identify sources of recharge information, (2) to
follows:
(1)
collect and summarize recharge values (including identifying data
gaps), (3) to identify approaches for transferring recharge values
from basins with extensive values to basins with poor data bases,
(4) to evaluate recharge models, and (5) to identify methods for
In this section of this paper we will review
overcoming data gaps.
the progress to date in achieving these goals for the deep percolation component of irrigation return flows. General observations
13.
are also briefly discussed.
APPROACHES
Project activities during the first six months of the project comprised
collecting available recharge data and deep percolation models. This
information collection effort was not restricted to the SWAB /RASA
project area but included other arid and semiarid regions of the U.S.
and elsewhere in the world. Consequently, a widespread search was
conducted for agencies and individuals with recharge information.
Similarly, an intensive literature search for recharge values was
conducted. The potential of several data management systems for
storing and retrieving the assembled recharge values was examined.
Although the collection of information was continued into the second
half of the project the major emphasis was on using the information
to satisfy the last three objectives of the project, i.e., transferring results, evaluation of models, and developing alternative
methods for offsetting data gaps.
RESULTS
Sources of Information and Initial Observations
A complete listing of information sources will be included in the final
In summary, information was obtained from
report for the project.
individuals within the following types of agencies: federal, state and
local water resources divisions, academic and professional institutions,
and private consultants. From personal discussions with individuals
in these agencies it was found that there is a dichotomy of opinion
on whether or not deep percolation in fact exists. Evidence for the
existence of deep percolation includes the following:
Water budget calculations require the input of substantial values
of deep percolation to permit closure. For example, in a water budget
analysis for the Salt River Valley for normalized 1970 conditions,
the Arizona Water Commission (1975) estimated that recharge from
irrigation was 949,000 acre -feet.
a)
Cascading water from perched ground -water zones has been observed
in wells within irrigated areas of the state, such as the Lower
Harquahala Valley (Graf, 1980), and the Avra Valley (Robertson, 1979).
Chemical analysis of samples of cascading water indicates the presence
of high nitrates, which may have originated from applied fertilizers.
b)
Pesticides have been found in ground -water samples within the
Salt River Valley. Whether pesticide residues arrive as a result of
flux across the water table from deep percolation of irrigation water,
or as a result of leakage through faulty wells is uncertain at this
c)
time.
The evidence against the existence of deep percolation is based on
field observations by authorities on irrigation water management,
14.
who were contacted during the project. These individuals have taken
large numbers of soil samples in irrigated fields during the growth
of various crops, either for determination of consumptive use curves,
or for irrigation scheduling. Aside from the wetting of soil profiles
during preirrigation, movement of water past the predominant rooting
In fact, several of the individuals condepths is not observed.
tacted felt that in some areas (such as in Pinal County) the farmers
do not apply enough water to offset moisture deficits, and that
crop yields would be improved by adding more water.
Collection of Data
Hard data on deep percolation of irrigation water are virtually
The deep
absent because very few on -site studies have been made.
percolation values in the majority of reports were calculated as the
residuals in water balance calculations for entire basins. Consequently, the errors in estimating the other parameters of the water
balance equation accumulate in the deep percolation values.
As it turned out, useful, site -specific information on deep percolation was available primarily for the Yuma area. Extensive, on -farm
water balance studies using field measurements of input -output values
have been conducted on irrigated areas at Yuma since the early 70's.
These studies are part of a program to improve irrigation efficiencies
and reduce the salt load of drainage water discharged into Mexico.
The program was conducted under the aegis of an Advisory Committee on
Irrigation Efficiency, including members from the following agencies:
The Water and Power Resources Service (formerly U.S. Bureau of
Reclamation), the Soil Conservation Service, and the U.S. Environmental
Protection Agency. A summary of the water budget analyses from the
Wellton- Mohawk Irrigation and Drainage District for the year 1970
Average irrigation efficiencies
through 1977 is shown on Table 4.
(defined as crop consumptive use divided by farm delivery) increased
Irrigation efficiencies in areas
from 50% in 1970 to 65% in 1977.
with field crops were generally greater than 50 %, whereas efficiencies
in areas with vegetables and citrus were less than 50 %. Efficiencies
were related to soil types, with lower efficiencies on sandier soils.
During the period 1970 to 1977 deep percolation values decreased
from a high of about 230,000 acre -feet in 1971 to a low of about 137,000
Improvements in efficiency and decreases in deep
acre -feet in 1977.
percolation losses are a reflection of several factors including
an acreage reduction program, rising costs for irrigation water, and
improvements in on -farm water management (The Advisory Committee on
Included among the improved manageIrrigation Efficiency, 1978).
ment practices is level -basin irrigation, in operation on 40,000 to
50,000 acres of field crops in The Wellton- Mohawk Valley (Erie and
Dedrick, 1979).
Evans, Sammis and Warrick (1976) reported the results of a study on
deep percolation rates for an irrigated area in the Salt River Valley.
(1) Darcy's
Three methods were used to estimate percolation rates:
equation with appropriate measurements of hydraulic conductivity
and hydraulic gradients; (2) temperature gradients in the soil profile;
15.
Table 4.
Year
Irrigated
Area
(Ac)
Water Budget Analyses, Wellton -Mohawk
Irrigation and Drainage District
The Advisory Committee on
(From:
Irrigation Efficiency, 1978).
Crop
Consumptive
Use (C.U.)
(AF)
C.U.
per
Acre
(AF /Ac)
Farm
Delivery
(AF)
Irrigation
Efficiency
(%)
Deep
Percolation
(AF)
1970
60,756
228,801
3.77
457,194
50
228,393
1971
61,152
246,510
4.03
476,690
52
230,180
1972
62,351
257,789
4.13
450,357
57
192,568
1973
63,973
269,833
4.22
468,693
58
198,860
1974
64,884
281,846
4.34
499,543
56
217,697
1975
65,529
277,053
4.23
489,531
57
212,478
1976
64,684
267,058
4.13
437,174
61
170,116
1977
60,622
254,902
4.20
391,741
65
136,839
16.
and (3) tritium concentrations of soil water relative to tritium
concentration /precipitation records. Estimates of the darcian
flux ranged from 9 to 38 cm /yr (4 to 15 in /yr). Corresponding
estimates of the average linear velocity ranged from 57 to 130 cm /yr
(22 to 51 in /yr).
Summarizing Recharge Values
The data management system which was selected for processing and
summarizing deep percolation values in reports collected during the
project is designated SELGEM. This system was developed about 10
years ago by the Smithsonian Institution. The basic SELGEM programs include the following capabilities: creation of master files,
updating, editing, indexing, retrieving and preparing reports. For
the purposes of this project, SELGEM offers numerous advantages for
collecting, sorting, and selectively retrieving the different types
SELGEM is available through the University
of recharge -related data.
of Arizona Computer Center.
To facilitate summarizing deep percolation estimates for SWAB /RASA
basins, the irrigated acreage in each basin was estimated using the
Cropland Atlas of Arizona (Mayes, 1974). Specifically, basin
boundaries were superimposed on maps in the atlas and corresponding
irrigated areas were detemined by planimetering. Inasmuch as reported values of deep percolation were minimal, alternative approaches
for estimating deep percolation in each basin were examined. A simple
(1) estimating crop
method consisted of the following steps:
acreages in each county; (2) estimating water application rates
for each crop; (3) estimating consumptive use values for each crop
in each area; and (4) calculating deep percolation as the difference
between total application rate and total consumptive use. Crop
acreages for step (1) were obtained from annual summaries published
by the Arizona Crop and Livestock Reporting Service (e.g., Mayes,
Britton and Riggs, 1979). Acreages of crops not reported in these
annual summaries were obtained from Agricultural Agents of the
University of Arizona Cooperative Extension Service. Estimated
application rates for field crops (step 2) were obtained from a series
of field crop budgets published by the Cooperative Extension Service
(see, for example, Hathorn and Grumbles, 1980). Estimates for other
crops were provided by Agricultural Agents in the counties. Consumptive use values for each crop (step 3) were available in tables prepared by Enz (No Date) and from the report of Erie, French and
Harris (1965). Important (albeit tenuous) assumptions of this approach
(1) all tailwater generated within the basin does not leave the
are:
basin, and (2) the available soil moisture storage remains constant.
An example of a 1976 water budget for the SWAB /RASA basin designated
AVRALT, calculated by the above approach is shown on table 5. The
estimated total deep percolation for the basin was 50,360 acre feet
Thus, deep percolation
for a total irrigated area of 49,150 acres.
The average irrigation efficiency
amounted to 1.02 feet per year.
(consumptive use divided by application rate) was 75 percent, with
higher efficiencies for alfalfa, cotton, grains, sorghum, and pasture
2223
49150
Pecans
TOTALS
200,010
Average
75
52
7,780
14,820
6.67
149,650
80
7,950
4.0
9,940
5.0
1Crop survey data courtesy of the Department of Soils, Water & Engineering,
University of Arizona.
1988
Pasture
3.5
100
980
3.0
980
3.0
Misc.
326
3,940
79
14,710
2.5
18,650
3.17
5883
Sorghum
10,220
44
8,170
2.0
18,390
4.5
4086
Lettuce
79
35,710
14285
Grain
50,360
7,040
1,990
0
9,570
12,950
2.5
45,280
3.17
17264
Cotton
82
4,650
(AF)
Deep
Percolation
60,420
3.5
73,370
4.25
ó
Irrigation
Efficiency
75
4.5
18,580
6.0
(AF)
Total
Consumptive
Use
13,930
(AF /A)
(AF)
(AF /A)
3096
Area
(acres)1
Alfalfa
Crop
Consumptive
Use
Total
Applied
Water Budget for the SWAB /RASA basin AVRALT
Estimated
Application
Rate
Table 5.
18.
crops.
The crop with the lowest efficiency, 44 percent, was lettuce.
Transference of Results
Transference of recharge values from basins with extensive data to
basins with insufficient data requires an identification of the comFor recharge of irrigation water the
ponents of the recharge process.
(1) components
components may be divided into two categories:
relating to percolation of water past the root zone, and (2) components
associated with percolation through the lower vadose zone.
As it turns out, the factors relating to percolation beneath the
root zone are identical to the factors governing irrigation efficiency.
In other words, the amount of deep percolation past the root zone and
the amount of tailwater from the field depend directly on irrigation
the lower the efficiency, the greater will be the losses
efficiency:
through deep percolation and tailwater. A detailed review of irrigation efficiency is presented in another paper in this symposium. Excellent reviews of factors involved in irrigation efficiency are also
presented by Bos and Nugteren (1974) and by Jensen (1980). For the
purposes of this paper the factors associated with irrigation efficiency are grouped as follows:
(1) soils related factors (soil
types, soil structure), (2) irrigation related factors (soil -water
interactions, irrigation methods, application rates, length of sets,
leaching requirements, etc.), (3) crop related factors (rooting depths,
consumptive use, varieties, cultural practices, etc.), (4) economic
factors (market prices of crops, pumping costs), and (5) institutional
factors ( "duty" of water). A simple approach for evaluating the
relative effect of each factor on irrigation efficiency and deep
percolation is to use multiple linear regression (MLR) analysis. Unfortunately, this approach is limited by the lack of independent measureThat is, deep percolation is normally
ments of deep percolation.
calculated by the water budget approach, the components of which also
enter into MLR analysis.
Factors affecting the deep percolation of water through the vadose
zone are primarily those relating to the storage and flux of water.
Storage properties include such factors as, specific retention (field
capacity), specific yield, water content, depth of water table, etc.
Properties governing the flux of water through the vadose zone include
structural features such as layering, and hydraulic properties such
as the hydraulic conductivity. Whether or not water moving below
the root zone reaches the water table depends on the relative velocity
of deep percolation and the rate of recession of the water table.
Examine Recharge Models
A preliminary listing of deep percolation models is presented in
The models are categorized according to type. The table
Table 6.
also includes information on the input data needed for each model,
the output, description and comments of each model, and references.
An examination of this table will show that the models deal primarily
with the movement of water through the soil zone. The model of King
Analytical
Water Budget
with Soil
Moisture
Accounting
2.
3.
Water Budget
1.
MODEL TYPE
(1973).
sis 'is not included.
Employs two -dimensional diffusion type water
Brandt et al (1971).
flow equation to analyze trickle irrigation
Analysis is based on application
systems.
and redistribution of irrigation water. Hystere-
Warrick (1977).
Bouwer (1979).
(1974).
Thornthwaite, and
Mather (1957);
Willmott (1977);
Heerman and Kincaid
Walker (1970)
of time.
Requires field measurements, e.g. of hydraulic
conductivity and application rates. Method
accounts for spatial variability of soil
properties, and expresses flux as function
Method entails dividing amount of deep
percolation (flux) by volumetric water content
to estimate velocity of deep percolation.
Knowing the amount of pumpage, specific yield
of aquifer, and fall of water table, the flux
across the water table can be estimated.
Generally involves a simple book keeping process to account for changes in soil moisture
content. A computer program (WATBUG) is
available to facilitate computations. An
algorithm for programmable calculations
is also available.
use.
Hydrosalinity model.
Seepage flows from
conveyance efficiency, water moving into
root zone is subdivided into root zone
storage, deep percolation and consumptive
Tanji (1977); Advisory Committee
on Irrigation
Efficiency, WelltonMohawk Irrigation
and Drainage District (1974);
Olmsted, et al,
REFERENCE /EXAMPLE
Saturation moisture content,
Soil moisture, deep
initial distribution of soil
percolation, evaporation.
moisture diffusivity, hydraulic
conductivity vs. moisture content,
discharge of trickle source, duration.
Soil water flux at a
given depth (e.g.,
below root zone).
DESCRIPTION /COMMENTS
The hydrological equation is solved for
amounts of runoff and deep percolation.
Changes in soil water content during the
irrigation season are neglected and may
be applied on a district -wide basis. Tanji
coupled a hydraulic model with a salinity
balance model.
Generally applied where
water tables are shallow. Does not account
for spatial variations in application.
rate.
Hydraulic conductivity and water
content under steady ponded
conditions, root depth, scaling
parameters, initial sprinkling
lation.
Amount of deep percolation, downward
velocity of deep perco-
Evapotranspiration, depth of
applied water, irrigation
efficiency, volumetric water
content of soil.
'
Soil moisture depletion,
soil moisture accretion,
deep percolation, runoff.
Consumptive use, deep
percolation, surface
and subsurface flows,
water quality.
Surface runoff,
deep percolation
OUTPUT
Climatic data (temperature, precipitation, net radiation, albedo,
mean solar radiation, etc.), crop
conditions, and antecedent soil
moisture conditions.
and cross -sectional area.
Monthly values of temperatures,
ET from Blaney -Criddle, area of
land use, inflows, lateral diversions, drainage outflows, water
exports and imports, water table
fluctuations, precipitation, soil
moisture storage capacity, aquifer
strata, hydraulic conductivity,
Irrigation efficiencies (distribution and application), crop
consumptive use (ET), rainfall,
irrigated acreage, crop type,
amount of applied irrigation.
INPUT DATA NEEDED
PRELIMINARY LISTING OF IRRIGATION RETURN FLOW MODELS, CLASSIFIED ACCORDING TO MODEL TYPE
TABLE 6
4. Numerical/
Digital
MODEL TYPE
Surface runoff, evapotranspiration, soil
moisture storage, deep
percolation, flux across
a water table.
Output depicts time and
spatial distribution of
water in system, and deep
percolation.
Infiltration, vertical
movement, water table
fluctuations, flux.
Saturated hydraulic conductivity, initial moisture distribution, runoff hydraulic parameters, potential evaporation
rate, water table elevation,
rainfall, relationship between
water content and hydraulic
conductivity and suction.
Initial soil moisture distribution, ground water and surface water and surface water
conditions, soil hydraulic
properties, irrigation characteristics, geometry, time.
Deep percolation,
infiltration volumes,
runoff volumes.
Climatic information (e.g.,
rainfall, temperature), soil water characteristics, field
capacity -depth relationships,
water content -hydraulic conductivity relationships, root
zone depth.
OUTPUT
INPUT DATA NEEDED
Water application efficiency,
water storage efficiency,
Karmeli distribution curve,
intake opportunity at various
locations in field, representative infiltration function,
level of soil moisture depletion, total applied water, slope,
furrow spacing.
presented.
Uses Darcy's equation, exponential relationships between hydraulic conductivity and
moisture tension, conservation of mass,
and the Houghoudt drainage formula. Soil
conditions in depth increments are
Two -dimensional soil divided into layers.
Model uses iterative process. Macrosystem.
Plant uptake and transpiration are not
included.
Deep percolation is infiltration
amount that leaves the least soil segment.
Two computer programs are used. The Root
Zone Model uses rainfall and temperature
data to determine deep percolation. The
Deep Seepage Model simulates movement of
deep percolation through the vadose zone.
Requires either laboratory determination
of soil hydraulic relationships or published curves. Uses Thornthwaite- Mather
water budget to calculate flux through
segmented soil system.
Model accounts for spatial variability
of applied irrigation water, and variations
in wetting depth along borders and furrows.
To apply in field need data on infiltration
rates, initial water content, etc.
DESCRIPTION /COMMENTS
REFERENCE /EXAMPLE
Wind and Van
Doorne (1975)
Hillel (1977)
(1976)
King and Lambert
(1978)
Karmeli et al,
S.
Empirical
MODEL TYPE
1. Data from 81 produces
estimated application
efficiency.
2. Estimated farm ditch
efficiency.
3. Estimated conveyance
efficiency.
4. Estimated project
efficiency.
1. Application method,
application depth, and
flow per unit farm plot
2. Irrigation method, soil
type, farm size, and
delivery period.
3. Irrigation method and
area size, size of rotational
unit, canal equipment and
distribution method.
area.
OUTPUT
INPUT DATA NEEDED
Relationships between application efficiency,
irrigation method, soil type, and farm
size were plotted from results of international questionnaire. Similar relations
developed for conveyance efficiencies.
Relationships are used to develop respective
efficiencies for new project area. Knowing
efficiencies, crop consumptive use and
deliveries, deep percolation and runoff
could be calculated. Limited to areas
less than 40 acres.
DESCRIPTION /COMMENTS
(1974)
Dos and Nugteren
REFERENCE /EXAMPLE
22.
Two programs are used. One
and Lambert (1976) is an exception.
program called a Root Zone Model determines percolation past the
root zone using the Thornthwaite- Mather water budget approach.
The
second program, called the Deep Seepage Model, simulates movement
through the vadose zone. The latter program requires information on
hydraulic relationships (e.g., hydraulic conductivity vs. water
content) of the vadose zone. Obtaining such relationships for deep,
highly -layered vadose zones is a formidable task.
The alternative approach of Bouwer (1979), shown on Table 6, is a
simple, yet effective, method for estimating percolation rates through
the vadose zone. Basically, this method consists of dividing the
estimated flux past the root zone by an average water content (e.g.,
field capacity) of the vadose zone, to obtain an estimate of the
average linear velocity.
Methods for Overcoming Data Gaps
Tentatively, it appears that two approaches could be used when establish(1) A lumped
ing field studies to quantify irrigation return flows:
approach, and (2) site -specific studies. The lumped approach would
aim at generating data for an accurate water budget within a large
irrigated area, such as an irrigation district. This approach would
entail accurate measurement of on -farm conveyance and application
losses for a number of "representative" farms. Conveyance and irrigation efficiencies, plus deep percolation and tailwater losses, could
In addition, by appropriate studies
thereby be accurately determined.
the effects of the various factors influencing irrigation efficiency
and deep percolation could be quantified. The relative importance of
each of these factors could be evaluated using MLR analysis.
The purpose of on -site studies would be to characterize the flux
and linear velocity of water through and beneath the root zone. Basically, such studies would show whether or not irrigation water actually
Also, the effect of litho recharges underlying ground -water systems.
logical and hydraulic properties of the vadose zone on recharge could
be determined to aid in transferring recharge values. Alternative
methods include neutron logging, to characterize changes in water
content, and tracers for estimating flow velocities. The cost of field
studies to obtain representative values for deep percolation for
various hydrogeological conditions will obviously be high; particularly when the spatial variabilities of hydraulic properties in the
vadose zone are taken into account. In addition, the cooperation of
typical farmers in the conduction of field studies is essential, but
may be difficult to obtain.
CONCLUSIONS FROM THE STUDY
Conclusions which have been reached to date for the deep percolation
component of the SWAB /RASA recharge study are summarized below:
23.
1.
There is a dichotomy of opinion on whether or not deep percolation
is fact exists.
2.
There is a paucity of substantive data on the amount of deep
percolation in thick alluvial basins of the SWAB /RASA project
Excellent data are available for the Wellton- Mohawk
area.
However, water tables in the
Irrigation and Drainage District.
district are relatively shallow and results cannot be easily
extrapolated to basins where the water table may be 100 feet
The need to quantify recharge from deep peror more in depth.
colation is emphasized by the current focus on ground -water
management in Arizona.
3.
As a corollary of the above conclusion, data are needed to define
representative values of the average linear velocity of irrigation
Representative velocity values, coupled
water in the vadose zone.
with data on water table recession rates, will provide clues on the
travel time of water in the vadose zone before recharge occurs.
4.
There is a need for a simple, yet accurate routing model to
describe deep percolation through the vadose zone.
5.
Extensive field studies should be conducted in representative
irrigated fields throughout the principal irrigated areas of the
state to quantify the relationship of deep percolation to such
factors as soil types, irrigation methods, economics, institutional constraints, and crops.
ACKNOWLEDGMENTS
The studies of urban runoff as reported herein were supported in part
by the Office of Water Research and Technology, U.S. Department of the
Interior, pursuant to the Water Research and Development Act of 1978.
The studies on deep percolation of irrigation water, reported herein,
were sponsored by the U.S. Geological Survey under contract No.
The views and conclusions in this document are those
14 -08- 0001 -18257.
of the authors and should not be interpreted as necessarily representing the official policies, either expressed or implied, of the
U.S. Government.
24.
REFERENCES
Advisory Committee on Irrigation Efficiency -Wellton- Mohawk Irrigation
and Drainage District, Special Report on measures for reducing
return flows from the Wellton- Mohawk Irrigation and Drainage
District, 1974.
Advisory Committee on Irrigation Efficiency, The Wellton- Mohawk
Irrigation and Drainage District, Annual Report of Activities
for FY1978, 1978.
Anderson, D. G., Effects of urban development on floods in
northern Virginia, U. S. Geol. Survey Open -File Report, 26 p.,
1968.
Anderson, T. W., Planning report for regional aquifer- system analysis of the alluvial basins in south -central Arizona and adjacent
states, U. S. Geol. Survey Open -File Report (in preparation),
1980.
Arizona Water Commission, Phase I Arizona State Water Plan, Inventory of resources and uses, State of Arizona, 1975.
Inter Bos, M. G., and J. Nugteren, On Irrigation Efficiencies:
national Institute for Land Reclamation and Improvement,
Publication 19, Wageningen, 1974.
Bouwer, Personal communication, 1979.
Burkham, D. E., Depletion of streamflow by infiltration in the
main channels of the Tucson basin, southeastern Arizona,
U.S. Geol. Survey Water -Supply Paper 1939 -B, U.S. Govt.
Printing Office, Washington, D.C., 1970.
Dawdy, D. R., R. W. Lichty and J. M. Bergmann, A rainfall- runoff
simulation model for estimation of flood peaks for small
drainage basins, U.S. Geol. Survey Prof. Paper 506 -B, 28 p.,
1972.
Dharmadhikari, V. V., Quality of Runoff from Diversified Urban
Watersheds, M.S. Thesis, University of Arizona, Tucson, 1970.
Enz, R., Consumptive use and effective rainfall for Arizona,
U.S. Dept. of Agr., Soil Conservation Service, (Unpublished),
No Date.
Erie, L. J., O. F. French, and K. Harris, Consumptive use of water
by crops in Arizona, The University of Arizona Agricultural
Experiment Station, Tech. Bull. 169, 1968.
25.
Erie, L. J. and A. R. Dedrick, Level -basin irrigation:
A method
for conserving water and labor, U.S. Dept. of Agr., Science
and Educ. Adm., Farmers Bulletin 2261, 1979.
Espey, W. H., Jr. and D. E. Winslow, The effects of urbanization
on unit hydrographs for small watersheds, Houston, Texas,
1964 -67, Tracor Document No. 68- 975 -U, Office of Water
Resources Research, Part I, 70 p., 1968.
Evans, D. D., T. W. Sammis, and A. W. Warrick, Transient movement of water and solutes in unsaturated soil systems, Phase
II, Project Completion Report, OWRT Project No. B- 040 -ARIZ,
University of Arizona, Dept. Hydrology and Water Resources,
1976.
Graf, C., Fertilizers, salinity, Paper presented at the Groundwater Protection Seminar, Arizona Dept. of Health Services,
Bureau of Water Quality Control, Phoenix, Arizona, 1980.
Harris, E. E. and S. E. Rantz, Effects of urban growth on stream flow regimen of Permanente Creek, Santa Clara County, California,
U.S. Geol. Survey Water -Supply Paper 1591 -B, 1964.
Hathorn, H. and R. L. Grumbles, 1980 Arizona field crop budgets,
Mohave County, The University of Arizona, College of Agriculture,
Dept. of Agric. Econ., 1980.
Heerman, D. F. and D. C. Kincaid, Scheduling irrigations with a
programmable calculator, Agriculture Research Service,
ARS- NC -12, 1974.
Hillel, D., Computer simulation of soil water dynamics, International
Research Centre, Ottawa, Canada, 1977.
Hensen, M. E., Irrigation methods and efficiencies, Paper presented
at a World Bank Seminar, 1980.
Johnson, S. L. and D. M. Sayre, Effects of urbanization on floods
in the Houston, Texas metropolitan area, U.S. Geol. Survey
Water Resources Investigations 3 -73, NTIS No. PB -220 751,
50 p., 1973.
Kao, S. E., Effect of Urban Street Pattern on Drainage, Ph.D.
dissertation, University of Arizona, Tucson, 1973.
Karmeli, D., L. J. Salazar, and W. Walker, Assessing the spatial
variability of irrigation water applications, U.S. Environmental
Protection Agency, EPA -600/2 -78 -041, 1978.
Keith, S. J., Spatial and seasonal trends of ephemeral flow in the
Tucson basin: Implications for ground -water recharge, Hydrology
and Water Resources in Arizona and the Southwest, 10, Las
(In press).
Vegas, Nevada, 1980.
26.
King, T. G. and J. R. Lambert, Simulation of deep seepage to a water
table, Trans. Amer. Soc. Agr. Eng., 19, 50 -54, 1976.
Mayes, H. M., Cropland atlas of Arizona, Arizona Crop and Livestock
Reporting Service, 1974.
Mische, E. F.
The Potential of Urban Runoff as a Water Resource,
Ph.D. Dissertation, University of Arizona, Tucson, 1971.
,
Mooradian, M. M., Assessment of the Potential for Groundwater
Pollution as a Result of Urban Runoff in the Tucson Area,
Pima Association of Governments 208 Project, Tucson, Arizona
1980.
(In press).
Olmstead, F. H., D. J. Loeltz, and B. Irelan, Water resources of
lower Colorado River -Salton Sea Area: U.S. Geol. Survey
Prof. Paper 486 -H, 1973.
Pima Association of Governments, Areawide Wastewater Management
Plan, 208 Program, Tucson, Arizona, 118 p., 1978.
Robertson, F., Personal communication, 1979.
Tanji, K., A conceptual hydrosalinity model for predicting salt
in Dregne, H. E., editor,
load in irrigation return flows:
Managing Saline Water for Irrigation, Proceedings of the
International Conference on Managing Saline Water for Irrigation: Planning for the future, Center for Arid and Semi -arid
Land Studies, Texas Tech University, 1977.
Thornthwaite, C. W. and J. R. Mather, Instructions and tables for
computing potential evapotranspiration and the water balance,
in Publications in Climatology, Laboratory of Climatology,
Publication No. 10, 1957.
Van Sickle, D. R., The effects of urban development on storm runoff, The Texas Engineer, 32 (12), 1962.
Walker, W. R., Hydrosalinity model of the Grand Valley, M.S.
Thesis, Colorado State University, 1970.
Warrick, A. W., Areal predictions of soilwater flux in the unsaturated zone, in Law, J. P. and Skogerboe, G. V., editors,
Proceedings of the National Conference on Irrigation Return
Flow Qaulity Management, Colorado State University, 1977.
Willmott, C. J., WATBUG: a FORTRAN IV algorithm for calculating
the climatic water budget, Water Resources Center, Contribution No. 23, University of Delaware, Newark, 1977.
Wind, G. P. and W. Van Doorne, A numerical model for the simulation of unsaturated vertical flow of moisture in soils,
Journal of Hydrology, 24, 1 -20, 1975.

* Your assessment is very important for improving the work of artificial intelligence, which forms the content of this project