No category
1949 AGRICULTURE AR I ZONA 4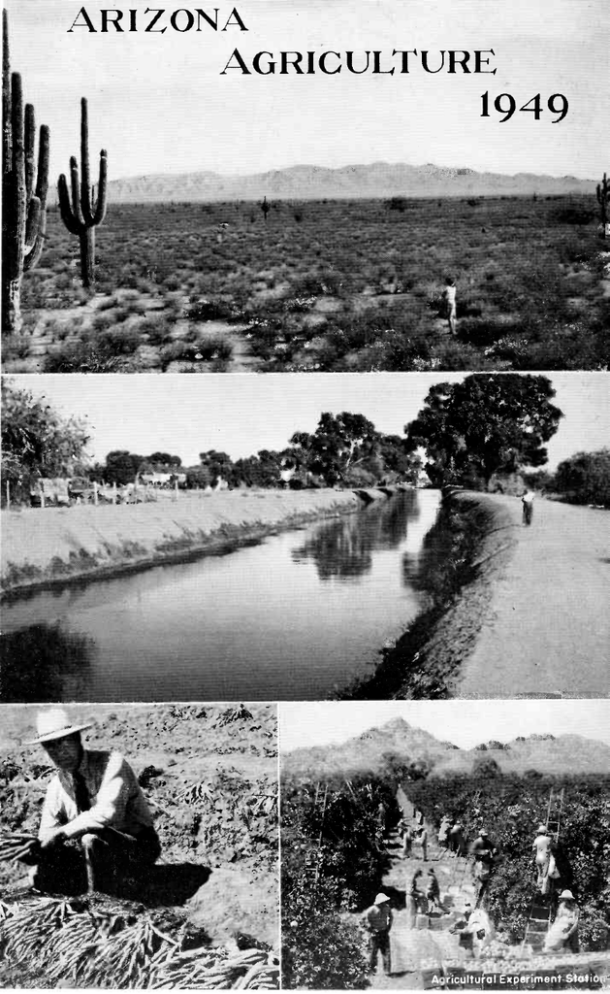 AR I ZONA
AGRICULTURE
1949
-
,
,
4
:.
.;
' .
: .
f
ORGANIZATION
BOARD OF REGENTS
DAN E. GARVEY (ex officio)
M. L. BROOKS, B.S. (ex officio)
Governor of Arizona
State Superintendent of Public Instruction
W. R. ELLSWORTH
SAM H. MORRIS, A.B., J.D., President
CLEON T. KNAPP, LL.B.
JOHN M. SCOTT
WALTER R. BIMSON
LYNN M. LANEY, B.S., J.D., Treasurer
JAMES BYRON MCCORMICK, S.J.D., LL.D.
ROBERT L. NUGENT, Ph.D.
Term expires Jan,, 1951
Term expires Jan.; 1951
Term expires Jan., 1953
Term expires Jan., 1953
Term expires Jan., 1955
Term expires Jan., 1955
Term expires Jan., 1957
Term expires Jan., 1957
President of the University
Vice -President of the University
EXPERIMENT STATION STAFF
PAUL S. BURGESS, Ph.D.
RALPH S. HAWKINS, Ph.D.
Director
Vice -Director
AGRICULTURAL ECONOMICS DEPARTMENT
GEORGE W. BARR, Ed.D.
RAYMOND E. SELTZER, M.S.
SCOTT HATHORN, JR., Ph.D.
CHARLES E. ROBERTSON, B.S
RICHARD A. SHERBURNE, B.S
VIRGINIA FOSTER, B.S
Agricultural Economist; Head of Department
Associate Agricultural Economist
Associate Agricultural Economist
Assistant Agricultural Economist
Assistant Agricultural Economist
Statistical Clerk
Pictures on cover: Desert Scene, Irrigation Canal, Carrot Harvest, prepared from color photographs by E. A. STEIN, CENTRAL ARIZONA PROJECT
ASSOCIATION; Grapefruit Grove, Courtesy DESERT GRAPEFRUIT AGENCY.
ARIZONA AGRICULTURE
1949
PRODUCTION, INCOME, AND COSTS'
BY GEORGE W. BARR
The year 1948 was marked in Arizona agriculture by additions to the irrigated area of much newly developed land and by intensive use of land previously developed, even though at the expense of groundwater reserves. Another movement was an extension in the use of natural gas for pumping until 100,000 acres were irrigated by this source of power. Wide use was made of measures to conserve water.
Arizona's agricultural producers overcame water shortages and turned out record crops in 1948. The land irrigated reached the all -time high of 900,000 acres, 75,000 acres more than that irrigated in 1947. The largest single crop was cotton which covered about 275,000 acres (Figure 1). Barley acreage harvested for grain was at a record high, 160,000 acres, and together with other winter grains used 200,000 acres. Another 100,000 acres produced truck crops. In addition to the principal winter and year- around crops shown on Figure 1 were 88,000 acres of grain sorghum. Much of this crop was grown on lands used earlier in the year for grain or vegetables. The acreage of principal crops and the acreage irrigated by counties is shown in Table 6. The year was a remarkable one not only from the standpoint of acreage, but also because of the large yields. Cotton yielded about 560 pounds per acre compared with the previous record yield of upland cotton in the state of 566 pounds in 1939. The yields of barley and grain sorghums also were higher than usual, running about a ton of grain per acre.
The total cash income for agricultural products was about
$215,000,000. More than three -fourths of this income came from cotton, truck crops, beef cattle, and dairy products. Cotton accounted for 59 million dollars; truck crops, 50 million; and beef cattle, 45 million (Table 1).
Use of Water Reserves
For seven years ending with 1948 the state's agriculture has been drawing on water reserves, a part of which was accumulated in the mountain reservoirs with the rainfall of the year
1940 -41, but the larger part of which was accumulated in the underground reservoirs in decades past. By the end of the 1948 irrigation season more than 95 per cent of the surface reservoir
1The University of Arizona is indebted to many individuals and organizations for information and suggestions in connection with the publication of this, the nineteenth in a series of agricultural summaries. The Phoenix office of the Federal Crop and Livestock Reporting Service collected the major portion of the production figures.
1
--
1
II
-
-
- -
-
.
-
-
'
-
-
,
.
.
.
. -
-
.
-
1
-
--
.
OA
-
- .
.
.
-
-
-
-
.
-
-
.
-
.
.
111 111 .
:
-
-
.
-
-
-
'
-
.-
.;
-
-
-
-
-
-
'
-
-
4%..
0 -
- .
a.
-
.
-
'
S. -
-
O.
-
.
.
.
- -
-
:
.
.
.
-
.
ARIZONA AGRICULTURE, 1949
3
TABLE 1. -CASH INCOME FROM ARIZONA FARM AND RANCH
PRODUCTION (In Millions of Dollars)
Commodity
Cotton lint and cotton seed
Lettuce and other truck crops"
Cattle and calves
Dairy products'
Commercial feed grains`
Alfalfa and other hay'
Eggs, chickens and turkeys'
Seed crops
Sheep, lambs and wool
Citrus fruit'
Miscellaneous crops
Miscellaneous livestock and livestock products
Federal government payments
Total cash income
I
1948
$59.0
50.0
45.0
11.0
10.0
8.0
6.0
5.Od
4.8
1.5
12.0e
2.0
0.7'
$215.0
1947
$45.0a
40.0
40.Oa
10.0"
8.0
6.3
5.0
4.0
5.0
4.0
9.0
2.0
1.7
$180.0'
1938 -47
Average
$21.3
23.5
26.0
6.2
3.4
5.8
2.8
2.5
3.6
3.6
4.7
1.4
2.5
$107.3
'Revised figures.
"Year ended August 31. Value citrus fruit "on the tree."
'Represents cash sales only. In addition, in 1948 hay, fed by Arizona producers, had an estimated value of 5.0 million dollars; feed grains fed, 3.5
million dollars; and dairy, poultry, and other products consumed by producers, 3.0 million dollars.
'Alfalfa seed, 2.1 million dollars; sugar beet seed, 1.8 million dollars; also
Bermuda grass and vegetable seeds.
'Includes flaxseed, 6.6 million dollars; white potatoes 3.4 million dollars; wheat 1.4 million dollars.
'Direct payments to farmers in 1948 were for soil conservation purposes only.
Now that the time has arrived once more when the country is abundantly stocked with cotton and grain the question of support prices for agricultural products has moved to the fore.
Cotton, wheat, flax, and peanuts will be supported in 1949 at
90 per cent of parity. The parity index figure to be used in this calculation will not be determined until about the beginning of the harvest season. If the January, 1949, parity index were to be used to determine the support prices for the 1949 crops, then these support prices would be as follows: Middling 1 1/32 -inch cotton, baled flat in Phoenix warehouse, 29 cents per pound; wheat, loose in cars at nearest loading point, $3.35 per hundredweight; flax at Yuma, approximately $3.80 per bushel; and pea nuts, about $210 per ton. The Secretary of Agriculture under the law of 1948 is authorized to support barley, grain sorghum, and potatoes at some point from 60 to 90 per cent of parity. No announcements to the date of this writing have been made for barley and grain sorghum but the Secretary has announced a support price for potatoes at 60 per cent of parity which, at the
January, 1949, price level, would be about $1.75 per hundredweight for U. S. No. 1 potatoes compared with $2.65 per hundredweight in May, 1948. Along with the price support announcement, the Secretary exercised his authority to reduce the potato acreage elegible to price support in Arizona from 4,400 acres
4
EXPERIMENT STATION BULLETIN 220
TABLE 2.- PRICES FOR AGRICULTURAL PRODUCTS IN ARIZONA
WITH COMPARISONS
Commodit y
Beef cattle" (per cwt.)
Milk' (per lb. fat)
Cottonseed (per ton)
Alfalfa hay' (per ton)
Lambs (per cwt.)
Cotton (per lb.)
Wool (per lb.)
Hourly earnings in all manufacturing'
Prices received by U. S. farmers, index'
Copper, New York' (per lb.)
Grain sorghum (per cwt.)
Wholesale prices in U.S., index'
Eggs (per doz.)
Barley (per cwt.)
Prices paid by farmers, index
Consumers price index'
Average
1925 -39'
$ 8.18
.545*
22.70
12.90*
8.64
.126
.21
.56
115
.113
1.19*
84
.38*
1.47*
143
109
January
19496
$24.00
1.58
62.00
34.00
22.00
.317
.53'
1.37
268
.235
2.40
163
.68
2.60
247
173
Price index'
245
233
208
202
194
179
177
173
159
293
290
273
264
255
252
252
*Average January prices in fifteen -year period.
'Farm prices on the fifteenth of the month from Bureau of Agricultural
Economics except as otherwise noted.
"For January 10, 1949, the December 15, 1948, agricultural prices were used with some adjustments and other figures are latest available on that date.
`The percentage which the January, 1949, price bears to the fifteen year price.
'Top fat steers at Phoenix, from Central Arizona Cattle Feeders' Association.
'Grade A, delivered to creameries in the Salt River Valley.
'Arizona No. 1, baled at the ranch in the Salt River Valley.
'As reported monthly by Bureau of Labor Statistics.
'Bureau of Agricultural Economics. Index of prices paid by farmers in the
United States including interest and taxes.
'Survey of Current Business.
'Average contract price for March, 1949, delivery to members of Arizona
Wool Growers' Association.
in 1948 to 3,000 in 1949 and peanut acreage from 1,500 to 400.
According to present law wool will be supported until June 30,
1950, at about 42.3 cents per pound on a grease basis.
Pumping with Natural Gas
The direct use of natural gas for pumping irrigation water developed rapidly in 1948. About 300 pumping units of this type, ranging in horsepower from 60 to 375, were in use by the end of the year. A large part of these were in Pinal County where almost three times as much gas was used in 1948 as in 1947. More installations are planned for 1949.
Although some pumping has been done with gas engines ever
since natural gas was brought into Arizona, the major part
of the installations are so new that it is hard to determine the cost of pumping. Proper servicing of gas engines has been a major problem with many farmers. It has been suggested that
ARIZONA AGRICULTURE, 1949 possibly a half -dozen farmers could get together and hire a competent mechanic who would regularly service and maintain these engines. Other large costs in connection with the operation of gas engines are cost of lubricating oil which has to be changed frequently, the interest and depreciation on an investment of possibly $15,000 for the popular low -speed engine and the cost of taking down the engine and re- assembling it with necessary repairs every four or five years.
It will cost from 7 to 10 cents per foot of lift to irrigate an acre of cotton with gas in 1949.2 At a 9 -cent rate the providing of 31/2 acre -feet of water at 225 -ft. lift will cost $20.25 per acre. (See
Table 3 for a comparable electric cost.)
1948 Land Developments
Development of new land for irrigation has progressed in several areas which include the Colorado River Indian Irrigation
Project, the Gila Project, and the Pinal County irrigated area. In the year ending June 30, 1949, 8,000 acres of new land are being developed southwest of Parker for Indian use. The work is being accomplished for resettling of Navajo, Hopi, and local Indians who will be assigned to units of 40 acres each. In addition, about 550 acres are being developed through improvement leases of ten year duration without limitation as to race of lessee.
Fifty -nine settlers are operating the new land in the Yuma Mesa
Division of the Gila Project. About 6,200 acres were being irrigated at the beginning of 1949. Plans were drawn for bids to be opened early in 1949 for the construction of the first 18 miles of canal to serve the Wellton- Mohawk area. This prospective canal runs eastward from the existing Gila gravity canal.
New acreages developed for pump irrigation in Pinal County in the winter of 1947 -48 were put into cotton and a small additional acreage was developed in 1948 to be put into cotton in 1949.
Water Conservation
There has been an urge to use conservation practices that save water. Seventy -two miles of ditches were lined and 38 miles of irrigation pipe lines were installed in central Arizona in the year
1948 according to records of the Soil Conservation Service. These records also indicate that in the six years ending with 1948, Arizona farmers have releveled 111,000 acres of irrigated land and
'Following is a formula similar to that used for electric power in Arizona
Agriculture, 1946, p. 3. It takes 1.37 horsepower -hours to raise 1 acre -foot of water a distance of 1 foot at 100 per cent efficiency. Eleven cubic feet of gas per hour is needed to develop a brake horsepower. Gas costs about
35 cents per 1,000 cubic feet, or .035 cents per cubic foot. About 3.5 acre feet of water are required to produce an acre of cotton. The efficiency of the pump may be around 60 per cent. The cost of gas represents 35 per cent of the total cost of pumping. Using these data we have the formula:
Cost of pumping water per foot of lift for 1 acre cotton
1.37 x 11 x .035 x 3.5
.60 x .35
= 9 cents
6
EXPERIMENT STATION BULLETIN 220
TABLE 3. -COST OF PRODUCING UPLAND COTTON PER ACRE,
CENTRAL ARIZONA PUMP AREAS WITH 150- AND 225 -FOOT WATER
LIFTS, AND SALT RIVER VALLEY WATER USERS' AREA, 1949"
Central Arizona pump areas lift 150 ft. I lift 225 ft
Interest, taxes, and water:
Interest, 5% on $300
Interest, 6% on $100
Interest, 6% on $50
$ 6.00
Land tax
Water average, 3 acre -feet
Water, 31/2 acre -feet (assuming
2.00
power rate of 1.35 cents per kwh)
24.00
$ 3.00
1.00
36.00
Salt River
Valley Water
Users' area
$15.00
3.00
14.00
Total
Cultural costs:
Seed
Machinery operation, including machine labor'
Hoeing and thinning
Irrigation and ditch labor
Dusting°
Production credit and miscellaneous
Crop insurances
Industrial insurance
Total
Harvest costs (assuming a yield of one bale of 479 pounds net lint from
1,400 pounds seed cotton) :
Picking at $2.75 per cwt.
$38.50
Weighing cotton and hauling
3.50
pickers at $ .25 per cwt.
Hauling cotton
Ginning
Bags and ties
1.20
5.60
3.00
Insurance for 20 days and sterilizing seed
1.20
Less: return from 800 pounds cottonseed at $55.00 per ton 22.00
Calculated cost of producing
479 pounds net lint on 1 acre, management not included and no allowance for land depreciation
$32.00
$ 2.00
14.00
6.00
6.00
5.00
2.00
4.00
2.00
$41.00
$31.00
$104.00
$40.00
$ 2.00
14.00
6.00
6.00
5.00
2.00
4.00
2.00
$41.00
$31.00
8112.00
$32.00
$ 2.00
14.00
6.00
6.00
5.00
2.00
4.00
2.00
$41.00
$31.00
8104.00
'This table is a budget showing costs on an owner -operated farm, assuming average yields and wage rates as of January, 1949.
'Plowing; discing twice, once with stalk cutter before plowing and once after; floating; furrowing; planting; dragging or harrowing after planting; and five cultivations.
`Two 20 -pound applications of 5% DDT, 75% sulphur at 7 cents per pound for material and 4 cents per pound for airplane application, will cost
$4.40 per acre. Four dustings, if required, would cost $8.80.
5Federal crop insurance available in Pinal County only. When no insurance is carried, risk is assumed by grower.
have lined a total of 102 miles of open ditches with concrete or other impervious lining. These developments have represented a substantial outlay for permanent improvements since concrete pipe lines cost about $10,000 per mile and concrete -lined ditches from
$3,000 to $4,000 per mile. Tests indicate a saving of water of from
ARIZONA AGRICULTURE, 1949
7
15 to 30 per cent per mile of ditch. These improvements also greatly reduce the costs of weed control, ditch cleaning, and ditch maintenance.
Federal Government Payments
Federal government payments for the 1948 calendar year will amount to $652,000 for soil building practices under the agriculture conservation program. Congress has authorized for the calendar year of 1949, an amount of money that, when appropriated and divided, would provide $1,280,000 for conservation payments in Arizona.
The year 1949 promises to be one when more American cotton and grain will be produced than will be used. If for no other reason than this, it will be a year when a sound plan for agriculture needs to be developed. Farmers and stockmen should take part in the planning. Of all proposals, schemes to postpone depression are probably the most dangerous. It is not safe to smother a fire with more fuel. Government purchases of commodities and the construction of bigger storage houses may postpone depression but will not readjust the producing plant to a desirable peacetime size.
COTTON
Arizona produced a record crop of 320,000 bales of cotton in
1948, or a little more than the former record of 1937. Two hundred seventy -four thousand acres were harvested in 1948, or about
50,000 acres more than in 1947. More than half of this acreage was in Pinal County. A yield of 560 pounds of lint per acre was the second largest on record in Arizona and compared favorably with the record upland cotton yield of 566 pounds in 1939.
This new high in cotton production was due to a favorable price outlook, a good growing season, and successful control of insects.
Harvesting and Quality
In contrast to recent years the Arizona crop was picked earlier in 1948. By December 13, 1948, 80 per cent of the' crop had been ginned and a considerable amount picked and piled in fields for lack of ginning capacity, compared with about 65 per cent ginned on the same date in the preceding year. Not only was the crop harvested at a record speed, but also the quality was higher than in recent years. The staple length in thirty- seconds of an inch averaged 33.2 in 1948 compared with 33.1 in each of the preceding two years. The big improvement in quality of the crop came in grade. For the season through December 12, 1948, less than 10 per cent of the crop was classed as spotted cotton compared with an average of more than 33 per cent on this same date in the past six years.
If the total 1948 crop does not average more than
18 per cent spotted cotton, contrasted with a 1942 -47 average of approximately 37 per cent spotted cotton, this alone would give the 1948 crop an added value of $600,000. The faster rate of har-
EXPERIMENT STATION BULLETIN 220 vesting and improved insect control may have contributed to the improvement in grade.
New Variety
A new Acala variety developed at the University of Arizona will be ready for commercial production in 1950. Another year of tests has increased the confidence of cotton breeders in this new cotton. In repeated variety tests it has out -yielded the variety that has been used for a period of years and also the new Acala
442 which California is using. Since Arizona has depended on
California as a principal source of planting seed it now becomes necessary for Arizona growers to plan the production of planting seed in Arizona.
Much of the cotton grown in Graham, Greenlee, and Cochise counties came from the 1517 Acala developed in New Mexico. At the higher elevation this cotton may continue to have an important place.
Loan Program
During the 1948 harvest season the price of cotton declined to or near the loan -price level. As a result, a large amount of cotton went into the government loan. According to the contract the government will acquire it at the end of July unless the cotton price should rise sufficiently to enable growers to sell their equities. The monthly carrying costs are about 75 cents per bale so that unless cotton prices rise more rapidly than this, there will be no equity to sell.
Crop Insurance
Federal crop insurance will be available to cotton growers in
Pinal County in the year 1949. The cost of insurance will be the same as in 1948, the premium being the price of 13 pounds lint cotton per acre for full coverage through each stage of production. For the year 1948, seventy -seven cotton insurance contracts covering 23,000 acres were written for Pinal County -all on a full- coverage basis. No losses were reported up to December.
Cost of Production
The cottonseed price averaged about $70 per ton for the 1948 crop. On December 10 the price dropped to $62. The future markets in January, 1949, indicated a price of about $55 for cottonseed in
October, 1949. If the labor picking rate remains high, seed may pay a much smaller part of the cost of picking than for several years past. The cost of producing cotton in 1949 will probably be more than $100 per acre after crediting the return for seed
(Table 3).
Probable Expansion
If a substantial amount of water is stored in the state's reservoirs before cotton -planting time, it is possible that a substantial increase in acreage, especially in Pinal County, will be planted in
1949. Electric power would then be available seven days a week instead of six as in 1948. Ten thousand acres of land on the
ARIZONA AGRICULTURE, 1949
Indian part of the San Carlos Project formerly in alfalfa is being offered for rent to produce cotton. Much land that has been lying idle in the San Carlos Project would probably go into cotton. If there is much extension of acreage, farmers may have to take the initiative in providing additional gins since the established ginning companies will probably hesitate to build and equip new ginning plants for what now appears to be a one -year expansion.
TRUCK CROPS
The truck crop year ended with the summer of 1948 was another one of heavy production in Arizona. Fall lettuce shipments totaled 10,700 cars from 21,800 acres. Spring lettuce shipments were more than 11,800 cars from 18,700 acres. Cantaloupe and honeydew melon shipments amounted to 11,300 cars from about
28,000 acres. Shipments of other truck crops included carrots,
4,400 carlots; cauliflower, 1,450; celery, 994; cabbage, 850; broccoli,
318; endive, 50; mustard greens, 45; turnips, 38; table beets, 15; radishes and green onions, 13 each. In all, about 45,000 carlots of truck crops were shipped from the three principal producing counties, Maricopa, Yuma, and Pinal.
Although about 100,000 acres of truck crops were grown in each of the years 1946, 1947, and 1948, there has been a shift of these crops to Yuma County. Thirty -one thousand acres of this type of crop were produced in the Yuma area in 1948 compared with
18,000 acres in 1946. ,
Vegetable growers have been facing problems of rising costs.
Rail rates are much higher than they were a few years ago. Materials used in packing have risen. The lettuce crate which cost about 18 cents in the early '30's cost 58 cents in 1948. The costs of cutting, hauling, and packing are probably three times the costs of the middle '30's. The use of seed pellets was experimental in
1948. A wider use is expected in 1949 to reduce amount of labor in thinning.
The fall vegetable crops of lettuce and carrots met a somewhat reduced demand in November and December, 1948. This and the heavy freeze of January, 1949, are two factors which may reduce the total income from vegetable crops in 1949.
LIVESTOCK
Beef Cattle
About 340,000 head of cattle were shipped out of Arizona in
1948 compared with 390,000 in the preceding year. Only 109,000 were slaughtered in 1948 compared with 125,000 in the preceding year. These reduced numbers reflect in part the reduction in the number of cattle imported which amounted to about
163,000 in each of the calendar years of 1947 and 1948, or about
40,000 a year less than in 1945 and 1946. In turn, the reduction in imports and reduced out - shipments point to the continued dry period in much of the state's range area.
9
10
EXPERIMENT STATION BULLETIN 220
The Arizona beef cattle industry is still making adjustments because of the embargo against Mexican cattle. The last shipments from Mexico were in November and December, 1946, totaling 44,000 head for those two months. Since that time inward shipments have been largely from Texas and New Mexico. It is noteworthy that some of the Old Mexico cattle that came into
Arizona in the late months of 1946 were still to be found in Salt
River Valley feed lots as the year 1949 opened.
The same bunch of cattle often changes ownership many times between calfhood and the packing house. Some of the cattle mentioned above from Mexico have been on Arizona ranges and then on New Mexico ranges and in other Mountain States, back on southern Arizona ranges and then in irrigated pasture in central Arizona before going into the feed lots. Many of these moves entailed change in ownership. Then, too, in periods of rising prices it is possible for speculators who have no facilities whatever for handling cattle to buy cattle and to resell in a few hours or a few days on the same market at a profit. In the months ahead, cattle producers and feeders may well replan their operations so as to avoid unnecessary movement and resale of cattle with the attendant shrinkage, freight charges, and division of profit.
While there are no prospects for opening up the border to
Mexican cattle, the danger of infection crossing the line has been lessened somewhat. The quarantine line in Old Mexico was moved south three times in 1948, releasing 24,000 square miles from quarantine. The total movement of this line has averaged about 30 miles in depth across Mexico and at the beginning of
1949 it was more than 800 miles from Nogales, Arizona, to the nearest point in the quarantined area.
The first major reduction in cattle prices since 1938 occurred between July, 1948, and January, 1949. The average price of good slaughter steers on the Los Angeles market during July,
1948, was $34.50 compared with $26.00 during the first week in
January, 1949.
Cattle Feeding
A custom -feeding practice made rapid growth in Maricopa
County in 1947 and 1948. Under this plan the cattleman places his cattle in the custody of the custom feeder. The owner may be an Arizona range cattle producer, an operator who runs cattle on irrigated pasture and who formerly may have fattened a few carloads of cattle, an out -of -state cattleman, a buyer or dealer in cattle, or a packer. The custom feeder who is equipped with scales, handling chutes, pens, machinery for grinding and mixing feed, gives the ration selected by the cattle owner and otherwise looks after the stock. The cost of such custom service may all be included in the charges made for the feed mix. Another innovation, although not so widely practiced, is that of custom pasture feeding. Here the cattle owner turns the care of cattle over to a
ARIZONA AGRICULTURE, 1949
11 contractor who arranges for pasture and gives the necessary supervision.
Of course, there continue to be owner- operator- feeders and some of the custom operators also feed cattle which they own.
The net result, however, is that there are fewer feeding operations in central Arizona than in recent past years. At the same time the average feeding operation is on a bigger scale.
Sheep, Wool, and Mohair
Members of the Arizona Wool Growers' 'Association contracted their 1949 clip at an average price of 53 cents per pound, f.o.b.
Arizona loading point. Forward selling of wool is a new practice in Arizona although common in other Western States for some years. This price is far above the government 1949 support of
42.3 cents applicable in the Boston mill area and also much higher than the price of 42 cents which growers averaged in 1948 after paying freight and commission. The 1949 crop by Association members is estimated at 1 million pounds. In addition there will be a small amount of wool from farm flocks and the crop of wool from Indian -owned sheep which is sold through traders at
Flagstaff and Winslow, Arizona, and Gallup, New Mexico. About three -fourths of the sheep of the state, except those of Indian ownership, come into winter quarters in central Arizona irrigated areas and the remaining one -fourth winter in the foothills north of the Salt River Valley. The entire wool clip from these sheep is taken in February and March.
There is much evidence that the decline in sheep numbers in
Arizona is continuing. After reaching a peak number of 1,350,000 sheep and lambs in 1920 the decline has been continuous. The
Bureau of Agricultural Economics estimated the wool shorn at
2.8 million pounds in 1948 but some leaders in the wool industry believe it did not exceed 2 million pounds. Roughly one -half of the state's sheep are Indian -owned with clip per sheep of about
6 pounds compared to 9 pounds or more for the balance.
In recent years Arizona has lost much of its importance
as a producer of mohair. Yavapai long has been the leading county in the production of mohair. County Agent Thacker reports the number of goats remaining in the county at 3,300 compared with the census figures of 40,000 in 1945 and 60,000 in 1940.
The controlled price of mohair during the war period and the reduced demand since the war caused mohair prices to fall to
65 per cent of parity by May, 1948.
DAIRY INDUSTRY
A bountiful supply of retail milk and cream was provided for
Arizona cities in the winter of 1948 -49. After years of scarcities this was made possible by more dairymen shifting from the production of manufacturing milk to Grade A milk and also by heavy feeding of grain and hay.
12
EXPERIMENT STATION BULLETIN 220
80
PRICE GRADE A MILK AND COST OF PRODUCING MILK
SALT RIVER VALLEY
140
125
110
95
GR
155
DEAMILK
POUND
FAT DELIVERED
TS
COST OF PRODUCT
ON h1' s
I/
X ----LPRICE
GRADE A MILK
.
PRICE AND r
1
COST IND
1935- 9=
A t q
EX
100
310
280
'
250
220
190
%''
160
L
65
L
J L___
+
130
5°1 r:nn
1945
1946
1948
100
Figure 2. -The more profitable periods in the Grade A dairy industry are when milk price index (solid line) is above cost of production index
(dashed line).
About 135,000 tons of milk were produced in 1948, only a little more than in 1947. Processors handled 16 million gallons of Grade
A milk inspected by Phoenix and Tucson health departments.
Bottled milk sold in other parts of the state has been roughly estimated at 31/2 to 4 million gallons. Probably about 7 million gallons were turned into manufactured dairy products, or a little less than that used for manufacture in the preceding year.
Manufactured products of 1947, as reported by the United States
Department of Agriculture, were ice cream, 1,830,000 gallons; evaporated whole milk, 8,000,000 pounds; creamery butter, 750,000 pounds; creamed cottage cheese, 1,550,000 pounds; cottage cheese curd, 1,000,000 pounds; cheese, 11,000 pounds; plain condensed skim milk, 1,230,000 pounds.
In spite of high prices for their products, dairymen operated at a disadvantage in the early part of 1948 because of the high price of feed (Figure 2). In the latter part of the year purchased feed was relatively cheaper, but most dairymen, on account of water shortage, had to purchase much more hay than usual and had little or no green pasture to supplement the more expensive dry hay and grain.3
The daily use of commercial Grade A milk in the Tucson area was more than 13,000 gallons in early January, 1949. Of this, a
?A detailed statement was published by the University in October, 1948, entitled "Prices and Costs in the Arizona Dairy Industry."
ARIZONA AGRICULTURE, 1949
13 little less than 10 per cent was produced in Pima County, about
20 per cent in Pinal County, and the remainder in Maricopa
County.
POULTRY AND EGGS
Arizona egg production was estimated to be more than 7,000,000 dozen in 1948, the production from about 540,000 hens. Along with the production of eggs is the very important production of fryers, which in Arizona means young chickens from 1 pound up to
31/2 or 4 pounds in weight. Fryers are produced in large plants and also in connection with small poultry businesses: In the
Tucson area around 8,000 birds per week were being sold in January, 1949. These birds, about twelve weeks of age, averaged 3 pounds in weight. The 1948 average fryer price was about 42 cents live weight. Large scale commercial production of fryers has developed in the Tucson area and at the beginning of 1949 some sizeable plants were being started in the Salt River Valley.
To supply fryers for the Phoenix area the trade has imported large numbers from Arkansas and Utah.
Turkey production was lower in 1948 than in the preceding year. The number produced for sale amounted to about 50,000 and the sale price averaged 43 cents per pound live weight. When the prices of turkeys began to rise in 1948 poults were very scarce. For this reason fewer Arizona turkeys were available for the Thanksgiving and Christmas markets in 1948 and for early
1949 sale.
CITRUS
The Arizona citrus industry had three significant developments in the two years ended with January, 1949: (1) The continued subdivision of acreage for residential purposes which tends to remove acreage from commercial production; (2) the top- working or re- budding of at least 1,500 acres, and possibly much more, from grapefruit to oranges and other varieties of citrus;4 and (3) the adjustments necessary because of serious freezes in two successive years.
A smaller crop of oranges made a larger total return to Arizona growers in each of the years since 1945 than did grapefruit. The
760,000 -box orange crop of 1947 -48 brought growers about $1.25
per packed box "on tree" basis. This compares with $3.06 received in the 1945 -46 year.
Arizona fresh shipments of grapefruit totaled 1,200,000 packed boxes in 1947 -48 compared with a war -time high of 2,200,000 in
1945 -46. In addition to these fresh shipments, about 800,000 boxes were processed but the fruit processed brought no return to the growers.
After paying picking, hauling, packing, selling and advertising costs, grapefruit growers received only a little more than
4A tree count of citrus by varieties will be released early in 1949.
14
EXPERIMENT STATION BULLETIN 220
20 cents "on tree" in 1947 -48 which was substantially less than cultural costs. At the war's peak they received $1.45 per packed box. The low returns realized by Arizona citrus growers since
1946 are primarily the result of over -production and high marketing costs. United States production of citrus fruits of all types is now 50 per cent greater than prewar. The costs of labor, materials, and freight have continued to climb. The current inflation which forces the housewife to spend more of her food dollar for meat, bread, and potatoes and a lower portion for fresh fruits has had an unfavorable influence on citrus prices.
During the year 1948 the California quarantine against fresh
Texas citrus was lifted. Texas, operating without any control program, has materially increased its shipments in recent years and in 1948 moved some grapefruit, mostly pink type, into the
California market. In the years to come Texas may offer serious competition to Arizona and California grapefruit producers, especially on the early market.
ALFALFA AND FEED GRAINS
In the recent years much alfalfa acreage has given way to cotton, vegetables, and grain -crops that returned more profit and used less water per dollar of value. An acreage of 176,000 was reported for 1948 compared with an acreage of 237,000 in 1944. The cost of growing the crop will be about $75 per acre in the central valleys in 1949 (Table 4). The cost per ton will depend on the amount of water available and the resulting yield. Low yields make cost per ton very high. This trend from alfalfa to grain and cotton is not being encouraged by research workers who realize that alfalfa has been a major factor in maintaining the productivity of Arizona soils. This shift in acreage does indicate, however, the flexibility of Arizona agriculture. It shows how producers adjust their operations to changing conditions of price and water supply.
The 235,000 -ton crop of barley and grain sorghum and the barley pastures were big factors in providing feed, for dairy stock and beef cattle. The cost of growing these grains in 1949 has been estimated at $55 per acre in parts of the state where the water may be obtained for about $12 per acre (Table 5).
SUGAR BEET SEED
More than 13 million pounds of sugar beet seed was produced on
4,000 acres in 1948. Of this acreage nearly 3,400 acres were in
Maricopa County and 650 in the Safford area. Yields of this crop in the Salt River Valley have increased rapidly until the yield of 1948 was more than twice that of the period 1935 -45.
Technical developments which probably contributed to improving the yield were the application of more nitrogenous fertilizers and better insect controls according to A. A. Mast of the Western
Seed Production Corporation.
ARIZONA AGRICULTURE, 1949
15
TABLE 4. -COST OF PRODUCING ALFALFA PER ACRE, SALT RIVER
VALLEY WATER USERS' AREA AND CENTRAL ARIZONA
PUMP AREAS WITH 100- AND 200 -FOOT
WATER LIFTS, 1949'
Interest, taxes, and water:
Interest, 5% on $300
Interest, 6% on $200
Interest, 6% on
$50
Land tax
Water (4 acre -feet, electric power at
1.35 cents per kwh.)
Total
Cultural costs:
One -fourth of seed cost
One -fourth of land preparation and planting cost
Irrigation and ditch labor
Industrial insurance
Total
Salt River
Valley
Water
Users' area
$15.00
18.00
$36.00
$
3.00
2.00
3.70
7.00
.30
$13.00
Harvesting costs:
Mowing and raking -four cuttings'
$10.00
Baling -4 tons
18.00
Total
$28.00
Total cost per acre, through harvest
$77.00
Total cost per ton
$19.25
Central Arizona pump areas
100 -ft. lift
$12.00
2.00
18.50
$32.50
$
2.00
3.70
7.00
.30
$13.00
$10.00
18.00
$28.00
$73.50
$18.40
200 -ft. lift
$
3.00
1.00
37.00
$41.00
$
2.00
3.70
7.00
.30
$13.00
$10.00
18.00
$28.00
$82.00
$21.00
'These calculations represent anticipated costs during 1949 on owner -operated farms, assuming a yield of 4 tons per acre. No item was included for farm automobile expense or for management and no return credited for pasture.
"Based on prevailing custom rates. Where the farmer does the work the cost may be lower.
Curtailment of acreage is being brought about. Plantings for
1949 include 2,310 acres in the Phoenix area and 433 in the Safford area. This crop has been contracted at
141/2 cents per pound on a re- cleaned basis. A few years ago a technical development in the industry made possible a reduced usage of seed per acre in planting sugar beets through the practice of shearing the seed. But during the war period the seed production was still needed because supplies from Europe had been cut off. Following the war a market was provided by shipping a considerable portion of
American production to Europe. With the end of 1948 it appeared that Europe is again upon a self- sustaining basis.
16
EXPERIMENT STATION BULLETIN 220
TABLE 5.- CALCULATED COST OF PRODUCING BARLEY AND GRAIN
SORGHUMS PER ACRE UNDER SINGLE -CROP PLAN, SALT
RIVER VALLEY WATER USERS' AREA, 1949°
Barley
Grain
Sorghums
Interest, taxes, and water:
Interest, 5% on $300
Land tax
Water (21/2 acre -feet for barley; 23/4 for sorghum)
Total
Cultural costs:
Cost of seed
Plowing
Discing and dragging
Bordering
Discing, harrow attached
Drilling or planting
Irrigation labor and ditch work
Cultivating
Total
Harvesting costs: b
Combining
Hauling (10 -25 miles)
Total
Total cost per acre
Cost per ton
$15.00
3.00
12.00
$30.00
$ 3.50
3.50
2.25
.75
1.50
2.00'
4.00
$17.50
$ 5.50
2.50
$ 8.00
$55.50
$44.40
$15.00
3.00
13.00
$31.00
$
.25
3.50
2.25
.75
1.50
2.00
4.00
1.75
$16.00
$ 5.50
2.50
$ 8.00
$55.00
$44.00
b These calculations represent anticipated costs during 1949, assuming a yield of 2,500 pounds of grain per acre. No item is included for management, farm automobile, or fencing. No income is credited for pasture.
b Figured on bulk basis. Where sacks are used, there will be an additional cost of $6.00 per acre, offset in part in additional price received by the producer.
Source: The Federal Crop and Livestock Reporting Service, Phoenix, except as otherwise noted. 'State totals include estimates for Gila, Mohave, and Santa Cruz counties. "Includes American -Egyptian cotton, 1,450 acres in Graham County, 130 acres in Maricopa, and 20 acres in Pinal, with a pro- duction of approximate y 1,100 bales. 'Does not include grain 'n 13,000 acres harvested for silage and forage. Year ended August 31, 1948. 'Estimates of Department of Agricultural Economics, University of Arizona. 'Figures represent both irrigated crops and irrigated pasture. Acreage double cropped is counted but once. In addition, it is esti- mated that dry -land crops were harvested from approximately 65,000 acres.
* Your assessment is very important for improving the work of artificial intelligence, which forms the content of this project