No category
Traditional Navajo Culture is a Protective Factor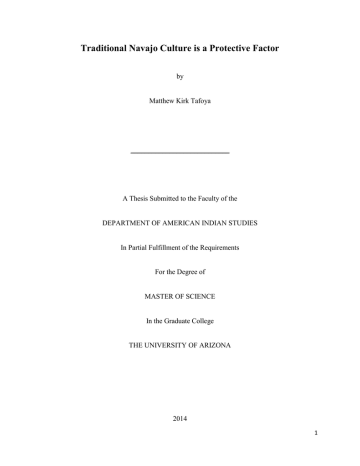 Traditional Navajo Culture is a Protective Factor
by
Matthew Kirk Tafoya
____________________________
A Thesis Submitted to the Faculty of the
DEPARTMENT OF AMERICAN INDIAN STUDIES
In Partial Fulfillment of the Requirements
For the Degree of
MASTER OF SCIENCE
In the Graduate College
THE UNIVERSITY OF ARIZONA
2014
1
STATEMENT BY AUTHOR
This thesis has been submitted in partial fulfillment of requirements for an advanced degree at the University of Arizona and is deposited in the University Library to be made available to borrowers under rules of the Library.
Brief quotations from this thesis are allowable without special permission, provided that an accurate acknowledgement of the source is made. Requests for permission for extended quotation from or reproduction of this manuscript in whole or in part may be granted by the head of the major department or the Dean of the Graduate College when in his or her judgment the proposed use of the material is in the interests of scholarship. In all other instances, however, permission must be obtained from the author.
SIGNED: Matthew Kirk Tafoya
APPROVAL BY THESIS DIRECTOR
This thesis has been approved on the date shown below:
Dr. Richard Stoffle
Professor of Anthropology
(December 04, 2014)
Date
2
Acknowledgements
First and foremost, the Diyin Dine'e (Navajo Holy People) are acknowledge for creating the cosmic order and gifting the Navajo people with the knowledge to maintain order in the face of chaos. It is their lessons that provide solace in turbulent times. Second, I would like to acknowledge my family members who have supported me throughout this study. My wife Tina, eldest son Zak, daughter Dezbah Shondiin, youngest son Max, and my mother-Roberta Parker were the driving forces in motivating the completion of this study. Third, special acknowledgement is given to Tséhootsooí Medical Center (TMC), TMC Division of Community
Health, TMC-Methamphetamine and Suicide Prevention Initiative (MSPI), the National Indian
Health Board, and National MSPI for valuing, encouraging, and promoting this study. Special acknowledgement is extended to the National Indian Health Board's Deputy Director of Policy,
Programs, and Advocacy Carolyn Angus-Hornbuckle for encouraging, supporting, and providing opportunities to share this research with Native America. The fourth group to acknowledge are the Navajo people themselves, especially all those who fight post-colonial monsters daily and in the process, provide balance and harmony to the Navajo Nation. Last but not least to acknowledge are from the University of Arizona. Special acknowledgement is extended to Dr.
Richard Stoffle who chaired my committee and stepped in to direct this research at a critical time, also Dr. Mary Jo Tippeconnic-Fox from American Indian Studies, and Dr. Nicolette
Teufel-Shone from Public Health who both served on my committee. An acknowledgement is extended to Maria Theresa Vallez, Associate Dean from the Graduate College for financial assistance while pursuing my master's degree and this research. Finally, I would like to acknowledge Andrea Hernandez Holm from the Writing Center for editing my research and listening to me.
3
Dedication
This study is dedicated to Phillip Eugene Parker, the man who adopted me, loved me, protected me, and taught me to be fearless and assertive in a post-colonial world. Most importantly, dad taught me how to be an Indian, not an easy task for a white man, but made easy because he was raised by the Klamath people. All that time spent learning Native culture, practicing Native spirituality, making relationships, and organizing to become self-determinant had prepared me for this research. I am proud to be your son and this work is dedicated to you.
4
Table of Contents
Abstract……………………………………………………………………………......1
Introduction…………………………………………………………………………....2
Terminology…………………………………………………………………...6
Statement of Research Problem………………………………………………..7
Purpose of Study……………………………………………………………….9
Significance of Study………………………………………………………....10
Organization of Thesis……………………………………………………......10
Chapter 1: Methodology……………………………………………………………...14
Cultural Arts………………………………………………………………......27
Effective Programs……………………………………………………………28
Assumptions………………………………………………………………......31
Limitations…………………………………………………………………....32
Designs……………………………………………………………………......34
Measurement………………………………………………………………….35
Human Subjects………………………………………………………………36
Dissemination………………………………………………………………...36
Chapter 2: Historical Impact……………………………………………………….....38
Contact and Colonialism……………………………………………………...39
Post-colonialism……………………………………………………………....47
Self-Determination…………………………………………………………....58
Chapter 3: Literature Review………………………………………………………....61
Connectedness………………………………………………………………...61
Spirituality………………………………………………………………..…...64
Resilience…………………………………………………………………......66
Hope…………………………………………………………………………..67
Enculturation……………………………………………………………........69
Indigenous Culture…………………………………………………………...70
Indigenous Healing and Wellness Concepts…………………………………71
Indigenous Story and Storytelling……………………………………………72
5
Art Therapy and Art as Therapy………………………………………….....73
Chapter 4: Theoretical Frameworks…………………………………………………77
What is Culture?...…………………………………...………………………77
Anomie Theory………...……………….……………………………………79
Social Risk/ Ontological Insecurity Theories….…………………………….81
Transculturation Theory.…………………………………………………….84
Cultural Continuity Theory………………………………………………….89
Sa'ah Naagai Bik'eh Hozhoon………………………………………………91
Chapter 5: TMC-Field Experience…………………………………………………..94
Chapter 6: Iina Baa Cha Na Hasin (Honoring Life)…………………………….....113
Nitsahakees: Thinking and Connectedness.………………………………..114
Nahata: Planning and Spirituality……………………………………….....117
Iina: Living and Resiliency………………………………………………...120
Siihasin: Reflection, Evaluation, and Hope………………………………..122
Chapter 7: Research Findings……………………………………………………...126
Answers to Research Questions…………………………………………....126
Field Observations………………………………………………………....131
Future Directions…………………………………………………………..135
Conclusion………………………………………………………………………....136
References……………………………………………………………….……..….140
6
Abstract
"Traditional Navajo Culture is a Protective Factor" is intended for those who have a stake in Indigenous spiritual, mental, physical, and emotional health. Native Americans, Alaska
Natives, and Native Hawaiians are Indigenous minorities in the USA that tend to consistently top the charts in deficient measures like depression, diabetes, heart disease, obesity, domestic violence, substance use/abuse, and suicide. The West does not offer any explanation as to the cause but is trying to fight these diseases and disorders by allocating federal funds for tribes, urban Indians, and Native groups to devise ways to minimize negative health effects by employing prevention practices that respect and are informed by the local Native cultures. This thesis examines these public health issues from a modern Indigenous perspective that use Navajo specific examples that combine both Western and Indigenous philosophies and paradigms to propose a solution that is strength-based, culturally-informed, and locally-driven.
7
Introduction
Native American suicide continues to be a public health concern for all those who have a stake in Native health. Whether the interests are federal, state, tribal, urban Indian, or institutional, all have expressed the need to reduce suicide in Native America. According to
Indian Health Service (IHS), American Indians and Alaskan Natives (AI/AN) have rates of suicide that are 82% higher than non-AI/ANs (IHS 2011). Moreover, suicide is the second leading cause of death for young Native people between the ages of 10-24. For various reasons, young Native people are killing themselves at disproportionate rates and prevention programs need to be developed to prevent and reduce this trend. Recently, United States Senator Byron L.
Dorgan stated in an article that "federal policymakers and health care providers urgently need to develop an effective response to repair the broken health care system that allows this epidemic to persist year after year" (Dorgan 2010, 1).
Regardless of which set of Native health data one examines, they all say the same thing:
Native health is bad and getting worse. The data also shows a pattern, and patterns tell stories.
This phenomenon implies Indigenous people who live in colonial or post-colonial states also have poor and declining health. The challenge Indigenous people and post-colonial governments face today is understanding, developing, and implementing culturally-inspired, relevant, and sensitive prevention programs and services to mitigate these unique and complex post-colonial threats to Native health.
Another challenge is finding steady sources of funding to support these types of prevention programs. Post-colonial governments need to support Native efforts to reduce suicide using local Native culture to build protective factors. Native people know how to fix what is broken; they have the legal and cultural authority, they have knowledge: they simply need
8
equitable and sustainable financial and technical support to develop and implement post-colonial prevention programs that respect and perpetuate their traditional culture. Indigenous-led strength-based traditional culture prevention efforts can reduce Indigenous suicide. Strengthbased practices focus on collaborating with families, children, and communities to find individual and collective strengths and functioning (Laursen 2000). Strength-based practices represent a recent paradigm shift in healthcare, education, psychology, social work, and child welfare, whereby practitioners do not examine deficits, problems, or pathologies. Rather, they believe that children, families, and communities have strengths to draw from and offer. An example of a strength-based approach is focusing on what families do that is right as opposed to what is wrong or has negative outcomes. The idea is identify what works and start from there.
"Traditional Navajo Culture is a Protective Factor against Post-Colonial Risk Factors" and the Iina Baa Cha Na Hasin Post-Colonial Prevention Toolkit respond to national and local calls for help. At the national level, the thesis makes the case for traditional culture as a protective factor and is useful to Indigenous health care providers and Indigenous people looking to integrate the local culture into their health care practices. The reason for this cross-cultural process narrative is to demonstrate one way Native people can develop and implement strengthbased traditional cultural prevention programs to address multiple spiritual, emotional, physical, and mental health threats. At the local level, the thesis and toolkit are useful to Native communities because the toolkit pulls together much of the Western research that supports and validates cultural approaches and the toolkit serve as an example or starting point.
The toolkit is a 24 module lesson plan designed to enculturate Navajo youth (K-12) into
Navajo culture by introducing, familiarizing, reaffirming, and restoring belief and lifestyle of a traditional life world. The toolkit is intended to be used throughout the Navajo Nation school
9
system but can also be used for children and adults in community programs. A combination of teaching techniques (oral, visual, listening, and participatory) is used throughout the toolkit to appeal to different learning styles. Basically, the toolkit puts everyone on the same cultural page.
The role traditional culture has or has not played in the lives of Native Americans is critical because losing culture includes losing language, traditions, knowledge, lifestyles, and values, which are the core concepts that guided Native people successfully for millennia. Loss of culture is associated with federal Indian policies that were imposed on Native Americans. As more and more Native Americans were separated from their culture, families, lands, and increasingly became assimilated, their cultures gradually disappeared. The end results impact
Native health today.
This thesis proposes a Navajo-based cultural curriculum or toolkit for the Tsehootsooi
Medical Center's (TMC) Division of Community Health program which was conceptualized while being employed at TMC-Methamphetamine and Suicide Prevention Initiative (MSPI) during the Fall of 2012. The goal for this thesis was to make the case for cultural prevention programs because they have the greatest potential to prepare youth to overcome the various challenging aspects of post-colonialism.
The Iina Ba Cha Na Hasin Post-Colonial Prevention Toolkit is a Navajo-informed, strength-based cultural toolkit that introduces Navajo youth to their culture to establish a common cultural foundation for them to feel attached to their people, culture, and environment.
Additionally, the toolkit provides Navajo youth with some standard traditional cultural teachings designed to help them cope with the challenges of modern life. This idea is based on the hypothesis that a traditional cultural foundation better enables young Navajo to cope with the
10
hardships of life in a modern context (Huffman 2001). This thesis addresses the following research questions:
Why do Native people consistently top the charts in most deficient measures?
How can these negative trends be mitigated or reversed?
What role can traditional Native culture have in addressing Native assimilation?
Is traditional Native culture a protective factor against modern risk factors?
The TMC-Division of Community Health program located in Fort Defiance, Arizona wanted to develop a Navajo world view cultural learning program for Navajo youth that uses
Navajo culture as a foundation for self-identity. At a Winter of 2012, Navajo Nation-wide MSPI task force meeting, the TMC-MSPI program shared they had "found that by re-connecting youth with traditional Dine teachings, the youth can better understand their place in the cosmic order, thereby creating a sense of belonging, and being less likely to engage in negative or maladaptive behaviors like over-eating, depression, laziness, bullying, violence, substance use, and suicide"
(TMC-MSPI 2012).
The toolkit is a Navajo cultural curriculum that utilizes hands-on cultural activities, cultural arts, storytelling, and presentations to enculturate Navajo youth into Navajo society and thereby building protective factors. The toolkit concentrates on four critical areas identified through research: connectedness, spirituality, resiliency, and hope. This study is an organic response to a Navajo community need identified through feedback, surveys, and evaluations.
Navajo people are the intended beneficiaries of this research. This research was conducted to better understand how traditional Navajo teachings impart coping skills to modern problems.
This researcher wanted to know if, how, and why traditional Navajo teachings can be useful in a modern prevention context. This study was researched and informed academically, and
11
developed and evaluated through field experience at TMC-MSPI project within the Fort
Defiance service area.
The final product was this thesis and the Iina Baa Cha Na Hasin Post-Colonial Prevention
Toolkit for young Navajo, primarily, and all Navajo generally, as a means of instilling traditional teachings that have served the Navajo well for millennia. Because the toolkit contains traditional
Navajo teachings, utilizes Navajo language, and shares common Navajo knowledge, it belongs to the Navajo people. The Diyin Dine'e (Navajo Holy People) were the original sources for all the cultural material contained within the toolkit. Even though the materials are from published and scattered human sources, they all agree that the traditional teachings are gifts from the Holy
People and belong to the Navajo people. Navajo epistemology, pedagogy, ontology, axiology, and methodology were considered cultural patrimony for the purpose of this research. In addition, this thesis and toolkit can be used as a template for other Indigenous nations and urban
Indian centers facing similar post-colonial conditions and challenges. All elements of the toolkit can be modified to meet the needs or reflect the cultures of the various communities.
Terminology
Navajo, Navajo people, Navajo Nation, and Diné are synonymous and are used interchangeably. Native American, American Indian, Native, tribal, First Nations, Aboriginal, and Indigenous are used in the same manner. Modern context, modern society, modern world, modern setting, modernity, America, and Native America, United States, and federal system refer to the hegemonic cultural, political, physical, and social conditions Indigenous people face on a daily basis and these terms are used interchangeably throughout this study.
Post-colonial and post-colonialism are considered the same and also used interchangeably, and for the purpose of this study refer to the beginning of the United States and
12
include the present. Colonial and colonialism refer to the European claims and occupations prior. The term post-colonial stress disorder syndrome (PCSDS) is used throughout this thesis and is defined as acute and multiple spiritual, emotional, physical, and mental disharmonies manifesting as diseases, illnesses, traumas, dysfunctions, disorders, and suicide which are symptomatic of political, economic, social, and spiritual conditions imposed on the Indigenous population by the post-colonial hegemonic power (Duran and Duran 1995; Brave Heart 1998;
Brave Heart and Debryn 1998; Brave Heart 1999; Lewis, Duran, and Woodis 1999; Walters and
Simoni 1999; Stone 2002; Duran 2006; Gone 2009).
Some of these deficits were known to Indigenous people before contact, but they had the means to control, counter, or cure some of them, others were unknown. The ability to bounce back was lost or compromised over time as Indigenous people lost their culture or key portions of it through assimilation. Now, PCSDC in its various forms is rampant and a serious threats to
Indigenous health and wellbeing. This may seem like an over generalization, however, since the focus of this research is on strengths and prevention, it steers the research from getting bogged down with a diverse array of disparities, pathologies, and problems. So for that reason, PCSDS is designated to include multiple imbalances associated with post-colonialism and used as such throughout this thesis. Moreover, this thesis does not rate or critique the diagnostics and interventions proposed by clinicians, therapist, and psychologists. Instead, this research proposes that Indigenous people suffer from combinations of various post-colonial disorders and therefore require an integrative preventative approach.
Statement of Research Problem
Indigenous people face the problem of living in a constant state of disruption because they have to constantly adjust to different cultural systems. Increasingly, many do not have the
13
cultural knowledge necessary to negotiate the challenges of dealing with oppression, poverty, and disconnection from self, community, culture, and ecology. Because Native people have undergone systemic and sustained federally-imposed assimilation, they are losing their connection to their traditional culture and identity. Their lives and world become incongruent with modern America and this leads Native people to experience anomie, which consequently places the individual at higher risk of suicide (Durkheim 1897). Anomie is estrangement from self and society. From a Navajo perspective, their journey on the Corn Pollen Path of Life is interrupted and needs to start again to attain harmony or balance. Traditional Native culture is rapidly being replaced by Western culture, which continues to have devastating effects on Native people. One way to counterbalance Indigenous assimilation into the Western mainstream is to promote and teach traditional Indigenous culture to the Indigenous population. In this case,
Navajo culture is the cure for assimilation and the consequent negative mental and behavioral manifestations.
The Navajo Nation has not thoroughly addressed this issue and is currently developing preventions and interventions that fulfill MSPI grant and institutional requirements, and local community needs. As of yet, none of the nine Navajo MSPI programs have published any articles, shared any insights or specific strategies with the public on how best to deal with meth use and suicide in the Navajo Nation. Nationally, MSPI programs promote the use of evidencebased practices, practice-based evidence, best practices, and promising practices to accomplish its goals. However, MSPI programs are encouraged to develop their own promising practices using their respective local cultures to inform prevention programs and practices. This has shown promising results but not much evidence.
14
There is a dearth of published materials that tribes and urban Indian centers have contributed to show what their prevention programs are doing and how it is having a positive effect on the community. Recently, one of the positive results to emerge in a few Native methamphetamine (meth) use studies is the role traditional Native culture has played in reducing
Native risk with regard to meth use and suicide. There is an urgent need for Navajo public health prevention programs to develop and teach traditional Navajo culture as a protective factor against post-colonial maladaptive behaviors. Moreover, the cultural lessons contained within the toolkit are also useful in preventing bullying, domestic violence, diabetes, heart disease, crime, and depression.
Purpose of Study
The purpose of this study was to validate Indigenous approaches to reducing suicide in
Indigenous communities and share it. In order to accomplish that, the following issues had to be examined: 1) the cause of Native suicide, 2) research promising Western and Indigenous practices, 3) Western theoretical frameworks that incorporate Indigenous knowledge, and 4)
TMC-MSPI's "culture as prevention" approach.
Additionally, the toolkit had to be useful to the Navajo people and rational to the federal government. To be useful to Navajo people, it must: be affordable, conform to school class schedules, be uncomplicated, and be flexible. To be rational to the federal government, it must employ national best practices and/or use traditional Native culture in a way that achieves positive results, be supported by academic research, or be evidenced-based. MSPI measures results using their own survey evaluations, which are a grant requirement. This thesis proposes an evaluation tool to provide evidence to support this thesis.
15
Significance of Study
This study is the first of its kind to be developed and shared by a Native American from a reservation setting. It provides non-Western theoretical frameworks which are largely absent from the academic literature. This study respects Indigenous knowledge as meaningful and valid by not placing it in the footnotes or endnotes but alongside Western knowledge. This study is from a post-colonial Indigenous perspective, thus making it a cross-cultural narrative study.
Additionally, this thesis makes the case for traditional Native culture as prevention. This study demonstrates how Native communities can use their traditional culture to build protective factors against the risk factors associated with post-colonialism by using Navajo as an example throughout the study. The intended outcome for this research is to motivate Indigenous people the world over to learn from this example and develop or demand similar cultural prevention programs that help them mitigate the negative effects of post-colonial conditions.
Organization of Thesis
Chapter 1 is methodology and covers: risk factor commonalities, thesis genesis, and national and local needs for this type of study. Additionally, the chapter discusses the role of those who contributed to this study and a brief discussion of risk and protective factors. The chapter also covers the methods used to inform this thesis and toolkit, which include; academic research, field work, focus groups, program evaluations, storytelling, material culture, and ceremony. Finally, this chapter examines prevention programs, discusses assumptions, and identifies limitations. The purpose is to explain the methods used throughout the research and development process.
Chapter 2 examines the potential for colonialism and post-colonialism as culprits to poor modern Native health. The purpose of researching historical impact is twofold: understand and
16
frame post-colonial problems. The chapter examines the history of colonial contact between
Europeans and Native Americans going back to Columbus paying particular attention to possible negative effects of that contact. Also contained within this chapter is a brief history of postcolonial contact and subsequent policies and practices that have shaped and impacted modern
Native American health. Finally, the last part discusses current policy and how it has the potential to positively impact Native health. Throughout this chapter and thesis, Navajo examples are used and provided to demonstrate how an Indigenous people have used their culture to resiliently respond to post-colonial perturbations, challenges, and conditions.
Chapter 3 is a literature review and is organized according to the following areas of
Western research emphasis: connectedness, spirituality, resiliency, and hope. Additionally, other bodies of related research were found useful and included to support this thesis and toolkit.
Those bodies of research are enculturation, Indigenous cultures, Indigenous healing/wellness concepts, Indigenous storytelling, and art therapy. They are also inter-related, support each other, and are also protective factors.
Chapter 4 discusses theoretical frameworks that offer Western and Indigenous perspectives to explain and potentially solve the problem of Native maladaptive behaviors like suicide. This chapter examines four Western theories used to ground this study. The first is
Durkheim's Anomie Theory with a brief comparison using Navajo examples. The second is
Gidden's Ontological Insecurity Theory which also uses Navajo comparisons. The third is
Huffman's Transculturation Theory is examined more in depth than the others because it provides concrete evidence that Native culture is strength-based and offers potential to help
Native student's excel in post-colonial conditions. The fourth is Chandler and Lalonde's Cultural
Continuation Theory which provides further evidence that Native culture can reduce suicide and
17
that Native communities that take active steps to perpetuate their culture are better at reducing suicide than those that do not. Another supporting theory posited as a tribal specific example is
Sa'ah Naagai Bik'eh Hozhoon (SNBH) which is the Navajo theory for life. SNBH can be applied to the first four theories as well. The first two emphasize the absence of SNBH and the third and fourth emphasize the presence of SNBH.
Chapter 5 applies field experience and research conducted while employed at TMC to demonstrate how prevention programs could overcome similar challenges that may prevent the use of traditional Native culture as prevention. The chapter provides background information on the creation of TMC and TMC-Methamphetamine and Suicide Prevention Initiative (TMC-
MSPI) Program, Window Rock Unified School District, their partnership, and their similar goals and missions. Additionally, TMC-MSPI enculturation activities are discussed as a viable and effective means of building protective factors. Finally, TMC-MSPI shares lessons learned, overcoming common challenges, and how it conformed to the Public Health Model and Navajo
Wellness Model.
Chapter 6 focuses on the development, organization, and content of the Iina Baa Cha Na
Hasin Post-Colonial Prevention Toolkit. This chapter describes the toolkit and it is evenly divided into four sections that correspond with the Navajo wellness and learning models. The first section emphasizes Nitsahakees (thinking) and traditional concepts regarding connectedness. The second section emphasizes Nahata (planning) and traditional perspectives on spirituality. The third section is Iina (action) and uses traditional stories to teach and build resilient responses to post-colonial threats. The fourth is Siihasin (reflection) and emphasizes instilling hope and making well informed lifestyle decisions. Interestingly, the Navajo epistemic process corresponds with the four identified areas of protective factors.
18
Chapter 7 provides answers the research questions, shares a few observations from the field, offers future directions, and a few concluding remarks. The answers to the research questions are briefly summarized with examples provided. Field observations are provided that also answer the research questions. Finally, future directions are charted out and the researcher shares his concluding remarks.
19
Chapter 1: Methodology
This thesis and toolkit respond to national and tribal calls to develop locally inspired prevention tools to reduce bullying, domestic violence, heart disease, diabetes, substance abuse, and suicide in Native America. Each of these deficits can be analyzed individually, and initially this research focused on methamphetamine use and suicide. However, it soon became clear that what was needed was a macro-level analysis of the issues, not a micro-analysis of each. This researcher had to take a few steps back and see if commonalities or patterns could be established.
From this researcher's perspective, the risk factors associated with these numerous disparities have three commonalities: post-colonialism, inter-relatedness, and cumulative effects.
The first thing that became apparent about all of these ailments is that they are all postcolonial maladaptive behaviors, disorders, or diseases. This means that they appear to be symptomatic of the West, modernity or post-colonialism which have had a substantially negative impact on Native health, and will continue to increase unless effective prevention efforts are made. These disparities are a global phenomenon present mostly in colonial and post-colonial
Indigenous communities. Indigenous people suffer disproportionately in almost all deficient measures and their rates are disproportionately similar.
The second thing that stood out from these risk factors is inter-relatedness. Native people, especially youth, whether urban or reservation, often must cope with multiple problems or risk factors at home, school, community, tribe, and dominant society. Normally, Western medicine intervenes through addressing one problem at a time, after diagnosis. The practice of teaching awareness and learning to cope with one issue at a time is helpful, but Native youth, as is often the case, are juggling several inter-related issues at once, such as poverty, poor diet, identity loss, language loss, cultural assimilation, depression, learning disorders, substance
20
abuse, and suicidal ideation. In typical Western medical approaches to treatment, each issue is treated individually after it has become a problem. Modern billing is based on individual treatments. There is no billing for prevention. However, federal, tribal, state, county, city, and private funds are available for building protective factors through prevention programs, cultural restoration, community building, and food sovereignty initiatives, and could be accessed to support cultural programs consistent with public health goals.
The third risk factor commonality is that they have a cumulative effect. These factors when combined--as is common in Native lives--increase the suicide risk exponentially. The
Institute of Medicine (IOM) reported that an estimated 90% of people who die from suicide also have a substance abuse disorder, mental illness, or both (IOM 2008). This cumulative effect poses specific challenges to the Native public health prevention community because it creates other obstacles and therefore addressing the first health issue becomes even more difficult.
This thesis provides background information, theories, research, thesis genesis, the process of putting it together, and a description of the toolkit. The reason for this cross-cultural process narrative is to demonstrate one way Native people can develop and implement strengthbased practices like traditional cultural prevention programs to address multiple spiritual, emotional, physical, and mental health threats which are symptomatic of PCSDS.
The Iina Baa Cha Na Hasin Post-Colonial Prevention Toolkit is a modern user friendly mechanism to teach traditional Navajo culture to modern Navajo youth. The toolkit combines both Indigenous (storytelling, language, cultural lessons, enculturation activities, traditional creation stories, material culture) and Western (medical and behavioral scientific evidence based research, modern technology, colorful graphics, and institutional requirements) based best practices to build protective factors against the risk factors associated with being Navajo and
21
living on the Navajo Nation.
Nationally and locally, there exists a need for Indigenous people to nation-build, to remake their own world according to their own standards, and that is happening all across Native
America. At the national level, the American Indian/Alaskan Native National Suicide Prevention
Strategic Plan for 2011-15, Goal 1, calls for the "Support [of] a holistic approach to suicide prevention, building on the strong resilience of AI/AM communities (e.g. culture, spirituality, language, and identity)" (IHS 2011, 4). Moreover, the 2012 National Strategy for Suicide
Prevention: Goals and Objectives for Action Objective 3.1 calls to "Promote effective programs and practices that increase protection from suicide and suicide risk" (USDHHS 2012, 36).
Furthermore, the federal government, through its Indian Health Service (IHS), launched the Methamphetamine and Suicide Prevention Initiative (MSPI) in 2008. This nationwide prevention campaign encourages Native nations and urban Indian centers to use traditional
Native culture as a protective factor. The goal of MSPI "is to expand community-level access to effective methamphetamine and suicide prevention programs and to promote the development of successful evidence-based and practiced-based models of prevention, treatment, and aftercare for
American Indians/Alaskan Native communities" ( www.nihb.org/behavioralhealth/mspi.php
2013).
One common challenge MSPI programs nationwide have is justifying the use of traditional culture in any aspect of their prevention efforts. That is because the staffs are overburdened trying to figure out their job, their mission, and their goals. To make the task more difficult, staff were hired for their expertise as clinicians, therapists, and interventionist. This in turn, limits the focus to Western perspectives/practices and not the local community or culture. It is difficult for Western trained practitioners to make the case for, let alone justify anything other
22
than what their training permits. Sometimes, Western practitioners will turn to the community for input into how to move forward with programming that includes culture. This can be effective if the healthcare professionals use participatory action research to elicit tribal participation and input.
Besides justification, another common challenge MSPI programs face is incorporating the local culture into their programming and messaging. This may be because of mistrust, stereotypes, and misperceptions on both sides about the other. Whatever the reason, establishing a middle road could help one side to heal while and the other to do their job. Both sides have to accept the other in order for progress to be made and healing to occur.
Initially, there were 125 MSPI programs nationally with each MSPI implementing a unique program whereby local cultures can provide "community-focused responses that enhance evidence-based or practices-based methamphetamine and/or suicide prevention or treatment services or education programming" (MSPI 2013). Currently, there are 130 MSPI programs serving Native American and Alaskan Native nationwide. Each program and approach is different while many employ combinations of national curricula and local culture into their prevention efforts. For various reasons, tribal and urban MSPI programs do not share their findings or progress about what works best given that much of these efforts are now evidencedbased. Perhaps in the near future, they will share what works and what does not. At some point
MSPI funding will cease and similar prevention programs can survive as post-colonial prevention programs by adopting methods to enculturate the local population into the local culture. Because this approach has wide application, it can be used for a wide range of maladaptive behaviors.
23
Locally, the TMC-MSPI program wants a prevention tool that has broad application beyond bullying, substance abuse, and suicide, but also includes a healthy thinking and living component. The final directive was to develop a Navajo culture inspired post-colonial prevention curriculum that 1) builds protective factors, 2) conforms to Navajo law/TMC policies and procedures/Navajo models, 3) teaches Navajo culture, and 4) increases feelings of belonging
(TMC-MSPI 2012). The toolkit responds to national, tribal, and local calls for more effective suicide prevention efforts. This thesis makes the case for traditional culture as prevention.
First, some background information to shed light on how this thesis came into being.
This researcher developed interest in answering this challenge after watching a co-worker present an "Honoring Life" presentation in December of 2012. The presentation was about three hours long and covered many aspects of the Navajo culture. It was designed to introduce youth to Navajo culture and the TMC-MSPI employees were asked to critique it.
The presentation was exceptional, but covered too much information. The presentation needed to 1) be organized, 2) relate to prevention messages, 3) conform to school schedules, and
4) present traditional baseline cultural knowledge in English because most Navajo youth speak
English primarily. Right then, this thesis was born and that is how this research came about.
TMC-MSPI needed a cultural curriculum. The TMC-MSPI "Honoring Life" three hour presentation needed to be developed into a series of traditional cultural lessons that would also, build protective factors against methamphetamine use and suicide. This was later expanded in
2013 to include bullying and other post-colonial maladaptive behaviors, diseases, and disorders.
Besides the curriculum, a justification needed to go with it to explain why it was needed and the
Western and Indigenous research that supported it.
24
Fortunately, this researcher is uniquely qualified to address these topics. This researcher is a Navajo citizen, lives in the Fort Defiance service area, is a TMC client, and is a graduate student in American Indian Studies at the University of Arizona. This researcher also worked for
TMC-MSPI from the Summer of 2012 to the Winter of 2013 and from the Summer of 2013 to the Winter of 2013. This researcher has three children in the local school system, is a proponent of traditional Native culture and Native nation building, and cares about improving the overall health of Native people, starting at home.
Initially, this research focused on the poor state of Native health, contributing factors, and the history of how it got that way. Next, attention was turned to Native well-being, Native psychology, Indian Health Service (IHS) MSPI, Native culture as intervention, and youth programs designed to help youth deal with risk factors beyond their control. It was interesting but always narrow; this researcher had to try an integrative approach, and had to look at these topics as they apply specifically to Navajo, generally to Native Americans, and globally to
Indigenous people.
Too often, services and programs for Native Americans are generalized and these
Western approaches are not effective in urban or reservation settings. For example, it is common for prevention videos designed for Native communities to have flutes playing in the background or pictures of dream catchers or feathers in the slides. However, aesthetically pleasing it may seem or intended, it does not increase its efficacy; it just promotes stereotypes and distracts from the intended public health message. One issue that re-surfaced throughout the research was that people were offended by the Native American version of a well-known national suicide prevention curricula to the point where they became angry and that emotion took over the prevention effort. Native people were offended by the usage of dream catchers and background
25
flute music as defining the curricula as Native American. TMC-MSPI has tried various evidence-based prevention programs but the evidence did not support the program most of the time. These types of prevention programs may work in larger society on single issues but are not effective in Native societies or communities, let alone useful for the inter-related complexities of post-colonial Navajo life. Navajo people were offended by taking about death.
Current prevention, intervention, and postvention public health practices need to be tailored for specific Native communities, informed by local Native culture, and include their respective traditional cultural knowledge, language, stories, and activities to make them relevant and effective. The most effective and qualified experts to carry this out are indeed Native people. This reason alone could explain why programs like the one proposed herein do not exist.
Moreover, cultural inclusiveness takes the authority away from the health care authorities, thus placing it in the hands of those who had been the targets of federal assimilation policies. Not to mention, the stark differences in definitions, understandings, and experiences from the two sides who have the same goal. For the West, this process will be uncomfortable until it becomes comfortable. For the Indigenous, the process has been uncomfortable and hopefully with implementation, will become comfortable someday in the future. Time, cooperation, and implementation will tell.
Navajo problems need Navajo solutions and this specific research began focusing on
Navajo concepts regarding health, well-being, psychology, philosophy, culture, and learning.
The more learned about Navajo culture: the realization came that Navajo culture had the answers but the problem was that most modern Navajo, particularly the youth were disconnected from it.
This occurred because Navajo people had not learned it: the information is there but it is not being transmitted across the generations and reservations.
26
The underlying and systemic problem is Navajo assimilation into all things Western: whether intentional or unintentional, Navajo people are assimilating into mainstream American culture and in doing so are separating themselves from the very cultural components that could best serve them at the individual and tribal level. The challenge for this research was to determine what lessons are relevant, find, organize, conform, simplify, and teach the lessons in
English so they can be user friendly and have greater mass appeal. There were many problems in accomplishing this and this research will share how they were negotiated.
Historically, traditional Navajo culture has had a positive impact on Navajo health, wellbeing, and outlook on life for thousands of years and only recently became increasingly detached through boarding school attendance and deficient through assimilative practices. If thought influences behavior, which influence outcomes, then having Navajo youth think from a Navajo perspective could have a positive influence on Navajo behaviors and outcomes, especially if that knowledge was not corrupted by Western influences. The knowledge had to be traditional and it had to be understandable in order to be effective. With that in mind, the wheel did not have to be re-invented. There exists a wealth of Navajo academic research and cultural education materials that were designed specifically to enculturate Navajo people into Navajo society. Rough Rock
Demonstration School, Diné College, and San Juan School District Media Center have been doing exactly this for over forty years. This researcher developed lessons (Sa'ah Naagai Bik'eh
Hozhoon, Corn Pollen Path of Life, and Maintaining the Cosmic Order) based on attending classes at Diné College and from class reading material.
San Juan School District Media Center has also been producing Navajo cultural education materials for forty years and contributed greatly to the lessons. The "Twin Warrior" stories, "Gathering of the Clans", and "Blessing Way and Protection Way teachings" all come
27
from San Juan School District Media Center education materials. Fortunately, there are many sources to develop cultural lesson plans and curricula. This researcher relied on those lessons for the bulk of the toolkit. Other toolkit contributors are covered in the literature review.
Another important contribution to the lessons came from TMC and TMC-MSPI staff, all
Navajo and helped guide this research in areas relating to Navajo and Western health, wellbeing, spirituality, story interpretation, and prevention message development. When the lessons were completed, the MSPI staff served as a focus group to evaluate the lessons and provided feedback to this researcher to adjust or correct the presentations. Former MSPI employees like
Paul Long Senior Sr. (2012) and Kenneth Harvey Jr. (2012; 2013) who were both cultural liaisons and contributed to the thesis and toolkit by sharing stories, interpretations, perspectives, and teachings during their presentations. Current TMC-MSPI employees like program director
Lucy Laughter-Begay contributed by keeping the toolkit on target and supporting this project by giving it the final stamp of approval in the Winter of 2013. Emerson John and Grace Tracy, the current MSPI cultural liaisons, Virginia Edgewater, Janet Hoskie, Delano Ashley, and Jodell
Jodie-Dawes contributed immensely to the toolkit making it organic, uniquely Navajo, strengthbased, community-driven, and user-friendly.
Another important contributor was Johnson Dennison the head medicine person on the
Navajo Wellness Model project, who gave permission and encouragement to use the Navajo
Wellness Model at a TMC Division of Community Health workshop on the Navajo Wellness
Model in the Fall of 2013. When asked for permission, he responded "of course, that is why it was developed, don't be afraid of it, it belongs to you, use it" (Dennison 2013). He patiently explained every part of it in Navajo and English, using plenty of common examples and making the message clear and concise. The workshop confirmed and supported all the Navajo, Native,
28
Indigenous, and Western research on culture as being useful in public health prevention practices. Rita Gilmore of Chinle, Arizona shared stories on the First, Second, Third, Fourth, and Fifth Worlds in Navajo and English at "Culture Nights" in the Winter of 2012. Also, J.T.
Anderson of Thoreau, New Mexico contributed to this study by sharing stories and teachings on
Navajo manhood and Beauty Way at a presentation in the Fall of 2012.
Other lessons not covered by these sources, like 5R's, 4H's, Navajo Nation Within a
Nation, Living a Balanced Life, Walking in Beauty, and Navigating the Glittering World, were developed specifically for this toolkit. The factors driving this section of the toolkit emphasized post-colonial challenges to modern Indigenous health and wellbeing. This last section is big on prevention and tries to tie the previous lessons with the current lessons to establish a middle ground for Native youth to have hope for the present and the future.
While conducting this research, connectedness, spirituality, resilience, and hope were identified as protective factors that held the most promise in terms of helping urban and reservation Native youth cope with modern problems (see literature review). Moreover, when these four areas are based on Indigenous culture, Indigenous youth have a better chance at overcoming depression, identity loss, substance abuse, bullying, crime, violence, eating disorders, and suicide. Putting the problems, history, theories, research, and working experience altogether, 24 modern prevention lessons based on traditional cultural knowledge were developed to build protective factors. The lessons are divided into four areas of emphasis
(connectedness, spirituality, resilience, and hope) and are progressively designed to build protective factors according to Navajo culture and perspectives.
Once organization of the lessons started, this researcher began to see Navajo culture differently. Navajo culture is like a tool belt full of tools that can be used to fix what is broken
29
(intervention), as tools that help prevent breakage in the first place (prevention), and as aftercare maintenance (postvention). This thesis makes a case that traditional Navajo culture should be used for prevention to be effective and efficient.
Native American culture, like other cultures have both risk and protective factors. Risk factors are "characteristics that make it more likely that a person will think about suicide or engage in suicidal behaviors" ( www.sprc.org
2013). Risk factors include poverty, family history of substance abuse, and demographics. Protective factors are "the conditions that promote strength and resilience and ensure that vulnerable individuals are supported and connected with others during difficult times, thereby making suicidal behaviors less likely" ( www.sprc.org
2013). Protective factors include strong family bonds, connection to the community, enculturation, connectedness, spirituality, resilience, and coping skills. They are things that inform us, make us strong, and help us appreciate life. Protective factors can be increased and decreased depending on knowledge, availability, and will. Interestingly, the four components
(language, land, history, and ceremony) of the Peoplehood matrix are also protective factors
(Holm 2000).
In spite of risk factors generally contributing to long term risks, traumatic, humiliating, and/or stressful events can also provide impetus for suicide ( www.sprc.org
2014). Risk factors can also be divided into those that a community can change and those that they cannot. Risk factors that can be changed include substance abuse, suicidal ideation, detachment, depression, relationships, poverty, and outlook. Risk factors that cannot be changed include age, gender, genetics, and the post-colonial condition.
Post-colonial risk factors are what Navajo, Native American, and Indigenous people are up against. Those are risk factors that permeate Native lives on a daily basis and keep Native
30
America in disarray. These are the hardest factors to change and this is also where the concept of duality becomes useful. According to duality, if bad things create disharmony, then good things create harmony, this is rebalancing an imbalance. Also, if on one end there is extreme
Western post-colonialism as the cause, then on the opposite end there should be proportional
Indigenous traditionalism as a counter-balance or cure. This is also balancing an imbalance.
This line of thought makes sense according to Navajo concepts of dualism and informs this thesis and toolkit.
Previously and normatively, reduction of risk factors has been the focus of prevention programs and services. Currently, however, a paradigm shift is occurring in public health care towards building protective factors. Some promising results from a 1999 study on identifying risk and protective factors among Native youth indicated that "increasing protective factors was more effective at reducing the probability of a suicide attempt than was decreasing risk factors"
(Borosky et al. 1999, 573). This is important because reducing risk factors has limited success in that only half can be addressed and that this half is usually expensive and requires long term treatment.
A more feasible solution for financially limited Native communities is to focus and build upon the cultural resources and strengths already within a given community in order to develop programs that reach the most people. The cost-effectiveness of a low-cost, high-volume prevention effort is much cheaper than the many prevention and intervention curricula offered nationally. For instance, it makes more sense for TMC to implement cultural prevention efforts to the 13,000 youth in their service area then it would be to send the same 13,000 to a week-long camp that cost $10,000 for 30 youth. That total would be 433 x $10,000 = $4,330,000 spent for
31
suicide prevention. Besides being completely unfeasible because the TMC annual MSPI grant is a $400,000, other more cost-effective approaches with wider application are needed.
Risks factors are some of the hardest elements to try to change because they amount to interventions and at that late stage are expensive and have limited success. If trying to reduce risk factors is ineffective or cost prohibitive, then protective factors need to be built up to risk factor equilibrium in order better position Native youth, whether reservation or urban, to successfully engage post-colonial stress, disorder, and threats to health. Native youth are plunged into post-colonial stress and disorder daily and lack the cultural foundation that helped
Native ancestors cope with similar stress and disorder. Native youth are capable of self-help they just need the confidence and tools to help themselves.
Using traditional Native culture to build protective factors, specifically connectedness, spirituality, resiliency, and hope, is the focus of this thesis and toolkit. Some major themes in this research are: 1) colonial and post-colonial policies and practices have negatively shaped modern Native health, 2) a counter balance to this imbalance (negative) is Indigenous enculturation (positive), 3) traditional Native culture builds the protective factors up to equilibrium of risk factors, thereby increasing success at coping with post-colonial conditions, and 4) that this approach relies on the strengths inherent to Indigenous culture; connectedness, spirituality, resilience, and hope. In this particular case, the local culture is Navajo but the argument made herein applies to Indigenous people worldwide as they try to find ways to heal from PCSDS.
There are two set of goals for this study, one for the thesis and one for the toolkit. The goals of the thesis are to examine the problem, provide background information, explain this research process, and make the case for culture as prevention to validate Indigenous approaches.
32
The goal for the toolkit is to reconnect Navajo youth with Navajo culture by introducing them to some baseline cultural knowledge, essential to establishing a solid cultural foundation. The purpose of this type of enculturation is to build identity, confidence, spirituality, connectedness, resilience, and hope. It also promotes healthy thinking and good living in general. This researcher posits the idea that Indigenous people have lost themselves in post-colonialism, resulting in overall poor spiritual, mental, physical, and emotional health and the journey to wellbeing starts with Indigenous enculturation.
Cultural Arts
The role cultural arts have in supporting the Iina Baa Cha Na Hasin Post-Colonial
Prevention Toolkit is twofold. First, it introduces the youth to their traditional material culture inviting them to become familiar with it and more importantly, introduces the youth to its cultural histories, uses, stories, philosophies, and teachings that go with each object. This research believes that by connecting people with the past in tangible and meaningful ways, it can have a reinforcing effect on the overall prevention message and efficacy. Moreover, the youth and adults feel a greater connection to their cultural past and each other, as well as, taking an active role in molding their collective tribal identities. A study by Whitesell, Mitchell, and
Spicer found self-esteem to be related to academic achievement (2009).
Furthermore, cultural arts enable participants to make their own objects and keep them for their own or their family's protection. This second part is very important because the youth themselves take an active role in making their own protection, protecting their families, and in so doing protect their communities. Navajo cultural arts are protective factors all by themselves.
For example, the boys who participated in the "Leather Project" got to make their bow guards. The boys heard stories about the first bow guard, how it was used, what they were made
33
from, and what powers it offered the owner. They learned about its spiritual, emotional, physical, and mental protection. They made, decorated, and wore their own bow guards.
Through this activity, the boys learned about their central role as family providers and protectors.
They saw old bow guards along with other artifacts and made the connection that by making these cultural arts, they were in fact participating in cultural continuity of their people. They felt connected to something larger than themselves and became stronger for it. Making traditional material culture not only reinforces the traditional culture, but it is a fun, interesting, and a tangible way for Native youth to feel included in the culture. There really is no set methodology for the tribal arts classes other than sharing stories, making their own items, and including them in the cultural continuum of the tribe. Cultural arts lessons can be designed around traditional seasonal activities, gender roles, and availability of experts and materials.
Effective Programs
Within the MSPI treatment practices framework, there are four prevention practices that the national MSPI program wants local MSPI grant recipients to incorporate into their overall strategies. The Substance Abuse and Mental Health Services Administration (SAMHSA) has taken the lead in conceptualizing the four prevention practices: evidence-based practices, practice-based evidence, best practices, and promising practices.
Evidence-based practices "integrate the best research evidence with clinical expertise and patient values" (NIHB 2013, 1-5). These types of practices include the two effective programs--
American Indian Life Skills (AILS) and Project Venture--that MSPI would like other programs to model. Both are national curricula that teach life skills, communication, problem solving, stress management, anger regulation, goal setting, and managing trauma. They do combine
Indigenous knowledge with their interventions but Western approaches are the focus. AILS and
34
Project Venture can become expensive due to the high number of clinicians, doctors, and therapists used to perform the treatments. Additionally, AILS and Project Venture are not effective for TMC-MSPI because they only serve a small cohort, are cost prohibitive (twenty sessions for thirty students cost $10,000), and transportation must be provided. Additionally,
Project Venture is located in Gallup, New Mexico, and TMC-MSPI clients would have to leave the reservation for treatment. TMC wants to keep everything as local as possible and stay within the Navajo Nation. Another common critique expressed about AILS and Project Venture is that they are generic, non-Indigenous focused, and very clinical. This researcher likes the idea behind them but would prefer more organic and culturally specific approaches developed by
Indigenous communities and nations themselves. This researcher believes that the answers to
Native problems lie within the strengths of the Indigenous community and culture. Indigenous nations should not have to pay non-Native experts to solve their problems when they have the traditional knowledge experts within their community.
Practice-based evidence is "a range of treatment approaches and supports that are derived from, and supportive of, the positive cultural of the local society and traditions" (NIHB 2013, 1-
5). These are the practices that this researcher seeks to develop, using modeling that is closer to evidence-based practices. TMC-MSPI wants to develop their own Navajo culture inspired practice-based programs and that is the subject of this thesis. Navajos had been using this type of approach traditionally but due to federal assimilative policies and practices, had been turned away from it in favor of more Western treatments. Now because of '638 and recent studies indicating that traditional Native culture is a protective factor, traditionally-inspired approaches are being infused into modern prevention practices. Normatively, the practices in this category use Western clinical treatments or therapies and not Native-inspired best practices. These
35
approaches are very expensive and require many psychologists, therapists, doctors, and clinicians to administer and are therefore cost prohibitive for Navajo MSPI. Additionally, these approaches, although useful nationwide, are not a good fit for Navajo MSPI strategies. What does work for Navajo is use of traditional medicine people and ceremonies to help restore balance and order back into Navajo lives. The '638 hospitals at Navajo are already using traditional Navajo ceremonies as treatments. Navajo MSPI need approaches that are culturally relevant, sensible, flexible, and can be taken out into the community at low costs.
Best practices are most often "used to describe guidelines or practices driven more by clinical wisdom, guild organizations, or other consensus approaches that do not necessarily include systematic use of available research evidence" (NIHB 2013, 1-5). An example would be
White Bison, which has spearheaded the "Wellbriety Movement" and uses a Native inspired curriculum to promote wellness and sobriety among urban Indian populations and reservations.
The program focuses on committing individuals, families, and communities to a life of wellness and daily healing. The program can be configured to address specific needs but primarily includes conferences, specialized training, "wellbriety coalitions," and initiating "Firestarter
Circles" (recovery groups) nationwide. The program, although useful to tribes across the nation, is not what Navajo Nation wants. White Bison is very much Pan-Indian in its approach and would not be a good fit for Navajo because Navajo has its own concepts regarding wellness and harmony.
Promising practices are "clinical practices for which there is considerable evidence or expert consensus and which show promise in improving client outcomes, but which are not yet proven by the highest or strongest scientific evidence" (NIHB 2013, 1-5). Some examples of these types of practices include Meth: 360 which is a national Western curriculum that is two and
36
one hours in duration. Meth 360 is currently used by all Navajo MSPI programs but it is not designed for Navajo audiences and could be better tailored or adapted to better serve Navajo people. All of these approaches have a copyright and are not to be changed without permission.
Navajo Nation does not want Navajo language, culture, or teachings copyrighted by anyone other than the Navajo Nation or Navajo entities.
Furthermore, Navajo people do not need permission from non-Navajo people or entities to talk, teach, or tell stories about Navajo culture or language. However, if Navajo wants to use any of the above listed approaches to greater effect, Navajo needs to create their own Navajoinspired prevention curricula and programs either modeled after those, or invented from scratch-the research shows that using traditional Navajo culture to build protective factors emphasizing four areas: connectedness, spirituality, resilience, and hope against the risk factors associated with post-colonialism is a much needed and valid start in a new direction for Navajo prevention efforts. There are 130 MSPI programs nationwide and many are looking to incorporate tribal culture into their programing. This research can help them justify making changes that include culture and hopefully serve as a model as to how to carry that out.
Assumptions
Upon examining interdisciplinary literature, this researcher assumes that a traditional
Navajo cultural toolkit used by Navajo MSPI programs could lead students to a successful academic life and help better prepare them for life in the modern world. Indigenous people, post-colonial states, and the Western medical establishment who want to decrease Indigenous substance abuse and suicide rates can use this study to justify funding such cultural prevention efforts. Another assumption is that MSPI, Domestic Violence Prevention, and Special Diabetes
Prevention programs nationwide will be interested in this thesis and toolkit because they have
37
expressed a need for justifying similar enculturation programs, activities, and toolkits. Once these programs are justified they can be implemented and expanded for greater effect.
Limitations
The biggest limitation of this thesis and toolkit is that the toolkit is designed specifically for Navajo. This is because the vast majority of students in the Fort Defiance service area are
Navajo and instruction of their culture had been requested by parents and school officials. One of the positive aspects of this tribal specific limitation is that it can serve as a model for other
Native communities to develop their own using this one as a starting point. Another limitation of this thesis and toolkit is that they do not include much Navajo language. The reason for that was because the vast majority of Navajo students are English speakers only.
Additionally, toolkit lessons conform to school class schedules. That is why the presentation and workshop times are designed to span less than one hour. Another limitation is that in order to schedule the presentations there must be a working agreement between prevention programs and school systems for the allotted time. Further, this toolkit excludes many important stories and lessons; it focuses on the main concepts and those determined by research and this researcher to be the most useful. According to Navajo belief, there are twelve levels of knowledge and this toolkit seeks to introduce some basic cultural concepts to Navajo youth so they can begin to construct identities and cultural awareness for themselves. This thesis offers a toolkit which just barely scratches the surface of the first level. However, the toolkit is designed to introduce baseline cultural knowledge only. It leaves plenty of room for continued learning and encourages it.
Furthermore, Coyote stories, string or moccasin games were not included in this study because it is not known when these lessons will be used and this researcher does not want
38
anyone to bring disharmony on themselves or of those listening. This is in accordance with
Navajo tradition that only permits the telling of coyote stories and the playing of string and moccasin games in the Winter. Additionally, Killer-of-Enemies stories will not be told due to restrictions regarding age, gender, and subject appropriateness.
The methodology and techniques used throughout this study were qualitative. This researcher combed through the relevant literature, attended several Navajo cultural classes/presentations, and developed the toolkit based on what is available and widely accepted as valid by the various interdisciplinary schools of thought like education, public health, sociology, psychiatry, psychology, American Indian studies, Navajo studies, ethnography, and art. The decision on which traditional concepts are taught was based on areas Navajo youth could use to help them cope with feelings of hopelessness and disconnection. These are symptoms of anomie and more importantly, they represent obstacles, distractions, and deviations from one's journey on the Corn Pollen Path of Life. From a Navajo perspective, anomie represents a human departure from Sa'ah Naaghai Bik'eh Hozhoon, the basic Navajo theory of life and harmonious life fulfillment. For Navajo, the goal is to get past the hardship and continue one's journey.
This researcher is not a doctor, therapist, nor clinician but has devoted hundreds of hours of his time presenting MSPI information, watching cultural presenters, and administering MSPI evaluations for those presentations. The majority of modern Navajo people for the most part are not aware of their deep connection to the cosmos and its importance to their daily lives. The result is insecurity or ontological insecurity to be more precise. They do not feel connected to themselves, each other, their ancestors, their ecology, or to their culture. For many of them, there is no cosmic order, only chaos, insecurity, estrangement, hardship, poverty, and disillusion.
39
This is the post-colonial Indigenous condition. Native people want help from a system that can respond using traditional Native culture as prevention and intervention. This type of toolkit can be useful in creating a common cultural starting point for young Navajo and better enable them to deal with the many negative issues plaguing contemporary Navajo youth and adults.
Designs
The toolkit is divided into 24 modules each being fifty minutes in duration. The lessons within the toolkit are evenly divided into four areas of emphasis: connectedness, spirituality, resilience, and hope. Research determined the most promising for building protective factors and provided evidence for the thesis and toolkit. At the end of each lesson is a section called post-talk, whereby the presenter leads a discussion to elicit responses from the audience regarding lessons and messages. Not everyone makes to the connection between stories and prevention messages so this part helps make the connection.
Many of the lessons are covered in other Navajo culture and language classes offered as part of the Navajo school curricula. The reason for that is to reinforce cultural concepts like kinship, rules for living, Corn Pollen Path of Life, and Hozho. This researcher believes that teaching information that is reinforced in other lessons and classes helps students to internalize the information better because they hear it often and from more than one source. This toolkit will be presented in English.
Each school adopts their own curricula and as administration and faculty change, so does consistency in cultural lessons. The focus of the proposed toolkit is learning traditionally inspired coping skills, setting goals, maintaining balance, and understanding the basics of Navajo culture. The English language will be the primary language used because so few Navajo children speak or understand Navajo fluently. Navajo words and terms will be used and
40
emphasized but the lessons will be presented in verbal and written English to better comprehend them and to make efficient use of time.
The lessons will be organized as an outline. The rationale for this is the lessons are designed to be delivered orally with a cultural liaison using the outline like a roadmap, whereby they drive the student through each lesson using their own combination of personal experience, traditional stories, modern stories, and MSPI messaging to get each lesson across. It is designed to teach a lot of information in a little amount of time. It can also be used like an outline for the more experienced presenter. This makes each lesson a unique and consistent experience for the audience and presenter. Another reason for the outline is different parts of the reservation and clans have different cultural interpretations, stories, and traditions. This makes the toolkit more flexible. Each presenter could use their regional or kinship differences to tailor the lesson to a specific community cultural orientation.
Measurement
Currently, the TMC-MSPI uses a survey-evaluation at the beginning and end of all
"Honoring Life" presentations to measure outcomes. The MSPI survey-evaluation will be used to measure outcomes for the toolkit unless others were identified and accepted as valid and useful. This researcher does recommend a different form of measurement however, the MSPI programs would have to accept, implement, and interpret it for their own use. The proposed measurement is included in the toolkit chapter. An important point to make regarding the validity of the proposed toolkit will be determined and discussed by TMC and not the researcher. The research's job was to make the case for culture as prevention and develop a cultural toolkit. Whether it works or not remains to be seen. Another important point to make is that the process of validating the toolkit's efficacy will take a longitudinal study several years in
41
the making, consisting thousands of people, and sustained funding to complete. Even with all that, whether it is determined to be evidence-based or not, validity will always be called into question. It is difficult to measure prevention efforts. How does one measure a negative based on human behavior or in this case non-behavior? Further, how does one measure that into the future? Many of these and more questions are currently being answered and hopefully will soon be shared.
Human Subjects
There were no human subjects used in this study, as all sources used within come from published printed materials, college classes/lectures, online references, common tribal knowledge, and cultural presentations. No interviews were conducted in this study.
Dissemination
This study will be replicated and disseminated across the Navajo Nation and possibly urban Indian centers across the United States. There are large Navajo populations in cities all across America and the toolkit could be presented to Navajo youth and adults to help ground or re-center them culturally. The toolkit could also be presented to Native and non-Native youth to inform them about Navajo culture. The proposed toolkit could be used as a learning device to promote multiculturalism in off reservation public schools, colleges, and universities. Besides education, a Navajo culture toolkit could be useful to the Navajo Nation Work Force
Development Program, the Boys and Girls Club of Navajoland, the Navajo Nation Department of Justice, the Navajo Nation Department of Behavioral Health, Navajo Nation Cultural
Preservation Department, Navajo Nation Parks and Recreation, Navajo Nation Department of
Diné Education, and other Navajo communities looking to go '638. The toolkit will be accessible as an online cultural learning tool.
42
Other tribes and urban Indian centers could adopt, adapt and implement it as a tool to introduce their Native people to their respective cultures. Many of the ideas, theories, and methods proposed in this study can be substituted using other Western and Indigenous epistemologies, ontologies, and methodologies. Indigenous people are encouraged to adapt the toolkit to their unique setting and situation. In the case of urban Indian centers and tribes that have lost their respective cultures, pan-Indian culture could be used in place of individual tribal cultures. Indigenous culture changes with each community, is determined by each community, and is constantly evolving as each community does. Indigenous people determine their culture, whether traditional, mixed, colonial, or post-colonial.
43
Chapter 2: Historical Impact
To understand the origin of poor Native health, a historical examination was necessary. I asked myself: why do Native people consistently top the charts in most deficit measures like substance abuse, domestic violence, diabetes, and suicide? More questions followed. How did it get this way? What happened?
The answer was the elephant in the room: colonialism and post-colonialism. Historically, subjects involving Native people have always been difficult because the Western medical establishment has only recently and implicitly acknowledged Western colonialism and postcolonialism as being complicit to poor Native health. At this point, the Substance Abuse and
Mental Health Services Administration (SAMHSA) acknowledges this recent development with the publication of "To Live to See the Day That Dawns: Preventing Suicide by American Indian and Alaskan Native Youth and Young Adults" but still issues a disclaimer stating that the "views, opinions, and content of this publication and do not necessarily reflect the views, opinions, or policies of SAMHSA or the U.S. Department of Health and Human Services (HHS).
However weak the acknowledgement is, it is gaining purchase across post-colonial states and the Western medical establishment as more and more urban and reservation Native American communities turn to their respective culture to heal and restore their health and well-being. The standard narrative is that Native people are deficient because that is what the data indicates.
Academic and medical research indicates that poor Native health is an engineered outcome. The researchers do not say that but the research does.
The following chapter provides a historical overview of Indian policies as they have impacted modern Native American health. This historical overview covers colonial and postcolonial policies from a Navajo perspective (this researcher) is intended for decision makers
44
regarding Navajo, Native, and Indigenous health, and uses specific Navajo examples throughout to demonstrate how Navajo use culture to counter colonialism and post-colonialism.
Contact and Colonialism
Many people agree that historical physical contact between Europeans and Native
Americans began in 1492 when Columbus arrived on the New World shore. New World colonialism began when Columbus set his designs on the Western Hemisphere. For Native
Americans, it began with the Spanish landing in Florida in 1513. For the Navajo, colonialism lasted from 1583-1846. The gap between 1513 and 1583 was the time it took for the Spanish to first land in Florida and eventually move west until colonizing the Southwest and make specific reference to the Navajo (Bailey and Bailey 1986, 12).
In 1520-24, the first deadly wave of the European invasion came in the invisible form of
"virgin soil epidemics" which are mega viral pandemics and, whether unintentional or intentional, it was a precondition to colonialism. Virgin soil epidemics were devastating to the
Indigenous people because they were unknown, unforeseen, and undocumented. The first documented pandemic, which was between 1520-24, was estimated to have killed 75 % of the
Indigenous population as it spread throughout the Western hemisphere (Dobyns 1983). Native
Americans did not have the knowledge or immunities to fight virgin soil epidemic diseases like smallpox, cholera, influenza, bubonic plague, typhus, measles, and tuberculosis. These and other diseases killed the majority (75,000,000) of the Indigenous population before most Europeans met them face to face. Population estimates vary but the number of Native Americans in the western hemisphere, at the time of contact was around 100,000,000 (National Geographic
Channel 2013).
45
Old World diseases killed New World Native people by the millions in advance of the
European military invasion and this led to the European idea that the "New World" was abandoned, uninhabited, and/or virgin land waiting to be claimed and colonized. The fact was that the land was not "virgin land" as perceived by the Europeans, but was actually "widowed" from its long-term Indigenous stewards (Jennings 1975). There were so few people on the land at the time of physical contact between the two people that it created a wide-spread misperception the land was virgin.
With the high pandemic body count, so went the political, societal, ecological, and military knowledge to effectively deal with the new problem of Europeans invading and colonizing Native America. Indigenous populations were devastated and in a general state of disorder, as they were still recovering from the previous viral apocalypse and were unable to organize a strong resistance to the subsequent European invasion. This contributed to the
European belief that Native people were weak militarily. The first viral outbreak was the deadliest and others soon followed. A "serious contagious disease causing significant mortality invaded North American people at intervals of four years and two and a half months, on the average, from 1520-1900" (
Dobyns 1983, 24
). These waves of disease would keep Native people in a state of chaos and recovery keeping their population numbers low, which made it easier for
European invasion, colonization, and eventual domination.
There is no documentation of viral outbreaks impacting Navajo during this time.
However, there is documented evidence of a viral incident coupled with a drought at Hopi from
1775 to 1779. The Spanish conducted a census whereby they walked around the village and physically counted families and multiplied that number by six to get the estimated total population. Escalante's estimated Hopi census in 1775 was 7,494 people representing 1,249
46
families averaging six people per family (Adams 1963, 133-135). In the Fall of 1779, Hopi leadership requested assistance from the Spanish in Santa Fe. The Spanish sent officials to Hopi and they conducted an official census and determined the Hopi population in 1779 to be 798 people representing 133 families (John 1975, 600). That event represents an approximate 90% reduction in population within a four year period. Similar events at other Pueblos in the region would have impacted Navajo either adversely or beneficially. Adversely, the disease may have continued to spread and killed many Navajo. Beneficially, the survivors were absorbed into
Navajo society brought experience in dealing with the disease and immunities if they had them.
Both of these beneficial attributes could have helped Navajo respond resiliently to unnatural perturbations like viral outbreaks. No doubt, traditional ecological, ceremonial, material culture, and agriculture were passed from Pueblo to Navajo because it is prevalent throughout Navajo oral history.
During this time frame, Navajo and Hopi were neighbors but "at war" with each other
(Fewkes, 1900; Adams, 1963: McNitt, 1972; John, 1975; Bailey and Bailey, 1986). Likely, what happened at Hopi and other locations around Dinetah or Navajo land also directly impacted
Navajo people. Fortunately, a rich oral history exists and that tells us that at the same time that
Pueblos and other tribes were being assaulted by viral outbreaks, colonial chaos, and genocide, the Navajo population was growing fast. At a time when Navajo people should have suffered like everyone else in Native America, Navajo responded differently: they absorbed the survivors
(who had knowledge and immunities) into Navajo society by developing a clan system and were able to turn this deadly hemispheric viral outbreak into a positive outcome. Originally Navajo had four clans but now have sixty-four. This was a resilient response to colonialism.
47
Another resilient response was Navajo adopting livestock to replace the diminishing wild game. By collecting Spanish livestock, the Navajo were better able to not only survive, but thrive from the increased food security and economic, social, political independence that livestock provided. Moreover, the Navajo practice of extended families tending herds in isolation for months at a time while constantly following green pastures kept the Navajo safe from communicable diseases that tended to concentrate at waterways, trading routes, and sedentary populations (Dobyns and Eular 1972, 14-15).
Political relations between Europeans and Native Americans started out on equal terms and treaties were used to secure peace and allow for European occupation. Even though the
Indigenous numbers had been reduced, tribes were still the hegemonic power in the New World, and Europeans had to deal with them on their terms. This set the tone for future political relations between Europeans and Native Americans. They would deal with each other diplomatically as equal sovereigns and would use legally binding contracts or treaties to frame that relationship, at least at the start of the relationship.
Sovereign relations include war and there was plenty of fighting between the colonizers and Native Americans during this period. Some of the major battles of this time include: the
Powhatan War, the Pueblo Revolt, the French and Indian War, and Pontiac's War (Keenan 1997).
Each one resulted in a similar outcome: massive Indigenous casualties and enslavement, land and property seizure, death, and in some cases extinction. More typically, Indian wars were carried out on a small scale, involved enemy tribes, and lasted for years. Often, the survivors would become homeless refugees and would be forced to join other tribes for safety and survival. It is important to establish that the Navajo War was carried out by three different colonial and postcolonial sovereigns for over two hundred years and numerous tribes were involved in order to
48
defeat the Navajo (Reeve 1958; McNitt 1972; Aronlith 1980; Denetdale 2010). Navajo warrior culture continued to evolve during this time and this became a resilient adaptation that benefited
Navajo people. All that time spent fighting monsters, tribal enemies, and foreign invaders made
Navajo people emotionally, spiritually, physically, and mentally strong and resilient.
Navajo responses to European war and raiding, was more war and raiding. Even though
Navajos are typically portrayed as peaceful, they have a warrior ethos that calls for constant balance. "If they kill two of us, we kill two of them" was a common way Navajo people dealt with enemies and that was what typified the on and off again relationship with the Spanish
(Aronlith 2009). Navajos have a culture and history that uses war to reset the balance and "going to war" is something Navajo became good at as they fought the Spanish repeatedly, (Aronlith
2009). In 1659, the Navajo Nation was the first New World Indigenous group to liberate horses from the Spanish, mount them, and ride against European invaders (BCI Eclipse 2005). Navajo oral accounts say horses were seen in the house of the Sun, that ancestors "sang for horses", and the Holy People delivered them to help people (Denetdale 2010).
Today, many people look at copies of old Spanish colonial maps and think the Spanish controlled the whole western United States. In truth, they claimed that land but were unable to control or manage it. In fact, Spanish territory ended where Navajo territory began. Navajo did accommodate a Spanish presence in certain locations but only because those locations were traditionally shared with all tribes. Those settlements grew into Spanish colonies that were inhabited and abandoned at various times, depending on the state of peace or war with the
Navajo and others.
Locally, the Spanish period lasted from 1583-1820. The Spanish claimed and colonized land traditionally used by the Navajo, Apache, Pueblo, Ute and several other tribes (Hammond
49
and Rey 1966). Spanish incursion into the Rio Grande Valley upset the delicate social, political, and ecological balance that existed between various Indigenous nations of this region for thousands of years. Because the Spanish did not have enough Spanish population to maintain such large land claims and holdings, they enslaved the Indigenous Pueblo people to make up for the labor shortage. Spanish occupation, religious conversion, cultural intolerance, rape, and slave raids brought them into conflict with the Native population (Sando 1992).
At first, the Spanish conquered and enslaved the Pueblo Indians to meet their own labor needs but that created conflict and contributed to the Pueblo Revolt. In 1680, the Pueblo Indians united under the leadership of Popay to expel the Spanish from New Mexico. The Spanish returned to New Mexico in 1692 at the invitation of the Pueblos because they wanted protection from Navajo and Apache raids. Once the Spanish had re-established themselves back in their former colonies, they engaged in less brutal tactics and practices on their Pueblo hosts. Instead of enslaving Pueblo Indians, which angered the Pueblos, the Spanish set their sights on the dreaded Navajo and Apache. The growing Spanish colonies turned to the Navajo and Apache to supply a remedy for their labor shortage. The Spanish regularly conducted slave raids into
Navajo land, further exacerbating Navajo stress and disorder. The Navajo responded by expanding further South and further West as Spanish colonies and influences continued to grow.
The Spanish were surrounded by Navajo on the West and the Apaches on the North, East, and South. Navajo and Apaches are related and during these early days, they were strong and fierce allies as they raided colonies as far away as Northern Mexico and tribal communities as far away as Oklahoma (Aronlith 1980; Denny 2010; Denetdale 2010). During the early days of
European colonization, the Spanish used a number of tactics to break Navajo and Apache alliance and consequent regional hegemony. Their most successful tactic was to turn the two
50
tribal groups against each other. In 1780, the Spanish were able to convince the Navajo to attack the Chiricahua Apache, and thus ended the Navajo-Apache alliance and regional hegemony
(McKnitt 1972). With Navajo and Apache fighting each other, the Spanish could finally establish a firm grip on the region.
Traditionally, Navajo lived according to their culture, maintained distance from enemies and foreigners, tended livestock, avoided waterways, and absorbed the good with the bad, thus adapting to Spanish colonization. The Spanish presence in the Southwest upset the long established regional balance and contributed to Navajo stress and disorder. The Spanish tried several times to convert the Navajo to Catholicism but consistently failed (Brugge 1985). The
Spanish also tried to persuade the Navajo to live in villages and adopt more sedentary lifestyles, but that failed as well (Brugge 1985). The Spanish did not understand Navajo people or culture and could not elicit Navajo cooperation.
The Navajo responded with culture, lifestyle, and ceremonies to cope with the colonizers and the disharmony they brought. The Navajo also rationalized the Spanish and Mexicans as monsters bullying the Pueblos and Apaches, and therefore should be dealt with according to tradition, which was war. Accordingly, Navajo Monster Slayer stories teach Navajo how to be unafraid and to kill large, uncontrollable destructive monsters, thus re-establishing balance or harmony (Aronlith 1980; Zolbrod 1984; Mose 2013). When the Spanish pushed the Navajo, the
Navajo pushed back, according to tradition. Additionally, Navajo rationalized raiding the
Spanish as a form of taxation because the Spanish had upset the political, economic, and ecological balance or cosmic order and thus had to pay with valuables: hard and soft goods
(Aronlith 2009; Denetdale 2010). Western scholars often refer to this annual southern
Athabaskan appropriation practice as "harvesting" settler livestock, crops, and property
51
(Goodwin 1942, 69). From the Navajo perspective, one has to fight and win to have a legitimate claim on someone else's land, resources, or property (Aronlith 1980; Denetdale 2010; Denny
2010). A loss would mean there is no legitimate claim, and tribute must be paid to the legitimate claim holder. Some Spanish paid and consequently lived relatively free of raids while others refused and became the targets of annual raiding parties or tax collection (Denetdale 2010).
Navajos would visit squatters once or twice annually and demand payment, usually sheep or cattle. If the squatters did not pay, they would be raided for payment and could potentially be killed or enslaved in the process. Raids and warfare were an art form to Navajo and they used ceremonies, strategies, and actions against enemies, whether Spanish or not, to maintain balance.
This is important because it explains a lot about Navajo motivations for raiding, counter-raiding, vengeance, and warfare. Hostility typified the relationship between the Navajo and Spanish during this period and that adverse relationship was initiated and sustained by the Spanish according to Navajo oral history (Aronlith 1980; Denetdale 2010).
The Mexican period was from1821-46 and, for the Navajo, things went from bad to worse. This was the period of Mexican independence from Spain and France. It was a difficult time between Mexico and the Navajo Nation, as warfare, raiding, counter-raiding, and retribution characterized the relationship between the two sovereigns during this time period. Mexico did not have the financial backing of the Spanish crown and the northern frontier outpost of Santa Fe was for the most part, isolated militarily and economically. Warfare between Mexico and Navajo increased during this time as colonial raiders turned to murdering Navajo men and stealing and selling Navajo women and children into slavery as an economic pursuit (McNitt 1972). It was estimated in the middle 1800's by Navajo Peace Chief Barboncito that nearly half the tribe
(5,000) was held in captivity in New Mexican and Mexican haciendas (Brugge 1985).
52
This was a time of great instability and unrest, as colonial forces often employed other tribes as mercenaries and paid them with Navajo slaves and stolen property. This period was very stressful to Navajo and was known as Nahoonzhood or "the time of fearing" (McNitt 1972).
Ute, Comanche, Pueblo, and Apache were all used by the New Mexicans against the Navajo during this time period: the Navajo people were not safe anywhere. It was during this period that the Navajo reputation for war and raiding took hold and began shaping their relationship with colonial and post-colonial forces. When the United States entered Santa Fe, New Mexico in
1846 and declared it part of the United States, Mexican rule and their formal relationship with the Navajo ended. From 1846 on, the United States took physical and political control of the
American Southwest and began the post-colonial era, which leads up until the present.
Post-Colonialism
The first day the United States was recognized as independent by Britain was also the first day of the post-colony, the post-colonial, and post-colonialism, at least as they apply to this research. For Navajo, post-colonial America started when the United States marched into Santa
Fe and declared it the United States in 1846. Since the inception of America's post-colonial state, its' political relationship with the Native nations has been evolving: often times to the detriment of the nations. Death, land loss, political subordination, cultural assimilation, status termination, coerced relocation, involuntary sterilization, and criminalization have characterized the majority of this long-term political relationship.
Many believe that too much colonial and post-colonial damage has been done for too long and that Native people are past the point of recovery. This researcher agrees that a lot of damage has been done for a sustained amount of time however, this researcher disagrees that
Native people cannot recover. Native people are the most resilient people on the face of the earth
53
and have demonstrated time and time again that they are not willing to just lie down, die, and fade away. Otherwise that would have happened and it has not, at least for the most part. Many tribes have disappeared but many more have survived, reconstituted, and are experiencing regrowth today. Indigenous cultural revitalization is taking place all across the globe.
Within this researcher's lifetime, the U.S. government's post-colonial relationship and policies have begun to positively impact Native Americans. Only after decades of protest, resistance, pressure, and dialogue have Native issues even begun to be addressed. The process has been slow, painful, and incomplete but progress has been made. It has also been necessary and important to discuss the role federal policies and practices have had in shaping the lives of modern Native Americans because almost every policy era has had devastating effects on Native health. Post-colonialism completely changed the Indigenous world and still does today. This next section briefly covers major colonial and post-colonial Indian policies and how those policies created Indigenous post-colonial stress and disorder.
During the early days of United States and Native relations, the federal government was new and the tribes, although greatly diminished from disease, were stronger politically and militarily and therefore the relationship was characterized as "nation to nation": tribes were recognized and treated as equal sovereigns. This was the post-colonial treaty era (1776-1871) and was characterized by treaty-making in order for the United States to acquire land and maintaining peace with Native Americans. Treaties, the U.S. constitution, and the authority that confers with them became the basis for political domination (plenary power) of the tribes and treaties were used in this context to push Indians onto reservations, thereby relinquishing more land.
54
This period was characterized by war and treaty breaking to also acquire land. It was during this early period that a hegemonic shift in political power occurred. The once strong
Native nations became weak, the once weak U.S. became strong, and everything Indigenous changed for the worse: Native people have been plunged into chaos, trauma, dysfunction, and have been adapting, mal-adapting, and recovering ever since. For Navajo, this period changed everything. The United States and the Navajo Nation officially went to war in 1846, the Navajo surrendered to the United States in 1864, and the United States and Navajo signed a treaty in
1868 that outlined their political relationship from that point on (McNitt 1972; Wilkins 2003;
Denetdale 2010). That treaty allowed the Navajo to return to a small portion of their homeland and created regional stability which allowed the Navajo to grow and prosper at a time when other tribes were in danger of extinction. Traditional Navajo culture and teachings are what kept the
Navajo Nation together and moved them forward during this turbulent time.
At this time, even though the Navajo were well into post-colonial era, they maintained a culture that strived for balance. Additionally, Navajo culture teaches not to dwell on the past or negative things, because doing so invites hardship into one's life (Aronlith 1980; Denny 2010;
Denetdale 2010; Schwars 2001). Culture, spirituality, and traditional teachings are what helped
Navajos through this difficult time. Navajos have a culture that has been shaped by apocalypse and it predicts and prepares Navajo people for more to follow. Depending upon whom you ask, many Navajo believe we still have either three or seven more worlds left to enter. Regardless of whether modern Navajo think we are in the fourth or fifth world, they believe that it will come to a violent end. Navajo creation stories explain how each of the previous worlds came to a violent apocalyptic end. Navajo also know that a new world will start and we have learned from the past that we must keep the good and drop the bad because when you move from one world to the
55
other, you can't take everything with you. This idea, however simple and informal, served as words to live by as Navajo grew while other tribes diminished.
Navajo culture is structured in a way that allows for the adoption of people, materials, and knowledge. Navajo people are traditionally taught to make the best out of every day and situation. Everything has good and bad and one should constantly balance bad with good. This teaching may be what allowed the Navajo to thrive when others did not. One of the problems of living in a post-colonial world today is Navajo people have become out of touch with the very cultural, intellectual, and material tools that can help them overcome post-colonial stress, disorder, dysfunction, and suffrage. Resilient ideas about when things get tough, one must get tougher, learn from the experience, and move past it, are not being transmitted to young Navajo.
As a result, Navajo people are getting caught up in post-colonial conditions and falling victim to them, resulting in high rates of domestic abuse, diabetes, heart disease, obesity, substance abuse, and suicide. According to the Navajo Learning Model, it is the adults' responsibility to teach youth to take care of themselves so they can in turn, take care of the community. The elders retain the culture, the youth are the hope for the future, and it is the adult's responsibility to successfully prepare the youth with lessons from the elders.
The Indian Removal and Reservation policy era was next and lasted from 1828-1887.
Once the U.S. became dominant and started growing politically, militarily, and demographically, it needed more land to accommodate population growth and geographical expansion. The U.S. turned to the tribes for more land. President Andrew Jackson wanted tribes moved west of the
Mississippi River and announced a new removal policy for American Indians. This policy era uprooted tribes and forcibly relocated them onto less desirable lands further away. This era produced the infamous Cherokee Trail of Tears and Navajo Long Walk, where thousands died of
56
sickness and exhaustion en route to their post-colonial concentration camps. Once relocated and in a state of chaos, the trauma continued in the form of concentration camp internment or reservation life.
The removal and reservation era turned Indigenous people into dependent, dislocated, and disillusioned refugees. Moving tribes onto different lands, further west, put the refugee tribes into conflict with the other tribes who considered the new reservation their traditional territory. This policy encouraged and increased inter-tribal conflict and contributed to increased levels of Indigenous post-colonial stress and disorder. Once tribes were pushed onto reservations, their world changed from independence to dependence. The federal government had to supply, feed, and shelter thousands of uprooted and traumatized Native Americans with nothing to do but conform to a new post-colonial way of life that was not congruent with their previous traditional lives. Because Navajos had made the best out of post-colonial conditions and ideas, their reservation land expanded while other tribes contracted. During this time,
Navajos used their culture to cope with a fast changing post-colonial world. It is commonly believed among traditional Navajo people that ceremonies, prayers, songs, and offerings are what facilitated Navajo population growth and land expansion (Aronlith 1980; Denny 2010; Denetdale
2010).
Allotment and Assimilation define the next policy era (1887-1934). The goal of this era was to break up tribalism and assimilate Native Americans into American culture. Theodore
Roosevelt described it best with "The General Allotment Act is a mighty pulverizing engine to break up the tribal mass. It acts directly on upon the family and individual." (Tyler 1973, 104).
This policy era began with the enactment of the General Allotment Act in 1887, more commonly known as the "Dawes Act." This law split up communal tribal land holdings into individualized
57
160, 80, and 40 acre tracts of land that would become fee simple after a period of 25 or more years. Any land left over after distribution among tribal members was declared surplus and opened up for non-Indian sale and settlement. Between 1887 and 1934, approximately 100 million acres of Indian land was appropriated by the federal government using this law
(Kickingbird 1973). Of the remaining 48 million acres retained by tribes, 20 million aces was dry desert (Deloria 1983).
This era had devastating physical and psychological effects on Native people. It made
Native people landless and homeless on their own land. It created refugees, poverty, dislocation, and dependence. It achieved its goal as it broke up tribalism using law, policy, and practice as the pulverizing tool. When it was over, the massive transfer of land during this period caused even more stress and sickness to Native people because it made many homeless after losing their land when they failed to pay property taxes, something they had never had to do when it was held in trust status. "More than 26 million acres of allotted land was transferred out of Indian hands after it passed out of trust" (Wilkinson 1987, 20). Additionally, allotment also tore families apart, as they competed with each other over the remaining fractionated land and resources. This stress is still being felt to this day as allottees are crowded into smaller and smaller plots.
The allotment policy placed a substantial burden on Indigenous people and contributed to further post-colonial stress and chaos. For Navajo, this policy created what is known today as
"checker board" land, meaning land that has been fractionated into saleable parcels. This land was often sold and settled upon by non-Indians, thus taking it out of tribal holdings and jurisdiction. It created a checker board pattern of Navajo and non-Navajo land ownership and in
58
doing so created further political and jurisdictional problems. Whole communities that were once all Navajo were no longer.
Besides allotment, other assimilationist policies like compulsory boarding school, outlawing of traditional practices, and ceremonies were imposed on Native people to push them into conformity of post-colonial America. The federal government during this period forced assimilation on Indians by using off reservation, military-inspired boarding schools to "kill the
Indian and save the man" (Utley 1964). U.S. Army General Richard Pratt devised the policy to accelerate the Indian civilization process. Pratt claimed at the 1883 World Convention that the best way to assimilate Indians into mainstream society was to "immerse [them] in civilization and keep there until well soaked" (Utley 1964, 335). This policy was practiced extensively.
Assimilating Indian children into the American mainstream was the goal of the boarding schools. Native children were removed from their parent's love and protection and placed into rigid and emotionless institutions that often hurt the children more than helping them. The schools banned children from speaking traditional Native languages and practicing their long held customs and traditions. Boarding school operated so that children would spend half the day in school learning basic skills and the other half maintaining the school or working at various trades (Lomawaima 1994). The schools did not provide emotional support, proper nutrition, coping skills, or advanced educations. At the same time, the schools were notorious for physical, emotional, mental, cultural, and sexual abuse (Churchill 2004). However, for some Native children, boarding school was a positive experience and was much better than living in the conditions back home on the reservation where starvation and idleness were common
(Lomawaima, 1994).
59
The boarding schools did not teach parenting or coping skills and, as a result, produced thousands of brainwashed, culturally assimilated Native Americans who were not ready for either mainstream society or traditional life on the reservation. They did not fit into either society, became marginalized, and often fell into dysfunctional lifestyles, perpetuating themselves and their subsequent family's disconnection from their respective traditional cultures.
The numerous negative effects of boarding schools has affected generations up to this day. Many of the boarding schools' assimilative practices lasted until the 1970's when it was stopped.
Assimilation policy had a serious negative impact on Navajo society that is still being felt today. In fact, the boarding school indoctrination that countless Navajo went through for over a hundred years is the most destructive policy ever imposed on the Navajo people. It separated generations of Navajo people from their culture, language, traditions, and ecology. This, in turn, produced exponentially more Navajo who were and are disconnected from their people and culture. Boarding schools are one of the main post-colonial reasons why Navajo are struggling today, because the experience made Navajo people feel uncomfortable in their own skin. The
Indigenous stress and disorder born from this policy has yet to be fully acknowledged or calculated. Traditional Navajo culture is what guided Navajo people through the apocalypse and post-apocalyptic worlds, and had given Navajo people a strong foundation to face and overcome adversity. Boarding schools changed all that when they severed the connection between Navajos and their identity, culture, community, and ecology.
Indian Reorganization was the next policy era and it lasted from 1934-1945. The failure of the allotment policy brought national criticism and prompted government officials to investigate into the actual state of Indian affairs. The result came in 1928 with the publishing of
The Problem of Indian Administration, a monumental study more popularly known as the
60
"Meriam Report" and it detailed the dismal state of Indian affairs, uncovering deplorable conditions in areas such as education, economic conditions, health, family/community life,
Indian migrants, missionary activities among Indians, and legal issues surrounding Indian problems (Meriam 1928).
The report honestly dealt with the reality Native people faced on a daily basis and articulated it to federal officials in a way that prompted them to act. The report states, that "The work of the government directed toward the education and advancement of the Indian himself, as distinguished from the control and conservation of his property, is largely ineffective. The chief deficiency in this world lies in the fact that the government has not appropriated enough funds to permit the Indian Service to employ an adequate personnel properly qualified to for the task before it" (Meriam 1928, 8). Once the federal government came to understand how federal policies had negatively impacted Native people, the government began to take a serious look at reforming Indian policy.
By 1934, President Roosevelt had implemented the "New Deal" to get America back on its economic feet after the great depression and it included a new deal for Indian policy as well.
John Collier had been selected to develop and oversee the reorganization of Indian affairs, fix the problems outlined in the "Meriam Report" and was allowed to implement some of his own ideas regarding cultural renewal and "the act did lay the foundation for the resurrection of tribal government and power" (Deloria 1983, 10). The Indian Reorganization Act (IRA) of 1934 reversed the failed allotment policy and offered more Native self-government but was still subject to the approval of the Secretary of the Interior (Schusky 1970). The federal government wanted tribal government to look more like the federal government by adopting by-laws and
61
constitutions. The rationale was that tribes could look official and conduct business more easily by being able to sign contracts as a single entity.
The Navajo Nation was one of 77 tribes that rejected a formal constitution but organized itself into a business council for the purpose of signing business leases (Wilkins 2003). Navajos would reorganize themselves into a tribal council of elected representatives in 1936. In doing so, the Navajo would take on the appearance of western government but eventually transform it into a unique Navajo institution. The most difficult post-colonial imposition Navajos had to face during the reorganization era was "stock reduction" (Wilkins 2003). In 1933 the Navajo had
1,053,498 sheep and by 1946, they had 449,000 when active reduction was stopped (White
1983).
The federally imposed reduction of Navajo stock had a debilitating and traumatic effect on Navajo people as it threatened their independence, culture, economy, and identity. Navajo people hold all life sacred and the way the federal government went about killing off the stock and leaving them in large piles struck at the heart of Navajo well-being. As a response to stock reduction, Navajos used ceremonies and culture to improve and increase their sheep herds, thus rebalancing their life worlds. Interestingly, Navajos seem to rebound and regain purchase to pull themselves up, time and time again, from most of the post-colonial policies imposed on them, however disastrous. This ability to overcome hardship is what makes Navajo people and culture resilient.
Termination was the next policy era (1945-61) and it came immediately after World War
II. In 1945, John Collier resigned after being criticized for instituting "socialism on reservations" and feeling his personality was attracting more attention than his programs (Deloria
1983). This signaled a new shift in post-colonial Indian policy. In 1947, Republicans took
62
control of Congress and sought to cut expenditures and dismantle "New Deal" programs like the
IRA. Also in 1947, acting Indian Commissioner William Zimmerman was asked to produce a list of tribes that could be categorized into three groups; "those tribes that supposedly were ready for immediate termination of federal services; those tribes that could handle termination within ten years; and those, after additional governmental expenditures on education, that would eventually be ready for termination within fifty years" (Wunder 1994, 99).
In 1953, the Congress unanimously passed the House Concurrent Resolution 108 also known as the Termination Act, which effectively ended the guardian-ward relationship between the federal government and the tribes that were on Zimmerman's doomsday list. By the time the policy was abandoned in 1962, 109 tribes and bands had been terminated by the federal government and an additional 1,362,155 acres of land had been taken from tribes (Fixico 1986).
Navajo was on the third list and did not have to worry about termination, but would be targeted to participate in a new federal sister policy experiment called urban relocation.
The urban relocation program policy era went hand in hand with the termination policy
(1951-61) and was primarily focused on speeding up the assimilation process for those not terminated, as it pulled "surplus" Native Americans off reservations and "redistributed" them in ten different cities (Ono 2004). From 1957-59, 35,000 Native Americans participated in the voluntary program (Fixico 1986). Navajos were the first tribe to be targeted by the relocation policy when, in 1951, they were recruited; they were given a one way train or bus ticket to
Denver, Salt Lake City, or Los Angeles, and upon arrival, a BIA relocation officer met them, provided them with a check for one month's rent, groceries, and clothing; housing recommendations; and a job (Fixico 1986). This policy had mixed results for the Navajo. On one hand, it offered an opportunity to go to the city and join in American pursuits. On the other
63
hand, it offered challenges that many Navajo were not prepared to deal with. By this time, many
Navajo people had gone through boarding school and did not learn traditional Navajo culture.
They were ill prepared for post-colonial urban America and fell victim to what it had to offer: paternalism, capitalism, individualism, consumerism, and alcoholism.
Most relocation jobs were low pay and for unskilled workers. The housing was considered ghetto by any standard and Natives had to find ways to survive in a post-colonial world by adapting or mal-adapting to urban marginalized living conditions. Alcohol became a big problem for urban Native Americans during this time, as more and more turned to alcohol as a form of self-medication, which led to addiction, and the many social, mental, and behavioral problems that accompany it. Native People were having a difficult time adjusting to postcolonial urban and reservation life, but kept migrating to urban centers, even after the program ended. By 1980, over half of the 1.6 million Native Americans lived in urban centers (Fixico
1986). This urban migration continues to this day and Navajo can be found in every major city.
Today, 60% of the Native American population lives in off-reservation urban areas (U.S. Census
2010).
Self-Determination
The next policy era was Self-Determination. It began in 1961 and continues to the present. This policy got a slow start, but since its inception, post-colonial conditions have been improving for Native Americans. For this research, self-determination as a federal policy started in 1961 when Congress debated whether or not to include Native Americans in the Area
Redevelopment Administration Act (75 Stat. 47). When the debate ended, it was decided Indian tribes would be eligible to be project sponsors under certain sections of the bill. This act
64
signaled that the federal government would allow tribes the opportunity to manage their assets instead of terminating them.
A few years later in 1968, while addressing Congress, President Johnson proposed, "a new goal for our Indian programs; a goal that ends the old debate about termination and stresses self-determination" (Johnson 1968). However, on July 8, 1970, President Nixon formally announced the U.S. Indian policy change. Nixon proclaimed, the "time has come to break decisively with the past and to create the conditions for a new era which the Indians future is determined by Indian acts and Indian decisions" (Nixon 1970, 1).
A few years later, the Indian Self-Determination and Education Assistance Act of 1975
(P.L. 93-638, as amended) became law and signaled a clear shift in post-colonial Indian policy.
The "Indian Self-Determination Act" allowed for Indigenous nations to participate in the decisions regarding the administration of their services and to self-administer programs that had always been under federal control. The current national policy of self-determination created a process, called '638, whereby tribes can take over the administration of federal-government programs like health care, childcare, housing, veteran's affairs, law enforcement, and education.
As part of this process, tribes determine their futures, and are encouraged to utilize their respective cultures to inform local policy, practice, and nation-build. The goal of Indian selfdetermination is still being realized. The federal government announced a policy change in the
1960's, it made an official change in the 1970's, but would take the entire 1980's, 1990's, and well into the 2000's to become realized at the tribal level. For many reasons, the BIA was slow to relinquish the transfer of power and decision making to the tribes. However, in spite of the slow pace of change for tribes, most of the change has been positive, and tribes have engaged the process actively. This one policy has resulted in more positive change than any other federal law
65
or policy. In spite of the previous federal policies negatively impacting Native people for generations, the self-determination policy has provided a legal framework for Native people to reverse that trend. It has allowed Native people to rebound numerically, socially, culturally, economically, and politically.
Even though things are looking better for Native Americans, an interesting trend is occurring. As Native people have become more self-determinant, more independent, they have also seen their mental and physical health deteriorate. The reason is that Native people in general have reached a tipping point toward assimilation brought on by generations of boarding school, mass relocation, acceptance of modernity, and all that it represents: they are faced with more choices than ever before. Unfortunately, learning traditional Native culture has, for the most part, not been one of those choices until recently.
In 2010, the Navajo people in the Fort Defiance service area had a referendum to decide if the Fort Defiance Indian Health Service (IHS) Hospital should switch to '638 and Navajo take control. The community voted in favor of '638 and made the switch. Fort Defiance Indian
Hospital became Tsehootsooi Medical Center (TMC) and now Navajo people are in control and starting to develop, improve, and implement various types of health programs and services that better serve the Navajo people. Because of federal self-determination policies, Native Americans have the legal authority to take control and in the process, Native people feel safe enough to return to their roots, and revitalize their cultures/languages by incorporating their respective cultures into their unique modern health care policies and practices. The '638 process had allowed Navajo health care providers to focus more on prevention while still administering interventions. This paradigm shift promotes well-being and wellness as oppose to just fixing what is wrong.
66
Chapter 3: Literature Review
The following literature review summarizes important findings that pertain to reducing
Native suicide. Four main areas that stood out as most promising in terms of developing culture based prevention practices. The four bodies of protective factor research are connectedness, spirituality, resilience, and hope. Most of the literature focuses on cultural interventions, which are not the focus of this research. The focus of this research is traditional Native culture as prevention. However, it is not a big step from one to the other--it is merely a new one.
Interventions are treatments to health problem after diagnosis. Prevention focuses on informed decision making, healthy living, and avoiding problems in the first place. Intervention research has contributed largely to this thesis and toolkit because that is where the focus and funding is concentrated. The following chapter answers many of this researcher's questions regarding suicide prevention and role of culture in preventing suicide.
Connectedness
The Center for Disease Control (CDC) defines connectedness as "the degree to which a person or group is socially close, interrelated, or shares resources with other persons or groups… encompasses the nature and quality of connections both within and between multiple levels of the social ecology" and this definition will be used for this research (CDC 2014, 3).
A jointly published document by the Suicide Prevention Action Network USA and the
Substance Abuse and Mental Health Services Administration (SAMHSA) Suicide Prevention
Resource Center (USPHS 2001) indicated the most effective protective factors against suicide among Native American youth are opportunities to discuss problems with friends or family, feeling connected to family, and having positive emotional health (USPHS 2001). Range et al.
(1999) indicated that when factors such as these are put into action, as in culturally sensitive
67
programs that strengthen family ties can help protect American Indian youth against suicide.
These findings reveals that Native youth need to connect and improve connections to family, friends, and community. Teaching traditional Navajo concepts on k'e is how to accomplish this at Navajo since all those relations and more are contained within k'e.
Hawkins, Catalano, and Miller (1992) determined positive family relations discourage youth initiation into drug use. Klarreich (1998) expanded on that by adding they offer emotional support for sustaining resilience and minimizing vulnerability. King et al. (1992) found parental support to be one of the most powerful predictors of reducing Native American youth delinquency and substance use. Moreover, Dishion, French, and Patterson (1995) found increased parental supervision mediated negative peer influences. Beardslee and Schoeri (1994) revealed that resilient youth are able to survive high risk families by their capacity to cope and adjust to adversity and inconsistency. Sayger (1996) found the challenge for youth from high risk families was: 1) avoiding becoming overwhelmed by family stress, 2) maintaining compassion for family yet remaining detached from their problems, 3) understanding their problems, and 4) receiving emotional support from family members. This finding is especially important for this thesis and toolkit because many of the families in the Fort Defiance service area are considered high risk.
Furthermore, Borosky et al. (1999) conducted a study of 11,666 7 th
-12 th
grade American
Indian and Alaskan Native youth and found connectedness between youth and families decreased suicidal behaviors. In their investigation, they also found that being able to discuss problems with friends and family and emotional health were more effective at reducing probability of a suicide attempt than was reducing risk factors. These findings support the idea that building connectedness as a protective factor for Native youth has great potential for positive results.
68
Beauvais and Oetting (1999) indicated strong and intact families provide safe, secure, and stable environments whereby youth have the chance to develop strengths, learn competencies, and incorporate cultural norms. LaFromboise and Medoff (2004) found that American Indian communities, whether urban or reservation, can reinforce a protective sense of identity, selfworth, safety, and mastery. If Native American "at risk" families cannot build connectedness as a protective factor for whatever reason, then Native nations and urban health care providers can take the lead and should. Native nations have the legal and cultural authority as they can develop programs that build connectedness among reservation youth. Urban Indian health service providers can also utilize Native nations or local Indian cultural expertise to do the same if it is identified as useful for urban Native American youth. Both entities have an interest in perpetuating their local cultures and should take proactive steps to do so.
An important finding that contributes significantly to this study is "the most promising finding that the protective factors identified in this analysis (enculturation, maternal warmth, and community support) are each with the domain of factors that American Indian tribes can influence" and calls for "intervention efforts that would simultaneously address enculturation, parental support, and community support for pro-social behaviors could have the greatest potential for helping youth successfully face the challenges of day-to-day lives" (LaFromboise et al. 2006, 18). This is exactly what this research seeks to accomplish but only for prevention.
The research indicates that connection to family, culture, community, and Indigenous nations is very important and a good start for building protective factors. This provides precedent that teaching cultural concepts about connectedness yield positive results and worth development.
Sanchez-Way (2000) found that the most potent avenue for the prevention of substance use was through families. Avenevoli and Merikangas (2003) determined one of the most
69
important factors contributing to adolescent development is the family which is also the primary source of transmission of basic cultural and social environments. Cross (1996) found that for
Native Americans in particular, family has more influence on youth than other ethnic groups due to the family being defined to include more than just blood relatives and often a complex web of tribal, clan, and informally adopted relatives. Native people have known for a long time that families are important in shaping competent identities and teaching life lessons. One strategy
Native people have employed to deal with the breaking up of Native families is to reconstitute families using informal adoptions and relative making. This is where the Navajo k'e or clan system becomes useful because through it, Navajo people learn how they are related or not related to each other, and it extends far beyond human relationships to include non-human beings, Mother Earth, and Father Sky.
Spirituality
The definition of spirituality used for this study is "the search for the sacred" (Pargament and Mahoney 2009). Hertzberg (1982) provided insight into demonstrating how ritual and ceremony have assisted Native American adaptation to changing circumstances, integrating spiritual elements from different tribes, infusing parts of Western religion, and making it their own in the process. This same researcher found that urban Native Americans can and often do adhere to tribal spiritual beliefs and practices that incorporate Western traditions, like
Christianity or Catholicism. The study also found urban American Indians adhered to Native cultural practices, affirmed the centrality of American Indian beliefs, yet were affiliated with
Christian churches and attended religious services regularly. This is commonly referred as
"religion juggling" at Navajo. Many people practice several religions at once. It is so common it is not considered strange. Navajo people have been doing this for a long time.
70
Whitbeck et al. (2001) found spirituality to be a central component of Native American culture. Hodge (2010) determined that assessing and understanding the role of spirituality in
Native American communities is a complex undertaking. Stone (2006) found one reason was because Christianity has greatly influenced Native American cultures and people through colonialism and post-colonialism. This makes it hard to separate pre-contact Indigenous spirituality from subsequent mixing of traditional Indigenous spirituality and Christianity.
Cheyfitz (2009) indicated that Native American culture and spirituality is dynamic, evolving, and nurtured by enduring narrative traditions.
Other researchers found "spiritual and religion profiles tended to be associated with the lowest levels of substance use and gambling frequency and expenditure" (Hodge et al. 2007,
217). In a study of urban inner city American Indian youth, participation in traditional religious practices was positively associated with abstinence from substance use (Beebe et al. 2008). This type of research is relatively new and constantly developing. Follow up research was conducted to see how the intertwined elements of spirituality and religion may constitute protective factors against substance use among Native American youth. The results indicated "that following
Christian beliefs and belonging to the Native American Church were associated with lower levels of substance use" (Kullis et al. 2012, 444). Spirituality as a protective factor is important, even if it is an amalgamation of Indigenous and Western faiths.
Garroutte et al. (2003) found that among reservation American Indian individuals with a strong tribal orientation, half were as likely to report a suicide attempt in their lifetimes. White and Jodoin (2003) determined that when a suicide has happened in an Indigenous community, the possibility of the suicide contagion seems to diminish by the traditional healing processes that involve youth and elders in the role of decision makers and the use of traditional healing
71
practices or ceremony. Novins et al. (2004) studied 2,595 American Indian youth and adults between the ages of 15-57 from two different tribes that used traditional healing practices for both physical health and psychiatric problems and found that they were associated with higher scores on spirituality and Native identity. Walls et al. (2006) determined in their study of 865
Native American parents and caretakers of Native youth preferred informal traditional healing practices to formal medical practices. Trimble (2010) revealed that some of the main obstacles to successful psychosocial interventions with ethno-cultural patients are the lack of traditional healing practices, ancestral knowledge, and ceremony. Western medicine needs to accept these areas as vital to Native health but at the same time acknowledge that they are also within the legal and cultural parameters of Indigenous nations themselves. That is precisely why acceptance, cooperation, and finding a middle ground needs to happen in Native health care in order to improve overall Native health and well-being.
Resilience
The definition of resilience used for this study is adaptability despite adverse circumstances or obstacles (Karreich 1998) and that resilience is a process influenced by everyday decisions rather than a fixed constitutional attribute (Masten 2001). According to these interpretations, resilience is conceptualized as a protective factor or mechanism that can change a person's response to risks incidents and works in critical moments in one's life (Newcomb and
Felix-Ortiz 1992). This body of research holds much promise for public health prevention research. Navarro et al. (1997) in a Native American higher education study found American
Indian students that took a college course on Native American culture were more resilient against alcohol and drug abuse.
72
LaFromboise et al. (2006) article "Family, community, and school influences on resilience among Native American adolescents in the upper Midwest" contributed much to the development and rationale of the toolkit. They found that by having a high level of enculturation, supportive parents, and the perception of community support, the participants were able to associate each protective factor with increasing one's resiliency in spite of adverse situations and settings. They also found that "while making improvements in any of these three areas would foster resilience. Making additional progress in other domains would add to the cumulative benefit" (LaFromboise et al. 2006, 18). This finding indicates the more integrated a prevention tool is, the more effective it will be for addressing multiple issues. These results confirmed previous research that found increased engagement in traditional cultural activities led to increased positive outcomes for youth (Gonzales et al. 2004; Huriwai 2002; Lalonde 2003;
Zimmerman et al. 1998).
Hope
For the purpose of this thesis, the definition of hope will be "a positive motivational state that is based on an interactively derived sense of agency and pathway" (Snyder 1994, 287). The body of research on hope as a protective factor is scant, new, and developing. Native scholars in particular have emphasized the importance of dedicating more time and resources to investigating and identifying the protective factors that oppose the risk factors associated with suicidal ideation (Alcantara and Gone 2008). Their study focused on the protective factors that also decreased risk. This breaks from traditional Western research that usually focuses on risk factors that increase risk. Research has pointed out that this strength-based approach is more cost effective and reaches more people.
73
An area of study that is closely associated with hope as a protective factor is positive psychology, which is defined as the "study of thoughts and behaviors that lead to an ideal lifestyle (Gable and Haidt 2005). Positive psychology framework is used to investigate how protective factors such as hope, optimism, and self-determination diminish self-destructive behaviors like substance abuse and suicide. Recent studies also indicate hope to be a useful and relevant concept for Native Americans in the Mid-West (Hammond et al. 2009) and the
Southwest (Mashunkashey-Shadow 2008). Unfortunately, there is no research on whether or not positive psychological concepts like hope or self-determination are related to suicidal ideation or attempts. Further research in this area would be useful in developing suicide prevention programs. Research in the area of protective factors closely related to hope is "positive mood" or positive feelings about the self. Pettingell et al. (2008) sampled 569 urban Native American youth between the age of 9-15 and found positive mood to be substantially and significantly protective for suicide ideation for girls and boys.
Mohatt et al. (2011) established connectedness as a culturally competent protective factor for an Alaskan Native community, their research suggests "a concept of awareness of connectedness, as described in the many epistemologies, can be measured as a multidimensional construct, and that this construct is related to hypothesized suicide and substance abuse protective factors such as reasons for living and communal mastery among American Indian and
Alaskan Native youth" (Mohatt et al. 2011, 451). This finding indicates that by teaching Native youth their own Indigenous epistemologies relating to connectedness, they can learn a multidimensional approach that can help them deal with several risk factors.
74
Enculturation
The definition of enculturation used for this report is the process of learning about and identifying with one's cultural roots (Little Solder 1985; Zimmerman et al. 1996; Sunday, Eyles, and Upshur 2001). A new and increasingly accepted approach for coping with acculturation stress and historical trauma is participation in traditional activities and ceremonies of one's cultural heritage (Brave Heart 1998; Brave Heart and Debryn 1998; Garrett and Carroll 2000;
Johnson and Tamren 1999; Middlebrook 2009). Phinney and Alipuria (1990) noted that cultural identification has a positive developmental effect by conforming to cultural community norms and enhanced self-esteem. Zimmerman et al. (1998) posited the idea that Native American
"enculturation" is an important resilience factor for Native youth. McCormack (2000) found that with treating substance abuse among Canadian Aboriginals, that reconnecting to their cultural traditions helped them discover meaning in their life. Whitbeck et al. (2001) reported that enculturation had a positive effect on early Native adolescent academic performance.
LaFromboise et al. (2006) also later found with the same participants, that by having a high level of enculturation, supportive parents, and the perception of community support, the participants were able to associate each one with increasing one's resiliency in spite of adverse situations and settings. For the purpose of this thesis, enculturation is the toolkit. It is communicated with storytelling and reinforced with seasonal cultural arts.
May et al. (2005) conducted a 15 year study on the Navajo Nation and offered these two suggestions. First, suicide prevention programs should emphasize root conditions, the array of psychological, social, and developmental issues. Second, the community needs to be involved from the start in order to effectively address cultural, environmental, and clinical issues and develop appropriate strategies to address them. These researches provided evidence that a multi
75
protective factor and community involvement approach would be best for Navajo prevention programs. Community needs are where the post-colonial prevention toolkit started. It was informed by the local culture and emphasizes an array of root strategies to tackle an array of root problems. This researcher came to the same conclusion but through different means. This researcher started within the Navajo community through employment by TMC-MSPI and within that capacity learned about local, tribal, and national needs for cultural specific prevention tools.
This researcher used the Navajo Learning Model and Navajo Wellness Model to develop a multiple protective factor approach.
Consistent with the Navajo concept of dualism, this researcher decided to focus attention on building up protective factors using traditional Navajo culture. In this way, protective factors can be built up to equilibrium to the many risk factors that plague post-colonial Native America.
This would better position Native youth to deal with post-colonial challenges. This re-balancing should help restore health and harmony to Native youth. An important issue to keep in mind, is this proposed prevention approach seeks to re-balance spiritual, emotional, physical, and mental health. Additionally, this is not a onetime fix but prevention efforts should be on-going, build atop each other, and reinforce each other' work in an inter-related way. This also maximizes cost, efficiency, capacity, and cultural capital.
Indigenous Cultures
Indigenous culture is critical to developing effective substance abuse, domestic violence, diabetes, and suicide prevention programs that serve Native populations. Traditional Navajo culture as a model is a protective factor and can be used as a model for other Native people, as well as other Indigenous nations. Tribes are encouraged to adopt and implement similar programs that rely on their respective traditional cultures to inform programs and practices. For
76
Navajo, this is not new, but because the '638 process is relatively new, Navajo are just now starting to develop culturally appropriate prevention strategies and tools to combat post-colonial stress, disorder, and disease.
Zickler (1999) found that a strong cultural identification helps make Native adolescents less vulnerable to risk factors for substance use and more able to benefit from protective factors than Native adolescents who do not have this identification. Oetting and Beauvais (1989) conducted American Indian youth research using a survey and agreed with Zickler's findings that the effects of Native culture on substance use appears to be indirect. He found that culture is taught through family and community and that ceremonies transmitted spiritual values (Zickler
1999). Additionally, Oetting and Beauvais (1989) found that Native American youth who identified with Native culture were less likely to use alcohol and substances than those who lacked this identity. This was important because it determined a direct correlation between increased Native cultural affiliation and decreased Native alcohol and substance abuse.
Indigenous Healing and Wellness
Indigenous people have had thousands of years to develop ideas and practices regarding healing and wellness, and many retain some of that ancient knowledge to this day. This type of information was transmitted orally and passed down through the generations for at least 13,000 years. Despite genocide, land loss, and assimilationist policies introduced since contact, Native people have endured for over five hundred years, Native medicine and healing traditions have managed to remain relatively intact. Granted many tribes are extinct and so is their knowledge, others continue with much of their knowledge existing today and only need to be accessed, accepted, and practiced.
77
Baines (1993) found that when Native people are not living in harmony with themselves, others, their environment, or their spirit, they become ill. Therefore, healing requires the restoration of balance or harmony in one's life in order for healing to occur. Solomon and Wane
(2005) and Portman and Garrett (2006) agree that traditional teachings inform us about how to diagnose and treat various illnesses using specific ways of healing, purifying the environment, mending relationships, and the self for other actions resulting in disequilibrium and disharmony.
Aronlith (1991), Denny (2010), Denetdale, (2010), Griffin-Pearce (1992), and Scharwz
(2001) agree imbalance or disharmony is the root cause of illness in Navajo society and rebalancing through solidarity, ceremonies, offerings, and prayer are the cure. Navajo have many ways to cure sickness or illness and have been increasingly and actively using traditional diagnostics, counseling, and ceremonies as medical and behavioral health interventions to promote overall Native wellbeing. This health care innovation, although recent, has been well received by Navajo people and is used regularly enough for the TMC hospital to employ several full-time traditional practitioners. Blessing Way, Protection Way, Native American Church, sand painting ceremonies, sweat ceremonies, and crystal gazing are just a few of the traditional methods employed by hospital staff to heal community members and bring them into balance with the cosmos.
Indigenous Story and Storytelling
Indigenous storytelling is how Native people pass information from one generation to the next, it has proven successful for thousands of years, and it can still be useful in helping Native people learn the traditional lessons that give good advice. Cross (1998), Ahn and Filipenko
(2007) found that because storytelling was innate to Native American culture, using it as prevention strategy was harmonious with the Native cultural world view. Cross (1998)
78
recommends storytelling as a family strategy for building resiliency as he believes family storytelling transmits intergenerational life skills. Ahn and Filipenko (2007) also found likewise, storytelling provides understanding of the storyteller, the culture, the community, and oneself.
Portman and Garrett (2006) determined that Native culture storytelling maintains cultural heritage and community networks, and these identities and relations are very important to Native
Americans because they sustain tribal citizen's mental, physical, and spiritual health.
Hodge et al. (2002) indicated that access to formal health care by Native Americans was commonly restricted by factors like income, insurance availability, cultural beliefs, and practices.
They also found that storytelling used informally could offer Native communities an alternative vehicle to seek out and utilize formal health care. The researchers used storytelling and the talking circle to convey messages about health. They found it useful in that it captured the interest and attention of Native participants. Storytelling is a proven way for tribal members to reconnect with formal health care education and services. They reported, "storytelling provides an excellent tool to reclaim values of wellness in tribal communities" (Hodge et al. 2002, 5) and those stories can be used "to promote an alternation of lifestyle, to motivate tribal members to once more adapt healthy lifestyles, and practices traditionally part of their culture (Hodge et al.
2002, 5). Storytelling has and will be the main way cultural information will be transmitted for the toolkit. Storytelling continues to be utilized by Navajo and TMC as the main form of communicating traditional knowledge in Navajo and English among citizens.
Art Therapy and Art as Therapy
A body of literature relevant to this study is "art therapy". This group can further be divided into clinical art therapy and art as therapy. Clinical art therapy works like Tapestry of
Cultural Issues in Art Therapy (1998), edited by Anna Hiscox and Abby Calisch, provide a
79
general overview of various methods, interventions, treatments, interpretations, and issues in art therapy. It is a compilation of nineteen essays that provide insight into the world of art therapy using case studies and client and therapist art work.
Art Therapy, Race, and Culture (1999), edited by Jean Campbell, Marian Liebmann,
Frederica Brooks, Jenny Jones, and Cathy Ward, is another valuable source for research in the areas of race, culture, and art therapy. The useful thing about this book is that it draws from a wide body of multi-ethnic groups to provide several perspectives. This book presents art therapy as a form of liberation and art therapists as social/cultural liberators. This work presents theories and ideas that came from the practical experiences of therapists and clients from many different ethnic, religious, and economic backgrounds.
The other sub-group within the art therapy group include two articles by Phoebe Dufrene and Victoria Coleman called "Art Therapy with Native American Clients: Ethical and
Professional Issues" (1994) and "Art and Healing for Native American Indians" (1994). Both explain the nuances, issues, and uniqueness of using art therapy with Native populations. They provide a contextual framework to build Native art as therapy into the proposed cultural curriculum. Joy Moody's "Art Therapy: Bridging Barriers with Native American Clients"
(1996) and Valerie Appleton's "Using Art in group counseling with Native American Youth"
(1996) share their clinical experiences about what works, what does not, and postulates why that is the case. Both articles are very practical, useful, and fit well with this study.
Research by Vick (2004), Malchiodi (2005), and Waller (2006) found art therapy very effective when it uses expressive qualities like poetry, storytelling, and story writing to have children tell their narratives. Recent evolutions in art therapy are a postmodern approach identified as expressive art therapies. In this new approach, educators, therapists, and child
80
development specialists use the expressive arts of dance, drama, visual arts, music, and storytelling to reach children Malchiodi (2005) and Waller (2006). The value of integrating art therapy into the traditional cultural lessons is important because it involves all the issues research says are effective, only the focus is on prevention. The academic research supports this researcher's experience at TMC-MSPI in using art as therapy to teach cultural arts. Which for
Navajo, are much more than aesthetics or secular value, but also include the sacred. Besides,
Navajo youth love expressing themselves through art and creative activities. This can be a useful tool in generating dialogue between Native health care providers and Native people.
The academic research positively supports this researcher's thesis that "Traditional
Navajo Culture is a Protective Factor against Post-colonialism" and most of it is relatively recent. The interesting thing is that Native people have known most of these findings all along and now can use the western academy to validate what they have always known, that teaching traditional Native culture is good and leads to good outcomes. The best part is that it is not expensive it just needs acceptance and sustained financial support.
TMC-MSPI was able to use some of their funding to develop the toolkit. The benefits of starting this type of program are many and go far beyond public health prevention efforts.
Teaching traditional Native culture is sovereignty in action, Native nation building, selfdetermination, and a right that only Native people possess .
Post-colonial governments and the Western medical establishment need to support this type of research if they are truly sincere about reducing Indigenous suicide and other disparities.
This research has been done and it has confirmed this thesis and toolkit is a good start for
Indigenous people to look within their culture for strength and to help perpetuate their postcolonial existence.
81
82
Chapter 4: Theoretical Frameworks
There are four theoretical frameworks that ground this study: anomie theory, social risk theory/ontological insecurity, transculturation theory, and cultural continuation theory. There are other supporting theories on culture and enculturation and specific theoretical examples, like
Sa'ah Naagai Bik'eh Hozhoon (SNBH), which is not currently an accepted Western theory but serves as such for the purposes of this research. For this research, SNBH is the Navajo theory for life, or life way, to which Western research often makes reference. SNBH is a tribal specific example of traditional lessons critical for Navajo cultural continuity or survival. SNBH is like a roadmap for life and teaches one how to negotiate obstacles and continue their journey to old age and harmony.
The formal theories are all Western-based and offer Western perspectives for why people behave as they do. Anomie and social risk theory/ontological insecurity help frame the problem, as both offer explanations of why Native Americans have higher than average suicide rates.
Transculturation and cultural continuity provide frameworks for solutions because both demonstrate that traditional Native culture can help Native youth succeed in college and reduce rates of suicide. The first two theories can be applied to Native suicide individually or combined. The other two function independently, as one is from Native American higher education and the other pertains to Native suicide.
What is Culture?
There are many ways to define culture but for the purpose of this report, the definition will be sourced from an anthropological framework. According to Kluckhohn and Leighton "a culture is any given people's way of life, as distinct from the life-ways of other peoples…and consists of the set of habitual and traditional ways of thinking, feeling, and reacting that are
83
characteristic of the ways a particular society meets its problems at a particular point in time"
(Kluckhohn and Leighton 1946, 27). Basically, they are talking about how culture and lifestyle supply the means to effectively overcome problems. People learn from the past and pass that information forward to help others in the future.
Because this report started with material culture and uses material culture and stories to teach traditional culture, the definition used for this report will be "the material manifestation of culture" (Kluckhohn, Hill, and Wales-Kluckhohn 1971, 1) or as Shapiro puts it, "the product of culturally determined activity" (Shapiro 1956, 176). They also describe material culture as the
"descriptive materials containing the accumulation of details, often minute, upon obsolete or obsolescent objects and cultural habits and attitudes related thereto" (Kluckhohn, Hill, and
Wales-Kluckhohn 1971, 1). To define their descriptive criteria they state that "descriptive criteria include actions and technical knowledge associated with the manufacture and use of the product, and ideas both secular and religious, that promote or inhibit the manufacture and use of the product as well as place it in the Navaho cosmos" (Shapiro 1971, 2). Basically, they are talking about how traditional culture and enculturation activities, such as making archery tools support and reinforce larger Navajo cultural ideas about one's unique place in the cosmos.
For the purpose of this thesis, culture will include material culture because one is a direct, tangible product of the other, and materials complement culture in unique ways. In a symbiotic sense, these three scholars went about researching Navajo material culture in order to preserve what could be remembered (p. v). Navajo people have picked up Navaho Material Culture, learned from it, remembered the knowledge, and in so doing, are preserving their culture today and for the future (Kluckhohn, Hill, and Wales-Kluckhohn 1971). Like the path of the sun, it has been on a long journey, and it has come full circle: it has returned home to the hearts and minds
84
of the people who created it and will reconnect with it. Just as culture can be recorded and professed ethnographically, it can be accessed and learned educationally, and that is where this thesis and cultural curriculum is born.
Anomie Theory
A very influential work by French sociologist Emile Durkheim titled Suicide was published in 1897. In this book, Durkheim borrows the word "anomie" from French philosopher
Jean-Marie Guyau, who defines it as "social normlessness" (Guyau 1886). Durkheim popularizes it to describe "the breakdown of social bonds, between an individual and their community, if under unruly scenarios possibly resulting in fragmentation of society and rejection of self-regulatory values" (Durkheim 1897, 46). According Durkheim, anomie is produced from a mismatch of personal and group standards (Durkheim 1897). Additionally, he says that "a society with too much rigidity and little individual discretion could also produce a kind of anomie, a mismatch between individual circumstances and larger social mores. "Fatalistic suicide is described as the suicide deriving from excessive regulation, that of persons with futures pitilessly blocked and passions violently choked by oppressive discipline" (Durkheim
1897, 12). He associated high rates of suicide with the rapid growth of industrialization; to
Durkheim, people were adjusting from rural to urban environments and to a new industrial way of life, and some found the two ways incongruent and difficult to inhabit, often choosing death or other self-destructive behaviors.
Because the modern academic establishment does not disagree with Emile Durkheim, I will use his theory to frame post-colonial stress and disorder. Native people's lives during postcolonial times are characterized by normlessness, meaning their lives were without social norms, as they are dealing with multiple unnatural perturbations symptomatic post-colonialism. In fact,
85
the goal of most federal policies was to create tribal normlessness and pressure Natives to assimilate or conform to a newer, more rigid set of societal values which were incongruent with traditional values and mores. Collectively, Indigenous people have experienced and continue to experience a mismatch of social standards and values, and thus, are at a greater risk for selfdestructive behaviors like substance abuse and suicide (Johnson and Tomren 1999; Garrett and
Carroll 2000; IOM 2002). Tribal societies, during modern times, have gone through Durkheim's
"breakdown" of societal bonds experienced through the assimilative policies imposed on them by the federal government. Federal policies such as boarding school and relocation have contributed to breaking down the "social bonds" between individuals and their communities and this is what Native people experience on a daily basis (Durkheim 1897). One could argue
"unruly scenarios" that resulted in the fragmentation of Native society were the purpose of assimilationist Indian policies (Durkheim 1897). The concept of absolute power placed into the federal government's plenary power over Indian affairs is the unruly scenario and the resultant fragmentation of society is the breaking up of tribalism. This collective, long-term, never ending stress has created generations of Native people who are out of touch with their traditional cultures and values, unable to effectively negotiate a mismatch of values and who, consequently, give in to self-destructive behaviors.
Durkheim's argument that "fatalistic suicide" occurs when a people are too rule-governed and when there is "no free horizon" of expectation may explain why Native suicide rates are so high (Durkheim 1897). Native people, whether on the reservation or in urban environments, face everyday life in a post-colonial construct, governed by many rules they did not create, and have only recently been given the "free horizon of expectation" with the creation and institution of the
'638 process. As a theoretical framework for assimilation, Durkheim's theory of anomie is
86
useful to this study in that it may show through western lenses that federal policies led to
Indigenous detachment from self and society, resulting in poor health and high suicide rates.
Social Risk Theory/Ontological Insecurity
Beck's (1992) social risk theory explains how advances in science and technology can create stresses that shape modern human society. Beck developed this theory and it gained acceptance in the time of the Chernobyl disaster, the mad cow disease epidemic, and when endemic chemical pollution threatened Europe's sense of security (Adam, Beck, and Van Loon
2000; Lash, Szerszynski, and Wynn 1996). Beck posits that even though people have always been exposed to various kinds of risks and have always adapted to them, new kinds of quantitative and qualitative risks challenge modern society in ways to which society may not be prepared to adapt. He found the growing awareness of modern risks to be an "unimaginable phenomenon" one generation ago but is more common today (Beck 1992, 56). Beck's theory on the consciousness of modernization risks was met with much Western resistance and denial and had to be argued to be heard (Beck 1992, 59). The main reasons these types of risks are denied by the Western establishment are that leadership does not have a solution to deal with the problems it created and does not have a way to help the population find solutions or adaptations to the problem either.
For Indigenous people it is a double-edged sword that must be wrested from post-colonial states. Resilient responses to all kinds of disturbances are learned, taught, and passed from generation to generation. These responses are also a social condition that increases a society's ability to absorb or buffer natural and unnatural perturbations and remain culturally and socially secure (Holling 1973; Berkes, Colding, and Folke 2003). Resilience is basically a culture's ability to negotiate disturbances or threats and persist forward unperturbed and culturally intact.
87
Ontological security "exists at the juncture of risks and resilience" (Stoffle, Arnold, and Van
Vlack 2013, 6). Giddens (1991) summarizes ontological security as a stable and unquestionable mental state about one's self identity, place in the world, the world, and the future. According to
Giddens, it also includes how individuals relate to one another, objects, and their surroundings.
Ontological insecurity is rejection at a fundamental level, the reality or existence of things, themselves, and others. Giddens posits that modernity and post-modern conditions have eroded cultural norms that have traditionally supported stability in the social and material worlds, and trust in nature. He notes that post-modern society is increasingly characterized with rapid change, uncertainty, and new threats to ontological security (Giddens 1991). Everyone can experience ontological insecurity but Indigenous people experience it every day continuously.
Moreover, across time, society co-adapts to natural (droughts and swarms) and social perturbations (strife and warfare) that occur within a few hundred year cycles (Stoffle, Toupal, and Zedeno 2003). Accordingly, when societies have co-adapted to such threats, they gain confidence that their way of life or culture will continue beyond the threat (Stoffle, Arnold, and
Van Vlack 2013, 7). Research has shown that some perturbations can overwhelm resilient preparations (Stoffle and Minnis 2008). According to Stoffle, Arnold, and Van Vlack "it is beyond the ability of a society to prepare for and adapt to perturbations (like massive tsunamis, volcanic eruptions and devastating pandemics), which have never been this severe, or have unique components. Such perturbations are unimaginable and can lead to ontological insecurity"
(2013, 7). In this case, the Navajo have undergone an unimaginable perturbation through forced assimilation and the uniqueness of post-colonial conditions have consequently produced ontological insecurity manifesting as high substance abuse and suicide rates.
88
This researcher applies these theoretical findings to the post-colonial condition that
Indigenous people have endured since contact, and more recently have intensified as scientific and technological advances have taken hold of post-modern Indigenous lives and lifestyles. This researcher posits the idea that Indigenous people, in this case Navajo people, have not had the time to effectively deal with social perturbations, like prolonged assimilation imposed by generations of compulsory boarding school attendance, and are ill-equipped to co-adapt because they have lost the ability through subsequent post-colonial assimilative policies and practices.
The results are disproportionately high rates of depression, substance abuse, domestic violence, diabetes, heart disease, and suicide.
This researcher refers to these maladies as being symptomatic of post-colonial stress disorder. Additionally, scientific, technological, and consumer innovations, although viewed as advances, have had a devastating impact on Indigenous health and well-being in post-colonial times and this has created an unimaginable risk that threatens Navajo ontological security and life. Furthermore, drugs like methamphetamines and prescription medications are overabundant and available through various means on the Navajo Nation (Whiting 2013). The solution is building protective factors that support and reinforce ontological security. That can be accomplished by teaching traditional Navajo ontologies and in so doing, building protective factors up to equilibrium of the risk factors associated with post-colonialism and thus better positioning Navajo youth to deal effectively with these post-colonial threats to Navajo health and life.
Academic research indicates that Indigenous health is bad and getting worse (CDC 2014;
IHS 2011; IOM 2002). Additionally, poor and declining health is common amongst Indigenous people worldwide and also symptomatic of post-colonial stress, which is a social risk. History
89
shows that since contact, Indigenous people have had their ontological security threatened time and again. It also shows that recent developments in federal Indian policy have put Native people into decision making positions. Within that capacity, those who decided to pursue traditional culture, language, healing practices, storytelling, and ceremonies to restore their peoples' health have achieved positive results (Borosky et al. 1999; Chandler and Lalonde 2009;
Garroutte et al. 2003; Pettingell et al. 2008; Whitbeck et al. 2001; Zimmerman et al. 1994).
While using traditional culture as prevention, they are also providing for their unique ontological security needs, nation-building, and becoming self-determinant in the process, not to mention increasing their overall health and ability to make culturally informed decisions. It is a win-win solution.
Transculturation Theory
Huffman's transculturation theory contributes to this study in that it supports the claim that traditional Native culture helps Native students succeed in school. This theory is limited to
Native American students in higher education. However, it is useful because the participants are
Native students, and K-12 students at reservation schools fall into categories very similar to
Huffman's assimilated, marginal, estranged, and transculturated categories. Additionally, only three months separate the high school seniors from the college freshmen. Furthermore, the reservation school system is a Western learning institution, as are colleges and universities.
Therefore, both are post-colonial constructs and worthy of cross application. The potential for
"cultural conflict" is one of the most problematic challenges facing Native college students
(Carrol 1978; Hornet 1989; Huffman 1995; Lin, LaCounte and Eder 1988; Scott 1986; Swisher and Deyhle 1989). It is important to this study because it validates that cultural conflict negatively impacts Indigenous people in modern institutions. Variation in definition and
90
problems exist with the way "cultural conflict" is conceptualized because of different perspectives (Sando 1973; Davis and Pyatskowit 1976; Duda 1980; Ogbu 1978 and 1987).
However, according to Huffman (2001), the major theme included in the conceptual framework of cultural conflict is a notion of some discrepancy between the values, behaviors, or the political/economic power between the non-Native and Native students.
Interestingly, Davis (1992) found a link between cultural conflict and poor persistence in higher education; the challenges presented by cultural conflict are not experienced the same by all culturally traditional Native American college students. Further research by Huffman, Sill, and Brokenleg (1986) determined cultural conflict to be part of the academic experience of
Native students, while cultural traditionalism was correlated to college success. Similarly,
Schiller and Gaseome's (1993) research concluded that despite acute cultural conflict, cultural traditionalism improved the potential for Native American academic achievement.
An analysis of these findings reveals a seeming contradiction: cultural conflict is the reason for both Native college student failure and success. To address this, Huffman asks, "why do some culturally traditional American Indian students fall victim to cultural conflict and do not succeed in their attempts while others overcome the challenges presented by cultural conflict and complete their educational journey" (Huffman 2001, 3). From his results, Huffman developed
"transculturation theory" to provide a framework to answer the questions he initially posed.
Transculturation theory is associated with two identifiable theoretical frameworks on the nature of cultural conflict present in minority education: cultural discontinuity hypothesis and macrostructural explanations (Huffman 2001).
Cultural discontinuity hypothesis emphasizes the differing and opposing micro-level cultural elements like social values, interpersonal behaviors, and communication styles that
91
impact one's educational performance (Hymes 1974). The disconnect between institutionalized non-Indian expectations in college and traditional Native American cultural traditions, values, and expectations initially places Native American college students at a disadvantage (Deloria
1978; Garcia and Goldstein 1992; Garrett 1995; Pottinger 1989; Swisher and Deyhle 1989).
Moreover, Jon Reyner (1992) adds that micro-level cultural discontinuities are probably the leading cause for higher Native American attrition rates. Macro-structural explanations assume that social/structural forces beyond the realm of the individual are the source of cultural conflict and, as such, are responsible for the lack of educational success among minority students. It contends that adolescent school learning problems are ultimately caused by historical and structural forces beyond their control (Ogbu 1985).
According to Ogbu, macro-structural explanations contend that cultural discontinuity scholars focus too heavily on micro-level phenomena that are in reality only the trappings of true cultural dilemmas (Ogbu 1978, 1981, 1982, and 1985). Ogbu compares the educational experience of Native Americans to those of other "caste like" minorities (Ogbu 1978, 217).
Ogbu (1978) adds that racial minorities (including Native Americans) have been subjugated to inferior status and subsequently are afforded a meaningless educational menu . Because of a social status that operates much like a caste in a highly regimented society, opportunities for educational success are rare, and thus the educational fate of racial minorities is tied to the social/structural composition of the society itself (Ogbu 1978).
With those theories in mind, Huffman organized his study and analyzed the data to examine patterns of responses, behaviors, attitudes, general experiences, and perceptions. He identified four "cultural masks" that Native American students assumed in his study; assimilated students, marginal students, estranged students, and transculturated students (1993, 1995, 1999,
92
and 2001). Each group assumed a different mask to navigate college life. The assimilated students typically identified mostly with mainstream culture, encountered few difficulties in college, and had an average G.P.A. of 2.5 (Huffman 2001, 8). The marginal students had some assimilationist orientations but also identified and affiliated more with traditional Native
American culture. These students felt pressure from two cultural mandates that challenged their education experience and they had an average G.P.A. of 2.77 (Huffman 2001, 8). The estranged students had strong identifications with traditional Native American culture, displayed aggressive rejections of assimilation, viewed the mainstream as threatening their ethnic identity, and generally revealed a distrust of the college setting. These students did the poorest academically with an average G.P.A. of 2.17 (Huffman 2001, 8). The transculturated students had strong identifications with traditional Native American culture and did not aspire to assimilate. Unlike the estranged students, these students used their ethnic identity as firm social-psychological anchor, deriving strength and confidence from that mask (Huffman 2001, 9). The transculturated students did the best socially and academically, as reflected by their average G.P.A. of 2.81
(Huffman 2001, 8).
The two groups of students that Huffman was most interested in were the estranged and transculturated students. To develop a framework for why one group failed and the other succeeded, Huffman identified a four stage estrangement process for those who failed, and a four stage transculturation process for those who succeeded. The estranged students experienced (1) initial alienation, (2) disillusionment, (3) emotional rejection, and (4) disengagement (Huffman
2001, 10). The transculturated students experienced (1) initial alienation, (2) self-discovery, (3) realignment, and (4) participation (Huffman 2001, 17). The critical stage for both groups was the second. If the student experienced disillusionment after alienation, they were headed down
93
the path of academic failure. If the students experienced self-discovery, they were headed for academic success.
To offer some insight into why some performed poorly academically while others succeeded, two different theoretical frameworks were proposed by Huffman. Resistance theory addressed the answer for the estranged students' failure (Huffman 2001, 25) and the transculturation hypothesis addressed the answer for the transculturated students' success
(Huffman 2001, 2). According to resistance theory, a variety of sources (pedagogies, curricula, prejudice, and expectations) within the educational system may indict minority culture and contribute to minority students withdrawing from that institution (Erickson 1987; Pottinger
1989). This theory asserts that during the educational experience, minority students actively resist and reject the implicit and explicit messages that attack their ethnic identity and, consequently, academic success diminishes (Erickson 1987). Estranged students recognized cultural discontinuities around them and understood what they believed to be their only choice: assimilate or leave (Huffman 2001, 26). Simply put, these students resisted the institution to the point of leaving it.
The transculturation hypothesis proposed by Huffman was built on Kurt Lewin's work in
1948, in which he argued that minorities often employ their ethnicity to their advantage. Lewin's contention was useful to Huffman through application to the experiences of transculturated
Native America college students. Huffman outlines four dimensions of the transculturation theoretical framework: (1) Native American ethnic identity as an emotional anchor, (2) the importance of the transculturation threshold, (3) an ability to engage in two cultural settings, and
(4) the process of cultural learning. In the first dimension, students use their traditional Native
94
culture to "forge a strong self-identity and, in doing so, acquired the necessary tools to interact and achieve" (Huffman 2001, 27).
In the second dimension, the most important finding in his study was the identification of a transculturated threshold, which "is the specific point in which some students decided to retain their cultural identity, use that identity, and self-discovery that emerged as a result" (Huffman
2001, 27). The third dimension, an ability to engage in two cultural settings, assumes that Native
American students "simply increase their cultural repertoire adding the skills needed while keeping their Native heritage intact" (Huffman 2001, 29). Thus, they are better suited to acquire new knowledge as it compliments their growing body of knowledge and experience.
The fourth dimension, the process of cultural learning, was the process of transculturation
(Huffman 2001, 30). To be successful at college, Native students understood that they had to learn or socialize into a new culture while retaining their ethnic traditional cultures as a base from which to grow. The strength of this fourth dimension is that "ethnic confidence and security provide the opportunity to explore and learn the cultural settings of the mainstream"
(Huffman 2001, 30). This finding contributes a lot to this study in that the whole point of the toolkit is to instill build a cultural foundation of protective factors to instill confidence, empowerment, and protection as they journey through post-colonialism.
Cultural Continuity Theory
While investigating adolescent suicide among 200 First Nations communities in Canada for a 14 year period, Chandler and Lalonde (1998) developed the cultural continuity theory.
They found that suicide rates among the 200 communities was not uniform, and therefore not an
Indigenous problem but a problem for certain bands or communities. They set out to learn why and discover what made the difference. Based on their findings, they theorized that when young
95
people have a secure sense of their cultural past, present, and future, it is much easier for them to develop and maintain a self-sense of connectedness to their future. Chandle and Lalonde (1998) found two issues that led to suicide. The first was the multiple transformations that make up adolescent life, the second was more circumstantial and arose "when one's culture, out of which the participants of one's identity are necessarily composed, is also thrown into serious disarray.
In either case, the grounds upon which a coherent sense of self is ordinarily made to rest are cut away, life made cheap, and the prospect of one's own death becomes a matter of indifference"
(Chandle and Lalonde 1998, 193).
Chandler and Lalonde (1998) also found that Native communities that took active steps to preserve their culture, and worked to determine their futures, were dramatically more successful in protecting their youth against suicide. This research finding and theory supports this researcher's claim that traditional Navajo culture is a protective factor and that culturally informed efforts to build protective factors should proceed in earnest. Chandler and Lalonde's
(2008) research continued when they measured cultural continuity by the degree of Aboriginal control of the following six markers: land claims, self-government, police and fire protection, health services, education, and cultural facilities. They found that high levels of cultural continuity are associated with reduced, and in some cases non-existent, rates of suicide in First
Nations communities in Canada.
Their theory is applied to this thesis and the toolkit. However, this study does not look at the degree of control over the six areas, but instead uses the cultural continuity theory to validate the thesis that traditional Navajo, Native, and Indigenous cultures should be used in developing culturally relevant and specific prevention programs. The Navajo Nation controls all or most of the six areas, depending where they are for example, in Fort Defiance, Navajo controls all six but
96
in Shiprock, they do not control healthcare. This researcher applies traditional Navajo concepts to modern public health prevention messages and uses enculturation activities to reinforce culture, shape identity, and build participatory cultural continuity.
Sa'ah Naagai Bik'eh Hozhoon: Navajo Theory for Life
Navajo culture possesses a myriad of ideas, concepts, principles, and philosophies that are helpful in negotiating obstacles in one's life. The problem for most young Navajo is that many are not familiar with these traditional teachings. For example, Sa'ah Naaghai Bik'eh
Hozhoon (SNBH) is duality in the form of opposites that complement each other to make a whole (Jackson 2009), like male/female, day/night, and good/bad. The SNBH term is a phrase used in traditional Navajo prayers (Dzil Biyiin and Hozhooji). SNBH means "the journey to old age resulting in harmony" (Aronlith 2009). It is also a guiding principle because it prepares people for a lifetime of learning, hardship, and rewards. Traditional Navajo believe that life is a journey and Sa'ah Naaghai Bik'eh Hozhoon is the map and motivation for that journey.
Reaching the age of 102 is the aspiration (Aronlith 2009).
The SNBH term has many different meanings (Kluckhohn 1940; Haile 1952; Farella
1984) and one could use any number of working definitions. This researcher uses a definition of the term that most Navajo learn from class lectures, stories, and hearing it in prayers. Many of the stories that stem from SNBH are associated with Protection Way and Blessing Way. Simply put, Protection Way is war and Blessing Way is peace (Jackson 2009). Protection Way deals with monster slayer ceremonies and stories of how to think (Nitsahakees), plan (Nahat'a), carry out (Iina), and to overcome hardship (Siih Hasin) (Aronlith 2009). Blessing Way deals with creation, blessing ceremonies, and stories that explain how to achieve peace and harmony, and how to enjoy life.
97
According to Navajo stories, "when one is moving forward in life, hardship is always behind you, grabbing for you, and trying to pull you down off your horse. It is your duty to overcome hardship, right yourself, and continue your journey. You have to find it within yourself to help yourself" (Aronlith 2009). If one gets off the Corn Pollen Path of Life or stalls along the path, this could be a manifestation of anomie. If one does not know how get back on the path or how to re-start their journey, then they place themselves at greater risk of disharmony, which can lead to ontological insecurity manifest as substance abuse and/or suicide.
In short, Navajo believe that one's journey through life is evenly divided between "male and female, night and day, positive and negative…where often conflict and harmony coexist"
(Clark 2009, 91). This is often referred to as the "duality" of knowledge (Clark 2009). Navajo also believe that the Diyin Dine'e or Holy People gave teachings (culture) and tools (material culture ) to help Navajo overcome the challenges in life as they progress through the various worlds and individual lives. An example of duality in daily life is having prior knowledge that the day is going to have good and bad so one need be ready for both. This tells one to be aware and look out for danger; it could be bad news or it could be a box of donuts, which is good and bad. Traditional Navajo apply the concept of duality to everything. Modern Navajo know very little about it but could benefit from applying it to their daily lives.
By building a solid, traditional, and cultural foundation that includes Sa'ah Naaghai
Bik'eh Hozhoon, Navajo students can re-connect with their traditional teachings and tools to overcome any obstacle in their path of life. This is also cultural continuity. Navajo youth should have the opportunity to learn their traditional culture to help prepare them for a life full of hardship and to help them negotiate risk factors, like being Navajo and living on the Navajo
Nation. Navajo culture is the emotional (social-psychological) anchor that Huffman considers it
98
provides a foundation for students to learn to deal with hardship in a traditional fashion that grounds them in their cultural identity.
Anomie and ontological insecurity theories provide theoretical frameworks for understanding why Native Americans commit suicide at disproportionate rates. Anomie proposes that detachment from self and society can lend itself to suicide. Ontological insecurity claims that recent rapid technological change can threaten one's ontological security and thus place them self at higher risk of suicide. Transculturation and cultural continuity theories provide theoretical perspectives for solutions. Transculturation demonstrates how a solid cultural foundation helps produce student higher education achievement. Cultural continuity demonstrates that Indigenous people need to be secure about their culture in the world and in the future. Further, this researcher posits Sa'ah Naagai Bik'eh Hozhoon as an example of cultural continuity. SNBH is a tribal specific teaching that enculturates Navajo youth into Navajo culture, and thereby perpetuates traditional Navajo culture. Much of the Western medical research does not provide or reference theoretical frameworks to explain problems. This research applies five of them and leaves it up the reader to combine or separate them. This researcher believes these theories all apply and reinforce each other thus producing the evidence to support this thesis and toolkit.
99
Chapter 5: Tséhootsooí Medical Center
This chapter provides some background history on TMC-MSPI, their focus, their responsiveness to community, an overview of an enculturation project, and how they overcame some common obstacles. The cross cultural process narrative is critical to this research because it demonstrates how other Methamphetamine and Suicide Prevention Initiatives (MSPI) programs, IHS hospitals, '638 hospitals, and urban Indian health care facilities can negotiate some common cultural, program, and sustainability issues. Currently, many Native health care providers are trying to improve prevention efforts by making them more relevant and effective by incorporating the local Native culture into those efforts. This chapter explains how TMC-
MSPI accomplished it.
In 2010, TMC made the switch to '638, and since has chartered a new course that uses traditional Navajo concepts to inform the mission and goal. The '638 process is relatively new for Navajo but the nation has done well with the '638 process. Currently, TMC uses traditional culture and ceremonies as part of its overall health prevention, maintenance, intervention, and postvention practices. Increasingly, Navajo institutions and people are developing newer, more culturally relevant models, like the Navajo Learning Model, Navajo Wellness Model (2008), and the Navajo Suicide Prevention Model (2012) using Navajo culture to inform theory, as well as develop policy and practice.
The mission of TMC is "to provide superior and compassionate healthcare to our community by raising the level of health, Hozho, and quality of life" (FDIHB, 2013). The mission of TMC-MSPI is to promote the "use of Dine Culture and Traditional teachings as a protective factor against the dangers associated with methamphetamine and suicide" (TMC-
MSPI 2013). The purpose of TMC-MSPI is to "use the Dine Hozho values as a guide to
100
promote positive and healthy activities as it seeks to strengthen and increase community interaction and support by sponsoring Dine cultural based activities to fight against methamphetamine use and suicide" (TMC-MSPI 2013).
As part of their community outreach efforts, TMC encourages building relationships or partnerships with local schools, chapters, and communities. The MSPI program established a partnership between the Window Rock Unified School District (WRUSD) and TMC in 2012. In that spirit, the two cooperate towards both their respective missions. The WRUSD mission statement is "we exist to ensure relevant learning for all students, to be successful in a multicultural society" and their vision is "to be an exemplary student centered learning, organization reflecting the Dine values of life-long learning" ( www.wrschool.net
2013). These goals, missions, and visions share the idea that Navajo culture can be used to heal, restore balance, and educate people. Finding common community goals and aligning with it is a winwin for both tribal entities.
The TMC-MSPI developed early in its program a series of presentations that combine
Navajo culture with methamphetamine and suicide facts, messaging, and awareness called "Iina
Baa Cha Na Hasin" or "Honoring Life". MSPI cultural liaisons currently present a program that introduces youth and adults to Navajo culture: ideas, perspectives, teachings, and stories. Each presentation runs between fifty minutes to two hours, depending on the time allotted to the program. MSPI presentations with the schools are arranged between school officials and MSPI staff. On average each semester, the school presentations number between one and four per grade. However, MSPI would prefer to use a multi-session approach to facilitate more classes.
It would be more effective if the Honoring Life presentations were organized and extended into a standard curriculum that uses Navajo culture as a protective factor against being
101
Navajo and living on the Navajo reservation. Apache County District Attorney, Michael B.
Whiting, announced at Navajo MSPI event that "in Arizona, Apache County is number two and
Navajo County is number one for meth related crimes." He added that Arizona was number two in the country second only to California (Whiting 2013). The Navajo Nation straddles both of these counties which places its citizens at higher risk.
The first major project between TMC-MSPI and WRUSD was the Mother and Daughter
Weaving Project which began in the Spring of 2012. It lasted eight weeks in duration and brought together mother and daughter pairs within the Window Rock school district to increase parental involvement, and learned how to weave, an important part of Navajo culture. It was a great success judging by evaluations conducted by the TMC-MSPI staff and community feedback. Project participants learned traditional Navajo stories associated with weaving
(thinking), conceptualized designs (planning), learned various weaving methods (doing), solved problems (critical thinking), wove rugs (enculturation), and evaluated their work (assessment).
The student and parent pairs, the WRUSD parent liaisons, and the TMC-MSPI staff worked hard to accomplish their goals and enjoyed the project.
However, a common critique of the Weaving Project was that it was only for girls. The
MSPI program had completely forgotten about the boys. On the Navajo Nation, there are generally not many cultural opportunities for boys. Reservation Navajo boys generally do not have many positive male role models in their homes or involved in their lives. In many instances, Navajo adult males are absent in the lives of young Navajo boys. In many conversations with Navajo parents, teachers, and school officials, they repeatedly mention that more needs to be done for young boys and young men to expose them to traditional male roles, responsibilities, expectations, concepts, teachings, and goals.
102
Navajo people believe men are molded into manhood through ceremony (Aronlith 1991;
Denetdale 2010; Denny 2010; Griffin-Pearce 1992; Schwarzs 1997). Because many Navajo men have not gone through the taa'chee or male puberty ceremony to be properly molded, they have not learned the lessons, songs, and prayers that ensure success in life, and, consequently, are not ready to meet the challenges of modern life. The taa'chee ceremony is conducted when a boy's voice changes, signaling a transformation into manhood. The ceremony prepares and introduces young men to traditional Navajo expectations of manhood. They are also shaped into men using traditional Navajo male material culture like bow and arrows, and a shield and lance. They are also dressed into manhood using traditional Navajo clothing like moccasins, leggings, and a headband or a leather cap.
In effect they are made into warriors and given the knowledge and tools to overcome challenges and succeed in life. The material items used in the ceremony have significant cultural meaning and offer spiritual, emotional, physical, and mental protection. The young men learn the cultural meaning and significance of the teachings and tools. This ceremony has fallen out of normalcy over the last 50 years but has recently been reinvigorated and increasingly popular as more and more Navajo families use it to make their boys into men. The purpose of the Leather
Project was to expose the Navajo males to traditional male teachings and have them make their own forms of protection with the understanding that they are following the path set forth by the
Twin Warriors.
In this enculturation process, they are also connecting with their true male identity and this has positive psychological and psychosocial impact. Many of the Twin Warrior stories are also explained in the male puberty ceremony. The Leather Project was designed to enculturate
Navajo males into Navajo society through traditional means and thus raising the bar of
103
expectation for manhood. Many traditional Navajo believe that the current expectations for
Navajo men are Western and substandard when compared to traditional expectations of manhood. If modern Navajo men followed traditional expectations, they would not be having children out of wedlock, they would stay committed to one wife, they would not commit domestic violence, and they would be lifetime providers and protectors. Over the years due to assimilation, Navajo people, particularly men, have not learned these teachings and are now paying the price with disrespect, dysfunction, and disorderly lives.
Young Navajo males and traditional Navajo culture need to be brought together in order for positive and meaningful learning and development to occur. This gap in the Weaving Project became the impetus for the Leather Project. WRUSD and TMC-MSPI wanted to expand the
Weaving Project to include something for boys, something that included the following: Navajo cultural teachings, national best practices and/or promising practices, interactive hands-on activities, parental involvement, and community involvement into a program whereby youth between the 4th-12th grades can participate during school, after school, or both. The need for
Navajo male enculturation activities was expressed several times through feedback, program evaluations and community suggestions.
In the Summer of 2012, MSPI sponsored activities for the Boys and Girls Club in Fort
Defiance as part of a summer youth program. MSPI scheduled several interactive activities and presentations for the week's schedule: art, archery, Navajo culture, food demonstrations, and cultural arts. This researcher was hired for two workshops: archery and leatherwork. From this researcher's perspective, both workshops went well, in terms of youth interest, attention, and participation. Storytelling is an important part of this researcher's enculturation approach, so the youth got to hear stories about arrows, bows, bow guards, and some old Navajo war stories. I
104
did not see the evaluations for those two presentations but, judging from the youth's deep interests, their eager participation and their big smiles, they reconnected with their culture very well those days. Both girls and the boys enjoyed shooting arrows and both were good at it. The leather workshop included choosing between a leather bracelet and a leather bow guard. They got to make and decorate their projects using sacred stones and hearing the stories associated with those stones, the jewelry, and bow guards. From the experience and their own hands, they make their own spiritual, emotional, physical, and mental protection.
This researcher was hired by TMC-MSPI the first week of September 2012 and was tasked with addressing the question of "what could be done for the boys?" The Weaving Project evaluations, community feedback, and e-mails from the WRUSD parent liaisons regarding future parent involvement in project programming all indicated a need for some type of cultural lessons specifically for boys. From that, this researcher devised a project that would be the male complement and equivalent to the female Weaving Project. The tools associated with weaving are considered a woman's weapons in her war with monsters: poverty, hunger, laziness, and lice.
She uses her weapons to battle these monsters every day to ensure the health and harmony of her family and home. In this way, all women are inherently warriors.
The boys would do something equivalent to the girls; the weapons the Sun gave the
Warrior Twins are the equivalent of weaving tools, and archery is one of the equivalents of weaving. It was important that the male project not compete with the female project. The time schedule, meeting schedule, and meeting locations were aligned with the female project. Both projects would be done at the same time and location but in different rooms. The project schedule was 5:00 p.m. to 7:00 p.m. every Tuesday and Wednesday of the eight weeks.
105
The Leather Project was an eight week program where the boys teamed up with their male mentors to listen to "Honoring Life" presentations, learn about five items (bow guard, side pouch, quiver, arrow, and buckskin cap) of traditional Navajo male material culture, learn about their associated traditional protection stories, and make their own. MSPI brought snacks and drinks for participants to enjoy. The location was the Tsehootsooi Diné Bi Olta (Navajo
Immersion School). The atmosphere was calm and cooperative. The project usually began and ended with Navajo prayers, as none of the participants objected. The cultural liaison and myself would tell stories when it would get quiet. A fast pace was set for the class to stay on schedule.
It reminded this researcher of taking a moccasin making class at Diné College that seemed more like therapy than class. This researcher wanted to recreate the therapeutic atmosphere experienced making moccasins at Diné College with these kids doing leatherwork in Fort
Defiance.
The WRUSD parent liaisons and MSPI co-workers got to know the kids and their adult mentors. The kids got know and interact with each other, the adult mentors, and MSPI/WRUSD staff. This was important because there was a wide range of youth ages (8-17) and the organizers wanted the boys to get to know and relate with each other. At first, they kept to themselves, but as classes progressed they got to know each other on a first name basis, were increasingly interacting with each other, and the older boys started helping the younger boys. By the end, there was plenty of cooperation, pride, and feelings of accomplishment. It is really encouraging to see Navajo boys and men reconnect with their traditional culture and see how it changes them for the better. Empty stares were soon replaced with enthusiastic attention and pride. This outcome was never measured but seen and experienced firsthand by all involved.
106
Many of the youth were considered "at risk" but this researcher could not tell as they were all very respectful, listened attentively, and worked hard to complete the tasks. Research concluded the participants were not "at risk" but had the most potential. One observation had a particular positive outcome. One of the youth initially was displaying antisocial behaviors by wearing all black, wearing his hair in his face, and coloring on himself. By the end of the project, he was wearing colorful clothing, wearing his hair in a traditional Navajo style, and not coloring himself. He went from a silent marginalized Native youth to proud young Navajo man.
When he first came into the project, he did not speak, and would not shake other people's hands.
By the time he finished, he was shaking everyone's hand, greeting them with "Yah'ah teeh", and using kinships terms in Navajo. He became comfortable and secure with his identity, relations, and surroundings. When the project ended, he came up to the MSPI staff and proudly expressed his gratitude for teaching him to be "Navajo" and he promised to always be a good warrior.
At first, this project was designed as a father and son project but it became apparent that many of the boys did not have fathers at home. We adjusted to include male mentors but even that had to be adjusted to include both genders. Only twenty percent of the youth participants had fathers and even fewer fathers participated in the project. The largest group of mentors was composed of male relatives such as grandfathers, uncles, and stepdads, or at-home male mentors.
The second largest group was composed of the boys' fathers, and some mentors were mothers, aunts, or big sisters. Some of the boys showed up with a different family member each time.
The Leather Project was successful by any measure. It provided the opportunity to witness Navajo boys and men develop interest in traditional Navajo culture, engage in traditional male-oriented activities, increase their social group and family interaction, feel attached to the working group, and exhibit pride for their accomplishments. We included anti-meth and suicide
107
messages throughout the lessons. As an incentive, all the participants got to keep the items they completed in the project: a bow-guard, a stone tipped arrow, a buckskin quiver, a men's side pouch, and a man's buckskin war cap with feathers. When they completed their arrows they got the chance to shoot them using a traditional sinew backed bow. That was the first time any of the participants had gotten to touch, handle, and shoot such a weapon. It was amazing to see how easily and naturally they all re-connected with this activity. Many wanted to keep shooting arrows and that led to more interest in enculturation activities, like traditional archery and hunting.
At the end of the Weaving and Leather Projects, TMC-MSPI presented a project overview to a school district wide community event "Culture Night Celebration" that highlighted
Navajo culture including the two MSPI projects. Some of the student participant's works were displayed at the event and the community responded with interest, support, and pride. MSPI received many inquiries from other school administrators that wanted similar projects in their schools.
In addition to the school function, TMC-MSPI and WRUSD hosted an honoring and accomplishment celebration for the participants where we shared a meal, words, experiences, gave awards, presented certificates of completion, and recognized outstanding work, participation, and leadership by presenting Pendleton shawls and robes to the participants. This researcher confirmed from the academic research that community recognition is important in building community connectedness. For many of the participants this was the first time they had ever received positive recognition in a community setting where they and their families were honored and proud of it.
108
One of the major lessons learned from enculturation activities like the Weaving and
Leather Projects are that they work, the parents and youth build positive relations, the younger and older kids get along, they relate to each other by their clan relations, they are happy, they have an increased sense of security, and they are even more proud to be Navajo after reconnecting with their Changing Woman or Twin Warrior identity. This is important because these identities are their Navajo identities and they demonstrate in real and valid ways that youth can rely on them for spiritual, mental, physical, and emotional guidance and protection. In this way, traditional Native culture is a protective factor. Although these female and male identities are unique to Navajo, other tribes possess similar cultural ancestors that teach valuable life lessons. The Apache tribes share many cultural ideas with the Navajo, Sa'ah Naagai Nik'eh
Hozhoon, Changing Woman, Monster Slayers, and emergence stories are just a few. If a tribe or group has lost their history, then they could borrow from their Indigenous relatives to re-create their own given post-colonial circumstances. Cultures have borrowed from each over from the start, now is no different, besides no culture is pure, and all cultures are constantly evolving
(Bhabha 1994).
Through these types of enculturation activities and stories, Navajo adults and youth are introduced to the Navajo warrior ethos and that their fighting spirit is innate. All they have to do is accept it, re-connect with it, and make it theirs because it already belongs to them. They learn that it is a sacred protection that should only be used at appropriate times and circumstances not against women, loved ones, or in the home. They learn to accept and own their tribal warrior identity. Through enculturation activities like this they learn that they belong to the Holy People, their lives are sacred, and they need to make smart decisions regarding their health and wellbeing. They come to see themselves as important members of society and integral to
109
maintaining the cosmic order. For many, this was the first time they heard they belong to the
Holy People and it made a positive difference that is hard to measure. It has to be experienced as it had a profound impact when shared.
Gardening or wild food harvesting is another example of an Indigenous enculturation activity, especially if it is informed by the local Native culture and a community wide activity.
Enculturation activities can be short (45 minutes), medium (four days), and long-term (Spring through Fall) in duration. They can be at no cost to very expensive depending on the resources of the community that seek to employ them. Enculturation activities can be traditional cooking or traditional games. It can be whatever the local community says it is. Additionally, one of the benefits of using local people is they get paid for their services. Many cultural experts have traditionally given to their communities and now they can be paid fairly as their work becomes valued as prevention practices develop.
Another lesson learned from the enculturation activities is that more activities need to be implemented and they should be organized according to the seasons. Since this researcher's employment in TMC-MSPI, the program has conducted several other enculturation activities like culture nights, trail rides, equine workshops, Drums of Summer, archery, traditional food demonstrations, string games, traditional food tastings, feasts, give aways, runs, Walk for Hozho,
Navajo dancing demonstrations, Navajo singing, Navajo drumming, Navajo ceremonies, learning to pray in Navajo, Native American Church prayer services, and youth cultural festivals.
Every time, the community enthusiastically participates and MSPI often has to turn folks away due to limited seating or fire hazard restrictions.
Native people are hungry for traditional knowledge and these types of enculturation activities are always well received and long overdue. Post-colonial prevention efforts need to
110
develop more long term seasonal enculturation activities for community members. From a survey conducted in November of 2013, TMC clients want parks, hiking and biking trails, cultural programing, community gardens, school gardens, community athletic programs, higher quality food, and more food choices (TMC-MSPI 2013). Navajo and Native people alike are tired of doing without, with sub-standard, and want the best of what is available to improve health and well-being, and that includes health care, traditional culture, and food sovereignty
(TMC-MSPI 2013).
Even though Navajo people have embraced modernity, they do not want to completely relinquish their traditional culture. The issue is that the community members do not know enough about the Navajo culture to teach it to their children and they feel uncomfortable and want other, more culturally adept people, to teach it. This makes sense at Navajo Nation because
Navajo people are taught to not speak about things if they are not an expert, especially cultural and spiritual subjects. This lends to the growing gap between Navajo people and Navajo culture, which leads to poor health.
One of the biggest challenges TMC-MSPI faced in developing cultural programs and services is demystifying Navajo culture. That means making it user-friendly by being able to talk about cultural and spiritual subjects. For too long, traditional Navajo culture had been treated like it is backward and relegated to the old days or the old ways. This makes it harder to find people who are willing to openly talk about the culture. However, one thing learned from working at MSPI is that Native people are now willing to talk about it because they have only recently felt comfortable doing so. First, that talk has to happen among Native people so they can find consensus. Second, talk needs to happen between interested Native people and Western
111
people. Third, talk needs to be on equal terms. Fourth, Western people need to listen more and talk less (Deloria 1972).
Traditionally, Navajo people grew up knowing the cultural teachings necessary for a successful life. Over time, Navajo people have either been pulled or drifted away from these teachings and currently want to learn Navajo culture for themselves and their children. TMC-
MSPI places much emphasis on connecting Navajo people to key Navajo concepts like Sa'ah
Naagai Bik'eh Hozhoon because this term offers protection to those who believe it and guidance to those that accept it. Ten years ago, that term was hardly known among the average Navajo person in Fort Defiance. Now, it is becoming more common knowledge as MSPI cultural liaisons present it to the public regularly. In the process of talking about Sa'ah Naagai Bik'eh
Hozhoon at community gatherings, they are demystifying it, teaching it to the people, and the people are not only learning it, but incorporating it into their daily lives.
Since the inception of TMC-MSPI, which was 2010, evaluations have been used to provide feedback to service providers so that they can make programs more effective. From this process, the need for culture based programming has been constantly and consistently articulated. The challenge for TMC has been to deliver the programs and services that help facilitate Navajo reconnection to culture or enculturation.
TMC's Division of Community Health incorporates the Public Health Model into patient programs and services. The public health model is based on community wide prevention efforts and operates under the assumption that it is better to have a community of healthy people who will be less likely to get ill or have poor health in the first place. Public health model prevention efforts are cheaper than interventions and have greater positive impact. The public health model
112
and Indigenous health concepts are very much in line with each other, as Native people have always encouraged community wide health concepts.
The TMC's Division of Community Health has also embraced the Navajo Wellness
Model which was developed in 2008 with the purpose of providing guidance for healthcare policies and practices for Navajo people and Navajo health care providers. The Navajo Wellness
Model (NWM) calls for the attainment of individual Hozho, or harmony, attained through living a good life by constantly balancing four essential areas; emotional, spiritual, physical, and mental. The NWM also has prevention and environmental components.
An interesting point that was stated earlier was that one of the challenges TMC faces in teaching Navajo culture is demystifying Navajo culture. The Navajo Wellness Model is a perfect example. Most of it is presented in the Navajo language and participants are encouraged to speak and understand the Navajo language fluently in order to benefit from the presentation, which takes a few hours. In September of 2013, the TMC Division of Community Health sponsored a Navajo Wellness Model presentation to familiarize staff with one of the models their division has embraced. The goal was to encourage TMC Division of Community Health programs to be more accepting of traditional Navajo health concepts and goals. This researcher attended the entire presentation and learned a great deal about traditional approaches to health.
The presentation was fast paced, linguistically challenging, and covered a lot in a little amount of time. Only when it was over did this researcher realize why people are afraid of it; it is a large amount of interconnected information that forces one to think holistically just to comprehend it, and it is presented in Navajo. It was perfect for this project in every way.
Currently, with Navajo people in the top hospital leadership because of '638, Navajo health care needs are finally be addressed according to Navajo culture and tradition with k'e,
113
compassion, spirituality, and Hozho (balance) being the focus. In the past, Navajo people came to Fort Defiance Indian hospital to fix what was wrong. Now, Navajo community members want prevention programs and services that include and teach Navajo culture. In this researcher's capacity as TMC-MSPI community involvement coordinator, the public was always interested in and appreciative of Navajo culture lessons, storytelling, and activities. Often times, it was all they wanted.
Another challenge faced in developing cultural prevention programs was talking about death and suicide. For Navajo, as is the case for many other Native nations, those subjects are non-subjects. Navajo people are not supposed to think, talk, or act in any way that resembles death or suicide. Navajo believe to do so invite death into one's life. This was one of the hardest obstacles to negotiate because all of the evidence-based suicide intervention and prevention practices require talking about death and suicide. TMC-MSPI found through trial and error that the topics of death and suicide are easier to talk about if one focuses on the opposite which is consistent with a "duality" approach. Talking about the sanctity of life is more in keeping with the Navajo concept of duality. This worked and people were not only willing to listen, they wanted to keep talking, and they wanted to learn more. This idea got traction and became the impetus for TMC-MSPI prevention programs and public advertising campaigns. The good thing is that traditional Navajo culture has many philosophical concepts about living an ideal life. One of the goals for this researcher was to figure out what that was and simplify it for modern understanding.
Another challenge faced by TMC-MSPI came in the late Summer of 2013 when it was announced that MSPI would be moved from the Division of Behavioral Health to the Division of
Community Health. At that time, the future of MSPI was uncertain due to the end of federal
114
funding that was to expire August 31, 2013. After that date, the future was uncertain. Just before that date, the TMC Leadership Council decided to move MSPI under the Division of
Community Health because suicide and substance abuse prevention was more in line with current Division of Community Health prevention practices.
Immediately before the funding was set to expire, TMC-MSPI applied to and was accepted to present at the National Indian Health Board Annual Conference. Three people went and presented the work TMS-MSPI did emphasizing the cultural component, the rationale behind it, and how it was working well in the community. The presentation was well received with many Native health care organizations, facilities, and professionals expressing interest and wanting to know more about how it was developed. After the presentation, this researcher worked with several groups and individuals well into the night to demonstrate how they could do the same using their local Native cultures to inform lessons.
Up to this time, this researcher did not realize the importance of developing a tribal specific enculturation tool and how it could be adapted by other tribes and Indigenous people using their traditional cultures to inform their lessons. At this point, this researcher had been working in isolation and had little or no contact with other providers and programs that were trying to reduce suicide in their communities. This event brought many Native American and
Alaskan Natives together to share stories, experiences, and learn from each other. During this conference, it became apparent that a culture specific post-colonial prevention toolkit was very important. The toolkit is now helping to change the way Western medicine and Native health care providers think about the impact of post-colonialism on Native health and think about how
Indigenous enculturation can reverse those trends. This type of cultural tool or enculturation can be just as useful for preventing diabetes, heart disease, and domestic violence.
115
Upon returning from the conference, work continued and so did the funding. In the Fall of 2013, TMC Division of Community Health decided to incorporate the Navajo Wellness
Model and TMC-MSPI's culture as prevention rationale, strategy, and efforts by having the
TMC-MSPI cultural liaisons participate and contribute to improving other prevention programs within the Division of Community Health. Even as MSPI funding comes to an end in August
2014, the TMC-MSPI will continue with less focus on methamphetamine use and suicide and more focus on public health prevention. This research has found that teaching traditional culture not only prevents substance abuse and suicide but helps prevent all post-colonial maladies.
Moreover, this researcher also found out that teaching traditional culture promotes healthy living and other positive outcomes. When people feel good about themselves they make healthy decisions, and think about long-term consequences. The toolkit provides a baseline of traditional teachings presented with modern prevention messages to help them make good decisions. In the Winter of 2013, this researcher was given the green light to develop the Iina
Baa Cha Na Hasin (Honoring Life) Post-Colonial Prevention Toolkit (see Chapter 6). It will be accessible at www.fdihb.org
. It is by the people for the people.
At the outset of this researcher's employment at TMC-MSPI, little was known about the academic research pertaining to building protective factors. It was just a gut feeling that traditional enculturation has to work because it has worked thus far. For this researcher, it was self-evident and a necessary part of duality. It made sense from a Navajo perspective that if one has lost or never known their traditional culture then they can learn it as a way of re-balancing their lives. However, as more was learned from field experience, attending trainings and conferences, and academic research, this researcher began to learn that a lot of research has been done that supports traditional enculturation activities as a viable means of building protective
116
factors (Borosky et al. 1999; Beauvais and Oetting 1999; Gonzalez et al. 2003; Hodge et al.
2007; LaFromboise et al. 2001; Little Soldier 1985; Kullis et al. 2012; Garroutte et al. 2003;
Hammond et al. 2009; McCormack 2000; Mohatt 2001; Navarro et al. 1997; Novins et al. 2004;
Pettingell et al. 2008; Whitbeck et al. 2000; Zimmerman et al. 1996; and Zimmerman et al.
1998). With academic research supporting and validating TMC-MSPI's cultural approach to building protective factors, more impetus was given to expanding enculturation activities and further development of the toolkit.
Interestingly, even though MSPI knew traditional culture was the key to post-colonial prevention efforts, they needed Western validation to feel comfortable and confident to continue.
There are several reasons why this occurs. One reason is a logic section has to filled out when spending funds and it makes more sense if the logic comes from an established Western, medical, or psychological source. Another reason is Western approaches need Western evidence in order to be considered valid. Many Indigenous communities employ other methods of validation, one being if it has worked thousands of years, then it should continue to work. The important issue to take from traditional Indigenous knowledge and culture is that they can help public health care providers re-balance the post-colonial condition by raising the levels of protective factors not by lowering the risk factors (Alcantara and Gone 2008; Chandler and
Lalonde 1998; LaFromboise et al. 2006; Newcomb and Felix-Ortiz 1992; Mohatt et al. 2011).
The other important issue is that the strength for this approach lies within the Indigenous communities themselves. To gather the cultural information needed for this thesis and toolkit, this researcher did not have to travel any more than 20 miles.
Post-colonial states and institutions need to cooperate with Indigenous people to find relevant and effective ways to address issues like domestic violence, diabetes, substance abuse,
117
and suicide. Together, working in tandem, they can effectively find ways to reduce the disproportionality of Native health disparities. The key is focusing on the strengths not the deficits. Traditional Native knowledge and culture is dynamic and holds the answers to many problems facing the world today but the problem is the West does not know it or denies it
(Deloria 1993; Berkes 2012; Cajete 1994; Cheyftiz 2009). Native people know it, but the West is not listening.
Acceptance and validation of Indigenous ways by the West needs to happen so prevention programs like TMC-MSPI can develop, solidify, and spread across the globe.
Conversely, acceptance and validation of Western ways by Indigenous people needs to happen so they can justify and improve their prevention efforts. Both need each other to achieve positive outcomes. It is a win-win for all but requires political will, cultural capacity, equal partnerships, sustained funding, and informed action to be realized.
118
Chapter 6: Iina Baa Cha Na Hasin Post-Colonial Prevention Toolkit
The purpose of the toolkit is to teach Navajo youth about Navajo culture. The idea behind this toolkit is to bridge the growing chasm between modern Navajo youth and traditional
Navajo culture. This connection is important and necessary because traditional Navajo teachings impart coping and mastery skills by demonstrating how Navajo ancestors were able to overcome extreme hardships and continue their life journey to old age. It is a map for life's journey.
The Iina Baa Cha Na Hasin Post-Colonial Prevention Toolkit is the result of balancing the organizational goals and objectives of federal, tribal, and local interests that have a stake in
Navajo health care and well-being. Iina Baa Baa Cha Na Hasin means "becoming filled with emotion about life" (MSPI 2012). This toolkit is organic, multi-disciplinary, culturally relevant and specific, and a strength-based approach to prevention. It represents duality in that it is
Western and Indigenous, new and old, and promising yet well established. It conforms to the
Navajo Learning Model, the Navajo Wellness Model, and the public health model. It has a four pillar theoretical framework and is supported by forty years of Native American substance abuse and mental health intervention research.
Conceptually, it is a Navajo solution to a Navajo problem and is organized as such. The
Iina Baa Cha Na Hasin Post-Colonial Prevention Toolkit is organized into four sections:
Nitsihakees (Thinking), Nahata (Planning), Iina (Living), and Siihasin (Hope), according to the
Navajo Learning Model. The Nitsihakees (Thinking) lessons focus on building connectedness as protective factors. The Nahata (Planning) teaches lessons on Navajo spirituality; the Iina
(Living) lessons focus on resilient responses to disturbances and threats to health. The Siihasin
(Hope and Evaluation) lessons focus on instilling hope from a Navajo perspective.
119
Storytelling, coloring pages from a color book, talking about the four direction's poster, and viewing power point presentations are how the toolkit is presented. The reasoning behind utilizing learning different methods is a multifaceted approach to accommodate different learning styles. This researcher believes that by using oral, visual, audible, and participatory methods the youth will better be able to internalize the information.
The logic behind the toolkit is that traditional Navajo culture teaches modern Navajo to overcome the challenges of post-colonial America. For Native people, those challenges include hegemonic American culture: capitalism, Christianity, materialism, consumerism, and patriarchy. Native people have to confront and conform to these systemic and daily impositions just to make it to the next day. In the process of constant post-colonial adaptation, Navajo people, for the most part, have disassociated from themselves, their cultural identity, their community, and the natural environment; all of which are necessary components for good
Navajo health and well-being (NMW 2008). Traditional Navajo philosophy, stories, and activities teach valuable lessons on preparing for, adapting to, and overcoming changing environments and circumstances. The toolkit presents traditional cultural knowledge and in so doing answers the national and local call for these types of culturally specific public health prevention tools. The following is a brief synopsis of each section and each lesson within that section.
Nitsahakees: Thinking and Connectedness
Lessons 1-6 are Nitsahakees (thinking) lessons and are designed to promote feelings of
"belonging" and "connectedness" by teaching basic Navajo concepts on inter-relatedness. The objectives of the Nitsahakees lessons are to teach Navajo concepts regarding "connectedness" or one's connection to others, the environment, and beyond. The objective of this section is crucial
120
because it is the foundation for the rest of the lessons. The lessons build atop each other in a progressive order. From the 24 lessons, one could select one lesson from each of the four sections to cover that section, if time is a factor. The goal of the connectedness lessons is to demonstrate to Navajo youth that they are a part of something larger than themselves (Cosmic
Order), that they matter, they are loved, and that they are important for many reasons. This section explains and reaffirms Navajo clanship. It also explains relations with non-humans, teaches respect for nature and the natural order, explains the "Cosmic Order", and provides a cultural and intellectual framework for viewing and engaging the world. The pre- and post- evaluations are the same for this section.
Lesson 1: "Ya'at'eeh" introduces youth to the proper way to introduce oneself according to Navajo tradition. Emphasis is placed on the meaning of ya'at'eeh, the cultural significance, the stories associated with introductions, and why it is important that they know and practice introductions. The activities for this lesson are coloring for the K-3 rd
grade and practicing introductions and handshaking for everyone. One of the goals of this lesson is to explain how introductions are more than introductions; they are acknowledgements of the Holy People, and their creations. Just saying the word Ya'at'eeh confirms the connection between humans, the
Holy People, and the cosmos.
Lesson 2: "K'e and Clanship" teaches about the Navajo clan system and the relationship terms used to acknowledge k'e or clanship. This lesson explains how Navajo people are related to each other and why that is important. It also explains how humans are connected to the cosmic order and why it is important to maintain order or balance in one's life. Youth will learn the origin of Navajo clans, the first four clans, the first four human clans, and a brief synopsis of how it relates to connectedness. Activities include collage making for K-3 rd
grade, completing a
121
clan relationship chart for 4-6 th
and 7-12 th
grades. The 7-12 th
grades can also play the Navajo
Dating Game to see who they are eligible to date.
Lesson 3: "Mother Earth and Father Sky" teaches the meaning and significance of each, their relations, the sacred space between, and how it connects to individual humans. This lesson explains and provides everyday examples of acknowledging and maintaining order between
Mother Earth and Father Sky. An emphasis is placed on individual responsibility and environmental stewardship. Participants will learn about the sacredness and responsibility of being human in this unique location. Activities include coloring a sand painting for K-3 rd
grade.
Lesson 4: "Sa'ah Naaghai Bik'eh Hozhoon" teaches the origin, meaning, and significance of the concept and how to incorporate it into one's everyday life. This term is often referred to as the Navajo philosophy for life and works like a roadmap. This lesson is intended to introduce the term to Navajo youth, translate the meaning, and demonstrate how it can be useful for handling today's problems. Emphasis is on taking ownership of this term, making it a goal, and using it as a guiding philosophy to reach old age. Activities include coloring for K-3 rd grade and storytelling for everyone else.
Lesson 5: "Teachings from the Four Directions" introduces the four directions, their origin, meaning, significance, and teachings associated with each. This lesson is designed to familiarize youth with Navajo concepts on learning, understanding, and Navajo worldview.
"Teachings from the Four Directions" also explains the human connection to land, family, humans, Mother Earth, Father Sky, the Holy People, and the cosmos. The goal is to introduce
Navajo youth to Navajo ontology, epistemology, and pedagogy in a simple, understandable way.
Activities for K-3 rd
grade include coloring, 4-6 th
grade include games/puzzles, and 7-12 th
grade four directions activities worksheet.
122
Lesson 6: "Corn Pollen Path of Life" teaches youth the origin, meaning, and significance of the term and how it can be a useful tool for life. This lesson also teaches the origin, meaning, and cultural importance of corn, corn pollen, and how it is used to reaffirm one's connection to
Mother Earth, Father Sky, the Holy People, and the cosmos. This lesson teaches youth that life is full of danger and that they should be prepared for trouble every day. "Corn Pollen Path of
Life" is presented as a foundational teaching, a gift from the Holy People, and a way of life that should always be maintained. "The Corn Pollen Path of Life" is the Navajo life world.
Activities include coloring for K-3 rd
grade, and explanation of the Life Journey chart and storytelling for everybody else.
Nahata: Planning and Spirituality
Lessons 7-12 are Nahata (planning) lessons and are designed to foster spirituality. The objectives of the Nahata section are to introduce Navajo youth to Navajo concepts on spirituality, planning, goal setting, and strategy. Youth will learn why spirituality is important to Navajo culture, how it functions, and how it ties to Hozho and health. This section is designed to provide a counter balance to the hegemonic influence of monotheistic spirituality in post-colonial
America. This section also covers planning and goal setting which were important principles in traditional times. This section introduces the Navajo Holy People, tells the Navajo Creation
Story, the Creation of First Man and First Woman, the Birth of Changing Woman, and the Birth of the Warrior Twins. In Navajo culture, spirituality is part of everyday life (NWM 2008). This section also has its own pre- and post-strength-based evaluation that measures feelings of spirituality.
Lesson 7: "Navajo Creation: First and Second Worlds" tells the Navajo creation story in
English, highlighting certain words in Navajo. This lesson explores the Black and Blue Worlds,
123
explains how they came to apocalyptic ends and the role Holy People played in them. The goal of this lesson is to provide spiritual grounding by teaching the youth that this is where their story begins. The focus of the lesson is tying traditional teachings to modern day prevention messages. This lesson also explains the origin of insects, bats, and birds and how they are connected to human development. This lesson also introduces some key Navajo Holy People.
The activities include coloring for the K-3 rd
grade and storytelling for everybody.
Lesson 8: "Navajo Creation: Third World" is the story about events and lessons learned during the Yellow World. Attention is paid to feelings, emotions, self-control, commitments, and respect as they relate to spirituality. This is the world when spirituality started taking shape, and the beginning of ceremonies. In the Yellow World, animals taught humans how to get along, the sexes separate, monsters are born, and conflict is resolved. Weaving, raising corn, and offering corn pollen are introduced to humans during the Third World and it has a positive impact on human development. The activities include coloring for K-3 rd
grade and storytelling for everybody else.
Lesson 9: "Navajo Creation: Fourth World" tells the story of the White World in English.
The important thing about the White World is that it introduces discipline to humans, it sets the geographical boundaries of Navajo land, ceremonies are firmly established, and balance is attained, for a little while. The focus of this lesson is to connect youth to spirituality by explaining some core concepts and demonstrating how it relates to their lives. The Fourth
World is presented as Navajo history from a Navajo perspective and gives meaning to monsters, monster slaying, establishing harmony, promoting self-care, and attaining health. Ice age adaptation is introduced in the Fourth World. The activity is storytelling.
124
Lesson 10: "Creation of First Man and First Woman" introduces two prominent Navajo
Holy People, their disciplines, responsibilities, and tools for life. First Man and First Woman are human mentors, ancestors, whom have many teachings and tools to share that benefit human kind. This lesson demystifies their mystery and makes them more approachable and understandable by simplifying their messages and presenting them in English. This lesson also connects youth to spirituality by explaining Navajo spirituality in easy to understand terms. The activity is storytelling and handling Navajo material culture associated with men and women.
Lesson 11: "Birth of Changing Woman" teaches the origin, meaning, and importance of her birth. This was a significant event in Navajo history and the lesson teaches why womanhood is important to Navajo society and culture. Love, peace, nurturing, self-help, self-balance, and self-respect are also emphasized in this lesson. Youth will learn that they all come from her and that they are all related because of this relationship. They will also learn about the Kinaaldaa puberty ceremony. The activity is storytelling.
Lesson 12: "Birth of Warrior Twins" teaches the circumstances that led up to the birth of the Warrior Twins, how that relates to problem solving, and why spirituality is central to Navajo culture. An important part of this lesson is to convey the message that all Navajo boys are the
Warrior Twins and that being a warrior is innate. This lesson uses storytelling to convey traditional teachings on illegitimacy, reciprocity, awareness, self-help, self-balancing, thinking, planning, and direct action to solve problems. The "Birth of Warrior Twins" lesson teaches common traditional lessons associated with boyhood and manhood. A section also discusses the taa'chee puberty ceremony and why it is important for proper growth and development. The activity is coloring for K-3 rd
grade and storytelling for everybody.
125
Iina: Living and Resiliency
Lessons 13-18 are Iina (living) lessons and are designed to build resiliency. The objective of the Iina section is to convey Navajo teachings on resiliency. These are the lessons that teach us to prepare for challenges, teach us how to deal with hardship, teach us how to
"bounce back" after chaos has disrupted our lives, and teach us how to turn things around. These lessons are designed to teach initiative, motivation, independence, self-determination, and responsibility. The goal of these lessons is to teach Navajo youth to actively engage the world, control their fear, trust in themselves, and have self-confidence. These lessons are traditional teachings for life and are action-oriented. This is strength-based enculturation designed to teach modern Navajo youth how to anticipate, handle, and recover from hardships and challenges.
This section teaches lessons from Warrior Twin Stories, Gathering of the Clans, Blessing Way
Teachings, and Protection Way Teachings. The pre- and post- evaluations for this section are designed to measure feelings of resiliency.
Lesson 13: "Slaying Monsters" is the story about how the Warrior Twins sought, met, and overcame the challenges presented by several monsters. The purpose of this lesson is to use creation stories to demonstrate how Navajo ancestors dealt with and overcame overwhelming hardship. The focus is on re-balance, preparation, being tough, not giving up, always looking for solutions, bouncing back, and turning negative to positive. This lesson uses stories as a self-help guide for modern problems. Colorful and youthful graphics are used to illustrate the story. One of the main objectives of this lesson is to convey the message that they are all Monster Slayers and they can all learn and benefit from this commonality. They learn the Navajo warrior ethos for females and males. The activity is coloring and storytelling. Lesson 14: "Slaying Monsters" is a continuation of lesson thirteen and covers the same subjects. This lesson also teaches how to
126
take control of negative situations. The benefits of this section are that youth will learn about traditional problem solving.
Lesson 15: "Restoring Harmony" uses creation storytelling to teach the importance of self-help, self-care, responsibility, the importance of balance, and how harmony is the goal for
Navajo health. The other goal of this lesson is to teach about male and female relationships, equality, commitments, teamwork, k'e, and gender reciprocity. This lesson demonstrates how to take initiative to restore balance after imbalance has occurred by explaining how ancestors did it.
The activity is storytelling.
Lesson 16: "The Gathering of the Clans" tells the origin, meaning, and significance of the
Navajo clan system, explains "adopted" clans, and demonstrates how the clan system was a natural and resilient response to unnatural colonial perturbations. Youth will hear clan origin stories and learn how their clans were adopted into Navajo society. Each clan has a unique and important history and the youth learn about it. This lesson is used as a concrete example of resiliency so youth can become familiar with the word resilience. They will learn how Navajo people adapt to challenges so that hopefully they can reference it in the future. The activity is coloring and storytelling.
Lesson 17: "Blessing Way and Protection Way Teachings" teaches some baseline traditional cultural principals for living. Blessing Way teachings focus on beauty, growth, and development while Protection Way teachings focus on awareness, security, and protection.
Consistent with the concept of dualism which Navajo culture embraces, both are needed to help navigate through life and overcome hardship. These lessons are important Navajo instructions for resiliency. Besides the teachings, modern everyday examples will be emphasized. These
127
teachings are also traditional prevention messages consistent with the public health model. The activity is coloring and storytelling.
Lesson 18: "Living a Balanced Life" is a simplified version of the Navajo Wellness
Model and demonstrates how traditional concepts can be useful today. Emphasis is placed on balancing four critical areas: mental, spiritual, physical, and emotional. Youth will learn how their daily thoughts and actions affect overall health and wellness. Youth will also learn that the
Navajo Learning Model can help them achieve balance by walking them through the process and demonstrate how it can. Again, traditional teachings are presented in modern context using modern means to help prevent modern post-colonial maladaptive behaviors.
Siihasin: Reflection, Evaluation, and Hope
Lessons 19-24 are Siihasin (reflection, evaluation, and hope) lessons and are designed to inspire hope. The objective of the Siihasin section is to impart Navajo teachings on hope, the importance of being hopeful, rules for living in accordance with the Cosmic Order, a Navajo history of the Navajo Nation, and finishes with positive words of wisdom on awareness and dealing with current and future problems. This section concludes the Iina Baa Cha Na Hasin
Post-Colonial Prevention Toolkit and leaves participants with baseline knowledge of traditional teachings designed to inspire hope. Prevention messages are scattered throughout this entire section using traditional stories and teachings to convey the message. The pre- and postevaluations in this section are designed to measure feelings of hope.
Lesson 19: "5R's: Respect, Reverence, Reciprocity, Resilience, and Reflection" is designed to foster hope by connecting youth with traditional teachings on these five subjects.
These five areas were identified as promising protective factors and emphasis was placed on traditional meanings, teachings, and interpretations of these five subjects. Additionally,
128
concrete, modern everyday examples will be used so youth can see how they are connected according to Navajo culture. Each one of these areas is important but together they are like a bundle of arrows, unbreakable. The activity for this lesson is coloring, storytelling, and posttalk. Post-talk involves a group discussion lead by the presenter after the presentation about the subject matter to help connect the cultural dots.
Lesson 20: "4H's: Health, Hope, Happiness, and Hózhó" is similar to lesson eighteen but goes more in depth and focuses more on long term health benefits for everyday actions. This lesson explains how health and Hózhó are related and how balancing or harmonizing one's life on a daily basis is how to reach the Navajo old age of 102. The "4H's" was created specifically to use traditional concepts to inform modern decisions regarding health and well-being. The activities include coloring, storytelling, and post-talk.
Lesson 21: "Maintaining the 'Cosmic Order'" is about learning to avoid sickness and imbalance following Navajo rules for living. Navajo believe that living a good life is the best prevention practice and this lesson teaches why and how. The lesson teaches youth how to balance their lives according to Navajo holistic concepts. This lesson focuses on personal responsibility, initiative, and action. The activities are coloring, storytelling, and post-talk.
Lesson 22: "Navajo Nation within a Nation" is a modern Navajo history from this researcher's perspective and is designed to inspire hope. It starts from the White World and goes into modernity. It is a history of Navajo interactions, adaptations, and responses to colonialism and post-colonialism. This sets the stage for Navajo legal existence and the federal policy era that shape today. Although a lot of negative things are covered in this lesson, the intent is to demonstrate not how many bad things have happened, but to demonstrate Navajo resilience.
Instead, the intention centers on how Navajo people were able to turn negative circumstances
129
around and benefit from them. The focus is to connect them with their tough and intelligent ancestors so they can understand that they are the same, they have what it takes, and they can overcome the challenges of post-colonialism. The activities are coloring, storytelling, and posttalk.
Lesson 23: "Walking in Beauty" is a brief synopsis of all the previous lessons. It summarizes the key points of each lesson and ties it all together in a way that is designed to promote good health, well-being, healthy thinking, and living. This lesson is a lot like traditional
Navajo concepts on health because it involves so many variables and factors that influence it.
Living a good life is the best prevention method. This lesson teaches about the ideal Navajo life and how people can attain it. The activities are coloring, storytelling, and post-talk.
Lesson 24: "Navigating the Glittering World" concludes the Iina Baa Cha Na Hasin Post-
Colonial Prevention Toolkit and focuses on current and future threats to health. By this time, they will have learned that post-colonial threats to Indigenous health are monsters and that some can be eliminated while others cannot. They will learn how to live with certain monsters, what to be aware of, how to avoid, and how to overcome these monsters when they do present themselves. Older monsters will be discussed: laziness, poverty, old age, bullying, and lice.
New monsters like substance abuse, technology, dependency, overeating, domestic violence, depression, suicide, and bad decisions will be discussed and framed in such a way that the youth can gain insight into coping with these post-colonial issues. Again the idea is not to scare them but to demonstrate how they can avoid these health issues by using their culture as a reference point for prevention practices.
The Iina Baa Cha Na Hasin Post-Colonial Prevention Toolkit is a cultural curriculum designed to enculturate Navajo youth into Navajo society and culture by bridging the growing
130
gap between Navajo youth and Navajo culture. The toolkit is designed to use modern research, technology, and public health best practices to teach traditional Navajo culture to modern Navajo youth on the Navajo Nation as a means of building protective factors against the risk factors associated with post-colonialism, being Navajo, and living on the Navajo Nation.
This toolkit represents a paradigm shift in that it focuses on the strengths of an
Indigenous community to deal with the many deficits impacting modern Navajo health and wellbeing. Although this toolkit may be considered innovative and promising it is actually very old and reliable in that the information contained within the lessons, the stories, and the teachings are older than the Navajo, as they are gifts from the Navajo Holy People. Talking God, Mother
Earth, Father Sky, First Man, First Woman, Changing Woman, and the Warrior Twins deserve credit as many of these lessons extend from them and reach far back into antiquity. It is this researcher's hope that traditional Navajo culture via the toolkit can also reach far into the future as well. Traditional Navajo culture and lifestyle practices are the best prevention tools against post-colonial stress, chaos, illness, and disharmony. We cannot physically decolonize Native
America but we can spiritually, emotionally, physically, and mentally decolonize ourselves so we can better deal with post-colonial conditions that have perturbed our existence, security, health, and well-being.
131
Chapter 7: Findings
This chapter is organized into brief answers to the research questions, observations from the field, and conclusions formulated from both Western and Indigenous research. These findings are the result of combining Western and Indigenous research to find solutions to reduce substance abuse, diabetes, heart disease, depression, domestic violence, and suicide in the Fort
Defiance service area located on the Navajo Nation. Western research includes history, literature review, field experience, methodology, and theories. Indigenous research includes relationships, stories (past and present), real life/field experience, community driven need/research, culturally informed life world theories, focus groups, traditional culture, and ceremony. Field experience includes both Western and Indigenous methods and approaches because both were used in the study.
Answer Research Questions
The answer to "Why do Native people consistently top the charts in most deficit measures?" is discussed in large part in chapter two's historical impact. The case is made that poor and declining Native mental and physical health is not happenstance but an engineered outcome designed to assimilate Native Americans into the American mainstream. The evidence to support the claim is the history of colonial and post-colonial interactions, policies, and practices that demonstrate U.S. complicity in engineering poor Native health as indicated in the historical impact chapter. In the process of assimilation, Native people became disconnected from their traditional cultures, languages, knowledge, lifestyles, relationships, and ecology.
This, in turn, has produced a general state of anomie and ontological insecurity among Native people as they have had to cope with several consecutive and sustained perturbations like war,
132
concentration, relocation, assimilation, poverty, and an oppressive federal system that has only recently offered a lifeline.
That lifeline being the Indian Self-Determination and Education Assistance Act of 1975
(Public Law 638) which is the mechanism Native people have used to take control of the administration of services provided to them by the federal government. The federal change in law and policy has made it possible for Native communities to assume the leadership roles that decide the future courses of their governing systems, including health care. This change in seating opened the door for this research to take place and share the findings and toolkit with other Indigenous communities and nations. The overriding goal that drove this research was not
"find out what is wrong" but "find out what is right" so that we may move in that direction. To find the answer, research had to include both wrong and right in order to find balance, as is consistent with the Navajo concept of "duality".
The research indicated post-colonial social, economic, political and ecological conditions contributed to the poor and declining state of Native health. Native Americans have been dealing with problems that were not of their making and this has, in turn, produced multiple risk factors unique to Native Americans and Indigenous people. The standard Western narrative that because Native Americans top the charts in most deficit measures, this indicates, that generally, something is wrong or pathological. The West offers no explanation for this phenomenon. This is partly because Western medical practices only intervene after a problem has been diagnosed.
Also, partly because the West denies it's complicity in creating poor Native health. To the
West, something has to be wrong first and it has to have a negative effect on the body or mind.
Native Americans, for the most part, are subjected to public health systems that only fix what is broken. Native Americans, like the ones involved in this study, participate in a '638 health care
133
system that focuses on preventing breakage in the first place and uses traditional culture to teach the masses how to attain Hózhó and avoid sickness.
The answer to "How to reverse these negative trends?" is discussed in the chapters on theoretical perspectives, literature review, and TMC field experience. The key to reversing declining Native health lies in understanding, learning, and teaching traditional cultural concepts that strengthen people by solidifying the connection between Native people and their culture, community, and ecology. This is accomplished by focusing on the strengths within a Native community to build protective factors up to equilibrium of the risk factors associated with being
Native American. This idea came from the realization that trying to reduce risk factors is expensive and has only limited success (Alcantara and Gone 2008).
Building protective factors is the most useful for Native Americans since many of the risk factors cannot be reduced and Native Americans have the legal and cultural authority to build protective factors. This strength-based approach relies on traditional Navajo culture and lifestyle but does so in the English language because the vast majority of the Navajo youth in the public school system do not speak Navajo. The toolkit is the way to bridge the growing gap between
Navajo youth and Navajo culture. Academic research supports the idea that connecting Native youth to culture and community yields many positive results (LaFromboise et al. 2006; Gonzales et al. 2004; Huriwai 2002; Lalonde 2003; and Zimmerman et al. 1998).
The answer to "What role can traditional Native culture have in addressing Native assimilation?" is discussed in the theoretical perspectives, literature review, TMC field experience, and toolkit chapters. Basically, traditional Native cultural teachings, ideas, and lifestyles teach people about their connections, spirituality, resiliency, and hope from a tribal perspective and thereby re-institute a Native life world to help them answer life's most
134
perplexing questions. These four areas are protective factors as identified by the research and supported by strength-based practices.
The challenge for Native Americans is to use the Indian Self-Determination and
Education Assistance Act to provide impetus for developing traditional cultural prevention programs to mitigate the devastation created through federal assimilation policies and practices.
Public health prevention institutions that serve Indigenous communities' efforts should incorporate traditional cultures into their health care systems as a way to improve overall health outcomes and measures for the given community. The interesting thing about these findings is they support the idea that culture is very helpful in accomplishing public health education as a way to build protective factors. This would indicate that not only does it work in Indigenous communities but non-Indigenous as well.
Again, the research conducted by Huffman demonstrates that students who have a stronger sense of cultural grounding are better positioned to cope with challenges to one's culture
(Huffman 2001). This finding was supported by field observations made while working at
TMC-MSPI. In those cases, it was observed that the more traditional culture the students learned, the better it seemed to benefit them in ways that were measurable and unmeasurable.
The answer to "Is traditional Native culture a protective factor against modern risk factors?" is a definitive yes. This answer is also supported by the chapters on theoretical perspectives, literature review, and TMC field experience. There are several risk factors associated with being Native American and living both on and off the reservation. Many Native
Americans cannot change the risk factors that permeate their lives but they can change the way they think and behave given those risk factors. Just being aware of how things got the way they did provides a starting point for prevention.
135
One way Native people can help their youth build protective factors is to reframe the situation according to tribal perspectives about danger awareness. Specifically, the toolkit identifies drugs and alcohol as monsters intent on destroying Navajo people and Navajo can overcome these and other post-colonial monsters by incorporating the Navajo warrior ethos into their lives and thought processes, as a way to combat the negative influences of drugs and alcohol. Students are taught traditional Navajo culture that includes Twin Warrior stories about how they were presented with insurmountable challenges and threats to their lives and how they were able to use culture, spirituality, connectedness, resiliency, and hope to defeat the monsters and restore harmony to their lives. Youth are connected to the hero ancestor identity to build protective factors through storytelling and cultural arts.
Once a firm connection is established between Navajo youth and culture, the youth are better positioned to deal with these monsters. Through the toolkit, Navajo youth are enculturated into Navajo society/culture and consequently, this enculturation process has a positive effect on their psyche, identity, outlook, decision making, and behavioral processes. They learn about personal responsibility, danger awareness, and about their responsibility in exercising self-help to continue their journey through life to reach the age 102 in a state of balance or Hózhó.
136
Field Observations
Observations in the field at TMC-MSPI indicate that traditional culture as a protective factor produces multiple positive outcomes. The outcomes were determined by observing a change in project participants who completed the projects. That change was determined by staff who administered the project. At the closing of the Fall 2012 and 2013 WRUSD semesters, when the Leather and Weaving Projects came to conclusion, evaluations were made on each parent and child pair. It was determined that each pair had improved their connections between each other and the other participants. The participants also increased their comfort levels and interactions with each other and increased their understanding of Navajo spirituality and their role in its perpetuation. They also learned about traditional Navajo resilient responses to everyday challenges through the use of stories, hands-on demonstrations and power-point presentations.
A second observation from the field was the power of storytelling and the deep interest in it. This was witnessed many times but was especially evident during "Culture Night" and the
"Leather Project". "Culture Night" was advertised in the Navajo Times and was a two hour long story-telling session where traditional Navajo stories are told in a hogan setting in the evening with food and community. The goal is twofold: share traditional stories with the public and weave into it preventative public health messages. This observation supports similar findings by
Hodge et al. (2002) when they reported, "storytelling provides an excellent tool to reclaim values of wellness in tribal communities" (5) and that stories can be used "to promote an alternation of lifestyle, to motivate tribal members to once more adapt healthy lifestyles and practices traditionally part of their culture" (5). Without a doubt, this study supports those found by
Hodge et al. and confirm traditional stories are great way to connect culture and well-being.
137
Stories were told extensively throughout the duration of the project and participants reported that they liked stories, the messages that went with them, and to do more. The task presented to TMC-MSPI was organizing traditional stories and examining them for public health messages. This took a while but was accomplished through the use of focus groups. To keep in conformity with Navajo tradition, certain stories were reserved for certain times of the year and for certain occasions. For example, Coyote stories are reserved for wintertime only but they are very powerful in getting public health messages across because the trickster gets to make the mistake for the listeners and they get to learn from his mistakes. Hopefully, this experience prevents them making the same mistake and suffering the same or similar consequences. This is an example where stories can apply to modern circumstances.
A third observation from the field was that adults are just as interested in learning traditional Navajo culture as the youth. This was observed repeatedly throughout the study. One clear example came in the Summer of 2013 with MSPI's sponsorship of a free, open to the public "Navajo Youth Culture Fair" in Window Rock, Arizona. The event was advertised in the
Navajo Times and KTNN and emphasized that it was for the youth. The purpose of the event was to expose Navajo youth to traditional Navajo culture as a way of building protective factors-
-Navajo style. The event was a huge success and analysis revealed that adults accounted for over half the registration. It was also observed many of the children were unaccompanied and there were many adults not with children at all. Moreover, evaluations from some workshops revealed that all registrants were adults. For this reason, prevention efforts like the proposed toolkit should consider adult application.
Another related finding extrapolated out of the study was that strength-based culturallyinformed prevention practices like those employed by TMC-MSPI had broad support. In the
138
recent past, much public opposition has been expressed about teaching Navajo language and culture in the school system and there it has been suggested that those practices cease.
Throughout the study, clear opposition to these approaches was never expressed verbally, written, or otherwise. Indeed, exactly the contrary was expressed time and again. The public was very much aware they were all assimilated to some degree and that relearning their culture was something they should do for their own health and well-being.
A fourth observation was the effectiveness using traditional Navajo material culture to build protective factors among adults and youth in Fort Defiance. Effectiveness was determined by the observable change in the participants expressing feelings about taking active steps to protect themselves and others. Across the cohorts, the vast majority of participants verbally and literally expressed that they understood they were all warriors. This was accomplished by utilizing items of traditional material culture in the presentations and demonstrations to get the teachings across, items like quivers, bow guards, war hats, leggings, and bows/arrows.
Further, each of these items of material culture has several stories, songs, and prayers associated with it and those were shared with the participants to increase their cultural awareness and learn tribally-informed, responsible health practices. To the West, these objects are material culture. To Navajo people, these items are alive, secular, and sacred. They have meaning and power far beyond their functionality. They are figuratively and literally protection, not just protective factors. For example, war hats were made from several layers of buckskin and covered with feathers and arrowheads. All these layers provided layers of physical protection.
The arrowheads offered protection from enemies and the feathers offered protection evil. The associated stories tie the present to the past. Participants learn from the objects, take ownership of the knowledge and objects that they made themselves or with their partner, and exude pride in
139
that accomplishment. To participate in their manufacture is to participate in the cultural continuity of their respective tribes that reaches far back into antiquity. The community came out to acknowledge, witness, and validate their accomplishment during the "Closing Ceremony" where the participants took ownership of their protection and teachings before everyone present.
It was very powerful to participate in this ceremony and watched participants graduate.
A final observation is the importance of arts therapy in prevention practices that build protective factors. Traditionally, art therapy is used as an intervention for illness, disease, or disorder. However, this study found art therapy to be an effective method of teaching traditional cultural practices to tribal members as a means of building culturally-inspired protective factors.
These type of therapeutic, cultural arts demonstrations brought community members together to be a community and engage in long held cultural arts practices, and thus maintain cultural continuity. The participants learned that they are doing it for everyone and no one. They learned that they are the current generation to keep this knowledge and activity alive. Traditional culture arts exist because of them and their efforts. Cultural arts lessons began as art as therapy but was adapted to fit prevention efforts.
140
Future Directions
It is this researcher's hope that similar research will continue using this thesis and toolkit as a starting point. There are 565 other tribal nations in United States and each one faces similar post-colonial challenges. On one end, are the tribes that have lost everything and on the other end, are the tribes that still retain much of their cultural integrity and identification. Most tribes are in-between and in the process of preserving their fragmented cultures for present and future generations. Hypothetically, this toolkit could serve as a template to enculturate their citizens, young and old into their respective tribal nations. This is also self-determinant nation-building.
It is also preserving and exercising tribal sovereignty.
Another direction for the future is acceptance and acknowledgement of post-colonial stress disorder syndrome as spiritual, emotional, physical, and mental imbalance that is symptomatic of the post-colonial conditions that shape Indigenous lives. The reason the West refuses to acknowledge this condition as an illness is because it would force them to acknowledge their complicity in creating and maintaining disharmony in the lives of millions of
Indigenous people that have been displaced and oppressed since colonial and post-colonial inceptions.
Finally, this thesis can be used as reference point for public health prevention providers to include and justify tribal culture into their prevention efforts. Often times, providers want to use the local culture in ways to get their prevention messages across effectively. Now, they can access this thesis, and read the literature review or theoretical frameworks to find the sources of the studies that are often needed to justify using talking circles, storytelling, sweat ceremonies, smudging, and traditional cultural activities for prevention.
141
Conclusion
However good and promising, traditional Native culture as prevention needs acceptance and support from Indigenous Nation/people, post-colonial states, and the Western medical and academic establishments to become normalized. If it were not for federal MSPI funds that created the opportunity for this Indigenous-led research to start, people far and wide would not know about the efficacy of culture as prevention, and Navajo youth within the Fort Defiance service area would not be given culturally informed ontological security. Strength-based research like this needs strong, unwavering leadership that values and respects traditional Native culture, community-wide and driven support, compassionate researchers, and funding to make it meaningful and productive.
The research also indicates that finding strengths within the community is a good place to start for developing public health prevention programs. This can be accomplished by bringing community members together, discovering their needs, and looking to the local culture, community, and resources to identify solutions. That is the strength of this research: academic research validates and confirms that traditional Indigenous knowledge regarding life ways, lifestyle, and philosophical ontological concepts are the best form of post-colonial stress prevention.
Traditional Navajo teachings provide a philosophical framework for Navajo to be successful in a modern setting. Traditional culture and stories teach how to overcome obstacles, stay positive, stay focused, and endure. However, Navajo people are not as connected to their traditional culture as they once were. Today, Navajo are less able to use traditional culture in a manner that is educationally beneficial. Unless active steps are taken to close the widening
142
cultural gap, Indigenous people will continue to suffer all the while topping the charts in most deficit measures, and it will continue to be unexplainable to the West.
Collectively and individually, Native people have been suffering since contact, and only recently have been rebounding, resurrecting, reconnecting, and revitalizing due to federal policy changes. Oppressive post-colonial conditions and the multiple imbalances they create are a
Navajo problem that requires a Navajo solution. Traditional Navajo culture is the solution. This is not new to Navajo: the Diyin Dine'e (Holy People) gave the Navajo people these teachings to help them cope with life's challenges and the teachings have served Navajo well for millennia.
The problem is that the federal government separated Navajo people from their traditional teachings and it has had devastating effects on their spiritual, emotional, physical, and mental health. The solution is traditional Navajo culture. The challenge modern Navajo people face is to find ways to bridge that growing gap, and the toolkit is a proposed solution.
Transculturation theory validates traditional Native culture as a means for success.
Culture is the solution and it is a great place to start because it is also a common denominator.
Regardless of what religion modern Navajo believe or follow, the traditional culture unites everyone and, therefore, is the common link and the best starting point for Navajo post-colonial adaptation. In that way, traditional Native culture and its theoretical frameworks, like Sa'ah
Naaghai Bik'eh Hozhoon, is the solution to help Native people effectively cope with postcolonial social, political, economic, and ecological conditions that threaten Native spiritual, emotional, physical, and mental health and well-being.
Interestingly, the Western medical establishment does not accept post-colonial stress disorder syndrome as a sickness and also denies it's complicity in creating the Native monopoly in deficit measures. Fortunately, Indigenous people in charge do, specifically the TMC's
143
Division of Community Health does, and is using traditional culture to build protective factors up to equilibrium of the risk factors associated with being Navajo and living on the Navajo
Nation. They are in the process of implementing and testing the efficacy of the toolkit and will be sharing those results with the public soon.
Something positive has to come from the Western legacy of engineered Indigenous genocide, subordination, oppression, and suffrage. Post-colonial governments can subsidize the cultural revitalization, preservation, and reconnection of Indigenous people and culture. Not only is it in their best social, political, and economic interest but it is also the right thing to do after so many years of cultural oppression. The United States federal government intentionally stripped Native culture from Native people for centuries, and should now help Native people to rebuild themselves from the ground up, using their traditional culture as a foundation. That is one way to repair the damage federal policies have had on Native nations and individuals. This applies to all post-colonial states but especially the USA, Canada, Australia, New Zealand,
Russia, and Greenland.
Regardless of whether or not the West acknowledges it's complicity in contributing to today's poor and declining state of Indigenous health, Native people still are still left trying to rebalance their world. The self-determination era has provided a lifeline that Native Americans can use to take control, implement, and administer their healthcare services according to how the community sees fit. This self-determinant act, in turn, allowed this research to occur, which allowed for a new look at how culture can have a positive effect on a people deemed "at risk" and unexplainably pathological by the Western medical establishment.
The '638 process is currently changing the lives of Native Americans for the better and that change has great potential to improve Native spiritual, emotional, physical, and mental
144
health. Indigenous leaders worldwide need to look within their cultures and communities to find ways to improve post-colonial public health prevention efforts and the overall health of their people. The solutions to the multiple problems plaguing Indigenous people today requires
Indigenous perspectives, ontologies, epistemologies, pedagogies, methodologies, and practices in order to better understand, frame, and negotiate the problems.
This is a critical point because this is where momentum usually stops. Often times,
Indigenous health care providers feel that they have to use only Western, evidence-based, bestpractices in order to intervene or prevent health problems and this over reliance on the Western practices diminishes opportunities for accepting Indigenous practices. Here is an interesting point: Western medical practices rely on best practices that are relatively new and constantly evolving. Indigenous healing practices are the best practices in a given area for thousands of years and they are also constantly evolving. A relatively new trend in Westernized health care is integrated medicine which takes into account more than physical health but also accounts for emotional, spiritual, and mental health. That looks very much like the Native and Navajo
Wellness Models. Perhaps, this is a case whereby modern Western practices are catching up to traditional Indigenous practices. Coincidence?
145
References
Adam, B., U. Beck, and J. Van Loon. 2000. The risk society and beyond: Critical issues for
social theory. London: Sage Publications.
Adams, B. 1963. Fray Silvestre and the obstinate Hopi. New Mexico Historical Review 28 (2):
97-138.
Ahn, J., and M. Filipenko. 2007: February. Narrative, imaginary play, art, and self: Interesting worlds. Early Childhood Education Journal 34 (4): 279-290.
Alcantara, C., and J.P. Gone. 2008. Suicide in Native American communities. In Suicide
among racial and ethnic groups: theory, research, and practice, eds. F.T.L. Leong and M.M. Leach, 173-199. New York: Routledge.
Aronlith, W. 1980. Navajo oral history. Tsaile, AZ: Center for Dine Studies Department.
Aronlith, W. 1994. Dine Bi Bee Ohoo'aah Ba Sila: An introduction to Navajo philosophy.
Tsaile, Navajo Community College Press.
Aronlith, W. 1991. Foundations of Navajo Culture. Tsaile, AZ: Center for Dine Studies
Department.
Aronlith, W. 2009. Foundations of Navajo culture class lecture. Dine College, Fall
Semester, Tsaile, AZ.
Avenevoli, S., and K.R. Merikangas. 2003. Familial influences on adolescent smoking.
Addictions 98 (Suppl. 1): 1-20.
Bailey, G. and R.G. Bailey. 1986. A History of the Navajos. Santa Fe: School of American
Research Press .
Baines, D.R. 1993. Healing, wellness, and water: An American Indian perspective. Transcript from 1993 Association of American Indian Physicians Annual Meeting. Association of
146
American Indian Physicians. Available from http"//www.aaip.com
Barlowe, A., B.C. Mullany, N. Neault, Y. Davis, T. Billy, R. Hastings, V. Coho-Mescal, K.
Lake, J. Powers, E. Clouse, R. Reid, and, J.T. Walkup. 2010. Examining correlates of methamphetamine and other drug uses in pregnant American Indian adolescents.
American Indian Alaskan Native Mental Health Research 17 (1): 1-24.
BCI Eclipse. 2005. The great Indian wars: 1540-1890. Five part documentary series, disc one.
Beauvais, F. 1992. An integrated model for prevention and treatment of drug abuse among
American Indian youth. Journal of addictive diseases 11 (3): 63-80.
Beauvais, F. 1998. American Indians and alcohol. Alcohol health and research world 22 (4):
257-264.
Beauvais, F., and E.R. Oetting. 1999. Drug use, resilience, and the myth of the golden child. In
Resilience and development: Positive life adaptations, eds. M.D. Glantz and J.L.
Johnson, 101-106. New York, NY: Kluwer Academic/Plenun Publishers.
Beauvais, F., and S. LaBoueff. 1985. Drug and alcohol abuse intervention in American Indian communities. International Journal of Addiction 20, 139-171.
Beck, U. 1992. Risk Society: Towards a New Modernity. Los Angeles, CA: Sage Publications.
Beebe, L.A., S.K. Vesely, R.F. Oman, E. Tolma, C.B. Aspy, and S. Rodine. 2008. Protective assets for non-use of alcohol, tobacco, and other drugs among urban American Indian youth in Oklahoma. Maternal Child Health Journal 12: S83-S90.
Berkes, F. 2012. Sacred Ecology. New York, NY: Routledge.
Berkes, F., J. Colding, and C. Folke. 2003. Navigating social and ecological systems: Building
resilience for complexity and change. Cambridge, UK: Cambridge University Press.
Bhabha, H.K. 1994. The Location of Culture. New York, NY: Routledge.
147
Borowsky, I.W., M.D. Resnic, M. Ireland, and R.W. Blum. 1999. Suicide attempts among
American Indian and Alaskan Native youth: Risk and protective factors. Archives of
Pediatric Adolescent Medicine 153: 573-580.
Brave Heart, M.Y.H. 1998. The return to the sacred path: Healing the historical trauma and historical unresolved grief response among the Lakota. Smith College Studies in Social
Work 68 (3): 287-305.
Brave Heart, M.Y.H, and L.M. DeBruyn. 1998. The American Indian holocaust: Healing historical unresolved grief. American Indian and Alaskan Native Mental Health
Research 8: 56-78.
Brave Heart. M.Y.H. 1999. Oyate Ptayela: Rebuilding the Lakota nation through addressing historical trauma among Lakota parents. Journal of Human Behavior in the Social
Environment 2 (1-2): 109-126.
Bureau of Indian Affairs. Summer: 2007. Highlight of the Crow Tribe's Stand on Meth. Indian
Service Connect. http://www.bia.gov/idc/groups/public/documents/text/idc-001820.pdf
Accessed Januray 15, 2013.
Brugge, D.M. 1985. Navajos in the Catholic Church Records of New Mexico, 1694-1875.
Tsaile, AZ: Navajo Community College Press.
Cajete, G. 1994. Look to the Mountain: An ecology of Indigenous education. Durango, CO:
Kivaki Press.
Carrol, R.E. 1978. Academic performance and culturally marginality. Journal of
American Indian Education 18 (1): 11-16.
Cambell, J., M. Liebmann, F. Brooks, J. Jones, and C. Ward. 1999. Art Therapy, Race, and
Culture. Philadelphia, PA: Jessica Kingsley Publishers.
148
Center for Disease Control. 2014. Promoting individual, family, and community connectedness to prevent suicidal behavior. Strategic Direction for the Prevention of Suicidal Behavior.
Washington D.C.: U.S. Department of Health and Human Services.
Chandler, M. 2005. Suicide & the persistence of identity in the face of radical cultural
Change. Presented at the assembly of First Nations policy forum, April 19, 2005,
Ottawa, Quebec.
Chandler M.J., and C. Lalonde. 1998. Cultural continuity as a hedge against suicide in Canada's
First Nations. Transcultural Psychology 35: 191-219.
Chandler, M.J., and C. Lalonde. 2008. Cultural continuity as a protective factor against suicide in First Nation's youth. Horizons10 (1): 68-72.
Cheyfitz, E. 2009. Balancing the earth: Native American philosophies and the environmental crisis. Arizona Quarterly 56: 139-162.
Churchill, W. 2004. Kill the Indian Save the Man. San Francisco, CA: City Lights Publishing.
Ciccarello, E.L. 1984. Alchini Ba Hane: Naaltoos Altse Yilts' Iligii. Albuquerque, NM: Native
American Materials Development Center.
Cohen, K.B.H. 1998. Native American medicine. Alternative Therapies 4 (6): 45-57.
Clark, F. 2009. Becoming Sa'ah Naaghai Bik'eh Hozhoon: The historical challenges and triumphs of Dine College. PhD dissertation, U of A.
Cross, T.L. 1986. Drawing on cultural tradition Indian child welfare practice. Social
Casework 67 (5): 283-289.
Cross, T. 1998. Understanding family resiliency from a relational world view. In Resiliency in
Native American and immigrant families, eds. H. McCubbin, E. Thompson, A.
Thompson, and J. Fromer, 143-157. Thousand Oaks, CA: Sage.
149
Davis, J. 1992. Factors contributing to post-secondary achievement of American Indians.
Tribal College Journal 4 (2): 24-30.
Davis, T., and A. Pyatshowit. 1976. Bi-cognitive education: A new future for the Indian child?
Journal of American Indian Education 15 (3): 14-32.
Deloria, V. Jr. 1972. We Talk, You Listen; New Tribes, New Turf. New York, NY: MacMillan
Press.
Deloria, V. Jr. 1978. The Indian student amid American inconsistencies. In The Schooling of
Native America, ed. T. Thompson, 9-26. Washington D.C.: American Association of
Colleges for Teacher Education.
Deloria, V. Jr., and C.M. Lytle. 1983. American Indians, American Justice. Austin, TX:
University of Texas Press.
Deloria, V. Jr. 1997. Red Earth, White Lies: Native Americans and the myth of scientific fact.
Golden, CO: Fulcrum Press.
Denetdale, D. 2010. Navajo History class lecture. Fall 2010. Dine College, Tsaile , AZ
Dennison, J. 2012. The Navajo Wellness Model presentation. Fall, Window Rock, AZ.
Denny, A. 2010. Navajo Holistic Medicine class lecture. Fall, Dine College, Tsaile, AZ.
Denny, A. 2008. Navajo Holistic Medicine. Tsaile, AZ: Center for Dine Studies.
Dishion, T.J., D. French, and G.R. Patterson. 1995. The development and ecology on antisocial behavior. In Manual of Developmental Psychopathology, eds. C. Cicchetti and
D. Chen, 421-471. New York: Wiley.
Dobyns, H. F. 1983. Their Number Became Thinned. Knoxville, TN: University of Tennessee
Press.
Dobyns, H.F., and R.C. Eular. 1972. Navajo Indian. Prescott, AZ: Pinon Press.
150
Dorgan B.L. 2008. The tragedy of Native American youth suicide. Psychological Services
7 (3): 213-218.
Duda, J.L. 1980. Achievement motivation among Navajo students. Ethos 8(4): 316-331.
Duran, E., and B. Duran. 1995. Native American Post-Colonial Psychology. Albany, NY: State
University of New York Press.
Duran, E. 2006. Healing the soul wound: Counseling with American Indians and other Native
peoples. New York, NY: Teachers College Press.
Erickson, F. 1987. Transformation and school success: The politics and culture of educational achievement. Anthropology and Education Quarterly 18 (4): 335-356.
Farella, J.R. 1984. The main stalk: A synthesis of Navajo philosophy. Tucson, AZ: University of Arizona Press.
Fewkes, J.W. 1900. Tusayan Migration Traditions. Washinton, D.C.: U.S. Government
Printing Office.
Fenn, E.A. 2001. Pox Americana, the great smallpox epidemic of 1775-82. New York, NY:
Hill and Wang.
Fixico, D.L. 1986. Termination and Relocation: Federal Indian policy, 1945-1960.
Albuquerque, NM: University of New Mexico Press.
Gable, S.L., and J. Haidt. 2010. What (and why) is positive psychology? Review of General
Psychology New York: Routledge 9 (2): 103-199.
Garcia, R.L., and J. Goldenstein Ahler. 1992. Indian education: Assumptions, ideologies, strategies. In Teaching American Indian Students, ed. J. Reyhner,13-32. Norman,
OK: University of Oklahoma Press.
Garrett, J.T., and M.W. Garrett. 1994. The path of good medicine: Understanding and
151
counseling Native American. Journal of Multicultural Counseling and Development 22:
134-137.
Garrett, M.T., and J.J. Carroll. 2000. Mending the broken circle: Treatment of substance dependence among Native Americans. Journal of Counseling & Development 78 (4):
379-388.
Garrett, M.T. 1995. Between two worlds: Cultural discontinuity in the dropout of Native
American youth. The School Counselor 42(2), 186-195. .
Garrett, M.T. 1996. "Two people: An American Indian narrative of bicultural identity.
Journal of American Indian Education 36 (1): 1-21.
Garrett, M. 1999. Understanding the medicine of Native American traditional values: An integrative review. Counseling and Values 43 (2): 84-98.
Garroutte, E.M., J. Beals, E.M. Keane, C. Kaufman, Spicer, P., and S.M. Manson. 2009.
Religiosity and spiritual engagement in two American Indian populations. Journal for
the Scientific Study of Religion 48 (3): 480-500.
Garroutte, E.M., J. Goldberg, J. Beals. R. Herrell, and S.M. Manson. 2003. Spirituality and attempted suicide among American Indians. Social Science and Medicine 56 (7): 1571-
1579.
Gayua, J.M. 1886. Irreligion de l'avenir. engl. The Non-religion of the future. New York, NY:
1962.
General Allotment Act. 1887. 25 Stat. 388, as amended, 25 U.S.C. Secs. 331-58.
Giddens, A. 1991. Modernity and Self-Identity: Self and Society in the Late modern Age.
Cambridge: Polity.
Goldstone, D.B., S.D. Molock, B.D. Whitbeck, J.L. Murikami, and L.H. Zayas. 2008. Cultural
152
considerations in in adolescent suicide prevention and psychosocial treatment. American
Psychologist 63 (1): 14-31.
Gone, J.P. 2009. A community based treatment for Native American historical trauma:
Prospects for evidence based practice. Journal of Consulting and Clinical Psychology 77
(4): 751-762.
Gonzales, N.A., G.P. Knight, D. Birman, and A.A. Sirolli. 2004. Acculturation and enculturation among Latino youth. In In-vesting in Children, Youth, Families, and
Communities: Strengths-based Research and Policy, eds. K.I. Maton, C.J. Schellenback,
B.J. Leadbeater, and A.L. Solarz, 285-302, Washington, DC: American Psychological
Association.
Goodwin, G. 1942. The Social Organization of the Western Apache
.
Chicago, IL: University of Chicago Press.
Griffin-Pierce, T. 1992. Earth is my mother, sky is my father: Space, time, and astronomy in
Navajo sandpainting. Albuquerque, NM: University of New Mexico Press.
Hammond, G.P., and A. Rey. 1966. The Rediscovery of New Mexico 1580-1594. Coronado
Historical Series 3. Albuquerque: University of New Mexico Press.
Hammond, V.L., P.J. Watson, B.J. O'Leary, and D.L. Cothran. 2009. Preliminary assessments of Apache hopefulness: Relations with hopefulness and with collective as well as personal self-esteem. American Indian and Alaskan Native Mental Health Research: The
Journal of the National Center 16 (3): 43-51.
Haile, Berard. 1952. Blessingway, one version, introduction. MS in Special Collections
Division. Tucson, AZ: University of Arizona.
Hawkins, J.D., R.F. Catalano, and J.Y. Miller. 1992. Risk and protective factors for alcohol and
153
other drug problems in adolescence and early adulthood: Implications for substance abuse prevention. Psychological Bulletin 112: 64-105.
Hertzberg, H.W. 1982. The search for an American Indian identity: Modern pan-Indian
movements. Syracuse, NY: Syracuse University Press.
Hiscox, A.R., and A.C. Calisch. 1998. Tapestry of Cultural Issues in Art Therapy.
Philadelphia, PA: Jessica Kingsley Publishers.
Hodge, D.R., K. Andereck, and H. Montoya. 2007. The protective influences of spiritualreligious lifestyle profiles on tobacco use, alcohol use, and gambling. Social Work
Research 31 (4): 211-219.
Hodge, D.R., and G.E. Limb. 2010. A Native American perspective on spiritual assessment:
The strengths and limitations of a complementary set of assessment tools. Health Social
Work 35(2): 121-131.
Hodge, F.S., A. Pasqua, C.A. Marquez, and B. Geishirt-Cantrell. 2002. Utilizing traditional storytelling to promote wellness in American Indian communities. Journal of
Transcultural Nursing 13 (1): 6-11.
Holling, C.S. 1973. Resilience and stability of ecological systems. Annual Review of Ecology
and Systematics 4: 1-23.
Holm, T. 2000. Sovereignty and peoplehood. Red Ink 8 (2): 43.
Hornett, D. 1989. The role of faculty in awareness and retention of American Indian college students. Journal of American Indian Education 29 (1): 12-18.
Huffman, T.E. 1993. A typology of Native American college students. In Native American
values: Survival and renewal, eds. T.E. Schirer and S.M. Branstner, 67-80. Sault Ste.
Marie, MI: Lake Superior State University Press.
154
Huffman, T.E. 1995. The transculturation of Native American college students. In Seeing
ourselves: Classical, contemporary, and cross-cultural readings in sociology, eds. J.J.
Macionis and N.V. Benokraitis, 200-208. Englewood Cliffs, NJ: Prentice-Hall.
Huffman, T.E. 1999. Cultural Masks: Ethnic Identity and American Indian Higher
Education. Morgantown, WV: Stone Creek Press.
Huffman, T.E., M. Sill, and M. Brokenleg. 1986. College achievement among Sioux and white
South Dakota students. Journal of American Indian Education 25 (2): 32-38.
Huirwai, T. 2002. Re-enculturation: Culturally congruent intervention for Moari with alcohol- and drug-use-associated problems in New Zealand. Substance Use and Misuse 37:
1259-1268.
Hymes, D.H. 1974. On ways of speaking. In Explorations in the ethnography of speaking up, eds. P. Bauman and J. Sherzer, 433-451. New York: Cambridge, University Press.
Indian Health Service. 2011. American Indian and Alaskan Native National Suicide Prevention
Strategic Plan: 2011-2015. Rockville, MD.
Indian Health Service. 2011. IHS facts sheets, Indian health disparities. Retrieved from http://www.ihs.gov/PublicAffairs/IHSBrochure/Disparities.asp
Indian Self-Determination and Education Assistance Act of 1975. Pub. L. No. 93-638, codified as 25 U.S.C. 450a-450n. 108 Stat. 4250.
Indian Reorganization Act. 1934. 48 Stat. 984, codified as 25 U.S.C. 461-279. et seq.
Institute of Medicine. 2008. Reducing suicide: A national imperative, eds. S.K. Goldsmith,
T.C. Pellmar, A.M. Kleinman, and W.E. Bunney. Washington, DC: National
Academies Press. .
Jackson, J. 2010. Guest lecture in Navajo oral history class. Dine College. Fall. Tsaile, AZ
155
Jennings, F. 1975. The Invasion of America: Indians, colonialism, and the Cant of Conquest.
Chapel Hill, NC: University of North Carolina Press, Institute of Early American History and Culture.
John, E. 1975. Storms brewed in other men's worlds: The confrontation of Indians, Spanish,
and French in the Southwest, 1540-1795. College Station: Texas A & M University.
Johnson, L.B. 1968. "The Forgotten American" (Presidential message delivered to Congress,
March 6). www.lbjlibrary.net/collections/on-this-day-in-history/march.htmk#6 th
Accessed March 21, 2014.
Johnson, B.H. 1974. Grandfather Stories of the Navajo. Chinle, AZ: Rough Rock Press.
Johnson, T., and H. Tamren. 1999. Helplessness, homelessness, and despair: Identifying the precursors to Indian youth suicide. American Indian Culture and Research Journal 23
(3): 287-301.
Keenan, J. 1997. Encyclopedia of American Indian wars, 1492-1890. Santa Barbara, CA:
ABC-CLIO, Inc.
Kickingbird, K. 1973. One-Hundred Million Acres. New York, NY: Macmillan Publishing.
Klarreich, S.H. 1998. Resiliency: The skills needed to move forward in a changing environment. In Handbook of organizational health psychology: Programs to make the
workplace healthier, ed. S.H. Klarreich, 219-238. Madison, CT: Psychosocial Press.
Kluckhohn, C. 1940. An introduction into Navajo chant practice. Memoirs of the
American Anthropology Association, 4: 23-27.
Kluckhohn, C., and D. Leighton. 1946. The Navaho. Cambridge, MS: Harvard University
Press.
Kluckhohn, C., W.W. Hill, and L.W. Kluckhohn. 1971. Navaho Material Culture.
156
Cambridge, MS: Belknap Press of Harvard University Press.
Kullis, S., D.R. Hodge, S.L. Ayers, E.F. Brown, and F.F. Marsiglia. 2012. Spirituality and religion: Intertwined protective factors for substance use among urban American Indian youth. American Journal of Drug and Alcohol Abuse, Sept. 38 (5): 444-449.
LaFromboise, T.D., D.R. Hoyt, L. Oliver, L. and L.B. Whitbeck. 2006. Family, community, and school influences on resilience among American Indian adolescents in the upper
Midwest. Journal of Community Psychology 34 (2): 193-209.
LaFromboise, T.D., and L. Medoff. 2004. Sacred spaces: The role of context in American
Indian youth development. In Community Planning to Foster Resilience in Children, eds. M. Weist, 45-62. New York: Kluwer Academic/Plenum Press.
Lalonde, C.E. 2003. Counting the cost of failure of personal and cultural continuity. Human
Development 46 (2-3): 137-144.
Lash, S. B., Szerszylnski, and B. Wynne, eds. 1996. Risk, environment, and modernity: Toward
a new ecology. London: SAGE.
Laursen, E. 2000. Strength based practice with children in trouble. Reclaiming Children and
Youth 9 (2): XX-XX.
Lewin, K. 1948. Resolving social conflict. New York: Harper & Brothers Publishers.
Lewis, E.W., E. Duran, and W. Woodis. 1999. Psychotherapy in the American Indian population. Psychiatric Annals 29 (2-3): 205-215.
Lin, R.L., D. Lacounte, and J. Eder. 1988. A study of Native American students in a predominately white college. Journal of American Indian Education 27 (3): 8-15.
Little Soldier. 1985. To soar with the eagles: Enculturation and acculturation of Indian children. Childhood Education 61: 185-191.
157
Locust, C. 1988. Wounding the spirit: Discrimination and traditional American Indian belief systems. Harvard Educational Review 58: 315-330.
Lomawaima, K.T. 1994. They called it Prairie Light: The story of Chilocco Indian School.
Lincoln, NE: University of Nebraska Press.
Malchiodi, C.A. 2005. Expressive Art Therapies. New York, NY: Guilford Publications .
Manson, S.M. and J.F. Trimble. 1982. American Indian and Alaskan Native communities. In
Reaching the Underserved, ed. L.R. Snowden, 143-163. Beverly Hills, CA: Sage.
Mashunkashey-Shadlow , J.O. 2008. Native American children and their reports of hope: A factor analytic comparison (unpublished master's thesis). Retrieved from ProQuest
Dissertations and Theses database (UMI No. 1447648)
Masten, A.L. 2001. Ordinary magic: Resilience processes in development. American
Psychologist 56(3), 227-238.
Matthews, W. 1887. The Mountain Chant: A Navajo Ceremony. Washington D.C.: Bureau of
American Ethnology.
May, P., P. Serna, L. Hurt, and L. DeBruyn. 2005. Outcome evaluation of a public health approach to suicide prevention in an American Indian tribal nation. American Journal
of Public Health 95 (7): 1238-1244.
McCormack, R.M. 2000. Aboriginal traditions in the treatments of substance abuse. Canadian
Journal of Counseling 34: 25-32.
McNitt, F. 1972. Navajo Wars. Albuquerque, NM: University of New Mexico Press.
Institute for Government Research. 1928. The Problem with Indian Administration.
Research, Studies in Administration.
Middlebrook, D. 2009. Suicide among American Indian/Alaskan Natives youth: Risk and
158
protective factors and implications for policy and research. Presented at adolescent suicide: Addressing disparities through research, programs, policy, and partnerships meeting, Sept. 21-23, 2009, Sponsored by the CDC, IHS, and SAMSHA.
Mohatt, N.V., C.C.T. Fok, R. Burket, H. David, and J. Allen. 2011. Assessment of awareness of connectedness as a cultural-based protective factor for Alaskan Native youth. Cultural
Diversity and Ethnic Minority Psychology 17 (4): 444-455.
Mose, D. 2005. Coyote Steals Water Monster's Baby. Blanding, UT: San Juan School District
Media Center.
Mose, D. 2013. The Legend of the Navajo Hero Twins. Blanding, UT: San Juan School District
Media Center.
MSPI National Congress of American Indians. 2006. Methamphetamine in Indian country: An American problem uniquely affecting Indian country, Nov.
National Geographic Channel. 2010. American before Columbus. National Geographic
Society.
Navajo Wellness Model. 2008. A Journey to Wellness and Healthy Lifestyle Guided by the
Sun. Chinle, AZ: Navajo Area Indian Health, Service Health Promotion, Office of
Native Medicine, and Chinle Service Unit.
Navarro, J., S. Wilson, L.R. Berger, and T. Taylor. 1997. Substance abuse and spirituality: A program for Native American students. American Journal of Health Behavior 21 (1): 3-
11.
Newcomb, F.J. 1967. Navaho folk tales. Albuquerque, NM: University of New Mexico Press.
Newcomb, M.D., and M. Felix-Ortiz. 1992. Multiple protective and risk factors for drug use and abuse: cross-sectional and prospective findings. Journal of Personality and Social
159
Psychology 63 (2): 280-296.
Nixon, R.M. 1970. Special message of the President of the United States Richard M. Nixon to
Congress, from the White House, July 8, 1970.
Novins, D., J. Beals, L. Moore, P. Spicer, and S. Manson. 2004. Use of biomedical services and traditional healing options among American Indians: Sociodemographic correlates, spirituality, and ethnic identity. Medical Care 42: 670-679.
Office of Applied Studies, Substance Abuse, and Mental Health Services Administration. 2005.
Methamphetamine use, abuse, and dependence: 2002, 2003, 2004. The National Survey
on Drug Use and Health Report.
Oetting, E.R., and F. Beauvais. 1998. Epidemiology and correlates of alcohol use among Indian adolescents living on reservations. In Alcohol use among US ethnic minorities:
Proceedings of a conference on the epidemiology of alcohol use and abuse among ethnic
minority groups, 239-266. Research Monograph 18. Rockville, MD: National Institute on Alcohol Abuse and Alcoholism.
Ogbu, J.L. 1978. Minority Education and Caste: The American system in cross-cultural
perspective. New York: Academic Press.
Ogbu, J.L. 1981. School Ethnography: A multilevel approach. Anthropology and
Education Quarterly 12 (1): 2-29.
Ogbu, J.L. 1982. Cultural Discontinuities and Schooling. Anthropology and Education
Quarterly13 (4): 290-307.
Ogbu, J.L. 1985. Cultural-ecological influences on minority school leavers.
Language Arts 62 (8): 860-869.
Ogbu, J.L. 1987. Variability in minority school performance: A problem in search of an
160
explanation. Anthropology and Education 18 (4): 213-334.
Ono, A. 2004. The relocation and employment assistance program, 1948-1970: federal Indian policy and the development of the Denver Indian community. Indigenous Nations
Studies Journal, 5 (1).
Pargament, K.I., and A. Mahoney. 2009. Spirituality: The search for the Sacred. In Oxford
Handbook of Positive Psychology (2 nd
ed.) eds. C.R. Snyder and S.J. Lopez, 611- 620.
New York: Oxford University Press.
Pettingell, S., L. Bearinger, C. Skay, M. Resnick, S. Potthoff, and J. Eichhorn. 2008. Protecting urban American Indian young people from suicide. American Journal of Health
Behavior 32 (5): 465-476.
Phinney, J., and L. Alipuria. 1990. Ethnic identity in older adolescents from four ethnic groups.
Journal of Adolescence 13: 171-183.
Portman, T., and M. Garrett. 2006. Native American healing traditions. International Journal
of Disability, Development and Education 53(4): 453-469.
Pottinger, R. 1989. Disjunction to higher education: American Indian students in the southwest. Anthropology and Education 20 (40): 326-344.
Range, L. M., M.M. Leach, D. McIntyre, P.B. Posey-Deters, M.S. Marion, and S.H. Kovac.
1999. Multicultural perspectives on suicide. Aggression and Violent Behaviors 4 (4):
413-430.
Reeve, F.D. 1958. Navajo and Spanish wars: 1680-1720, New Mexico Historical Review
33 (3): 205-231.
Reyhner, J. 1992. American Indian out of school: A review of school based causes and solutions. Journal of American Indian Education 31 (3): 27-52.
161
Sanchez-Way, R. 2000. Substance abuse: The leading edge in research, prevention, and
treatment. Paper presented at the 32rd Annual Meeting of the Society for Adolescent
Medicine, Arlington, Virginia.
Sando, J. 1973. Educating the Native American: Conflict in values. In Cultural diversity and
the Exceptional Child, eds. L.A. Bransford, L. Baca, and K. Lane, 53-65.
Sando, J. 1998. Pueblo Nations: Eight Centuries of Pueblo Indian History. Santa Fe, NM:
Clear Light Publishers.
Sayger, T.V. 1996. Creating resilient children and empowering families using a multifamily group process. Journal of Specialists in Group Work 21: 81-89.
Schiller, P. and L. Gaseoma. 1993. Analysis of self-reported strategies for successful adjustment to higher education by bicultural Native American students. In American
Mosiac: Selected readings on America's multicultural heritage, eds. Y. Song and E.
Kim, 44-54. Engelwood Cliffs, NJ: Prentice-Hall.
Schusky, E.L. 1970. The Right to be Indian. San Francisco, CA: American Indian Educational
Publishers.
Schwarz, M.T. 1997. Molded in the Image of Changing Woman: Navajo Views on Body and
Personhood. Tucson, AZ: University of Arizona Press.
Schwarz, M.T. 2001. Navajo Lifeways: Contemporary Issues, Ancient Knowledge. Norman,
OK: University of Oklahoma Press.
Scott, W.J. 1986. Attachment to Indian culture and the 'difficult situation.' Youth & Society
17 (4): 381-395.
Shapiro, H.L. 1956. Man, Culture, and Society. New York, NY: Oxford University Press.
Solomon, A.J., and N.N. Wane. 2005. Indigenous Healers and Healing in a Modern World.
162
Thousand Oaks, CA: Sage Publishing.
Sorenson, B.E. 2012. The art of storytelling: Reshaping and preserving traditions. Tribal
College Journal of American Indian Higher Education 24 (1): 14-18.
Spear, S., D. Crevecoeur, and R. Rawson. 2007. The rise in methamphetamine use among
American Indians in Los Angeles County. American Indian Alaskan Native Mental
Health Research 14 (2): 1-24.
Stiffarm, L. A. and P.J. Lane. 1992. The demography of Native North America: A question of
American Indian survival. In The State of Native America: Genocide, Colonization and
Resistance, ed. M.A. Jaimes, 23-53. Boston: South End Press.
Stoffle, R.W., R.K. Arnold, and K. Van Vlack. 2013. Facing the Unimaginable: Hopi and
Southern Paiute Respond To Massive Risk Events. Published Paper. Tucson, AZ: Univ. of AZ, School of Anthropology.
Stoffle, R.W., R. Toupal, and N. Zedeno. 2003. Landscape, nature, and culture: A diachronic model of human-nature adaptations. In Nature Across Culture: Views of Nature and the
Environment in Non-Western Cultures, ed. H. Seline, 97-114. Dordrecht: Kluwer
Academic Press.
Stoffle, R.W., and J. Minnis. 2008. Resilience at risk: Epistemological and social construction barriers to risk communication. Journal of Risk Research 11(1 and 2): 55-
68.
Stone, J. B. 2002. Focus on cultural issues in research: Developing and implementing Native
American postcolonial participatory action research. Paper presented at the Symposium on Research and Evaluation Methodology: Lifespan Issues Related to American
Indians/Alaskan Natives with Disabilities.
Stone, R.A.T., L.B. Whitbeck, X. Che, and K. Johnson. 2010. Traditional practices, traditional
163
spirituality, and alcohol cessation among American Indians. Journal of Studies on
Alcohol 67: 236-244.
Sunday, J., J. Eyles, and R. Upshur. 2001. Applying Aristotle's doctrine of causation to aboriginal and biomedical understanding of diabetes. Culture, Medicine, and Psychiatry
25 (1): 63-85.
Swisher, K. and D. Deyhle. 1989. The styles of learning are different but the teaching is the same: Suggestions for teachers of American Indian youth. Journal of American Indian
Education 28 (Special Edition): 1-14.
Synder, B.A. 1997. Expressive art therapy techniques: Healing the soul through creativity.
Journal of Humanistic Education and Development 36 (2): 74-83.
Szlemko, W.J., J.W. Wood, and P.J. Thurman. 2006. Native Americans and alcohol: Past, present, and future. Journal of General Psychology 133 (4): 435-451.
Termination Act. 1953. "House Concurrent Resolution 108" U.S. Statutes at Large, Vol. 67, p.
B132: and U.S. Congress, House, Termination of Federal Supervision, Concurrent
Resolution 108, 83d Cong., 1 st
sess., 1 August 1953. Washington Printing Office.
Torres-Stone, R.A., L.B. Whitbeck, X. Chen, K. Johnson, and D.M. Olson. 2006. Traditional practices, traditional spirituality, and alcohol cessation among American Indians.
Journal of Studies on Alcohol 67: 236-244.
Towner, R.H. 2003. Defending the Dinetah: Pueblitos in the Ancestral Navajo Homeland. Salt
Lake City, UT: University of Utah Press.
Trimble, J.E. 2010. Bear spends time in our dreams now: Magical thinking and cultural empathy in multicultural counseling theory and practice. Counseling Psychology
Quarterly 23 (3): 214-253.
164
Tyler, S.L. 1973. A History of Indian Policy. Washington D.C.: U.S. Department of the
Interior, Bureau of Indian Affairs.
U.S. Public Health Service. 2001. National Strategy for Suicide Prevention Goals and
Objectives for Action (SMA01-3517). Rockville, MD: U.S. Department of Health and
Human Services, Substance Abuse and Mental Health Services Administration.
Utley, R. 1964. Battlefield and Classroom: Four Decades with the American Indian, the
Memories of Richard H. Pratt. New Haven, CN: Yale University Press.
Vick, R. 2003. A Brief History of Art Therapy. In Handbook of art therapy, ed. C.A.
Malchiodi, 1-15. New York, NY: Guilford Publications.
Waller, D. 2006. Art therapy for children: How it leads to change. Clinical Child Psychology
and Psychiatry 11 (2): 271-282.
Walls, M., K. Johnson, L. Whitbeck, and D. Hoyt. 2006. Mental health and substance abuse services references among American Indian people of the Midwest. Community
Mental Health Journal 42 (6): 521-535.
Walters, K.L. and J.M. Simoni. 1999. Trauma, substance abuse, and HIV risk among urban
American Indian women. Cultural Diversity & Ethnic Minority Psychology 5(3): 236-
248.
Wilkins, D.E. 2003. The Navajo Political Experience. Lanham, MD: Rowman & Littlefield
Publishers, Inc.
Wilkinson, C. 1987. American Indians, Time, and the Law: Native Societies in a Modern
Constitutional Democracy. New Haven, CN: Yale University Press.
White, J., and N. Jodoin. 2003. Aboriginal Youth: A Manual of Promising Suicide Prevention
Strategies. Calgary: Centre for Suicide Prevention.
165
White, R. 1983. The Roots of Dependency, Subsistence, Environment, and Social Change
among Choctaws, Pawnees, and Navajos. Lincoln, NE: University of Nebraska Press.
Whiting, M.B. 2013. Methamphetamine and Bullying Prevention Presentation on December 12.
Apache County Attorney General, Apache County, Lupton, AZ.
Whitesell, N.R., C.M. Mitchell, and P. Spicer, 2009. A longitudinal study of self-esteem, cultural identity, and academic success among American Indian adolescents. Cultural
Diversity and Ethnic Minority Psychology 16 (1): 38-50.
Window Rock Unified School District NO. 2013. http://www.wrschool.net/index.html Accessed
January 12, 2013.
Whitbeck, L.B., D.R. Hoyt, J.D. Studden, and T.D. LaFrombois. 2001. Traditional culture and academic success among American Indian children in the upper Midwest. Journal of
American Indian Education 40: 48-6.
Wunder, J.R. 1994. Retained by the People: A History of American Indians and the Bill of
Rights. New York, NY: Oxford University Press.
Zickler, P. 1999. Ethnic identification and cultural ties may help prevent drug use. NIDA Notes
14 (3): 7-9.
Zimmerman, M.A., J. Ramirez-Valles, K.M. Washienko, B. Walter, and S. Dyer. 1996. The development of a measure of enculturation for Native American youth. American
Journal of Community Psychology 24: 295-310.
Zimmerman, M.A., J. Ramirez, K.M. Washienko, B. Walter, and S. Dyer. 1998. Enculturation hypothesis: Exploring direct and protective effects among Native American youth. In
Resiliency in Native American and Immigrant Families, eds. H.I. McCubbin, E.A.
Thompson , and J.E. Fromer, 199-220.
166
Zolbrod, P.G. 1984. Dine Bahane: The Navajo Creation Story. Albuquerque, NM: University of N.M. Press.
167
* Your assessment is very important for improving the work of artificial intelligence, which forms the content of this project