No category
PART NUMBER LENGTH CONFIGURATION DIMENSIONS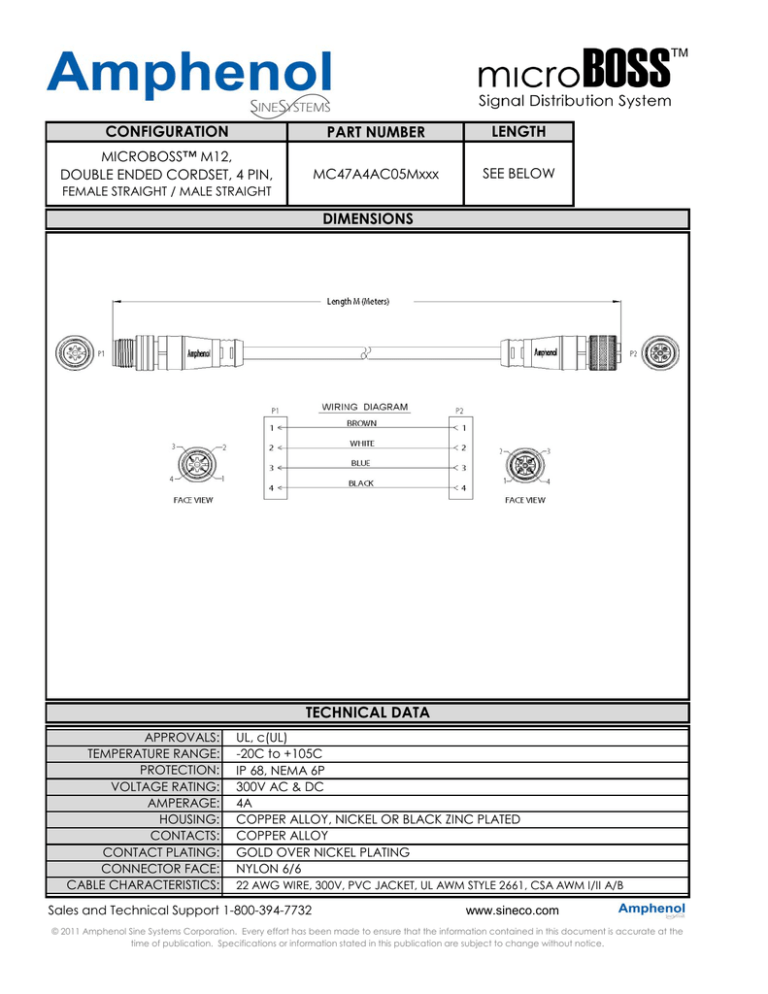 CONFIGURATION
PART NUMBER
LENGTH
MICROBOSS™ M12,
DOUBLE ENDED CORDSET, 4 PIN,
MC47A4AC05Mxxx
SEE BELOW
FEMALE STRAIGHT / MALE STRAIGHT
DIMENSIONS
TECHNICAL DATA
APPROVALS:
TEMPERATURE RANGE:
PROTECTION:
VOLTAGE RATING:
AMPERAGE:
HOUSING:
CONTACTS:
CONTACT PLATING:
CONNECTOR FACE:
CABLE CHARACTERISTICS:
UL, c(UL)
-20C to +105C
IP 68, NEMA 6P
300V AC & DC
4A
COPPER ALLOY, NICKEL OR BLACK ZINC PLATED
COPPER ALLOY
GOLD OVER NICKEL PLATING
NYLON 6/6
22 AWG WIRE, 300V, PVC JACKET, UL AWM STYLE 2661, CSA AWM I/II A/B
Sales and Technical Support 1-800-394-7732
www.sineco.com
© 2011 Amphenol Sine Systems Corporation. Every effort has been made to ensure that the information contained in this document is accurate at the
time of publication. Specifications or information stated in this publication are subject to change without notice.

* Your assessment is very important for improving the work of artificial intelligence, which forms the content of this project