No category
Type CDLC Snap-In, Carboncap Power Ultracapacitors Large Cylindrical Type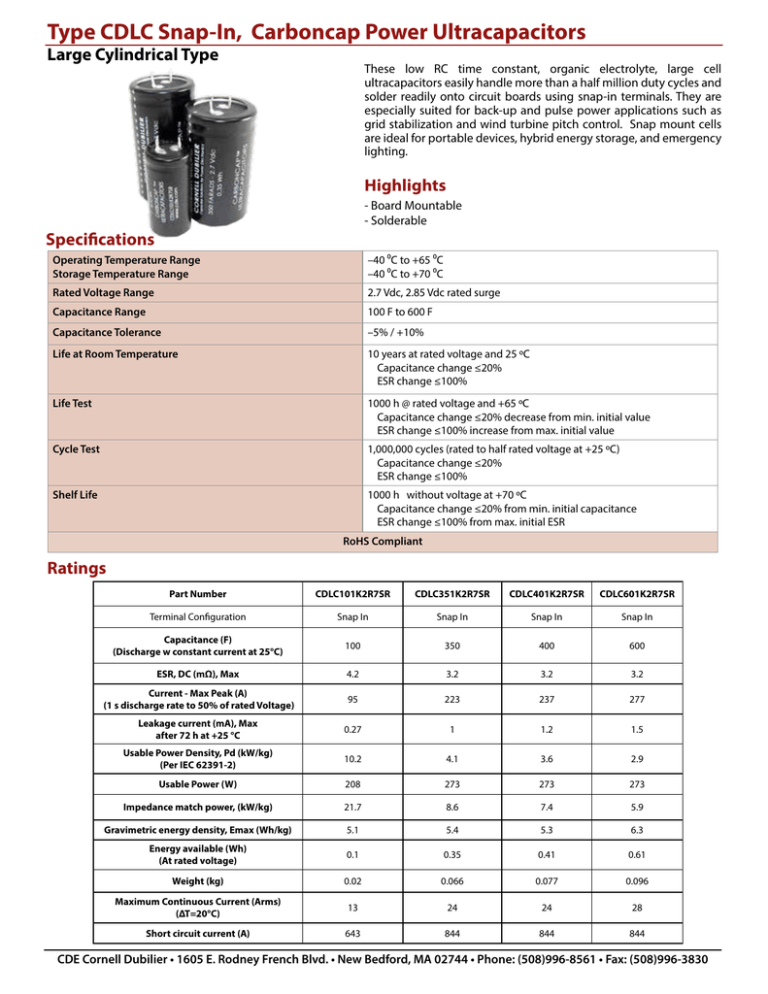 Type CDLC Snap-In, Carboncap Power Ultracapacitors
Large Cylindrical Type
These low RC time constant, organic electrolyte, large cell
ultracapacitors easily handle more than a half million duty cycles and
solder readily onto circuit boards using snap-in terminals. They are
especially suited for back-up and pulse power applications such as
grid stabilization and wind turbine pitch control. Snap mount cells
are ideal for portable devices, hybrid energy storage, and emergency
lighting.
Highlights
- Board Mountable
- Solderable
Specifications
Operating Temperature Range
Storage Temperature Range
–40 ⁰C to +65 ⁰C
–40 ⁰C to +70 ⁰C
Rated Voltage Range
2.7 Vdc, 2.85 Vdc rated surge
Capacitance Range
100 F to 600 F
Capacitance Tolerance
–5% / +10%
Life at Room Temperature
10 years at rated voltage and 25 ºC
Capacitance change ≤20%
ESR change ≤100%
Life Test
1000 h @ rated voltage and +65 ºC
Capacitance change ≤20% decrease from min. initial value
ESR change ≤100% increase from max. initial value
Cycle Test
1,000,000 cycles (rated to half rated voltage at +25 ºC)
Capacitance change ≤20%
ESR change ≤100%
Shelf Life
1000 h without voltage at +70 ºC
Capacitance change ≤20% from min. initial capacitance
ESR change ≤100% from max. initial ESR
RoHS Compliant
Ratings
Part Number
CDLC101K2R7SR
CDLC351K2R7SR
CDLC401K2R7SR
CDLC601K2R7SR
Terminal Configuration
Snap In
Snap In
Snap In
Snap In
Capacitance (F)
(Discharge w constant current at 25°C)
100
350
400
600
ESR, DC (mΩ), Max
4.2
3.2
3.2
3.2
Current - Max Peak (A)
(1 s discharge rate to 50% of rated Voltage)
95
223
237
277
Leakage current (mA), Max
after 72 h at +25 °C
0.27
1
1.2
1.5
Usable Power Density, Pd (kW/kg)
(Per IEC 62391-2)
10.2
4.1
3.6
2.9
Usable Power (W)
208
273
273
273
Impedance match power, (kW/kg)
21.7
8.6
7.4
5.9
Gravimetric energy density, Emax (Wh/kg)
5.1
5.4
5.3
6.3
Energy available (Wh)
(At rated voltage)
0.1
0.35
0.41
0.61
Weight (kg)
0.02
0.066
0.077
0.096
Maximum Continuous Current (Arms)
(ΔT=20°C)
13
24
24
28
Short circuit current (A)
643
844
844
844
CDE Cornell Dubilier • 1605 E. Rodney French Blvd. • New Bedford, MA 02744 • Phone: (508)996-8561 • Fax: (508)996-3830
Type CDLC Snap-In, Carboncap Power Ultracapacitors
Large Cylindrical Type
Part Numbering System
CDLC
101
K
2R7
SR
Type
Capacitance
Tolerance
Voltage
Configuration
(F)
(%)
(V)
CDLC - Carbon Double Layer
101=100
K= -5 /+10%
2R7 = 2.7
Cell
7
8
D
C
5
6
4
SR = snap-in, 2 pins
2
3
1
Outline Drawing and Dimensions
2X
2.0 ±0.1
10.0 ±0.1
D
NEGATIVE
TERMINAL
10.0
C
B
B
L
5.9 ±1.0
D
PC BOARD MOUNTING HOLES
UNLESS OTHERWISE SPECIFIED:
PART MUST BE FREE OF DIRT, FOREIGN
PARTICLES, OIL, GREASE, DUST,
MOISTURE, MOLD RELEASE, AND
PACKING MATERIAL
A
PROPRIETARY AND CONFIDENTIAL
THE INFORMATION CONTAINED IN THIS
DRAWING IS THE SOLE PROPERTY OF
CORNELL DUBILIER ELECTRONICS. ANY
REPRODUCTION IN PART OR AS A WHOLE
WITHOUT THE WRITTEN PERMISSION OF
CORNELL DUBILIER ELECTRONICS IS
PROHIBITED.
8
7
6
Snap-In Type
PAUL JORISSEN
DATE
12/19/11
CHECKED
TOLERANCES:
ANGULAR MACH 1º BEND
DECIMAL
0.127mm
2º
TITLE:
A
ULTRA CAP
Approval Signatures
MATERIAL
SIZE DWG. NO.
B
COMMENTS:
FINISH
3
REV
P2
RSC2R7XXSR
SHEET 1 OF 1
SCALE:
DO NOT SCALE DRAWING
4
5
NAME
DRAWN
DIMENSIONS ARE IN mm
2
1
Dimensions (mm)
Part Number
D (+1/-0 mm)
L (±2 mm)
CDLC101K2R7SR
22
45
CDLC351K2R7SR
35
59
CDLC401K2R7SR
35
69
CDLC601K2R7SR
35
89
Do not reverse polarity.
CDE Cornell Dubilier • 1605 E. Rodney French Blvd. • New Bedford, MA 02744 • Phone: (508)996-8561 • Fax: (508)996-3830
Notice and Disclaimer: All product drawings, descriptions, specifications, statements, information and data
(collectively, the "Information") in this datasheet or other publication are subject to change. The customer
is responsible for checking, confirming and verifying the extent to which the Information contained in this
datasheet or other publication is applicable to an order at the time the order is placed. All Information given
herein is believed to be accurate and reliable, but it is presented without any guarantee, warranty, representation
or responsibility of any kind, expressed or implied. Statements of suitability for certain applications are based
on the knowledge that the Cornell Dubilier company providing such statements ("Cornell Dubilier") has
of operating conditions that such Cornell Dubilier company regards as typical for such applications, but
are not intended to constitute any guarantee, warranty or representation regarding any such matter – and
Cornell Dubilier specifically and expressly disclaims any guarantee, warranty or representation concerning
the suitability for a specific customer application, use, storage, transportation, or operating environment.
The Information is intended for use only by customers who have the requisite experience and capability to
determine the correct products for their application. Any technical advice inferred from this Information or
otherwise provided by Cornell Dubilier with reference to the use of any Cornell Dubilier products is given
gratis (unless otherwise specified by Cornell Dubilier), and Cornell Dubilier assumes no obligation or liability
for the advice given or results obtained. Although Cornell Dubilier strives to apply the most stringent quality
and safety standards regarding the design and manufacturing of its products, in light of the current state
of the art, isolated component failures may still occur. Accordingly, customer applications which require a
high degree of reliability or safety should employ suitable designs or other safeguards (such as installation
of protective circuitry or redundancies or other appropriate protective measures) in order to ensure that the
failure of an electrical component does not result in a risk of personal injury or property damage. Although
all product-related warnings, cautions and notes must be observed, the customer should not assume that all
safety measures are indicated in such warnings, cautions and notes, or that other safety measures may not be
required.

* Your assessment is very important for improving the work of artificial intelligence, which forms the content of this project