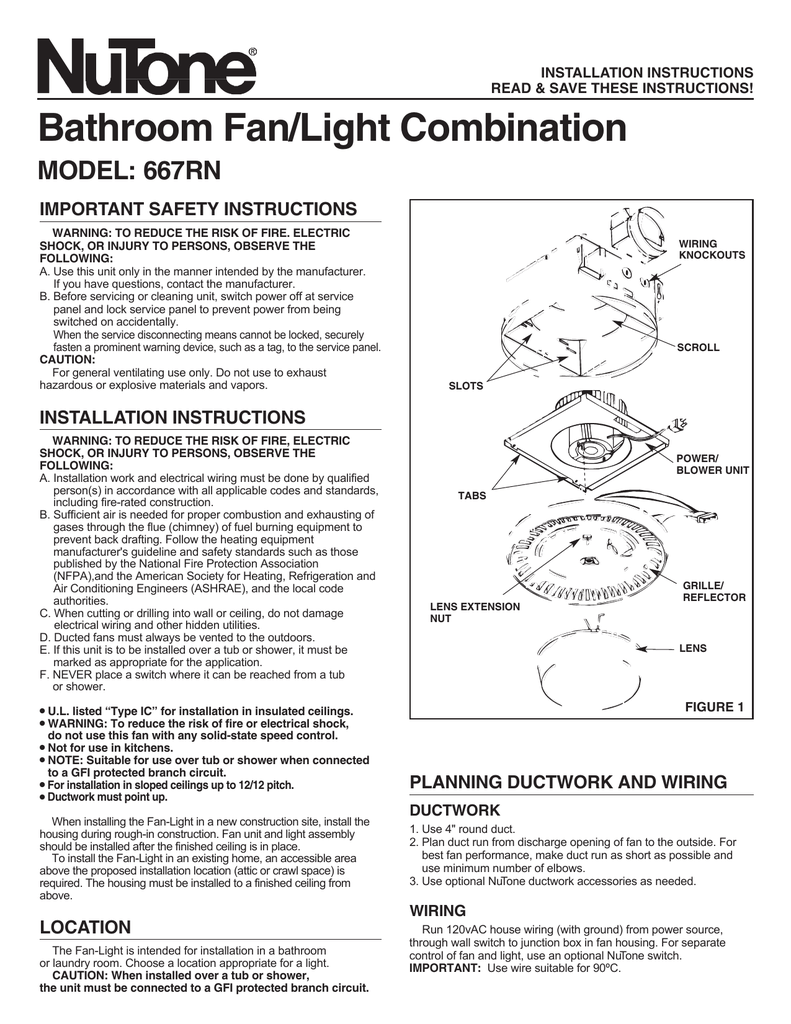 INSTALLATION INSTRUCTIONS
READ & SAVE THESE INSTRUCTIONS!
Bathroom Fan/Light Combination
MODEL: 667RN
IMPORTANT SAFETY INSTRUCTIONS
WARNING: TO REDUCE THE RISK OF FIRE. ELECTRIC
SHOCK, OR INJURY TO PERSONS, OBSERVE THE
FOLLOWING:
A. Use this unit only in the manner intended by the manufacturer.
If you have questions, contact the manufacturer.
B. Before servicing or cleaning unit, switch power off at service
panel and lock service panel to prevent power from being
switched on accidentally.
When the service disconnecting means cannot be locked, securely
fasten a prominent warning device, such as a tag, to the service panel.
CAUTION:
For general ventilating use only. Do not use to exhaust
hazardous or explosive materials and vapors.
WIRING
KNOCKOUTS
SCROLL
SLOTS
INSTALLATION INSTRUCTIONS
WARNING: TO REDUCE THE RISK OF FIRE, ELECTRIC
SHOCK, OR INJURY TO PERSONS, OBSERVE THE
FOLLOWING:
A. Installation work and electrical wiring must be done by qualified
person(s) in accordance with all applicable codes and standards,
including fire-rated construction.
B. Sufficient air is needed for proper combustion and exhausting of
gases through the flue (chimney) of fuel burning equipment to
prevent back drafting. Follow the heating equipment
manufacturer's guideline and safety standards such as those
published by the National Fire Protection Association
(NFPA),and the American Society for Heating, Refrigeration and
Air Conditioning Engineers (ASHRAE), and the local code
authorities.
C. When cutting or drilling into wall or ceiling, do not damage
electrical wiring and other hidden utilities.
D. Ducted fans must always be vented to the outdoors.
E. If this unit is to be installed over a tub or shower, it must be
marked as appropriate for the application.
F. NEVER place a switch where it can be reached from a tub
or shower.
POWER/
BLOWER UNIT
TABS
LENS EXTENSION
NUT
GRILLE/
REFLECTOR
LENS
FIGURE 1
• U.L. listed "Type IC" for installation in insulated ceilings.
• WARNING: To reduce the risk of fire or electrical shock,
do not use this fan with any solid-state speed control.
• Not for use in kitchens.
• NOTE: Suitable for use over tub or shower when connected
to a GFI protected branch circuit.
• For installation in sloped ceilings up to 12/12 pitch.
• Ductwork must point up.
When installing the Fan-Light in a new construction site, install the
housing during rough-in construction. Fan unit and light assembly
should be installed after the finished ceiling is in place.
To install the Fan-Light in an existing home, an accessible area
above the proposed installation location (attic or crawl space) is
required. The housing must be installed to a finished ceiling from
above.
PLANNING DUCTWORK AND WIRING
DUCTWORK
1. Use 4" round duct.
2. Plan duct run from discharge opening of fan to the outside. For
best fan performance, make duct run as short as possible and
use minimum number of elbows.
3. Use optional NuTone ductwork accessories as needed.
WIRING
LOCATION
The Fan-Light is intended for installation in a bathroom
or laundry room. Choose a location appropriate for a light.
CAUTION: When installed over a tub or shower,
the unit must be connected to a GFI protected branch circuit.
Run 120vAC house wiring (with ground) from power source,
through wall switch to junction box in fan housing. For separate
control of fan and light, use an optional NuTone switch.
IMPORTANT: Use wire suitable for 90ºC.
INSTALLATION IN
A NEW CONSTRUCTION SITE
DUCT COLLAR
WIRING
KNOCKOUTS
FLANGES
PREPARATION
1. Refer to Figure 1. Remove power unit/blower assembly
from housing.
A. Unplug power unit.
B. Remove screw (located next to plug-in receptacle) which
holds power/blower unit mounting plate in place. Save
this screw.
C. Lift mounting plate at end near the plug-in receptacle until
blower wheel clears the scroll.
D. Remove plate by pulling its tabs out of slots in housing. Set
power/blower unit aside until needed.
2. Remove one of the wiring knockouts from housing.
MOUNTING
TABS
MOUNTING THE HOUSING
Note: When installing in existing construction, refer to page 3
BOTTOM RIM
FIGURE 2
Mounting Using Mounting Tabs
Refer to Figure 2.
1. Locate fan housing next to ceiling joist.
2. Use wood screws (not provided) to loosely attach housing to
ceiling joist through the keyhole slots in mounting tabs.
3. Adjust housing so that it will be flush with finished ceiling. For the
grille to fit properly, the housing's rim must not extend beyond the
finished ceiling surface.
4. When housing is properly adjusted, tighten screws in slots.
HOUSING
HANGER BARS
(SOLD SEPARATELY)
Mounting Using Hanger Bars
(Hanger bars sold separately, order model HB4)
Refer to Figure 3.
1. Insert hanger bars in slots provided in housing.
2. Locate fan housing between joists so that the bottom of the
housing is even with the planned finished ceiling.
3. Use screws or nails (not provided) to secure hanger bars to
ceiling joists.
HANGER BARS
INSTALLING DUCTWORK
1. Refer to Figure 2. Place duct collar over flanges at discharge
opening of fan. Secure collar by snapping tabs into slots in flanges.
2. Run 4" round duct from fan's discharge opening to the outside and
terminate as illustrated.
3. Connect duct to fan's duct collar.
BOTTOM RIM
FIGURE 3
WIRING
All wiring must comply with local codes and unit must be
properly grounded.
1. Run 120vAC house wiring (with ground) from wall switch
to fan location.
2. Insert and secure an approved box connector into wiring
entrance hole.
3. Pull wires through box connector and into junction box. Tighten
box connector.
4. Refer to Figure 4. If a single switch will be used to control both the
fan and the light, make wiring connections. As shown.
Refer to Figure 5. If a double switch will be used for separate
control of the fan and light, make connections. As shown.
NOTE: If a double switch is used, the wiring connections
determine which receptacle will be used for the fan motor
plug and which receptacle will be used for the light plug.
5. Connect the green (or bare) ground wire to the green ground lead.
FAN
LIGHT
FAN
LIGHT
LIGHT
SWITCH
BOX
POWER/BLOWER INSTALLATION
1. Place power/blower unit into housing so that mounting plate's
tabs insert into slots in housing.
2. Press other end of mounting plate down until it is firmly
seated over scroll and plug-in receptacles.
3. Secure mounting plate to housing with provided screw.
4. Insert motor plug into junction box receptacle.
FAN
EARTH
GROUND
120vAC, 60 Hz
HOUSE POWER
FIGURE 4
SWITCH
BOX
EARTH
GROUND
120vAC, 60 Hz
HOUSE POWER
FIGURE 5
COMPLETING INSTALLATION
1. Insert lamp plug into junction box receptacle and secure
reflector/grille assembly to motor frame with extension nut
provided. Turn extension nut until grille is flush to ceiling.
2. Install lamp (100 watt maximum) into socket.
3. Squeezing the mounting spring of the lens, insert springs
into slots on both sides of reflector.
4. Press lens flush against reflector/grille assembly.
111⁄2"
53⁄4"
CLEANING AND RELAMPING
1. Pull lens away from reflector/grille assembly.
2. Squeezing the mounting springs together, remove lens
to expose socket for relamping.
3. Use only a mild soap and water solution to clean grille and lens.
Do not use strong, abrasive cleaners.
4. After cleaning or relamping, reinstall reflector/grille assembly
and lens as previously instructed.
2"
4"
1
9 ⁄8" - 10"
INSTALLATION IN
EXISTING CONSTRUCTION
JOIST
FIGURE 6
PLANNING
Review "INSTALLATION IN A NEW CONSTRUCTION SITE"
and follow all instructions which apply to your installation.
LOCATION: Locate fan between ceiling joists.
WIRING AND DUCTING: Refer to Figures 4 and 5 for wiring.
Plan ducting and wiring before proceeding with installation.
4" FLEXIBLE
DUCT
CAUTION: Check area above planned location to be sure that:
(1) Ducting can be installed or that area is sufficient for
proper venting.
(2) Wiring can be run to the planned location.
(3) No wiring or other obstruction might interfere with installation.
INSTALLATION FROM ACCESSIBLE
AREA ABOVE
120vAC HOUSE
WIRING
1. After determining desired location for fan, drill a small hole in the
ceiling. Place a coat hanger or other still wire up through hole to
help in locating from above.
2. Place fan housing on top of ceiling surface against a ceiling joist
and use the housing as a template to mark area to be cut out.
3. After cutting out opening, mount housing in the opening.
A. Position housing in opening so that bottom of housing is
flush with ceiling.
B. Use screws or nails (not provided) to secure housing
to ceiling joists.
4. Install ducting and wiring as described above.
DUCT COLLAR
WIRING
KNOCKOUT
INSTALLATION FROM AREA BELOW CEILING
NOTE: If you do not have access to the area above to installation
location, make sure that the installation will not interfere with existing
wiring, plumbing, etc. and that wiring and ducting can be run to the
desired location. It will be necessary to use flexible duct when
installing the unit from below.
MOUNTING
HOLES
BEND MOUNTING
TABS FLUSH TO
SIDE OF HOUSING
FIGURE 7
INSTALLATION
1. The fan must be mounted between ceiling joists. Decide where you want to locate the fan, and then
determine where the nearest joists are.
LOCATING JOISTS: Lightly tap the ceiling. A hollow sound means no joist; a solid sound means a
joist is present. To be sure you have located a joist, drill a small hole (1⁄16") and probe into the ceiling
with a wire.
2. Locate the joists. Drill a starter hole in the ceiling between
the joists.
3. To exactly locate edge of joist, saw a line from hole to joist.
4. Remove power/blower unit from housing (see page 2.)
5. Use the housing pan as a template to mark cutout: place pan centered between joist and trace
around pan.
6. Make cutout along outside of marked line.
7. Refer to Figure 6. Install 2 x 4 cleats to both ceiling joists.
In some cases it may be necessary to use more than a single cleat on one side. The distance
between cleats must be
at least 91⁄8" but no more than 10".
8. Remove side wiring knockout. Insert and secure an approved box connector into the wiring
entrance hole.
9. Use pliers to bend both mounting tabs as flush as possible
to the side of the housing.
10. Install duct collar.
11. Refer to Figure 7. String wiring through box connector
and connect 4" flexible duct to duct collar.
12. Carefully push ductwork and wiring back into cutout. Place housing into cutout.
13. Use wood screws to secure housing to cleats through four holes in housing's pan. Make sure pan
is flush to finished ceiling.
14. Install power/blower unit and complete installation as described above.
One Year Limited Warranty
WARRANTY OWNER: NuTone warrants to the original consumer purchaser of its products that such products will be free from defects in materials or workmanship for a period
of one (1) year from the date of original purchase. THERE ARE NO OTHER WARRANTIES, EXPRESS OR IMPLIED, INCLUDING, BUT NOT LIMITED TO, IMPLIED
WARRANTIES OF MERCHANTABILITY OR FITNESS FOR A PARTICULAR PURPOSE.
During this one year period, NuTone will, at its option, repair or replace, without charge, any product or part which is found to be defective under normal use and service.
THIS WARRANTY DOES NOT EXTEND TO FLUORESCENT LAMP STARTERS OR TUBES, FILTERS, DUCT, ROOF CAPS, WALL CAPS AND OTHER ACCESSORIES
FOR DUCTING. This warranty does not cover (a) normal maintenance and service or (b) any products or parts which have been subject to misuse, negligence, accident,
improper maintenance or repair (other than by NuTone), faulty installation or installation contrary to recommended installation instructions.
The duration of any implied warranty is limited to the one year period as specified for the express warranty. Some states do not allow limitation on how long an implied warranty
lasts, so the above limitation may not apply to you.
NUTONE'S OBLIGATION TO REPAIR OR REPLACE, AT NUTONE'S OPTION, SHALL BE THE PURCHASER'S SOLE AND EXCLUSIVE REMEDY UNDER THIS
WARRANTY. NUTONE SHALL NOT BE LIABLE FOR INCIDENTAL, CONSEQUENTIAL OR SPECIAL DAMAGES ARISING OUT OF OR IN CONNECTION WITH
PRODUCT USE OR PERFORMANCE. Some states do not allow the exclusion or limitation of incidental or consequential damages, so the above limitation or exclusion may
not apply to you. This warranty gives you specific legal rights, and you may also have other rights, which vary from state to state. This warranty supersedes all prior warranties.
WARRANTY SERVICE: To qualify for warranty service, you must (a) notify NuTone at the address stated below or telephone 1/800-543-8687, (b) give the model
number and part identification and (c) describe the nature of any defect in the product or part. At the time of requesting warranty service, you must present
evidence of the original purchase date.
Date of Installation
Builder or Installer
Model No. and Product Description
IF YOU NEED ASSISTANCE OR SERVICE:
For the location of your nearest NuTone Independent Authorized Service Center:
Residents of the contiguous United States Dial Free 1-800-543-8687
Please be prepared to provide:
Product model number • Date and Proof of purchase • The nature of the difficulty
Residents of Alaska or Hawaii should write to: NuTone Inc. Attn: Department of National Field Service, 4820 Red Bank Road, Cincinnati Ohio 45227-1599.
Residents of Canada should write to: Broan-NuTone Canada, 1140 Tristar Drive, Mississauga, Ontario, Canada L5T 1H9.
Rev. 03/2001
Product specifications subject to change without notice.
4820 Red Bank Road, Cincinnati, Ohio 45227
Printed in U.S.A., Rev. 4/2003, Part No. 87574
PARTS LIST
EFFECTIVE
DATE
Revised
APRIL
2003
PRODUCT
GROUP
MODEL NUMBER
667RN
FAN
6
58
13
3
9
9
2
4
10
13
148
1212
7
11
1
REF.
1
2
3
4
5
6
7
8
9
10
11
12
13
11
ORIGINAL
PART NO.
0685B
86677
89914
86308
85979
30652
86312
16133
10034
82304
85943
57889
36919
*PART DESCRIPTION
POWER UNIT ASSEMBLY
MOTOR
BLOWER WHEEL
REFLECTOR ASSEMBLY
LAMPSOCKET
DUCT ADAPTER ASSEMBLY
RETAINING RING/LENS/SPRING ASSY
WING NUT
FAN RECEPTACLE
LIGHT RECEPTACLE
LENS ONLY
RETAINING RING
REFLECTOR
MODEL USED ON
667RN
667RN
667RN
667RN
667RN
667RN
667RN
667RN
667RN
667RN
667RN
667RN
667RN
CURRENT
REPLACEMENT
PART NO.
0685B-000
86677-000
89914-000
86308-000
85979-000
30652-000
86312-000
16133-000
10034-000
82304-000
85943-000
57889-206
36919-206
NOTE: Always order by
current part number
NuTone
Attn: Parts Department
4820 Red Bank Road
Cincinnati, OH 45227-1599
667RN I.I.