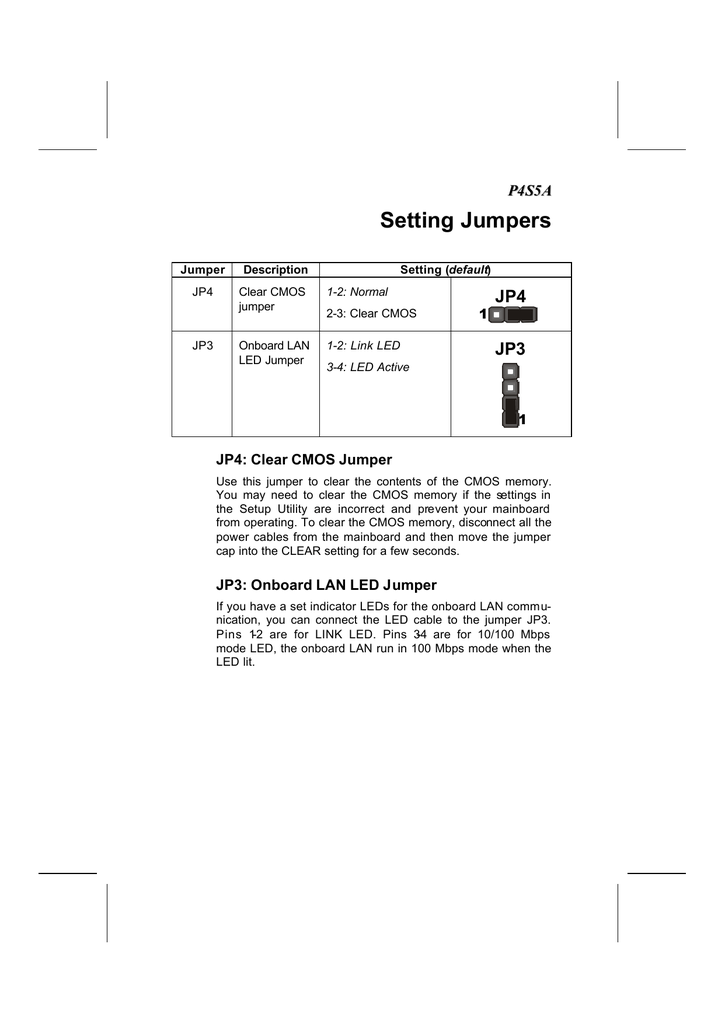 P4S5A
Setting Jumpers
Jumper
JP4
JP3
Description
Setting (default)
Clear CMOS
jumper
1-2: Normal
Onboard LAN
LED Jumper
1-2: Link LED
2-3: Clear CMOS
1
JP4
JP3
3-4: LED Active
1
JP4: Clear CMOS Jumper
Use this jumper to clear the contents of the CMOS memory.
You may need to clear the CMOS memory if the settings in
the Setup Utility are incorrect and prevent your mainboard
from operating. To clear the CMOS memory, disconnect all the
power cables from the mainboard and then move the jumper
cap into the CLEAR setting for a few seconds.
JP3: Onboard LAN LED Jumper
If you have a set indicator LEDs for the onboard LAN communication, you can connect the LED cable to the jumper JP3.
Pins 1-2 are for LINK LED. Pins 3-4 are for 10/100 Mbps
mode LED, the onboard LAN run in 100 Mbps mode when the
LED lit.

* Your assessment is very important for improving the work of artificial intelligence, which forms the content of this project