No category
InvisiPac Tank-Free Hot Melt Delivery System ®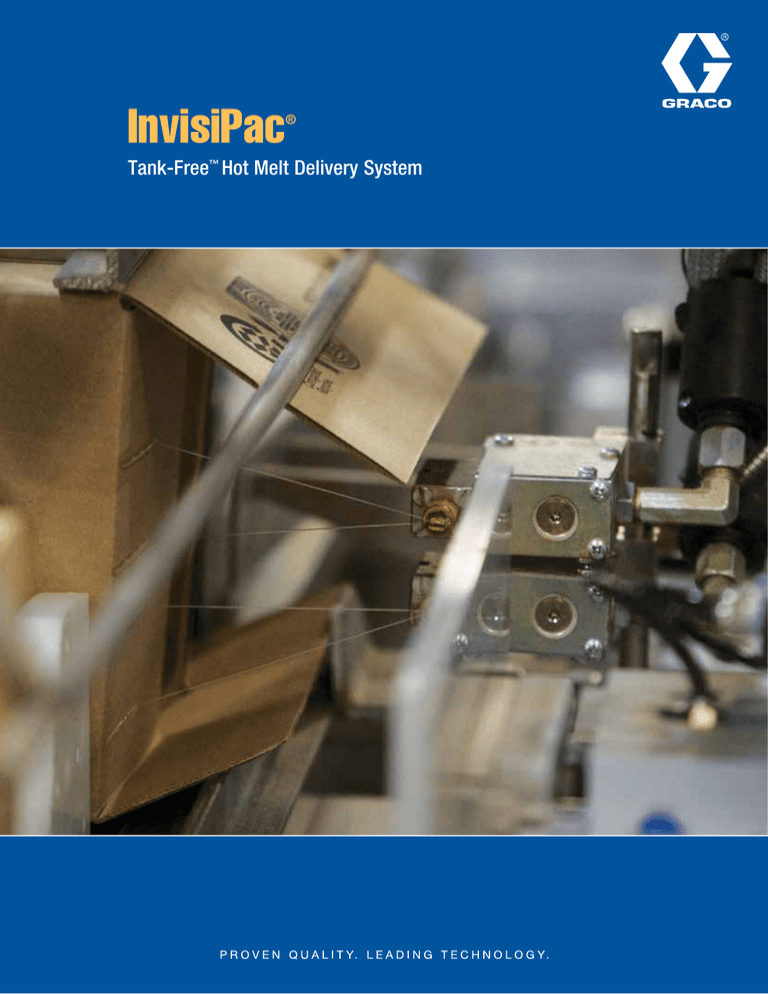 InvisiPac
®
Tank-Free™ Hot Melt Delivery System
InvisiPac. So reliable, you'll forget it's even there.
Innovative hot melt equipment
for the packaging industry
• Quick start-up – ready in less than 10 minutes,
eliminating costly downtime
• Tank-Free – adhesive supplied and melted to
meet your application's demand means less
adhesive time at high temperature
• Less adhesive time at high temperature means
less char and less material degradation
• No nozzle plugging due to tank char means
less system maintenance and more uptime
• Less degradation leads to better shot repeatability – less material waste, better quality assurance
• Great performance, even with low-cost adhesives
How it works
Graco's InvisiPac uses an integrated vacuum system to
feed adhesive to an in-line melter. An ultrasonic sensor
monitors adhesive in the chamber, and additional
adhesive is automatically added as needed based on
the demand of your application. With its efficient heat
transfer design, the InvisiPac System has adhesive
throughput capability equivalent to or better than many
hot melt tank systems. The result? You get a continuous
flow of adhesive during production that significantly
reduces the time adhesive sits at temperature. Less time
at high temperature means less char, less maintenance
and more uptime.
2
2
Optional Light Tower
Filter
• Indicates system status at a glance
• Large surface area for months
of maintenance free operation
Pump
In-line Melter
• Graco two-ball design leverages over
85 years of fluid handling expertise
• Tank-Free design
• Melts adhesive to meet your
application demand
• Proven NXT® Air Motor technology
provides reliable shot consistency
• Reduces char and
improves uptime
Intuitive User Interface
• Reaches operating
temperature in less
than 10 minutes
• Graphics and text make
operation simple
• Circular design allows first-in,
first-out adhesive flow
• Easy troubleshooting –
points you to the root
of the problem
Integrated Automatic
Vaccum Feed System
• Single screen view of all
heat zone temperatures
• Saves labor costs automatically
by pulling adhesive from a drum
or bulk container
• Tracks adhesive consumption
• USB downloadable operating
data, errors and event history
• Automatically keeps adhesive
at optimum levels
• Keeps paper dust & debris out
• Promotes improved hygiene
and consistent bead weights
by eliminating thermal shock
Power Entry Module
• Simple jumper-less
installation
• Automatically detects
480V system and protects
from overload
InvisiPac GS35
• Patent-pending module
filter design provides
plug-free operation
Superior Heated Hoses
• Superior hose construction buffers heat,
virtually eliminating char build up
Visit www.invisipac.com for more information on the InvisiPac HM25 and HM50
3
Tank-free design: setting a new packaging industry standard
Why tank-free is preferable to traditional tank systems
• Consistent adhesive levels help prevent char from forming
• Less molten volume means the adhesive spends less time at temperature – resulting in less char and less degradation
• More choices – you can use low-grade adhesives when it makes sense or high-grade adhesives to ensure premium performance
Traditional Tank Systems
InvisiPac's Tank-Free System
• Heat to operating temperature slowly
• Heats to operating temperature quickly
• Keep large quantities of adhesive at high temperatures
• Maintains continuous flow of heated-on-demand adhesive
• Allow degradation of adhesive integrity
• Safeguards adhesive integrity
• Create char and cause plugged nozzles
• Eliminates plugged nozzles due to tank char
• Achieves the same or better melt rate than most
large-capacity tank systems
A Network of Support for the Packaging Industry
Worldwide Support
Global distribution
With infrastructure throughout the world, your company will benefit
from Graco's knowledgeable, global network of professionals.
With a global distribution network, you can count on quick turnaround times for replacement parts and service. With Graco's
authorized distributors, you have access to experts who understand
the unique needs of your business.
Proven track record
Graco has close working relationships with many of the world's
leading equipment manufacturers and adhesive suppliers. With
Graco, you can expect responsive service and support, as well as
the accuracy and reliability you demand from your manufacturing
equipment.
4
Boost production uptime
Reduce downtime due to plugged nozzles
With the InvisiPac Plug-Free™ Hot Melt Adhesive Applicator, you'll experience a new era in hasslefree operation. With its innovative free-flow manifold design and integrated module filtering – together
with the InvisiPac System – you can eliminate nozzle plugs. You'll finally have a hot melt system that
runs reliably, unnoticed and invisible.
Solenoid
• Graco-engineered for optimal control
• Designed to withstand high speed,
high temperature operation
Safety
• Third-party certification to UL/CSA standards
Factory Set Spring
• Factory set spring works across all
pneumatic and fluid pressure ranges
– no need for field adjustment
Module Filter
• Design protects ball and seat from debris and char
• Eliminates nozzle plugging when used
with InvisiPac System
Free-Flow Path
Manifold
• Designed to eliminate dead zones
where char will build up
• Manifold filter traps debris and char so it's
removed when you replace the filter
• Manifold filter is included in a heated zone,
eliminating cold spots and ensuring
consistent adhesive application
• Reaches operating temperature in less
than 10 minutes
Other Models Available
Visit www.invisipac.com for more information on the InvisiPac HM25 and HM50
5
Superior tracking and monitoring capabilities
Y
ER DA
AGE P
S
U
E
SIV
ADHE
AMS)
E (GR
USAG
With InvisiPac, you can
track material usage and
other production events
DATA
OSTIC
DIAGN
• USB download of operating data, errors
and event history
/ TIME
DATE
• Easily graph your adhesive consumption
to track cost per unit, saving you money
and ensuring quality
• Quantitatively analyze machine performance
to improve preventative maintenance and
reduce downtime
1
Superior heated hose design
Graco's char-resistant hose is designed to reduce
adhesive char buildup, resulting in more uptime and
lower maintenance costs. An additional silicone layer
promotes even heating, eliminating hot and cold spots
that cause char and skin formation
• Available in many lengths for easy installation
• Available in waterwash or standard platforms
• InvisiPac waterwash hoses for food-safe
packaging operations are Rated to IPX6,
an international standard for performance
in waterwash applications
6
3
2
1
Built in over-temperature safety interlock
2
Silicone insulating layer
3
Up to temperature in less than 10 minutes
Technical specifications
InvisiPac Tank-Free Hot Melt Delivery System
HM25
HM50
Electrical Service 200-240 Vac, 1-ph, 50/60 Hz
200-240 Vac, 1-ph, 50/60 Hz
200-240 Vac, 3-ph, 50/60 Hz 200-240 Vac, 3-ph, 50/60 Hz 400-480 Vac, 3-ph, w/Neutral, 50/60 Hz
400/480 Vac, 3-ph, w/Neutral, 50/60 Hz
200-240 Vac, 3-ph, w/Neutral, 50/60 Hz 400/230 Vac, 3-ph, w/Neutral, 50/60 Hz
Time to Temperature Less than 10 minutes*
Less than 15 minutes*
Melt Rate / Constant Throughput* 25 lb/hr (11.3 kg/hr)
50 lb/hr (22.6 kg/hr)
Pump Pneumatic Piston, 12:1
Pneumatic Piston, 12:1
Operating Pneumatic Pressure Range 20-100 psi / 1.4-7 bar / 0.14-0.69 MPa
20-100 psi / 1.4-7 bar / 0.14-0.69 MPa
Operating Fluid Pressure Range 240-1200 psi / 16-83 bar / 1.6-8 MPa
240-1200 psi / 16-83 bar / 1.6-8 MPa Control
Temperature Range 38-204°C (100-400°F)
38-204°C (100-400°F)
Ambient Temperature Range 0-50°C (32-122°F)
0-50°C (32-120°F)
Channels Up to 6
Up to 6
Maximum Gun Wattage Per Channel 400 W
400 W
Input Capability 4 inputs (0-30Vdc)
4 inputs (0-30Vdc)
Output Capability 4 outputs (240Vac, 24Vdc, 2A)
4 outputs (240Vac, 24Vdc, 2A)
Machine Weight 85 lb (34 kg)
105 lb (48 kg)
Machine Dimensions (WxHxD) 20.7 x 38.4 x 16.9 in
19.0 x 42 x 16.5 in
(526 mm x 975 mm x 429 mm)
(483 mm x 1067 mm x 419 mm)
Glue shape Pellets
Pellets
Max. Vacuum Transfer Hose Length 30 ft (9.1 m)
30 ft (9.1 m)
20 ft x 10 ft (6.1 m x 3.0 m)
20 ft x 10 ft (6.1 m x 3.0 m)
(horizontal x vertical) Vacuum Operating Pneumatic
Pressure Range Vacuum Air Consumption at 40 psi
40-80 psi / 2.8-5.5 bar / 0.28-0.55 MPa
40-80 psi / 2.8-5.5 bar / 0.28-0.55 MPa
9.5 scfm (intermittent duty; 4% @ 25 lb/hr)
9.5 scfm (intermittent duty; 4% @ 25 lb/hr)
Vacuum Air Consumption at 80 psi 17.2 scfm (intermittent duty; 4% @ 25 lb/hr)
17.2 scfm (intermittent duty; 4% @ 25 lb/hr)
Approvals and Standards UL499, CSA88, CE, ISO 9001
UL499, CSA88, CE, ISO 9001
InvisiPac GS35 Plug-Free Hot Melt Adhesive Applicator
Description Air Open / Spring Close, Ball and Seat
Speed Greater than 3,500 cycles/min
Time to Temperature Less than 10 minutes* *
Maximum Working Fluid Pressure 1500 psi / 103 bar / 10.3 MPa
Operating Pneumatic Pressure Range 40-80 psi / 2.8-5.5 bar / 0.28-0.55 MPa
Maximum Operating Temperature
204°C (400°F)
Ambient Temperature Range 0-50°C (32-122°F)
Solenoid Valve 24 Vac or 110 Vac
Graco engineered, factory installed
Electrical Service 200-240 Vac, 50/60 Hz, 400 W
Approvals and Standards
UL499, CSA88, CE, ISO 9001
* Melt rates typical for packaging grade adhesives. Actual melt rates may vary due to chemistry and other factors.
** From 21°C to 177°C (70°F to 350°F), dependent upon power supply, machine configuration and glue type.
For detailed dimensions and configurations, see instruction manuals 3A2347, 333347 and 3A2805 available on www.graco.com.
7
ABOUT GRACO
Founded in 1926, Graco is a world leader in fluid handling systems and components. Graco products
move, measure, control, dispense and apply a wide range of fluids and viscous materials used
in vehicle lubrication, commercial and industrial settings.
The company's success is based on its unwavering commitment to technical excellence, world-class
manufacturing and unparalleled customer service. Working closely with qualified distributors, Graco
offers systems, products and technology that set the quality standard in a wide range of fluid handling
solutions. Graco provides equipment for spray finishing, protective coating, paint circulation, lubrication,
and dispensing sealants and adhesives, along with power application equipment for the contractor
industry. Graco's ongoing investment in fluid management and control will continue to provide
innovative solutions to a diverse global market.
GRACO LOCATIONS
MAILING ADDRESS
P.O. Box 1441
Minneapolis, MN 55440-1441
Tel: 612-623-6000
Fax: 612-623-6777
AMERICAS
ASIA PACIFIC
Graco Australia Pty Ltd.
Suite 17, 2 Enterprise Drive
Bundoora, Victoria 3083
Australia
Tel: 61 3 9468 8500
Fax: 61 3 9468 8599
Graco Hong Kong Ltd.
India Liaison Office
Room 443, Augusta Point
Regus Business Centre 53
Golf Course Road
Gurgaon, Haryana
India 122001
Tel: 91 124 435 4208
Fax: 91 124 435 4001
CHINA
JAPAN
AUSTRALIA
MINNESOTA
Worldwide Headquarters
Graco Inc.
88 -11th Avenue N.E.
Minneapolis, MN 55413
EUROPE
BELGIUM
European Headquarters
Graco N.V.
Industrieterrein-Oude Bunders
Slakweidestraat 31
3630 Maasmechelen,
Belgium
Tel: 32 89 770 700
Fax: 32 89 770 777
SALES/
DISTRIBUTION/
SERVICE
INDIA
Graco Hong Kong Ltd.
Shanghai Representative Office
Building 7
1029 Zhongshan Road South
Huangpu District
Shanghai 200011
The People's Republic of China
Tel: 86 21 649 50088
Fax: 86 21 649 50077
Graco K.K.
1-27-12 Hayabuchi
Tsuzuki-ku
Yokohama City, Japan 2240025
Tel: 81 45 593 7300
Fax: 81 45 593 7301
KOREA
Graco Korea Inc.
Shinhan Bank Building
4th Floor #1599
Gwanyang-Dong, Dongan-Ku,
Anyang-si, Korea 431-060
Tel: 82 31 476 9400
Fax: 82 31 476 9801
Call today for product information or to request a demonstration.
877-84GRACO
(1-877-844-7226) or visit us at www.graco.com.
Graco Inc. is registered to I.S. EN ISO 9001
North America
Customer Service
800-328-0211
Fax 877-340-6427
© 2013-2014 Graco Inc. 348801 Rev. D 8/14 All written and visual data contained in this document are based on the latest product information available
at the time of publication. Graco reserves the right to make changes at any time without notice. All other brand names or marks are used for identification
purposes and are trademarks of their respective owners.

* Your assessment is very important for improving the work of artificial intelligence, which forms the content of this project