No category
VIPRION The On-Demand Application Delivery Controller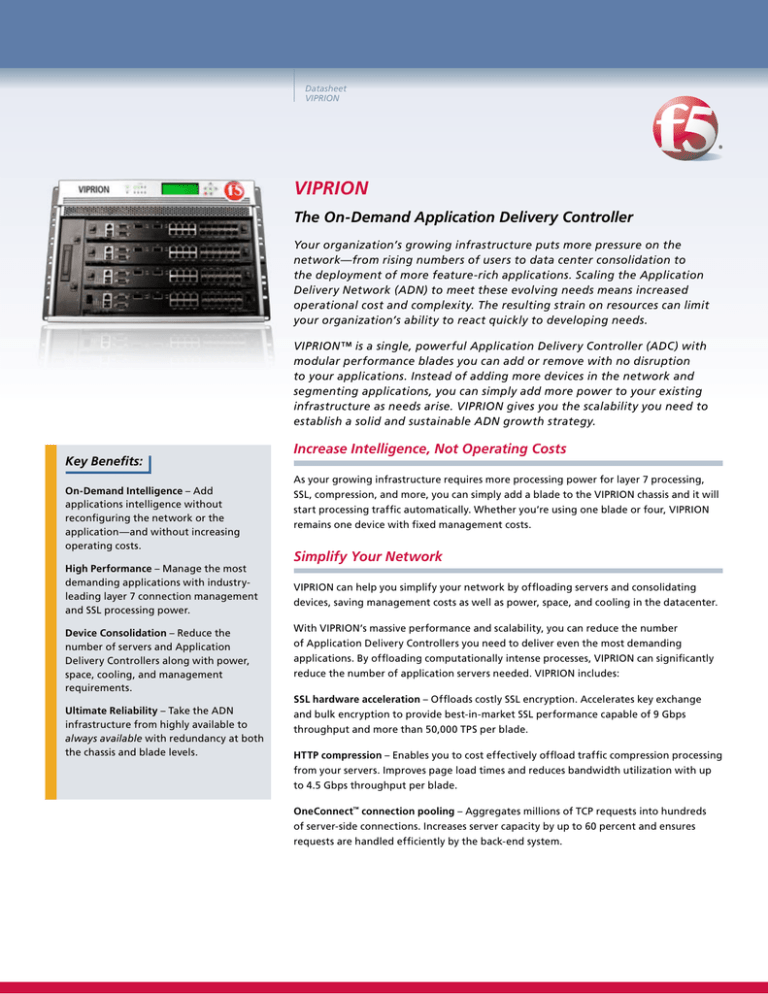 Datasheet
VIPRION
VIPRION
The On-Demand Application Delivery Controller
Your organization's growing infrastructure puts more pressure on the
network—from rising numbers of users to data center consolidation to
the deployment of more feature-rich applications. Scaling the Application
Delivery Network (ADN) to meet these evolving needs means increased
operational cost and complexity. The resulting strain on resources can limit
your organization's ability to react quickly to developing needs.
VIPRION™ is a single, powerful Application Delivery Controller (ADC) with
modular performance blades you can add or remove with no disruption
to your applications. Instead of adding more devices in the network and
segmenting applications, you can simply add more power to your existing
infrastructure as needs arise. VIPRION gives you the scalability you need to
establish a solid and sustainable ADN growth strategy.
Key Benefits:
On-Demand Intelligence – Add
applications intelligence without
reconfiguring the network or the
application—and without increasing
operating costs.
High Performance – Manage the most
demanding applications with industryleading layer 7 connection management
and SSL processing power.
Device Consolidation – Reduce the
number of servers and Application
Delivery Controllers along with power,
space, cooling, and management
requirements.
Ultimate Reliability – Take the ADN
infrastructure from highly available to
always available with redundancy at both
the chassis and blade levels.
Increase Intelligence, Not Operating Costs
As your growing infrastructure requires more processing power for layer 7 processing,
SSL, compression, and more, you can simply add a blade to the VIPRION chassis and it will
start processing traffic automatically. Whether you're using one blade or four, VIPRION
remains one device with fixed management costs.
Simplify Your Network
VIPRION can help you simplify your network by offloading servers and consolidating
devices, saving management costs as well as power, space, and cooling in the datacenter.
With VIPRION's massive performance and scalability, you can reduce the number
of Application Delivery Controllers you need to deliver even the most demanding
applications. By offloading computationally intense processes, VIPRION can significantly
reduce the number of application servers needed. VIPRION includes:
SSL hardware acceleration – Offloads costly SSL encryption. Accelerates key exchange
and bulk encryption to provide best-in-market SSL performance capable of 9 Gbps
throughput and more than 50,000 TPS per blade.
HTTP compression – Enables you to cost effectively offload traffic compression processing
from your servers. Improves page load times and reduces bandwidth utilization with up
to 4.5 Gbps throughput per blade.
OneConnect™ connection pooling – Aggregates millions of TCP requests into hundreds
of server-side connections. Increases server capacity by up to 60 percent and ensures
requests are handled efficiently by the back-end system.
Maximize Large-Scale Application Performance
With its industry-leading layer 7 and SSL performance, VIPRION can manage the most
demanding applications, offload the servers, and consolidate the Application Delivery
Network. A fully loaded VIPRION system with four blades delivers performance that is
orders of magnitude greater than anything else you will find on the market.
Massive Application
Performance
A VIPRION system with four blades
provides:
• 1
million layer 4 connections
per second
Achieve Ultimate Reliability
In a VIPRION system with multiple blades, you can remove a blade without disruption.
The other blades will instantly take over the processing load. You can also deploy
VIPRION in an active/standby configuration to add another level of redundancy. The
chassis is built with redundant power supplies and field swappable components. This
multi-layered redundancy significantly reduces the possibility of downtime.
• 3
6 Gbps of layer 4 or layer 7
throughput
• 3.2 million layer 7 requests per second
• 200,000 SSL transactions per second
VIPRION Performance Blades
can be added or removed
without disruption. For more
processing power, simply add
a blade and it starts processing
traffic automatically. In a
VIPRION system with multiple
blades, you can remove a blade
and the others instantly take
over the processing load.
The VIPRION chassis has field replaceable parts and redundant power supplies, significantly reducing the possibility of downtime.
The Advantages of VIPRION Technology
With VIPRION, your organization will benefit from several patented hardware and
software innovations that offer unmatched capabilities.
Clustered Multiprocessing Eliminates Disruptions
Each VIPRION Performance Blade 100 has four processor cores, and the VIPRION chassis
can support up to four blades. Using clustered multiprocessing, VIPRION creates a
virtualized processing fabric to efficiently use these resources. When you add a new
blade, the four additional processor cores seamlessly join the system. In the unlikely event
of a failure, you can remove the blade from the system without disruption.
CPU
CPU
CPU
CPU
CPU
High Speed Bridge
CPU
CPU
CPU
High Speed Bridge
Disaggregator
Switch
Fabric
Switch
Fabric
Disaggregator
Disaggregator
Switch
Fabric
Switch
Fabric
Disaggregator
Client
High Speed Bridge
CPU
CPU
CPU
Servers
High Speed Bridge
CPU
CPU
CPU
CPU
CPU
Virtualized Processing Fabric Shares the Load Across Blades
Using custom disaggregation ASICs and advanced software, VIPRION shares the
processing load not just within a blade, but across the entire chassis.
The physical interfaces are fully meshed. Each VIPRION Performance Blade has 22 Ethernet
ports: eight copper, twelve 1G fiber, and two 10G fiber. Any port on any blade can be used
for any application so the system can be wired for redundancy and simplicity.
Clustered Management Cuts Administration Time
Spend less time managing your Application Delivery Network. To VIPRION administrators,
the unit looks like a single Application Delivery Controller. One blade is automatically
selected as the "primary" and all settings and controls are mirrored to the other blades.
When a new blade is plugged in, it will install the firmware version from the primary
blade, copy all of its settings, and begin processing traffic within minutes.
SuperVIP Simplifies the Network
Rather than requiring that a single, demanding application be segmented, VIPRION uses
the new SuperVIP™. This is a virtual IP that can span multiple blades within the VIPRION
system. A demanding application will use SuperVIP to harness the processing power of all
the blades in the system.
TMOS Delivers Performance and Flexibility
At the heart of VIPRION is a revolutionary architecture called TMOS™ that provides a
unified system for optimal application delivery, giving you total vision, flexibility, and
control across all services. TMOS empowers VIPRION to intelligently adapt to the diverse
and evolving requirements of applications and networks.
Ordering Information
The VIPRION chassis includes BIG-IP ® Local Traffic Manager™. Options include:
• Performance Blade 100 – One blade is required.
• Performance Extreme Pack – Includes SSL Accelerator™, Intelligent Compression™,
Fast Cache™, Advanced Client Authentication™, and IPv6 Gateway™.
Physical Specifications
VIPRION Performance Blade 100
VIPRION Chassis
Processors: 2 Dual Core processors
Dimensions: 12.2"H x 17.4"W x 21"D rack-mount chassis
Memory: 8 GB
7 Rack Units
Hard Drive Capacity:
160 GB ATA Hard Drive
8 GB Compact Flash
Weight: 83 lbs. (2 power supplies, 1 fan tray, 3 blanks)
Traffic Throughput: 10 Gbps L4, 10 Gbps L7,
4.5 Gbps Max Compression
Included SSL TPS/Max TPS/Bulk Crypto: 400/50,000/9 Gbps
Network Interfaces:
1 – 10/100/1000 Ethernet Management Port
8 – 10/100/1000 Copper ports
12 – 1000BASE-X SFP Fiber ports
4 SFP LX Transceivers (LC Connector) included
2 – 10 Gigabit XFP ports (XFPs sold separately)
Note: Only optics provided by F5 are supported.
Maximum Power Consumption: 600W
Maximum Heat Generated: 2046 BTU/hour
Power Supply:
4 – 90VAC to 264VAC AUTO ranging
1200W for low line input (90-140VAC)
2000W for high line input (180-264VAC)
Input Voltage and Current: 90-264 VAC (AC)
Operating Temperature: 23° to 104° F (-5° to 40° C)
per Telcordia GR-63-CORE 5.1.1 and 5.1.2
Relative Humidity: 10 to 90% @ 40º C,
per Telcordia GR-63-CORE 5.1.1 and 5.1.2
Safety Agency Approval:
UL 60950 (UL1950-3)
CSA-C22.2 No. 60950-00 (Bi-national standard with UL 60950)
CB TEST CERTIFICATION TO IEC 950 EN 60950
F5 Networks, Inc.
Corporate Headquarters
F5 Networks
Asia-Pacific
F5 Networks Ltd.
Europe/Middle-East/Africa
F5 Networks
Japan K.K.
401 Elliott Avenue West
Seattle, WA 98119
(206) 272-5555 Phone
(888) 88BIGIP Toll-free
(206) 272-5556 Fax
www.f5.com
[email protected]
+65-6533-6103 Phone
+65-6533-6106 Fax
[email protected]
+44 (0) 1932 582 000 Phone
+44 (0) 1932 582 001 Fax
[email protected]
+81-3-5114-3200 Phone
+81-3-5114-3201 Fax
[email protected]
Part No. DS-VIPRION 0108
Electromagnetic Emissions Certifications: EN55022 1998
Class A
EN55024 1998 Class A
FCC Part 15B Class A
VCCI Class A
Weight: 14.5 lbs.
© 2008 F5 Networks, Inc. All rights reserved. F5, F5 Networks, the F5 logo, BIG-IP, FirePass, and iControl are trademarks or registered trademarks of F5 Networks, Inc. in the U.S. and in certain other countries.

* Your assessment is very important for improving the work of artificial intelligence, which forms the content of this project