Trendnet TBW-102UB High Power Bluetooth® USB Adapter Datasheet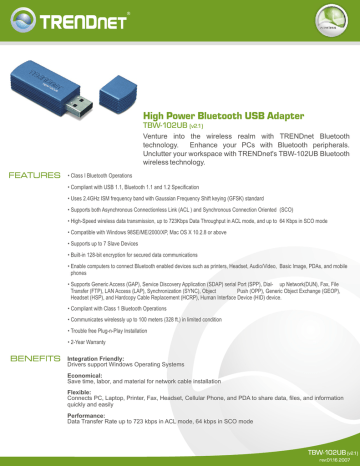 High Power Bluetooth USB Adapter
TBW-102UB (v2.1)
Venture into the wireless realm with TRENDnet Bluetooth
technology.
Enhance your PCs with Bluetooth peripherals.
Unclutter your workspace with TRENDnet's TBW-102UB Bluetooth
wireless technology.
FEATURES
• Class I Bluetooth Operations
• Compliant with USB 1.1, Bluetooth 1.1 and 1.2 Specification
• Uses 2.4GHz ISM frequency band with Gaussian Frequency Shift keying (GFSK) standard
• Supports both Asynchronous Connectionless Link (ACL ) and Synchronous Connection Oriented (SCO)
• High-Speed wireless data transmission, up to 723Kbps Data Throughput in ACL mode, and up to 64 Kbps in SCO mode
• Compatible with Windows 98SE/ME/2000/XP, Mac OS X 10.2.8 or above
• Supports up to 7 Slave Devices
• Built-in 128-bit encryption for secured data communications
• Enable computers to connect Bluetooth enabled devices such as printers, Headset, Audio/Video, Basic Image, PDAs, and mobile
phones
• Supports Generic Access (GAP), Service Discovery Application (SDAP) serial Port (SPP), Dial- up Network(DUN), Fax, File
Transfer (FTP), LAN Access (LAP), Synchronization (SYNC), Object
Push (OPP), Generic Object Exchange (GEOP),
Headset (HSP), and Hardcopy Cable Replacement (HCRP), Human Interface Device (HID) device.
• Compliant with Class 1 Bluetooth Operations
• Communicates wirelessly up to 100 meters (328 ft.) in limited condition
• Trouble free Plug-n-Play Installation
• 2-Year Warranty
BENEFITS
Integration Friendly:
Drivers support Windows Operating Systems
Economical:
Save time, labor, and material for network cable installation
Flexible:
Connects PC, Laptop, Printer, Fax, Headset, Cellular Phone, and PDA to share data, files, and information
quickly and easily
Performance:
Data Transfer Rate up to 723 kbps in ACL mode, 64 kbps in SCO mode
TBW-102UB (v2.1)
rev:01.16.2007
High Power Bluetooth USB Adapter
TBW-102UB (V2.1)
SPECIFICATIONS
Hardware
Adapter Standards
• USB 1.1, Bluetooth 1.1 and 1.2
Antenna
Link Mode
• 2dBi
TX Output
• Class1 Operation
Supported OS
• Windows 98SE/ME/2000/XP, Mac OS X 10.2.8 or above
Cable Length
• 15cm(6 in.)
LED Indicator
Operating Voltage
• Power
Power Consumption
• 80mA (Max.)
Temperature
• Operation: 0°C~ 55°C (32°F~132°F), Storage: -20°C~ 55°C (-4°F~132°F)
Humidity
• 70% (Max)
Dimensions
• 57 x 18 x 11 mm (2.24 x 0.71 x 0.43in.)
Weights
• 11 g (0.4 oz.)
Certification
• CE, FCC
• ACL and SCO
• 5V USB Power
Wireless
Frequency
• 2.4 ~ 2.4835 GHz
Module Technique
• Gaussian Frequency Shift Keying ( GFSK)
Output Power
• 13dBm (typical)
Receiving Sensitivity
• - 82dBm ( typical )
Data Rate
• Up to 723Kbps in ACL mode; up to 64Kbps in SCO mode
Data Range
• Up to 100m (328 ft.)
NETWORKING SOLUTIONS
PACKAGE CONTENTS
• TBW-102UB
Notebook with High Power
Bluetooth USB Adapter
• Multi-Language Quick Installation Guide
• Driver CD-ROM
(TBW-102UB)
PDA
• USB Cable
Cell Phone
RELATED PRODUCTS
TBW-101UB
Bluetooth Headset
Bluetooth USB Adapter
Printer
ORDERING INFORMATION
20675 Manhattan Place,Torrance, CA 90501 USA
Tel: 1-310-961-5500
Fax: 1-310-961-5511
Web: www.trendnet.com
Email: [email protected]
To Order Please Call:
1-888-326-6061
TRENDnet is a registered trademark. Other Brands and product names are trademarks of their respective holders. Information provided in this document pertain to TRENDnet
products and is subject to change at any time, without notice. For the most recent product information please visit http://www.trendnet.com.
Copyright © TRENDnet. All Rights Reserved.

* Your assessment is very important for improving the workof artificial intelligence, which forms the content of this project