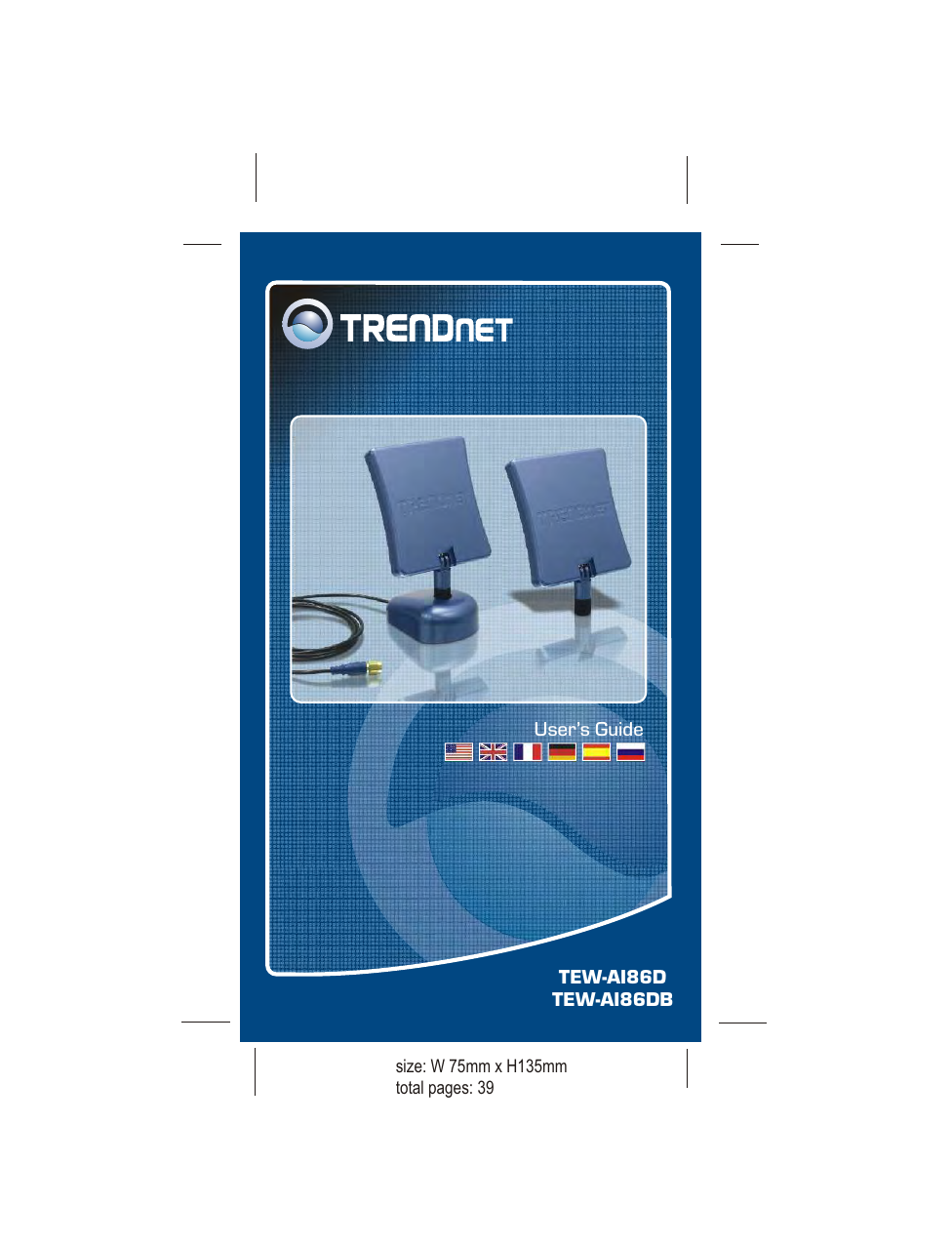 User's Guide
TEW-AI86D
TEW-AI86DB
size: W 75mm x H135mm
total pages: 39
Table of Contents
English ..................................................................................... 1
1. Before You Start .............................................................. 1
2. Hardware Installation ....................................................... 2
Troubleshooting ........................................................................ 7
Version:01.04.2006
Version: 11.28.05
1. Before you start
Package Content
TEW-AI86D/TEW-AI86DB
Antenna Mounting Base (TEW-AI86DB only)
User's Guide
Mounting Kit (TEW-AI86DB only)
Product details
The Directional Indoor Antenna has a reverse SMA female
connector that can be connected to your Access Point or Wireless
Network Adapter.
WARNING: The antenna can tilt 0° to 180° and rotate 360° .
The Internal antenna wire is fixed, therefore do not rotate the
antenna beyond 360° .
Wall / partition mount (Antenna base with embedded
magnets)
For antenna deployment, you can mount the antenna onto a wall
using the fasteners and screws included or simply stick to metal
surfaces.
1
English
2. Hardware installation
Recommended devices to connect with this antenna
Wireless base stations with detachable antenna(s):
As a method of focusing signal broadcast to achieve longer range
coverage in your home or office, the antenna generates an 80°
wide directional signal.
Wireless PCI adapter or IP Camera with detachable Antenna
Recommendation: Due to the bi-directional nature of WiFi
devices (receive / transmit), it is recommended that you install
external antennas on the AP base station as well as the client.
2
English
Recommended installation positions
TEW-AI86D antenna has directional 80° signal coverage.
Therefore, the ideal position for the antenna is in the corner of the
covered area.
TEW-AI86D antennas can also be placed at the side / edge of the
covered area for long range hall / corridor transmission.
3
English
Antenna Base Mounting Methods & Configuration
PLEASE READ THE FOLLOWING INSTALLATION
STEPS BEFORE DRILLING HOLES IN THE WALL.
Press Tab
Lift Cover
Remove weight plate
After removing the bottom cover from its seating, remove the
metal weight plate from the ceiling clips to expose the screw holes.
In order to decrease the weight and increase the
magnetic power, it is highly recommended that the metal
plate be removed before installing antenna onto ceiling,
partition, or any metal surface.
Select location
Place
base template
Mark screw
position
WARNING: Please make sure that the AP / Client device
can reach your selected antenna position (Antenna Cable is 1
meter / 3 feet)
After you have marked the wall for the appropriate drilling sites, reassemble the antenna stand without the metal weight. The clips
should not protrude.
4
English
About the screws
After drilling holes in the drywall / gypsum / plasterboard, sink the
plastic anchor into the hole (1/8 inch drill bit (3mm)). Leave about
3 to 5mm (1/8 inch) of the threaded screw exposed as depicted in
the diagrams below.
3mm
Ceiling Mount Using Ceiling Clips or Magnets
The special ceiling mount feature is mainly recommended for use
when your wireless base station is hidden over the ceiling or some
kind of anti-theft protection case is implemented.
5
English
How to assemble the antenna stand for use with
ceiling systems.
Press tab and lift
Turn over cover,
remove metal weight plates,
exposing the ceiling clips.
Secure Clips to Tee
Conceal AP/Router
Note: If the ceiling tees are made of steel, turning the
antenna base cover over may not be necessary, because the base
has embedded magnets which can be used to adhere the antenna
to the ceiling tee.
6
English
Troubleshooting
Q1. How come I cannot transmit or receive Wi-Fi signals with my TEWAI86D?
A1. The TEW-AI86D is a directional antenna and can only send and
receive signals from the front panel. Make sure to adjust the position
of the antenna by directing the front panel to laptops, PCs or other
wireless devices.
Q2. My access point indicates that it is receiving power, and my laptop
is within range of the TEW-AI86D. However, my laptop does not
receive any signals from my access point.
A2. Make sure that you properly connect the antenna to the Wi-Fi
Access Point. (See 2. Hardware Installation)
Q3. Why won't the TEW-AI86D work with my IEEE 802.11a Wireless
Router or Access point?
A3. Yes. The TEW-AI86D is compatible with IEEE 802.11a/b/g
wireless devices.
Q4. Is it necessary to use the tapping screws or the wall anchors that
come with the TEW-AI86DB?
A4. It is only necessary if you decide to mount the TEW-AI86DB at a
permanent location. Use discretion when attaching mounting
brackets to the TEW-AI86DB.
If you have any questions regarding the TEW-AI86D/TEW-AI86DB, please
contact TRENDnet Technical Support Department.
Certifications
This equipment has been tested and found to comply with FCC and CE Rules.
Operation is subject to the following two conditions:
(1) This device may not cause harmful interference.
(2) This device must accept any interference received.
Including interference that may cause undesired operation.
Waste electrical and electronic products must not
be disposed of with household waste. Please
recycle where facilities exist. Check with you
Local Authority or Retailer for recycling advice.
NOTE: THE MANUFACTURER IS NOT RESPONSIBLE FOR ANY RADIO OR TV INTERFERENCE
CAUSED BY UNAUTHORIZED MODIFICATIONS TO THIS EQUIPMENT. SUCH MODIFICATIONS
COULD VOID THE USER'S AUTHORITY TO OPERATE THE EQUIPMENT.
7
Limited Warranty
TRENDnet warrants its products against defects in material
and workmanship, under normal use and service, for the
following lengths of time from the date of purchase.
TEW-AI86D/TEW-AI86DB - 3 Years Warranty
If a product does not operate as warranted above during the
applicable warranty period, TRENDnet shall, at its option and
expense, repair the defective product or part, deliver to
customer an equivalent product or part to replace the
defective item, or refund to customer the purchase price paid
for the defective product. All products that are replaced will
become the property of TRENDnet. Replacement products
may be new or reconditioned.
TRENDnet shall not be responsible for any software,
firmware, information, or memory data of customer contained
in, stored on, or integrated with any products returned to
TRENDnet pursuant to any warranty.
There are no user serviceable parts inside the product. Do
not remove or attempt to service the product by any
unauthorized service center. This warranty is voided if (i) the
product has been modified or repaired by any unauthorized
service center, (ii) the product was subject to accident, abuse,
or improper use (iii) the product was subject to conditions
more severe than those specified in the manual.
Warranty service may be obtained by contacting TRENDnet
office within the applicable warranty period for a Return
Material Authorization (RMA) number, accompanied by a copy
of the dated proof of the purchase. Products returned to
TRENDnet must be pre-authorized by TRENDnet with RMA
number marked on the outside of the package, and sent
prepaid, insured and packaged appropriately for safe
shipment.
8
WARRANTIES EXCLUSIVE: IF THE TRENDnet PRODUCT
DOES NOT OPERATE AS WARRANTED ABOVE, THE
CUSTOMER'S SOLE REMEDY SHALL BE, AT TRENDnet'S
OPTION, REPAIR OR REPLACEMENT. THE FOREGOING
WARRANTIES AND REMEDIES ARE EXCLUSIVE AND ARE IN
LIEU OF ALL OTHER WARRANTIES, EXPRESSED OR IMPLIED,
EITHER IN FACT OR BY OPERATION OF LAW, STATUTORY OR
OTHERWISE, INCLUDING WARRANTIES OF
MERCHANTABILITY AND FITNESS FOR A PARTICULAR
PURPOSE. TRENDnet NEITHER ASSUMES NOR AUTHORIZES
ANY OTHER PERSON TO ASSUME FOR IT ANY OTHER
LIABILITY IN CONNECTION WITH THE SALE, INSTALLATION
MAINTENANCE OR USE OF TRENDnet'S PRODUCTS.
TRENDnet SHALL NOT BE LIABLE UNDER THIS WARRANTY IF
ITS TESTING AND EXAMINATION DISCLOSE THAT THE
ALLEGED DEFECT IN THE PRODUCT DOES NOT EXIST OR
WAS CAUSED BY CUSTOMER'S OR ANY THIRD PERSON'S
MISUSE, NEGLECT, IMPROPER INSTALLATION OR TESTING,
UNAUTHORIZED ATTEMPTS TO REPAIR OR MODIFY, OR ANY
OTHER CAUSE BEYOND THE RANGE OF THE INTENDED
USE, OR BY ACCIDENT, FIRE, LIGHTNING, OR OTHER
HAZARD.
LIMITATION OF LIABILITY: TO THE FULL EXTENT ALLOWED
BY LAW TRENDnet ALSO EXCLUDES FOR ITSELF AND ITS
SUPPLIERS ANY LIABILITY, WHETHER BASED IN CONTRACT
OR TORT (INCLUDING NEGLIGENCE), FOR INCIDENTAL,
CONSEQUENTIAL, INDIRECT, SPECIAL, OR PUNITIVE
DAMAGES OF ANY KIND, OR FOR LOSS OF REVENUE OR
PROFITS, LOSS OF BUSINESS, LOSS OF INFORMATION OR
DATE, OR OTHER FINANCIAL LOSS ARISING OUT OF OR IN
CONNECTION WITH THE SALE, INSTALLATION,
MAINTENANCE, USE, PERFORMANCE, FAILURE, OR
INTERRUPTION OF THE POSSIBILITY OF SUCH DAMAGES,
AND LIMITS ITS LIABILITY TO REPAIR, REPLACEMENT, OR
REFUND OF THE PURCHASE PRICE PAID, AT TRENDnet'S
OPTION. THIS DISCLAIMER OF LIABILITY FOR DAMAGES
WILL NOT BE AFFECTED IF ANY REMEDY PROVIDED HEREIN
SHALL FAIL OF ITS ESSENTIAL PURPOSE.
Governing Law: This Limited Warranty shall be governed by the
laws of the state of California.
9
TRENDnet Technical Support
US/Canada Support Center
European Support Center
Contact
Contact
Telephone: 1(888) 777-1550
Fax:
1(310) 626-6267
Email: [email protected]
Telephone:
Deutsch: +49 (0) 6331 / 268-460
Français: +49 (0) 6331 / 268-461
0800-907-161(numéro vert)
Español:+49 (0) 6331 / 268-462
English: +49 (0) 6331 / 268-463
Italiano: +49 (0) 6331 / 268-464
Dutch: +49 (0) 6331 / 268-465
Fax: +49 (0) 6331 / 268-466
Tech Support Hours
7:30am - 6:00pm
Pacific Standard Time
Monday - Friday
Tech Support Hours
8:00am - 6:00pm
Middle European Time
Monday - Friday
Product Warranty Registration
Please take a moment to register your product online.
Go to TRENDnet's website at http://www.trendnet.com
3135 Kashiwa Street
Torrance, CA 90505
USA
Copyright ©2006. All Rights Reserved. TRENDnet.