Trendnet TEW-ASAK Outdoor Arrestor Kit Datasheet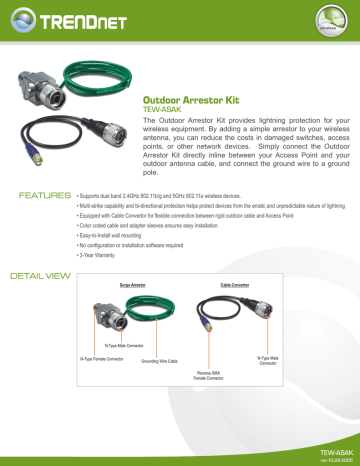 Outdoor Arrestor Kit
TEW-ASAK
The Outdoor Arrestor Kit provides lightning protection for your
wireless equipment. By adding a simple arrestor to your wireless
antenna, you can reduce the costs in damaged switches, access
points, or other network devices. Simply connect the Outdoor
Arrestor Kit directly inline between your Access Point and your
outdoor antenna cable, and connect the ground wire to a ground
pole.
FEATURES
• Supports dual band 2.4GHz 802.11b/g and 5GHz 802.11a wireless devices.
• Multi-strike capability and bi-directional protection helps protect devices from the erratic and unpredictable nature of lightning
• Equipped with Cable Convertor for flexible connection between rigid outdoor cable and Access Point
• Color coded cable and adapter sleeves ensures easy installation
• Easy-to-Install wall mounting
• No configuration or installation software required
• 3-Year Warranty
DETAIL VIEW
Surge Arrestor
Cable Convertor
N-Type Male Connector
N-Type Female Connector
N-Type Male
Connector
Grounding Wire Cable
Reverse SMA
Female Connector
TEW-503PI (07-28-2005)
TEW-ASAK
rev:10.28.2005
Outdoor Arrestor Kit
TEW-ASAK
SPECIFICATIONS
Cable Convertor
Electrical Specifications
Surge Arrestor
Electrical Specifications
Frequency Range
• DC ~ 6GHz
Tensile Strength
• 11Kg
Tensile Strength
• 50Kg
• 50 + 2.0Ω
• 1.2: 1 max ( DC ~ 4GHz )
Impedance
Conductor Resistance
• 1.5: 1 max ( 4GHz ~ 6GHz )
Insulator Resistance
• 1000 MΩ/Km min.
Insertion Loss
• 0.8dB max ( 0 ~ 6GHz )
Rating Temp Voltage
• 80°C 30V
DC Breakdown Voltage
• 90V + 20%
Spark Test
• 2 KV
Impulse Discharge
Voltage
• 5KA min (wave 8/20 μs)
Dielectric Strength
• AC 1 KV/min
Impedance
• 50Ω
800 MHz
• 0.8 dB/m
Insulation Resistance
• DC 50V > 10000MΩ
1500 MHz
• 1.0 dB/m
2000 MHz
• 1.2 dB/m
VSWR
• 10KV min (wave 1.2/50 μs)
Mechanical Specifications
• 55.8 Ω/Km 20°C
Attenuation
Connector Interface
• N-Type Male to N-Type Female
2500 MHz
• 1.25 dB/m
Body Material
• Copper
5800 MHz
• 2.40 dB/m
Temperature
• - 20°C ~ 70°C (-4°F ~158°F)
Dimensions
• 68 x 27 x 23mm (2.5 x 1.1 x 0.9in.)
Connector Type
• Reverse SMA Female to N-Type Male
• 184g (6.5 oz.)
Center Conductor
• Tinned Copper
Dielectric Material
• Foam Polyethylene
Weight
• xxxxxxxxxxxxxxxxxxxxxxxxxxxxxxxx
Grounding Wire Cable
Specification
Mechanical Specifications
Grounding Wire Cable
• 18 AWG
Shielded Material
• Plain Copper Braid
Rating Voltage
• 600V
Jacket Material
• PVC
Rating Temperature
• 105°C (221°F)
Temperature
• - 20°C ~ 70°C (-4°F ~158°F)
Conductor Resistance
• 6.64 MΩ/KFT 20°C
Length
• 300mm (11.81 in.)
Insulation Resistance
• 2.5 MΩ/KFT 20°C, in water
Weight
• 51g (1.8 oz.)
Voltage Withstand Test
• 2 KV/min, in water
PACKAGE CONTENTS
OUTDOOR ARRESTOR SOLUTION
LMR200 Reverse SMA to
N-Type Cable (2 meters)
(TEW-L202)
Indoor
Solution
or
• Mounting Bracket
RELATED PRODUCTS
LMR400 N-Type Male to N-Type
Female Cable (6 meters)
(TEW-L406)
+
Outdoor
Solution
Outdoor Arrestor Kit
(TEW-ASAK)
or
• User's Guide
• Weatherproof Tape
LMR200 Reverse SMA to
N-Type Cable (8 meters)
(TEW-L208)
54Mbs 802.11g
Wireless Router
(TEW-432BRP)
• TEW-ASAK (Surge Arrestor + Convertor)
Indoor/Outdoor
Antenna
LMR400 N-Type Male to N-Type
Female Cable (12 meters)
(TEW-L412)
TEW-AO08O
8dBi Outdoor Omni-Directional Antenna
TEW-AO10O
10dBi Outdoor Omni-Directional Antenna
TEW-L202/TEW-L208
LMR200 Reverse SMA to N-Type Cable
TEW-L406/TEW-L412
LMR400 N-Type Male to N-Type Female Cable
ORDERING INFORMATION
3135 Kashiwa Street,Torrance, CA 90505 USA
Tel: 1-888-777-1550
Fax: 310-891-1111
Web: www.trendnet.com
Email: [email protected]
To Order Please Call:
1-888-326-6061
TRENDnet is a registered trademark. Other Brands and product names are trademarks of their respective holders. Information provided in this document pertain to TRENDnet
products and is subject to change at any time, without notice. For the most recent product information please visit http://www.trendnet.com.
Copyright © TRENDnet. All Rights Reserved.

* Your assessment is very important for improving the workof artificial intelligence, which forms the content of this project